A Guide to the Best Naturopaths in Toronto
Looking for a healing treatment that touches the mind, body, and soul? You've come to the right place!
In this guide to the best naturopaths in Toronto, we'll review the top places to enjoy this healing practice. On top of that, we'll also cover other important details such as costs and factors you may want to consider before choosing a practitioner.
The Cost of Naturopathy Treatments in Toronto
Naturopathic treatments usually involve a first consultation and subsequent visits. So it's natural for the initial visit to cost quite a lot versus follow-up visits.
Another factor that affects the cost is the age of the patient. Pricing structures are usually different for kids and seniors compared to regular adults.
Finally, the last factor is the duration of the visit. See the table below for an easy comparison list of prices:
| | |
| --- | --- |
| Visits | Average Costs |
| Initial Consultation (60 – 90 minutes) | $195 – $240 |
| Second Follow-up (30 – 60 minutes) | $98 – $150 |
| Brief Follow-ups (15 – 30 minutes) | $50 – $95 |
Remember to keep in touch with your employer as naturopathy costs may be covered by an extended health care plan. You can also check with your insurance company if you're eligible for this coverage.
Top Naturopathic Centers in Toronto
Curious about how we curated this list? Here's our criteria for today's review:
Licensed naturopathic doctors instead of traditional naturopaths. Licensed NDs have a four-year naturopathic medical degree, can diagnose diseases, and prescribe medication.
Treatment modalities. We prefer a holistic approach that includes diagnosis, prescription, and natural solutions.
Costs. Lower is better but we don't mind adding slightly more expensive centers if the quality justifies the cost.
With that said, here are some of the best naturopathic clinics you can visit today.
1. Insynco Naturopathic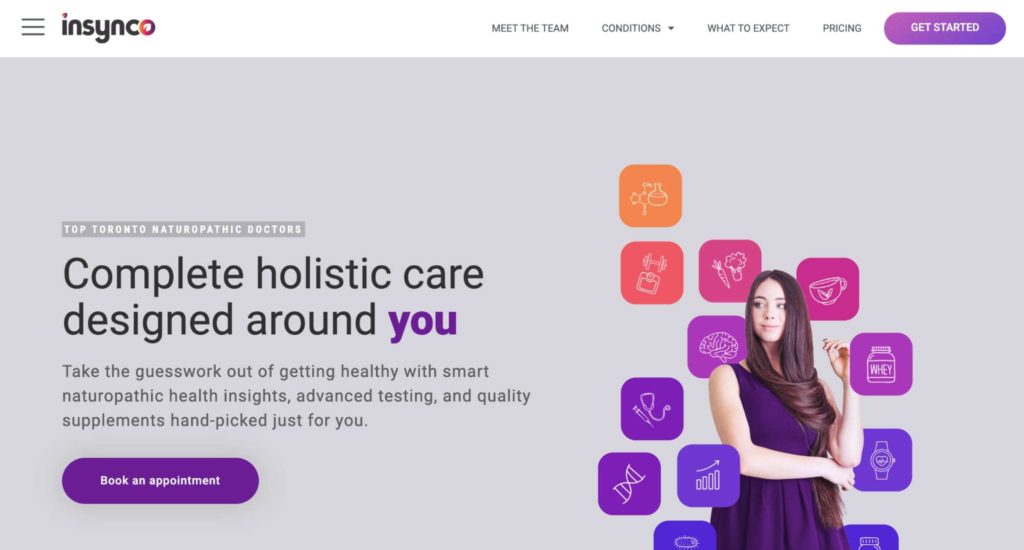 | | |
| --- | --- |
| SERVICES | Naturopathic services |
| WEBSITE | https://www.insynco.com/ |
| ADDRESS | 30A Hazelton Ave, Toronto, ON M5R 2E2, Canada |
| CONTACT DETAILS | +1 647-490-3236 |
| OPERATING HOURS | Monday – Friday: 9:00 AM – 5:00 PM |
Insynco consists of a team of naturopathic doctors who collaborate to provide clients with a treatment plan. They specialize in various conditions including digestive health, allergies, sleep disorders, and more.
What makes them stand out is their comprehensive naturopathic care that assesses 150 factors in your body. Everything from your emotional to biological needs is addressed.
As mentioned, doctors here collaborate to provide you with the correct treatment. These include giving in-depth diagnosis and performing a wide range of tests.
If it's more convenient in your case, you can book either a video or phone consultation. And if that's not enough for convenience, they even deliver supplements straight to your door.
Prices are also within Toronto's average so we have no qualms about that. Plus, their fees are covered by most insurance plans and extended health insurance.
Helps with a wide range of acute and chronic conditions
Assesses 150 factors to see your needs
Online booking appointment in under a minute
Matches clients with the right doctor
Collaborative care model
Video and phone consult available
Straight-to-door delivery of supplements
Average pricing with fees covered by insurance plans
No in-office appointments
Customer Reviews
Holistic approach to treatment
Dr. Richardson takes a holistic approach to treatment and always asks about everything that's going on, not only the specific issues I came to her about. She has helped me improve my gut health and my acne and she is always so nice to talk to. She asks me about my physical and mental health every time we speak and gives lots of helpful information. – Nina Curcic
Brings the best value for clients
Dr Richardson is very personable and knowledgeable. She has a holistic approach, she is a great listener and conducts thorough patient interview to identify the issues and potential causes. She doesn't order unnecessary tests or treatments, only the ones that bring value to the patient. I trust her judgement, she recommended some great, high quality supplement brands which I use daily. I highly recommend Dr Richardson's services. – Marcelina Forenc
2. Summerhill Naturopathic Clinic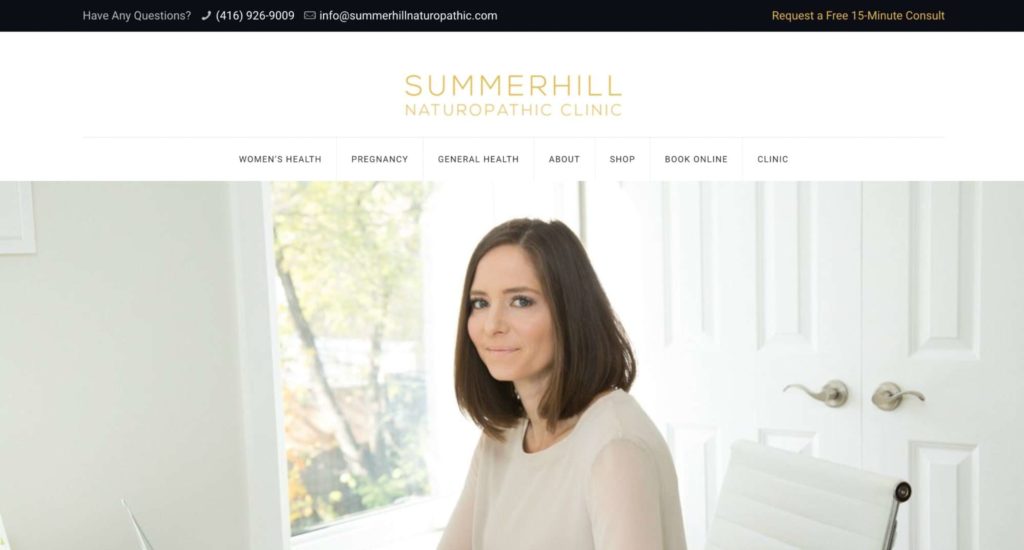 SERVICES
Naturopathic services, women's health, colds & flu, wellness
WEBSITE
https://www.summerhillnaturopathic.com/
ADDRESS
18 Sidney St, Toronto, ON M4V 2G4, Canada
CONTACT DETAILS
+1 416-926-9009


[email protected]

OPERATING HOURS
Monday & Thursday: 2:00 PM – 8:00 PM
Tuesday & Wednesday: 10:00 AM – 8:00 PM
Dr. Ashley Von Martels is a naturopathic doctor who specializes in various areas of wellness. She's most notable for helping with conditions related to women's health and pregnancy.
Apart from this, she also provides support for colds and flu and other wellness management services. These include weight loss, stress management, anxiety, and thyroid conditions,
What we liked best about this clinic is that they offer a free introductory consultation. This is a great chance to speak about your concerns without any financial obligation.
The initial consultation only takes about an hour but already covers all the basics involved. After this, Dr. Von Martels will provide clients with a personalized treatment plan.
As for the price, we think you'll be pleased with their average prices from initial consult to follow-ups. Of course, like the others, they're also covered by insurance plans.
Best for women's health and pregnancy-related issues
Caters to general health conditions plus wellness management services
Free 15-minute introductory consultation
Direct billing to insurance
Average prices
Customer Reviews
Tailors the right maintenance plan for you
Dr. Ashley von Martels is a great Naturopath. She truly wants to help you find a long-term solution and get to the bottom of your concerns. She also doesn't load you up on a maintenance plan that is out of your price range or too extensive. She really wants to ensure you are on a plan that works for you and is continuously manageable, not to mention she is very easy to talk to!
Compassionate, dedicated, and professional doctor
Dr. Ashley has provided me with the care and support that I have not been able to receive from any other doctor. Dealing with an unclear diagnosis for Amenorrhea, and under going fertility treatment, she is the one doctor truly dedicated to finding the root cause. She is compassionate yet professional in every manner. She has a wealth of knowledge and really treats the whole person. And I must say her beautiful home and dog add to a warming experience! – Lindsey Collins
3. Nature's Intentions Naturopathic Clinic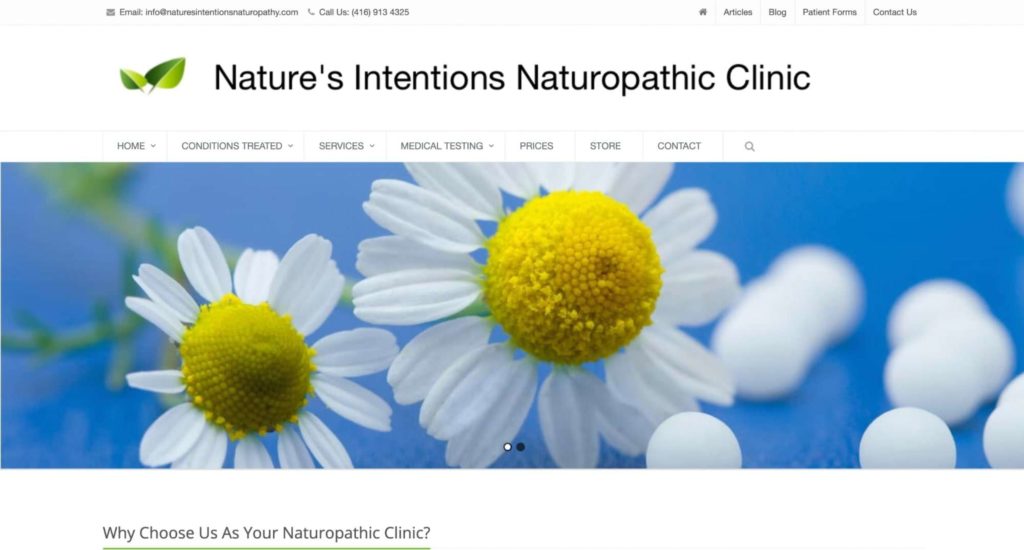 SERVICES
Acupuncture and oriental medicine, botanic medicine, homeopathic medicine, naturopathic medicine, nutrition and diet counseling, craniosacral therapy, hypnotherapy, massage therapy, Reiki, Tui Na massage, psychotherapy, cosmetic acupuncture
WEBSITE
https://www.naturesintentionsnaturopathy.com/
ADDRESS
1849 Yonge St #614, Toronto, ON M4S 1Y2, Canada
CONTACT DETAILS
+1 416-913-4325


[email protected]

OPERATING HOURS
Tuesday – Friday: 10:00 AM – 7:00 PM
Saturday: 10:00 AM – 5:00 PM
Nature's Intentions is a clinic that offers a range of services including naturopathy, massage therapy, and acupuncture. On board, they have one naturopathic to cater to your needs.
Dr. Sushma Shah has 16 years of experience as a naturopathic doctor. Throughout her career, she's already held 16,432 patient sessions.
Her areas of focus in naturopathy include children's, men's, women's health. She also offers naturopathic health programs for infertility, body detox, stress management, and digestive issues.
During your initial assessment, clients undergo a thorough evaluation of health concerns. What's great is that standard blood and urine tests are done at no additional cost.
As per consultations, they entertain in-office, phone, and video appointments. These options are both available to existing and new clients which is great for convenience.
Their prices also fall within the average in Toronto and are covered by insurance. Just make sure that you check with your provider to ensure that you're covered.
16 years of experience
Has carried 16,432 patient sessions as of writing
Standard blood and urine tests at no extra cost
In-office, phone, or video consultations for new and existing clients
Option to ship supplements at the clinic or your home
Offers corporate seminars
Cancellation policy that may cost you up to $60+ HST
Customer Reviews
Helps you achieve your health goals
I highly recommend Dr Shah. She is kind, caring, and knowledgeable and brings a repertoire of testing, analysis, and holistic remedies to help every patient individually. My husband and I have both been helped tremendously by her. She also does acupuncture and hypnosis which I have personally found really beneficial. She is a person of high integrity and compassion and will do her utmost to help you achieve better long term health. – Carol Weinbaum
Exemplary care from a skilled doctor
Dr Sushma Shah's skill as a naturopath doctor and her kind-hearted, attentive and compassionate care are exemplary. She is a very knowledgeable, empathetic and friendly person and her diagnoses are based on rigorous testing, analysis and listening carefully and patiently to the patient's symptoms and concerns. She is a first rate naturopath and I highly recommend her to anyone who is looking for a holistic approach to healing. Her assistant, Krishna is very polite, sweet and helpful. – Mona Das
4. Dr. Marnie Luck, ND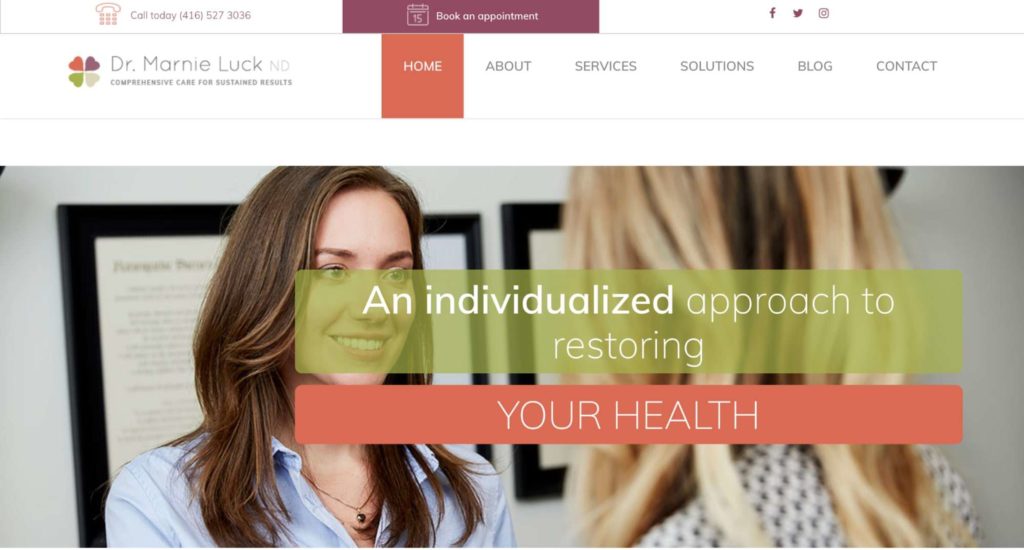 SERVICES
Acupuncture, bio-identical therapy, botanical medicine, clinical nutrition, comprehensive health assessment, lifestyle counseling, laboratory testing, vaginal examination.
WEBSITE
https://marnieluck.com/
ADDRESS
800 Bathurst St suite 301, Toronto, ON M5R 3M8, Canada
CONTACT DETAILS
+1 416-527-3036


[email protected]

OPERATING HOURS
Monday – Thursday: 10:00 AM – 6:00 PM
Friday:10:00 AM – 4:00 PM
Dr, Marnie Luck, ND, specializes in women's health and lifestyle, striving to better understand each woman's needs. Plus, she has a therapy dog at the office that is just a cute touch for in-office appointments.
Their comprehensive health assessment here goes deeper than mere blood tests. Firstly, she will try to understand her patient and get to know their symptoms as well as information about their health and lifestyle.
This is to better understand the barriers and aggregators that may cause health conditions. From there, she will provide a solution and a way to ease the client's problems.
The assessment lasts for 90 minutes, and after the initial interview is the concern-oriented physical examination. A full review of one's cardiovascular and digestive health is done during the exam.
A nice thing about them is that they offer a virtual appointment, which is a plus during this pandemic. But you can also come to their location if you think it's better for you.
Besides comprehensive health assessment, they also provide a variety of services. Acupuncture, bio-identical therapy, and lifestyle counseling are also available.
Virtual consults available
Specialized lab testing
Licensed to administer Bioidentical Hormone & B12 Injections
Customer Reviews
Easy to talk to and takes a traditional approach
Marnie is the b-e-s-t!! So good at what she does, always goes above and beyond, so easy to book with and really proactive. She can take traditional approaches and make sure they're easy for modern day. Overall great vibes. -Erica Shiffman
Knowledgeable and friendly
Marnie is just the best! She's so knowledgeable, friendly, and most importantly, gets results. I felt like a friend was treating me, who actually cared about my health issues, rather than a faceless healthcare provider just trying to get me out the door. I'm so glad I went to see her!- Alix Gould
5. Dr. Anh Linh Nguyen, ND – Toronto Green Naturopath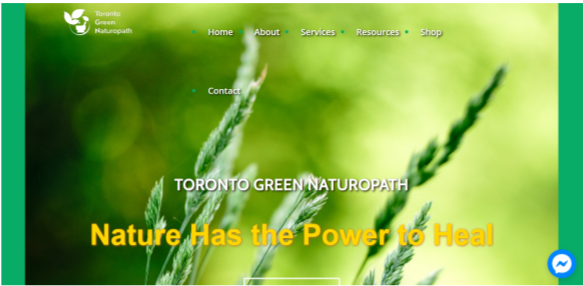 SERVICES
Naturopathic services, Facial Rejuvenation Acupuncture, Remote Healing
WEBSITE
https://www.torontogreennaturopath.com/
ADDRESS
3292 Bayview Ave. Suite 304 North York, Ontario M2M 4J5
CONTACT DETAILS
(647) 707 8706
[email protected]
OPERATING HOURS
Thursday: 9:00 AM to 7:00 PM
Saturday: 9:00 AM to 5:00 PM
Dr. Anh Linh Nguyen, a certified practitioner of the Lightworker Healing Protocol (LHP) and ND of the Toronto Green Naturopath, is a passionate individual who believes in the healing power of nature and that by identifying each of your bodily issues at the very root. Dedicated at the said practices, she is a licensed naturopath and has been practicing the said field of medicine for over 10 years already.
Going back about Dr. Nguyen, having completed various science-related courses in the past such as Molecular Biology among others, she also holds a certificate in Facial Rejuvenation Acupuncture. Furthermore, she is now looking forward to focus on women's health, and gastrointestinal health among other interrelated fields as well.
She is committed at what she does and strives to give you treatment that is specific to what you need and what is most efficient for your case. Specializing also in hormonal imbalance, fatigue, and musculoskeletal pain – she is more than willing to accommodate you and bring you the best of nature's healing for your benefit.
More about the Lightworker Healing Protocol, it is said to be a form of distance healing that takes into account many sources of negativity not addressed by both conventional and alternative medicine. Requests are sent to Creator asking for healing of your current health concerns and past trauma. This new healing modality can help you if:
1)You have been struggling with your health issues for a long time.
2)You have been seeing specialist after specialist with no solution in sight.
3) You are asking yourself: why me?
4) You are open to the world of metaphysics and remote healing.
We highly recommend her for your naturopath treatments due to her deep understanding on the said field along with friendly and approachable service that will surely help with the whole experience.
Highly experienced
Focuses on chronic illnesses
Speaks English, French, Cantonese and Vietnamese
In-office, phone, and video consultations available
Free 15-minute introductory consultation
Online booking appointment
Limited appointment times and days
No direct billing available
6. Dr. James Yoon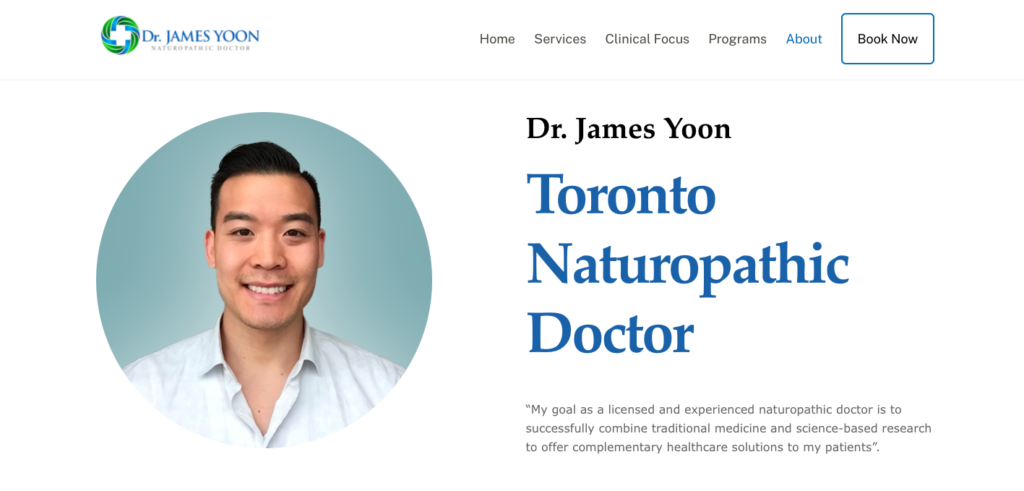 SERVICES
Naturopathic Medicine, Lab Testing, Online Dispensary, Women's Health, Mens Health, Digestion, Hormone Disorders, Auto Immunity, Anxiety, Vitality in Professionals, Weight Loss, Enhanced Surgery Recovery, Customized Supplementation
WEBSITE
https://drjamesyoon.com/
ADDRESS
39 Lower Simcoe St. Toronto, ON M5J 3A6
CONTACT DETAILS
Phone : (416) 504-0628
Fax : (416) 504-2009
Email: [email protected]
OPERATING HOURS
39 Lower Simcoe Street Toronto, ON M5J 3A6:
Mon – Fri: 8am – 8pm
Sat – Sun: 10am – 3pm
Looking for the best combination of modern and traditional healthcare, with a functional approach to your health? Then you just might want to consider Dr. James Toon from the Infinity Health Care Centre.
Dr. James Yoon is a graduate of Bachelor of Naturopathy in Canadian College of Naturopathic Medicine and has a Bachelor of Kinesiology from the Western University. He is also a Certified Personal Trainer (CPT), Certified Corrective Exercise Specialist (CES), and holds other numerous certifications.

As a licensed and experienced naturopathic doctor he creates personalized treatment plans for patients to ensure long-term solutions. He is stays up-to-date with the latest studies in healthcare which has allowed him to developed several recovery, nutrition and wellness programs.

So whether you need help selecting supplements to treat your anxiety or need a natural hormone treatment plan, Dr. James Yoon's programs can get to the underlying root cause of your health issues. He also offers lab testing, free 15-minute consultations and has an online dispensary.

If you're searching for a natural way to resolve any of your chronic health problems, Dr. James Yoon's approach toward wellness is an option worth considering. He is a qualified Naturopath offering natural, balancing healthcare services and is one of our top picks in Toronto.
All time goal is to help uncover the underlying cause of health issues
Available in 2 locations
Top-rated ND doctor in Toronto on Google
Unavailable on Friday and Saturday
Customer Reviews
Here are a few reviews from their previous customers:
"I've had a long-standing history of dermatitis and skin issues that Dr. Yoon was able to identify the root causes. He prescribed me with a diet plan and supplements that helped resolve it in a couple months."
"He's super nice. he really cares and you can tell he puts a lot of time and effort into his research + patients. the staff is really nice too. I'm a lifer."
7. Dr Jen Parsons, ND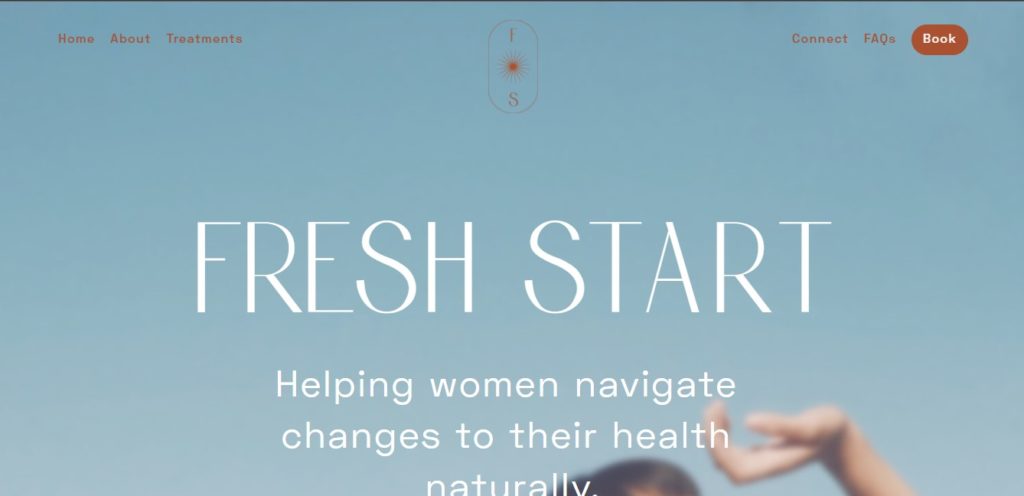 From the name of their website itself, with them, you will get to experience a fresh start in life. They are a clinic that offers transformational and results-focused care for women.
With Dr. Jen's over 10 years of experience, she approaches health issues with compassion and expertise. By listening carefully to her clients, she is able to take a step with them in transforming their lives.
She is a graduate of Mount Allison University and the Canadian College of Naturopathic Medicine. And for additional training, some are Post-Natal Depletion Syndrome, Health Masters, European Gastroenterology Conference, Barcelona Spain, and so much more which can be found here.
Unlike other doctors, she focuses on result-based treatments. Before providing this, they make sure to accurately and meaningfully assess the lifestyle stresses, lingering mental health issues, and other internal factors that have a negative impact on your overall wealth.
Rates are on their website
Virtual and in-person visits are available
Covered by most health care plans
Customer Reviews
Here are a few reviews from their previous customers:
"Dr Jennifer Parsons has truly saved my life when no other doctors cared or took the time to get to the root of my health problems. Her compassion, kindness and understanding towards her patients makes her truly the best."
"That Dr. Parsons is an excellent bioethicist."
8. Dr. Suzanne Ho-Miecznikowski, BSc, ND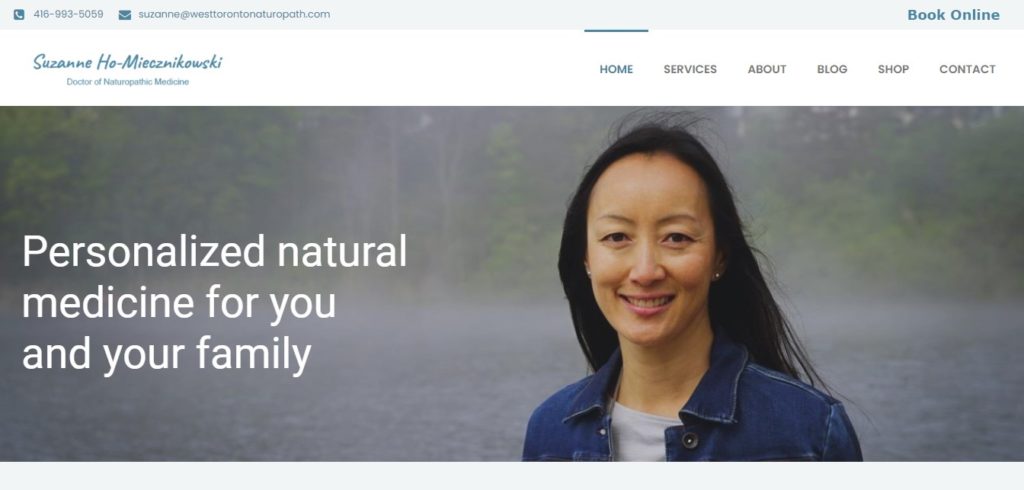 Since 2001, Suzanne, a Naturopathic Doctor, has been practicing in Roncesvalles Village. Keep on reading and we will let you know why you should make Suzanne your go-to doctor.
Her expertise is in digestive health, hormone balance, as well as stress and mood balance. Over the years, she has treated patients of all ages, from young adults to the elderly, with a variety of concerns.
Aside from this, what we most love about her is that she customize treatment plans for each client. She also incorporates helpful recommendations for nutrition, dietary, supplements, herbal medicine, and the likes.
What made us really recommend them is how they also offer specialized tests, Some of these are gastrointestinal profiles, toxic elements profiles, hormone profiles, and basically any test anyone can need Suzanne can do it.
Rates are on their webpage
Extensive range of services
Gift certificates are available
Unavailable on Wednesdays, Fridays, and weekends
Customer Reviews
Here are a few reviews from their previous customers:
"You will not find a more caring and conscientious naturopathic doctor. She will go out of her way to check in via email of by phone. She is very professional and knowledgeable. She also does acupuncture. She is extremely patient. She has been helping me with various chronic conditions throughout the years."
"I feel very lucky to have found Suzanne. I had been to other naturopathic doctors before, but I often found that my concerns weren't being addressed or treatment suggestions were out of my comfort zone or financial realm. Suzanne is different. She has always listened carefully to me, and her care plan has always been considerate of my specific requests and needs. I have now been a client for a number of years, and she has worked with me to successfully overcome many health-related issues. She is caring, patient, and knowledgeable – in other words, she is really, really great at what she does. I would definitely recommend her to anyone!"
9. Dr. Katie Black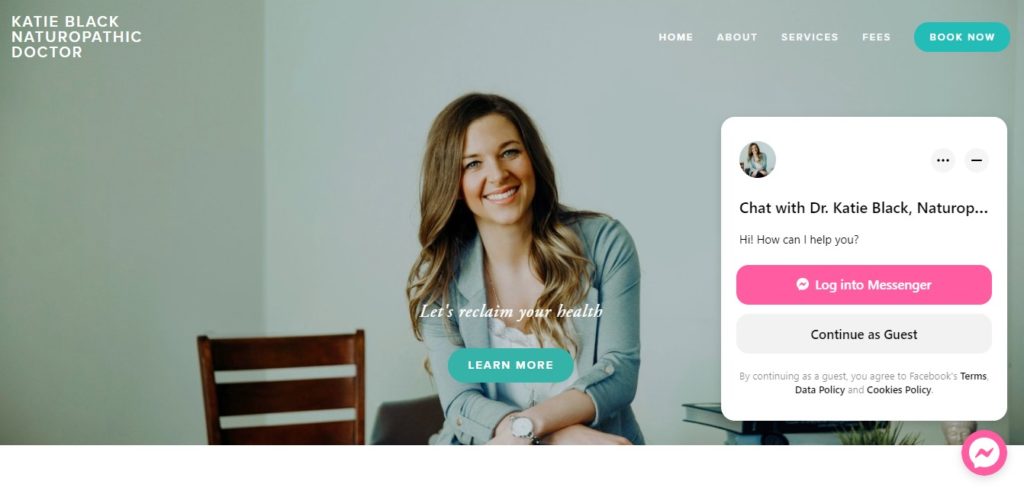 SERVICES
Naturopathic Visits
Cosmetic Acupuncture
Fertility
Corporate Wellness
Women's Health
Virtual Naturopathic Visits
WEBSITE
https://www.drkatieblack.com/
ADDRESS
Toronto Ontario
CONTACT DETAILS
416-807-5502
OPERATING HOURS
Contact for more information
Women's health is Dr. Katie's passion. She wants to ensure all of her female clients are ready to tackle the numerous challenges a woman will face throughout their lives.
Given her Doctor of Naturopathy degree, which she obtained at the Canadian College of Naturopathic Medicine, she enables to curate the perfect treatment solutions for each of her clients.
Your first visit with her will be memorable as both of you will discuss all of your health concerns and health goals. What's great about this is that if they require additional lab testing if they see that it is needed.
Unlike the one-hour first visit, your follow-up visits with her will only be around 30 to 45 minutes, great for those who have a hectic schedule.
Fees are on their website
Private (virtual) clinic
Operating hours are unavailable
Customer Reviews
Here are a few reviews from their previous customers:
"Dr. Black is very kind and caring. You can tell she truly cares about each and every one of her clients. She takes the time to listen very carefully to all of your needs. She is very detailed when explaining what is going on and more importantly why it is happening. She made sure I was involved with my treatment plan and comfortable with it which I very much appreciated. She is always available to answer any questions I may have. Thank you Dr. Black! I appreciate everything you've done for me and my health :)"
10. Dr. Mary Choi, ND of Soma and Soul Wellness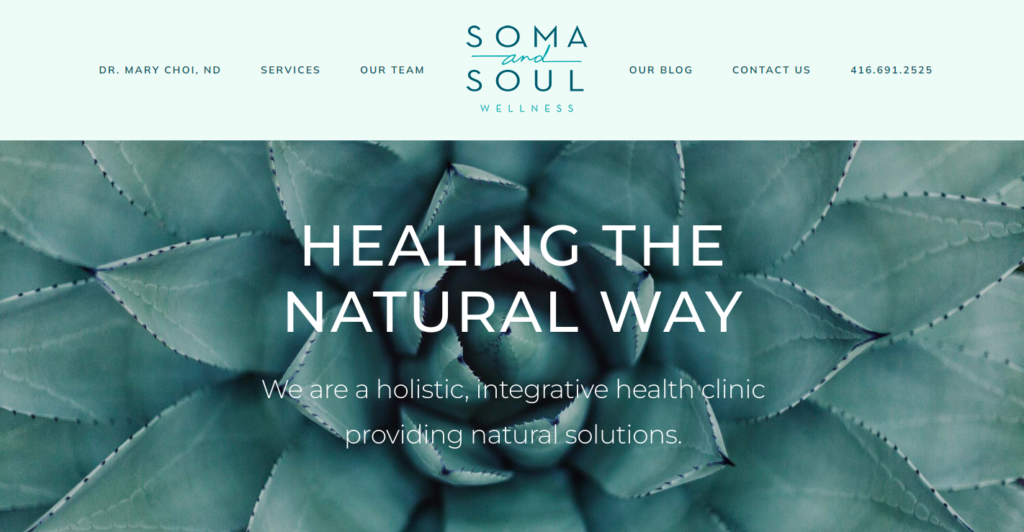 SERVICES
IV Vitamin Drip, Acupuncture, Bioidentical Hormone Therapy, Massage Therapy, Meditation & Mindfulness, Naturopathic Medicine, Osteopathy, Tests & Analysis, Weight Loss Program
WEBSITE
https://somaandsoul.ca/
ADDRESS
1089 Kingston Road, Unit 4B,, Toronto, Ontario M1N 4E4
CONTACT DETAILS
Phone: 416.691.2525
Fax: 416.686.1028
Email: [email protected]
OPERATING HOURS
Sunday to Monday: CLOSED
Tuesday to Wednesday: 9:00am – 5:00pm
Thursday: 10:00am – 2:00pm
Friday to Saturday: 9:00am – 5:00pm
Dr. Mary Choi, ND is a doctor of naturopathic medicine and received her training from the Canadian College of Naturopathic Medicine. She is a weight loss expert, certified metabolic balance weight loss coach and knowledgeable in endocrinology and bioidentical hormone replacement therapy.
Dr. Mary Choi, ND is the current CEO and owner of Soma and Soul Wellness, which is a holistic, integrative health clinic offering a wide array of health and wellness services. She leads a team that consists of other naturopathic doctors, registered massage therapists, an osteopathic manual therapist, a psychotherapist, and a holistic nutritionist.
So whether you're looking for naturopathic medicine, acupuncture, massage therapy or osteopathy, they've got it covered. Dr. Mary Choi, ND has personally helped patients to balance their hormones, lose weight, heal digestion issues and reach a variety of wellness goals.
Specializes in women's health and hormone therapy
Leads a team of naturopathic doctors
Inconsistent operating hours
Customer Reviews
Let's take a look at what their clients have to say:

"If it were possible, I'd give double the stars. This is a place of healing and you can recognize that from the moment you walk through the doors…Mary is kind, patient, brilliant and more than a naturopath- she approached my concerns with a holistic and humanistic way." – Shannon Cherry
"I began seeing Mary in the spring of 2019. She diagnosed a condition which others had missed! Mary has an amazing knowledge base, a great memory, and a wonderful capacity for listening and interacting. I have seen other practitioners in her office as well and I am extremely happy with the level of service and professionalism. I would highly recommend Mary and her practice to anyone wanting to be their best self!" – Stephie Reisler
FAQs About Naturopathy
---
Want to work towards a healthier and better you? Check out other health-related reviews up on our site.