The 7 Best Accountants in Toronto
Are you looking for someone who can manage your business's finances? If so, you'd need the best accountants in Toronto to take care of that.
Luckily for you, we've already done half of the work. We're here to share our picks for corporate firms that offer accounting services to businesses of all sizes in Toronto.
You'll get to know more about them, along with the range of their services and what clients have said about them. Before that though, we'll look at the average cost of hiring accountants in Toronto.
How Much is an Accountant in Toronto?
Most accounting firms charge business clients by the hour, with an average rate that ranges from $150 to $500 per hour.
However, there are several factors that determine the hourly rates of accounting services, such as the extent of work, experience of the accountant, size of the firm, and location. It's safe to say that their hourly rate can easily go beyond $500.
It's worth noting that there are separate charges if the accountant needs to do bookkeeping services as well. The hourly rate for bookkeeping typically ranges from $25 to $100 per hour.
Hourly rates mean that the total bill for the accounting and bookkeeping services provided will largely depend on how long it takes for the tasks. If the work is extensive, your accountant will need more time, resulting in higher fees.
If you're lucky, the accountant will base the hourly rate on the size of your business. There are a few firms that do this considering that start-ups and small businesses obviously can't afford above-average hourly rates.
Here's a table featuring the accounting services that different business sizes need and the average monthly rate for those:
TYPE OF BUSINESS
ACCOUNTING SERVICES
AVERAGE MONTHLY COST
Start-ups
Accounting system setup and training

Accounting software

Support for ongoing bookkeeping and accounting

Yearly financial statements and tax returns
$300 to $1,300
Small businesses
Accounting system setup and training

Accounting software

Support for ongoing bookkeeping and accounting

Yearly financial statements and tax returns

Payroll system setup and support
$600 to $1,500
Medium-sized businesses
Monthly bookkeeping

Monthly management accounts

Sales tax filing

Yearly financial statements and tax returns

Payroll system setup and support
$1,000 to $1,500
Large businesses
Weekly bookkeeping

Posting bills and paying suppliers

Sending invoices and collecting customer payments

Monthly management accounts

Sales tax filing

Yearly financial statements and tax returns

Payroll system setup and support
$2,000 to $2,400
The Best Accountants in Toronto
Now that you know how much to shell out for an accountant in Toronto, it's time to show you our picks!
1. Small Business Tax Accountants (SBTA)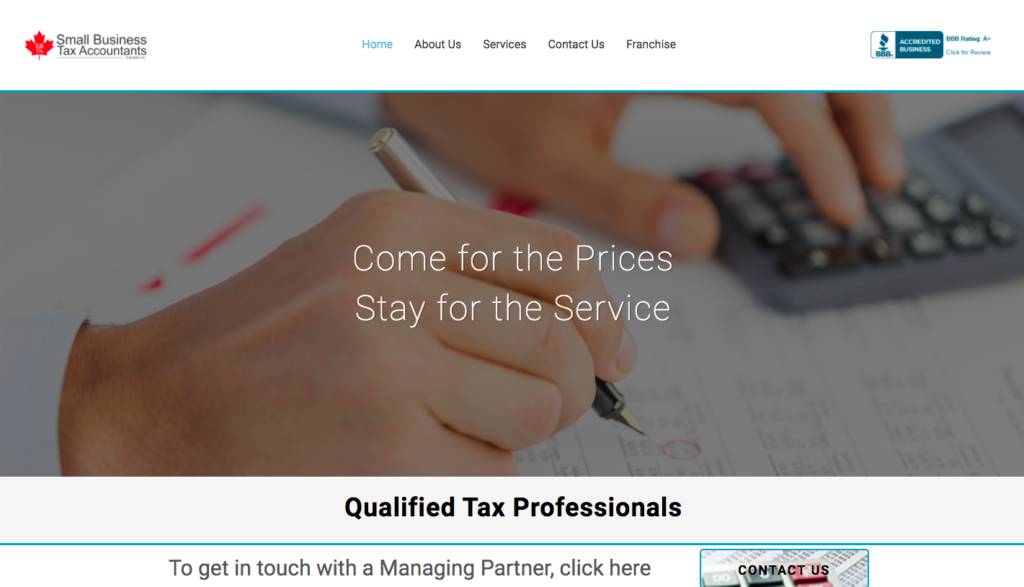 SCOPE OF SERVICES
Bookkeeping, Accounting, Tax Planning, Estate Planning, Legal Structuring, Incorporation, Business Brokerage, Business Development, Business Franchising
PRICING
Contact for more details
WEBSITE
https://smallbusinesstaxaccountants.ca/
ADDRESS
Head Office:
36 King Street East, 4th Floor, Toronto, ON M5C 1E5

For full list of locations go here
CONTACT DETAILS
Phone: (437) 538-3874
Email: info @ smallbusinesstaxaccountants.ca
OPERATING HOURS
Monday to Friday: 8:00 AM –4:30 PM
Small Business Tax Accountants or SBTA was established by Peter Singleton and Rebecca Choi. As managing partners and co-founders, their main objective is to provide small business owners affordable tax preparation.
What makes SBTA unique is that their team is made up of a mix of franchisees, employees, subcontracted tax strategists, accounting and bookkeeping professionals. Each member has been vetted to make sure they have years of experience in the field of their focus.
With SBTA's affordable rates, small business owners can focus their finances on other parts of their respective companies. Since clients don't have to worry about exorbitant accounting costs, they can allot their funds toward advertising, marketing and other strategies to grow their business.
Moreover, SBTA has expanded its services to provide business owners more than just accounting. They can also handle business brokerage, business development, and business franchising, among many others.
If you own a small business and need to outsource your accounting needs, Small Business Tax Accountants is one of our top picks. They are reasonably priced, have multiple locations, and provide a range of services to help your business grow.
Specializes in small businesses

Multiple locations in Canada and abroad

Affordable rates

Large team of specialized professionals

BBB Accredited with A+ rating
Doesn't handle large corporations, small businesses only
Customer Reviews
Let's take a look at what their clients have to say:

"I have been using Peter Singleton since 2016 to aid in building my business. He has helped to educate and guide me as a mentor in many ways. I went from a few phone calls and only word of mouth referrals one year to almost 100 phone calls within 3 months the next season. Peter is a well educated, committed and experienced business owner who is an extremely valuable person to have on your team. I appreciate all the work he has done to help grow my business to what it is today." – Ivor Lewis

"Small Business Tax Accountant Jordan was amazing! Apart from helping us with general bookkeeping he taught us how to maximize our software and gave us practical accounting advice. He was speedy and very meticulous. He answered all our questions and even gave us his contact info if we ever wanted to ask him anything about what he completed for us. I would definitely request his services again and I would definitely recommend Small Buisiness Tax Accountants." – Parisa Jiwa
2. Avalon Accounting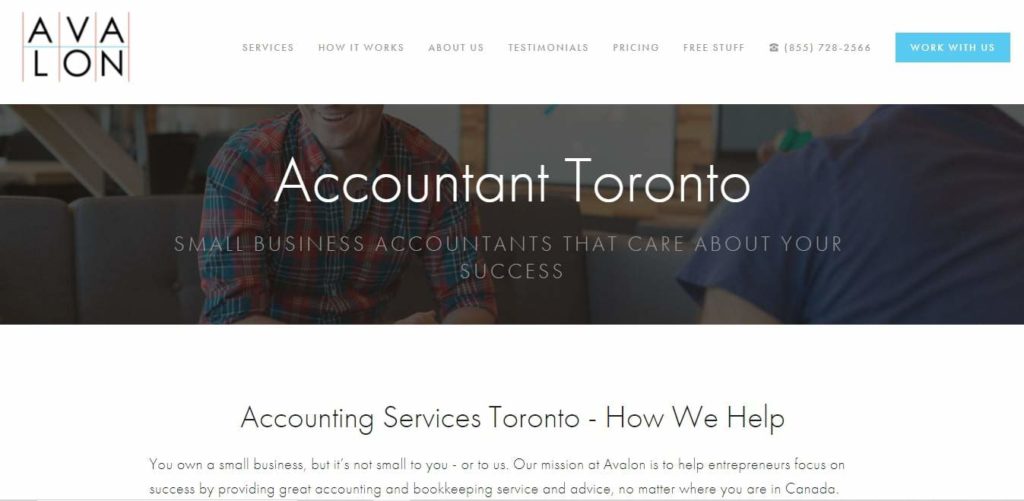 SCOPE OF SERVICES
Accounting, bookkeeping, corporate accounting and tax returns, personal tax returns, accounting system setup, payroll setup and support, and online tax filing services
PRICING
Call their hotline for more details
WEBSITE
https://www.avalonaccounting.ca/
ADDRESS
2031 Store St, Victoria, BC V8T 5L9, Canada
CONTACT DETAILS
(855) 728-2566


[email protected]

OPERATING HOURS
Monday to Friday: 8:30 AM – 5:00 PM
Avalon Accounting is based in Victoria, but services SMEs in Toronto, Winnipeg, Calgary, and Vancouver. It's an all-around accounting firm that aims to help entrepreneurs by providing effective accounting and bookkeeping services.
We highly recommend it to start-ups and small businesses that don't have a solid foundation when it comes to managing finances yet. It can help them set up a payroll system, file corporate tax returns, check inventory, or even give basic accounting advice.
Another thing we like about Avalon Accounting is how open it is to working with businesses from any type of industry, including retail, food and beverage, and tech, among others.
However, your business may get more from their accounting services if it's a start-up or a small one because these are usually their clients.
Compared to most accounting firms though, Avalon Accounting uses fixed pricing instead of hourly rates. The good thing about this is that clients aren't charged the moment the accountants pick the phone to answer their questions.
If you want to know more about how accounting works, there are even free accounting tips posted on their website. It's their own way of helping local businesses understand the importance of hiring accountants in Toronto.
Works with all types of businesses
Wide service area
Fixed pricing
All-around accounting services
No operations on weekends
Customer Reviews
Here are two comments posted on Google Reviews:
"Avalon truly has a client centered approach to accounting, and we feel that they really took the time to get to know us and our business so that they could really identify how to best serve our business. I am continually impressed with their services, and the effort they put into teaching us so that we can do better ourselves. I highly recommend Avalon Accounting to any small business owners, we are very happy clients!" -Tegan Holt
"I made one decision last year that greatly reduced my stress and anxiety as a business owner – hiring Avalon. Joe, Paul, Jennifer and team are not only responsive, but proactive, and have allowed me to spend more time on business growth, organization, and developing my team. They are true professionals that elevate their whole profession. Kudos to the team." -A.J. Potrebka
3. Enkel
| | |
| --- | --- |
| SCOPE OF SERVICES | Accounting, bookkeeping, payroll, accounts payable, accounts receivable, fractional controller, and catch-up bookkeeping |
| PRICING | $500 to $1,000+ |
| WEBSITE | https://www.enkel.ca/ |
| ADDRESS | 900 Howe St #510, Vancouver, BC V6Z 2M4, Canada |
| CONTACT DETAILS | 604-259-6234 |
| OPERATING HOURS | Monday to Friday: 8:30 AM – 5:00 PM |
Like our previous pick, Enkel isn't based in Toronto, but we added it here because it's open to working with small to mid-sized businesses anywhere in the country. Here are other reasons it made the cut.
For one, it's helped thousands of businesses from all sorts of industries, such as non-profit, eCommerce, technology, professional services, food and beverage, healthcare, property management, and foreign subsidies.
Second, it's an accounting firm that lets businesses focus on their work while anything related to finance is handled by its team. You won't have to worry about splitting your time and attention anymore.
Lastly, it hits the mark if what you're after is customisable accounting solutions, so there's no need to pay for accounting services that your business doesn't actually need.
In terms of accounting technology, Enkel is quite impressive. It works with cloud-based applications to provide business clients with user-friendly payroll, human resources, expense management, and project management software.
Customisable services
Large accounting team
Competitively priced packages
Complaints about slow customer response
Customer Reviews
A client named Shawn Miller posted this comment on Google Reviews:
"Fire your Bookkeeper and Hire Enkel! We began working with Enkel in Dec 2017 and with in the first week we fired our current bookkeeper and moved everything over to Enkel. The value that they added to our business, and the systems they created in the 1st week far exceeded my expectations. They have been able to create a robust system that provides us with everything we need (and some), at a very reasonable price (less then our past bookkeeper). With Enkel I am confident that the work is being done correctly and I actually look forward to our monthly reports. Thanks to Chris for all the hard work and fast clear communication. I could not be happier. GREAT JOB!"
Meanwhile, Sanda Phillips said the following:
"I used to spend hours on bookkeeping every month and still worry about it's quality for year-end reporting. For the past 10 months, the bookkeepers at Enkel have provided accurate and timely reports, and have helped with variance analysis. Since Enkel has taken over the bookkeeping, I can focus my full attention on growing our business!"
4. LW Accounting Services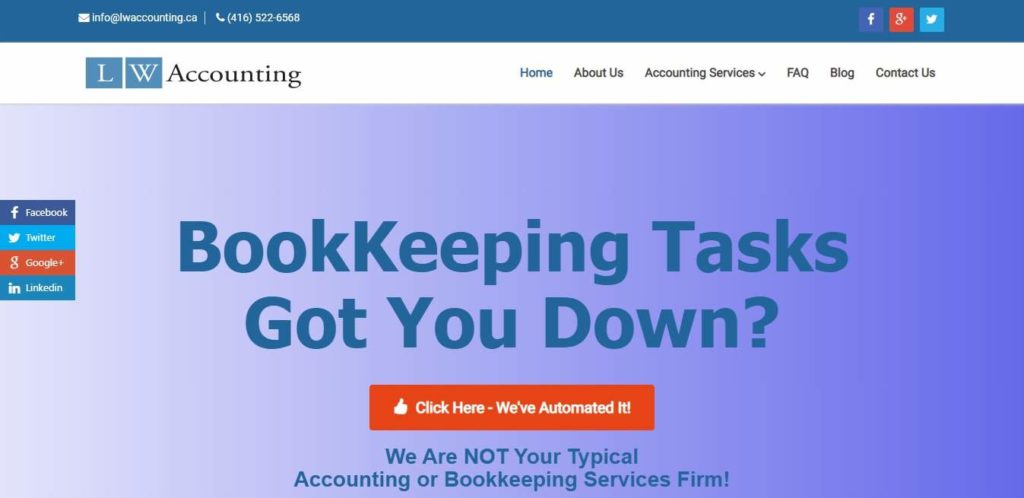 SCOPE OF SERVICES
Accounting, bookkeeping, tax preparation services, and CPA advisory service
PRICING
Call their hotline for more details
WEBSITE
http://www.lwaccounting.ca/
ADDRESS
25 Lascelles Blvd #408 Toronto, ON M4V 2C1
CONTACT DETAILS
647-560-6698


[email protected]

OPERATING HOURS
Monday to Friday: 9:00 AM – 5:00 PM
With 38 years of combined field experience, the accountants at LW Accounting Services are more than willing to work with small to medium-sized companies that need financial advice and monitoring.
LW Accounting Services is a small accounting firm compared to our other entries, but what's commendable about it is that it understands what fellow small businesses are going through. Its accounting services are a bit limited as well.
However, the coverage of its services include only the essentials, such as accounting, bookkeeping, managing payroll, and financial advisory. Its accounting team can't help in setting up accounting software, but they can handle your finances the right way.
We can't really recommend it to large enterprises considering that it may not have enough manpower to handle a really huge accounting task, but it's always worth consulting with its accounting team.
Despite the limited services, we couldn't help but add LW Accounting Services to our picks as we believe that it'd be a great match for start-ups and small businesses.
Perfect for small to medium-sized companies
More than 38 years of combined experience
Can handle business from any industry
Small accounting firm, so limited services
Customer Reviews
Here's what past clients had to say about LW Accounting:
"LW Acct. Services provided me some much needed business consulting on how exactly to structure my startup's finances so that we could come out of April 15th being as profitable as possible. I was presented with a lot of unique angles I wouldn't have thought of otherwise, and will be using them come next tax season!" -Grace Nixon
"My husband and I have been using LW Bookkeeping services for afew years now and we are always very pleased with Lori's organization, professionalism and speed. She is fantastic at her job and I highly recommend her services!" -Chase Hunter
5. GTA Accounting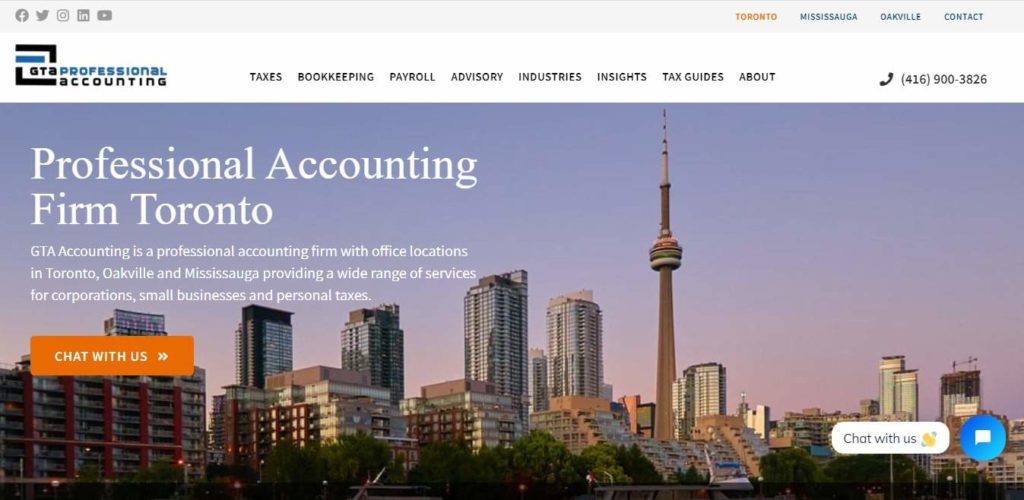 SCOPE OF SERVICES
Accounting, bookkeeping, payroll, business incorporation, cloud accounting, corporate tax return, estate planning, financial planning, international tax, not for profit, personal taxes, real estate tax, and US tax accounting
PRICING
Call their hotline for more details
WEBSITE
https://www.gtaaccounting.ca/
ADDRESS
250 Consumers Rd #501, North York, ON M2J 4V6, Canada
CONTACT DETAILS
416-900-3826


[email protected]

OPERATING HOURS
Monday to Friday: 9:30 AM – 5:30 PM
GTA Accounting is one of the top-rated accounting firms in the entire Greater Toronto Area, boasting an average rating of 4.9 out 5 based on 139 reviews on Google, which says a lot about the quality of its services.
If there's one thing that sets it apart from other accounting firms, it'd have to be the range of its accounting services. Almost every accounting firm focuses on accounting and bookkeeping, but GTA Accounting combines those two with management consulting.
As a result, GTA Accounting can help in business incorporation, cloud accounting, estatement planning, international taxes, and payroll management as well. It's among the few accounting firms that go beyond typical accounting solutions.
It's also worked with thousands of companies from a long list of industries, including healthcare, education, manufacturing, real estate, food and businesses, and import and export, among others.
Another thing to know about this accounting firm is that it's not just made up of chartered professional accountants. There also are tax consultants and management consultants on its team, allowing it to provide an extensive range of corporate services.
Obviously, GTA Accounting doesn't have the cheapest accounting rates in Toronto, so you may want to think twice if you own a start-up or a small business. It's extremely honest when it comes to its fees, though.
Wide service areas
Offers management consulting
Works with businesses from most industries
Goes beyond typical accounting services
Rates aren't budget-friendly
Customer Reviews
Take a look at these comments shared by business clients:
"We started using GTA Accounting recently and we are very pleased with the level of service we receive on a constant basis. We are not reliant only on 1 contact person but have many resources who can help us at any given time. I can schedule a call when I need it and my options and answers to my questions are explored in detail. I am very Happy!" -Michelle Patel
"GTA Accounting is the exact accounting firm I've been looking for. Their expertise enabled me to get the most return in the most efficient way possible. Having them take care of my taxes this year has been far and away MUCH EASIER than other years with a different firm. I'm happy I found them and I will continue to use them for years to come" –Alessandro Colarossi
6. SRJ Chartered Professional Accountants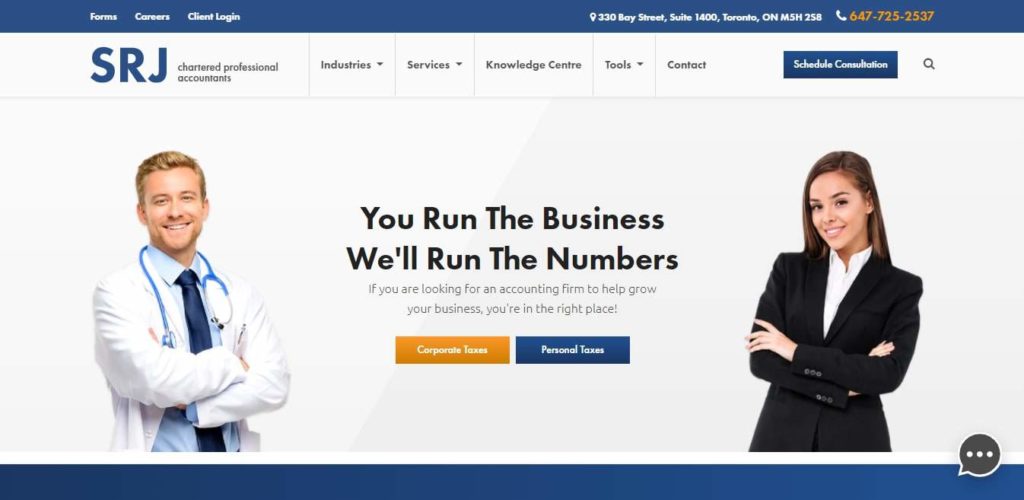 SCOPE OF SERVICES
Accounting, bookkeeping, personal tax returns, tax credits, cloud accounting, business incorporation, financial statements, valuation, litigation, and estate planning
PRICING
Call their hotline for more details
WEBSITE
https://www.srjca.com/
ADDRESS
330 Bay St #1400, Toronto, ON M5H 2S8, Canada

10 Kingsbridge Garden Circle, Suite 204 Mississauga, ON L5R 3K6
CONTACT DETAILS
647-725-2537
OPERATING HOURS
Monday to Friday: 9:00 AM – 6:00 PM
SRJ is a one-stop firm that can handle all your personal and corporate accounting needs, from personal tax returns down to company payroll, and even financial advising. We added it here for two main reasons.
For one, it's the only firm we know of that offers accounting solutions tailored specifically to the needs of doctors, dentists, chiropractors, start-ups, and small businesses. No need to stress out over which accounting service would be perfect for your company.
Second, SRJ has been working exclusively with small business owners since the beginning, so it's aware of their struggles and what their business needs in order to grow.
This is the accounting firm for your business if what you're after are convenient and tailor-made accounting solutions with no unnecessary inclusions.
Plus, it has two locations in the Greater Toronto Area: one in Toronto and another in Mississauga.
Aside from the common accounting services, SRJ also offers business incorporation, estate planning, business valuation, and litigation support and damage quantification.
Longer operating hours than most
Excellent customer service
Handles personal and corporate finances
Tailored accounting solutions
Works only with small businesses
Customer Reviews
Here's what Aileen Tan had to say about SRJ:
"SRJ Accountants did a fantastic job walking me through the HST housing rebate process, and organized my information. They handled everything swiftly, and submitted my paperwork for me. I ended up getting my full refund weeks earlier than expected. Very professional, reasonably priced. I recommend them!"
Another client named Rose left the following comment:
"Excellent Service! Picking SRJ Chartered Accountants was one of the best decisions I have made. I found them online and from my very first call I trusted they would get the job done. They did that and exceeded my expectations. I am very happy I found an organization that I can trust. I highly recommend them, you won't be disappointed! Thank you Shayan and team for all of your help."
7. FShad CPA

SCOPE OF SERVICES
ADVISORY
INCOME TAX COMPLIANCE
ACCOUNTING & ASSURANCE
TAX ACCOUNTANT TORONTO
TAX CONSULTANT TORONTO
BOOKKEEPING SERVICE TORONTO
TORONTO ACCOUNTING SERVICES
SMALL BUSINESS ACCOUNTING
QUICKBOOKS SERVICES TORONTO
XERO ACCOUNTING
TORONTO TAX SERVICES
TAX PLANNING
TAX PREPARATION
BUSINESS INCORPORATION
OUTSOURCED CFO SERVICES
PRICING
Contact company for more information
WEBSITE
https://shadcpa.ca/tax-accountant-toronto/
ADDRESS
3850 Steeles Avenue West, Unit 10 – Suite 203. Woodbridge, ON, L4L 4Y6
CONTACT DETAILS
[email protected]
866-467-7727
OPERATING HOURS
Mon – Fri 9:30 AM – 6:30 PM
Excellent accounting services are a must for every company, but these services often come at a high price that most small companies are unable to afford. FShad CPA strives to remedy this problem by providing top-notch accounting services at cost-effective prices to their clients.
Small businesses and corporations alike stand to benefit from their services the most. They provide a wide range of accounting solutions ranging from accounting advisory to income tax compliance, and everything in between.
Their team of professionals are well-versed in the ins-and-outs of accounting, which allows them to provide the best solutions no matter what their client may need. Moreover, they make sure to keep their client's on the same page with frequent, detailed updates regarding their filing process.
Given FShad CPA's commitment to providing only the quality services at the reasonable rates, it's no surprise that we recommend them for any small company working on a tight budget. They'll do their utmost to deliver accurate and satisfactory results to any client that approaches them.
Accommodates individuals and corporations
Team of professional accountants
Affordable rates
Punctual on deadlines
Usually serves startups and small businesses
FAQs about Accountants in Toronto
---
And that's it for our list of the best accountants in Toronto. If you've dealt with any of these accounting firms in the past, share with us your experience with them.
If you have any suggestions for our list, don't hesitate to send them our way. We always love hearing what our readers have to say about certain topics!
By the way, if you're thinking about entering the digital market, we recommend hiring the best digital marketing agencies in Toronto. Luckily for you, we have a list for that as well.