The 12 Best Financial Planners in Toronto
Whether your funds are meager or abundant, it's no easy task to plan your financial future. So it comes as a relief to must that the best financial planners in Toronto can help you meet your long-term financial goals.
If robo-advisors just don't cut it for you right now, you can always get personalized, holistic advice from any of the firms we'll list below. Let's check them out.
How Much Do Financial Planners Cost in Toronto?
Before we get to the planners, let's stay with how much they cost in Toronto.
Financial planners get paid in two ways: by a flat (hourly or annual) fee or based on how much money they manage for you.
Hourly fees range from $200-$400, while flat annual fees (called retainers) range from $2,000-$7,500.
Payments based on your assets are usually around 1% for in-person financial planning, but that percentage drops as your funds go up.
Online financial planning services are usually more affordable at 0.30%-0.89% or a flat annual fee that starts somewhere around the $400 mark.
The Best Financial Planners in Toronto
The figures given in the previous section are estimates based on the average. There can be large disparities in costs based on the range of services a financial planner can provide.
It's really just a matter of checking to see what you can afford and what you think is a fair return for your money. To that end, our notes on each planner may help!
1. Merrick Financial Inc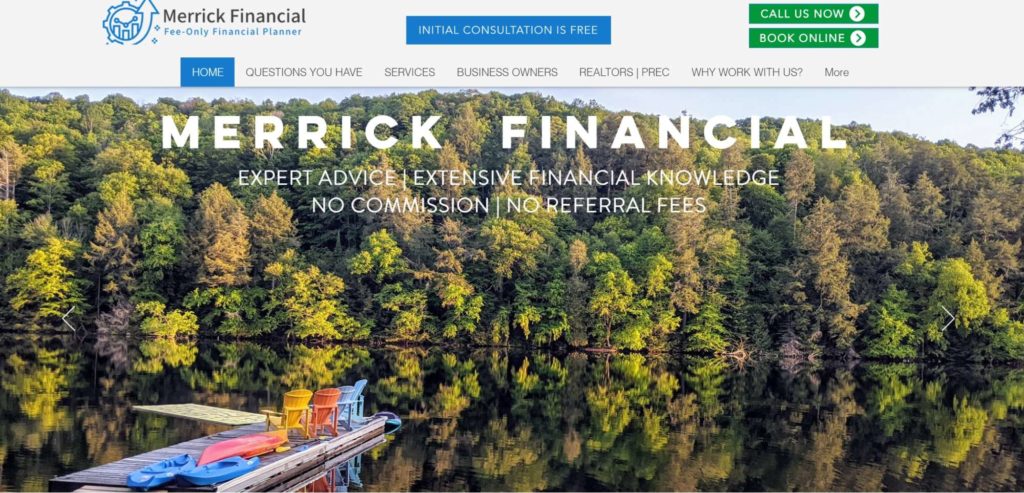 Merrick Financial Inc is a viable choice for those who want to start a business or want business owner advice. Aside from regular financial plans, Christopher Merrick is also well-versed in business structures, tax rates, salary vs. dividends and has a strong private business background.
Managing the financial aspect of a business can be challenging to say the least, especially if you already have more than enough on your plate. Chris can help you assess your risks, put up smart investments, and plan ahead if you want your kids to inherit your business.
As for regular financial planning, Chris oftens works with professionals and retirees'. You and your partner can meet up with him through video conferencing and learn how to optimize your savings, investments and plans for the short term / long term.
All these and more start at an affordable fixed rate of $1,875 for a couple.
The thing we like about Chris is that he understands that most Torontonians usually have access to high-quality financial advice through banks and investment dealers. He sets himself apart by one-upping these institutions by giving unbiased advice, not pushing financial products.
Affordable
Available case studies for reference
Set fee options
Business slant
Extra fees for constant communication
Customer Reviews
Here's what current Merrick Financial clients have to say about Chris' services:
"I have lived in Canada for 5 years, and as a worker in the public sector, I had many questions about the best way to save, invest and my retirement benefits. Chris is very knowledgeable and answered all of them. I could not have chosen a better financial planner. I now have more clarity about the different future scenarios and feel confident in my long term financial future."
– Carolina Santa Maria
"Having Merrick financial provide a detailed financial plan has made it very easy to see the path we need to take to ensure we meet our financial goals. Merrick financial made it easy to meet virtually at a time that worked for us. The financial plan was clear and we received it in a timely manner. We feel confident that we are on the right path to retirement and our money is invested in the correct places to ensure this. I highly recommend Merrick financial for any of your financial consulting needs."
– Grant Feggi
2. Frontwater Capital Inc.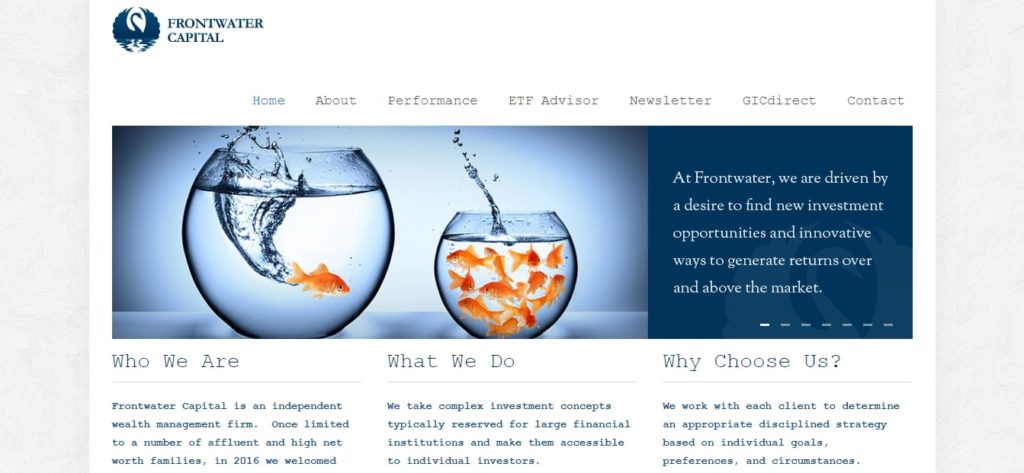 SERVICES
Financial planning, retirement planning, estate planning, divorce planning, investments (RRSPs, TFSAs, RRIFs), GICs, business advice, personal and corporations.
WEBSITE
https://www.frontwater.ca/
ADDRESS
1920 Yonge Street, Suite #200 Toronto Ontario M4S 3E2
CONTACT DETAILS
Phone: 416-903-9195
E-Mail: [email protected]
OPERATING HOURS
Founded by Jeff Kaminker in 2007, Frontwater Capital is an independent wealth management firm that has looked after a number of affluent and high net worth families since its inception. In 2016, Frontwater expanded beyond its close-knit client base and welcomed new clients to the fold.
It is consistently recognized as one of Toronto's top financial planning and investment firm. The company enjoys an immense sense of pride in working with successful professionals, corporate executives, and business owners to help them achieve their long-
term financial goals.
Their holistic approach, excellent boutique experience, and team of highly qualified individuals is what makes them different. Plus, they analyze risks along with your lifestyle goals to create a tailored financial plan for your situation.
In addition to financial planning, their team of experts guide clients through everything from investments and estate planning to tax planning to insurance solutions.
No matter your goals, no matter your stage in life, their attention is on you. Their advice is also independent and free of the "conflicts of interests" that you often see with large financial institutions.
Highly reputable company
Has a team of CFAs
20+ years of experience
Comprehensive planning services for both individuals and families
Personalized Services
Customer Reviews
Here's what some people have to say about them:
"We have been clients of Frontwater Capital for more than 12 years now. Jeff Kaminker and his team have surpassed our expectations in almost every way. He takes the time to really know his clients and gives us confidence that our financial goals are well understood. We also really appreciate that Jeff is a fee-only investment advisor. We feel very secure knowing that Jeff is in our corner." – Bernard Chan, CEO and Jennifer Chan, Associate Director
"I would like to say how pleased I have been with the service that Frontwater Capital has been providing over the last several years. Jeff Kaminker has been responsible for taking care of my investment and personal pension portfolios and has done so with great skill and care and, with excellent results. I certainly recommend his professional services to anyone looking for sound independent financial advice." -S Brown, CEO Genuine Health
3. Kurt Rosentreter Financial Advisor and Wealth Management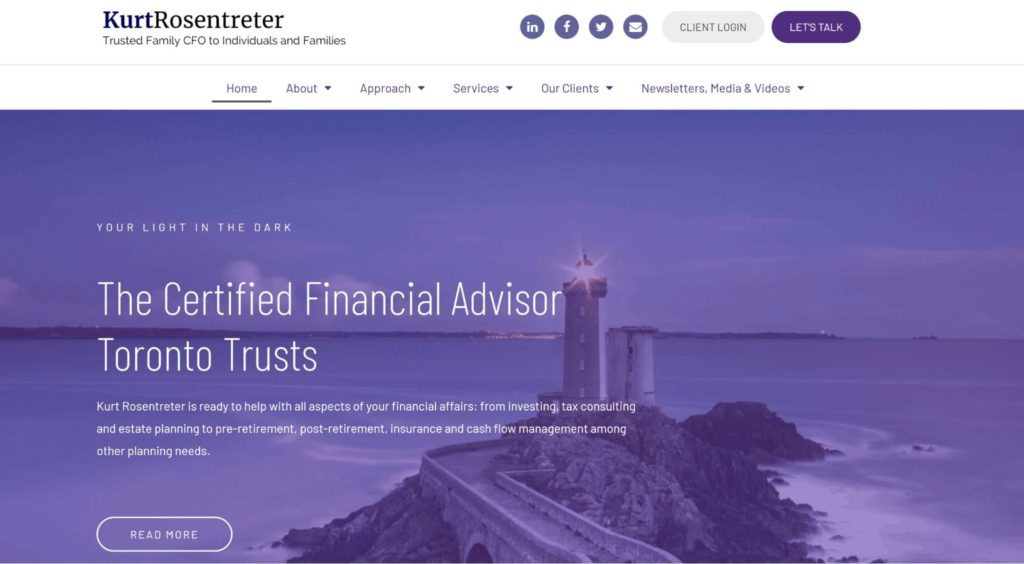 | | |
| --- | --- |
| SERVICES | Financial planning, insurance planning, investment advisory, career transitioning planning, divorce financial planning |
| WEBSITE | https://kurtismycfo.com/ |
| ADDRESS | 3 Church St. #302, Toronto ON M5E 1M2 |
| CONTACT DETAILS | (416) 628-5761 ext. 0 |
| OPERATING HOURS | Monday to Friday: 8:30am-5:30pm |
Kurt Rosentreter, a CFP with an impressive list of credentials, leads a team of six other highly qualified financial planners. They've been serving regular folk and corporations, like the largest banks and insurance providers in the world for over 25 years.
Since you most likely fall in the first category, you might be thrilled to know that your first contact with Kurt and his team will be complimentary. They want to learn about you, your assets, and your goals to see if there's a working relationship that can be formed there.
If you both think it's the right fit, they will then manage your life insurance coverage and prepare a comprehensive retirement plan for you. If you're heavily into investing, rest assured that Kurt and his team can also build a tax-smart, high-value, and risk-managed portfolio based on your risk profile.
We appreciate that they keep with the times and give their clients the freedom to choose how they want to communicate. You can set up a schedule for regular calls, online meetings, and emails, all of which can be done on your phone.
If you're going into this worried about costs, Kurt's firm is one of the few that offers multiple fee options. Since every financial situation is unique, they should have the right value proposition for you.
Keeps plans up-to-date
Has published books
Works as personal CFO
Customer Reviews
Kurt Rosentreter and his team is highly-rated, with a perfect 5-star rating on Google Reviews. Here are the most recent ones:
"I met Kurt about 10 years ago when he was teaching a financial course I was attending. I was extremely impressed by his wealth of knowledge and knew I wanted him to manage my portfolio.Today, I am still as impressed. Kurt and his team are extremely knowledgeable and professional. They continually evaluate my portfolio to ensure it is right for me. He has helped me develop a strong financial portfolio that I am very comfortable with.I would definitely recommend Kurt and his team to help you grow your portfolio."
– Michele Guglielmi
"Kurt is practical, realistic, and tells you what you need to hear, not what you want to hear. He's been my trusted advisor for 15 years. If you're serious about wealth building (not getting rich quick), I'd highly recommend Kurt and his team."
– Lawrence Mandel
4. Buxton Financial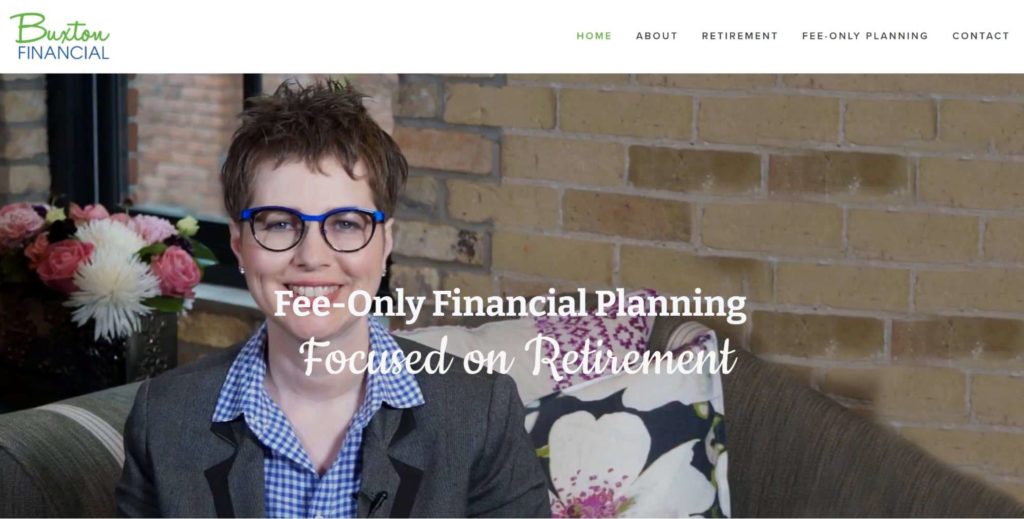 SERVICES
Private corporate strategy, inheritance management, pension decisions, divorce settlements, retirement income planning, tax planning, business succession, risk management, asset management
WEBSITE
https://www.buxtonfinancial.ca/#
ADDRESS
150 King Street West Suite 232, Toronto ON M5H 1J9
CONTACT DETAILS
(416) 628-4502


[email protected]

OPERATING HOURS
Monday to Friday: 9:00am-5:00pm
If you're set on fixed-fee financial planning services, Buxton Financial is our top option for most people. They might be the more economical move if you want to have large amounts of money managed over a long period of time.
Marlene Buxton is forthright about the costs of her financial planning packages. Their standard one is set at $3,895, which is realistic for most individuals and some couples.
For the more seasoned couple who is seriously planning retirement, their complex package is set at $5,295. If you have a ton of assets and need in-depth strategizing, their premium package is set at $6,495.
Of course, your needs will be taken into account during the initial consultation. What you require might not fit in these set packages, so she's willing to provide customized payment plans for unique financial situations.
What we like about Marlene is her exclusive focus on retirement, breaking it down into three stages: restart, relax, and reflect.
These correspond to early retirement, middle retirement, and late retirement, respectively. They can set you up financially for future travel, hobbies, home modifications, medical expenses, and charities.
We think that her fees are well worth not having to worry about paying for these things in the future. If you agree, then book a complimentary session with Marlene to see if she's the right fit.
Retirement focus
Fixed fees only
Highest score in CFP exam in 2015
Sole CFP in the company
May be hard to book a consultation with at times
Customer Reviews
Check out these glowing reviews left for Buxton Financial:
"Buxton Financial created a Financial Plan responsive to our needs and mapped out a retirement framework well into the future. This plan will be the framework to guide our financial decisions with comfort and less stress.
Marlene was very thorough, provided excellent knowledge transfer, and helped us make several critical decisions for our finances.Thank you to Marlene!"
– Baldey Gary
"A good test of client satisfaction is a willingness to recommend the product or service. We've done just that with colleagues and have offered Marlene's financial planning services to each of our three adult-age sons, who are already financially responsible. Marlene is really, really good at what she does.
She's at ease with communicating and explaining. She knows her stuff and produces a very professional and well conceived, practical report. She makes a point of really understanding you, the client. She loves what she does and when you combine that with outstanding competency for a service that people need , you end up with a winning formula."
– Richard Hamel
5. Parkhouse Financial

| | |
| --- | --- |
| SERVICES | Investments, insurance, tax-efficient solutions |
| WEBSITE | http://www.parkhousefinancial.ca/ |
| ADDRESS | 121 Richmond St W #501, Toronto ON M5H 2K1 |
| CONTACT DETAILS | (416) 838-3617 |
| OPERATING HOURS | Monday to Friday: 9:00am-4:30pm |
If investing is your #1 priority, Nathan Parkhouse is one of the best chartered investment managers around. He can plan your financial future around chosen investments, considering risks, returns, reporting, and fees.
If you sign on with him, you can expect to be sent consolidated statements four times a year, so you can keep an eye on how your investments are going. Most investors can't be passive about what they spend on investments, so it's crucial to receive these updates.
Parkhouse Financial also considers life insurance an investment. Permanent life insurance policies are treated as assets with the purpose of diversifying your balance sheet.
If you already have a nice nest egg going, you can also choose to optimize your wealth by using Nathan's tax-efficient solutions. We appreciate the option to invest extra income in GICs, so your heirs and favorite charities are covered.
Overall, we find that Parkhouse Financial is a no-frills financial planning service for those who want to adapt to future market changes. They even have a portal so you can check your portfolio at any time.
Online portal
Investment slant
30+ years of experience
Outsources jobs to accountants, lawyers, and mortgage advisors
Customer Reviews
Take a look at what these two Parkhouse Financial clients have to say about Nathan's services:
"We have been working with Nathan for longer than 5 years now, and we've found him and his team to be top notch. They provide well thought out advice on both the strategy and investing levels and are always very quick to respond to any comments, questions, or concerns sent their way. I would highly recommend them to anyone looking for a solid, reliable investment team. Thank you Nathan and gang!"
– Attilio Commisso
"Nathan has been our Financial Planner now for the past 6 years and his advice and service has been amazing. He is constantly in touch with my wife and I both regarding our investments and with current market trends. I have referred him to both family and friends and will continue to do so as I have only heard good things back."
– Michael Sugar
6. Objective Financial Partners Inc.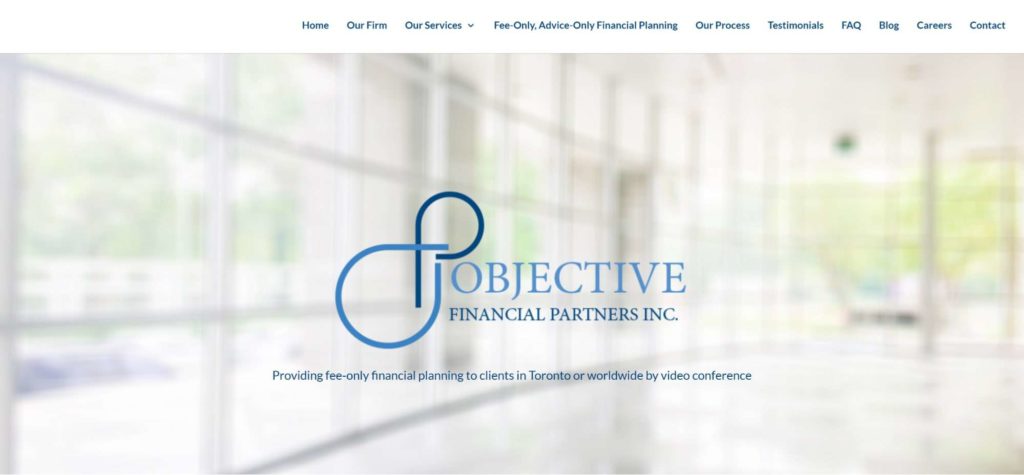 SERVICES
Advice-only financial planning, retirement planning, investment planning, financial coaching consultations, tax prep, estate planning, insurance needs analysis, Canadian expats, employee financial planning, paraplanning
WEBSITE
https://objectivefinancialpartners.com/
ADDRESS
675 Cochrane Drive East Tower 6th Floor, Markham ON L3R 0B8
CONTACT DETAILS
(416) 691-8471
Toll free: 1-855-691-8471
OPERATING HOURS
Monday to Friday: 9:00am-5:00pm
Objective Financial Partners Inc. caters to clients all over the world via Zoom or Skype, but most of their clients are Torontonians. We'll focus on their unique financial planning offerings since their services are pretty comprehensive.
First, their team specializes in financial planning for Canadian expatriates living in our countries. They can manage Canada-specific investments, real estate, and tax payments for those who want to come back and retire here.
Next up is paraplanning, a.k.a. financial planning for other planners. As you can tell from this list, there are many firms with just one CFP and maybe a couple of assistants.
They typically outsource their work to paraplanners if their workload gets to be too much. In this case, you can cut out the middleman by reaching out to a larger team that can always handle your plans if you feel iffy about outsourcing.
Objective Financial Partners Inc. is made up of 12 members, all highly qualified with extensive experience in managing people's finances. The firm can match you up with the right CFP based on your financial goals.
Large team
Communication in writing and meetings
Offers flat rates
No minimum (net worth starts at $0)
High-end rates (most of their clients are wealthier than average)
Customer Reviews
Here are two of the latest reviews for Objective Financial Partners Inc.:
"We contacted Colleen Derrick in March 2021 to develop a decumulation strategy so that we could minimize our taxes during retirement.
Colleen conducted a thorough analysis of our retirement income projections and provided us with two scenarios for drawing down our RRSPs. During our discussions, she was extremely helpful in answering all of our questions. Based on Colleen's excellent work, we are now in a better position to handle the decumulation process during our retirement.We appreciated Colleen's friendly and professional approach and would highly recommend her."
– Shell Ed
"Working out my retirement plan with Nancy was a pleasure. Her knowledge and expertise were evident right from the start. She took time to truly understand my particular needs and desires in retirement. No cookie-cutter approach here. It is refreshing to find a planner who is focused on my best financial outcome, and not theirs. This is because Nancy is paid by fee, and not paid through product sales or commissions.
Nancy promptly presented me with a plan that I could easily follow and fit my goals. She was quickly available for follow-up conversations, or to clarify points that I forgot. I am extremely pleased with her work on my behalf."
– Steve Donaldson
7. Caring for Clients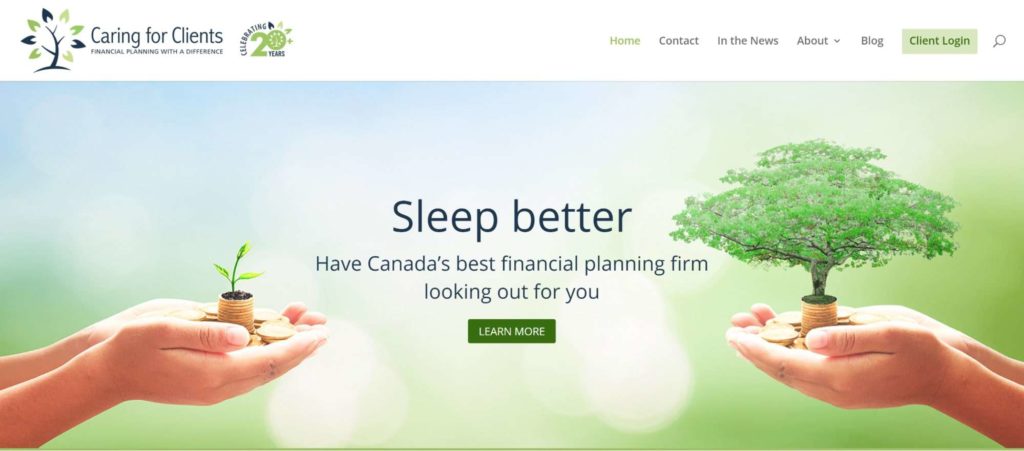 | | |
| --- | --- |
| SERVICES | Hourly consultations, wealth management, financial plans for individuals, couples, and business owners |
| WEBSITE | https://www.caringforclients.com/ |
| ADDRESS | 69 Yonge Street 2nd Floor, Toronto ON M5E 1K3 |
| CONTACT DETAILS | (416) 363-8500 |
Caring for Clients was founded by Rona Birenbaum back in 2000. She now leads a team of six financial advisors, all with extensive experience in the corporate sector.
CFC is pretty transparent about their $300 hourly rate, which is on the pricier side. Hourly consultations are best for those who already have a financial plan.
It would be the advisor's job to find any gaps or make changes to your plan based on your new goals. We advise you to make a list of specific questions to ask your CFC advisor so you get your money's worth.
If you don't have a financial plan yet, you can build one with a CFC advisor from scratch. The team has a specific focus on debt elimination, so that's probably going to be addressed first.
If you establish a professional relationship with a CFC advisor over time, you can always opt for a comprehensive personal plan, which has advice integrated into it. This costs around $4,500, and that already includes wealth management, retirement planning, risk management, and more.
Access to a team, instead of one advisor
Transparent about rates
Option to upgrade to financial planning
Expensive
Has to reach out to other professionals for areas beyond their expertise (medical, business, etc.)
Customer Reviews
Here are two of the more recent Google reviews for Caring for Clients:
"I had an excellent experience with Rona. I now understand some things that I didn't understand before and have a new strategy in terms of investing. I was very impressed with the customer service experience and everyone was very pleasant. I thought it is also important to highlight that in an industry where everyone is trying to sell you their investments, it's important to take advice from someone who doesn't have bias towards a certain type of investment. I think this business serves an important function. I believe because Caring For Clients is not attached to a bank, they are not trying to sell you specific investments, so the information they provide is high quality."
– Na Na
"I don't know what we'd do without Rona and the rest of the Caring for Clients team. They have been our most trusted source of guidance and advice for all of our major financial decisions. We know that our financial wellbeing is Rona's priority in working with us. As a bonus, her patience and guidance have allowed me to shift from being absolutely overwhelmed by all things financial (I'm talking nearly fetal position) to feeling that it's not all that complicated after all. I still need her help, but she's helped me understand that it's not as scary as it seemed."
– Dan Trommater
8. Edward Jones – Financial Advisor: Ryan M. Henderson

| | |
| --- | --- |
| SERVICES | Retirement income strategies, retirement saving strategies, estate & legacy strategies, intergenerational planning, socially conscious investing, charitable giving |
| WEBSITE | https://www.edwardjones.ca/ca-en/financial-advisor/ryan-henderson |
| ADDRESS | 150 York Street Suite 912, Toronto ON M5H 3S5 |
| CONTACT DETAILS | (416) 485-5484 |
| OPERATING HOURS | Monday to Friday: by appointment only (works evenings) |
Edward Jones is an investment company that gives clients access to hundreds of financial advisors. We combed through their Toronto charter and found that Ryan Henderson is the one who comes most highly recommended.
Ryan works with a wide variety of clients, from serious investors to retirees. He focuses on maximizing retirement income, so he can set you up for a comfortable and worry-free future.
He does have a team behind him, so he's able to take on multiple accounts at once. Since he's an expert on investment, he can teach you a lot about personal finance and how to put your savings to good use.
Ryan is known to be a patient educator, which is a mark of an excellent financial advisor. As for the cost of his services, Edward Jones generally features fee-based advisors with a starting fee of 0.09%, which is just around the cost of a fancy Robo-advisor.
If the primary area of your finances that you need help with is investment, we think you can't go wrong with Ryan. He elicits trust and seems to have his clients' best interest at heart, judging from what his customers say of him.
Intergenerational planning
Retirement focus
CFP since 2009
Sole CFP in team
Ambiguous offerings
Customer Reviews
Check out these glowing Google reviews for Ryan M. Henderson:
"My husband and I were referred to Ryan by some friends a few years ago and we are very pleased with the level of service and the growth of our investments. He cares about what's important to us and takes his time to explain everything. We definitely recommend Ryan to anyone looking for good investment advice."
– M Graham
"I have been dealing with Ryan for many years now. He's done very well for me financially and I trust him implicitly. He takes a personal interest in his clients and puts a lot of work into developing the best portfolio suited just for them and their needs. I would recommend Ryan highly to any friend or family with full confidence."
– Barb
9. Rosedale Family Office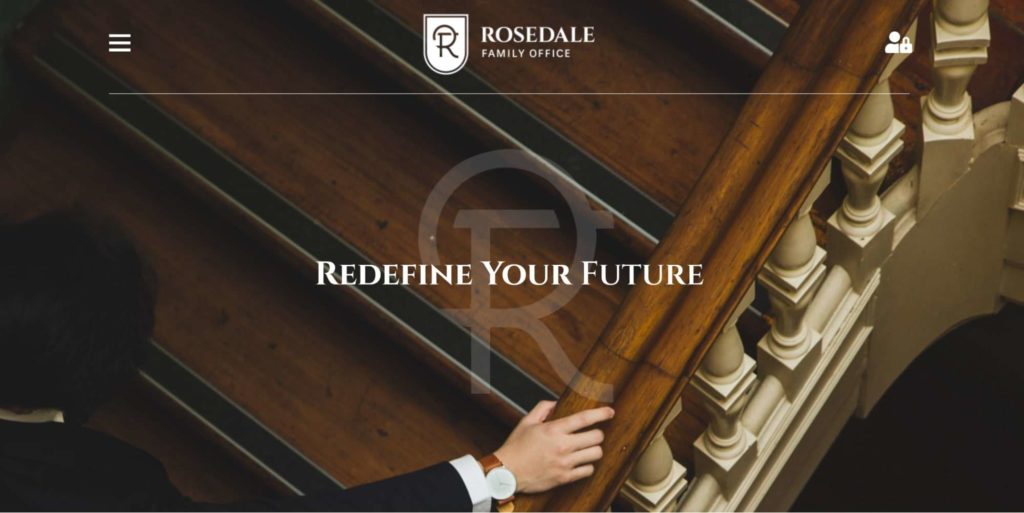 | | |
| --- | --- |
| SERVICES | Financial planning, business & family advisory, will, estate, and trust planning, investment management, retirement planning, philanthropic planning |
| WEBSITE | https://advisor.wellington-altus.ca/rosedalefamilyoffice/ |
| ADDRESS | 10 Alcorn Ave Suite 300, Toronto ON M4V 3A9 |
| CONTACT DETAILS | (647) 484-6869 |
| OPERATING HOURS | Monday to Friday: 8:00am-5:00pm |
Rosedale Family Office is a team of what you might call financial gurus. Most of the members are investment advisors and taxation consultants.
RFO is your best option if you have an estate to manage. Though they give individual financial advice, their services are more geared towards families that have to plan for education and philanthropy.
Since they regularly deal with families, you can expect that they can handle unique financial situations and can help you find the proper course of action as your family moves forward financially.
They also have in-house advisors who are more adept at business ventures, though. You're still covered if that's your main concern.
The only thing that bothers us about RFO is that they're tied to the National Bank of Canada, which gives us reason to think that they might push financial products on their clients.
They claim that they only give truly independent objective advice, but it's up to you to figure out your advisor's true motives.
14 members can handle larger and complex workloads
Seamless transition from personal to business finance
100+ years of combined experience
Customer service could be better
Customer Reviews
Take a look at what Rosedale Family Office clients have to say about their services:
"Working with the team, Rocky/Tasha/Adam & Jesse has been a great experience. They provided my family with a full financial blueprint that includes tax & estate planning. A full service firm that does not take a one size fits all approach & is highly creative."
– Miranda Tawfik
"After in-depth research and having met with numerous financial advisors when I moved to Toronto three years ago, I finally met with Rocky. I've never felt this comfortable being a female investing in the stock market. The level of service and education he provides is above and beyond. I've never received such personal service from a financial advisor before. If you're looking for someone who is relatable, patient, and passionate about his work and genuinely cares about helping you, I highly recommend Rosedale Family Office. I will be a client for the long run."
– Miranda Popen
10. Kismet Wealth Group Corp.
SERVICES
Wealth management, real estate & development, mortgages & financing, tax filing & bookkeeping
WEBSITE
https://kismetgroup.ca/
ADDRESS
145 Front Street East Suite 107, Toronto ON M5A 1E1
CONTACT DETAILS
1-855-683-4381


[email protected]

OPERATING HOURS
Monday to Friday: 9:00am-9:00pm
If you're in the big leagues, then you're probably looking for all-encompassing financial advice in the form of wealth management. Affluent folk usually go for a more holistic approach when it comes to their assets, which is what Kismet can provide.
First, the team assesses their clients' aspirations and maps out how they can be achieved. Implementations and revisions will then be monitored during the ongoing management.
If you're a high-net-worth individual and you plan on going with KWG, you'll have the benefit of being able to check your financial status at all times. They have a client portal where you can oversee your plans and get in touch with your advisors.
It's common knowledge that the affluent rarely ever handle their taxes. Such a job falls on groups like KWG that can file taxes, manage payroll, and prepare financial statements.
More than that, KWG focuses on increasing wealth and have, well, a wealth of experience in that area. It's worth noting that Kismet retains 95% of their clients, a real testament to the quality of their services.
Best for high-net-worth families, medical & legal professionals, entrepreneurs
Client portal
Has in-house real estate team
11. Kind Wealth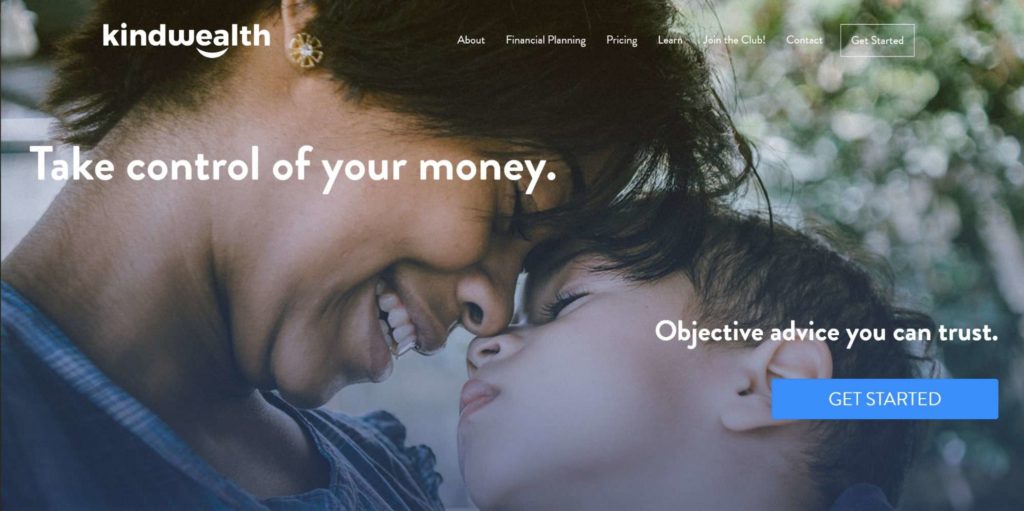 SERVICES
Financial planning, advice meetings, portfolio check-up, investment consultations
WEBSITE
https://kindwealth.ca/
ADDRESS
2 Prennan Ave, Etobicoke ON M9B 4B6
CONTACT DETAILS
(289) 812-9912

[email protected]

OPERATING HOURS
Monday to Friday: 9:00am-9:00pm
Kind Wealth has to be commended for their transparency. All of their services are set at fixed prices, something truly noteworthy if you're concerned about some firm siphoning hidden fees from your accounts.
KW's hourly rate is $249 for financial advice meetings, something you can set up if you want to discuss your most pressing financial issues. For an additional $50+HST, you can get a follow-up summary report that you can refer to when you're ready to make your next financial move.
Do you also have an investment portfolio that needs checking out? KW can run a quick diagnostic on your IP to see if you're taking on appropriate risks and using the right account types.
If you discover that you're into what KW is all about, you can have them on a monthly retainer for only $149-$299. That's inclusive of a comprehensive financial plan with follow-through!
It looks like KW is staying true to their name in that they're taking an honest and compassionate approach to educating people about their finances. If you want to check them out further, they have a podcast under the same name.
Flat rates with no hidden fees
No commissions
Free initial consultation (for financial planning)
Customer Reviews
Here's proof that Kind Wealth is really out here trying to do some good:
"I had a very good experience with Kind Wealth. David took his time with me and answered all my questions. Some institutions give quite generic answers to financial questions, however David provided a very personalized experience."
– Colin R
"We've been using this service for 2 years now. They have taken a holistic approach to our financial well being and have helped us ensure that we have considered every aspect. Our Planner, Shay, has been outstanding – not only is she extremely knowledgeable, but she has terrific empathy. We've felt that she really wants to understand who we are, what we're all about, and hence see the big picture of our financial needs. She provides us with impartial advice – so very rare, to have advice that you can trust because she's not receiving commissions, kick-backs, or incentives. She works for us, and provides advice that's best for us. We highly recommend Kind Wealth to anyone who wants to take control of their financial ecosystem and feel confident that they have a plan."
– Justyn Szymczyk
12. BlueAlpha Wealth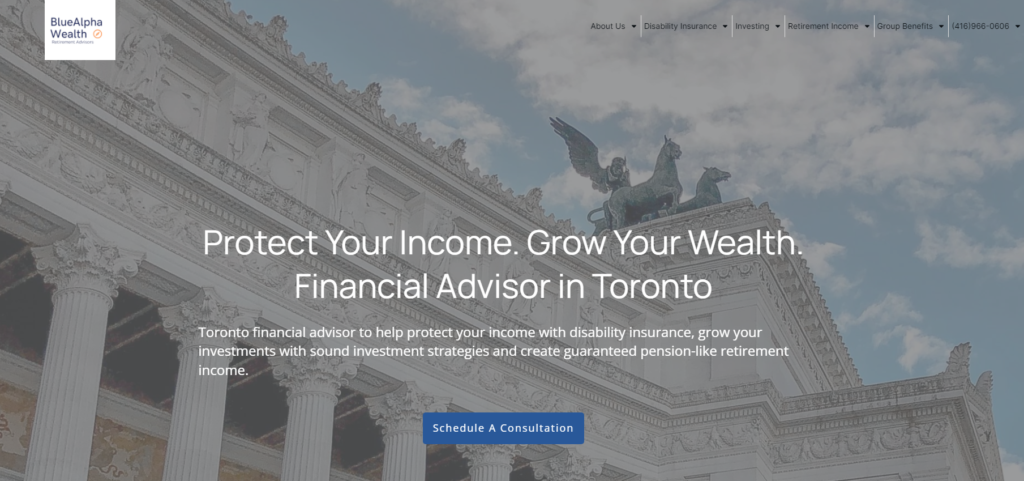 SERVICES
Financial Planning
Retirement Planning
Group Benefits
Investment Accounts & Types
Business Owner Pension Plan
Disability Insurance
Critical Illness Insurance
WEBSITE
https://bluealphawealth.ca
ADDRESS
101 Duncan Mill Rd, Suite 108, Toronto, ON, M3B 1Z3
CONTACT DETAILS
(416)966-0606
1-877-494-0701 (Toll-Free)
[email protected]
OPERATING HOURS
Monday to Friday 9AM to 6PM
BlueAlpha Wealth is a Toronto-based financial advisory firm that aims to provide its clients with the best wealth management advice. The firm is handled by Carter Njovana, a financial advisor, and Bal Njovana, a financial advisor associate, both of whom have years of experience in the field.
Carter and Bal typically work with clients from different fields and all walks of life. So long as you're serious about managing your finances and saving long term, they'll readily provide their services.
In addition to that, BlueAlpha Wealth offers a wide range of services, including retirement planning, investment accounts, business owner pension plans, disability insurance, critical illness insurance, and of course, financial planning.
If you're from outside of Toronto or go out of Toronto frequently, don't fret. BlueAlpha Wealth accommodates clients regardless of their location, all you need to do is book a consultation over the phone and go from there.
Quick and easy booking process
Wide range of financial services
No cost for initial interview and discussion
Serves clients outside of Toronto
How to Choose the Right Financial Planner
Now that you have the best options for financial planning, let's delve into how you can pick the right one to map out your financial future.
1. Know the areas of financial life that you need help with.
Decide which areas of your financial life require assistance before speaking with a financial planner. You should be prepared to describe your specific money management needs at your first meeting.
It's important to remember that financial planners offer more than simply investment advice. The right financial planner will be able to assist you in charting a route for all of your financial requirements.
2. Learn about how they make money.
There is no federal legislation that governs who can use the title of financial planner or offer financial advice. While many people claim to be financial planners, not all of them are looking out for your best interests.
Regardless of the planner you pick, be sure you understand how they make money. This allows you to assess if their suggestions are best for you—or for their pockets.
3. Choose the services that you want.
You could need anything from investment advice to debt management. It won't be the smartest move to avail of a package if it offers more than what you need.
Make sure the financial planner you choose provides the services you require in both your financial and non-financial lives.
4. Decide what you can afford.
Not too long ago, financial planners charged a portion of the assets they managed for you as a fee. Planners now provide a range of pricing arrangements, making their services more affordable to customers of different financial backgrounds.
You could opt for advice-only and fee-based planners who can accommodate your financial restrictions. After all, not only the wealthiest should benefit from their services.
FAQs about Financial Planners
---
We hope this list helps you secure your financial future. Our picks for the best financial planners in Toronto have seen it all, so all of them can accommodate your unique financial situation.
If you decide to go for a more DIY approach in managing your finances, this list of the best accountants in Toronto is worth checking out too.