The 5 Best Furniture Movers in Toronto
Hiring a moving service is one way to make your move stress-free. However, not all moving services will know how to take care of your furniture.
This is our review of the best furniture movers in Toronto. Our list will inform you about their usual rates and how exactly they can keep your furniture safe while in transport.
How much do furniture movers cost in Toronto?
Expenses are high when you move from one place to another. Here is a sample price table to help you allot a budget should you decide to hire a furniture mover.
| Furniture Mover | Estimated Rate |
| --- | --- |
| Low-end | 113 CAD to 130 CAD |
| Average | 194 CAD to 258 CAD |
| High-end | 516 CAD to 645 CAD |
Please note that prices will vary per store and that these are all subject to change.
The Best Furniture Movers in Toronto
We assesed the following factors to find the best furniture movers in Toronto:
1. CARGO CABBIE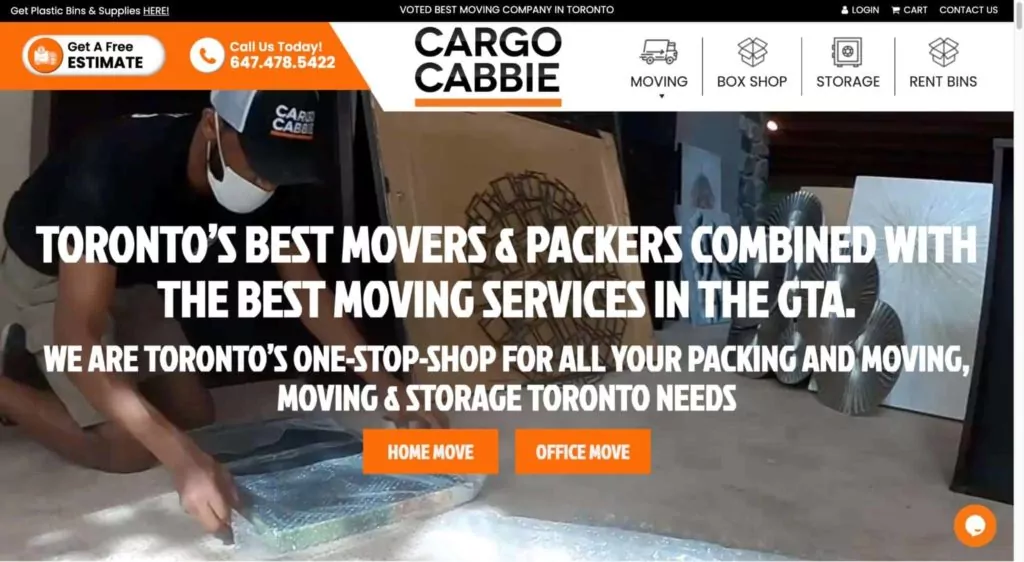 Test
Info
WEBSITE
https://www.cargocabbie.ca/
ADDRESS
105 Brockhouse Rd Unit #100, Toronto, Ontario
CONTACT INFORMATION
+1 647-478-5422
OPERATING HOURS

Monday to Friday

8:30 AM to 5:30 PM




Saturday

10:00 AM to 2:00 PM




Sunday

Closed
| | |
| --- | --- |
| SKILLS | ★★★★★ |
| KNOWLEDGE | ★★★★★ |
| CAREFULNESS | ★★★★★ |
| CUSTOMER SATISFACTION | ★★★★☆ |
Since 2010, Cargo Cabbie has been performing moving and packing services in Toronto. They have grown to be a trusted service in the Greater Toronto Area and nearby communities, with them receiving multiple awards during the past decade.
This service caters to home, office, condo, storage, and even in-home moves. They even have express moving services and have professional last-minute movers for emergency and urgent situations.
What makes them a great furniture mover is the fact that they know how to remove and assemble furniture. This is reflective of their handling skills and assures that they are knowledgeable movers.
We like how they do specialised moving, wherein they are able to move antiques and heirlooms along with delicate pieces. This shows the care of their in-house movers and their treatment towards items.
They also perform wrapping and other security measures before boarding each furniture for transport, something that most of their customers really appreciate.
Honestly, the only little red flag that we see at the moment is that this service is closed on Sundays. Many other moving services are open daily and it is undeniable that some people only have Sunday as their free day to move or handle things at home.
Overall, we find that this service is very knowledgeable at furniture moving. They even go the extra mile and even help you setup or or prepare your furniture for transport.
About 12 years in the business
Knows how to handle antiques and delicate items
Last minute movers are available
Perform security measures for furniture before transport
Closed on Sundays
Has a few complaints about scheduling issues
Customer Reviews
All furniture nicely wrapped for the move
"Excellent service from initial estimate, all the way through unpacking the day after the physical move. Fantastic communication from all staff members that we dealt with. Fair, and competitive prices. No surprises during packing, moving, and unpacking.
The designated team leader communicated well with both us, and the moving crew. All furniture nicely wrapped for the move. Great attention to ensuring that both our furniture, and our home were looked after during the move.
This company was definitely a cut above others that we have used in the past."
— Michael Weingarten, via Google
Very careful with the furniture, always asked for preferences
"James & Marius were great – Arrived right on time, were very careful with the furniture, always asked for preferences and offered recommendations. Highly recommend. Thanks again!" — Julianne San Antonio, via Google
2. High Level Movers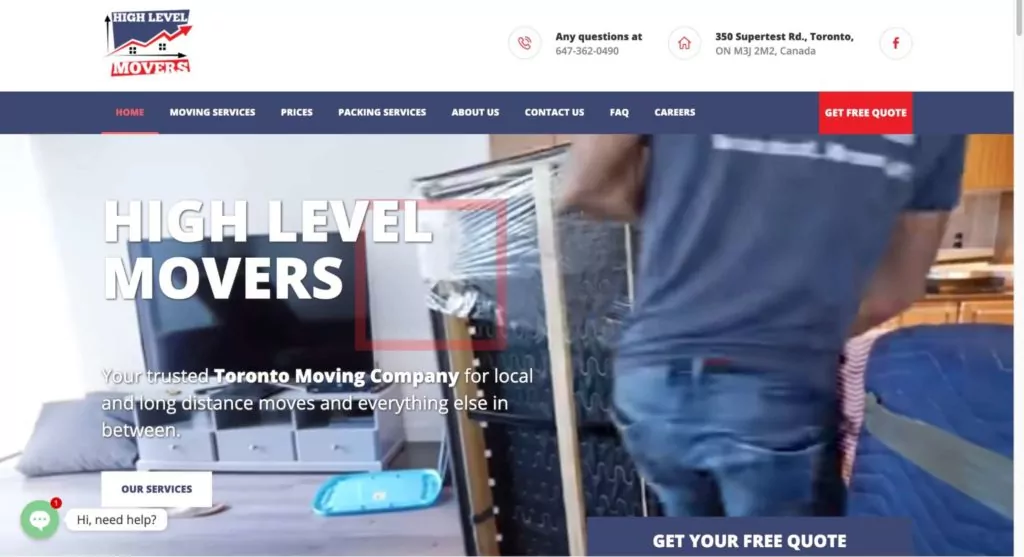 | Test | Info |
| --- | --- |
| WEBSITE | https://highlevelmovers.ca/ |
| ADDRESS | 350 Supertest Rd, Toronto, Ontario |
| CONTACT INFORMATION | +1 416-333-0259 |
| OPERATING HOURS | Open 24 hours |
| | |
| --- | --- |
| SKILLS | ★★★★★ |
| KNOWLEDGE | ★★★★★ |
| CAREFULNESS | ★★★★★ |
| CUSTOMER SATISFACTION | ★★★★☆ |
Serving over 20 locations including Toronto, High Level Movers has been in the moving services industry for more than 15 years now. They cater to residential and commercial clients and are knowledgeable in moving and storage services.
We find it interesting how this service performs long distance moving throughout Canada. They may have a list of served locations but they are flexible enough should you request for them specifically.
In terms of furniture, they are very handy and they bring an appropriate vehicle depending on the size of your belongings. Their packing materials are of high-quality, ranging from special straps, dollies, and security blankets.
They initially consult with the client in terms of what they need, then they come up with a package that will fit the move. This package is like a moving kit containing materials such as boxes, newspapers, tape, markers, and more.
On top of these, we appreciate how they have a garbage cleaning service. They offer to help their clients clean up after long days of packing and decluttering, which to us makes a huge plus.
We do warn that there are extra charges if you exceed your schedule and that these can be quite costly. Some of their vans or trucks also take a while to open, which has been experienced by several customers.
Nonetheless, their mishaps are outweighed by all their great assistance and the number of times they succeeded in properly transporting furniture.
Serves at least 22 locations
Over 15 years' experience
Provides long-distance moving services
High-quality packing materials
Extra charges can be quite costly
Some units reportedly take a while to open
Customer Reviews
Truly exceeded our expectations
"We engaged the company recently and we are super impressed with the professional services. It truly exceeded our expectations as they move things faster than we thought and they took care of the furniture as well.
Although they reached later than the schedule due to the delay from the previous customer, the overall experience is still excellent. They also help us to place our furniture wherever we requested, we really appreciate their service."
— Kar Rui Tan, via Google
Figured out how to dismantle furniture that we had forgotten how to do ourselves
"Sergio and Valera arrived before the start time, taking into account the extra time the apartment folks take up opening doors and lifts. The move began at 9 sharp.
Both guys were very good with our things, and figured out how to dismantle furniture that we had forgotten how to do ourselves. They even endured the stupid attitude from one of the crazies living in the building.
They arrived at our new home on time, and put everything where we wanted it and reassembled our furniture. Top class work, would definitely recommend." — Vidhu Devaraj, via Google
3. Home Art Moving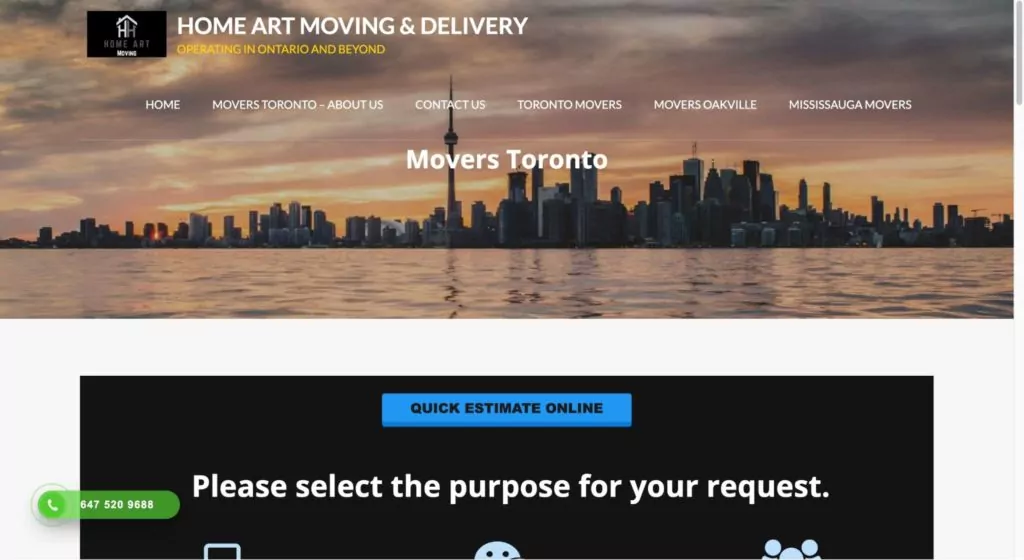 Test
Info
WEBSITE
https://homeartmoving.ca/
ADDRESS
567 Roehampton Ave Unit 1, Toronto, Ontario
CONTACT INFORMATION
+1 647-520-9688
OPERATING HOURS
Sunday to Saturday

9:00 AM to 9:00 PM
| | |
| --- | --- |
| SKILLS | ★★★★★ |
| KNOWLEDGE | ★★★★★ |
| CAREFULNESS | ★★★★★ |
| CUSTOMER SATISFACTION | ★★★★☆ |
Home Art Moving has been delivering and transporting items in the Greater Toronto Area for 17 years. Given their name, they are known for their special handling of goods for homeowners and commercial clients.
Probably the best thing about this service is that on top of their moving services, they provide an affordable, safe and secure self storage service that customers can use for overnight or short and long term.
They mainly make use of heavy duty storage blankets. If items need an extra layer of protection, they also carry shrink wrap.
Large furniture items are usually secured with shoulder harness straps and padded dollies.
We also appreciate how they ensure that your hardwood, flooring, and other parts of your home with delicate or special materials are safe from potential scratches during the move.
This company has less to zero online complaints, so there isn't really anything alarming about them. We do find that booking an appointment can take quite long given their busy schedule.
We also recommend contacting them via phone call, as some online enquiries apparently sometimes glitch or encounter errors.
We recommend Home Art Moving especially for homeowners who are very particular with their furniture. They are obviously the top choice if you also have art or statement pieces you wish to transport.
17 years in the business
Offers storage service should a customer need it
Has heavy duty storage blankets
Protects hardwood and flooring in your space when moving
Appointments are usually full
Online einquiries sometimes glitch
Customer Reviews
Above any level of professionalism that I ever expected
"My movers were above any level of professionalism that I ever expected. My furniture was beyond extremely heavy yet they made it look effortless. Not one bit of damage at all to my home or furniture. Professional ,courteous, and honestly amazing especially carrying such extremely heavy furniture. The company, office staff, and movers surpassed my expectations. I will refer and use them again in the future." — Nick White, via Google
Movers came with all the right equipment and got the job done
"We had to move some larges pieces of furniture, the movers came with all the right equipment and got the job done. I was very stressed at first but am very happy now that the job is done. Marek and his team were very friendly as well." — sheldon newman, via Google
4. Sueland Moving & Storage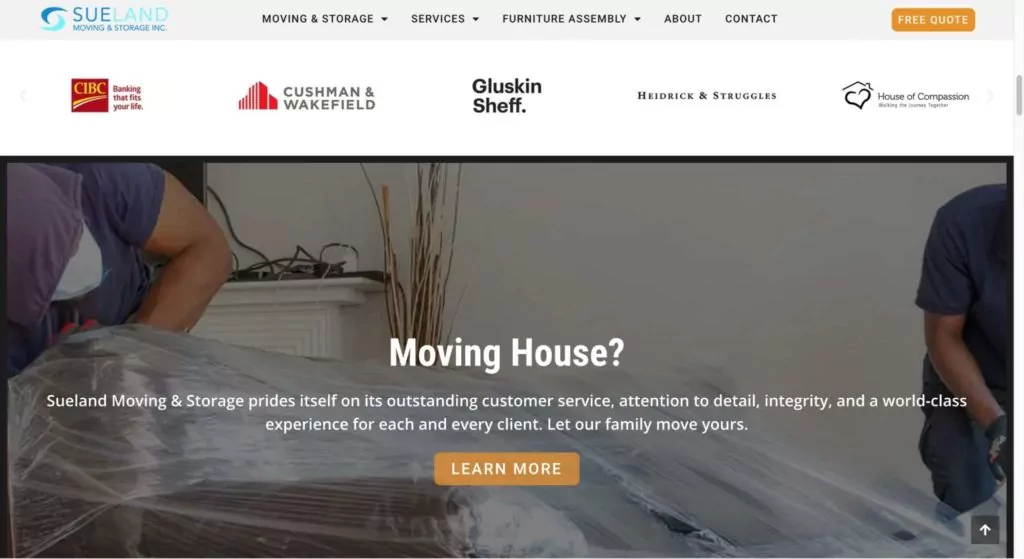 Test
Info
WEBSITE
https://www.suelandmoving.com/
ADDRESS
347 Jane St #114, Toronto, Ontario
CONTACT INFORMATION
+1 416-738-7947
OPERATING HOURS

Monday to Friday

7:00 AM to 6:00 PM




Saturday and Sunday

7:00 AM to 12:00 NN
| | |
| --- | --- |
| SKILLS | ★★★★★ |
| KNOWLEDGE | ★★★★★ |
| CAREFULNESS | ★★★★★ |
| CUSTOMER SATISFACTION | ★★★★☆ |
Proudly Canadian-owned and established in 2013 by someone with years of experience in the moving service industry, Sueland Moving and Storage provides moving and storage solutions throughout the Greater Toronto Area.
Their expertise in furniture is pretty much obvious, as they even have a designated location where they assemble furniture for customers.
Their team has 30 years of experience in total and furniture assembly and installation is one of the skills that they have been harnessing and championing recently.
Packing and unpacking services are also available for customers who do not have the time to arrange their own stuff. They also have office furniture decommissioning and liquidation services, which is quite impressive.
We also like how they have a furniture removal service, so they can really make the entire moving experience lighter for you. They make use of the usual items to ensure the safety of your furniture during transport.
We do note that all of these come with a price. The rates of Sueland can be quite higher than most.
We add that they can take a while to reply as well, especially if you contact them online. We advise that you call them instead.
All said, Sueland Moving and Storage is perfect if you want someone to handle your furniture well and you're willing to go the extra mile and spend a little more for a moving service.
Canadian-owned
Team has a total of 30 years experience
Has a list of other furniture services apart from moving
Takes furniture assembly and installation seriously
Some quotes are higher than most
Takes a while to reply to online enquiries
Customer Reviews
Extremely helpful and professional
"We used Sueland's services for moving and assembling some of our furniture. They were extremely helpful and professional. I would surely recommend them for the wonderful service and will be sure to ask for their help in future." — Saugata Das, via Google
Professional, enthusiastic, polite workers
"We had a big project to complete with new furniture being delivered to our hotel, and Sueland Moving sent us a team of professional, enthusiastic, polite workers who even though the work was taxing – completed it with a smile on their faces!
I will definitely use Sueland Moving again should we need Commercial Movers and would recommend them to anyone!" — Jackie Downard, via Google
5. Your Friend with a Cube Van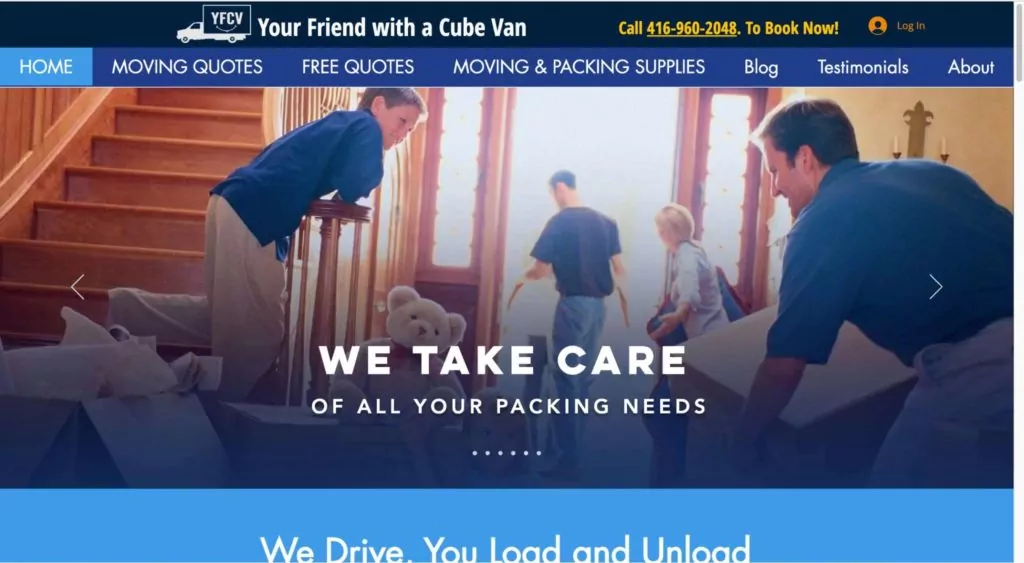 Test
Info
WEBSITE
https://www.yfcv.ca/
ADDRESS
389 Dundas St E, Toronto, Ontario
CONTACT INFORMATION
+1 416-960-2048
OPERATING HOURS

Monday to Friday

8:00 AM to 4:00 PM




Saturday to Sunday

9:00 AM to 4:00 PM
| | |
| --- | --- |
| SKILLS | ★★★★★ |
| KNOWLEDGE | ★★★★☆ |
| CAREFULNESS | ★★★★★ |
| CUSTOMER SATISFACTION | ★★★★☆ |
Take it from the name of their business. Your Friend with a Cube Van is literally a friendly neighbourhood service that will assist you with your moving and storage needs.
This local business has been around since 2003 and is listed as one of the Top 3 Movers listed by BlogTO. We like the fact that they establish good relationships with individuals and businesses within the Greater Toronto Area.
Their friendly approach is what led them to become one of the most trusted in the area and it is what keeps them going today. It is how they talk to their customers and tell them how they can help that makes them stand out.
We especially like their transparency in terms of their process. They will walk you through how they will literally lift and move a furniture piece.
They also know how to assemble furniture, which gives them a huge plus. Free quotes are also available for usual services.
We do warn that while they are really nice and easy to deal with, some of their team members aren't that equipped with moving knowledge. This sometimes takes a toll and ruins the smoothness of the entire moving process.
Still, they made the cut and we recommend them because you can address concerns with them. The ease of communication coupled with adequate furniture knowledge makes them a place worthy of your trust.
19 years in the business
Friendly approach, easy to talk to
Knows how to assemble furniture
Free quotes are available
Some team members reportedly lack furniture knowledge
Reportedly late to a few appointments
Customer Reviews
Moved our item with efficiency and at a time convenient to our needs
"We hired Your Friend with a Cube Van to help us move a piece of furniture across the city that would not fit in our car. Not only was the service professional and polite, but also friendly and fun.
Denis moved our item with efficiency and at a time convenient to our needs. I'll definitely be using this company again. WAY better than renting a van ourselves!" — Nicole VanKampen, via Google
Great in all aspects
"Great work throughout! I've moved with them twice already and they've been great in all aspects: communication, service and pricing. The move was speedy and done correctly, with no damage to the furniture." — Rafael Lacerda, via Google
FAQs about furniture movers in Toronto
---
And that wraps up our list of the best furniture movers in Toronto. Do you know others who deserve to be on the list? Let us know in the comments.
If you just need a truck for a special move or to simply load your stuff, you may want to check out our review of the best truck rentals in Toronto here.