The 9 Best Podiatrists in Toronto
Are you looking for the best podiatrists in Toronto? If so, you've come to the right place because we know exactly where to find them!
There are a handful of podiatry clinics all over the Greater Toronto Area, but we've narrowed the choices down to the most dependable ones for your convenience.
You'll get to know more about them here… but before that, let's take a look at how much it typically costs to visit a podiatrist in Toronto.
How Much Does It Cost to See a Podiatrist in Toronto?
It's worth noting that the rates of podiatry clinics in the area are fairly consistent, but how much you're going to pay will largely depend on whether or not you have insurance.
Obviously, seeing a podiatrist in Toronto with insurance is more cost-efficient than seeing one without any type of insurance.
For example, a podiatrist consultation in Toronto may cost patients around $60 to $400. TheOntario Health Insurance Planwill cover between $7 to $16 of each visit to a registered podiatrist, on top of $30 for x-rays.
Aside from insurance coverage, another factor that affects the cost of seeing a podiatrist in Toronto is your condition. Some conditions are more expensive to treat than others.
Take ingrown toenail removal and podiatrist callus removal as examples. While both are removal procedures, the former is more expensive because it's a complex surgical procedure that requires more time and involves more medical disposables.
An ingrown toenail surgery costs around $250 to $500, while podiatrist callus removal only runs as high as $150. Keep in mind that surgeries performed by podiatrists are not covered by OHIP.
The Best Podiatrists in Toronto
With that in mind, let's now jump into our picks for the best podiatrists in Toronto! Our list is in no particular order, by the way.
Sheldon Nadal, D.P.M.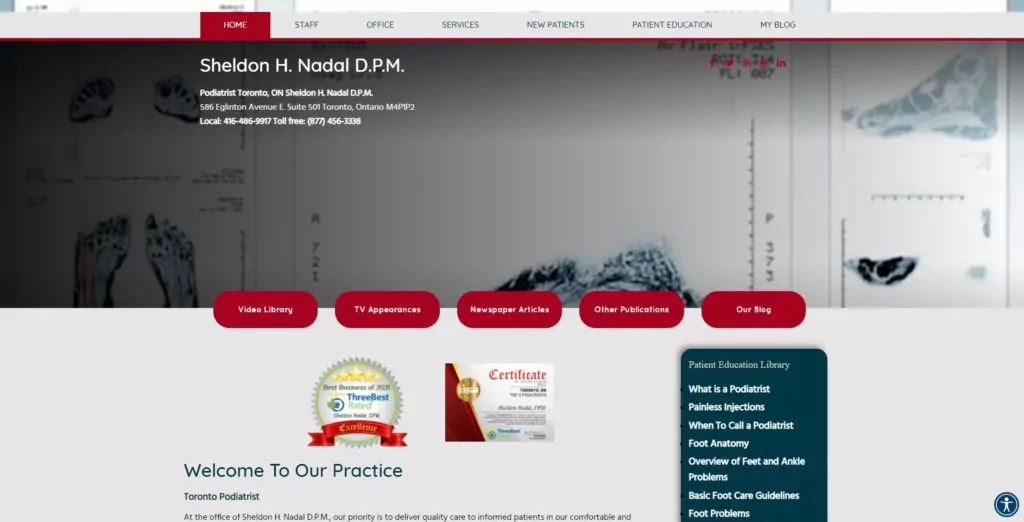 SCOPE OF SERVICES
Painless injection, ankle sprains, bunions, flat feet, hammertoes, heel spurs, athlete's foot, calluses, corns, ingrown toenails, diabetic foot, and fungus toenails
WEBSITE
https://www.footcare.net/
ADDRESS
586 Eglinton Avenue E. Suite 501, Toronto, ON, M4P1P2, US
CONTACT DETAILS
Local: (416) 486-9917
Toll Free: (877) 456-3338
OPERATING HOURS
Monday, Tuesday to Thursday: 10:00 AM – 4:30 PM
Wednesday: 9:30 AM – 4:30 PM
Sheldon Nadal is a podiatrist with more than four decades of practice, specialising in sports medicine, biomechanics, and minor surgeries. He's served as a director of various podiatry associations in Canada, so he's definitely not your ordinary podiatrist.
Another thing to know about Sheldon is that he's contributed to books on podiatry and held several lectures on bunion surgery all over Canada. It's safe to assume that he's among the most prominent podiatrists in the country.
There's more to him than his impressive credentials, though. Sheldon is capable of handling all your podiatry needs, starting from routine consultations to surgical treatments.
Obviously, Sheldon can deal with a wide range of conditions too, including flat feet, athlete's foot, bunions, ankle sprains, ingrown toenails, and even hammer toes. He has a number of diabetic patients under his care as well.
We also have to mention that Sheldon's clinic is equipped with medical-grade technologies that help lessen the pain of a treatment. That's great news if you're afraid of going under the knife and have a low pain tolerance.
However, we do wish that Sheldon's office hours would get extended for a few more hours. It's only open four days a week, so it'd be better if hours were a little longer to accommodate more patients.
40 years of experience
Easy booking of appointment
Accessible location of clinic
Full-range facilities
Open only four days a week
Customer Reviews
Here are some comments shared by former patients:
"If you are on the fence about seeing Sheldon Nadal, I'm here to assure you it will be very much worth it. I did my research throughout the years, I've even asked other Podiatrists who recommended him too. I am extremely happy with my results and am living pain-free because of it. I no longer look at my foot and feel it's ugly. And that's something to feel good about. I highly recommend you see him." –Lucy Dekrone
"Dr. Nadal and his team are truly amazing. I had my left bunion removed and the procedure was seamless. In fact, it was so seamless we sang songs the entire time! Hands down the most fun I've ever had during a surgery!! The healing process had little to no pain and the follow up appointments were handled so well by all the staff. I absolutely love my new foot and I absolutely recommend Dr. Nadal." –Kathryn Doner
Nicole Tam – Academy Foot and Orthotic Clinic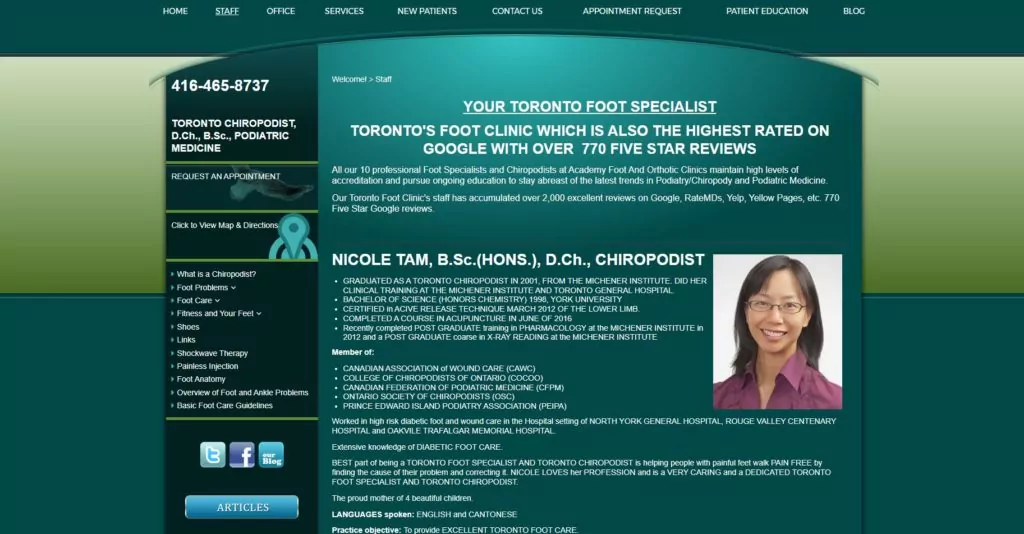 SCOPE OF SERVICES
Achilles tendon, ankle instability, ankle sprains, arthritic foot and ankle care, athlete's foot, bunions, flat feet, diabetic foot, fungus toenail, wounds, and warts
WEBSITE
https://www.academyclinics.com/
ADDRESS
752 Broadview Ave , Toronto ON, M4K 2P1
CONTACT DETAILS
416-465-8737
OPERATING HOURS
Monday to Thursday: 6:00 AM – 6:00 PM
Friday to Saturday: 7:00 AM – 5:00 PM
Sunday: 9:00 AM – 4:00 PM
Academy Foot and Orthotic Clinic stands as one of the top-rated foot clinics in Toronto, boasting an average rating of 5 out of 5 based on more than 700 reviews. It's made up of 10 professional foot specialists, one of whom is Nicole Tam.
If you're looking for a podiatrist who specialises in diabetic foot issues, Nicole could be the perfect match for you. She used to work in a high-risk diabetic foot and wound care hospital setting, so she knows everything about diabetic foot care.
Nicole is open to patients of all ages, even those who aren't diagnosed with diabetic foot. If you're a parent seeking help for your child in particular, rest easy: a mother herself, she knows exactly how to deal with children experiencing moderate and severe feet and ankle pain.
When it comes to facilities, Academy Foot and Orthotic Clinic lives up to our expectations. It has large, well-equipped, and modern treatment rooms that can put any patient at ease during a consultation or before a major operation.
Due to its state-of-the-art facilities, its podiatrists are able to treat a wide range of foot and ankle conditions, including bunions, flat feet, ankle sprains, athlete's foot, ingrown toenails, and sports-related injuries.
We also like that it operates from Monday to Sunday, making it easier for those who only have free time during weekends to visit a podiatrist. After all, most of these individuals are office workers swamped with work every day.
Bilingual podiatrist
Well-equipped clinic
Open from Monday to Sunday
More than seven decades of experience
Longer waiting time on busy days
Customer Reviews
Curious what patients think about Academy Foot and Orthotic Clinic? Check out these comments:
"I was in Toronto for the annual PDAC convention on March 1st. I had bad corn on my right foot. Called the clinic to make an appointment on Sunday March 1st. Received a call on Monday morning the 2nd. They were kind enough to get me in on March 2nd in the afternoon. Great service, great convention. I am now back ice climbing on March 6th with no problems."-Superior Exploration
"Strongly recommend it if you're looking for this kind of service. They exceeded my expectations, someone was always there to answer the phone no matter what time I called. Great business hours they worked together as a team. Extremely clean and professional. I will be referring to my family and friends. BIG THANK YOU TEAM!" -Mike Edwards
Dr. Jeffrey Liebman – Alvin Avenue Foot Clinic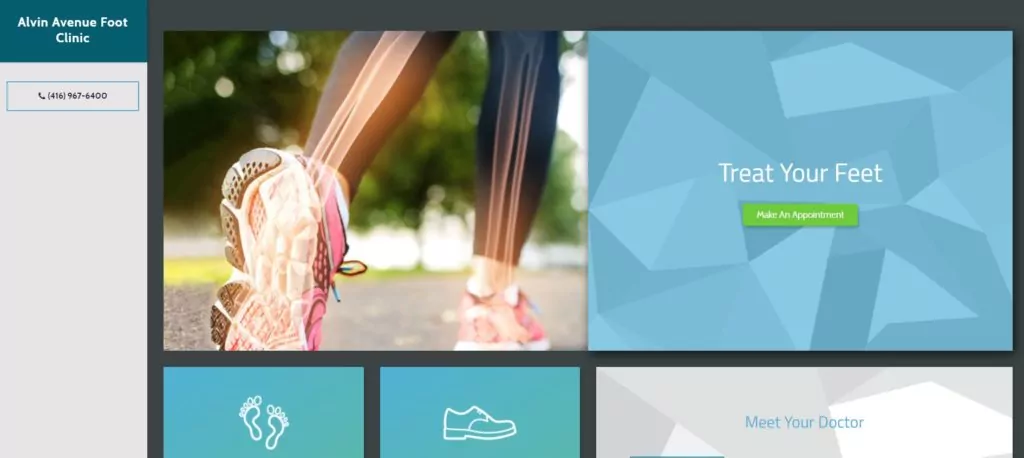 SCOPE OF SERVICES
Custom orthotics, diabetic foot care, minimal incision surgery, soft tissue and bone surgery, joint replacement, joint implant, and permanent surgical correction
WEBSITE
https://www.alvinavenuefootclinic.net/
ADDRESS
37 Alvin Ave, Toronto, ON M4T 2A7, Canada
CONTACT DETAILS
416-967-6400
OPERATING HOURS
Monday, Tuesday, Thursday: 8:00 AM – 4:30 PM
Wednesday and Friday: 8:00 AM – 12:00 PM
Alvin Avenue Foot Clinic is headed by Dr. Jeffrey Liebman, a podiatrist with 35 years of experience in treating all types of foot conditions. He landed a spot on our list for the following reasons:
First, as a podiatrist who specialises in minimally invasive surgeries, he comes highly recommended to individuals who don't like the idea of knives and needles. If he can find a way to treat your condition without surgery, he'll go that route.
In line with that, Dr. Liebman uses low level laser therapy to treat some conditions that are usually addressed through surgery. Apart from being non-invasive, it's safe, has virtually no side effects, and more cost-efficient.
Another thing we like about Alvin Avenue Foot Clinic is the cozy and comfortable atmosphere. If you feel anxious about being inside a clinic, the quiet ambiance will definitely ease some of your nerves.
But Dr. Liebman looks after a large number of patients every day, so appointment delays may happen. Worry not though, because no patient has ever had to wait for more than three hours inside the clinic.
Overall, Dr. Liebman would be the perfect foot specialist for anyone who feels reservations about seeing a doctor for their foot pain. He's a warm and approachable doctor who doesn't always resort to surgeries.
35 years of experience
Comfortable atmosphere
Full-range facilities
Specialises in non-invasive surgeries
Customer Reviews
Take a look at these comments shared on Google Reviews:
"I highly recommend Alvin Avenue Foot Clinic. Dr. Liebman provided me with great relief through surgery to correct a sports injury to a toe. Very capable practice with a friendly and supportive team. So pleased that I had the surgery." -Kathryn S
"Dr. Liebman solved my ongoing ingrown toenail issues on both big toes. I am an avid skier and have suffered through toenail issues from ski boots for years. He was able to solve my problems and the relief I now feel is unbelievable. As his license plate says, he is a true "ToePro". Thank you!!" -Andrew Needles
Robert Chelin DPM – Aesthetics in Podiatry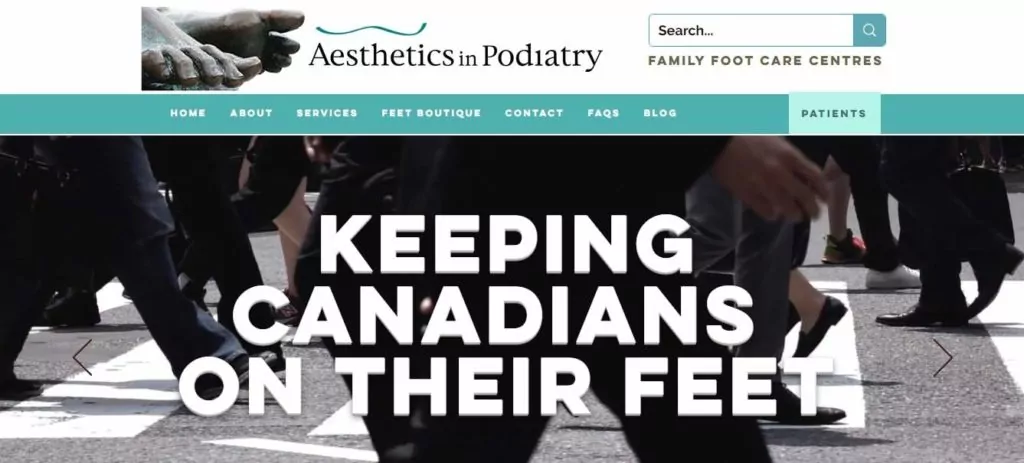 SCOPE OF SERVICES
Custom orthotics, surgical procedures, foot ailments and treatments, and designer feet boutique
WEBSITE
https://www.aestheticsinpodiatry.com/
ADDRESS
2189 Yonge St, Toronto, ON M4S 2B2, Canada
CONTACT DETAILS
416-921-5300


[email protected]

OPERATING HOURS
Monday, Wednesday, Thursday: 9:00 AM – 5:30 PM
Tuesday: 9:00 AM – 4:30 PM
Friday: 9:00 AM – 3:00 PM
Saturday: by appointment only
Robert Chelin stands as the clinic director and resident podiatrist at Aesthetic in Podiatry. In 2017, he was recognized as one of the most influential podiatrists in America, so he's definitely not your ordinary foot specialist.
Apart from being the first Canadian to head the International Federation of Podiatrists, Robert served as the president of the Canadian and Ontario Podiatric Medical Associations. We have to admit that he's carrying quite an impressive resume.
In terms of experience, Robert has been providing podiatry treatments to Toronto and Ontario residents for more than 37 years now too. For patients who are after great track records and accolades, then Robert could be the podiatrist you're looking for.
If there's one thing that makes him stand out, it'd have to be his expertise in designer feet boutique, which is considered the next level of pedicure services. It's a podiatric service targeting those who want to improve the appearance of their feet.
You might want to book in advance though, because it may take up to 48 hours because your booking is confirmed. That's mainly because of the huge number of patients trying to make an appointment.
Overall, Aesthetic in Podiatry is a foot clinic capable of providing preoperative, intraoperative, and post-operative care. As a patient, you can be sure that you'll be looked after the moment you step inside the clinic.
One of the most prominent podiatrists in Canada
More than 37 years of experience
Comprehensive medical care
With pedicure services
Has received complaints about customer service
Customer Reviews
Lisa Bradshaw shared her experience with visiting Robert Chelin:
"Definitely 5 stars are deserved. I have been a patient of Dr. Chelin's for over 10 years, my husband is a patient of his now as well. Dr. Chelin goes out of his way to make sure all of your questions are answered. He works with you to address your health concerns. Dr. Chelin and his staff are very professional, thorough and detailed. He spends the necessary time with each patient as well as answering any concerns you may have. What doctor do you know that gives his personal cell phone number to patients after having Surgery? There is no other Podiatrist that I would recommend. If you can get an appointment with him, take it! Thank you for letting me be a patient."
Arnold Goldman DPM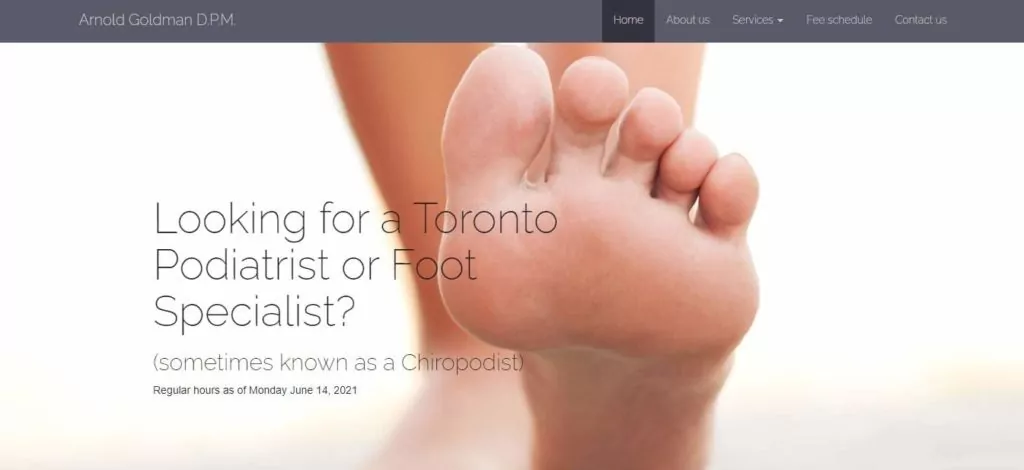 SCOPE OF SERVICES
Children's podiatry, sports-related injuries, pronation, warts, ingrown toenails, athlete's foot, and heel pain
WEBSITE
http://goldmanpodiatry.com/
ADDRESS
547 Eglinton Ave W, Toronto, ON M5N 1B5, Canada
CONTACT DETAILS
416-485-4421
OPERATING HOURS
Monday to Wednesday: 9:00 AM – 3:00 PM
Thursday: 12:00 PM – 8:00 PM
Friday: 9:00 AM – 12:00 PM
Saturday: 8:00 AM – 12:00 PM
Arnold Goldman is one of the few podiatrists in Toronto who specialise in children's podiatry. He's open to patients of all agents, but he mainly consults with children with podiatric conditions like injuries, warts, heel pain, and ingrown toenails.
If your child has been complaining a lot because of foot pain, make sure to book a consultation with him as soon as possible. He served as a youth advisor for more than two decades, so he knows how to deal with kids.
Arnold's foot clinic is a lot smaller than our other picks, but the range of his treatments doesn't fall short. Some of the treatments he offers are whirlpool baths, ultrasonic therapy, wax therapy, cortisone injections, and custom orthopaedic shoes.
Here, there's no need to worry about expensive medical bills even if you don't have private health insurance. Arnold charges lower fees compared to other podiatrists in Toronto, with consultations priced at only $40.
Lower fees don't mean mediocre services, though. Arnold wouldn't have survived three decades as a podiatrist if the quality of his treatments were poor.
Lastly, it's extremely easy to set up an appointment with Arnold. You'll likely even secure an appointment on your preferred date and time.
Specialises in children's podiatry
Open to patients of all ages
Budget-friendly rates
Accessible location
Inconsistent operating hours
Customer Reviews
Here are some comments shared on Google Reviews:
"I have been going to Dr. Goldman for Podiatry related needs including orthotics and he is excellent. He really listens to your concerns and only offers what is needed and no unnecessary procedures or items. Definitely 5 stars." -Ibrahim Akyol
"I have been going to Dr. Goldman on a regular basis for 10 years. I can't say enough good things about him and the people who work at the practice. All are first rate. Do your toes/feet a favour." -Malcolm Morrison
Step Right Foot Clinic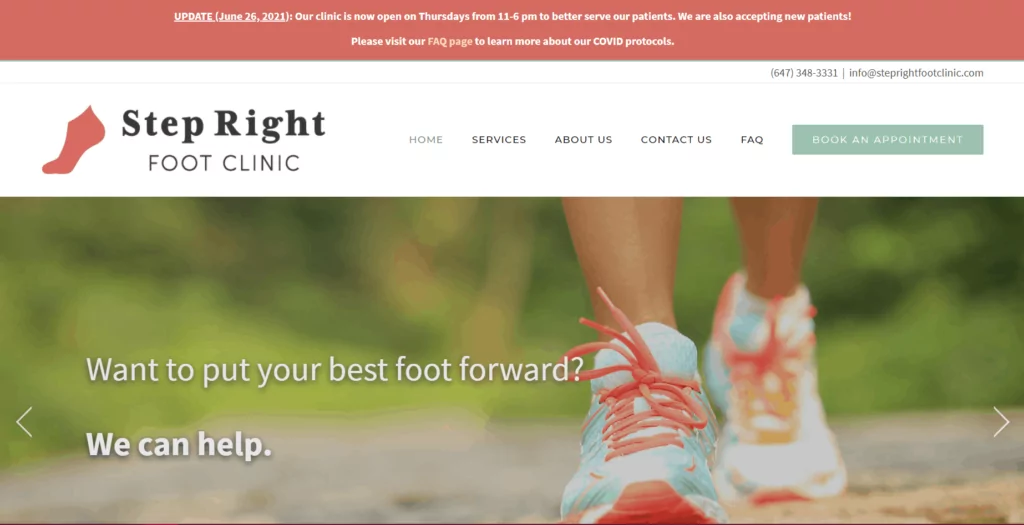 SCOPE OF SERVICES
Professional Foot Care
Diabetic Foot Care
Ingrown Toenail Surgery
Alternative Treatments
Custom-Made Orthotics
Compression Therapy
WEBSITE
https://steprightfootclinic.com
ADDRESS
204-1920 Ellesmere Road
Scarborough, ON M1H 2V6
CONTACT DETAILS
Tel: (647) 348-3331
Fax: (647) 348-3322
[email protected]
OPERATING HOURS
Tuesday – Friday: 11 AM – 6 PM
Saturday: 9 AM – 2 PM
When it comes to all-around podiatric care, there's no better clinic to consider than Step Right Foot Clinic. They provide a wide range of services that involve foot care, custom orthotics, and everything in between.
Their chiropodist team comprises Rachel Kim and Jessamine Leung, who are registered chiropodists and respected professionals in their field. They may only be a team of two, but there's no doubt that they will be able to serve any patient that approaches them with skill and expertise.
Alongside their adept chiropodists is a facility that uses the latest technology in chiropody, all of which are science-backed and safe for use. These, when combined, result in comprehensive services that can accommodate foot problems both small and big.
Given their quality services, skilful staff, and up-to-date equipment, Step Right Foot Clinic is more than deserving of a spot on this list.
If you're planning to schedule a consultation, they start to open by afternoon– but they can also accept evening appointments for those with busier schedules than most.
Wide variety of services
Skilled chiropodists
Evening appointments available
No need for doctor's referral
Open evenings and weekends
Online booking available
Small team of chiropodists
Podiatry on Yonge @ King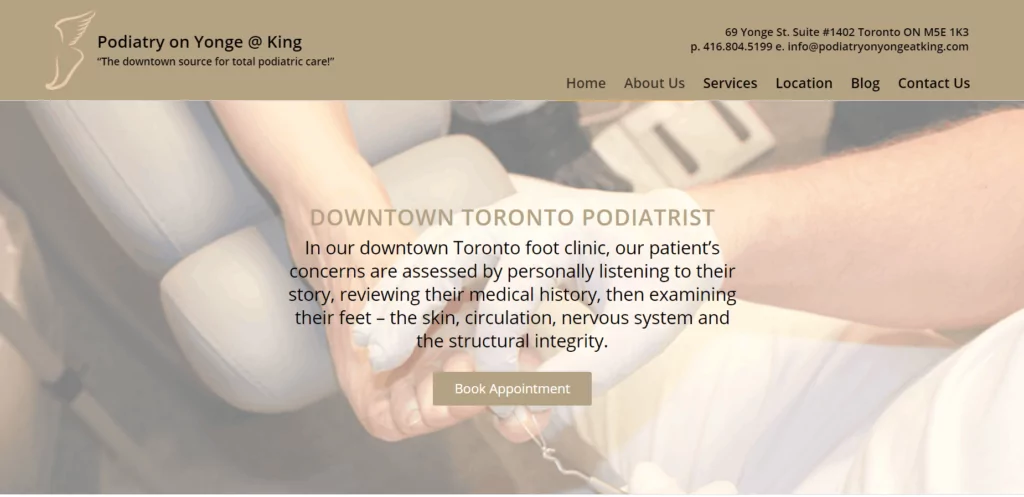 SCOPE OF SERVICES
Diabetic Foot Care Supervision
Nail Care
Smoothing of corns and callouses
Gait Correction with Orthotics
Surgical correction of deformed toes and joints
Foot Pain, Injuries and Sports Medicine
WEBSITE
https://podiatryonyongeatking.com
ADDRESS
69 Yonge St. Suite #1402 Toronto ON M5E 1K3
CONTACT DETAILS
Phone: (416) 804-5199.
Fax: 647-352-5443
E-mail: [email protected]
OPERATING HOURS
Mon: 9:30am to 4pm
Tue : 8:30am to 1:30pm
Wed : 12:00pm to 6:30pm
Thu : 11:00am to 6:30pm
Fri : 9:00am to 2pm
Sat/Sun : Closed
In medicine, the best treatment is often one that is backed by extensive medical evaluations. With that in mind, Podiatry on Yonge @ King strives to provide effective, long lasting podiatric treatments through their comprehensive patient assessments.
Their preliminary assessment is thorough, as they take time to understand their patient's circumstances not only through experience, but also through their medical history. Afterwards, the foot itself is tested thoroughly from the skin to the nervous system, as well as its other physiological factors such as circulation.
For their treatments, meanwhile, they offer a wide range of options. They have simple services such as nail care, but they also have complex ones for more severe cases, such as surgical correction and foot pain rehabilitation.
Their skilled team of podiatrists may be few in number, but each and every one is an expert in their respective specialisation. They also have many years of experience under their belt, which has further refined their skills to be the most effective it can be.
Podiatry on Yonge @ King's quality, attentive care and extensive services make them a great option to consider when it comes to podiatrists and the like. If you're interested, you're welcome to book an online appointment through their website.
Comprehensive assessment
Wide range of treatments
Skilled team of professionals
Many years of experience
Eagle Foot Care Clinic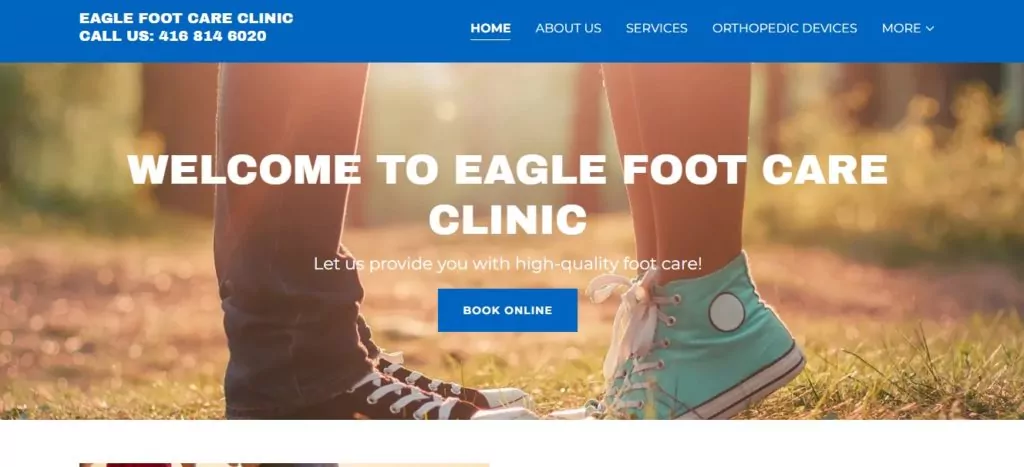 SCOPE OF SERVICES
Heel pain, Plantar fasciitis, Athletic injuries, Athlete's foot, Fungal toenails, Bunions, Flat feet, Diabetic foot, wounds, and warts.
WEBSITE
https://eaglefootcare.com/
ADDRESS
605 Royal York Road, unit 201, Etobicoke, ON, M8Y 4G5
CONTACT DETAILS
416 814 6020
OPERATING HOURS
Tuesday and Wednesday: 10-7 pm
Thursday: 10 to 4 pm
Friday: 9-2 pm
Saturday and Sunday: Closed
If you feel any discomfort in your lower extremities, you may want to get a check-up at Eagle Foot Care Clinic.
Their registered Registered Chiropodist and Foot Specialist is Adna Egal B.Sc. D.Ch. IIWCC. The main reason why we prefer them over other companies is the fact that she has the most experience in treating individuals with specific health conditions like arthritis, diabetes, and pediatrics.
Being a top-rated foot clinic in Etobicoke, they are one of the few clinics that have state-of-the-art facilities. With these, Adna is able to treat an extensive range of foot and ankle conditions.
A few are bunions, flat feet, ankle sprains, athlete's foot, ingrown toenails, fungal toenails, heel pain and wound care.
Aside from these, their clinic also offers gait scans, shockwave therapy, 3D scan, and ultrasound therapy.
But what makes them stand out from their competitors is their orthopedic devices. With them, you are given the chance to have custom-made orthotics.
This is critically important because no issues are the same and can be addressed by a standard device.
Well-equipped clinic
Online booking available
More than eight years of experience
Comfortable & clean atmosphere
State-of-the-art facilities
Highly Skilled Professionals
Toronto Foot Care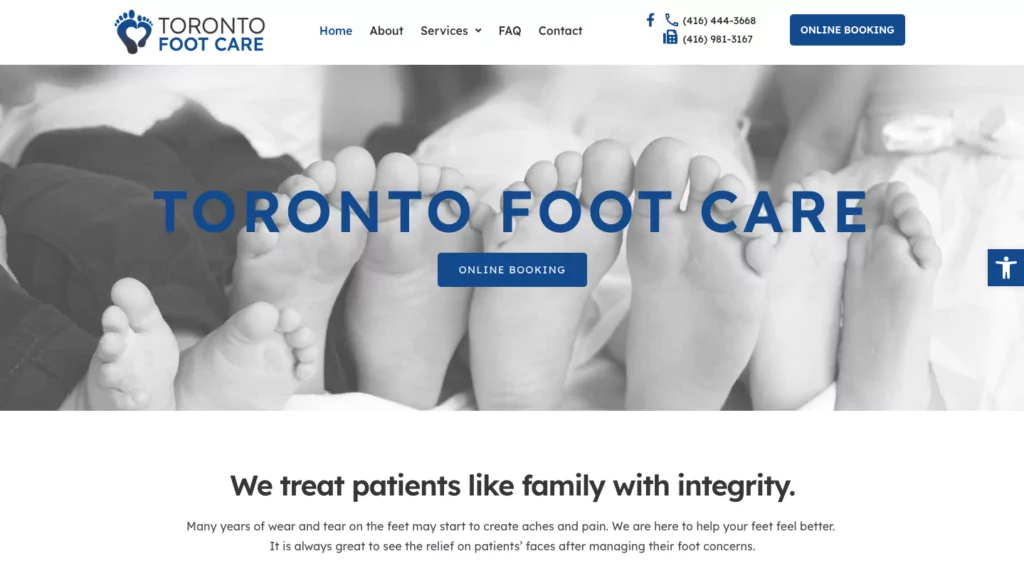 SERVICES
Comprehensive Foot Care
Achilles Tendonitis
Ankle Sprains
Arthritic Ankle & Foot
Athlete's Foot
Biomechanical Assessment
Blisters
Bunions
Corns and Calluses Removal
Diabetic Foot Assessment
Diabetic Foot Care & Ulcers
Dry & Cracked Skin
Flat / High Arches
Foot Pain
Fungal Toenails
Ganglion Cyst
Geriatric Foot Care
Hammer / Claw Toes
Heel Pain / Spurs
Ingrown Toenail & Infection
Limb Length Discrepancy
Metatarsalgia (Forefoot Pain)
Neurological Foot Assessment
Neuromas
Orthotic Prescription & Assessment
Pediatric Foot Care
Plantar Fasciitis
Sports Injuries & Rehabilitation
Thick Toenails
Wart Treatment
Wound Care

Minimal Invasive Procedures
Corticosteroid Injections
Morton's Neuroma
Partial Toenail Removal
Permanent Toenail Removal
Tendon Release
Wart Excision

Specialty Products
Compression Stockings
Custom-Made Orthotics
Foot Cream & Moisturizers
WEBSITE
https://torontofootcare.com/
ADDRESS
206-1448 Lawrence Avenue East North York, ON M4A 2V6
(2nd floor in the medical building)
CONTACT DETAILS
Phone Number: (416) 444-3668
Fax Number: (416) 981-3167
Email:

[email protected]

OPERATING HOURS
Monday, Saturday, and Sunday: Closed
Tuesday: 9:00 AM – 5:00 PM
Wednesday & Thursday: 9:00 AM – 7:00 PM
Friday: By Appointment Only
North York and Scarborough locals have been entrusted to Toronto Foot Care for over 25 years.
It all started with James Fitzpatrick DCh, who had been treating patients of all ages with foot problems. He was dedicated to providing his patients with excellent care and education.
James decided to retire from his practice in 2022, and Jeffrey Kwan D.Ch. Toronto Foot Care is their new owner. They intend to build on James' legacy and continue to provide high-quality services to their loyal patients.
We are impressed with how client-centered they are because they strive to provide the best care possible by utilizing the most recent treatment options and will collaborate to develop a personalized treatment plan by providing you with the necessary information.
You will feel that you are treated with dignity and respect for they will see to it that you won't worry about a thing regarding their services and procedures as they will always be available to answer any questions or address any concerns you may have.
Years of wear and tear on the feet can cause aches and pains. Toronto Foot Care will see to it that you will feel better about your feet after availing of their services.
Well-equipped clinic
Online booking available
Comfortable & clean atmosphere
State-of-the-art facilities
Highly Skilled Professionals
Over 25 years of experience
FAQs about Podiatrists in Toronto
---
And that's all for our picks for the best podiatrists in Toronto! Don't hesitate to book an appointment with any of these foot specialists if you think you're suffering from a foot condition.
If you know of other podiatrists in Toronto worth consulting with, share their names with us! If we find them worthy, we promise to add them here.
If you're feeling pain in other parts of your body, though, maybe that's a sign to consult with a physiotherapist as well. Check out our list of the best physiotherapy in Toronto for recommendations.