20 Instagrammable Places in Toronto
Toronto is known for its lovely architecture and iconic attractions found all around the city. It's no surprise that these spots usually end up with millions of likes on Instagram!
While there's plenty of Instagrammable spots in Toronto, some stand out more than the rest. Here are our favourites!
20 Instagrammable Places in Toronto
1. The CN Tower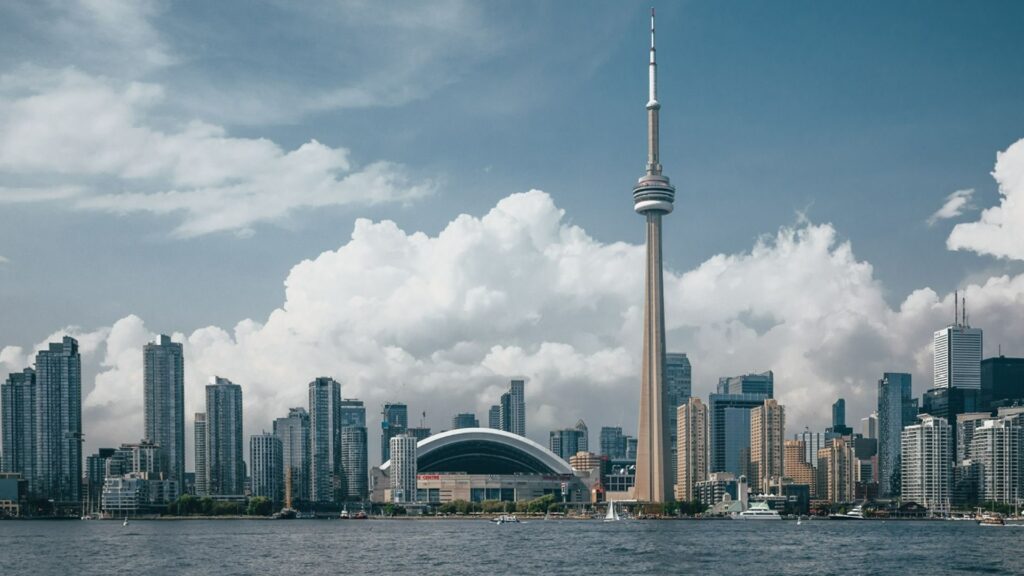 Address: 290 Bremner Blvd, Toronto, ON M5V 3L9, Canada
Operating hours: Monday – Sunday: 9:30AM – 9:00PM
When it comes to being visually appealing, the CN Tower doesn't fall short on being in everyone's IG feed. As the city's most iconic landmark, the tower can be seen all across Toronto with its pleasant architecture defining the city skyline.
The tower stands around 553.3 metres high, leaving lots of locations to snap unique shots of the iconic building throughout the city. At night the CN Tower really stands out with its colourful lights illuminating the night sky which is a truly Insta-worthy sight.
Pro tip:
We suggest heading to Toronto Island for captivating shots of the tower. The island sits right in front of the Harbour Centre and offers opportunities to snap beautiful pictures of the CN Tower, lake, and cityscape all in one shot!
2. Dundas Square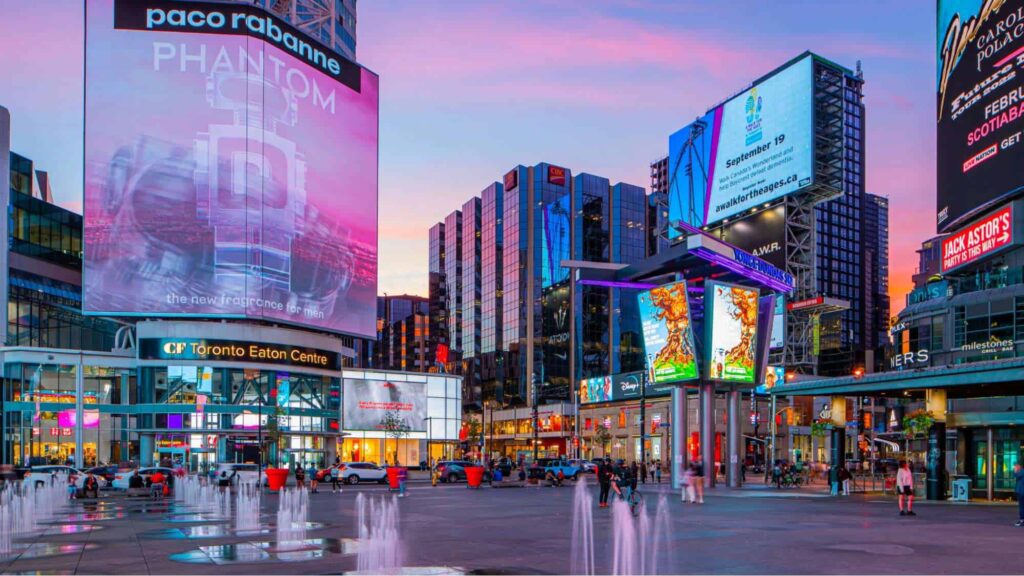 Address: 1 Dundas St E, Toronto, ON M5B 2R8, Canada
Dundas Square is one of the most aesthetic locations in Toronto, often reminiscent of New York's cityscape. The place is packed with cool buildings, colourful lights, and huge walkable streets that culminate into a vibrant urban space that's great for pictures.
One of the best things about Dundas Square is the prominent display of vibrant billboards that give Times Square vibes! The square is packed with street performers, events, and art displays – which are perfect for some slice-of-life shots.
Pro tip:
One of our favourite spots in Dundas Square for aesthetic pictures is right by the Dundas Street East street sign. This beautiful spot is surrounded by beautiful buildings littered with billboards and reflective high-rise buildings!
3. Nathan Phillips Square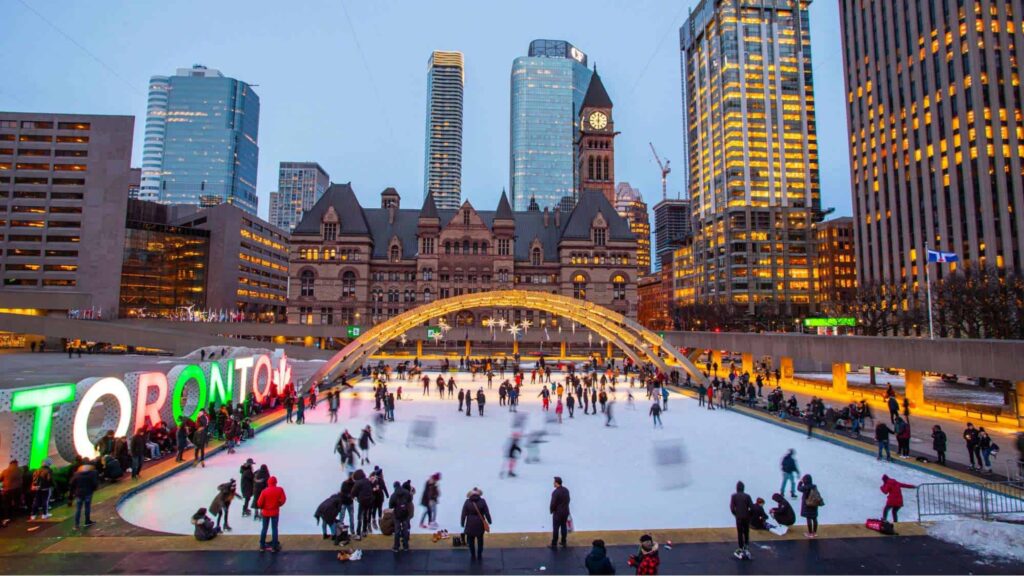 Address: 100 Queen St W, Toronto, ON M5H 2N1, Canada
One of our favourite and most aesthetic spots in the city is Nathan Phillips Square! This iconic area is one of the most upbeat places in the city, known for its beautiful fountain and bustling plaza.
You can find several architectural marvels here like the Old City Hall, which sports Romanesque architecture and sits in front of the fountain. Don't forget to check out the iconic multi-coloured Toronto sign which is a must-snap for any Instagram veteran!
Pro tip:
We recommend a visit to Nathan Phillips Square during the colder months. During the winter, loads of people skate on the frozen fountain and the square is lit up in thousands of festive lights which is great for scenic pictures!
4. Toronto Islands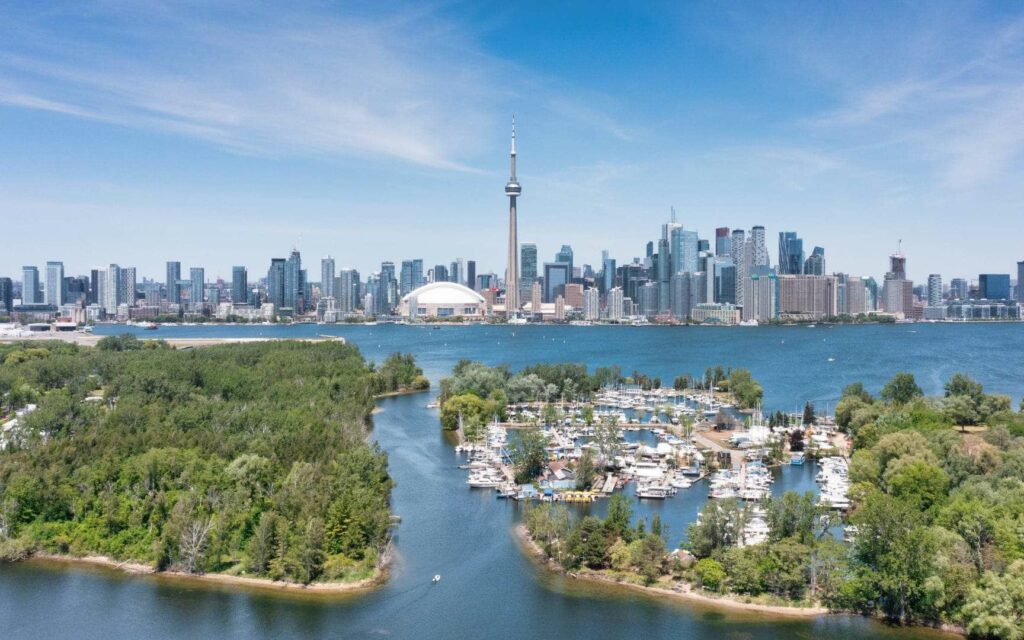 Address: St Lawrence-East Bayfront-The Islands, ON, Canada
Operating Hours: Monday – Sunday: 10:30AM – 5:00PM
When it comes to capturing scenic pictures of nature and a captivating cityscape, nothing beats Toronto Island. Composed of 15 islands, this place is filled with gorgeous spots to snap some pics of Toronto's iconic waterfront and landmarks.
Aside from spots to take in the cityscape, there's tons of trails and beaches that provide scenic views of nature and wildlife on the island. We really enjoy snapping pictures of sunsets from Centre Island where the grassy fields emphasise Toronto's beauty!
Pro tip:
If you're tired of snapping pictures of the cityscape, head over to the Gibraltar Lighthouse. This beautiful brick lighthouse is located on Centre Island where it's surrounded by lush trees and flora, making it a must-snap sight!
5. Princes' Gate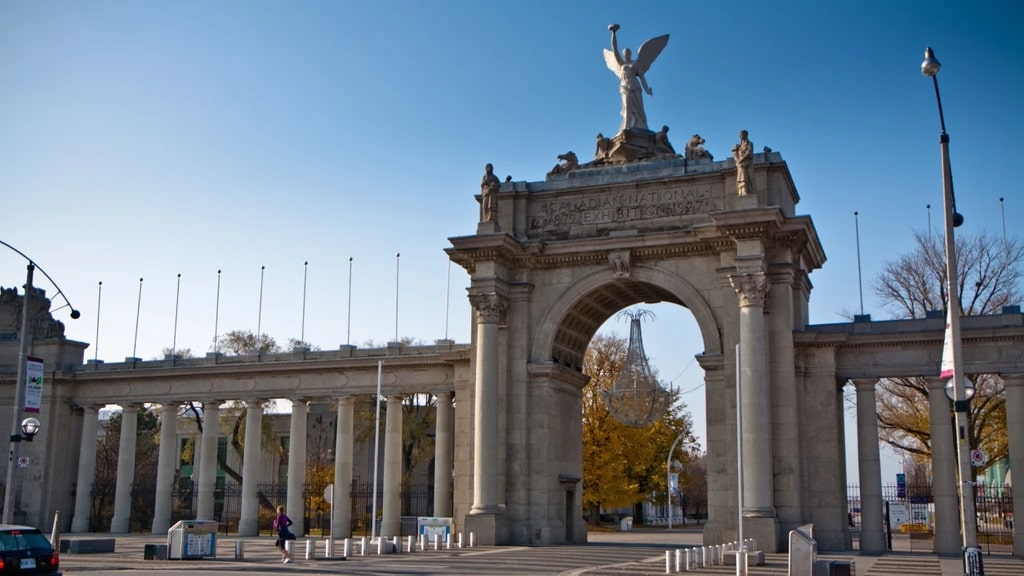 Address: 11 Princes' Blvd, Toronto, ON M6K 3C3, Canada
If you're looking for some European architecture to snap cute pictures of in Toronto, then head to Princes' Gate! This beautiful stone archway located at Exhibition Place features huge beige columns and a lovely cement floor.
This triumphal arch's matching colonnades and winged victory statue on top of the arch make it great for European-esque Instagram photos. The archway is designed with a beautiful Beaux-Arts style architecture, making it one of our favourite spots for pictures.
Pro tip:
There's this really cute cool fountain on-site that is great for picture taking as well. The fountain is made of stone and cement, it also features stone lion faces and angel sculptures holding a basin!
6. Toronto Eaton Centre Bridge
Address: 220 Yonge St, Toronto, ON M5B 2H1, Canada
Operating hours:
Monday, Sunday: 11:00AM – 7:00PM
Tuesday – Saturday: 10:00AM – 9:00PM
Toronto Eaton Centre is one of the best designed malls in Toronto but most people tend to overlook CF Eaton Centre's Bridge. This bridge is one of the city's best examples of contemporary architecture with its swirling design composed of steel and glass.
The bridge's glass panels allow light to pass through, creating different picturesque sceneries depending on the time of day! The bridge is better during the late afternoon when deep orange sunlight shines through the bridge – making it truly Instagrammable.
Pro tip:
A notable thing about this bridge is it transitions from modern architecture to a Victorian design! It's one of our favourite elements about the bridge as you walk through it – the change of styles is also worth capturing on camera.
7. The Distillery District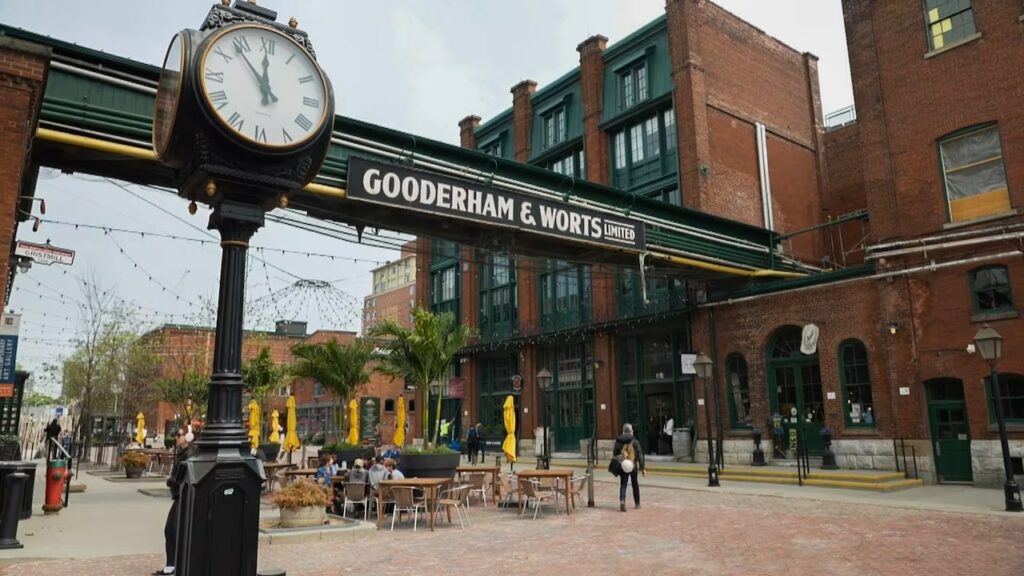 Address: 55 Mill Street, Toronto ON, M5A 3C4
Operating hours:
Monday – Saturday: 10:00am – 8:00pm
Sunday: 10:00am – 6:00pm
One of the most popular shopping spots in Toronto for tourists and locals alike is the Distillery District. However, the district isn't just popular for its cool stores and hip restaurants but for its vibrant 19th century architecture that's perfect for Instagram!
The place is lined with cool buildings and cobblestone streets fashioned with Victorian architecture. The district's red brick buildings are especially charming when festivities and art exhibits are at a high – providing great opportunities to snap shots for the 'gram!
Pro tip:
The Distillery District has tons of cool sculptures just sitting around waiting to be photographed and put on Instagram. We recommend snapping a shot of the colourful "LOVE" sign and the bright red "big heart" sculpture.
8. Casa Loma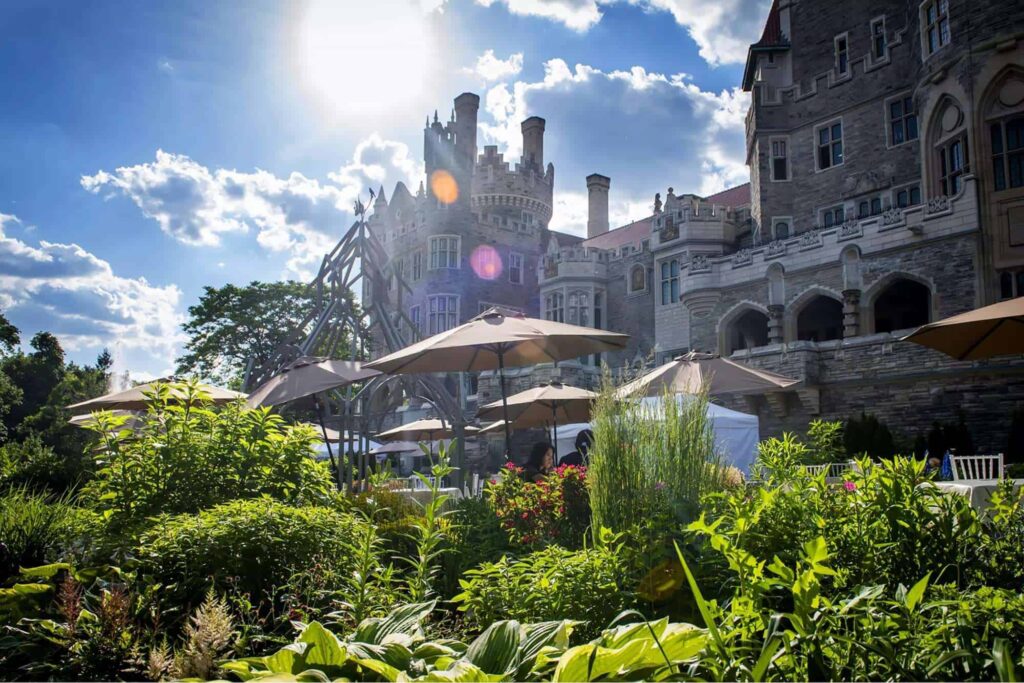 Address: 1 Austin Terrace, Toronto, ON M5R 1X8, Canada
Operating Hours: Monday – Sunday: 9:30AM – 5:00PM
Most people don't expect to find a picturesque castle with lovely architecture near downtown Toronto. Casa Loma is a huge gothic castle that's popular among tourists and locals for taking pictures because of its beautiful design both on the inside and out.
This castle is packed with a diverse set of Instagram-worthy places like elegant rooms, artistic exhibits, lush gardens, and a rustic library! Most of all, the castle also provides access to some of the most breathtaking and photogenic vistas of Toronto's skyline!
Pro tip:
A great spot to snap pictures for the 'gram is by the huge fountain that sits in the castle's courtyard. This fountain really compliments the castle's architecture with its rectangular shape littered with plants and streams of crystal blue water!
9. Little Italy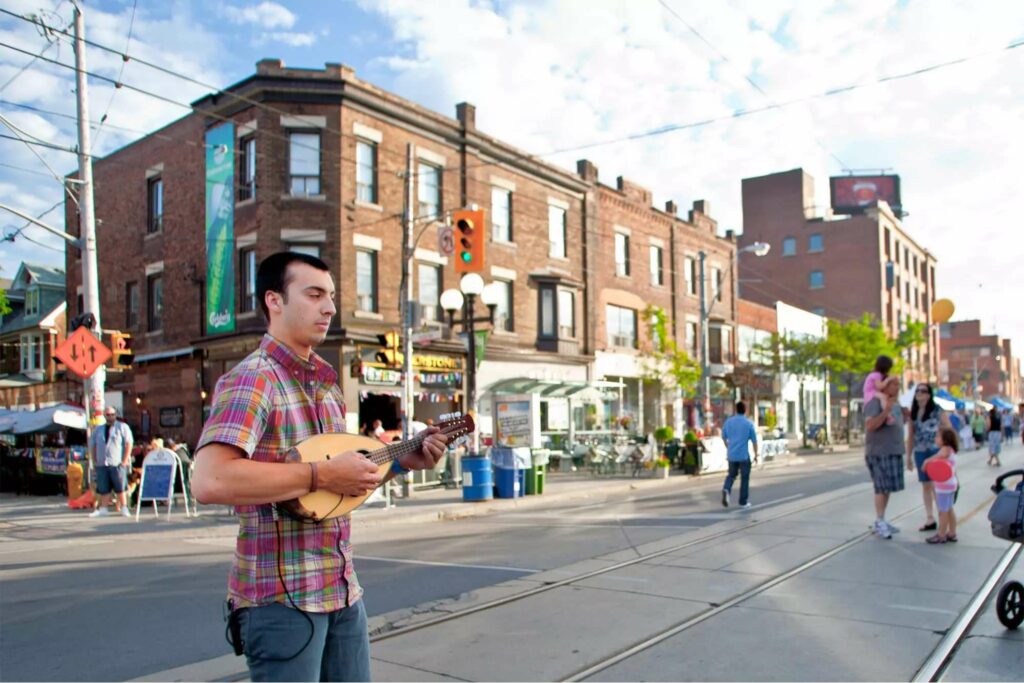 Address: Little Italy, Old Toronto, Toronto, ON, Canada
Another fun place packed with picture-worthy Instagram spots is no other than Little Italy! This is the perfect destination for anyone looking to get scenic shots of busy streets lined with vibrant pizzarias, cafes, bakeries, and trendy shops.
Little Italy is lined with colourful murals and street art all over the neighbourhood, making it ideal for artistic photos. It's also great for getting shots of Toronto's nightlife for the 'gram, since the place is popular for its eccentric bars, pubs, and live music shows.
Pro tip:
You can't leave little Italy without getting some delicious Italian pizza at Il Padrino. We recommend their delicious cheesy Barese pizza which is topped with olives and sausages, which is also great for food shots.
10. Gooderham Building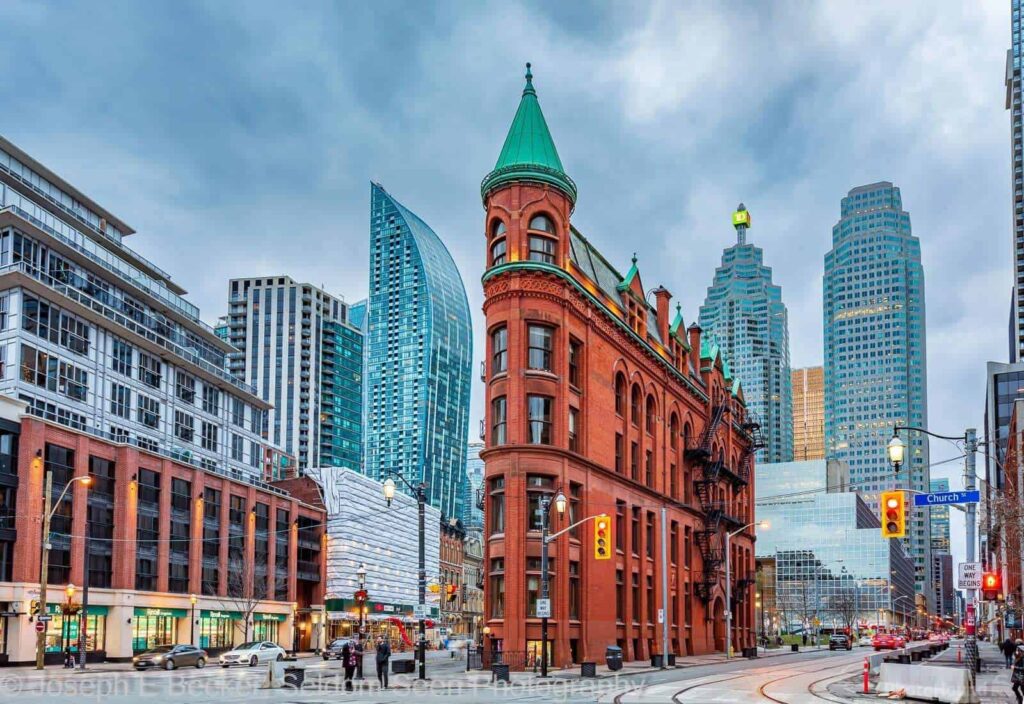 Address: 49 Wellington St E, Toronto, ON M5E 1C9, Canada
If you're looking for something similar to the One Times Square in Toronto then check out the Gooderham Building. Known as the "flatiron building", this wedge-shaped building is one of the city's most photographed landmarks and it's easy to see why!
The building's Romanesque cornice and charming red brick construction really makes it a flattering structure to post on Instagram. Aside from that, you can snap a shot of the Flatiron mural, which depicts a canvas sheet fluttering in the wind, behind the building.
Pro tip:
Close to the iconic building is Berczy Park. This cool park offers some great spots to get angled pictures of the Gooderham Building and it also has an interesting dog fountain that's great for pictures.
11. University of Toronto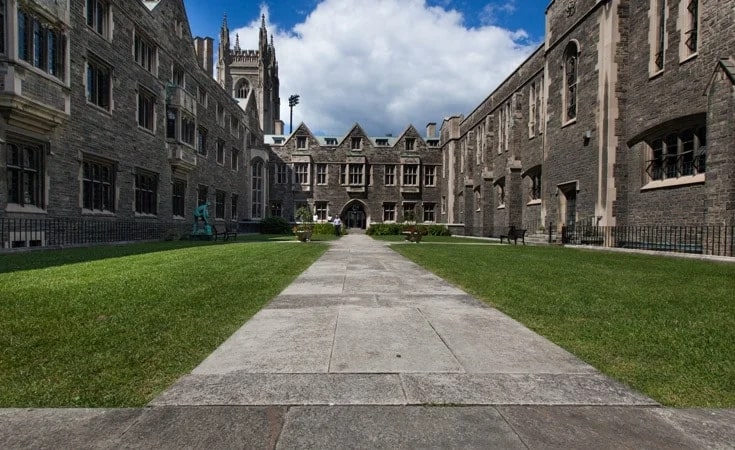 Address: 27 King's College Cir, Toronto, ON M5S 1A1, Canada
The University of Toronto is one of the oldest universities in the city that is home to tons of sophisticated buildings. The university was established in the 19th century and it's home to European styled buildings that will surely get you tons of likes on Instagram.
Gothic architecture can be found all around campus like in the Soldier's Tower's stained glass windows – which screams Instagrammable! The university also has lush gardens, cool sculptures, and stone pathways that really complete the European vibe.
Pro tip:
If you're looking for a really captivating view of the city, then head to the university's front lawn. From here you get a scenic view of the Convocation Hall and the iconic CN Tower together!
12. Humber Bay Arch Bridge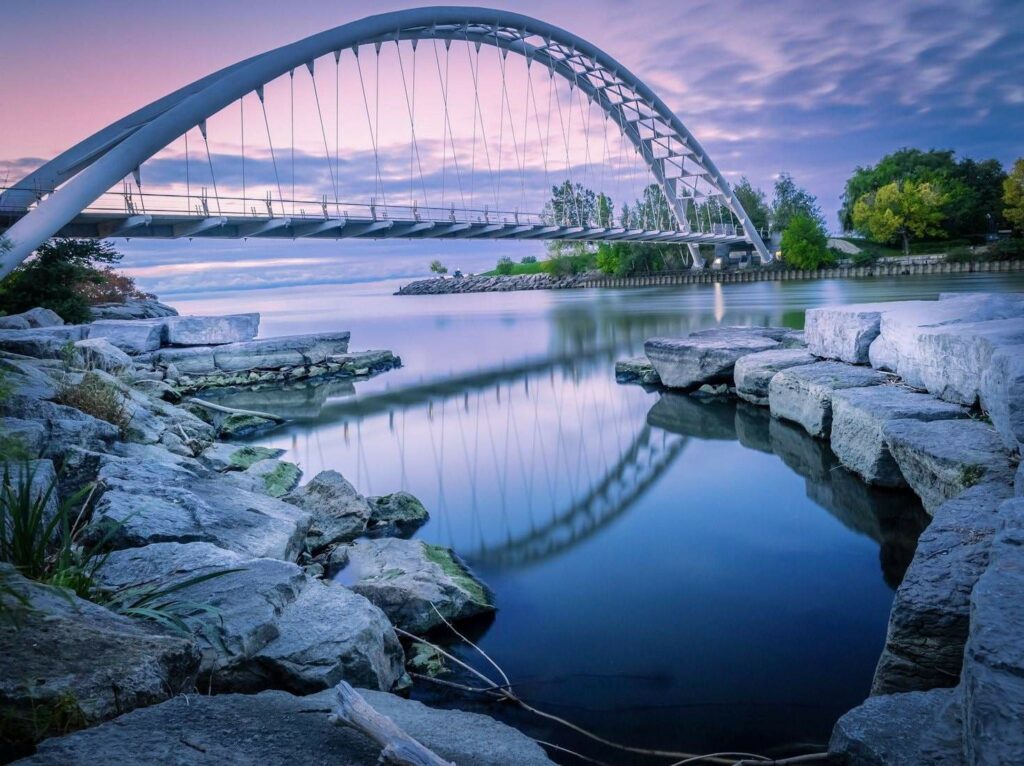 Address: Martin Goodman Trail, Toronto, ON M8X 3M9, Canada
As one of Toronto's most beautiful landmarks, we couldn't miss placing Humber Bay Arch Bridge on our list! Located right by Lake Shore Boulevard West, the bridge is a standout with its bright metallic double-ribbed steel arches and curvy elements.
The bridge perfectly sits at the mouth of Humber River and no matter which angle you snap a shot from, it always comes out beautifully! Aside from that, you can walk by the foot of the bridge and snap some shots of the bridge's intricate arches or busy bikers.
Pro tip:
The bridge is connected to the Martin Goodman Trail, which is a great place to walk and admire nature. It's filled with wildlife and lush trees that brighten up the vast trail – make sure to bring your camera for some great nature photos!
13. Trinity Bellwoods Park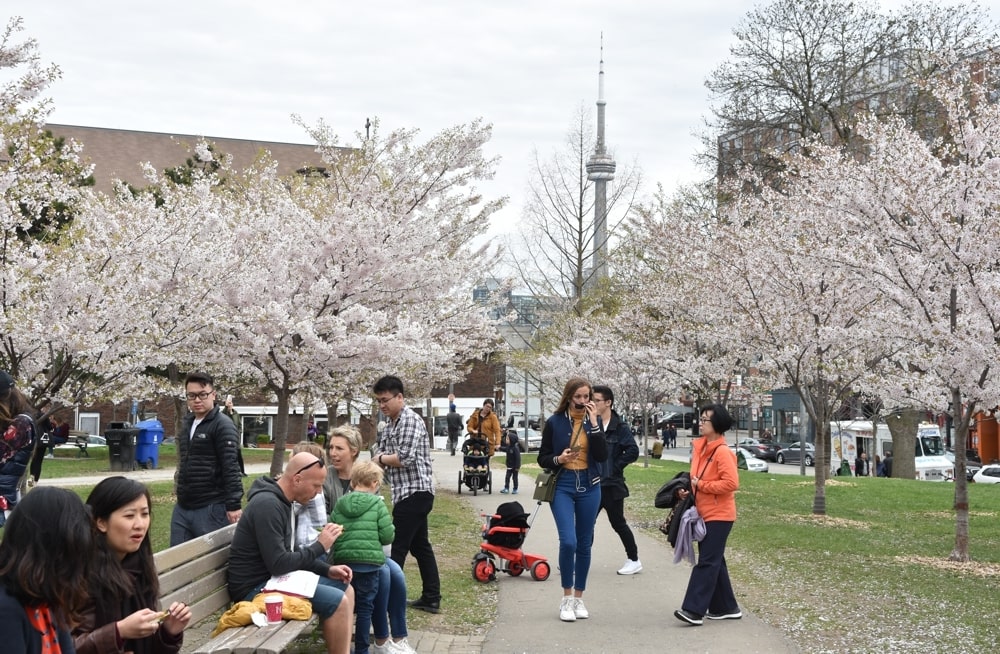 Address: 790 Queen St W, Toronto, ON M6J 1G3, Canada
Trinity Bellwoods Park is one of our favourite parks to visit when it comes to snapping a couple of pics for the 'gram. The park has lots of beautiful walkways lined with trees and cute flowers, as well as an awesome view of the CN Tower.
Cherry blossom trees line the park's main pathway, which offers a captivating view of the CN Tower! It's also a very busy park with lots of activities like picnics, performances, and people playing frisbee.
Pro tip:
If you want some picturesque shots of flowers, then head to the greenhouse located in the park. It's a great place to take some cute photos of bright sunflowers, lush plants, and huge trees surrounding a quaint greenhouse!
14. Woodbine Beach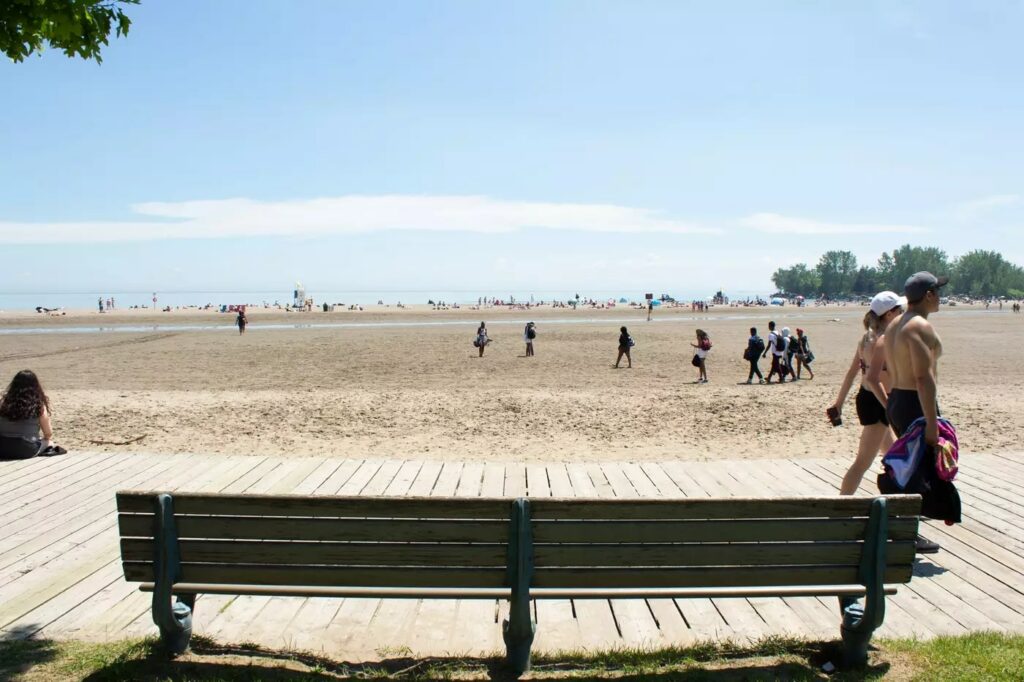 Address: Woodbine Beach, Lake Shore Boulevard East, Toronto, ON, Canada
We love Woodbine Beach because it's the perfect place to escape Toronto's urban jungle and for its beautiful scenery. The beach's expansive shoreline and blue waters make it one of the best places to capture beautiful summer sceneries!
Another thing we love is the scenery of a warm sunset illuminating the beach's blue waters – like something straight out of a movie scene!
Pro tip:
After you're done hanging around the beach, we recommend having a walk on Woodbine boardwalk. The boardwalk leads you across the lake and gives you great views of wildlife, the lake, and even the CN Tower.
15. Allan Gardens Conservatory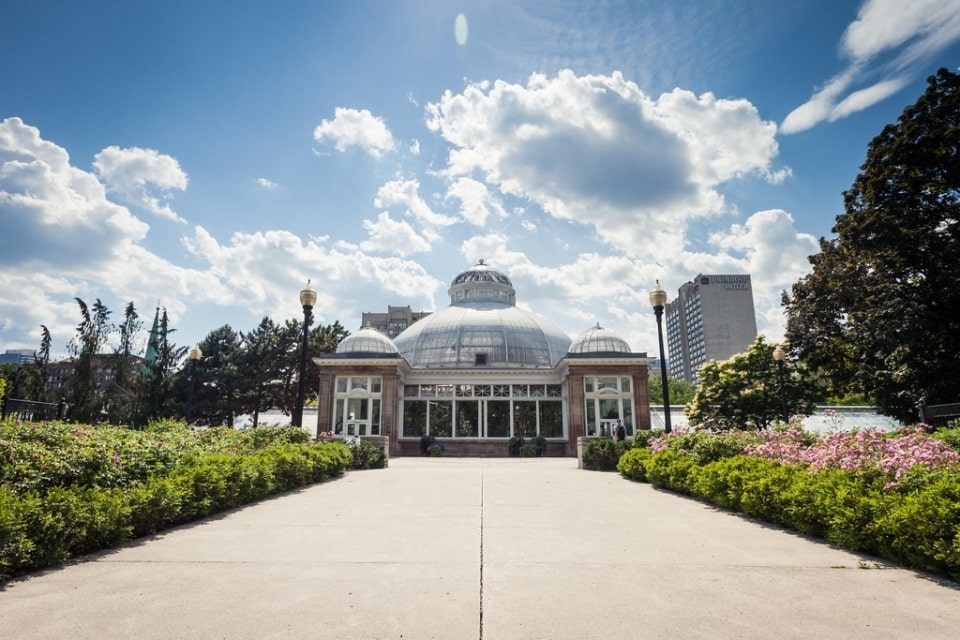 Address: 160 Gerrard St E, Toronto, ON M5A 2E5, Canada
Operating hours: Monday – Sunday: 10:00AM – 5:00PM
When it comes to Instagrammable greenspaces, nothing comes close to Allan Gardens Conservatory.
This beautiful garden is home to hundreds of different species of plants, flowers, and trees that come together and create a picturesque display of colourful blooms!
The garden has a huge collection of pretty flowers like red orchids and trees that are great for close up shots. Also, make sure to snap a photo of the glass domed Palm House — it's the garden's most iconic building!
Pro tip:
Visit the Tropical House in Allan Gardens Conservatory. This greenhouse is where you can find mesmerising jade vine, which is one of the most photographed plants in the gardens!
16. The Elgin & Winter Garden Theatre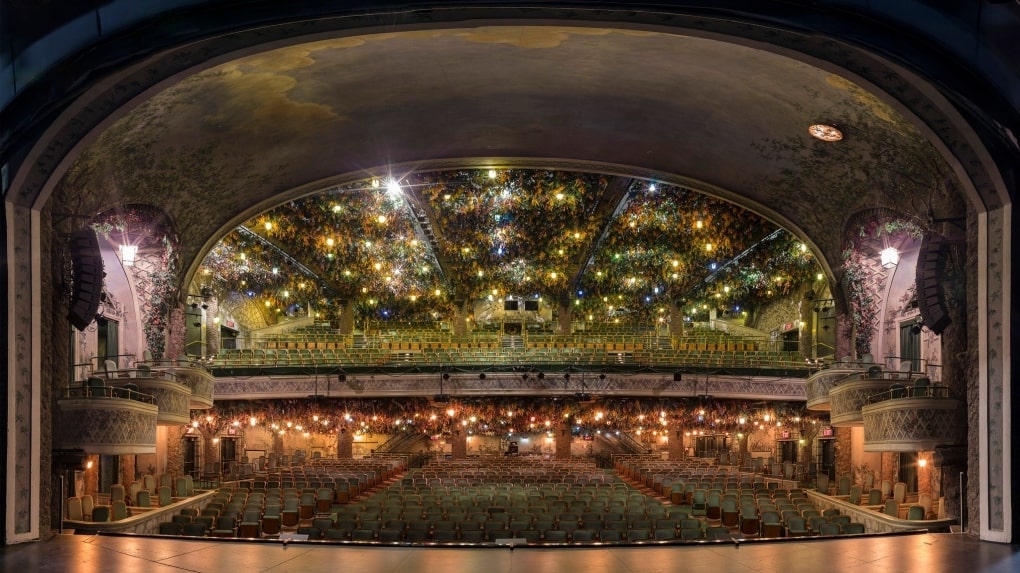 Address: 189 Yonge St, Toronto, ON M5B 1M4, Canada
Operating Hours:
Monday: 11:00AM – 2:30PM
Tuesday: 11:00AM – 12:30PM
Wednesday, Thursday, Saturday, Sunday: Closed
Friday: 11:00AM – 12:30PM
The Elgin & Winter Garden Theatre Centre is the last-standing double-decker theatre in the world and it's a great spot for pictures. This beautiful historical site is home to two different theatres that sport different architectural designs and themes!
The red and gold Elgin Theatre sports lovely Edwardian designs, while the Winter Garden Theatre is filled with flowers to resemble a garden in full bloom! Both theatres offer different aesthetics and unique atmospheres that would look great on an IG feed.
Pro tip:
One of our favourite spots to get cute selfies and portraits is right by the ticket booth of the theatre! This vintage looking ticket booth gives a 50's vintage feel and really blends well with the entertainment district's flashy lights!
17. Graffiti Alley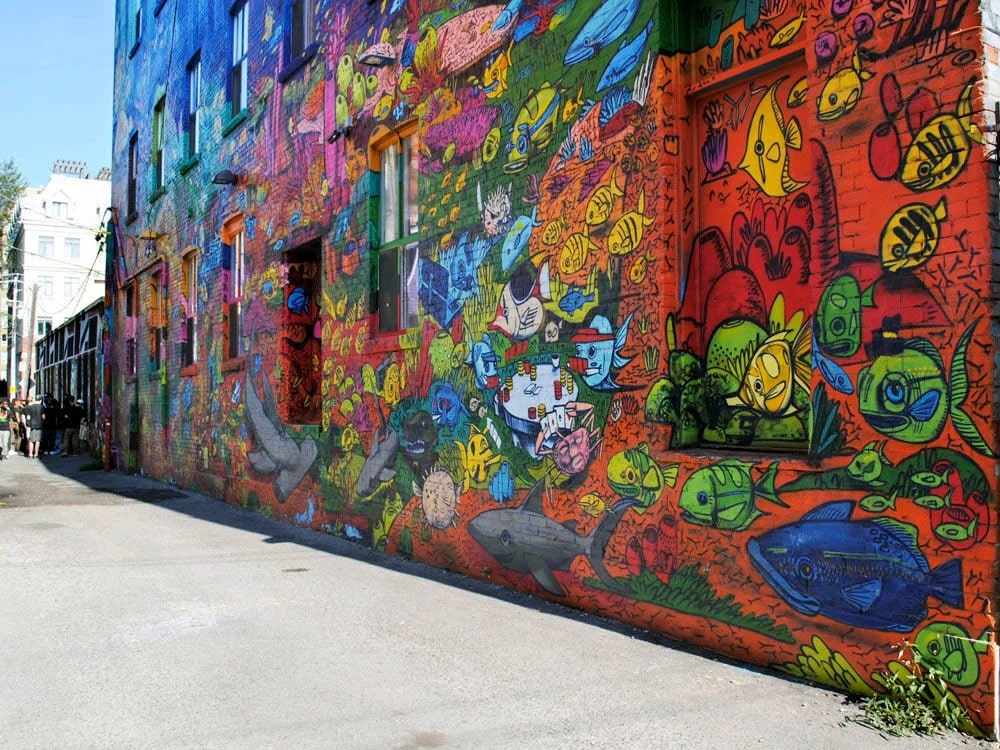 Address: Graffiti Alley, Toronto, ON, Canada
If you're looking to take some artsy photos for your Instagram feed then look no further than Toronto's Graffiti Alley. This is one of the most popular and photogenic spots in the city where you can find picturesque murals and colourful works sprayed on every wall!
This area is popular for photoshoots because the vibrant graffiti that represents Toronto's culture provides a fun backdrop for photos. Also, the art in this alley is constantly changing with new artists adding in their own works!
Pro tip:
If you're in Graffiti Alley, look out for some of SKAM's art works. This popular graffiti artist is known throughout the city for his use of dazzling colours and great line work!
18. Toronto Reference Library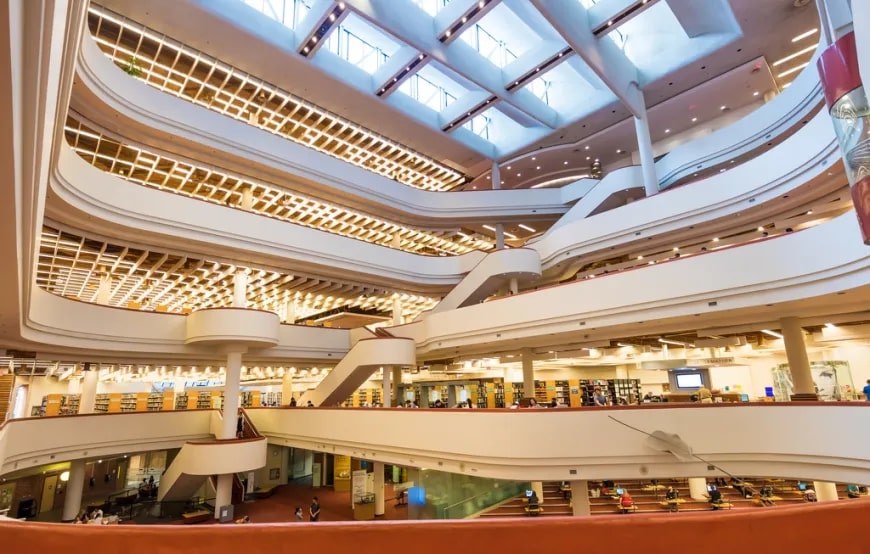 Address: 789 Yonge St, Toronto, ON M4W 2G8, Canada
Operating Hours:
Monday, Sunday: Closed
Tuesday – Saturday: 9:00AM – 8:30PM
Located right in Yorkville, the Toronto Reference Library's glass and brick structure makes it one of the most aesthetic libraries in the city. Aside from that, the bright and airy interiors offer open space and geometric details that are perfectly Instagrammable.
The library is designed with a mix of modern and classic elements, with bright orange floors and off white walls that give off a warm aura.
There's also a huge glass facade and winding staircases that are reminiscent of the iconic Guggenheim Museum's staircase!
Pro tip:
We recommend snapping a picture of the library's huge glass ceiling! The ceiling is one of the most beautiful and underrated architectural marvels in the library, with its arches and huge clear panels that light up the entire library.
19. Sugar Beach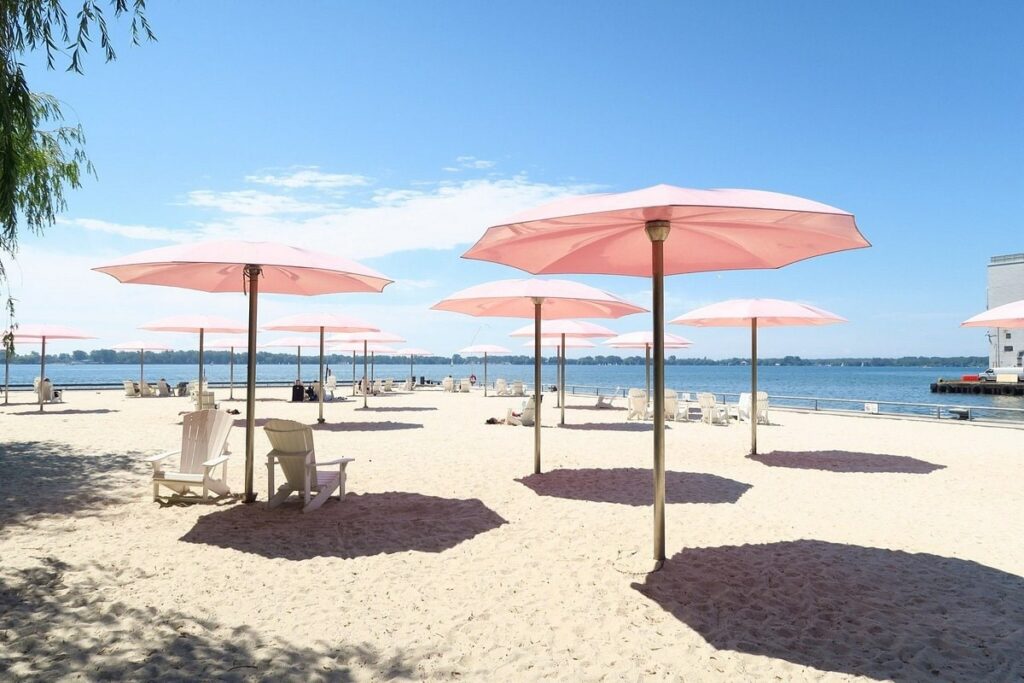 Address: Sugar Beach, St Lawrence-East Bayfront-The Islands, Toronto, ON, Canada
One of the most popular beaches not just for summer activities but also for Instagram photos is Sugar Beach. The beach's sandy shoreline, large beach chairs, and scenic view of the waterfront make it one of our favourite spots for fun pictures year-round.
Sugar Beach is known for its scattered pastel pink umbrellas which provide some great photo opportunities. Although you can't swim here, Sugar beach is filled with beautiful fountains and pools that add to the beach's ambiance and vibrant scenery!
Pro tip:
One of our favourite things about Sugar Beach is its signature granite rocks. These cool rocks are meticulously arranged and feature pinkish stripes, which are really a sight worth checking out.
20. High Park

Address: 1873 Bloor St W, Toronto, ON M6R 2Z3, Canada
High Park is one of the city's prettiest greenspaces filled with amazing sights and meadows that are great for Instagram. The place is known for its picturesque beauty and its diverse flora and fauna which boast a colourful flurry of blooms all year round!
Amongst all the trees at High Park, the Sakura tree's pink petals blowing in the wind and vibrant aura are worth some photos. There's also the creepy but amazing Howard Tomb surrounded by huge plants and flowers, which is a sight worth remembering.
Pro tip:
If you want to get the best shots of the cherry blossoms in High Park, head over to Cherry Hill during April and May. This is the time that the Cherry Blossoms come into full bloom and it's also the perfect photo opportunity.