Where to Get Promotional Products Made in Toronto
Having your brand's logo on usable items like mugs, ballpens, and calendars is a good way to increase brand awareness and buzz.
Just for you, we found and reviewed companies in Toronto that make promotional products. Read on to get more details on their items and services.
The Companies Offering the Best Promotional Products in Toronto
Here are the criteria we used to select the companies with the best promotional products:
How much does it cost to get promotional products made in Toronto?
Here are the indicative rates of promotional products per piece:
| Item | Price Range |
| --- | --- |
| Folding Pop-up Phone Stand | CAD 0.26 - CAD 0.78 |
| Cotton Tote Bag | CAD 3.78 - CAD 5.78 |
| Adult Cotton T-Shirt | CAD 5.86 - CAD 7.74 |
| Silkscreen Foam Can Cooler | CAD 0.924 - CAD 1.0815 |
| Aluminum Bottle  | CAD 6.45 - CAD 7.57 |
| Recycled Fashion Tote | CAD 2.83 - CAD 4.38 |
| Custom Sticker Roll | CAD 0.61 - CAD 0.48 |
| Bento Plastic Lunch Box | CAD 8.10 - CAD 10.01 |
| Powerbank | CAD 16.98 - CAD 19.30 |
Prices for promotional products will depend on the kind of product. Small ticket items like ballpens are cheap but aluminium bottles and t-shirts will cost more.
Bulk orders will give you a better price than small quantity orders. Also, note that printing methods like silkscreen or transfer stickers will also affect the price.
1. Artik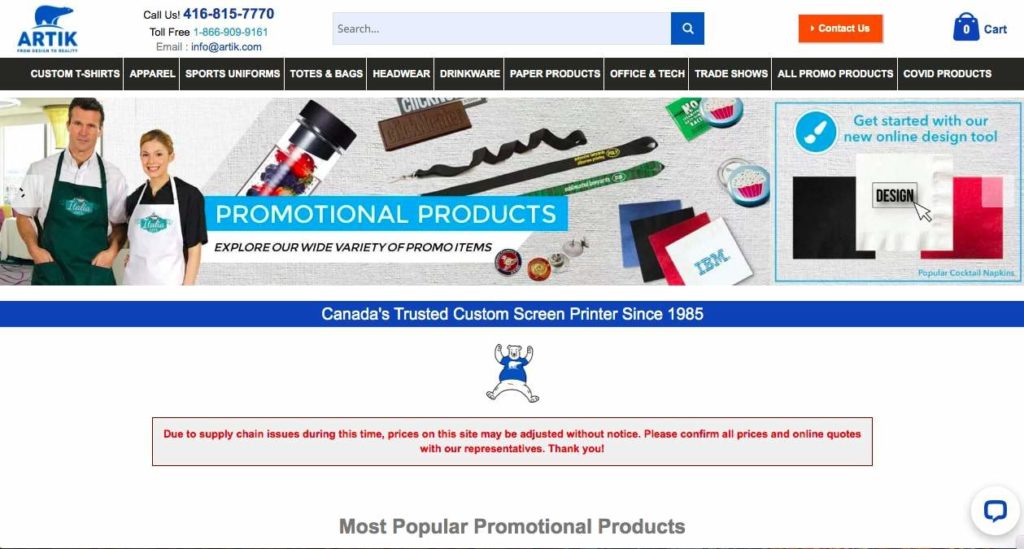 Test
Info
SERVICES
Custom T-shirts

Apparel

Sports Uniforms

Totes & Bags

Headwear

Office & Tech

Drinkware

Paper Products

Trade Shows

All Promo Products

WEBSITE
https://www.artik.com/
ADDRESS
314 Adelaide St E, Toronto, ON M5A 1N1
CONTACT DETAILS
416-815-7770

Toll-free: 1-866-909-9161

OPERATING HOURS
Monday - Friday: 9 am - 6 pm

Saturday - Sunday: Closed
| | |
| --- | --- |
| Criteria | Rating |
| Range of Products | ★★★★★ (5/5) |
| Quality of Work | ★★★★★ (5/5) |
| Additional Services | ★★★★★ (5/5) |
| Client Servicing | ★★★★★ (5/5) |
For promotional items with screen printing and embroidery, Artik is an expert. This company has been into these services since 1985.
Its promotional merchandise includes bags,caps, jackets, drinking bottles, and more. It seems they have what most clients need to promote their business or service, which we like.
Clients can provide their desired design, or opt to use the Artik website to create one. Creating a design online is easy with its step-by-step guide.
The good thing about this service is how it allows clients to choose a product and design their own graphics. They can then check the product cost before proceeding to print.
What we like about Artik is how they cater to small businesses up to large corporations. This means that they can take in any volume of items without sacrificing their quality.
We also appreciate that it offers a 100% satisfaction guarantee. Any errors on their end will be revised or a discount or refund will be given.
But for clients who are not satisfied, items may be replaced based on Artik's assessment and discretion. Replaced items will cost clients though as they will charge still but at a discounted price.
Its staff's patience is also commendable. A client was happy that their staff listened and were consistently helpful even after several design changes.
We found out its turnaround time for orders is within 1-2 weeks. While we find this reasonable, we do note that this is dependent on the product's design and printing requirements.
That said, they can also accommodate rush orders for a fee.
Artik is recommended for its wide options of promotional products and great customer service.
Printing services offered since 1985
Wide-array of promotional products
Online design making
Cater to small to large businesses
100% satisfaction guarantee
Additional charges for valid item replacements
Rush orders entail an extra fee
Customer Reviews
Phenomenal service
"I've recently worked with Artik to produce an order of over 100 sports uniforms for my sports league and the service has been phenomenal! Specifically, I want to single out out Ryan Scally for his professionalism, prompt responses, and overall effort to help fulfill my order, navigating complex supply issues. He made many great recommendations and suggestions that catered to my needs. HUGE thank you to Ryan and all of the staff at Artik. I will definitely be coming back again for subsequent seasons!": – Allan
Impressive service and product quality
"I recently worked with Artik to get a bunch of hoodies printed for a corporate client, and was very impressed with their service and the quality of the final product. Robert truly went above and beyond to help give the client exactly what they were after (even when we changed things around about a hundred times!) and he was always patient, professional, and helpful. I will definitely use Artik again." – Jenny
2. Score Promotions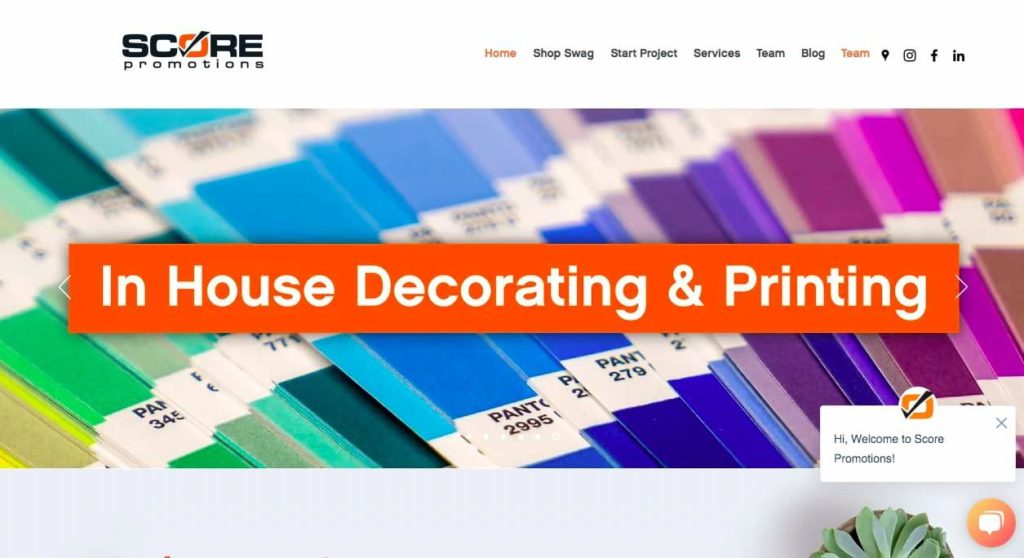 Test
Info
SERVICES
Promotional Marketing

Kitting and Fulfillment

In-House Decoration

Graphic Design

Warehousing & Logistics

E-Stores

WEBSITE
https://www.scorepromotions.com/
ADDRESS
77 Martin Ross Ave, North York, ON M3J 2L5
CONTACT DETAILS
416-661-7779
OPERATING HOURS
Monday - Friday: 9 am - 5 pm

Saturday - Sunday: Closed
| | |
| --- | --- |
| Criteria | Rating |
| Range of Products | ★★★★★ (5/5) |
| Quality of Work | ★★★★★ (5/5) |
| Additional Services | ★★★★★ (5/5) |
| Client Servicing | ★★★★★ (5/5) |
Score Promotions makes it easy for clients to promote their brand. As a full-service promotional marketing agency, they help clients come up with the best idea and design to get the word out on their product or service.
This company has a dedicated team to source promotional items all over the world. With this, clients have a wide array of items to choose from such as branded golf balls, clothing, bags, and USBs, among others.
What we like is how Score provides quality printing such as heat transfer application, laser engraving, and pad printing.
A client who ordered customised water bottles appreciated the quality of their work, with the print still looking great even after multiple washes.
Another thing worth higlighting is how the promotional items are packed in kits that have the company's logo, contact details, and social media information. This helps in creating brand awareness.
What makes the service of this company commendable is how it delivers the kits directly to the consumers' homes. This is coursed through their delivery partners though, so they need to ensure it is done in a timely manner.
It is also good to know too that Score has a warehouse where they store inventory and process orders. This allows them to handle high-volume or rush orders.
Clients who had last-minute orders were happy to find out that they can be accommodated the few times they were in a bind.
Even if its business was established only a little over 10 years ago, they have found loyal clients. This is attributed to Score's being a one-stop service that provides all the factors needed to promote clients' products.
Full-service promotional marketing agency
Sources products from all over the world
Various printing methods
Packaging Kits provide more brand awareness
Does delivery service direct to consumers
Warehouse facility for product storage
Uses a third-party delivery partner
Relatively new in the business 
Customer Reviews
Excellent Customer Service
"Alex Lamana was able to help us not only at the last min but also with a ton of changes. Helped me out of a huge bind even managed to stay a few minutes late to assure my order got processed. I have never had such excellent customer service while simultaneously having more professionalism and care. Alex should be recognized for his efforts if management needs a reference I'd be happy to give one." – Keith
On-time delivery
"We have been working with Score promotion for years and they never failed to deliver the best quality. Just today I received jackets for my company I ordered. It was delivered before time…not to mention cost effective. Most importantly they don't mind listening to us as long as we are satisfied.Special thanks to Ryan and Tom (owner) .
If you are looking for custom/promotional products…Shout out to these guys. Highly recommended .
Thanks Guys" – Additya
3. Print Fast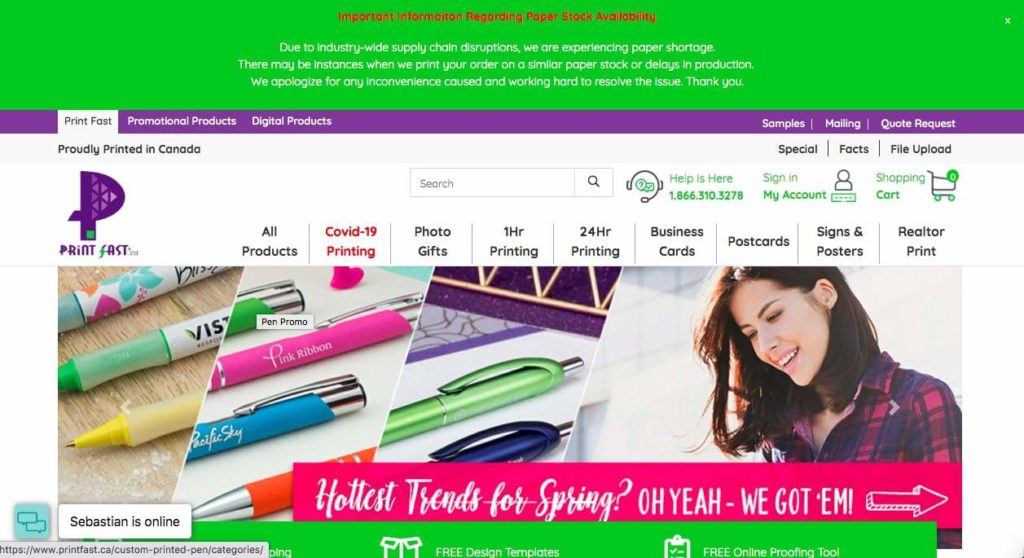 Test
Info
SERVICES
Boxes

Special Signage & Stickers

Large Format

Business Cards

Seasonal Printing

Print and Mail

Promotional Items

Brochures & Flyers

WEBSITE
https://printfast.ca/
ADDRESS
12 Principal Rd #11, Scarborough, ON M1R 4Z3
CONTACT DETAILS
866-310-3278
OPERATING HOURS
Monday - Friday: 9 am - 7 pm

Saturday: 10 am - 4 pm

Sunday: Closed
| | |
| --- | --- |
| Criteria | Rating |
| Range of Products | ★★★★★ (5/5) |
| Quality of Work | ★★★★★ (5/5) |
| Additional Services | ★★★★☆ (4/5) |
| Client Servicing | ★★★★★ (5/5) |
Print Fast is one of the leading companies that provide quick printing services in Canada. True to its name, the company can actually print on different paper materials in an hour!
Since it is primarily a printing company, its promotional items are only limited to pencils, pens, and different bags.
While they mostly cater to businesses, it's also worth mentioning that they can accommodate personal printing requests such as Christmas cards and photo prints
What make it easy for them to fulfill the 1-hour printing service are their templates for different printing formats.
Clients can download these templates and integrate them with their designs. We like how they provide instructions to make it easy to do, even for those without graphic design experience.
That said, they have reportedly experienced delays in the delivery of paper products, which naturally means that clients also encounter delays in their orders. They do offer alternative paper materials if clients do not want to wait.
On a brighter note, its staff is readily available to help clients with their design problems. They also update clients on the progress of their orders via email, so kudos to them.
All in all, we like this company for its quick service and ability to accommodate last-minute printing jobs.
1-hour printing service
Can print on a variety of paper types
Downloadable design templates
Gives email updates on order progress
Limited selection of promotional materials
Some clients experience delays in orders
Customer Reviews
Amazing printing results
"Great customer service. I am very happy that I came here. The girl at counter was very polite and helpful. I did not get her name but thank you so much for being nice polite and professional.I did not have the proper picture to make into poster Paul took his time to make me understand it might not come out as I want but I told him to go ahead and print it anyway so he did his best to fix the issues and I am very happy and thankful for him doing that he did amazing job my poster came out good. Thank you so much Paul for your help and great job. Keep up the good work." – Shehzad
Fast lead time
"The team at Print Fast is incredible to work with. Not only do they produce high quality products, they are also extremely reliable, and have the fastest lead times in the industry. They really go the extra mile to ensure the customer is happy with the final product, and timelines are met. I would highly recommend sourcing your print needs through this fantastic company!" – Heather
4. Torpedo Marketing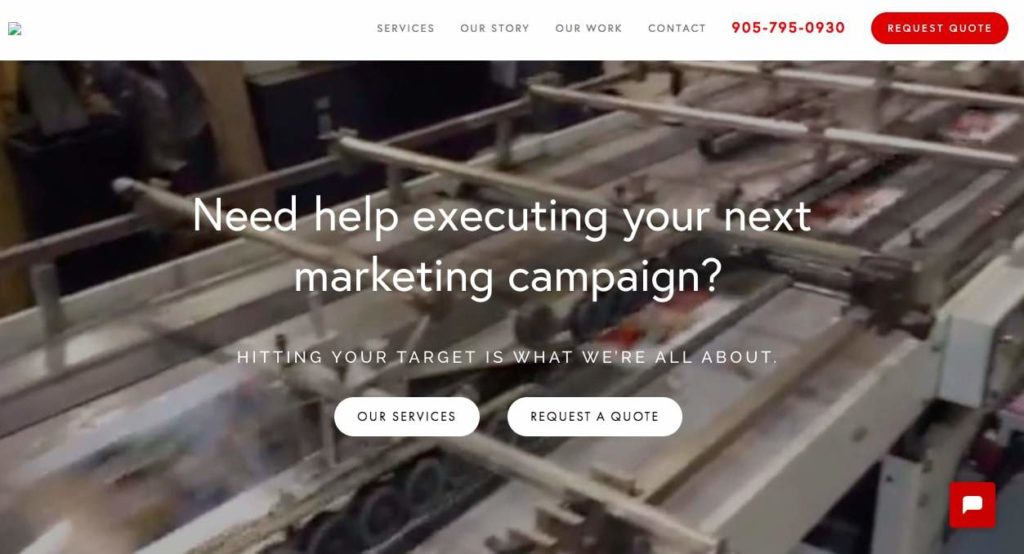 Test
Info
SERVICES
Database Management and Analytics

Fulfillment & E-commerce

Promotional Products

Marketing Consultation

Digital Print

Multi-Channel Marketing

Print Finishing & Bindery

WEBSITE
https://www.torpedomarketing.ca/
ADDRESS
67 Rainbow Creek Dr Unit 2, Woodbridge, ON L4H 0A6
CONTACT DETAILS
905-795-0930
OPERATING HOURS
Monday - Friday: 8:30 am - 5 pm

Saturday - Sunday: Closed
| | |
| --- | --- |
| Criteria | Rating |
| Range of Products | ★★★★☆ (4/5) |
| Quality of Work | ★★★★☆ (4/5) |
| Additional Services | ★★★★★ (5/5) |
| Client Servicing | ★★★★★ (5/5) |
Torpedo Marketing is a full-service marketing agency and a member of the Promotional Products Association of Canada.
With more than 25 years of knowledge and experience, it has helped clients in the design, printing, and delivery of promotional products.
We have to give it to them when it comes to selection, as they have more than 1,000 types of promotional products to choose from.
It sounds overwhelming but worry not – Torpedo has made the selection easy. Products are categorised according to their use, features, colours, and price.
It may not be located in the heart of Toronto but it has clients in the city who were happy with its on-time delivery of their orders. The location is near Pearson International Airport so it is easy to ship orders within the country.
We appreciate that they do their part to help the environment by using paper made with responsively-sourced wood materials. In fact, they hold a Forest Stewardship Council certification, which is impressive.
However, we do have to mention that there were apparently instances of missing orders. A client received only half of the boxes they ordered even after repeated follow-ups.
Overall, we like Torpedo's extensive selection of promotional products that will fit any budget.
Member of Promotional Products Association of Canada
25 years of marketing experience
Extensive selection of promotional products
Products are categorised on the website for easy selection
Instances of missing orders
Not located near the city centre
Customer Reviews
Happy with the results
"I recently worked with Torpedo on a mailing campaign and they took care of everything–design, print and the mailing. They were knowledgeable, organized, professional and super easy to deal with. Susan Robinson was a joy to work with and very knowledgeable. I'm very happy with my results and will definitely be working with them again!" – Lisa
Professional, knowledgeable, and honest
"I have worked with Torpedo Marketing many times over the years. Susan Robinson is professional, knowledgeable and always honest. The expectations of the projects are always clearly defined and deadlines always kept." – Karen
5. Boss Promotions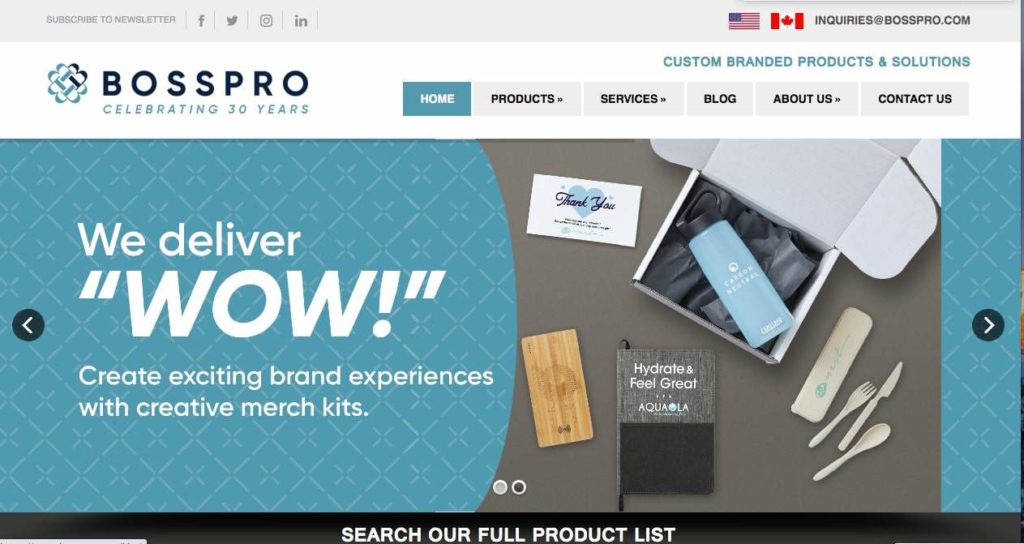 Test
Info
SERVICES
Promotional Products

Custom Products

Banners & Displays

E-stores

Uniforms & Apparel

Kitting & Warehousing

Awards & Recognition

WEBSITE
https://www.bosspro.com/
ADDRESS
123 Sunrise Ave, North York, ON M4A 2V9
CONTACT DETAILS
416-422-4682
OPERATING HOURS
Monday - Friday: 9 am - 5 pm

Saturday - Sunday: Closed
| | |
| --- | --- |
| Criteria | Rating |
| Range of Products | ★★★★★ (5/5) |
| Quality of Work | ★★★★★ (5/5) |
| Additional Services | ★★★★☆ (4/5) |
| Client Servicing | ★★★★★ (5/5) |
With more than 30 years in business, Boss Promotions has offices in Canada, the United States, and China. With these locations, it is able to tap into a wider pool of promotional products.
To ensure the quality of its products, this company only deals with suppliers they can trust. Products are also fully inspected as well before they are shipped, which is a glowing testament to their quality control.
It has worked with big companies such as Telus, Sobeys, Softchoice, and McCormick, which shows how well-trusted they are by industry bigwigs.
We like that it has a product catalogue on its website that categorises more than 800,000 products. We like that they're also partnered with retail brands like Titleist, Under Armour, and Sony, providing quality items for brands to use.
What is great to know is that its dedicated account managers answer enquiries within an hour. They can even make themselves available after hours if the need arises as well for rush orders, which shows that they go the extra mile for their clients.
They also offer extra services like packing promotional items in kits and delivering them, which is an added convenience for clients.
It's worth noting that designs provided by clients need to be submitted in a specific file format. If not, Boss Promotions can help convert the file – but for a fee.
The same goes for logos that need to be embroidered.
We found out that for clients requesting to see a sample product, they have a 30-day return policy for stock items. However, for custom orders, clients need to pay for the cost of the prototype.
Despite these, we recommend this company for its dedicated staff, incredible lineup of promotional products, and value-added services.
30 years in business
Offices in North America and China
Products are fully inspected before shipment 
More than 800,00 merchandise
Dedicated Account Managers servicing clients' requirements
Offers services like packing and delivery
Extra fee for graphic designs that have to be converted to printing machine's requirement
Customers pay for sample output and prototypes
Customer Reviews
Go-to for promotional products
"Boss is my go to place for all my firm's promotional products: Golf shirts, portfolios, pens, recognition awards, trophies. Use them for conference room gifts too!" – Kalin
Fast and easy to contact
"What a great place! Sales and accounting were both fast easy to contact and friendly:) I love working with these guys!" – Dylan
FAQs on Promotional Products
---
That's it for our review of the best companies that offer promotional products. For your other marketing needs, these reviews might interest you: