Top 5 Machine Shops in Toronto
Do you have a product in mind that you want to come into life? A machine shop can manufacture products for you.
A piece of old equipment or a part of a vehicle that you think is beyond use can also be repaired and restored by machine shops.
Just for you, we've reviewed the best machine shops in Toronto. Read on further to know what we think of their services.
How We Selected The Best Machine Shops in Toronto
Here are the criteria we used to select the best machine shops in Toronto:
How much does it cost to get something made at a machine shop in Toronto?
Here are the indicative prices for manufacturing parts of equipment or engine:
Number of Pieces & Size 
Cost (in CAD) per Piece
1 piece
Small

Medium

Large

350

550

950

5 pieces
Small

Medium

Large

65

180

340

10 pieces
Small

Medium

Large

40

110

210

50 pieces
Small

Medium

Large

15

50

95

100 pieces
Small

Medium

Large

10

40

76

200 pieces
Small

Medium

Large

7

30

57

500 pieces
Small

Medium

Large

6

20

38
The price for a part or component manufactured through a Computer Numerical Control (CNC) machine will depend on the size and shape. Raw materials like aluminium, stainless steel, titanium, and fiberglass, among others, will have different prices as well.
Some companies will also offer different finishes like anodised or powder coating which will also add to the cost.
A complex design will be more expensive than a simple one. On the other hand, a bulk order versus a single order will be lower because the setup cost to make the product does not have to be repeated.
Machine shops will also have different lead times for their manufacturing process. But in case a product is needed right away, it can be accommodated at a higher price.
1. KPT Precision Inc.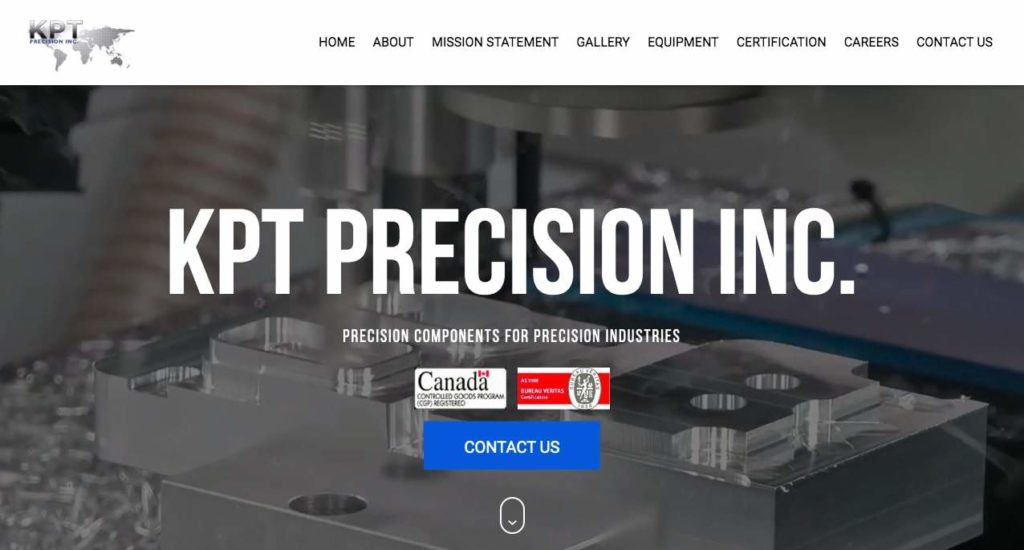 Test
Info
SERVICES
Prototype & Production CNC 3-5 Axis Milling

CNC Turning C/W Live Tooling

CMM Inspection and Assembly

WEBSITE
http://www.kptprecision.com/
ADDRESS
217 Queen's Plate Drive, Etobicoke, ON M9W 6Z7
CONTACT DETAILS
647-428-6527
OPERATING HOURS
Monday - Friday: 8 am - 5 pm

Saturday: 9 am - 2 pm

Sunday: Closed
| | |
| --- | --- |
| Criteria | Rating |
| Quality of Work | ★★★★★ (5/5) |
| Technicians Expertise | ★★★★☆ (4/5) |
| Certification | ★★★★★ (5/5) |
| Range of Services | ★★★★☆ (4/5) |
| Machine Capabilities | ★★★★★ (5/5) |
When it comes to technical expertise, KPT Precision Inc, seems to be knowledgeable about a vast range of machining needs. It utilises the most advanced CNC precision machines to serve the defence, medical, airline, and car manufacturing industries.
What makes this company stand out, aside from its expertise in various industries, is its use of a wide array of materials. Its machines can manufacture components in materials like PTFE, aluminum, copper, and titanium among others.
KPT values efficiency of work so it produces in a 10,000 sq. ft climate-controlled facility. However, this can be a challenge to maintain as changes in humidity can cause moisture to form on the machines and corrode.
Manufactured products are dependent on automated machines with minimal manpower supervision. The machines are used to manufacture products but cannot accommodate repairs of metal parts.
There are no manual machines too that can service small jobs that do not require CNC machining such as welding.
The company is also ISO 9001: 2015 certified, which assures clients of the standard of workmanship it maintains. To ensure compliance, the company also has quality control machines where products are checked thoroughly before they are released.
It is also registered with Canada's Controlled Goods Programme. This requires controlled goods like blueprints and specifications of products that can affect national security to be protected.
This registration is especially crucial for a company like KPT because of its dealings with the military. KPT has to vigilantly guard the details of the products they make so only authorised personnel can have access to sensitive information.
As a whole, this company meets the standards of its clients because of its high-tech machinery and highly skilled manpower.
10,000 sq. ft. climate-controlled facility
ISO 9000: 2015 certified
Registered with Canada's Controlled Goods Program
Machines can manufacture products made of different raw materials
Quality control machines
Machines cannot do metal repair
No manual machines for jobs not needing CNC machining
Customer Reviews
Fantastic customer service
"Kris and team have been supporting our CNC needs for over 2 years with precision, fast delivery and fantastic customer service." – Maker Watch Company
Delivers quality work
"This is the best precision machine shop in Canada. Quality work always on time." – Jeremy
2. Rapid Enterprises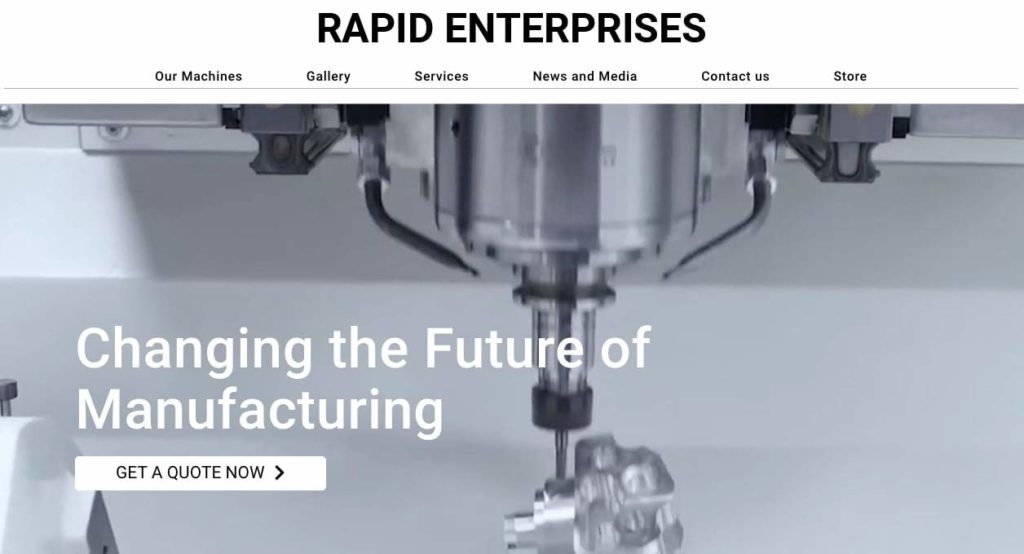 Test
Info
SERVICES
Multi Axis High Precision Machining

Production Runs & Lights Out Machining

Prototype

Tool & Die

3D Machining

WEBSITE
https://www.rapidenterprises.ca/
ADDRESS
401 Magnetic Dr #32, North York, ON M3J 3H9
CONTACT DETAILS
416-667-9999
OPERATING HOURS
Monday - Friday: 7 am - 5 pm

Saturday - Sunday: Closed
| | |
| --- | --- |
| Criteria | Rating |
| Quality of Work | ★★★★☆ (4/5) |
| Technicians Expertise | ★★★★★ (5/5) |
| Certification | ★★★★★ (5/5) |
| Range of Services | ★★★★★ (5/5) |
| Machine Capabilities | ★★★★☆ (4/5) |
Rapid Enterprises has been doing CNC machine work for the past 37 years. As an ISO 9001:2015 certified company, it has a "do it once, do it right" policy.
It is able to deliver products with its state-of-the-art machines and highly skilled staff to food, nuclear, construction, medical, mining, and other industries.
We do note that its machines need minimal human help like manual tool changes. So, to ensure it follows its policy, its automated process needs to be programmed properly to avoid errors.
With its experience in prototyping, the staff helps clients come up with unique designs and give feedback before proceeding to metal cutting. Constant communication is done too during the manufacturing process to pinpoint potential product issues.
A client who had a complicated part made with Rapid appreciated how the adjustments they recommended not only made the part look amazing but also helped him save on expenses.
In addition, its team also does quality assurance with the use of a Coordinate Measuring Machine (CMM). This ensures that manufactured products pass the product testing in strength and durability.
We found out that its machines work even after office hours. This is helpful in meeting the delivery schedule when it is closed on the weekends.
However, it mostly caters to industrial clients and not be able to cater to individuals with small DIY projects.
Overall, it has met customer satisfaction and as proof, its loyal clients refer Rapid to other businesses.
37 years in doing CNC machine work
ISO 9001: 2015 certified
Do it once, do it right policy
Use Coordinate Measuring Machine for quality testing
Machines work after office hours
Closed on weekends
Not able to serve individuals with small DIY projects
Customer Reviews
Service exceeded client's expectations
"I had a prototype assembly manufactured by Rapid Enterprises from a set of quick drawings and solid models. The team at Rapid Enterprises worked with me and my drawings to realise the parts with amazingly quick turnaround time and superb quality. The precision-machined parts' dimensions, fit, finish and preparation/packaging for shipment all exceeded my expectations considering the imposed time and cost constraints. I do not hesitate to give Rapid Enterprises my highest recommendation and endorsement." – Dave
Meeting client's requirements
"This place is one of the most reputable 5 Axis Precision Machine shop in Greater Toronto area. The employees and Arman are all wonderful and hardworking people. They helped make sure my parts got made perfectly and to the requirements I needed them. 10/10 would recommend them to anyone in need of 5 axis machine shop." – Araceli
3. Crest Tech Corporation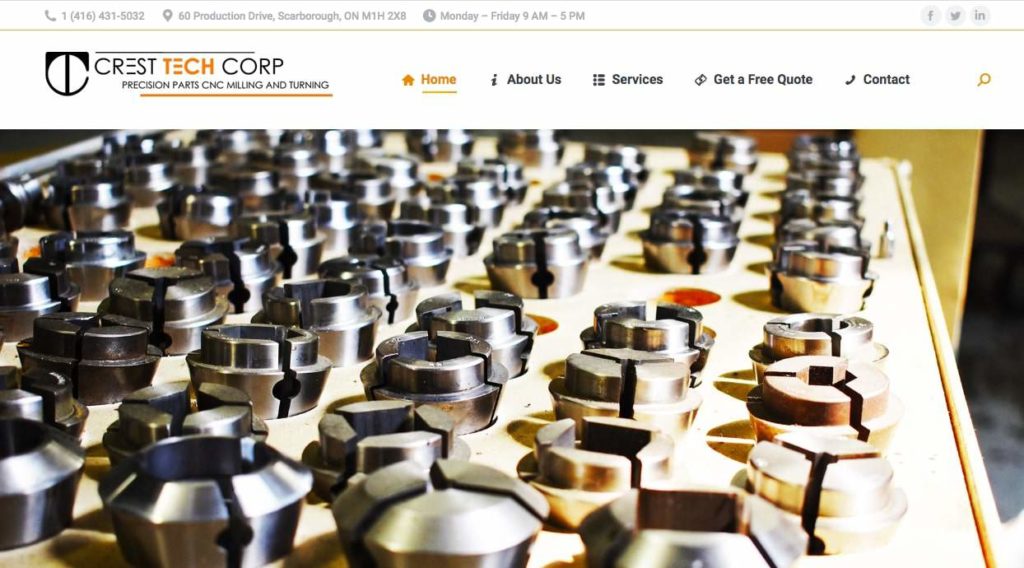 Test
Info
SERVICES
Plating Metal Covering

Anodizing Electrical Circuits

Casting with Alloys

CNC manufacturing, MIlling, and Turning

WEBSITE
https://cresttechcorp.com/
ADDRESS
60 Production Drive, Scarborough, ON M1H 2X8
CONTACT DETAILS
416- 431-5032
OPERATING HOURS
Monday - Friday: 9 am - 5 pm

Saturday - Sunday: Closed
| | |
| --- | --- |
| Criteria | Rating |
| Quality of Work | ★★★★☆ (4/5) |
| Technicians Expertise | ★★★★★ (5/5) |
| Certification | ★★★★★ (5/5) |
| Range of Services | ★★★★★ (5/5) |
| Machine Capabilities | ★★★★★ (5/5) |
Crest Tech Corporation has been in the CNC machine work business since 1986. It has a 20,000 sq. ft. facility in Toronto.
If you are looking for an environmentally-friendly company, Crest Tech is Restriction of Hazardous Substances (RoHS) compliant. This means that its products do not use lead, mercury, cadmium, and other hazardous materials in their equipment.
This is one company that is also ISO 9001:2015 certified, proof that the company has continually met the standard of product quality and work efficiency.
Efficiency is achieved with its automated process. This allows the company to manufacture products, even the difficult ones, faster than traditional machines.
However, this company can only accommodate work needing CNC machines. It does not have manual machines for metal repair work.
Its CNC machines need less manpower so these should always be in good working condition to avoid delays in the delivery of orders. This is important as the company thrives to do on-time delivery all the time.
What we like about this company is its capability to make small quantities or large-scale production. One client who needed machine shop work which was considered small for Crest Tech's capacity and capability was still accommodated.
The process can be repeated many times and each product passes through continuous inspection to check its product quality. Also, to ensure quality is maintained, its machines are in a climate-controlled area.
Crest Tech not only ensures the quality of work but also offers quotations online. It even throws this for free, one service that other companies on this list do not offer.
This company may be family-run, but the business is run professionally. Clients have received quality products and great customer service.
CNC machine shop since 1986
20,000 square feet in Toronto
Restriction of Hazardous Substances compliant
ISO 9001:2015 certified
Accommodate small and large product quantities
Climate-controlled facility
Free online quotation
Closed for weekend operations
No manual machines for metal repair work 
Customer Reviews
Provides constructive feedback
"I can't say enough good things about Crest Tech and about Abhi. I've worked with Abhi on a number of projects over the last few months and have been thrilled with everything. Abhi is super responsive and easy to communicate with. I have worked with other shops that just say yes to everything, only to bring up issues halfway through the job. Abhi is transparent with his analysis of a project and provides constructive feedback prior to starting, which means no nasty surprises. Thanks again for all the hard work Crest Tech!" – Christopher
Excellent professional job
"I went to this company,Crest Tech Corporation, for a personal job for my home. I was very nice surprised by Sagar's willingness and positive attitude in solving this project very fast,on spot. Although I just met him for the first time,he invited me in his nice and clean factory,where in front of me and under his supervision,one of his employees did an excellent professional job,for a very reasonable price. I fully recommend to do business with this company! Thank you!" – Alex
4. Crosstown Engines Rebuilders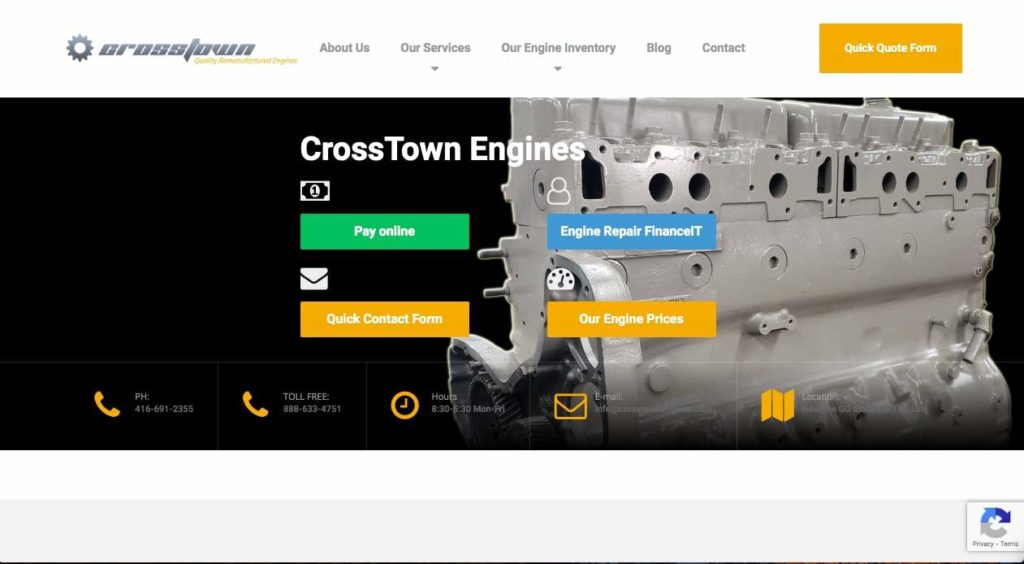 Test
Info
SERVICES
Engine Remanufacturing

Marine Engines

Performance Engines

Complete Machine Shop

Engine Installation

Dynamometer Service

Turbochargers

WEBSITE
https://crosstownengines.com/
ADDRESS  
27 Musgrave St, Toronto, ON M4E 2H3
CONTACT DETAILS
416-691-2355

Toll-Free: 888-633-4751

OPERATING HOURS
Monday - Friday: 8:30 am - 5:30 pm

Saturday - Sunday: Closed
| | |
| --- | --- |
| Criteria | Rating |
| Quality of Work | ★★★★★ (5/5) |
| Technicians Expertise | ★★★★★ (5/5) |
| Certification | ★★★★☆ (4/5) |
| Range of Services | ★★★★☆ (4/5) |
| Machine Capabilities | ★★★★☆ (4/5) |
For Crosstown Engines Rebuilder, making its services easy on the pocket is integral in its customer service. It offers monthly payments for engine repairs of up to CAD 10,000.
In its more than 50 years in the machine shop business, its services are focused on repairing gas and diesel engines with the help of modern machine shop tools and equipment.
Its technicians have the experience as well to easily identify specific parts of the vehicle that cause the engine problem or how to restore an old vehicle.
A client who wanted to resurrect his 1956 Mustang was grateful he was given options on the restoration project and its benefits.
What is good to know is how its repaired parts, as well as the labour, are backed by a 3-year or 60,000-kilometre warranty, whichever comes first.
Even with the warranty, the crew still ensures their work is done properly. It does spin-testing, a method to check the durability of the work done.
Clients are thankful their vehicles are performing well and did not need repairs afterward. A client even had another truck rebuilt with Crosstown because he knows the outcome will be the same.
Crosstown is a small family-owned machine shop. Being small allows it to do custom work but only on engine parts.
One client's project was to restore a vintage car. The crew in Crosstown rebuilt the car to run flawlessly without any damage to the car while on repair work as well.
This machine shop made it to our list because of its wealth of experience and its commitment to delivering engine repairs that are durable.
Offers monthly payment for repairs
50 years in the machine shop business
Warranty on parts and labor
Does spin-testing to check repair work
Custom work focused only on engine parts
Does engine repairs only 
Customer Reviews
Excellent service
"Lou has been great to deal with. As a first time customer, I had a problem with a marine rebuild (which turned out to be the MasterCraft dealer not changing out the break in oil). Lou took the engine back, stripped it down to double check everything and re-dyno'd. CrossTown spent 86 hours double checking to fix the marina's mistake, at no expense to me. This goes beyond standing behind your work! Thanks Lou!" – Geoff
Great rebuilding service
"I have an odd Pontiac motor that was is in need of rebuilding because it comes out of a 1977 firebird. I called around and was told that parts would be impossible to get because of Covid and that it would be at least 6 months waiting and that the engine I had didn't exist. When I called Crosstown Lou not only knew the engine but assured me he had everything in stock to rebuild. I dropped the engine off and was told it would be about a month. 32 days later I got a call that it was complete. I have had this car for 27 years and was really happy with service that was provided. Thank you to Lou and his guys for getting my engine and car up and running for the summer." – Craig
5. Rapid Parts Manufacturing, Inc.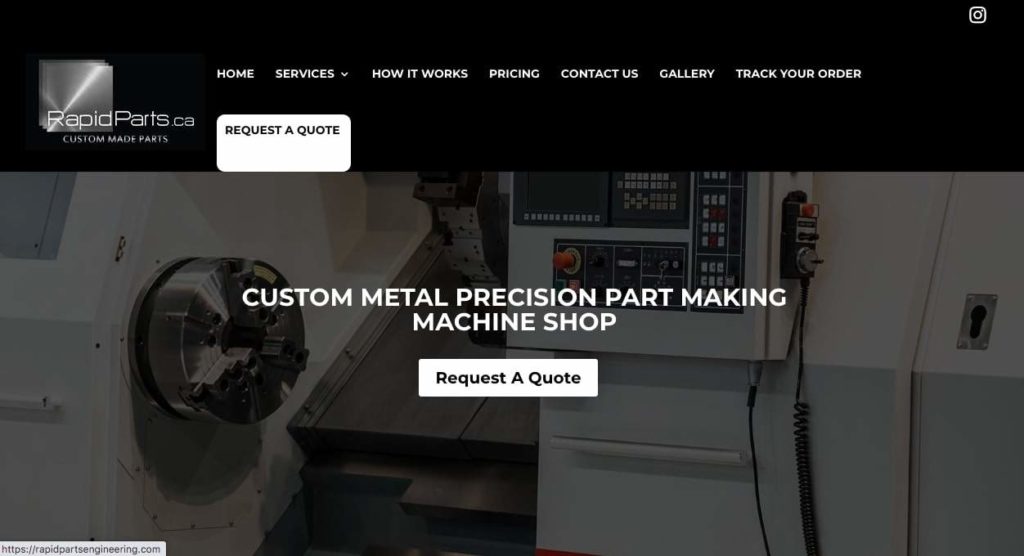 Test
Info
SERVICES
CNC Lathe Machining

CNC Milling Machining

CNC Fabrication

Aluminum Anodizing

Reverse Engineering

WEBSITE
https://rapidpartsengineering.com/
ADDRESS
24 Melham Ct #12, Scarborough, ON M1B 2T8
CONTACT DETAILS
416-332-9446
OPERATING HOURS
Monday - Friday: 10 am - 10 pm

Saturday - Sunday: 3 pm - 10 pm
| | |
| --- | --- |
| Criteria | Rating |
| Quality of Work | ★★★★★ (5/5) |
| Technicians Expertise | ★★★★★ (5/5) |
| Certification | ★★★★☆ (4/5) |
| Range of Services | ★★★★★ (5/5) |
| Machine Capabilities | ★★★★☆ (4/5) |
If you are looking for product customisation, Rapid Parts Engineering is the company for you. Its CNC machines are capable of making customised parts in different shapes and sizes.
What is great about this service is how they can make clients' requirements from a drawing or sample that the clients provide. Its staff then will translate this to a design that its machines can make.
A client who had a product idea was happy that Rapid Parts was able to create it for him. The company was able to make a high-quality prototype in a small amount of time, which is impressive.
Another thing we like is how its machines are capable of using different raw materials such as aluminium, fiberglass, Plexiglas, steel, and other sturdy materials.
To make it look more polished, these can have a powder coating or an aluminium-coloured anodising finish.
However, it cannot make any parts for cars and motorcycles. If you are looking for display signs and the likes with a logo, Rapid is not able to do this, either.
On a brighter note, they can replicate, modify and repair any existing parts. And together with its custom-made products, they have around 15,000 completed jobs to date.
What's more, they can accommodate orders worldwide as they utilise FedEx for shipment. Payment is easy as well with its different online payment options such as PayPal and Interac e-transfer.
Overall, this machine shop made it to the list because it offers a lot of flexibility to meet client satisfaction.
Offers product customisation
Machines are capable of using different raw materials
Offers different finishes for the manufactured part
15,000 complete jobs
Can accept and ship products worldwide
Easy payment methods
Does not manufacture car and motorcycle parts
Cannot make any display materials that need a logo
Customer Reviews
Excellent customer service
"Let me say that I am not a machinist or mechanical engineer.
I was trying to repair a piece of machinery and needed a machined bar about 48 long. I contacted Joseph and he was able to understand what I was looking for and offered up some cost effective options, savings me a lot of money for something that I really didn't need. He worked with me on details, and shipping and kept me apprised of progress. This made my repair go super easy. Customer service before any money changed hands, all the way through delivery, plus a fair price is why I rate these guys 5 true stars!
thanks for all your help and if I need help in the future, I know who to turn to" – Ken
Amazing service
"Amazing service! Had an idea i wanted to create & Rapid was able to not only execute. But did it quickly as well! Highly recommended!" – Joseph
FAQs on Machine Shops
---
We have reached the end of our review of the best machine shops in Toronto. If you are interested in other metal-related services, here are some recommended reads: