Where to Find Human Resources Jobs in Toronto
People in human resources are usually the ones who hire applicants for a job. How exactly does one land in a job in human resources?
We curated this list to guide you on where to find human resources jobs in Toronto. We covered the basics such as the available roles they have, requirements, and their office locations.
Where to Find Human Resources Jobs in Toronto
We evaluated each of the items in this list using the following criteria:
How much does one earn from a human resource job in Toronto?
Here is a table containing the usual salaries of people in the human resource industry.
| Human resource job | Usual salary per year |
| --- | --- |
| Human resource manager  | CAD 90,000 |
| Office manager | CAD 55,000 |
| Payroll specialist | CAD 50,000 |
| Employee relations manager | CAD 85,000 |
| Training coordinator | CAD 60,000 |
Please take note that these are only estimates and that income varies on the position, place of work, agreement between parties, and more.
1. LinkedIn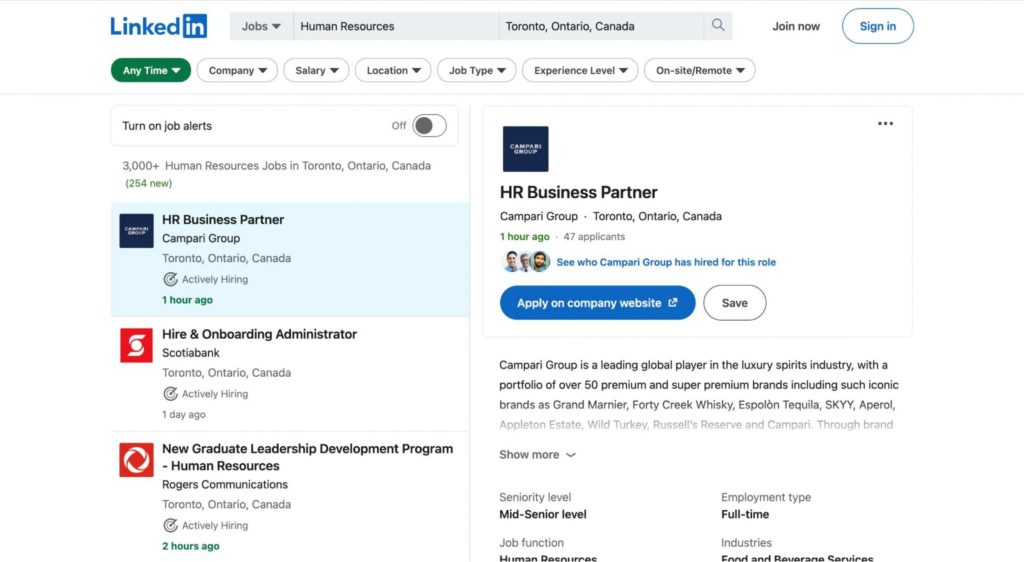 | Test | Info |
| --- | --- |
| WEBSITE | https://ca.linkedin.com/ |
| HEADQUARTERS | Sunnyvale, California, United States |
| TORONTO OFFICE | Inside Eaton Centre Towers |
| | |
| --- | --- |
| LISTINGS | ★★★★★ |
| INFORMATION ACCURACY | ★★★★☆ |
| APPLICATION PROCESS | ★★★★★ |
| REPUTATION | ★★★★☆ |
Arguably the most popular job hunting site in the world, LinkedIn has grown to be a reliable professional platform since its establishment in 2002. People use this as a virtual networking space to get hired, expand their connections, and more.
It would be hard to deny that this is where most companies would post should they be looking to hire someone in their human resource department. As of writing, there are over 3,000 Toronto job posts that are specifically for hiring human resource people.
What makes LinkedIn a great platform, aside from the fact that everybody is here, is how they structure their posts. Most job listings include the time or date it was posted, the job's employment type, seniority level, job function, and industries.
Most times, the listing already includes application instructions. Sometimes, applying can be done by messaging someone from the company or even by sending your resume to the company's displayed email.
Because the companies who list the job posts usually have their own LinkedIn profiles, it is also quick to verify whether the post is official or not. This also makes it easy to learn more about the company and their culture.
For human resources, it's also easy to know what kind of people a company likes to work with. LinkedIn shows you a list of a few company employees when you visit the company's profile.
The only thing we don't like about LinkedIn is that certain features are restricted and can only be accessed if you have a premium subscription. This is inconvenient because it disrupts the overall purpose of being a go-to job hunting platform.
We also find that LinkedIn's vast reach can be a disadvantage, as you will have many competitors who are looking for the same job as you.
LinkedIn is a great place for you to find human resources jobs in Toronto. They also have an office in the city, so you can address any concerns there. 
A popular job hunting site all over the world
Has thousands of listings on Toronto human resources jobs
Listings usually have timestamps and other job-related information
Some features are for paid subscriptions only
Many competitors for job roles
2. Indeed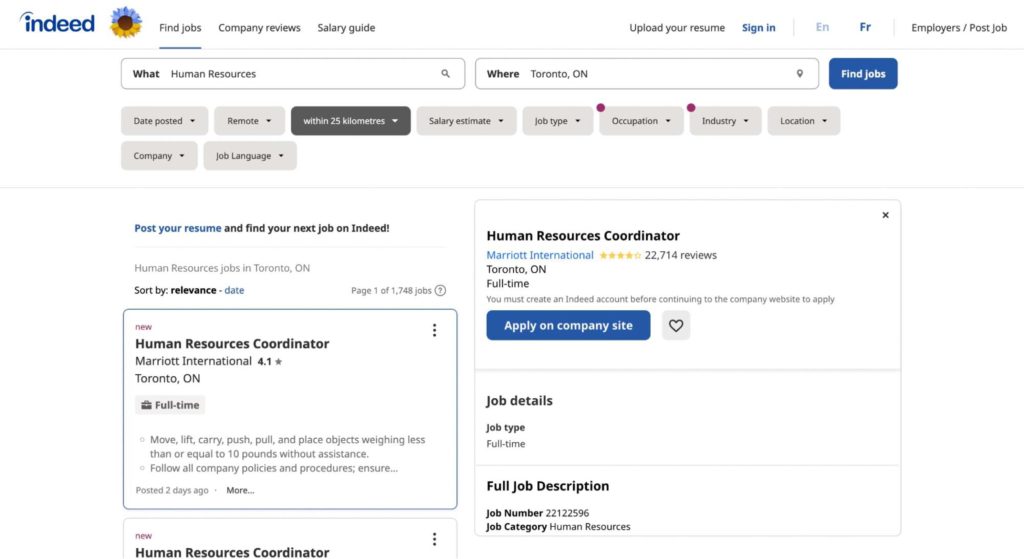 | Test | Info |
| --- | --- |
| WEBSITE | https://ca.indeed.com/ |
| HEADQUARTERS | United States |
| TORONTO OFFICE | 2 Bloor St W, Toronto, Ontario |
| | |
| --- | --- |
| LISTINGS | ★★★★★ |
| INFORMATION ACCURACY | ★★★★☆ |
| APPLICATION PROCESS | ★★★★☆ |
| REPUTATION | ★★★★☆ |
Indeed is another worldwide employment website for job listings. This company was founded in 2004 and is now available in more than 60 countries and 28 languages.
Over 1,700 human resources Toronto jobs were found on Indeed's website as of writing. We like that most posts have job summaries and come with information such as employment type, amount of salary, work schedule, and even a company rating.
While application instructions are usually included in the listing, we like Indeed's "apply on company site" button. This may be a small thing, but it makes the process way easier by just adding that clickable option.
Human resources graduates or professionals can simply post their resumes on Indeed and get hired. Some companies are eager to find their own employees and scroll through relevant people.
When companies go through your application, they can also access your profile and take a look at your skills, educational background, interests, and more.
We do warn that job applications often take time before you receive an interview schedule, while some may not even respond at all. This isn't the fault of Indeed, but it still takes a toll on how many people will inquire through them.
Their email system also needs better programming, as some messages are sent early in the morning. This is honestly bothersome for other people and can be a dealbreaker.
Overall, we recommend Indeed because of the thousands of Toronto businesses that are looking for human resources people on this platform. If you have any concerns, you can literally visit their Toronto office to speed things up.
Known worldwide as an employment website
Has an office in Toronto
A posted resume and an updated profile can get you hired
Allows you to apply on the site or through the company's website
Application process is sometimes long or even unresponsive
Can do a lot work in terms of email system programming
3. Glassdoor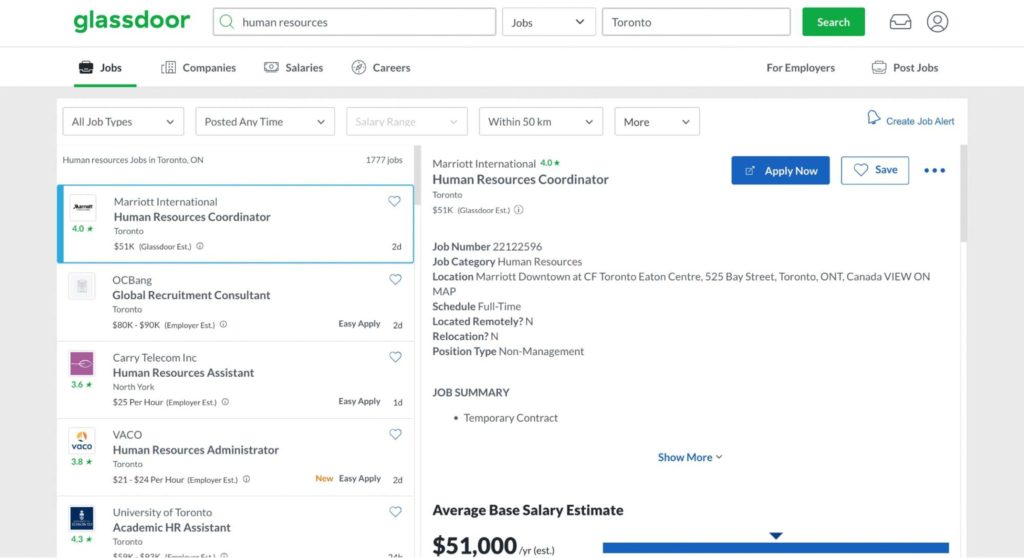 | | |
| --- | --- |
| LISTINGS | ★★★★☆ |
| INFORMATION ACCURACY | ★★★★☆ |
| APPLICATION PROCESS | ★★★★☆ |
| REPUTATION | ★★★★☆ |
One of the world's largest job and recruiting sites is Glassdoor, which has been around since 2008. They also have an office in Toronto and their website receives nearly 5 million visits in Canada per month.
What we liked most about Glassdoor is that you can look at jobs and listings anonymously. This is convenient because you can simply look for prospects without risking applying or being seen by employers.
They also provide tips to visitors on how employees can widen their search. They provide you with keywords that you can enter so that you can find the most suitable job for you.
On top of these, Glassdoor also provides essential information such as which top companies in Toronto are hiring for human resources jobs and the top cities near Toronto with human resources jobs.
Entry-level Toronto human resources jobs are the most common in Glassdoor, so they make a friendly site for fresh graduates and first time job seekers.
Glassdoor also has a dedicated website for Canada. This makes the experience more localised and relevant for Canadian job seekers.
The only thing we don't like about Glassdoor is that they usually filter reviews. This is contrary to their claim of being transparent, as the goal is to help people find good jobs.
We also find that their job listings are way fewer than other global employment platforms, which puts them behind in terms of listings.
All said, Glassdoor is a great place if you want relevant and localised information about human resources jobs. Their Canadian website offers you listings and places that are close to home.
Receives nearly 5 million visits in Canada per month
Can look at listings anonymously
Provides information such as top hiring companies and cities
Has a dedicated website for Canada
Filters and does not approve negative reviews
Listings are fewer compared to other global platforms 
4. hrjob.ca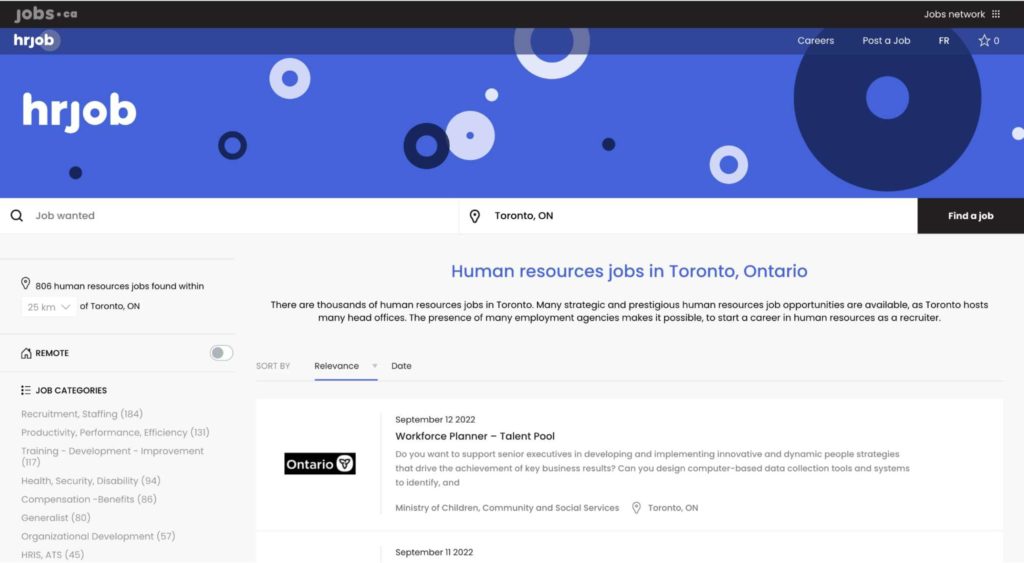 | | |
| --- | --- |
| LISTINGS | ★★★★☆ |
| INFORMATION ACCURACY | ★★★★☆ |
| APPLICATION PROCESS | ★★★★☆ |
| REPUTATION | ★★★★☆ |
Hrjob.ca is a portion of jobs.ca, a Canadian network that posts hundreds of jobs within the country. They began in 2004 and have been making a name for themselves in the market since.
This site has a dedicated page for job search and offers articles and advice entirely designed for professionals.
They even have information on what training is available for human resources jobs, how to write a CV that will stand out for human resources, and more.
What makes searching easy on this site is how they categorise jobs. For human resources jobs, you can find lists on recruitment, HR support, health and security, internal communications, and more.
A maximum of over a hundred jobs can be found per category, with some having as little as 3 listings. Still, we find that their posts are relevant enough and that they are able to highlight smaller companies that don't usually appear during searches.
We do note that this site misses on making the application easier as compared to others. The way they lay out information is also quite overwhelming, with long sentences and listings that can get tiring and unappealing.
Still, jobs.ca is a good place to find human resources jobs in Toronto. It is native to the country and it has enough experience to help you in terms of employment and career building.
Proudly-Canadian network
Offers articles and advice for hiring and employment
Categorises jobs based on title and departments
Highlights smaller companies that others don't
Does not post much about application processes
Information on posts is often too long and can get unappealing
5. Workpolis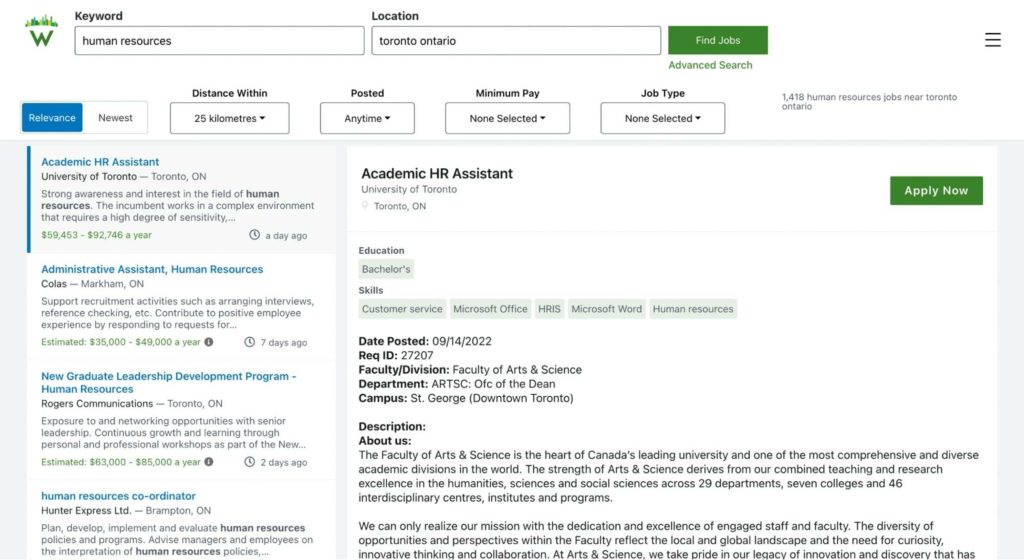 | | |
| --- | --- |
| LISTINGS | ★★★★☆ |
| INFORMATION ACCURACY | ★★★★☆ |
| APPLICATION PROCESS | ★★★★☆ |
| REPUTATION | ★★★★☆ |
Workopolis is a Canadian job search engine that has been around since 1999. Listings can be found in 2 languages, namely English and French.
The best thing about this site is that it ensures inclusivity and secures fairness for all applicants. They are very considerate towards persons with disabilities who are looking for jobs.
Usually, they disclose information in such a way that there are no barriers for PWDs to understand or comprehend the job listing. They strive to give PWDs the same amount of benefits and opportunities.
More than 1,000 human resources jobs near Toronto are available on this site on an average. People can apply directly through the site or by following the instructions posted by the hiring company.
We do note that listings are only available for a set amount of date, so there is a sense of urgency to decide and apply. They have also been acquired by Indeed in the year 2018, so they are not an independent job board anymore.
This site also doesn't offer the option to create a profile or anything that can help you get noticed, which we hope they can address soon.
We recommend Workopolis for the values that it holds as a company. Their advocacy deserves an acknowledgement in the industry.
Has an average of 1,000 human resources Toronto listings
Inclusive, cares for PWDs 
Listings are written in English or French
Listings are posted for a short amount of time only
Applicants don't have their own profiles in the site
FAQs about human resources jobs in Toronto
---
We hope that this article helped you learn more about human resources jobs and where you can find one in Toronto.
If you're still deciding on the professional path you want to take, you may want to read our review on the top career coaching services in Toronto.