Top 5 Tire Shops in Toronto
Choosing the right tire will depend on the way you drive, the road condition, and the type of vehicle you use.
No need to worry – we found the best tire shops in Toronto to help you pick the right tire. Read our reviews to discover what we think these shops have to offer.
The Best Tire Shops in Toronto
The best tire shops were chosen based on these criteria:
How much does a tire cost in Toronto?
Here are the indicative tire prices of different brands:
| Tire Brand  | Price per tire |
| --- | --- |
| Continental VanContact Winter | CAD 200.41 |
| Continental VanContact A/S | CAD 212.72 |
| Michelin X'ICe Xi3 Runflat | CAD 232.20  |
| Michelin Defender T + H | CAD 125.98 |
| BFGoodrich Winter T/A KSI | CAD 112.50 |
| BFGoodrich Radial T/A | CAD166.44 |
The prices of new tires will depend on the manufacturer and the vehicle type. Each manufacturer will have budget-friendly tires and high-end ones.
The price will also differ on the use. Winter tires are more expensive compared to summer and all-season tires because it has thicker traction for snow and ice.
1. Weston TIRECRAFT Toronto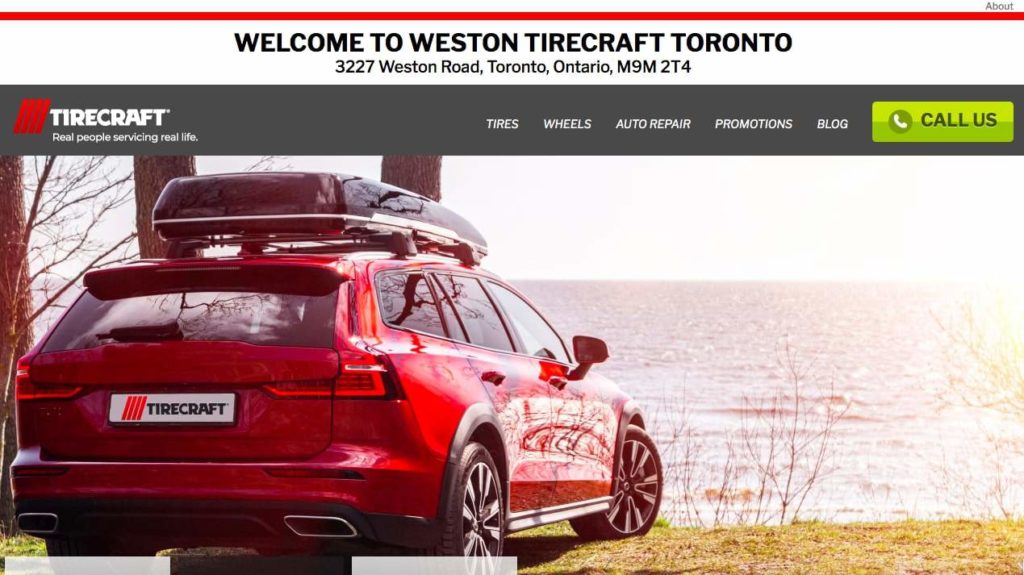 Test
Info
SERVICES
Tires

Wheels

Auto Repairmen

WEBSITE
https://tirecraft.com/weston-tirecraft/
ADDRESS
3227 Weston Rd, Toronto, ON M9M 2T4
CONTACT DETAILS
416-742-7131
OPERATING HOURS
Monday - Friday: 8 am - 5 pm

Saturday: 8 am - 12 pm

Sunday: Closed
| | |
| --- | --- |
| Criteria | Rating |
| Support Services | ★★★★★ (5/5) |
| Range of Products | ★★★★☆ (4/5) |
| Special Promotions | ★★★★★ (5/5) |
| Customer Service | ★★★★☆ (4/5) |
A family-owned tire shop business since 2013, Weston TIRECRAFT Toronto offers a complete line of tires and accessories.
This is a go-to tire shop with 19 tire brands made for any vehicle type, including pickup and light trucks, and various conditions.
Although, there were instances when some tire models were not in stock. A client who had a tire blowout had to wait for a few hours for the owners to pick up the tire from the warehouse.
We think customer service is something that Weston does well. For instance, it has a 4-bay facility for tire change and repairs, making its technicians able to work on more than 1 vehicle at a time.
Aside from being able to attend to more vehicles faster, the staff is also accommodating. One client who forgot its lug nuts for a seasonal tire change, was grateful that a staff member was sent to his home to pick them up.
It would be great though to offer tire deliveries, especially in an emergency.
You can get better value by downloading its MyTIRECRAFT Rewards app. It offers exclusive discounts and accumulate rewards points on tire purchases or services.
We like that clients who use the app can enjoy CAD 20 worth of points after the first purchase or service. Referral of a friend will also earn you CAD 10 points.
Lastly, as part of a community, they do their part to help out. This shop supports local health and sports programmes.
Operational since 2013
Offers 19 tire brands
Tires for different conditions and vehicle types
Availability of custom wheels 
4-bay facility
MyTIRECRAFT rewards app
Supports local community
Instances of unavailability of tires in stock
Does not offer tire delivery.
Customer Reviews
Excellent customer service
"I was in Toronto for the weekend to visit family , my sister in laws vehicle had a blow out. I looked up Tirecraft online an found Tirecraft Weston road.
Dave and Yvette were excellent to deal with it was a Saturday at 9 am when I called they did not have the tire in stock , so they drove to the warehouse picked one up and had us enjoying or trip before lunch. Thank you for all your help." – Mike
Accommodating owner
"Sir Dave you are the best. I have a very good experience with the owner itself i went there around 750am to bring my car with a flat tire they open 8am but when He saw me looking from the outside of his office He wave at me and let me go inside and when i tell the problem and told him that i need to use my car because need to work . Wow honestly i was amazed of what He did. He accept my car and let his mechanic fix it rigjt away. This kind of experience is totally wonderful. I highly recommend Dave's place to ALL the people reading my review COME TO DAVE's place and let you experince a 101% excellent service you will not regret it. Thank you very much for your good heart. You are building EXCELLENT RELATIONSHIP of an OWNER and a Happy satisfied Customer like me. Again Sir Dave Thank you very much 🙏💯 i will spread the good excellent job and service that i have experience. HIGHLY RECOMMENDED to all" – Joseph
2. Tire Source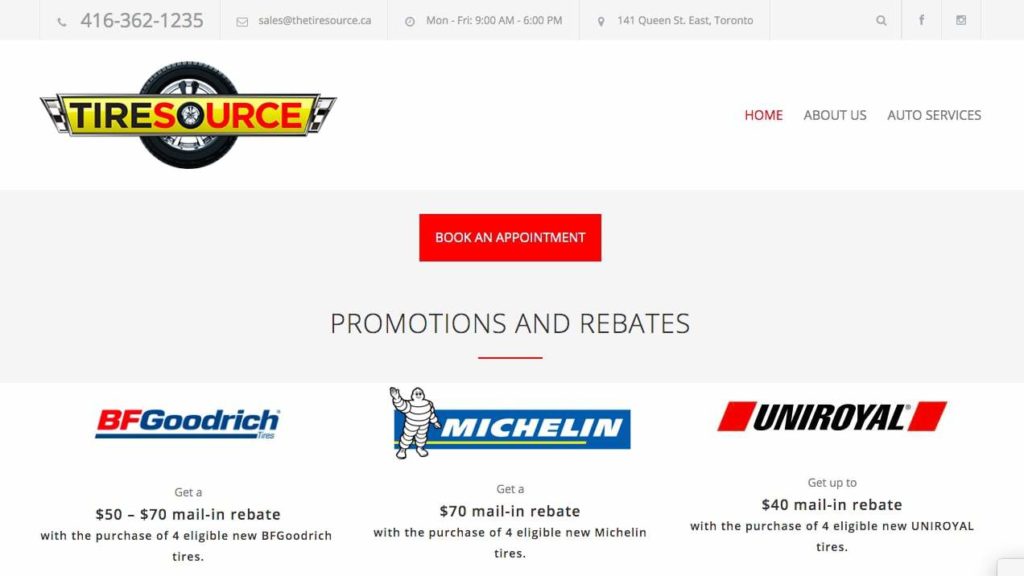 Test
Info
SERVICES
Used Tires

New Tires

Auto Repairs

WEBSITE
https://thetiresource.ca/
ADDRESS
141 Queen St E, Toronto, ON M5C 1S1
CONTACT DETAILS
416-999-6884
OPERATING HOURS
Monday - Friday: 9 am - 6 pm

Saturday - Sunday: Closed
| | |
| --- | --- |
| Criteria | Rating |
| Support Services | ★★★★☆ (4/5) |
| Range of Products | ★★★★★ (5/5) |
| Special Promotions | ★★★★★ (5/5) |
| Customer Service | ★★★★☆ (4/5) |
Tire Source's Toronto branch offers both new and used tires from up to 40 brands such as BF Goodrich, Michelin, Uniroyal, Goodyear, and Uniroyal.
It's worth noting that this is the only shop on our list that offers used tires. Used tires, if selected properly, are safe to use and won't hurt the pocket as much as new tires – perfect for customers on a budget.
But if you are looking for new tires, Tire Source is also a good option because it offers rebates on popular tire brands. For example, buying 4 new Michelin tires will get you a CAD 70 mail-in rebate.
However, this means that a client has to pay upfront the full cost of the tires and wait for a rebate check to arrive. The rebate can also be enjoyed only if you buy a complete set of tires.
We like how Tire Source offers tire services to make it easy for clients to have all their tire needs in one shop. It even finishes repair and maintenance work the same day.
Its "done right the first time" policy ensures that it gets the job done correctly with no problems arising after. It is able to do this because of its experienced technicians and computerised equipment used for wheel balancing and alignment.
To top it all off, its friendly staff go out of their way to help clients out of the bind when they have tire problems. A client who got a nail on his tire was attended to in less than 20 minutes with complete tire patching as well as a check on the rest of the tires.
Offers new and used tires
Mail-in rebates for leading tire brands
¨Done right the first time¨ policy
Computerised equipment
Clients need to pay upfront the full cost of tires to avail of rebates
A set of 4 tires is required to enjoy the rebate
Customer Reviews
Fantastic work
"John and Max saved me. I got a nail in my tire on a rental car and the rental agent gave me a number to call — turns out this place wouldn't give me a patch and I had to frantically search for a shop that might help. Stressed AF, I found the closest tire shop (This one) and took a chance.
Literally in and out in 20 minutes. Fantastic work, checked all my tires and patched this one completely. I'm so thankful to the guys for their help. $75 +tax for fixing the flat tire, but worth the peace of mind." – Stephanie
Friendly and helpful staff
"Driving/working downtown with all the construction going on, I must have gotten a nail or something that punctured my tire. Was looking up places to get tire fixed and saw the big sign/lot and drove right on in and was greeted by Max who was very friendly and super helpful! Machanic was great also!
I was in and outta there in less then an hour!
Thank you so much!" – Leesa
3. Dufferin Motors & Tires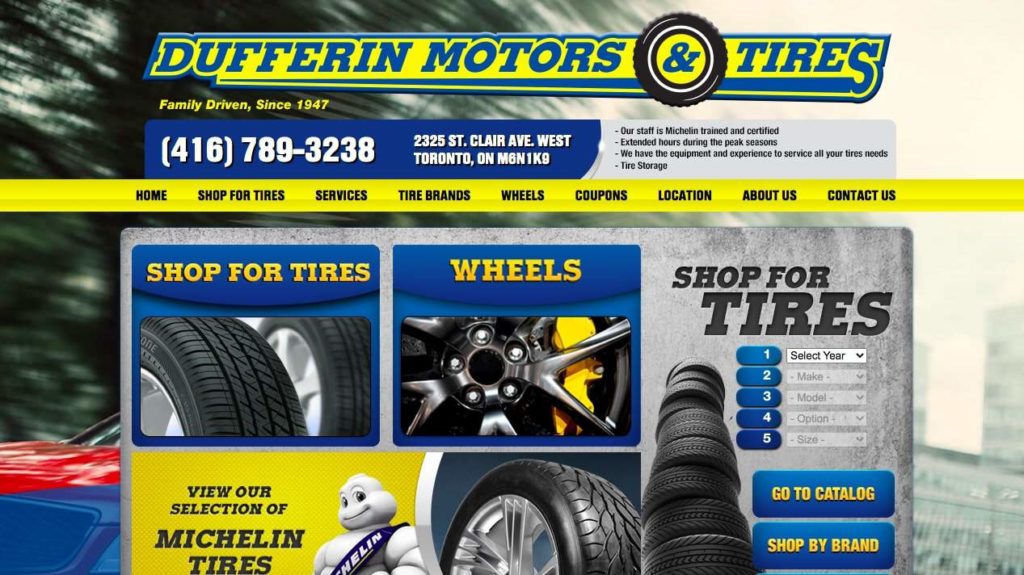 Test
Info
SERVICES
Tires

Wheels

Schedule Service

WEBSITE
https://www.dufferinmotors.com/
ADDRESS
2325 St Clair Ave W, Toronto, ON M6N 1K9
CONTACT DETAILS
416-789-3238
OPERATING HOURS
Monday - Friday: 8 am - 5 pm

Saturday - Sunday: Closed
| | |
| --- | --- |
| Criteria | Rating |
| Support Services | ★★★★☆ (4/5) |
| Range of Products | ★★★★★ (5/5) |
| Special Promotions | ★★★★☆ (4/5) |
| Customer Service | ★★★★☆ (4/5) |
For all tires, Dufferin Motors is for you. It's been in the business since 1947 and has concentrated its efforts on tires, including repair and maintenance.
They have a great tire selection which includes popular brands like Michelin, BFGoodrich, and Uniroyal. And if you have industrial-sized vehicles, they have available tires as well.
If you bring your car in for tire service, Dufferin utilises computerised equipment for spin and road force balancing. This is to ensure that the wheels are aligned and will not cause any shaking or uneven tire wear.
Another standout service is how it is able to do tire installation for low-profile cars. Not all auto shops have the equipment to properly install low profile tires.
We found out that clients have had great experiences with quick tire changes. Some even had the job done within 35 minutes.
However, clients who need time-consuming repairs or maintenance checks done have to find time to do so during the weekday. This shop is closed on weekends when people have more time to bring their cars for these services.
We found out that this shop even offers tire storage as well. So, when changing tires for the winter, clients have a great place to store their tires.
Storing tires properly is important as this can change the characteristics of the tire that shortens it life. So, for those who have no space to store in a ventilated area but away from the sun, your next option is to store it in a auto shop tire storage.
Overall, this firm can be considered an institution already with 70 years in the industry even if it is still a family-run business. We liked that its service has not changed over the years with a lot of loyal clients staying with them for more than 10 years.
70 years in the business
Offers tires, repair, and maintenance
Tires available for industrial-sized vehicles and low-profile cars
Computerised equipment for car tire spinning and balancing
Tire storage
Closed on weekends
Some reports on needing to improve customer service
Customer Reviews
Good pricing and excellent service
"Just bought new tires based on other reviews and very impressed with the service overall. The tires were special ordered, arriving in one day and installed the following day. All interactions with Andrew prior to installation and the day of were seamless. Very friendly, professional, helpful and knowledgable. Pricing was good and service was excellent. Will definitely go back for any tire" – Shandi
Great customer service
"A great place to get your tires changed each season at a reasonable price as well as a choice to store your tires there for each season at a reasonable price too. Great customer service & very knowledgeable technicians to service your vehicle." – Brownie
4. RedWheels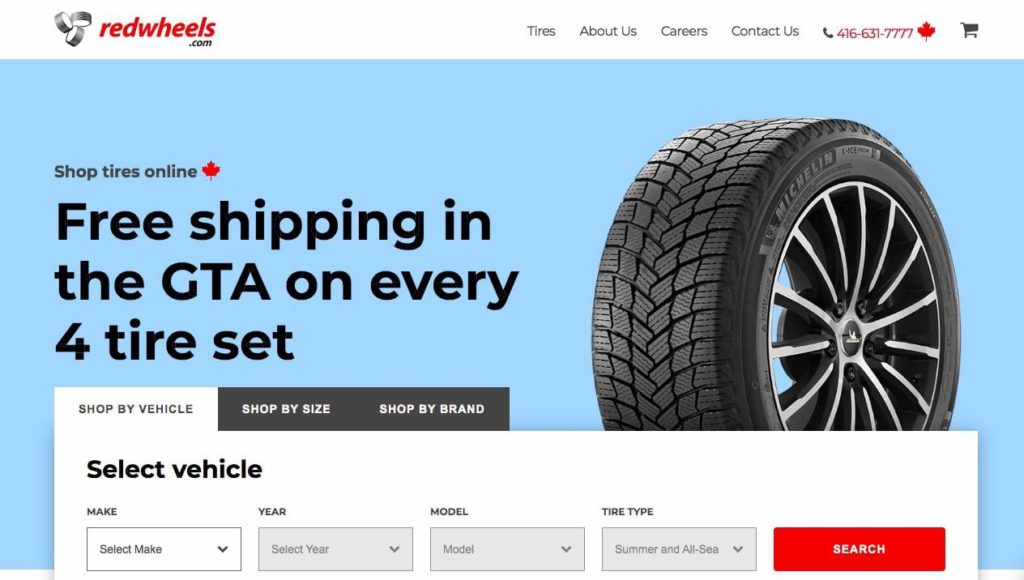 Test
Info
SERVICES
Tires

Online store

WEBSITE
https://redwheels.com/
ADDRESS
37 Kodiak Crescent Unit 16, Toronto, ON M3J 3E5
CONTACT DETAILS
416-631-7777
OPERATING HOURS
Monday - Friday: 10 am - 5 pm

Saturday - Sunday: Closed
| | |
| --- | --- |
| Criteria | Rating |
| Support Services | ★★★★☆ (4/5) |
| Range of Products | ★★★★★ (5/5) |
| Special Promotions | ★★★★☆ (4/5) |
| Customer Service | ★★★★☆ (4/5) |
RedWheels, started by two car enthusiast brothers, has both an online and physical tire shop.
This is a great convenience for customers. For one, they can browse through its wide array of tire selections anytime. They have an impressive selection for different vehicle types, from sports cars to budget-friendly autos.
What we like about having this online shop is how clients can find out if the tire they are looking for is in-stock. Often clients go to tire shops for tire replacement only to be told it's not available.
Even better is its capability to ship or deliver tires. Clients have experienced deliveries within 2 business days once order is confirmed.
Although – this may be just us – but if you are particular about physically seeing the quality of tires before purchase, this is one limitation of an online shop.
That said, we do want to point out that RedWheel seems to offer a great in-store experience. Clients we've spoken to mentioned that the staff give well-informed answers to their queries and are friendly to deal with.
The owners are accommodating as well. A client who ordered a tire online was able to have it replaced once he informed the owners of the defect he saw.
While RedWheels has a physical presence in Toronto, it does not offer tire change or other tire maintenance services unlike the other shops on this list, which we find disappointing.
Overall, the convenience it offers with its online shop is incomparable. Clients have also consistently said that aside from affordable prices, they have been happy with their online purchase because of good quality and great customer support.
Online shop
Wider selection of tires available online
Offers delivery or shipping of tires
No tire change and maintenance service
Cannot physically check quality of tires purchased online
Customer Reviews
Prompt service
"Anthony and his shop is one if not the best wheel/tire shop in town. I've been shopping around for weeks and his price and service can't be beat. He is prompt and no bs type of guy. Got 2 new front tires for my M3 perfectly balanced. Highly recommend him and will be coming back for the rears soon. Thank you Anthony" – R Man
Quick delivery
"Competitive prices and unbelievable service. (Thank you, Alex!) Tires were delivered to my home within 2 business days of order confirmation." – Anthon
5. Limitless Tire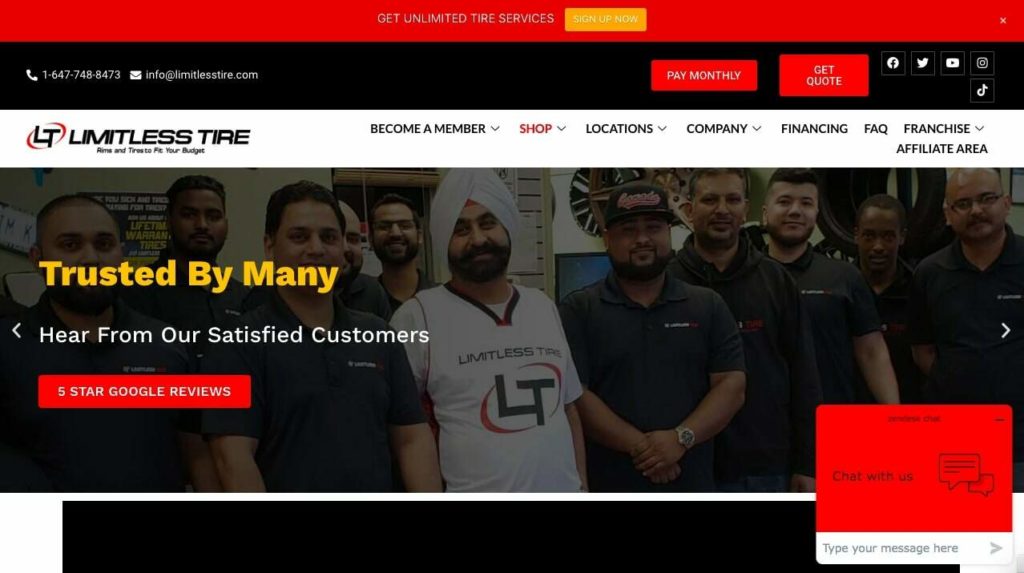 Test
Info
SERVICES
New Tires

Wheel Visualizer

Wheels

WEBSITE
https://limitlesstire.com/#/
ADDRESS
100 Bridgeland Ave Unit 1, Toronto, ON M6A 1Z4
CONTACT DETAILS
647-748-8473
OPERATING HOURS
Monday - Friday: 11 am - 7 pm

Saturday: 9 am - 3 pm

Sunday: Closed
| | |
| --- | --- |
| Criteria | Rating |
| Support Services | ★★★★☆ (4/5) |
| Range of Products | ★★★★★ (5/5) |
| Special Promotions | ★★★★★ (5/5) |
| Customer Service | ★★★★☆ (4/5) |
For the budget-conscious, Limitless Tire has a lot of friendly solutions, price-wise. Its goal is to allow clients to drive their cars as soon as possible without worrying about the terms of payment.
What we like most is that it provides flexibility in terms of payments. For instance, it offers financing with no credit check for its tire products and services.
It offers flexible payment schemes too to make it easy on the pocket.
For added convenience, clients can apply for financing online. The process is made easy with clients providing only price quotations and vehicle information.
However, the credit limit of up to CAD 5,000 is allowed only for less than 10-year-old vehicles and is based on the vehicle's make and model.
Another thing we like is its membership programme, which offers exclusive benefits all year round. However, note that this is on a per vehicle basis.
We think that even at a minimum membership fee of CAD 147 per year, this offers good value as clients can enjoy unlimited car repairs, installation, maintenance, and seasonal tire changes. Plus, there's a 10% discount on tire and wheel purchases.
More packages are available for higher fees. Even so, this is stiil beneficial as it offers roadside assistance and insurance which come in handy during emergency cases.
The other yearly packages also include tire storage. This is convenient when changing tires in the winter to keep your tire in good working condition and when you don't have storage space at home.
Limitless has a tire catalogue available for browsing. Clients can request online for a quotation – however, note that they do not offer delivery or shipping services.
All in all, we like how this company gives clients access to popular and high-quality tires via easy payment schemes.
Credit financing for tire products and services
Flexible payment schemes
Membership programme offers exclusive benefits
Tire catalogue available
Credit financing is available for vehicles less than 10 years old
Have to be a member to avail of tire packages
No delivery or shipment of tires
Customer Reviews
Knowledgeable
"I called a few places beforehand but Limitless tire was by far the most professional and had exceptional customer service. I got a tire and rim package. They have a great team that is very knowledgeable! I worked with Sal who made sure not a single detail would be missed. The 5 stars is well deserved! Will definitely be coming back." – Ashley
Sweet Cash Deal
"Big up Sal for the amazing experience, not only helped me pick out the perfect wheels for my Jeep Gladiator but gave me a sweet cash 💰 deal 😁. Was a pleasure dealing with you guys for the first time and it sure won't be my last."
FAQs on Tire Shops
---
That's it for our list of the best tire shops in Toronto. Check out the other articles below for other car-related services: