The 8 Best Junk Removal Companies in Toronto
Are you looking for an easier and more convenient way to get rid of the trash from your basement? If so, you might want to consider looking for a reliable junk removal contractor.
Luckily for you, we've put together a list of the best junk removal companies in Toronto that can dispose of all forms of trash, from broken appliances to bagged garbage. We've also answered a few questions about junk removal companies and what they do.
Continue reading below to see which ones can accommodate your junk removal needs.
1. Just Junk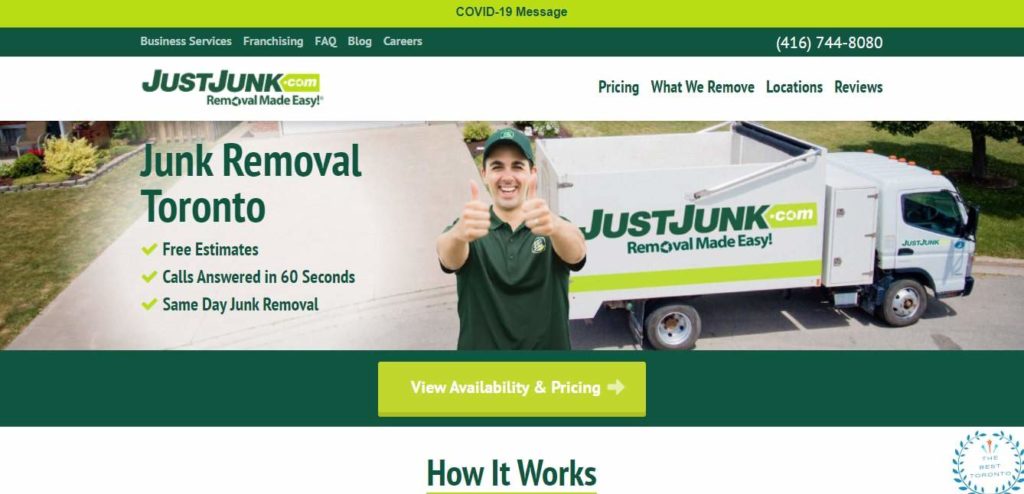 | | |
| --- | --- |
| BEST FOR | Same-day and next-day services |
| SERVICES | Residential junk removal and business junk removal |
| WEBSITE | https://justjunk.com/junk-removal-toronto |
| ADDRESS | Toronto, ON, Canada |
| CONTACT DETAILS | 416-744-8080 |
| OPERATING HOURS | Open 24 hours |
Just Junk is a junk removal company that services most of the Greater Toronto Area, including Acton, Ajax, Brooklin, Burlington, Cambridge, Collingwood, Concord, Essex, and Halton Hills, among others.
It's the first company that comes to our minds whenever we need to get rid of anything. There are a few reasons for that.
For one, Just Junk can dispose of all forms of trash, such as construction debris, busted appliances, and even exercise equipment.
On top of that, its service rates are transparent and fair to all customers, regardless of their locations. There are no last-minute fees or disposal charges included, so there's no need to worry about going beyond the budget.
It operates 24 hours a day too, so customers can hire its services any time of the day. If you only have free time after getting off from work, then its movers will adjust to your schedule.
Customers who are in a rush may opt for its same-day junk removal services. If their schedule is already booked for the entire day, your appointment will be moved to the following day.
Another thing we like about Just Junk is how it treats the collected junk. If the items can be recycled or repurposed, it will take care of it or donate it to a charity that would benefit from them the most.
On-time arrival
Transparent fees
Competitive rates
Same-day services
Large clientele, so some schedules may get delayed
Customer Reviews
Here's what customers had to say about Just Junk:
"Just Junk was quick and easy to work with, I booked online and got a team out at my place the next morning. The guys who did the removal were very courteous, professional, quick and provided us with great customer service overall. The cost in comparison to other removal companies I've hired in the past was great, about half of what I have paid for in the past. This was a great experience!"
-C Gift
"Amazing service. Our condo elevator booking wasn't available on time and the guys were able to wait (1 hour!) and help with the removal without any fuss. More importantly, it wasn't a large removal and they were able to accommodate a fair charge for the work (vs. the initial quote). Extremely professional and will be a repeat client for future junk removal needs!"
-Andrew Schroen
2. Pronto Junk Removal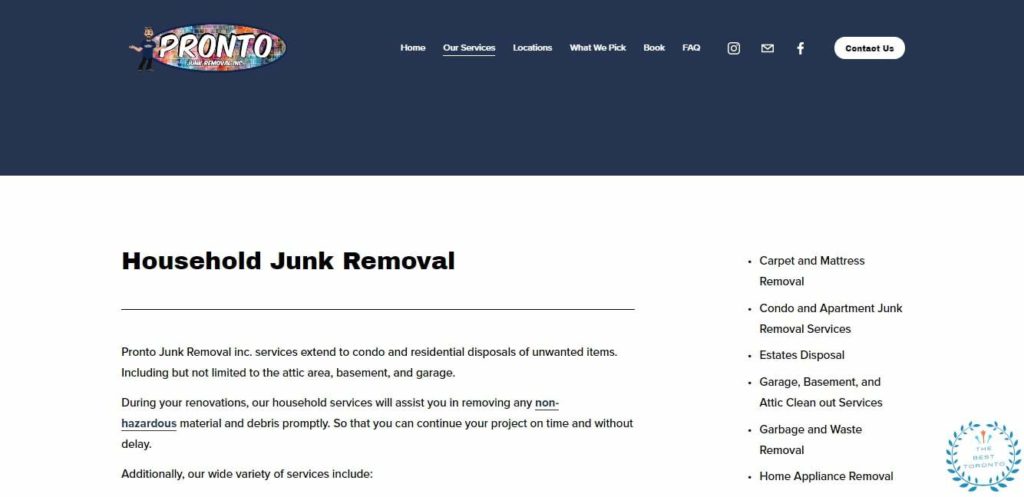 BEST FOR
Competitive rates
SERVICES
Household junk removal, commercial garbage pickup, home appliance removal, property cleanout, and dumpster rental
WEBSITE
https://www.prontojunkremoval.ca/
ADDRESS
58 Chalone Crescent, Woodbridge, ON L4H 1V6, Canada
CONTACT DETAILS
647-707-2244


[email protected]

OPERATING HOURS
Monday – Tuesday: 8:00 AM – 7:00 PM
Wednesday – Sunday: 8:00 AM – 5:00 PM
Another trusted junk removal company with budget-friendly services is Pronto Junk Removal. As its name implies, it can free your home or business from piled-up garbage in as fast as 24 hours.
Its junk removal services are open to most of the Greater Toronto Area and a few surrounding areas within a 100km radius of Toronto.
There's almost no limit as to the items it can remove from your space, which range from old carpets to construction materials. It can pick up everything, except bio-hazardous waste, petroleum products, and propane tanks, of course.
Pronto Junk Removal's services even go beyond removing junk from your home and business. It also offers dumpster rental, moving and delivery, property cleanout, and small demolition, among others.
Budget-friendly services
Wide scope of services
Extends outside the GTA
Open to residential and and commercial areas
Doesn't operate 24 hours a day
Customer Reviews
Take a look at some comments shared on Google Reviews:
"Amazing service, quick response and on time. I recommend this company's service to anyone who needs a reliable and affordable junk removal service. They also differentiate the products in order to donate what is possible."
-Jodi Lazzerini
"Great experience,very friendly and understanding. Extremely helpful and punctual. Even brought a plastic sheet to prevent our stuff from getting dirty.. excellent service and customer satisfaction guaranteed"
-Niraj Bajaj
3. Big Ben's Junk Removal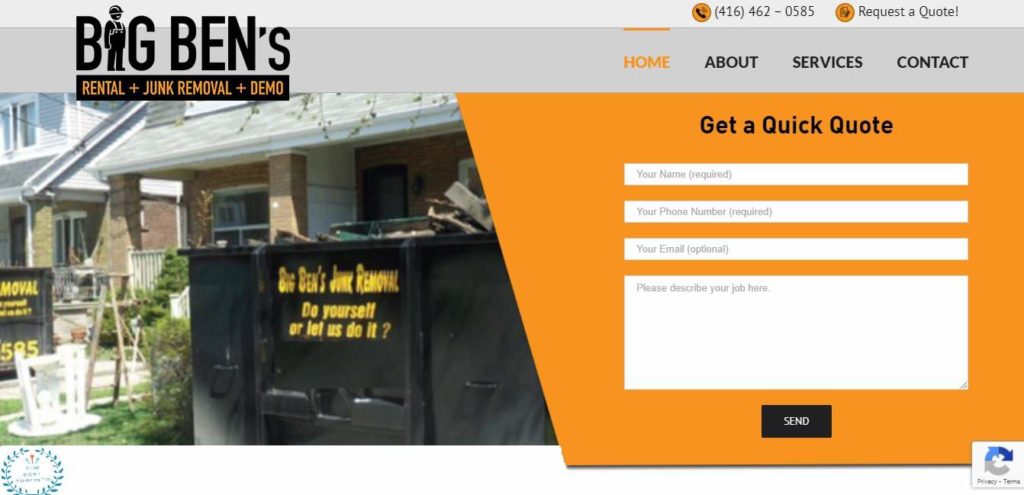 | | |
| --- | --- |
| BEST FOR | Disaster recovery and estate cleaning |
| SERVICES | Residential and commercial junk removal, bin rental, demolition, bobcat rental, and excavation |
| WEBSITE | https://bigbensjunkremoval.com/ |
| ADDRESS | 140 Woodfield Rd, Toronto, ON M4L 2W6, Canada |
| CONTACT DETAILS | 416-462-0585 |
| OPERATING HOURS | Monday – Saturday: 7:30 AM – 4:00 PM |
Established in 2002, Big Ben's Junk Removal has become one of the most trusted junk removal companies for homeowners and business owners in Toronto. It services almost every address in GTA and a handful of surrounding areas.
Big Ben's Junk Removal can handle jobs of all sizes, but it's known for taking care of huge junk removal tasks. Its junk removal experts can also help prepare your home or office for a renovation project.
After that renovation project, you can hire its team again to clean up everything. It's indeed one of the most efficient junk removal companies in Toronto.
Another in-demand service of Big Ben's Junk Removal is its disaster recovery, which aims to help clients clean up after a fire, flood, or other disaster. Its team will dispose of a large amount of appliances and furniture, on top of ruined drywall, wood, and insulation.
Other services it offers include demolition, bin rental, bobcat rental, and excavation. If you avail of more than one service, you can get a discount, depending on the extent of the work.
19 years of experience
Wide service areas
Full-range removal and demolition services
Shorter operating hours
No operations on Sundays
Customer Reviews
Here's what a business owner had to say about their experience with Big Ben's Junk Removal:
"Our only choice for Junk Removal services continues to be Big Ben's. His staff are always very efficient, polite, punctual and professional. They deliver the type of service we expect of our own staff. They have exceeded our expectations yet again on our most recent job site in the Martin Grove and Rexdale area."
Always the most competitive in our market area; no gimmicks, no long assessment or quotation periods, just straight-forward hassle-free pricing. No hidden fees or surprise increases, very thorough at what they do.
If you are in need of Junk Removal anywhere in the GTA you should really call them first, speaking from experience it's going to save you a great deal of time and money. Thanks once again!"
-Factory Tire
4. Take My Junk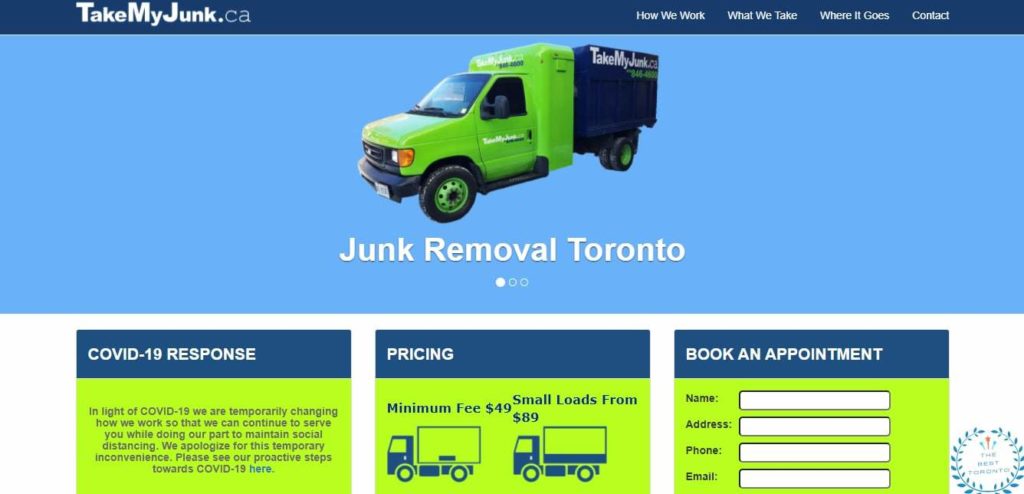 | | |
| --- | --- |
| BEST FOR | Residential junk removal |
| SERVICES | Construction waste removal, mattress removal, estate cleanout, garage cleanout, yard waste removal, old furniture removal, weekly trash removal, and large appliance removal |
| WEBSITE | https://www.takemyjunk.ca/ |
| ADDRESS | 113 Morrison Ave, Toronto, ON M6E 1M3, Canada |
| CONTACT DETAILS | 416-846-4600 |
| OPERATING HOURS | Monday – Sunday: 7:00 AM – 12:00 AM |
Take My Junk is one of the few companies that focus on residential junk removal, so its services encompass all forms of removal and cleanout jobs. It can pick up almost any trash, including mattresses, appliances, furniture, computers, and other electronics.
However, like most junk removal contractors, there's a limit to what it can take. Some prohibited items include propane tanks, paints, solvents, cleaning solutions, fuel, motor oil, and of course, medical waste.
It takes pride in its junk removal process, which according to customers is simple, quick, and convenient. Upon booking an appointment, it will arrange the estimate on your most convenient time and provide the cheapest rate for junk removal in the entire GTA.
Take My Junk is known for its excellent customer services, so we're sure that everything will be sorted out with its team immediately. There's no need to follow up because its cleaners will surely arrive at your doorstep on time.
Aside from the regular junk removal tasks, Take My Junk can do estate cleanouts, basement cleanouts, garage cleanouts, yard waste removal, weekly trash removal, and even demolition.
Cheap junk removal services
Excellent customer service
On-time arrival at your address
Can't always accommodate urgent requests
Customer Reviews
Take a look at some comments posted by previous clients on Google Reviews:
"Amazing Service! We made multiple changes to our pickup date, and they were happy to comply. On the actual day, their truck broke down, yet they still managed to come on time, and finish the job in a flash. Very nice people, and they have the best prices too! Will definitely recommend it to everyone."
-LavenderGrey Love
"Outstanding customer service and PRICE, how can that be beat? He got rid of my headaches in no time and worked around my needs. Couldn't be happier; please consider this business before anyone else! Thank you, enjoy the referrals coming your way my friend!!!!!"
-Dilyar Askar
5. We-Haul Disposal Services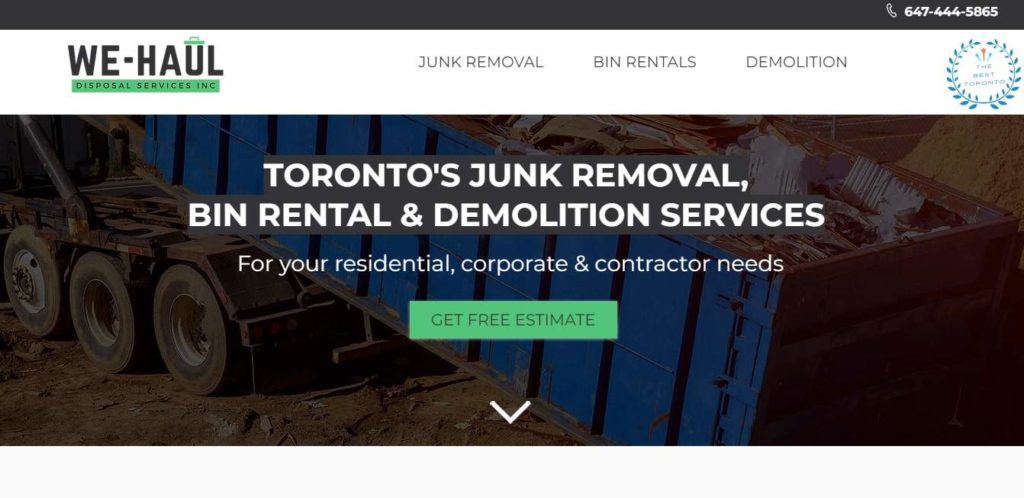 | | |
| --- | --- |
| BEST FOR | Pre- and post-renovation cleaning |
| SERVICES | Junk removal, bin rentals, and demolition services |
| WEBSITE | https://www.we-haul.ca/ |
| ADDRESS | 69 Sixteenth St, Etobicoke, ON M8V 3J9, Canada |
| CONTACT DETAILS | 647-444-5865 |
| OPERATING HOURS | Monday – Sunday: 7:00 AM – 8:00 PM |
We-Haul Disposal Services is a junk removal and hauling company that caters to residential, commercial, and industrial spaces. It has a 98% referral rating on Homestars, so it's trusted by most homeowners and business owners in the area.
Its junk removal services are divided into three types: household junk removal, industrial junk disposal, and construction waste removal.
Its household junk removal takes care of furniture, appliances, mattresses, tables, garden items, electronic waste, and other recyclables.
Industrial junk disposal, on the other hand, is aimed at removing office items such as cubicles, filing cabinets, chairs, computers, telephones, and copiers, among others.
If you're planning to renovate your home, then you need to hire its construction waste removal service to get rid of scrap metals, sharp debris, insulation, drywall, and more. These items are sometimes dangerous to clean up if you're doing it without a professional.
We-Haul Disposal Services is available 24/7 for areas in the GTA, but its office hours last only until 8pm.
If you request a quotation online, you will also be entitled to a $20 discount on junk removal services!
Free onsite estimates
Fully licensed and insured
Recycles and donates collected items
Rates are slightly above average
Customer Reviews
We-Haul Disposal Services has a perfect rating of 5 out of 5 on Google Reviews, making it one of the top-rated junk removal companies in Toronto. Here are some comments:
"Mark at We Haul was great! The bin was positioned perfectly. I compared 5 Dumpster Bin companies in Toronto, and We Haul has a flat rate for 2 tons at a competitive rate to other bin providers, you can keep the bin for 14 days without any extra charges and Mark is pleasant to deal with and answers any questions. The best of all worlds! Thanks We Haul!"
-Nancy Grieveson
"Marc and his team did a fantastic job! They showed up on time, as scheduled, and completed the job in a single afternoon (including demolishing a giant custom build shed of over 12′ high, and tearing up and disposing of two concrete pads). The job site was left clean, and above all, the team was both courteous and polite. We would highly recommend them – and should we need their services again, we know who to call."
-Mounira G
6. KMC JUNK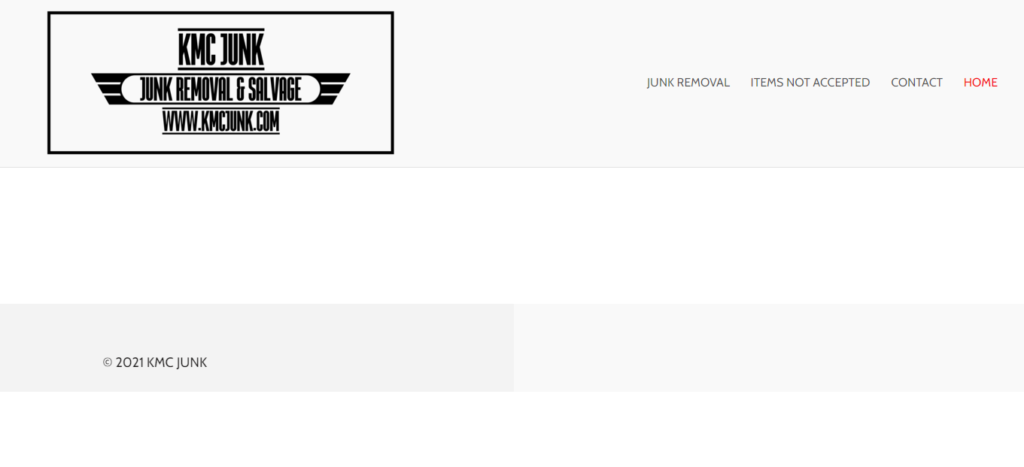 Now, if you want a straightforward service provider to collect junk, then KMC JUNK Removal and Salvage may just be what you need.
This service provider takes up everything, from the usual household junk to post-construction debris. However, it still is compliant with local requirements as it doesn't pick up concrete, dirt, dead pests and animals, and hazardous materials.
Additionally, the 'Salvage' part of its name refers to its role in picking up old furniture and other household fixtures. But what really sets KMC JUNK apart is that it offers free curbside pick-up for all scrap metal and appliances in the York region.
These benefits thus make KMC JUNK a suitable choice for those decluttering, moving out, or simply downsizing.
To make its services accessible for more, KMC JUNK also has low minimum rates for its pick-ups, with only $60 for residential junk and $120 for construction debris. It even accepts both cash and e-transfer payments to make its services accessible and convenient.
Low minimum pick-up charges
Numerous payment options
Free appliance and scrap metal pick-up at York area
Available for salvaging items
Unavailable for hazardous material wastes
Bare website
Customer Reviews
KMC JUNK has constantly proven to be an excellent choice for junk removal services, evident in their 5-star average on Google. Some clients wrote:
"Excellent! Great friendly customer service. Karl was clear and honest with pricing and made it feel like a breeze when he and Ivan removed the junk. I would highly recommend this service!"
"We had a great experience with KMC JUNK. Firstly, the value compared to other removal services was unbeatable. Removal was timely, Karl was very helpful, and flexible. We were able to figure out things at the end for a large complicated junk removal versus other services which estimate up front and are less flexible once the removal amount is established. We're already planning to use KMC Junk again. Thanks!"
7. The Junk Boys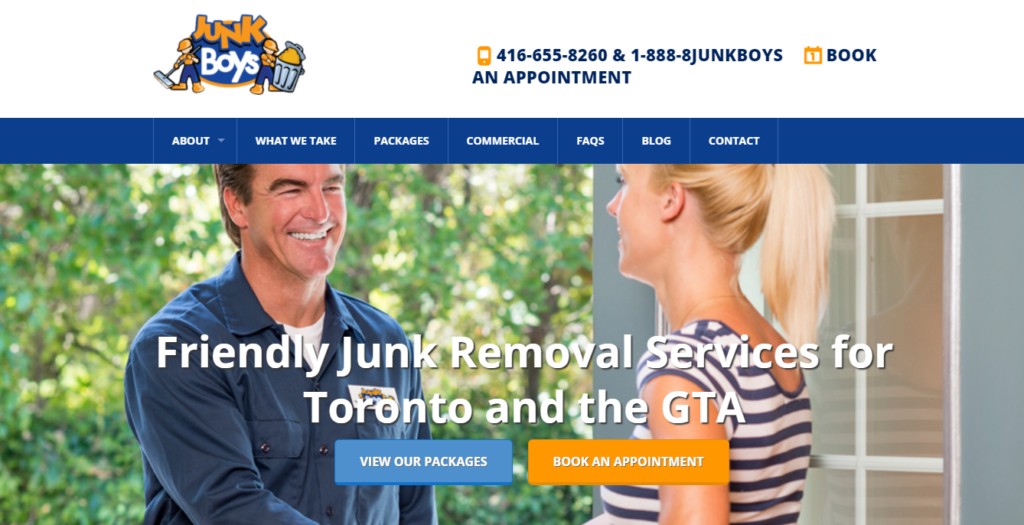 The Junk Boys is a family-owned and operated junk removal business that caters to the residents of Toronto and the GTA.
From the time of its first operation up until now, the Junk Boys has unfailingly removed a wide array of junk, including but not limited to household junk like appliances, mattresses, and furniture; general junk like trash removal, construction cleanout, and estate cleanout; as well as commercial junk like computer and printer recycling.
Aside from the range of items that The Junk Boys takes on, the business also comes highly recommended because of the vehicles they use and the packages they have to offer to clients.
The Junk Boys owns several trucks and bedloads, whose weight capabilities also act as the price range for clients.
For truckloads, the standard fee is $325 while the curb-ready fee is $275. Meanwhile, bedloads start at $200 for a quarter of the space provided.
Now, it's worth noting that no matter the package chose, The Junk Boys' team is the one who will do the heavy lifting, making the process of removing junk all the more convenient for clients.
Licensed and insured junk removal services
Bigger trucks for large removals
Does the lifting and cleanups
Does not take on hazardous waste
8. Junk It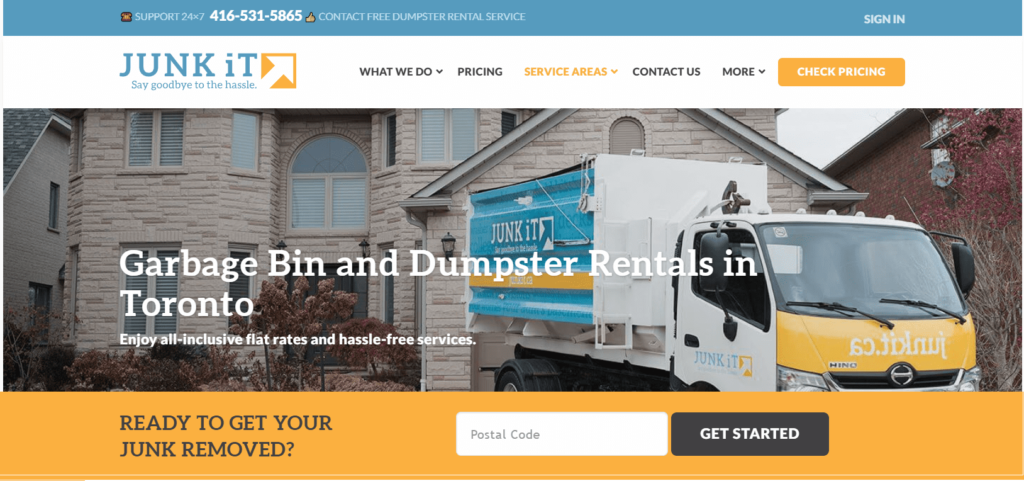 SERVICES
Junk removal, garbage bin rental, dumpster rental
WEBSITE
https://junkit.ca/
ADDRESS
10A Brooklyn Avenue
Toronto, Ontario
M4M 2X5
CONTACT DETAILS
416-531-5865
Having been in operations since 2002, Junk It has garnered the approval of over 100,000 customers. Over the years, and with a team of professionals with robust backgrounds in technology, they've also been able to develop a junk removal system for any business process.
They have been recognized as Homestars winner for junk removal services since 2010 and claimed the title for 2018 as well.
They also offer self-service junk removal options through a bin rental service. They offer a wide range of bin sizes to accommodate needs ranging from large scale estate cleanouts to yard cleanup to roofing projects.
As a great bonus to our green readers, up to 60% of the waste is recycled at Junk It. They work with local charities and organizations to coordinate donations gotten from this practice.
Over 100,000 happy customers
Been in operations for almost 20 years
Recognized as Homestars winner for junk removal services since 2010 and in 2018
Offers a wide range of bin sizes
Up to 60% of the waste is recycled
Since the pandemic started, they stopped servicing in-home; curbside/driveway pickup only
FAQs about Junk Removal Services in Toronto
---
And that's it for our list of the best junk removal companies in Toronto. Already decided which one to hire? Tell us all about it!
If you believe we missed out on other trustworthy junk removal companies, don't hesitate to share their names with us!
But before deciding to throw away an appliance, check if it can still be fixed! Check out our list of the best appliance repair services in Toronto for more information.