Everything You Need to Know About Little Portugal Toronto
Little Portugal is the largest Portuguese community in Canada, with over 50% of the area's population identifying as Portuguese. It's a vibrant and multicultural neighbourhood with Portuguese restaurants, cafes, and shops.
Want to learn more about Toronto's Little Portugal? Read on to find everything you need to know about the small neighbourhood.
Everything You Need to Know About Little Portugal Toronto
What is the history of Toronto's Little Portugal?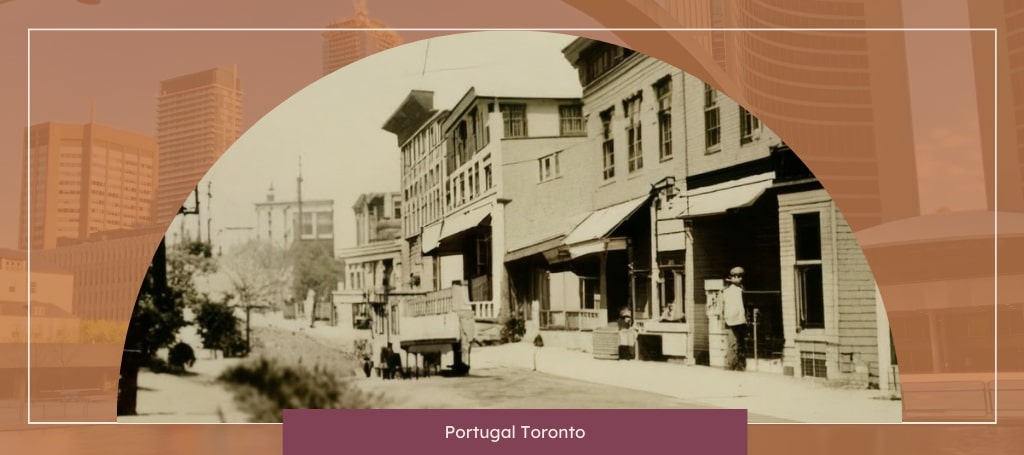 Back in the 1950s, many Portuguese immigrants fled to Canada from the Azores and Madeira islands due to political conflict with the regime of António de Oliveira Salazar.
Toronto's Little Portugal quickly became a hub of Portuguese culture and commerce, with Portuguese restaurants, shops, and businesses opening up along Dundas Street and College Street.
Why are there so many Portuguese in Toronto?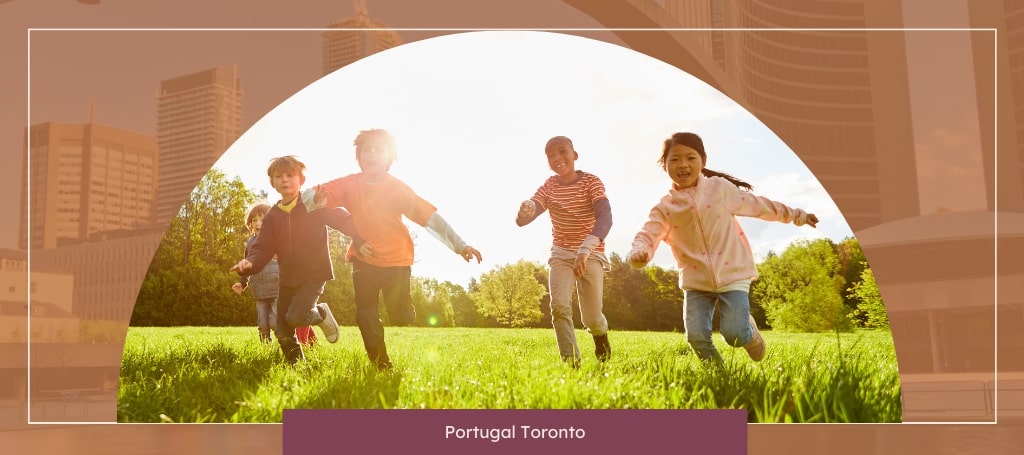 Portuguese immigrants settled in Beaconsfield Village after arriving in the country. Now known as Little Portugal, the area's thriving community was known for their lively street festivals and delicious Portuguese cuisine.
Once the first wave of Portuguese immigrants arrived in Toronto, they began to bring their families over. This led to a chain migration effect, with more and more Portuguese people coming to Toronto to live and work.
How do you get to and around Little Portugal?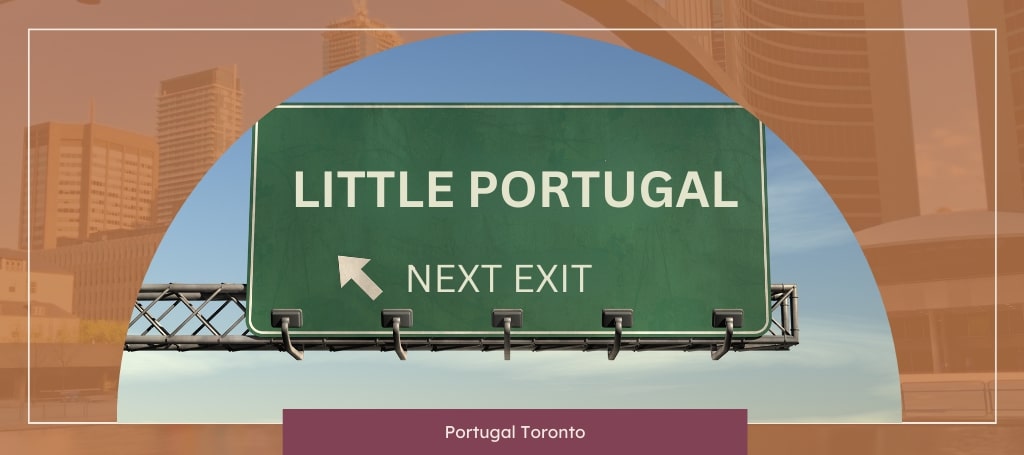 The easiest way to get to Little Portugal is by public transportation. Once you're in Little Portugal, the neighbourhood is very walkable and you can easily get around on foot.
The 505 and 506 streetcars both run along Dundas Street West, which is the main street in Little Portugal. You can also get to Little Portugal by taking the Bloor-Danforth subway line and exiting at Lansdowne Station.
Here's a map of Little Portugal and its surrounding area: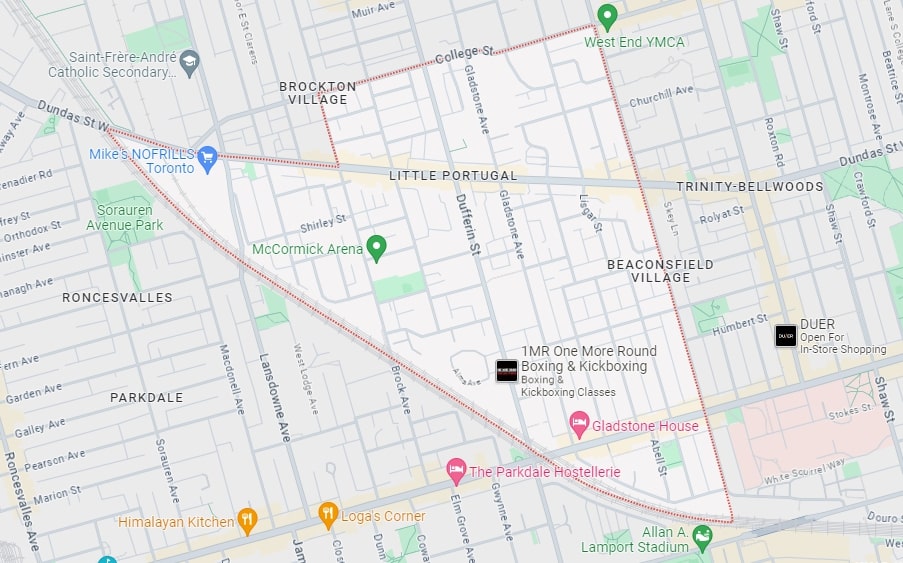 Things to Do in Little Portugal
Indulge in authentic Portuguese cuisine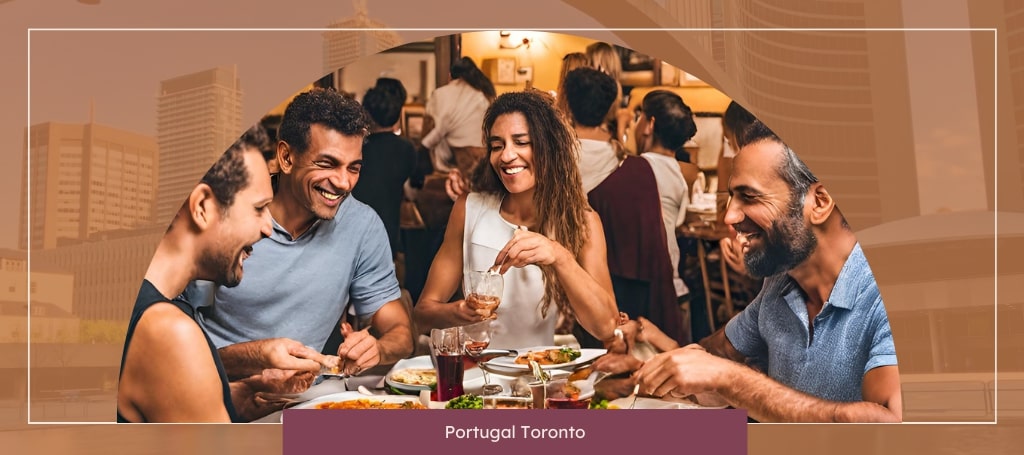 Little Portugal is a foodie's paradise, with a wide variety of authentic Portuguese cuisine to choose from. Embark on a culinary adventure by savouring the flavours of their unique culture.
Numerous restaurants in the neighbourhood offer traditional dishes like grilled sardines, succulent churrasco chicken, and the iconic custard tarts, known as pastéis de nata.
Experience Cultural Events and Festivals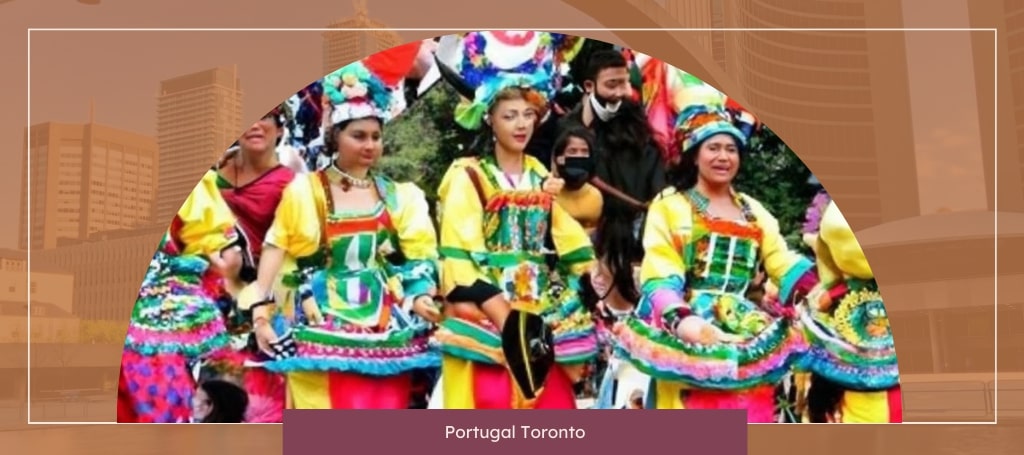 The neighbourhood is home to several cultural events and festivals throughout the year, which offer visitors a chance to experience Portuguese culture firsthand.
Do West Fest, for example, is a street festival that celebrates the diversity of Little Portugal and the west end of Toronto. The festival features a variety of food, music, and art from different cultures.
Enjoy the lively nightlife scene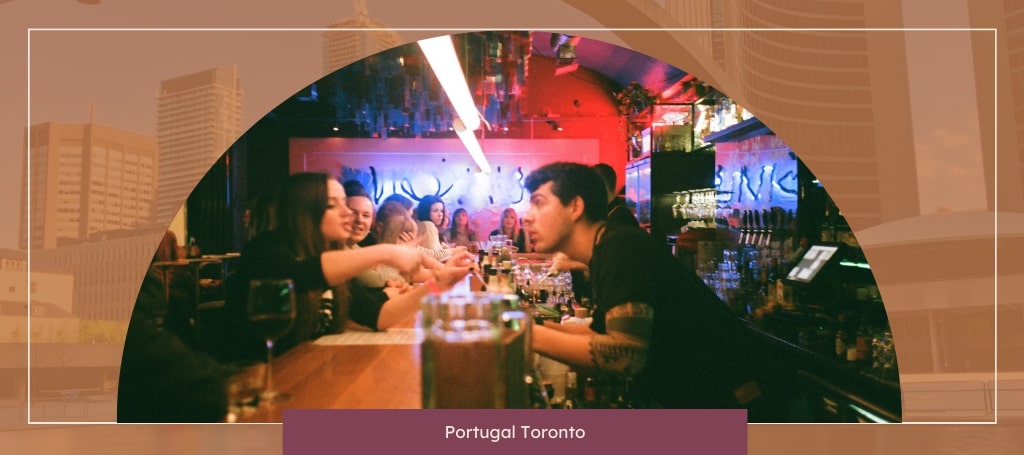 Little Portugal is known for its vibrant nightlife scene, with bars and clubs that feature live music, burlesque shows, DJs, and dancing.
No matter what your taste in nightlife is, there's always something new and exciting happening in the neighbourhood.
Where to Eat in Little Portugal
The Good Son
Address: 1096 Queen St W, Toronto, ON M6J 1H9
Phone: +1 416-551-0589
Pricing: $$
The Good Son offers a unique dining experience with its cross-cultural mash-up cuisines that reflect the melting pot of cultures that has gentrified Toronto.
The restaurant is known for its wood-fired pizzas and tasty shared plates, all made with fresh ingredients. The menu focuses on local and seasonal organic produce, hormone-free and free-range proteins, and, most importantly, shared food.
Via Allegro Ristorante
Address: 1750 The Queensway, Etobicoke, ON M9C 5H5
Phone: +1 416-622-6677
Pricing: $$$
Via Allegro Ristorante offers a classic and contemporary take on Italian fare. From comforting, traditional dishes to exciting avant-garde interpretations, Via Allegro is eclectically Italian with a continental spirit.
The menu features house-made pasta, decadent risotto, seafood, and premium cut beef that includes prime tenderloin, prime striploin, prime ribeye, and Tajima wagyu tenderloin. They also have a private dining room for special events.
Antler Kitchen and Bar
Address: 1454 Dundas St W, Toronto, ON M6J 1Y6
Phone: +1 647-345-8300
Pricing: $$$
Antler Kitchen and Bar is a restaurant that focuses on seasonal and locally sourced ingredients. It's known for its innovative and creative menu, which features a variety of dishes made with fresh, Canadian ingredients.
The restaurant is owned and operated by Chef Michael Hunter and Jody Shapiro, renowned experts on Canadian cuisine. The interior is rustic and inviting, with exposed brick walls and a cosy atmosphere.
Enoteca Sociale
Address: 1288 Dundas St W, Toronto, ON M6J 1X7
Phone: +1 416-534-1200
Pricing: $$
Enoteca Sociale is a Michelin-starred Italian restaurant that specialises in Roman cuisine. The restaurant is known for its fresh, seasonal ingredients and its authentic Roman dishes.
Aside from freshly made pasta and delicious desserts, the restaurant also has a full bar, with a selection of beer, wine, and cocktails. Enoteca Sociale is also a popular spot for special occasions, such as birthdays, anniversaries, and graduations.
Where to Drink in Little Portugal
The Communist's Daughter
— From: @thewiresaint
Address: 1149 Dundas Street W Toronto, ON M6J 1X3
Phone: +1 647-435-0103
Pricing: $$
The Communist's Daughter is a dive bar known for its intimate atmosphere, eclectic jukebox, and pickled eggs. They serve affordable drinks and host various events that feature live music and other performances.
The bar was opened in 2003 by Paul Emery and Patricia Welbourne, who wanted to create a space where people could come together to enjoy good drinks, music, and conversation.
The Painted Lady
— From: @carlahaddadphotos
Address: 218 Ossington Ave, Toronto, ON M6J 2Z9
Pricing: $$
The Painted Lady is a rock n' roll, funk n' soul bartop burlesque dance hall that offers a variety of creative cocktails, craft beers, and wines. The bar is known for its live music and burlesque shows that regularly feature talented local acts
The bar boasts a unique interior, which features a mix of vintage furniture, Victorian-inspired wallpaper, and string lights. The Painted Lady also hosts a variety of other events, such as open mic nights, trivia nights, and dance parties.
Black Dice Cafe
— From: @jacliu25
Address: 1574 Dundas St W, Toronto, ON M6K 1T8
Phone: +1 647-748-1574
Pricing: $$
Black Dice Cafe is a Japanese rockabilly bar housed in a small brick building known for its eclectic décor, its extensive selection of Japanese whisky, and its chill atmosphere. They also serve other traditional Japanese drinks like sake and shochu.
The bar is praised for its unique atmosphere, which is described as being like a portal to another dimension collectively styled by David Lynch, Ridley Scott, and Wong Kar-wai.
With its diffuse turquoise light and black-and-white TV looping old movies, it is a great place to enjoy a drink and soak up the good vibes.
The Dakota Tavern
— From: @thesparepartsband
Address: 249 Ossington Ave, Toronto, ON M6J 3A1
Phone: +1 416-850-4579
Pricing: $$
The Dakota Tavern is a popular music venue that hosts a wide variety of live music acts, from folk and blues to rock and roll and country. It has a cosy and intimate setting, making it a great place to see live performers up close and personal.
The bar is committed to supporting emerging and local artists by giving them a safe space to share their music. If you're looking for a unique and memorable music experience in Toronto, be sure to check out The Dakota Tavern.
Where to Shop in Little Portugal
Saudade Toronto
— From: @casacubista
Address: 1191 Dundas St W, Toronto, ON M6J 1X3
Phone: +1 416-533-1191
Saudade Toronto is a Portuguese lifestyle concept store dedicated to celebrating Portuguese design and artisanal traditions. It was founded in 2019 by two immigrants who wanted to share their love of Portuguese culture with the Toronto community.
The store's name, "Saudade," is a Portuguese word that has no direct English translation, but it is often described as a feeling of longing for something or someone that is lost or unattainable.
Three Fates
Address: 1573 Dundas St W, Toronto, ON M6K 1T9
Phone: +1 416-901-1533
Three Fates is a clothing store filled with various vintage pieces, new items from Canadian and international designers, and jewellery and accessories from local and independent makers.
The women's clothing store handpicks its products from talented brands, whether big or small. The staff is friendly and knowledgeable, and they are always happy to help customers find the perfect outfit.
Easy Tiger Goods
— From: @clairethomas
Address: 1447 Dundas St W, Toronto, ON M6J 1Y7
Phone: +1 647-748-6161
Easy Tiger Goods is a lifestyle concept store that specialises in home décor, stationery, and apothecary goods. They offer a carefully curated selection of products that are both stylish and functional.
They carry various stationery items, such as notebooks, pens, and greeting cards. Easy Tiger Goods is a great place to find unique and stylish gifts for your loved ones or to treat yourself to something special.
Expo
Address: 1450 Dundas St W, Toronto, ON M6J 1Y6
Phone: +1 416-530-1164
Expo is a vintage clothing store that has been operating since 2019. It has two locations, one at 1450 Dundas Street West and one at 1978 Dundas Street West. Its selection of clothes is unique and eccentric, attracting customers who are into past eras.
The store has a curated selection of vintage finds and also sells clothes by the pound. People also flock to the shop for its fun gigs that feature live performances by local and emerging artists.
FAQs on Little Portugal Toronto