A Guide to the Best Pest Control in Toronto
If you have a pest situation at home that's gotten way out of control, this article's for you. Today, we're sharing our list of options for the best pest control in Toronto.
But before we reveal our picks, we're going to share a guide on the expected cost of hiring an exterminator service in Toronto. If you have questions about pest control, we're going to answer some of them as well!
The Options for the Best Pest Control in Toronto
The Cost of Pest Control in Toronto
If you haven't worked with exterminators before, you may get swayed to spend more money than you should because you don't know the average cost of these services. So, this begs the question: how much do pest control services in Toronto usually cost?
As of writing, the lowest cost of a standard pest control job in Canada is somewhere between $250 to $300, while more complicated ones range from $500 to $800.
Getting rid of pests like rodents, termites, squirrels, and skunks is more expensive because advanced tools and methods are needed, compared to pests like ants, roaches, and bed bugs.
Another factor that affects the prices of pest control services is the number of rooms covered. Obviously, if more than two rooms need to be dealt with, then expect the rate to go higher.
Here's a table detailing the average cost of common pest control services in the Greater Toronto Area:
Number of rooms
Pest
2 rooms
3 rooms
4 rooms
Ants
$275 – 350
Bed bugs
$500 – 600
$600 – 800
$800 – 1,000
Roaches
$250 – 300
$350 – 375
$400 – 450
Rodents
$275 – 350
$350- 475
Centipedes, Millipedes, Silverfish, Sow bugs, and Earwigs
$275 – 350
Fleas & Ticks
$415 – 515
Wasps, Hornets, Bees
$350 – 500
Spiders
$300 – 400
Raccoon, Squirrel, Skunk,
$450 – 800
1. Icon Pest
BEST FOR
General pest control and wildlife removal
SERVICES
Pest Control: Ant removal, commercial pest control, insect/cockroach removal, rat removal, mice removal, bed bug removal, carpenter ants removal, wasp and hornet removal, spider treatment, mosquito removal, silverfish removal, flour beetle removal, cluster fly removal, boxelder bug, and odor removal.
Wildlife Removal: Bird exclusion, groundhog removal, raccoon removal, squirrel removal, skunk removal, dead animal removal, and bat removal.
WEBSITE
https://iconpest.ca/
ADDRESS
250 Yonge Street, #2201,Toronto, ON M5B 2L7
CONTACT DETAILS
(647) 557 2810


[email protected]

OPERATING HOURS
Monday to Friday: 8:00 am to 7:00 pm
Saturday: 8:00 am to 5:00 pm
Icon Pest is a full-service pest management and animal removal firm that provides practical solutions to customers in Toronto and the Greater Toronto Area who are plagued by vermin. When it comes to pests and wildlife, their specialists work hard to ensure that all of your difficulties are resolved in a timely, compassionate, and effective manner.
They have years of knowledge and the greatest tools available, so you can be confident that your house will be pest-free, whether it be rats, wasps, spiders, raccoons, skunks, squirrels, ants, or even birds.
They remove or exterminate bugs meticulously, step by step, and ensure that all pest-related issues and concerns are addressed in a thoughtful and sympathetic manner. Their professionals are highly trained, qualified, and experienced.
They also have a strong understanding of animal biology, so you can put your fears to rest as soon as you call them, knowing that your pest control problems will be solved once and for all.
For example, in their rodent control service, they start with a complete assessment of the structure's external perimeter. They will detect and assist their customer in correcting any potential access points. They then relocate their service to the interior of the building, where they employ locked bait stations and mechanical traps to remove the infestation.
Meticulous pest control approach
Affordable rates
Great attention to detail
Experienced exterminators
100% Warranty extermination
Don't offer services outside of the GTA
Customer Reviews
I would like to thank Matt and Icon for the fantastic service
I would like to thank Matt and Icon for the fantastic service provided today. I called in this morning to have someone come to inspect my roof as I suspected a racoon had decided to take up residence in my roof. I was given an appointment for later that day. Matt called ahead and showed up right on time. He was extremely friendly, respectful and professional. He went up and took very clear pictures and videos for me before proceeding with any work. Once I decided to proceed, he did his work, took more pictures and was done in a very timely manner. Thanks again Matt!"" – Deanna Shepherd
The service technician Matt was very professional, knowledgeable and friendly
"The service technician Matt was very professional, knowledgeable and friendly. He answered all our questions and explained the pest control process. He used shoe coverings and was respectful of our home. We would definitely use ICON again!" -Stephen Haly
2. Addison Pest Control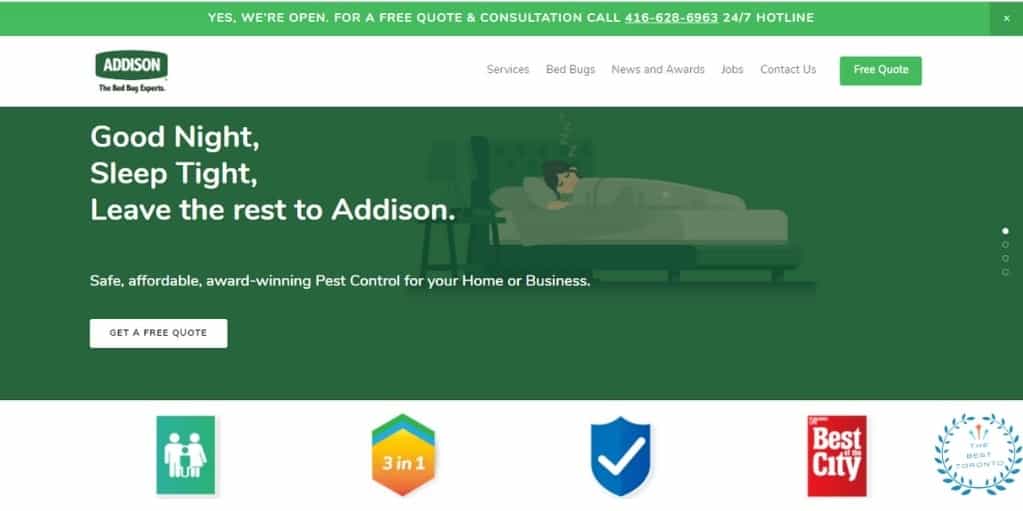 BEST FOR
3-in-1 pest control treatments
SERVICES
Extermination of bed bugs, rats, ants, cockroaches, house flies, rodents, carpet beetles, centipedes, pantry moth, fleas, squirrels, ticks, termites, and earwigs
WEBSITE
https://www.addisonpestcontrol.com/
ADDRESS
41 Baldwin St, Toronto, ON M5T 1L1, Canada
CONTACT DETAILS
416-628-6963


[email protected]

OPERATING HOURS
Open 24 hours
Addison Pest Control is one of the top-rated exterminators in Toronto, with an average rating of 4.9 out of 5 based on close to a thousand reviews.
It's one of the few exterminators that are open 24 hours a day, seven days a week, allowing it to accommodate customers who need emergency services. Customers who need immediate help may even call during midnight and early morning.
In terms of the scope of its services, we have to say that we're quite impressed. Addison Pest Control can see to almost any form of household pest, including huge ones such as squirrels, birds, raccoons, and rodents.
You won't have to worry about being exposed to harmful chemicals either because Addison Pest Control uses only safe and non-toxic products. It has its own 3-in-1 pest treatment that guarantees to eliminate pests with a single visit.
Safe pest solutions
Open for emergency services
Trusted by Airbnb hosts and hotels
Rates are pricier than the average
Customer Reviews
Addison Pest Control boasts a near-perfect 4-9 rating on Google, making it one of the top reviewed exterminators in the GTA. Here are some comments:
"My whole experience with Addison was impeccable from the moment I received a call back which was extremely prompt to my experience with Robbie who came to do the treatment at my house. Robbie was communicative, on time, efficient, thorough and a true pleasure to have in my house. He showed up with his mask on which is much appreciated during a pandemic. He talked me through the plan of action and answered all my questions with lots of patience. I would request Robbie again if I needed to use Addison in the future. He was great, and Addison is overall a truly great company."
"I engaged Addison Pest Control for a rodent problem. I bought the three month package ( $508) and they were able to plan me the very next day. Robbie did a thorough inspection of the outdoor house perimeter and filled any existing holes meticulously. Indoor he placed several feeding stations. He explained how they got in and how long it would take to get rid of them. He really did his utmost best to explain everything and to reassure me, you could really tell he cared. During this pandemic he had taken all the necessary precautions to protect me (and himself) which was highly appreciated. Overall a very good and professional service, as it should be! Thank you Robbie!"
3. GTA Toronto Pest Control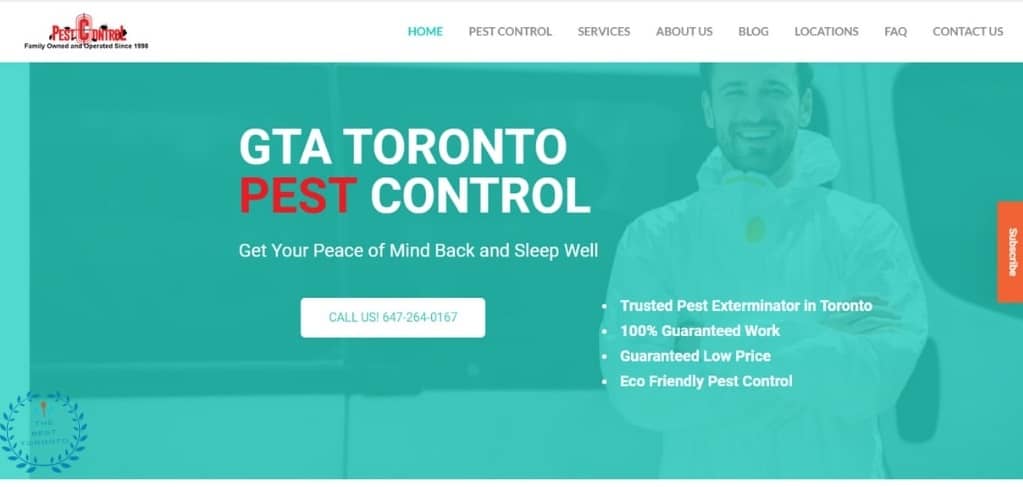 | | |
| --- | --- |
| BEST FOR | Eco-friendly pest control |
| SERVICES | Ant infestional, rodent removal, squirrel removal, cockroach extermination, wasp and hornet removal, flea removal, wildlife control, bat and bird removal, termite control, fly control and removal, and spider extermination |
| WEBSITE | https://www.gtatorontopestcontrol.ca/ |
| ADDRESS | Toronto, ON Canada |
| CONTACT DETAILS | 416-907-8509 |
| OPERATING HOURS | Monday – Saturday: 7:00 AM – 12:00 AM |
GTA Toronto Pest Control serves most residential areas in Toronto and other neighboring areas such as Vaughn, Beaches, Milton, Markham, Pickering, Brampton, Aurora, Newmarket, Bolton, Hamilton, and Barrie, among others.
If most pest control companies focus mainly on insects, GTA Toronto Pest Control exterminates both insects and wildlife. It boasts a high success rate that proves that its technicians can get the job done on time, and at an affordable price.
Some of the household pests that GTA Toronto Pest Control can purge out of your home are ants, rodent squirrels, spiders, flies, termites, bats, birds, fleas, and more. It uses a strong yet eco-friendly solution that can kill pests immediately without causing any health risks to your family.
GTA Toronto Pest Control also offers a money-back guarantee for all customers. If you aren't satisfied with its services, you won't have to pay for anything.
Can kill wildlife pests
Money-back guarantee for all customers
Safe and eco-friendly products and methods
Customer Reviews
Current and previous customers of GTA Toronto Pest Control left the following comments on Google Reviews:
"I live in Richmond Hill and had a rat problem, I called Toronto Pest Control and they arrived according to my schedule, set up these boxes that poison the rat they leave the property and die. To this day I haven't seen any more rats around my backyard, shed or property. I highly recommend them."
"I would like to Thank them for always providing excellent service for all the pest control needs without any stress. Service technicians are all professional and very knowledgeable and I have been using their services for many years now. I would highly recommend to use their services and letting them solve any pest related issues that you have."
4. Pesticon Pest Control Toronto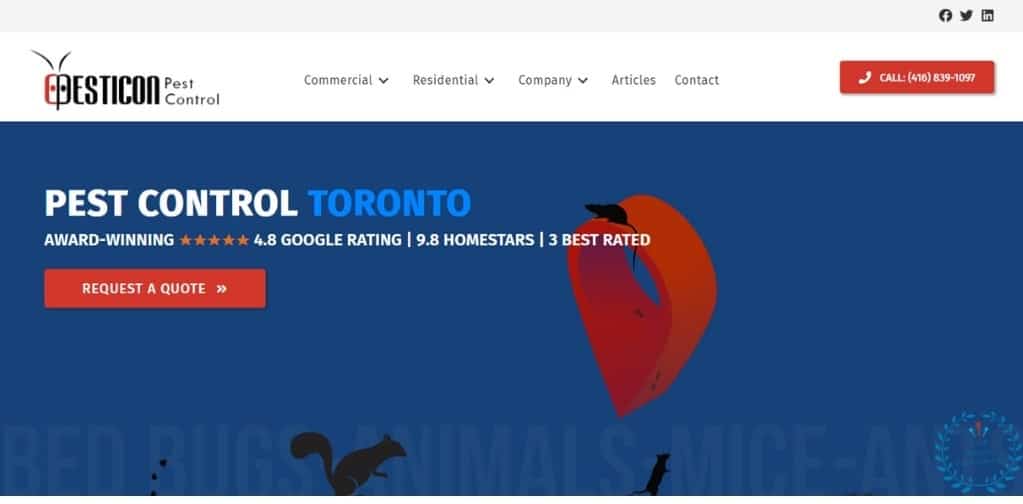 | | |
| --- | --- |
| BEST FOR | Commercial and residential pest control |
| SERVICES | Home protection plan, animal control, ant control, bed bug control, bee removal, termite removal, cockroach removal, carpenter ant removal, fleas control, mice control, rodent control, termite control, and wildlife removal |
| WEBSITE | https://www.pesticon.com/ |
| ADDRESS | 100 Rexdale Blvd Suite 301 G, Etobicoke, ON M9W 1N7, Canada |
| CONTACT DETAILS | 416-839-1097 |
| OPERATING HOURS | Monday – Sunday: 8:00 AM – 10:00 PM |
Pesticon Pest Control Toronto is an award-winning pest control company that services residential homes and businesses of all sizes. It's one of the best rated exterminators across various review websites, including Google Reviews and HomeStars.
Some of the commercial establishments that Pesticon Pest Control Toronto have worked on are condominiums, restaurants, manufacturing businesses, corporate offices, retail spaces, and even warehouses. Its services are open to business of all industries, though.
Pesticon Pest Control Toronto boasts more than 20 years of experience in exterminating all types of house pests. It employs a large team of exterminators who are regularly trained in the different methods of purging common house pests.
If there's one thing that Pesticon Pest Control Toronto can promise to customers, it'd have to be that their homes will be pest-free for no less than six months. Free follow-up visits will be conducted to ensure that the desired results are achieved and maintained.
20 years of experience
Responsive customer service
Six-month service guarantee
Services areas outside Toronto
Customer Reviews
Take a look at what some clients had to say about its services:
"The first time I used Pesticon a few years ago and their services were fabulous. Tech is extremely knowledgeable about bugs and rodents. I live in the Valley that has a lot of trees and bugs ( ants, crickets, SPIDERS, lizards) and wildlife (gofers, raccoons , squirrels, etc.) I told Khan over the phone about droppings and he knew right away what they were from. Everything was completely gone in two weeks. I just recently found something again. He gave me excellent service. He is also very friendly. I trust him"
"Hired Pesticon for our termites issue in the East end of Toronto. We found it. Not only helpful but ethical we do have some follow up requests after they didn't hesitate to come back all the time. Khayyam and Waheed are the one who came to do my termites In August 2020 . Office staff Melissa and Donna are really helpful. Sometimes we ask them to fit in their schedule and they are helpful. Keep up guys. You are the best service provider in the Greater Toronto Area."
5. Power Pest Control Toronto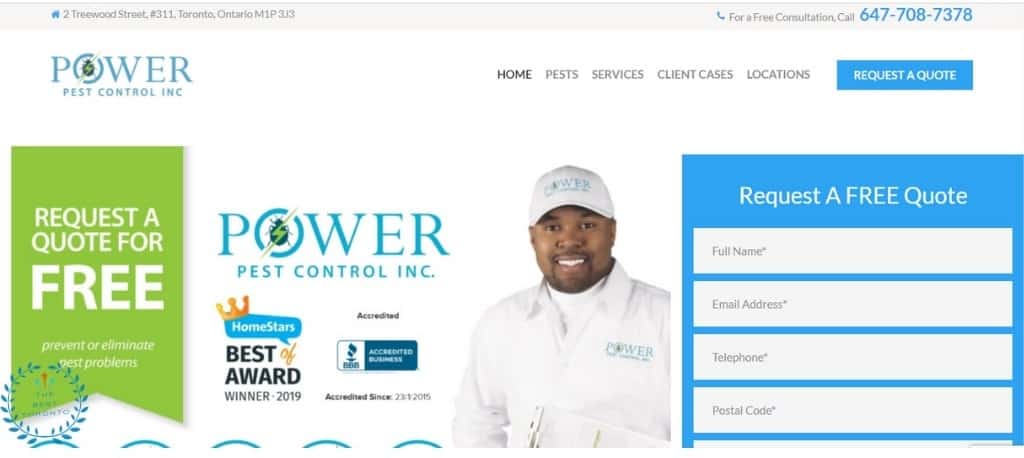 BEST FOR
Quick pest removal services
SERVICES
Ant control, bed bug control, cockroach extermination, mice control, house fly control, and wasp removal
WEBSITE
https://powerpestcontrol.ca/
ADDRESS
2 Treewood Street, #311, Toronto, Ontario M1P 3J3
CONTACT DETAILS
647-708-7378

[email protected]

OPERATING HOURS
Monday – Friday: 9:00 AM – 7:00 PM
If you're looking for an exterminator that can get the job done in less than a day, then look no further than Power Pest Control Toronto.
It's known for providing fast and effective pest control services to residents and businesses to areas in the GTA at a competitive rate. It can guarantee that your home will be pest-free by the end of its service.
Speaking of services, most of Power Pest Control Toronto's services come with a warranty of either six months or an entire year. If the pests return within six months, then its technicians will exterminate your space again without additional charges, not even a cent.
Power Pest Control Toronto's service areas include Mississauga, Brampton, Oakville, Vaughan, Richmond Hill, Thornhill, and Markham.
If you're from outside these areas, you might want to give them a call beforehand to see if your area can still be accommodated.
Competitively priced services
Services most areas in the GTA
Offers six months and one year on the service warranty
No operations on weekends
Shorter operating hours on weekdays
Customer Reviews
Here are some comments shared by satisfied customers on Google Reviews:
"Peter was great throughout the process from analyzing the pest problem to explaining to me the most likely source and how he planned to help. It was a great experience and he was very efficient and professional, a nice down to earth guy. We're glad we got in contact and happy to have his advice for moving forward. Thanks again for your help. Definitely recommended."
"Peter was both helpful and informative, walking us through the steps and process of his work. We found Power Pest Control through positive reviews and online, which didn't disappoint us. Our issue was with Carpenter Ants that came back early spring of this year. Would definitely recommend Power Pest Control and Peter for any of your pest needs. I believe we have a follow up call in 2 months, which is helpful as well."
6. Pestend Pest Control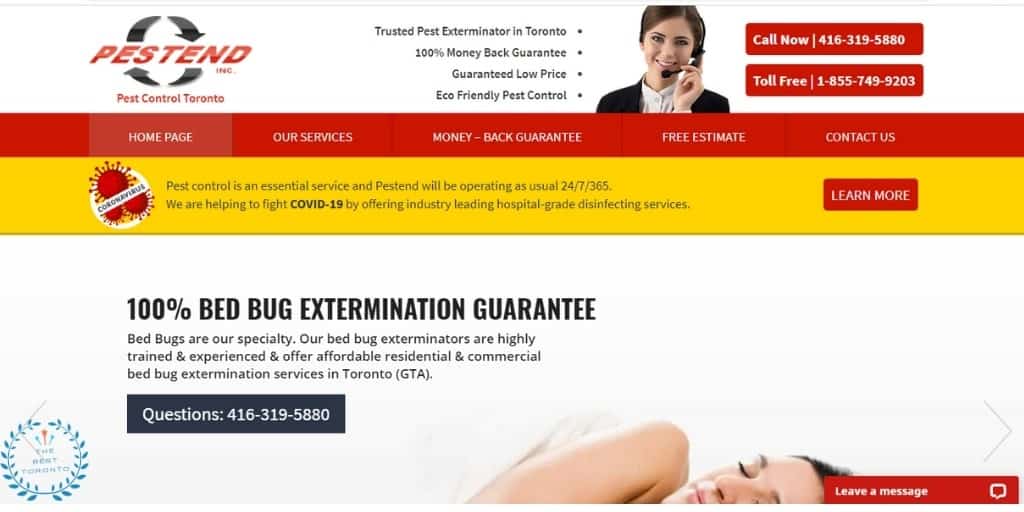 | | |
| --- | --- |
| BEST FOR | Emergency services |
| SERVICES | Residential pest control, commercial pest control, wildlife control, and household disinfection |
| WEBSITE | https://www.pestend.ca/ |
| ADDRESS | 415 Oakdale Rd Unit: 223, North York, ON M3N 1W7, Canada |
| CONTACT DETAILS | 416-319-5880 |
| OPERATING HOURS | Open 24 hours |
Pestend Pest Control provides eco-friendly pest control services to residential homes and commercial establishments. It uses an industry-leading safe and non-toxic solution that can eliminate small pests living in the corners of your home and office.
Aside from the common insects, Pestend Pest Control can handle wildlife pests as well, including birds, bats, raccoons, squirrels, skunks, and snakes. If you have an unusual pest living in your home, then its technicians can probably take care of it.
Pestend Pest Control is also open 24 hours a day, from Monday to Sunday. It doesn't charge clients with extra fees for late-night or emergency services.
In terms of rates, Pestend Pest Control promises clients low rates and a 100% money-back guarantee. In fact, its rates have been proven to be lower than any other pest exterminator in the GTA.
According to its clients, Pestend Pest Control has a reliable customer service that can respond to clients as soon as possible. No need to wait for an entire week just to get an answer to your basic question.
Lowest rates guaranteed
Open 24 hours a day, including holidays
Money-back guarantee
Excellent customer service
Customer Reviews
If you're not yet convinced that Pestend Pest Control is an excellent pest control company, you might want to take a look at these comments from its customers:
"Had Javaid come out to treat our home, the prices are very fair and the service is exceptional. Very thorough in everything that he did and he identified some areas that the mice could be entering through that I had not seen on my own. Although time will tell whether the mice are gone, I feel much better now knowing the whole home is treated vs. my previous method of throwing down some traps. Highly recommend and thank you Javaid!!"
"I can't say enough. From the customer service to the follow up emails, all the way to the on site treatments, reports and follow ups, I highly recommend Pest End. We have hired their services for various properties. In particular, Alex is amazing. He calls when he's on his way. He's punctual, professional, very thorough, answers questions and is friendly. Thank you to Alex and Pest End!"
7. Speedy Pest Control

If you're looking for a pest control company that can cater to several areas, not just Toronto, then Speedy Pest Control should be on your list of choices.
This company has been in business for several years now, proving its worth to clients by consistently delivering results with the help of trained specialists, professional office and sales team, and a suite of low-risk equipment and chemicals that rid properties of uninvited guests.
Speedy Pest Control highlights the pests that they can help remove from properties on their Pest Library. Aside from pest control, the company also offers wildlife removal, which is applicable mostly to raccoons and squirrels.
Caters to commercial and residential properties
Same day service
Environment-friendly and low-risk chemicals
Prompt and professional staff
Pest control and wildlife removal technicians with over 20 years experience
8. Greenleaf Pest Control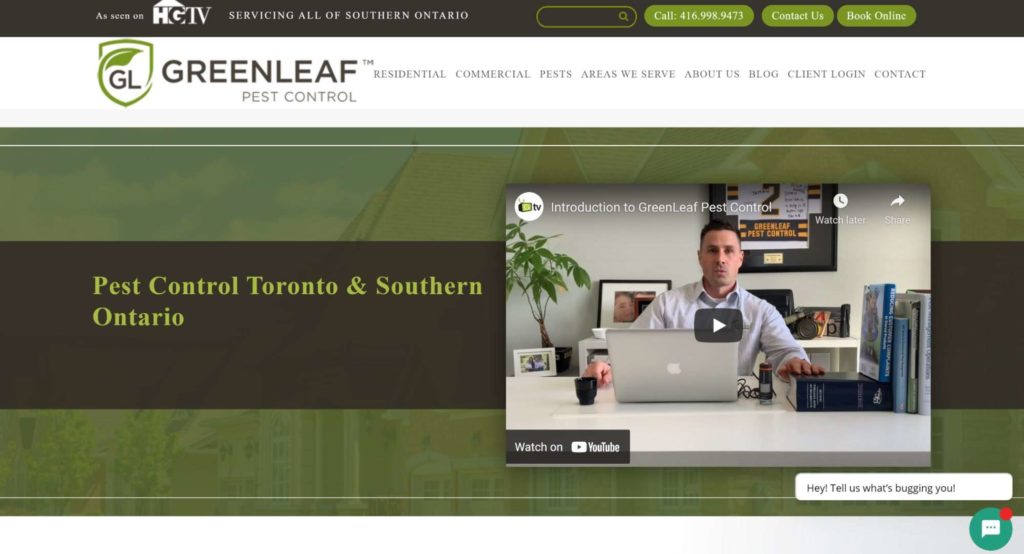 | | |
| --- | --- |
| PRODUCTS | Commercial service, chute foaming, facility audits, odour control, residential service, home protection plan, |
| WEBSITE | https://www.greenleafpestcontrol.com/ |
| ADDRESS | 2 Toronto Street, Suite 246, Toronto, ON M5C 2B5 |
| CONTACT DETAILS | (416) 998-9473 |
| OPERATING HOURS | Monday to Friday: 7:30am-5:00pm |
Greenleaf is our top pick for commercial pest control services. We like that they go beyond the cookie-cutter approach to clearing out commercial spaces.
How? The specialists over at Greenleaf are always up-to-date with the industry's best techniques because they all receive ongoing education.
If you decide to go with Greenleaf to deal with your space, you get a customized pest control program since all locations are slightly different. You also get a designated manager who can handle your account exclusively.
When Greenleaf handles a case, clients receive constant updates through electronic reporting. You get 24/7 access to trend reports and customer service, ensuring full transparency.
Having your place of business pest controlled also automatically gets you a logbook, device map, licenses, and safety sheets. This is a plus because businesses need this kind of documentation.
There's almost nothing negative to be said about Greenleaf as a company. They provide unique, high-quality work that you can't get elsewhere.
Constantly updates their methods
Adheres to third-party audit requirements
Round-the-clock trend reports
Tailored programs
Customer Reviews
Take a look at these reviews from Greenleaf clients:
"Greenleaf is the only pest control company I recommend. My business uses this company for their monthly preventative measures as well as any insect or rodent concerns at the moment. GreenLeaf's staff are kind, reliable, and true experts in the field of pest control!"
– Rcc Manager
"I have to say that the level of service, care, and empathy that was demonstrated by every person that I had contact with was amazing. Amanda (at the office) was especially lovely, understanding, and supportive throughout our interactions. The guys that came out to do the work were also fantastic, thorough, dedicated, and knowledgeable. I highly recommend this company for any pest control needs."
– Pati Pazos
9. Provincial Pest Control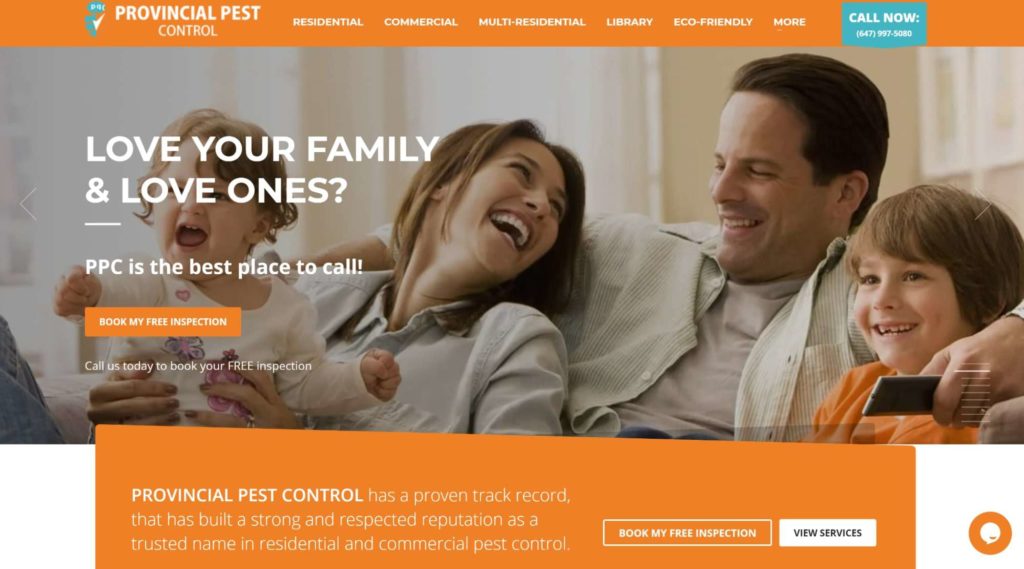 | | |
| --- | --- |
| PRODUCTS | Residential service, commercial service, multi-unit residential service, disinfection service |
| WEBSITE | https://www.provincialpestcontrol.ca/ |
| ADDRESS | 940 College St. Unit 1, Toronto, ON |
| CONTACT DETAILS | (647) 997-5080 |
| OPERATING HOURS | Open 24 hours |
Provincial Pest Control definitely deserves a spot on this list just because they have disinfection services. Yes, they have standard domestic and commercial pest control services, but we love the fact that they can get rid of your home germs and viruses too.
They use state-of-the-art 7-in-1 cleaner technology that leaves spaces 99.999% sanitized. Their hospital-grade disinfectant cleaner can kill the Rotavirus, Influenza A, MRSA, Salmonella, and Canine Parvovirus, just to name a few.
So while they get rid of ordinary pests, you might as well get your home disinfected as well. These services are particularly beneficial because of the times we're living in now.
Being Winner of the HomeStars Best of Award in 2019, it's not hard to see why Provincial Pest Control has a solid 5-star rating on Google Reviews. If you decide to go for this company, you're in luck because first-time customers get 10% off!
Has multi-unit residential services (condos)
Disinfection service and strict COVID-19 practices
24-hour emergency line
Higher than average rates
Customer Reviews
Check out these recent reviews for Provincial Pest Control:
"Efficient. Didn't have to leave the house. Great service! Non-toxic."
– Janelle Falconer
"I contacted the company regarding a mice issue. Vald responded immediately. He was very professional, knowledgeable, and easy to communicate with. Came by shortly after our conversation, gave me helpful tips regarding the problem, and came up with the solution. Also remembered to follow up in a month to ensure everything is still good. Great service! Very pleased!"
– Kat R
10. Armour Pest Control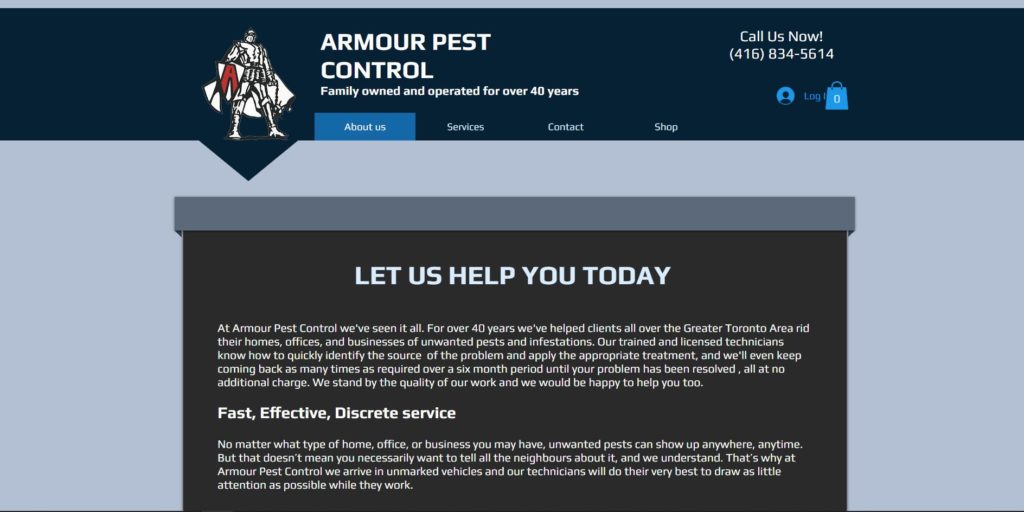 | | |
| --- | --- |
| PRODUCTS | Residential control, commercial control, industrial control, food service businesses |
| WEBSITE | https://www.armourpestcontrol.ca |
| ADDRESS | Not available |
| CONTACT DETAILS | + 1 416 469 0262 |
| OPERATING HOURS | Open 24 hours |
Established in 1977, Armour Pest Control has been providing quality pest control services to Toronto and the neighboring communities for decades.
The first thing we liked about this business is that all of their technicians are fully licensed and bonded. This means that you can fully trust the safety of their services and the products that they use.
We also loved how effective their products are, as many previous clients have pointed out how quickly the company's services solved their pest problems.
You can also count on them when they say that their methods are environmentally safe and health conscious, as they are licensed under the Ontario Pesticide Act.
However, their exact rates for their services aren't listed on their website, which can be inconvenient for potential customers who wish to know how much they need to prepare for a pest control service.
But whether your property is residential, commercial, industrial, or even a restaurant business, Armour Pest Control is guaranteed to give you a good service.
Open 24 hours
Over 45 years of experience in the industry
Effective products
Exact address and rates not available
Customer Reviews
The products they have are really effective
"It was a wonderful service done by Rebecca, She is really good at her work and the products they have are really effective. I really recommend them." – Naman Mehta
Great experience
"We had a great experience with Armour Pest Control! Rebecca was super professional, informative and timely with all her guidance. Highly recommend their services!" – S&F Ladha
11. Quality Affordable Pest Control Toronto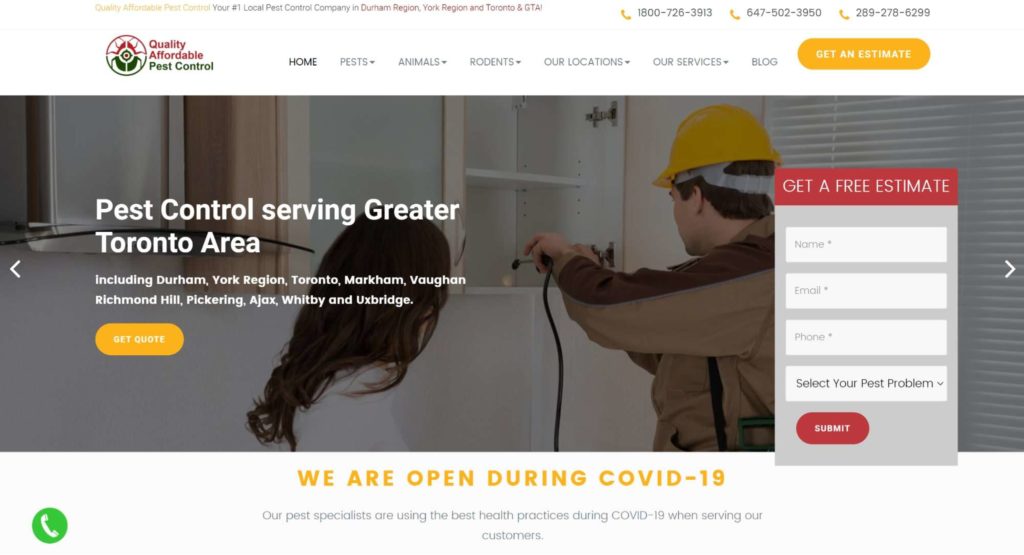 First up on our list is Quality Affordable. With over 20 years of pest control experience, Quality Affordable has left countless homes and commercial spaces clean and pest-free.
They can remove over 100 different species of pests from your spaces, including bed bugs and seasonal ants. That pretty much covers any kind of infestation you might have.
On top of being able to remove regular rodents like rats and voles, Quality Affordable can also remove wild animals like sparrows and squirrels in a humane way.
Rest assured that their methods are eco-friendly, family-friendly, and pet-safe. You don't have to worry about chemicals harming your family members and pets after chemical intervention.
Best of all, Quality Affordable's lines are open 24/7, meaning they're great in emergency situations. This kind of convenience doesn't mean you have to pay a premium, though.
True to its name, Quality Affordable brings pest control services at reasonable and competitive prices. For most of their services, you only have to pay a fraction of the fees that other companies charge!
If by some chance you're unsatisfied with their work, they have a 100% money-back guarantee.
Can exterminate 100+ species of pests
Humane animal removal
Eco-friendly and pet-safe practices
Desired booking times are sometimes unavailable
Customer Reviews
Check out what these past Quality Affordable clients had to say about their services:
"Yosef was extremely professional, knowledgeable, and thorough. He came on Saturday and laid traps throughout my mom's home. He also walked me around the house's exterior to find cracks and entry points which need to be filled to prevent the mice from returning. Great job, Yosef!"
– Bryan Miland
"Rocky to the rescue! Thank you for your professionalism and getting the job done! Rocky took the time to explain everything and answer all our questions. He then proceeded to inspect the house, fill in any suspicious holes, and set traps in the right spots. All done in no time! Thank you."
– Amin Osmani
Things to Do before Pest Control Treatment
Of course, pest control chemicals are poisonous to some degree. However, they're unlikely to harm humans and pets, provided that you take the necessary precautions.
Your chosen pest control services will likely fill you in on these details, but we thought it best to give you some idea of what kind of preparation you'll do before you avail of their services.
1. Use plastic wrapping to protect your stuff.
Make sure you cover valuables, toys, toiletries, furniture, etc., with plastic wrapping to avoid chemical contamination. Using cloth sheets and masking tape would not be ideal because they absorb sprayed chemicals.
All food items have to be sealed in plastic containers and in the fridge. Even stuff like snacks and spices should be put away too.
2. Vacate the premises.
Unless your pest control provider says otherwise, it's best if you leave the area that is to be treated. Of course, take your furry friends with you.
If you're having your home treated for a tick and flea infestation, you might as well take your pet to the vet for treatment too.
If you've got pet fish, cover the aquarium with plastic. Make sure your fish has adequate food and the air pumps are shut off because they will suck in air-borne chemicals.
Make sure you're out of the house if you have allergy problems or are pregnant. You don't want to be exposed to chemicals even though they're generally non-lethal to humans.
3. Make easy access to infested areas.
Make it a little easier for exterminators to examine and move around in your home by moving furniture away from walls and doors. It's easier to inspect for signs of insect activity in uncluttered spaces.
The pest control guys will be focusing on baseboards, corners, cracks, and crevices. Make sure these things are unobstructed.
4. Clean infested areas.
Cleaning won't get rid of infestations, but you'll be required to do so to increase the efficacy of some pest treatments. Vacuums and mops will be treated afterward.
After the treatment, you can avoid future infestations by maintaining the cleanliness of your spaces.
FAQs about Pest Control in Toronto
---
And with that, we conclude our list of the options for the best pest control in Toronto. Have you already decided which one to hire? Tell us all about it, please!
If you know other pest control companies that offer quality extermination services, don't forget to share their names with us so we can check them out.