A Review of the Best Marriage Counselling Services in Toronto
Every couple goes through a rocky phase in their relationship. And while it's a personal affair, we'd definitely love to help you straighten things out.
In today's review, we'll take a look at the best marriage counseling services in the city. Go through our list so you can find the right place to nourish and renew your relationship.
Top Marriage Counseling in Toronto
To find the best marriage counseling services in the city, we looked for the following:
The Cost of Marriage Counseling in Toronto
A complete counseling cycle totals about $2,000 to $3,000. When charged on an hourly basis, that breaks down to $100 to $150 per hour.
See, it's quite costly, but it's nothing compared to the price of a broken marriage. To put things in perspective, if you think your marriage doesn't work anymore, remember that divorce can easily cost you $20,000.
Here's another cost to divorce that often gets shrugged off – psychological stress. According to a study, the stress from a divorce is only second to the stress from the death of a spouse.
Hey, this isn't to scare you from getting a divorce. But really, it means it might be wise to consider marriage counseling first before you loosen the knots you tied on your wedding day.
1. Couples Counselling Toronto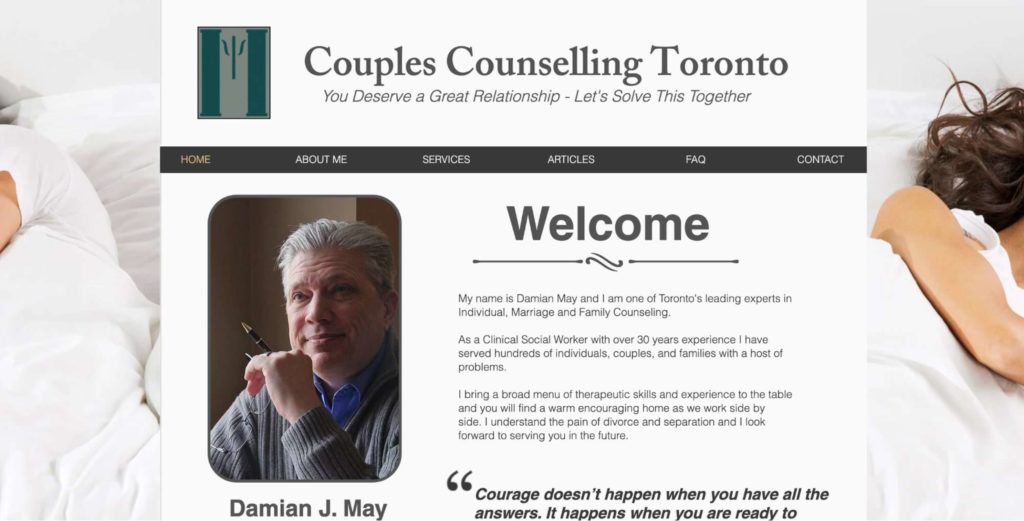 | Test | Info |
| --- | --- |
| SERVICES | Massage therapy programMarriage & couple counseling, individual counseling services |
| WEBSITE | https://www.couplescounsellingtoronto.ca/ |
| ADDRESS | 4 Forest Laneway #1606, North York, ON M2N 5X8 |
| CONTACT DETAILS | +1 416-450-8054 |
| OPERATING HOURS | Monday - Saturday: 9:00 AM - 7:00 PM |
With their perfect 5-star rating on Google Reviews, it's hard not to notice Couples Counselling Toronto.
The man behind this place is Damian J. May, who is a clinical social worker with 30 years of experience. With his board skills and experience, he can be deemed an expert in marriage and family counseling.
During his career, he has already performed over 2,000 assessments. And the long list of positive comments we got from his past clients can easily vouch for his talent.
In his area of practice, he specializes in communication, cross-cultural challenges, in-law conflicts, values differences, and more. He can also help couples in a long-distance relationship as well as those parenting strife.
Sessions with him usually last for about 50 minutes and cost $180. The overall journey will take about four to six weeks with him, depending of course, on your case.
30 years of experience
Performed 2,000 assessment
Flexible schedule and availability
Doesn't accept debit or credit card payments
Customer Reviews
Practical and effective approach to counseling
My partner and I were really struggling with daily communication and connecting in a meaningful way. Damian helped us learn simple strategies to deal with issues both small and large in manageable and effective ways. We went from feeling at odds with eachother to feeling like a team again. We really appreciate the practical no nonsense approach that Damian brought to our struggles. – V.M.
Equips couples with lifelong skills
My husband and I found Damian through the amazing Google reviews and we couldn't agree more. He has helped us take a look in the mirror to evaluate our behaviours/habits and equipped us with lifelong skills to resolve any conflict. He has helped us safe our marriage which we thought was impossible eight weeks ago. Thank you Damian! – Parminder Kaur
2. Ellen Star Couples Counselling & Therapy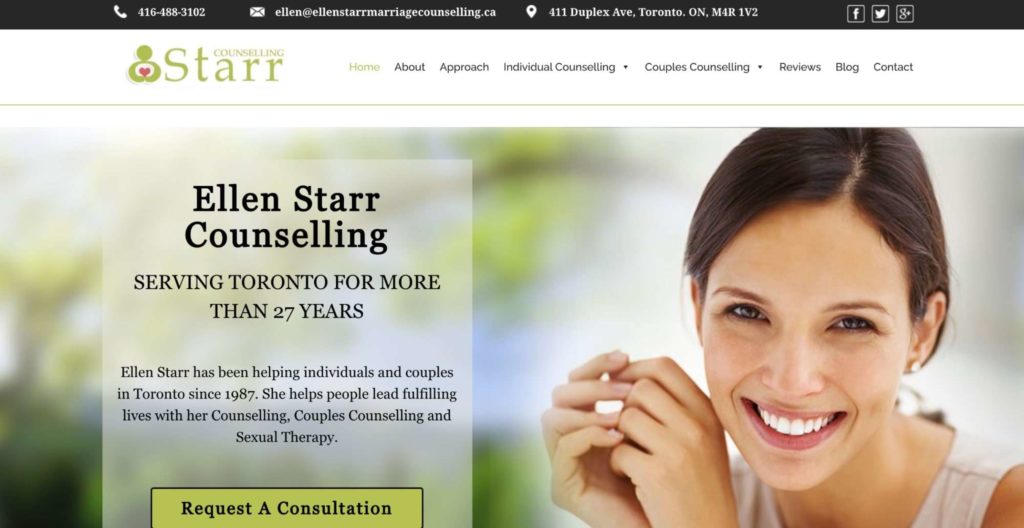 Test
Info
SERVICES
Individual counseling, couples counseling
WEBSITE
https://www.ellenstarrmarriagecounselling.ca/
ADDRESS
411 Duplex Ave, Toronto, ON M4R 1V2
CONTACT DETAILS
+1 416-488-3102
OPERATING HOURS
Monday - Friday: 9:00 AM - 7:00 PM

Saturday: 10:00 AM - 5:00 PM
Ellen Star is another great option for couples looking for an experienced counselor. Since 1987, she's been helping couples lead fulfilling married lives.
With over 25 years of experience, she's an expert on individual and couples counseling. And we believe you'll have a meaningful journey with her comprehensive approach to counseling.
The first stage is an assessment where you get to the core of your issues and desires. Then, you'll move into counseling frequency where you'll determine the amount the sessions you need and for how long.
While counselors do have their own unique styles of therapy, we reckon that hers is the simplest to follow. On top of that, in the interviewing stage of counseling, she taps into three major areas that we believe are pillars of a good marriage.
This intervention includes conflict resolution, relationship, and development or individual and shared objectives. Finally, to tie these stages, she employs a relapse prevention method to go over the relapses in behavior you've experienced throughout the counseling.

Her areas of practice concentrate on conflict resolution, sexual therapy, and family dynamics. She can also help couples with their fertility problems as well as issues of infidelity or affairs.
Many past clients praise her for her ability to save marriages in a judgment-free environment. Plus, she's easy to reach out to and is always welcome to accommodate clients, anytime.
Comprehensive approach to counseling
Wide range of specialties
25 years of experience in private counseling
Issues about raising rates 
Customer Reviews
Highly effective marriage therapist
I was in an extremely challenging period in my relationship and needed professional help; I ended up seeing Ellen for individual counseling. I feel truly blessed to have found Ellen to help us through our toughest times and help us celebrate and appreciate our brightest ones. Ellen's compassion, humor, kindness, courage, intelligence and non-judgmental nature make her a highly effective marriage therapist. I whole-heatedly recommend Ellen Star Counseling, Toronto to individuals and couples. – Monte Ganesan
Helps couples get through tough times
Ellen Starr is a great marriage counselor. She is a very good listener and has a great deal of experience dealing with couples therapy and marriage issues. She has helped us get through some difficult issues and we're very grateful. We would highly recommend her services. – Ham K.
3. Counselling2Wellness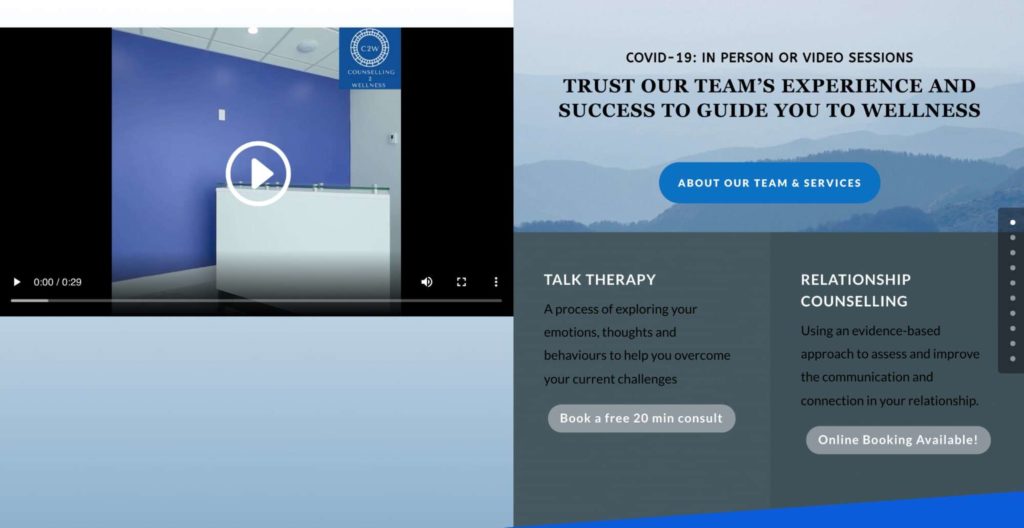 Test
Info
SERVICES
Takk therapy, relationship counseling
WEBSITE
https://www.counselling2wellness.com/
ADDRESS
983 Bloor St W, Etobicoke, ON M8X 1C1
CONTACT DETAILS
+1 647-696-0414
OPERATING HOURS
Monday - Friday: 10:00 AM - 7:00 PM

Saturday - Sunday: 9:00 AM - 6:00 PM
Counselling2Wellness (C2W) provides a wide range of services for couples, teens, kids, and families. They also offer courses and programs for various wellness and health goals.
Their counseling process involves a free 20-minute phone consultation where you get to speak about your main concerns. This is always a great bonus in our book because it helps clients realize if the therapist is a good fit for them.
Like other places on our list, you have an option to take the sessions either in-person or online. Fortunately, this one still accepts in-person sessions, but with limited availability due to COVID-19.
As for their models, they use various approaches to address unique needs. This ensures that they can address your needs with the right methods and techniques.
Their models include psychodynamic and solution-focused, cognitive-behavioral, sensorimotor, and more. Depending on your case, it can be any or a combination of these methods to deal with your problems.
The founder of C2W, Hannah Esmaili, is a social worker and psychotherapist with 12 years of experience. Though only having half of the experience of the other therapists in our lists, we found her skills to be just as good.
In fact, many of the former clients we've spoken with consider her a pivotal tool in their marriage. Other clients even have been seeing her for a couple of years for other services as she's gained their trust over time.
Her expertise lies in solving marital conflicts and other forms of marital distress. So if that's a place you want to touch in your marriage, you can check this out.
Wide range of services
Free 20-minute phone consultation
Online sessions available
Experienced in various approaches to counseling needs
Online booking available
Customer Reviews
Reconnects couples through difficult times
Me and my wife were going through difficult times, our arguments were getting worse and things didn't look so good for our marriage. Lezlee has been helping us talk about the issues without getting heated, we are working at reconnecting again. – Dan S.
Understanding, welcoming and patient
Hannah has been truly helpful in supporting me through my challenges for the past 2.5 years. She's understanding, welcoming, and patient. I have done the most important work in my journey so far with her and have learned a lot about myself! – Sonya Deol
4. Lisa M Kelly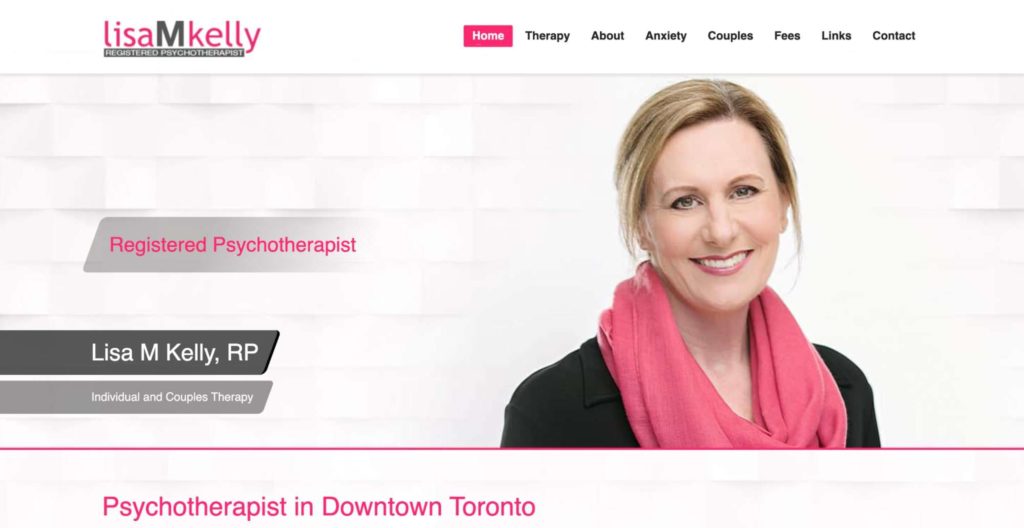 Test
Info
SERVICES
Counseling services
WEBSITE
https://www.lisamkelly.com/
ADDRESS
211 Carlton St, Toronto, ON M5A 2K9
CONTACT DETAILS
+1 647-987-1445
OPERATING HOURS
Monday - Thursday: 8:00 AM - 9:00 PM

Friday: 8:00 AM - 12:00 PM
Lisa M. Kelly is a Registered Psychotherapist with experience in relationship issues and other related concerns. She is also a Certified Gestalt Therapist who practices in-person and online.
Out of all the therapists on our list, she's the only one with experience in gestalt therapy. If you're curious about this method, it focuses on making individuals more aware of sensations.
So, rather than focusing on past experiences, this therapy focuses on the present. And if that's the road you want to take to manage your marriage, then you might want to look into this place.
With her experience and training, she's already an expert in dealing with various issues. These include communication, conflicts in values, contrasting love languages, and lack of expressiveness.
She offers a free 15-minute consultation over the phone so you both can assess the situation. If you wish to proceed, each session lasts for 120 minutes and the entire cycle will need about four to eight sessions bi-weekly.
For couples therapy, she charges $130.97 per hour. But since each session takes two hours, it will cost you $296, HST included.
Free 15-minute phone consultation
Trained on gestalt therapy
Online counseling available
Average rates 
Customer Reviews
Offers a wealth of insights
Lisa offered me a wealth of insight into my relationship. She was consistently sincere, professional and friendly. If you are looking for a deeper understanding of your partner, of yourself, or for help communicating, I feel that Lisa would be a great choice. – Howard Ayee
Provides quality therapy services
As a colleague of Lisa Kelly's in the wellness profession, I highly recommend her. I've seen her goal of providing quality therapy services grow over the last few years into a thriving couples counselling and psychotherapy practice. I believe Lisa's clientele has flourished because she is extremely professional, passionate about helping her clients, and has earned a reputation for creating an open and friendly atmosphere. If you're looking to gain skills for effectively handling difficulties, Lisa is a great choice! – Michelle Currie
5. Couple Therapy Toronto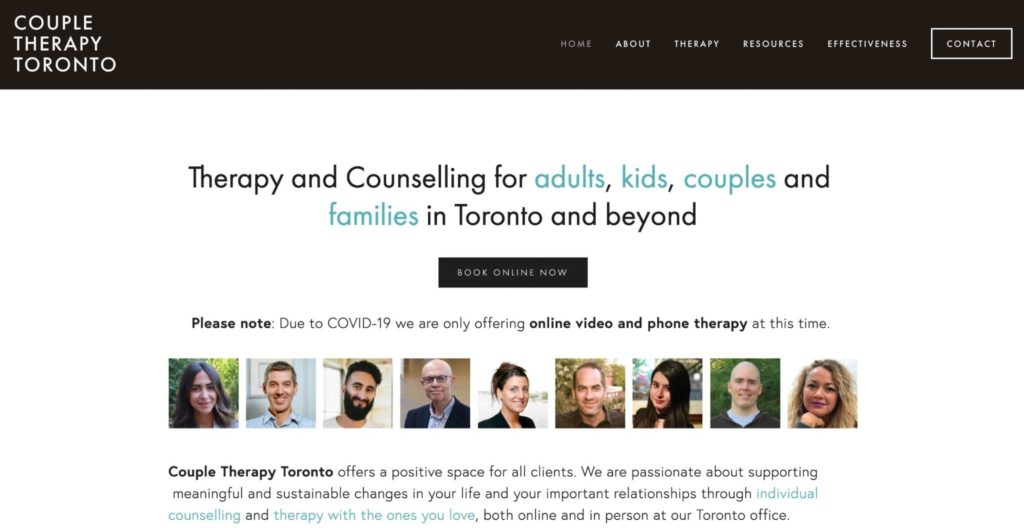 Test
Info
SERVICES
Therapy services for adults, kids and teens, couples, and families
WEBSITE
https://www.coupletherapytoronto.com/
ADDRESS
650 Yonge St Suite 301, Toronto, ON M4T 2A2
CONTACT DETAILS
+1 647-729-8981
OPERATING HOURS
Monday - Thursday: 9:00 AM - 9:00 PM

Friday: 9:00 AM - 5:00 PM

Saturday: 10:00 AM - 5:00 PM
Couple Therapy Toronto offers a range of counseling services for couples, adults, teens, and families. They also have a big team of therapists on board who can cater to your unique needs.
One of their best counselors is Nat Roman, who is a Registered Marriage & Family Therapist and a Registered Psychotherapist. He has roughly 20 years of experience, with in-depth training in Nonviolent Communication (NVC).
Another notable therapist is Yasmin A. Razek, who is a Marriage & Family Therapist. Some of her training models include emotionally-focused and solution-focused approaches.
They usually accept in-person sessions but due to COVID, they've currently moved their services online. So, if you prefer virtual appointments with them, then it's possible via online video and phone.
Their services are centered on improving certain aspects of a marriage such as habits and beliefs and relationship patterns. They can also help you develop intimacy and relationship skills to further nurture your relationship.
Multi-awarded counseling service
Free phone consultation
Many therapists on board with various specialties 
Online therapy available via phone or online video
Comprehensive online appointment setting process
Website offers access to various resources on counseling
In-person session unavailable as of writing
Customer Reviews
Helps create healthy changes in lives
I worked with Yasmin in a therapeutic context with individuals and couples. She clearly demonstrates her passion in session for helping clients create healthy changes and positive outlooks on their lives. Yasmin exemplifies skills of a highly qualified therapist, understanding, and genuineness in her work. She helps clients connect to otherwise untapped and uncomfortable emotions in a safe and guided manner. I highly recommend her! – Reem Elkaramany
Clear, insightful, and compassionate
I have known Nat Roman for the last fifteen years and he is one of the best Meditation Instructors I have ever experienced. His instruction and guidance is clear, insightful, and most importantly, compassionate. I would highly recommend working with him. – Faradee Rudy
FAQs About Marriage Counselling in Toronto
---
If you decide to try and give your relationship another go after counselling, you may want to send your partner something nice as a token of affection every now and then. Or you may even want to renew your vows!
In either case, here are some more resources worth checking out: