A Guide to the Top 5 T-Shirt Printing Services in Toronto
Need to have your custom designs printed on tees? Let's walk you through your top options today!
We reviewed the best t-shirt services in Toronto to find what each one offers. Read on to see how the printing process works for each shop so you can select one that meets your needs.
The Cost of T-Shirt Printing in Toronto
T-shirt printing is the type of service where the higher output you need, the less you need to pay per piece.
One shirt will cost you $20 to $30 to print. If you need about 50 to 100 shirts, the cost per piece drops to about $5 to $10.
Now, there are many factors that play into the total cost of the service. Naturally, the simpler the design, the less ink it takes; the less time it takes to print, the cheaper it is.
Also, the discount for bulk orders varies from shop to shop. So, the figures we gave are really rough estimates as it's a unique service per case.
Top T-Shirt Printing Shops in Toronto
For today's review, we looked into various factors. These include the standard options for apparel for men and women as well as the ability to meet standard turnaround times for t-shirt printing.
Each one also has an online system, whether it's a direct ordering platform or a quote request form.
Of course, quality matters to us too, so we got in touch with past customers to understand how well their outputs are.
1. Toronto Tees Custom Printed T-shirts and Face Masks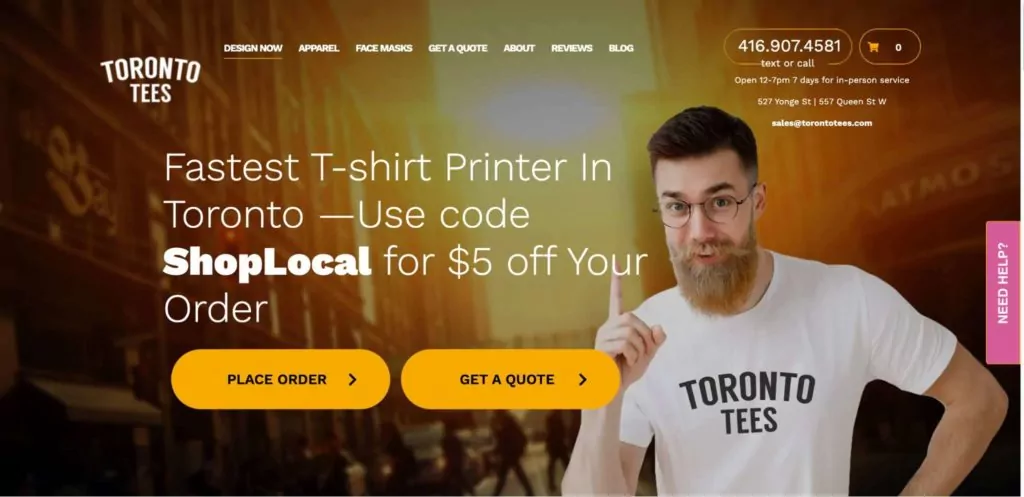 SERVICES
T-shirt printing services on men's t-shirts, ladies t-shirts, hoodies & sweatshirts, polo shirts, tank tops, caps, tote bags, hats, youth & baby clothing
WEBSITE
https://www.torontotees.com/
ADDRESS
527 Yonge St, Toronto, ON M4Y 1Y5
CONTACT DETAILS
+1 416-907-4581


[email protected]

OPERATING HOURS
Monday – Sunday: 12:00 PM – 7:00 PM
One of the things we look for in services is convenience. And we found it here at Toronto Tees, especially with how easy it is to place orders.
Through their website, it only takes four quick steps to buy custom shirts. Simply select apparel, set a design, choose quantity & sizes, and choose to pick up or deliver.
If you're not a fan of this online system, you can also drop by their store. They'll print your shirt on the spot in as fast as 5 to 10 minutes – and yes, we liked that too.
As for apparel, your options include men's & ladies' shirts, hoodies, long sleeves, and polo shirts. You can also print hats, face masks, tank tops, hoodies, and baby apparel.
Another thing that we love is the quality of their shirts. The fabric is not thick and itchy, but more of a soft material that feels cool and soft against the skin.
Finally, their pricing falls within Toronto's average, with a single shirt costing $29. For orders over 50, it costs $9.49 each while orders over 100 cost $7.49 each.
Can accept orders of up to 1,000 plus shirts
Easy online ordering system
Free delivery for orders over $50
In-store pickup is available 7 days a week
Single tees take 5 to 10 minutes in-store
Get 15% off your first order
Ability to save designs for future use
Customer Reviews
Helps you create error-free designs
Most importantly, I made a typo when I designed the t-shirts online and I didn't notice. I didn't notice it online or in the confirmation email! So while Toronto Tees was in the middle of making my shirts, they called to triple check the typo is what I wanted. Thank goodness they did! They were able to make the correction and my t-shirts are wonderful. I've washed and hung mine to dry several times and it still looks brand new. If I need t-shirts again I will 100% recommend Toronto Tees. – Candice P.
Fast and responsive service
Super customer service! Also very fast and these guys respond within minutes . My tshirt looks great .I had an issue with one of the letters looking scuffed and they fixed me up with a new one without even blinking. Highly recommended – Alina Franchi
2. T-ShirtGuys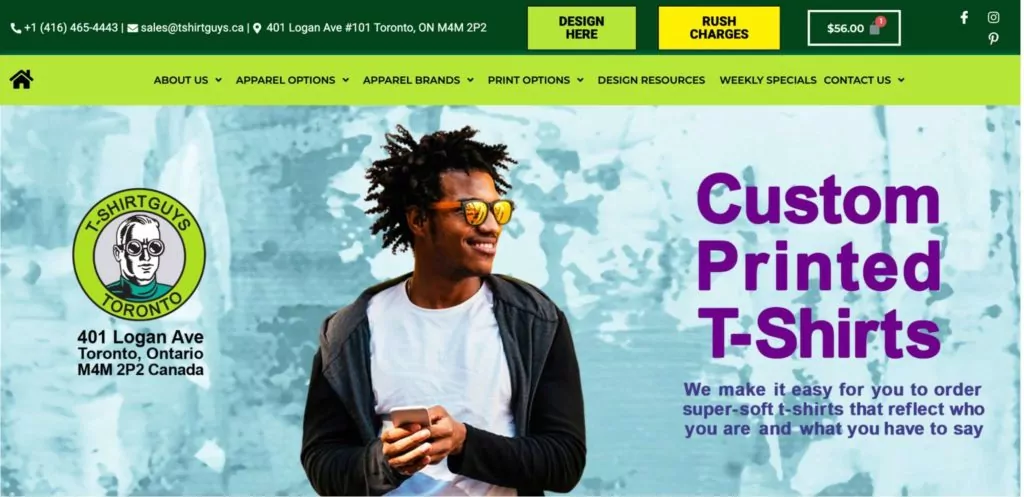 SERVICES
Printing services on men's t-shirts, ladies t-shirts, hoodies & sweatshirts, tank tops, tote bags, hats, signs, pillows, skateboards, mugs, and more
WEBSITE
https://tshirtguys.ca/
ADDRESS
401 Logan Ave #101, Toronto, ON M4M 2P2
CONTACT DETAILS
+1 416-465-4443


[email protected]

OPERATING HOURS
Monday – Friday: 10:00 AM – 5:00 PM
T-ShirtGuys gave us something we always favor in service shops – a variety of options. Not only do clients get apparel options, but also print options and apparel brands.
What makes their online system different from the rest is more freedom with designs. When you design a shirt, you get many templates, images, text, and shapes – all made easy with the drag-and-drop function.
Another thing that they do best, in our opinion, is rush orders. If you meet certain conditions, you can get bulk orders in as fast as two to seven business days.
As we said, they offer various apparel brands from well-known names. They have pieces from Gildan, American Apparel, Canada Sportswear, and more.
And if you're super picky with quality like us, you do get a Good, Better, and Best option for shirt quality. Of course, the higher the quality, the higher the price.
To wrap it up, we reckon the shirt retailers will get great value here since they also print inside labels. These labels can easily amp up the retail price by $5, which already gives better profit potential.
Comprehensive  design lab to custom design shirts
Various resources available for customization
Great options for apparel types, apparel brands, and print options
No setup fees and no hidden charges
Weekly specials available
Great for rush orders
Prints inside labels
Can be expensive for orders less than 12 shirts
Website can be unresponsive at times
Closed on weekends
Customer Reviews
Excellent service that goes above and beyond
EXCELLENT!!! I ordered a printed tote as a birthday gift and at first they didn't have my colour choice, but recommended a different colour. It came time to pick it up and Jenny was completely honest and mentioned that the guys didn't like how it turned out. They went above and beyond and reprinted it on a different tote and offered me both products. And this is why we SHOP LOCAL!! I'll definitely be back when the time comes. – Ken Holt
Fast and excellent service
I needed one t-shirt for my 30 year highschool reunion. I submitted the logo we were using for said reunion through their website and designed the shirt the way I wanted it customized. The end result? I couldn't have asked for something better. The shirt and print quality are excellent and the it took less than a week for my shirt to be ready. I'm so happy with their work. All my classmates are so envious as they used a different service to print their shirts. Most impressive T-shirt guys! – Marvin Hernandez
3. Bely.ca Custom T-Shirts & Screen Printing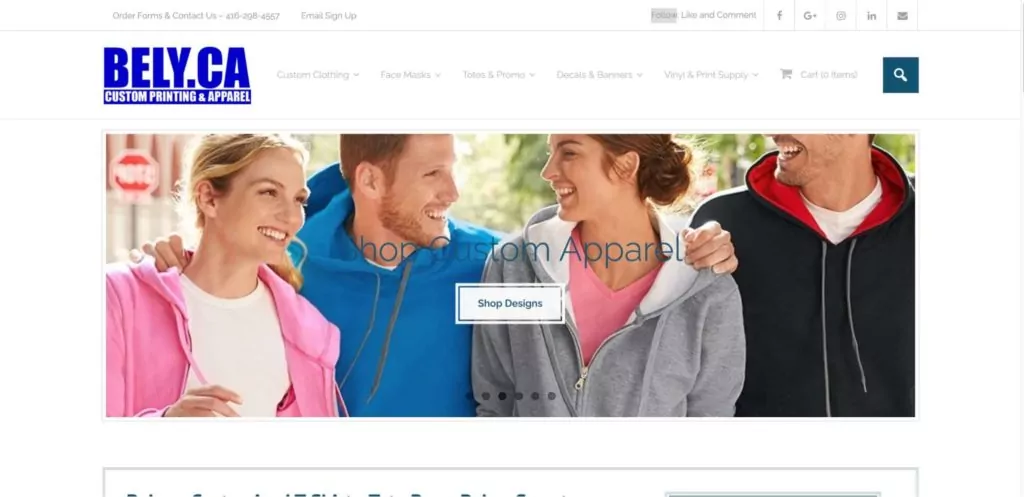 SERVICES
Printing services on men's t-shirts, ladies t-shirts, sweats, polo shirts, youth & baby, face masks, bags & totes, aprons, mugs, decals & stickers, banners, vinyl & print supply
WEBSITE
https://www.bely.ca/
ADDRESS
1120 Tapscott Rd, Scarborough, ON M1X 1S9
CONTACT DETAILS
+1 416-298-4557


[email protected]

OPERATING HOURS
Monday – Saturday: 11:30 AM – 6:30 PM
With their 5-star rating on Google Reviews, it's hard not to notice Bely.ca. And of course, they also satisfied our standards for fast and high-quality services.
Just a heads up: they actually don't accept orders online. But their quote request form is comprehensive enough to get into your orders from the design, quantity, and sizes.
With that said, this shop is better if you already have a custom design ready for upload. Once you send a quote request, a staff member will immediately reach out to you to discuss your order further.
What we liked about this process is that it gets you in the loop of the process. In other shops, you're only a customer placing orders – here, you play a more active role with accepting suggestions and exploring print options.
If you're also interested, they already have templates of designs available for print. So if some of them get your attention, you can simply request that too.
To wrap it up, we like the brands that they use for apparel options. They have Gilda, Fruit of the Loom, American Apparel, Jerzees, and Bella+Canvas.
Comprehensive quote request form for orders
Best for clients with custom designs ready
Can cater to a wide variety of orders
Design templates to choose from
Five apparel brand options
Also prints on safety, construction, and auto clothing
No online ordering system is available
Customer Reviews
Seamless process from start to finish
I had the pleasure with working with Hark around Christmas time. I've sent out many quotes to different companies, but Hark had the most thought-out response. He gave me a call and we were able to sort out as many possible details we can through the phone. We then shortly set up an appointment and the initial visit was brief, thorough and we ironed out as much detail we can before the final product. He gave me his insight and showed many samples on how to proceed and scheduled a day later in the week for the pick up. I ordered around a dozen shirts in various sizes and it came out great. Couldn't have asked for a better experience and definitely recommend anyone to work with Hark. – Colin Tu-Tse
Amazing customer service
Great place for custom goods! I requested an estimate because I was shopping around and had a few additional questions and they got back in a timely manner. Sunil, in particular, was very helpful and they really care about you receiving the best quality. Super polite in person as well! Very satisfied with the product as well! – Tim
4. Digitime Custom Tees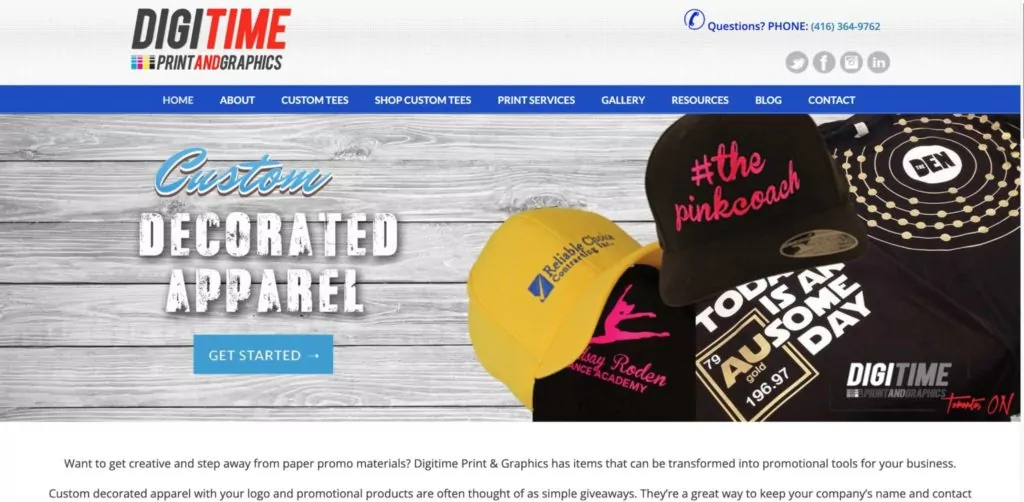 SERVICES
Printing services on men's t-shirts, ladies t-shirts, youth & baby; direct print on various merchandise; digital printing on wood; phone & tablet case printing; golf ball printing; large print format
WEBSITE
https://digitime.ca/
ADDRESS
514 Queen St W, Toronto, ON M5V 2B3
CONTACT DETAILS
+1 416-364-9762


[email protected]

OPERATING HOURS
Monday – Friday: 10: 00 AM – 7:00 PM
Saturday: 11:00 AM – 7:00 PM
If we can only choose one thing we liked about Digitime, it's their printing technologies. But there's really a lot more in the picture that deserves the highlight too.
For starters, we like their variety of printing technologies that ensure prints last for a long time. Their online digitizing solutions also ensure high-quality outcomes.
Another thing we like is their competitive pricing, even with bulk orders. Just note that there is a $30 setup charge for bulk screen printing of shirts.
Like most shops, they also have a 24/7 design lab to upload or create your own designs. Alternatively, you can also choose among their 1,000+ designs and it will be ready in five minutes.
Their apparel options are also more extended versus other shops on our list. For instance, they also offer shirts with raglan baseball sleeves as well as jersey tees for women.
By the way, if your order costs $99, delivery is free. Plus, you can choose a place where you want your orders to be, which is great for gifts or corporate customs.
Various printing technologies to choose from
Online digitizing solutions ensure long-lasting, high-quality prints
Online ordering system available 24/7
Upload a design or create your own option
Over 1,000 shirt designs to choose from
More apparel options
Option to choose a delivery location
Free delivery for orders $99
The store can be busy at times
Customer Reviews
High quality products at reasonable prices
I have done many custom tees with Huzaifa over the years. He is very helpful and his prices are reasonable. I appreciate how family and community oriented he is and his willingness to help where he can to support initiatives. I remember how kind he was when the pandemic hit to cut his prices in half in order for me to raise enough funds for a family that was in need of a bit support. Huzaifa is an amazing person. – Tanitiã Munroe
Superior craftsmanship and workmanship
The Best! Don't be fooled by anyone else, this is where you want to print on your apparel. FAR superior craftsmanship and workmanship (by decades of experience) and miles above in the customer service dept (than anyone else I've tried in the hood… and I've tried). You can get anything your creative mind can think of. Don't get any freshly baked paranoia when thinking about it. – Tristan Cezair
5. Paranoid Print Co.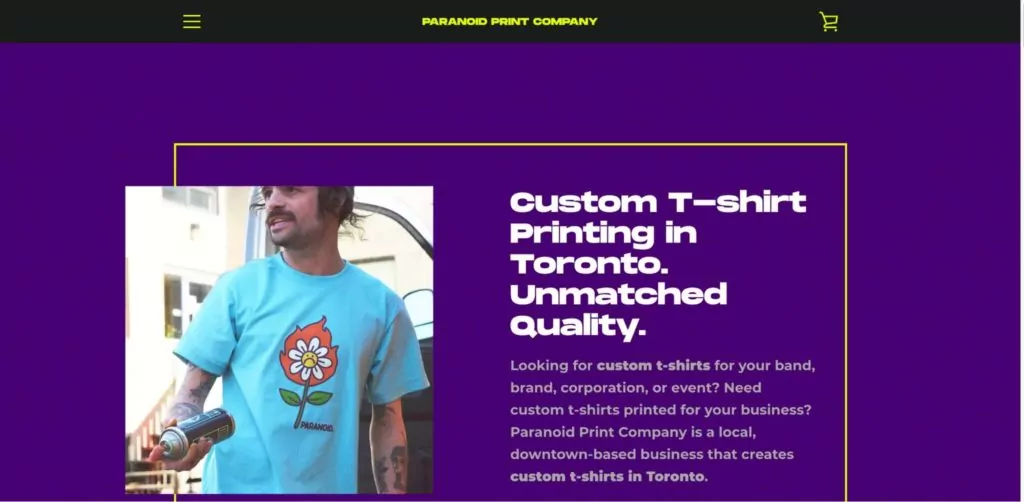 | | |
| --- | --- |
| SERVICES | T-shirt printing services, graphic design, brand consultation |
| WEBSITE | https://paranoidprintcompany.com/ |
| ADDRESS | 609 Queen St W, Toronto, ON M5V 2B7 |
| CONTACT DETAILS | +1 647-223-3585 |
| OPERATING HOURS | Monday – Friday: 10:30 AM – 5:00 PM |
Paranoid Print is among our favorites in terms of all-around services. Apart from basic t-shirt printing, clients can also get graphic design and brand consultation services.
One of the first things we liked is the variety of inks they use. So if you want to go crazier, you can get metallic ink, neon ink, distressed or vintage printing, and more.
The shop has in-house graphic designers who are happy to help you at certain rates, of course. In addition to these, you can also get brand consultation services for $60 per house.
These extra services are best for those who want to launch a shirt business. Consultation helps with garment suggestions, pricing, styling, logo, and many more.
We also liked that they can help you source a particular type of garment that you like. So even if you don't see a garment you like, they can still get it for you as long as you request it.
To ensure that your designs are free of error, they create a digital mock-up for you to check. Once you give your go signal, they'll start printing and your order will be available within 10 to 14 days.
Offers graphic design services
Offers brand consultation services
Wide variety of inks to choose from
Various garment options with the possibility to request more
Makes digital mock-ups to ensure error-free designs
Customers can supply their own shirts
The total cost of services can be expensive
Caters to bulk orders only
Certain garments may be out-of-stock during peak season
Customer Reviews
Extremely professional and talented
Caleb and Matt are both super professional, and super talented dudes who run a tight ship and treat their clients with fairness and consistency. Stoked to be on board with them and they've been a huge driver of our business through thick and thin over the last try strange 3 year period. Thank you lads for always Elevating our brand to the next level and Lyfting our spirits whenever we work with ya. – Bob Dobolina
Smooth process from start to finish
We got our first run of merchandise printed at Paranoid and couldn't be happier with the outcome. Our sweatshirts look awesome and the whole process from start to finish was extremely smooth. They were very clear, direct and responsive throughout and for such a great service they are also very reasonably priced! We look forward to working with you again in the future. – Big Shiny
FAQs About T-Shirt Printing Services in Toronto
---
Tell us about your experience with the best t-shirt printing services in Toronto so we can craft better reviews for you!
While you're here, take the time to check out other design-related reviews in case you need them too: