A Guide to the 12 Best Graphic Designers in Toronto
With the growing competition in marketing these days, having a creative arsenal is a must. And what's a better way to undercut the competition than making incredible visual designs?
For your marketing and branding needs, the best graphic designers in Toronto can help you out!
Take a look at our list to find the graphic designers that we think are Toronto's finest at the moment.
The Cost of Graphic Design Services in Toronto
Let's start with a word about the costs.
The price of graphic design work depends on the services you need and the expertise of the designer doing them. You may also have to pay graphic designers based on an hourly basis or a fixed rate.
Let's say you need a really good logo (not just a basic, rushed one) that will take about 13 hours to design. An entry-level graphic designer will charge about $25 per hour, incurring a grand total of $325.
On the other hand, a more experienced graphic designer would be confident enough to charge about $150 per hour. But do note that due to their experience and skills, logos and revisions may take less time to design.
If that sounds a bit too much for you, remember that designs like these often involve at least two revisions. Plus, most graphic designers would provide at least four different logo options to give you sample choices.
For a fixed rate, a graphic designer would usually ask for $275 for a brand logo, revisions and samples included. If the designer is more on the high-end, expect to pay up to $800.
Here are the price ranges for common graphic design services in our city right now:
| | | |
| --- | --- | --- |
| Service | Estimated Cost (Hourly Rate) | Estimated Cost (Fixed Rate Per Project) |
| Brand Logo Design | $25 – $150 | $5 – $800 |
| Business Card Design | $75 – $150 | $10 – $200 |
| Product Packaging | $30 – $50 | $20 – $1,000 (depends on number of products + variations) |
| Apparel Design | $19 – $25 | $5 – $50 |
| Flyers | $25 | $10 – 100 |
| Ad Banners | $50 – $300 | $10 – $600 |
| Web Design | $75 | $5,000 – $10,000 + |
| Inforgraphic | $40 | $5 – $250 |
| Email Template | $25 | $5 – $1,000 |
| Tri-Fold Brochures | $6 – $150 | $20 – $600 |
The Top Graphic Designers in Toronto
We hope our pricing guide gave you an idea of how much money is involved with graphic design services. With that said, we're bringing you to our top picks for the best graphic designers in Toronto!
1. Akshari Solutions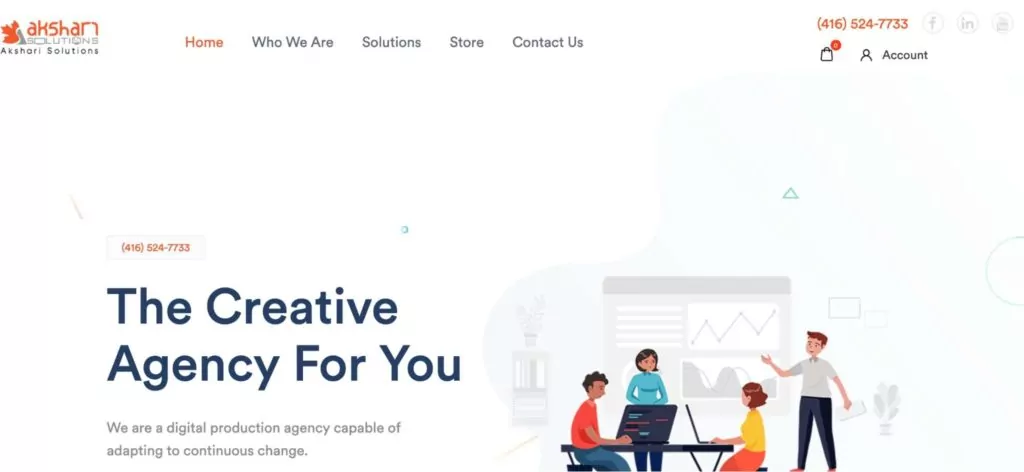 SERVICES
Branding, designing, printing, marketing, real estate, digital web
WEBSITE
https://www.akshari.ca/
ADDRESS
4-14 Steinway Blvd. Toronto, ON M9W 6M6
CONTACT DETAILS
(416) 524-7733


[email protected]

OPERATING HOURS
Monday – Friday: 9:30 AM – 5:30 PM
Akshari Solutions won our favor by providing a suite of solutions tailored for better brand awareness. Here are more reasons why we think you'll love working with them.
First, they have various services geared towards corporate branding – which is a vital pillar of corporate visual identity. So, whether you're a startup or a business going through a branding shift, we reckon they're a good choice for you.
Second, they offer social media marketing plans, which can be pretty useful given that most businesses now hire graphic designers specifically for deliverables to use in social media marketing. To give you an idea, these plans involve content writing, scheduled posts, consultations, and more.
If you're a small to medium enterprise, we recommend trying out the Standard Plan. This plan has fewer strategies than the Premium, but it does cover an annual consultation, custom brand design, and search engine optimization (plus more) – which is really all you need to get an awareness boost.
We also like that the company's design services cover both digital and physical platforms, making it a flexible choice.
For printed marketing materials, they can design things like flyers, calendars, postcards, and t-shirts. For digital outputs, they'll take on infographic designs, social media banners, and digital signage.
Finally, we're a big fan of its web services, which include podcast design, YouTube design, and eCommerce services. So, if you want to get all-around graphic design services, give this company a try.
Reaching out to its past clients only proved why it's a top choice for graphic designers. We've heard nothing but high praise.
Offers a wide range of branding services
Graphic design services both digital and printed
Comprehensive social media management plans
Web design services
More of a digital solutions and marketing company than a design agency, based on its body of work
Customer Reviews
Here are some testimonials from previous clients of this company:
Akshari Solutions provided excellent service in such a short time! Their service was super quick and the end product turned out exactly how I pictured it. I would highly recommend Akshari Solutions to anyone who needs to get printing done. Thank you once again – Anne R. Stuber
Perfect solution provider for all digital and printing solutions – Kanu Varu
2. Novel Graphics Design Inc.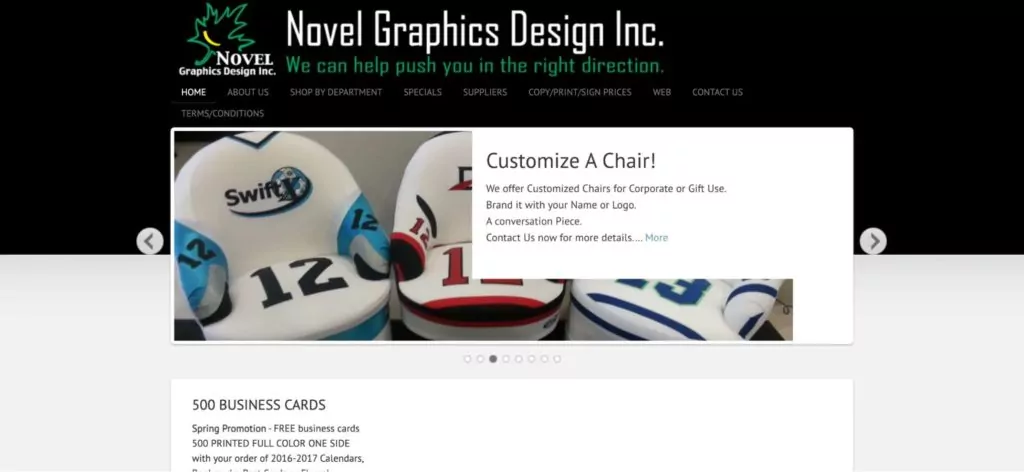 SERVICES
Logo design, business cards, postcards, stationery, corporate identity, embroidery services, screen printing, signage, web design, web hosting, web maintenance, SEO,
WEBSITE
https://novelgraphics.ca/
ADDRESS
15 Hartismere Ct, Etobicoke, ON M9V 1M6, Canada
CONTACT DETAILS
416-741-8898


[email protected]




[email protected]

OPERATING HOURS
Monday – Thursday: 9:00 AM – 5:00 PM
Friday: 9:00 AM – 3:30 PM
Novel Graphic Design Inc. strips off complexity, going for a simple approach instead. We love their straightforward services for a lot of compelling reasons.
For starters, we hate beating around the bush when it comes to service costs. If you're like us, you'll love its upfront, well-detailed pricing scheme, which should be industry-standard anyway.
Of course, for big, personalized projects, you need to request a quote first. It's a pretty nice touch but we're underwhelmed with the process, especially since it's a lot like simply sending an email, which can be restrictive.
What they don't restrict, on the other hand, is the range of design services they offer. If you can imagine it, they can probably service it, whether it's menus, pamphlets, flyers, brochures, and even cheques and chairs!
Speaking of printing solutions, they also offer same-day printing and delivery for business cards and prints. So, if you ever need printed materials within the day, you can hit them up.
If you're quite particular with supplier brands, then you'll definitely love this firm. We liked its transparency with sharing who supplies its apparel and merchandise (which are reputable brands by the way, as we checked).
Lastly, it offers a very competitive cost for web design template layouts at $650-$775 (fixed). This pricing earns a plus for us as it is way below the general average in Toronto.
The downside with this, however, is that you only get 4-6 basic web pages for this particular service. To be fair though, you're not paying them $5,000 – it's really a price that screams "you get what you pay for", which is just a few pages.
Up-front pricing
Offers a wide variety of graphic design services
Uses trusted supplier brands for apparel and merchandise
Below average costs of web design templates
Same-day printing of business cards and prints
Little creative freedom with web templates
Customer Reviews
Here's what a past customer said about this firm:
Very professional, with quality products and services. I am very happy with the work and service provided.
3. Mantegh Studio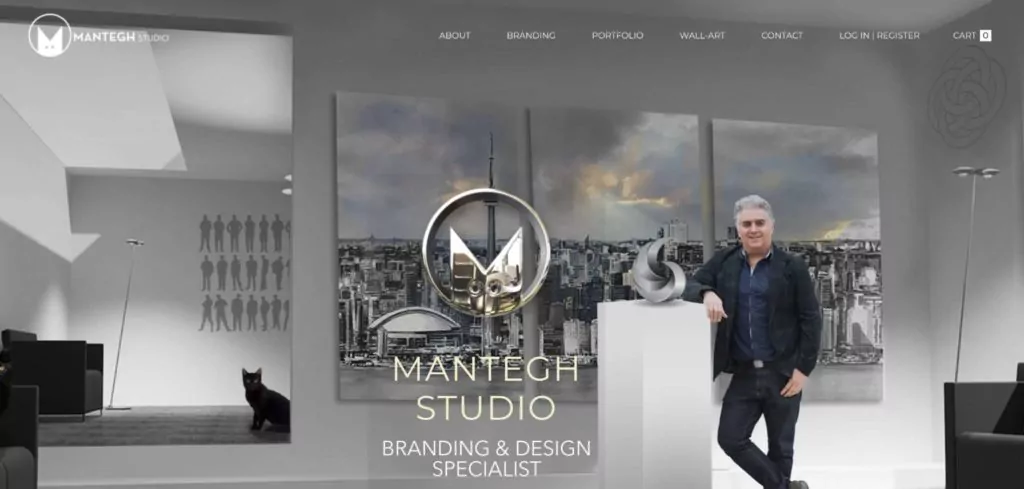 SERVICES
Offset printing, digital printing, large format printing, packaging, promotional items, banners printing, signage, wall art and murals
WEBSITE
https://www.manteghstudio.com/
ADDRESS
2200 Avenue Rd, Toronto, ON M5M 4B9, Canada
CONTACT DETAILS
+1 647-707-3242


[email protected]

OPERATING HOURS
Monday – Friday: 9:00 AM – 6:00 PM
Saturday: 12:00 AM – 4:00 PM
If you're looking for a graphic designer who specializes in logos, posters, and wall art, look no further than Mantegh Studio. With a roster of designers led by David Mantegh, you're guaranteed to receive top-notch services.
The first thing we want to point out is that the company does wall art and murals, which aren't very common products among graphic design firms. These decorative pieces are either oil painting or digital art – perfect pieces to fill up a bland wall space.
We also love its incredible portfolio of posters, most of which were made during its operations in Iran. It also creates commercial posters, which are great for printed ads.
However, the highlight of its services revolves around logo design and corporate identity. We looked at its past projects and saw minimalist logos with the company name usually below it – so if you want something like those, do check them out.
Another bonus, which you may find helpful, is that you can get logo designs in both Farsi and English. So if you're bilingual or serving a bilingual market like this company, it's a good choice for you.
Finally, we love its set of stationery designs, which cover business cards, letterheads, and writing tools. They also do print designs for album art covers, flyers, packages, and books.
With a perfect 5-star rating on Google Reviews, it's clear that other clients feel like us and can't find much to complain about. We only wished it offered website design services too like web page templates just like the others on this list.
Offers digital and oil painting wall art
Creates posters for commercial use
Specializes in logo design and identity
Logo designs available in Farsi and English
A wide variety of stationery designs
Create various print designs
Doesn't offer web design services
Customer Reviews
Here's what customers have said about this graphic designer:
I have worked with Mantegh Studio in multiple occasions within past 5 years. The level of professionalism and creativity I received was extraordinary. David is fun to work with and quite flexible in incorporating the client's ideas into the work (of course if reasonable). I look forward to more projects with Mantegh Studio. – Mehran Aminian
The owner David tweaked my files greatly enhancing the way my files looked. He has a deep understanding of Photoshop And is able to retouch and enhance images with rare expertise That was worth more than the price of the job. I can't believe how good the service was. I recommend it – if you want to be treated like a client and not a number ask for David. – David Knighton
4. Thought Media
| | |
| --- | --- |
| SERVICES | Logo design, identity, letterheads, business cards, form design, marketing materials design (brochures, flyers, signage, etc.), product design (retail packaging, media design and packaging, promotional products) |
| WEBSITE | https://www.thoughtmedia.com/ |
| ADDRESS | 20 Bay Street, 11th Floor, Toronto, Ontario. M5J 2N8, Canada |
| CONTACT DETAILS | +1 416-992-7755 |
| OPERATING HOURS | Monday – Friday: 10:00 AM – 5:00 PM |
Thought Media meets our standards by providing services that take customer service to the next level. Of course, its graphic design projects also got our attention for style and variety.
Let's talk about its customer service first, which is our favorite thing about this firm. What we liked in particular is that you can request a Free No-Obligation Quote through its website and get it back after 24 hours.
Other businesses on this list also have this feature, but it's not as comprehensive as Thought Media's. Plus, they have a consultation quote option that immediately reveals consultation fees, so there are no hidden charges issues here.
They also earn a plus point from us for offering market research for your branding needs. Well, if you're in business, you know exactly how time-consuming and resource-heavy market research is – and they're basically doing this task for you.
If you're looking for brand consistency, you'll love its corporate identity package. This package covers the logo, letterheads, forms, business cards, and envelopes, which is basically a complete set.
Its logo design approach is a lot more playful in terms of typography, usually mixing and matching complimentary fonts and colors. If that's similar to your preferences, try this company out.
Even under our critical eyes, it's hard to find fault with this 5-star rated graphic designer (on Google Reviews). Except for its steep hourly rate that starts at $100, which, depending on your services, can land your grand total to over $5,000
Free no-obligation quote
Clear consultation fees (per service)
Offers market research
Complete corporate identity package
Customer Reviews
Take a look at what past customers have said about this company:
I have been working with Thought Media for the last 10 years. Adam and Agosta has been like an extend part of my company. They have great customer service and are able to assist me with anything I need anytime. I have done 4 websites with them and plan on doing more. If you are looking for a reliable company to work with this is it! They have been in business for a long time and really understand the web design industry in and out. I recommend them to everyone. – Sky Taylor
Consistently receiving amazing work product from Thought Design. They are extremely professional and talented designers. We have been working with them over over 2 years now and they have designed & completed various advertising projects for our company. – Elodie Rabiot
5. UNSGND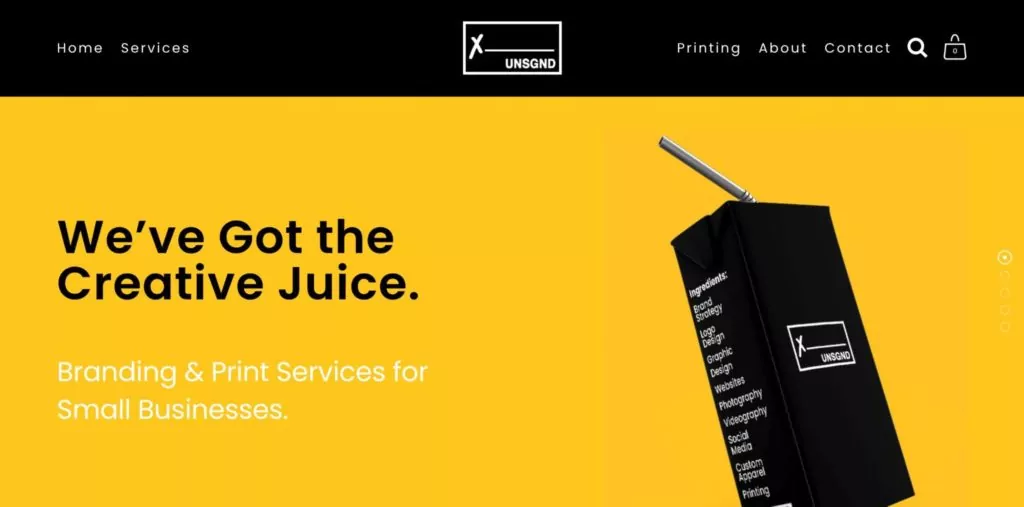 | | |
| --- | --- |
| SERVICES | Website design, logo design, branding packages, graphic design |
| WEBSITE | https://www.unsgnd.ca/ |
| ADDRESS | 1 Carlaw Ave, Toronto, ON M4M 2R6, Canada |
| OPERATING HOURS | Tuesday – Friday: 10:00 AM – 5:00 PM |
UNSGND is our top pick for graphic design services for small to medium businesses. Here's why we think its service gives you great value for your money.
To start, it has some of the most competitive fixed rates for design services. For instance, a logo design costs $500 here, which falls within the average fixed rate in Toronto.
For branding packages, we like that they offer a free consultation to clients. The only problem is, when we tried to go through the process, its Calendly link was invalid, so that needs some work!
Anyway, if you're in the retailing business, you'll love its packaging design services that only start at $250 per project. It gives you an option for packaging design without breaking the bank.
We even heard of one of its past clients undergoing a branding shift using its services. Three months after its relaunch, its social media engagement jumped to a 40% increase – which is an incredible figure to achieve in a small amount of time.
We also like the wide variety of print products it offers, including business cards, booklets, mugs, pull-up banners, labels, and stickers. Our favorite part about this is that they offer a Next Day Turnaround time, at a higher per-item cost of course.
Just a quick note: if you want to buy custom print products from them, you'll get it through its e-commerce channel called TeeCommerce. By the way, you can also use that platform to sell your own t-shirts, which is pretty cool though not graphic-design-related.
Competitive Prices
Branding with proven results
Offers printing services
Free consultation
Next-day turnaround time option
Issues with consultation setting
Customer Reviews
Here's what past customers have said about this company:
As a new business owner, I didn't have much background in how web design, hosting, and editing worked. The UNSGND team was so helpful in navigating this process. I felt really comfortable and confident throughout the process and LOVED the final product. The best part – I have been making edits myself with no issues. They produced a quality design that I can now add to and play with to make changes. I highly recommend their services (and working with Dymika)! – Renata Rusiniak
Working with UNSGND is the best experience I've had with a company, hands down. I sat down with the creative director, told her about my idea and she got me even more excited about my business! And that's important when you're a new entrepreneur, you need to feel supported. Weeks later, she brought my idea to life, presented my logo with merchandise & so much excited and passion, I cried. It was everything I had envisioned and more. My business means a lot to me and to see UNSGND treat it with such care, I always know I can count on them to get something done for me with the same passion I carry in my business activities. Thank you guys. You're truly the best. – Deandra Montaque
6. UNIVERSE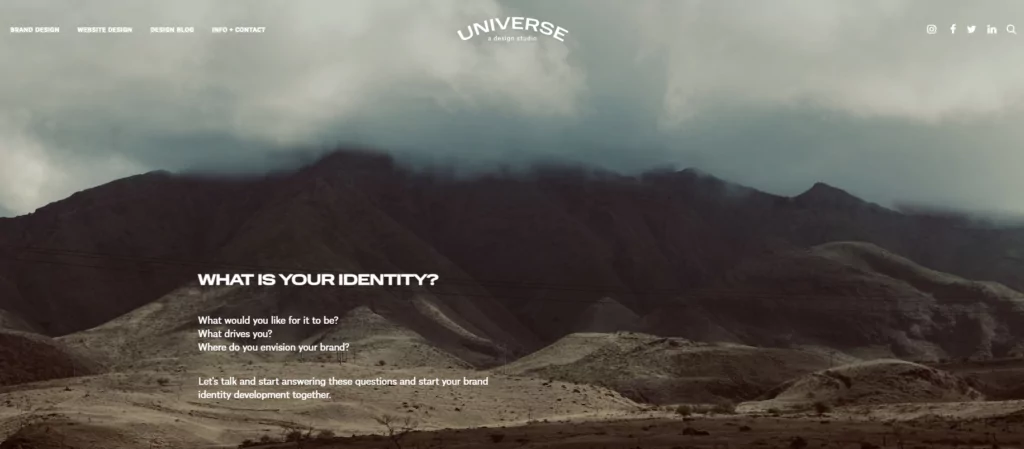 SERVICES
brand design
website design
business cards
social media images
eBlasts + eNewsletters
report designs
promotional flyers
album cover art + design
poster design
illustrations + infographics
conference banners
Word letterhead customization
PowerPoint presentation template design
WEBSITE
https://univ-erse.net
ADDRESS
King Street West, Toronto
OPERATING HOURS
By appointment
UNIVERSE is a design studio located in King Street West, Toronto. Since the time of its inception, UNIVERSE has steadily built up a reputation for providing quality services and reasonable rates for clients who are interested in acquiring design services.
It's worth noting that UNIVERSE has one of the most diverse service list we've seen so far, encompassing not only brand and website design, but various design services that accommodate the need for design for business cards, social media images, eNewsletters, reports, promotional flyers, album cover art, illustrations, infographics, and more.
UNIVERSE takes great care in consulting with every client, learning more about the would-be project to ensure that UNIVERSE's diverse, talented team can get the job done right the first time around. Should there be need for revisions, UNIVERSE readily does those as well.
Wide range of design services
Caters to clients from various industries
Diverse and skilled team
Extensive design portfolio
7. Story & Color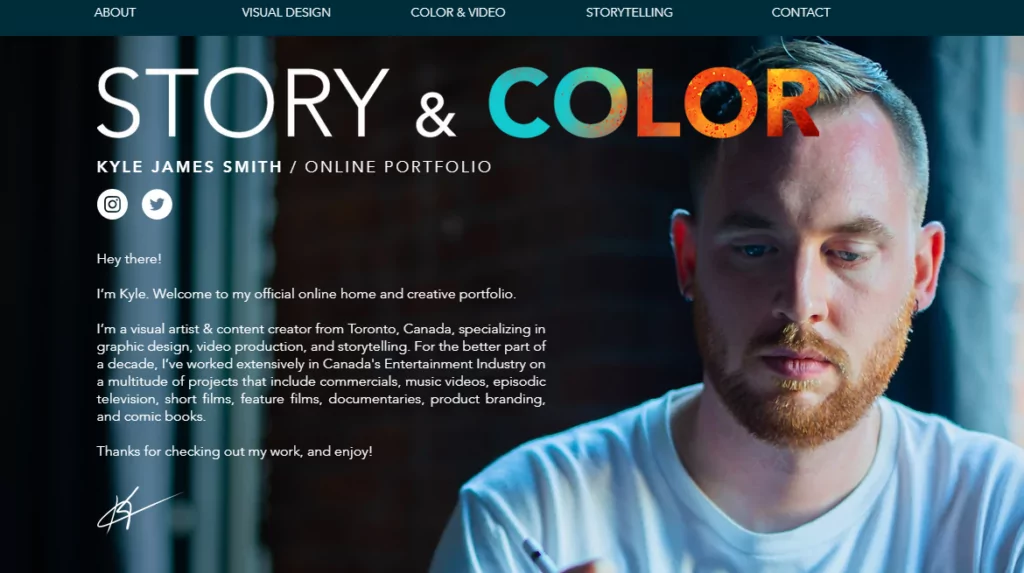 SERVICES
Graphic design, Video production, and Storytelling.
WEBSITE
https://www.storyandcolor.com
ADDRESS
1720 Queen St. W,
Toronto, ON, M6R 1B3
Canada
OPERATING HOURS
By appointment
Design is the foundation of every project, but it's not just about aesthetics. It's also about human psychology and how it affects our decision-making process.
Storytelling is an integral part of today's business competition. Effective stories can build trust, motivate people, and compel them to take action. Using storytelling in marketing campaigns can be an effective way to connect with customers on a deeper level than usual.
Story & Color is capable of transforming your ideas into reality without compromising on quality or originality. Kyle, the mind behind Story & Color, specializes in graphic design, video production, and storytelling.
He has an extensive background working with design, and even has numerous works to show for it, too. His portfolio showcases his previous pieces with well-known clients, Netflix and CBC to name a few.
Caters to clients from different industries
Capable of working with various mediums
Proven work with established names in the media industry
One-person team, may be booked and busy
8. CN Creative Studio

Next on our list is CN Creative, a business that endeavours to help women-ran businesses and entrepreneurs.
The brilliant mind behind the firm, Colleen, has years of experience in design and currently specializes in creating graphic design solutions, including but not limited to blueprint, content, social, and graphic design.
One of the best things about CN Creative is that it has several design packages to choose from, each with unique features that cater to different needs. There's one for branding alone and another that takes into consideration both branding and social media.
Aside from the various packages, CN Creative is also commendable for their rates, which are some of the most reasonable we've seen so far. It's worth noting, however, that their affordability never once compromises the quality of services.
Various design packages for branding and social media needs
Clients free to avail additional services on top of packages
Works with different industries
9. Hello Pop Design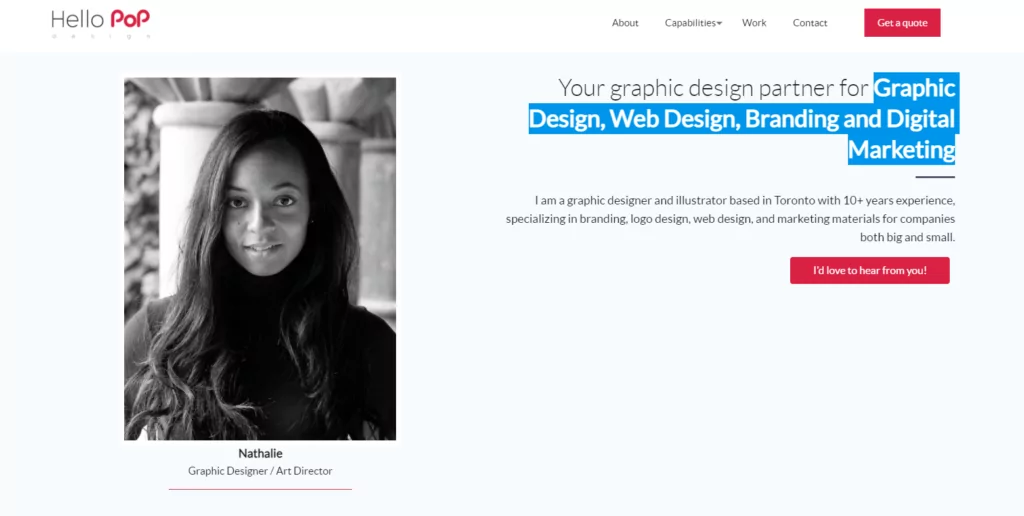 SERVICES
Graphic Design, Web Design, Branding and Digital Marketing
WEBSITE
https://www.hellopopdesign.com
ADDRESS
832 Bay street
Toronto, Ontario, M5S 1Z6
OPERATING HOURS
By appointment
Hello Pop Design endeavors to help struggling marketing teams, business owners, and entrepreneurs with visual content creation all while paying close attention to individual budget and the need for adequate time and support for visual projects.
When working with Hello Pop Design, you can expect a variety of high quality and more engaging content and product marketing.
Hello Pop Design will go above and beyond to ensure that the design you receive represents your brand well and will help you boost your brand image in your respective industry.
In addition to that, Hello Pop Design works remotely, allowing you the opportunity to get in touch with them regardless of where you are in Toronto.
Specialized in logo and branding design
10+ years' experience
Streamlined process
10. Arctic Designs

SERVICES
Design and Marketing Services
WEBSITE
https://arcticdesigns.ca/
ADDRESS
700-15 Gervais Dr
Toronto, ON M3C 3S2
Canada
OPERATING HOURS
By appointment
Wide range of design services
Caters to clients from various industries
Diverse and skilled team
Extensive design portfolio
11. We Are Colette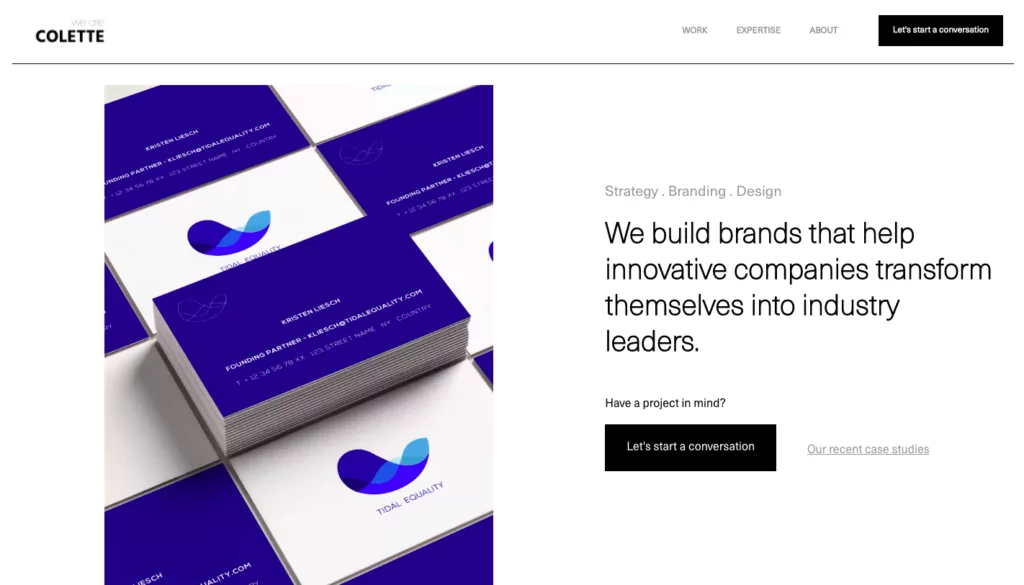 | | |
| --- | --- |
| SERVICES | Research And Insights, Brand Equity Audit, Brand Positioning, Journey Mapping, Brand Competitive Analysis, Strategic Direction, Visual Identity System, Logo, Color Palette – Typography, Visual Language, Illustration & Iconography Guides, Brand Guidelines, Creative Direction, Collateral Design, Packaging Design, Illustration, Stationery Design, Editorial Design, Ux Research, Ideation And Prototyping, Website Design, Application Design, Advertising, Social Media Design |
| WEBSITE | https://wearecolette.com/ |
| ADDRESS | 832 Bay street, Discovery District, Toronto, Ontario, M5S 1Z6 |
| CONTACT DETAILS | Email: [email protected] |
We Are Collete is a design studio and brand strategy firm located in Toronto. They specialize in building brands and organizations that are working to build a better future.
They focus their collaborations with entrepreneurs, startups and purpose-driven businesses by helping them to effectively communicate their vision and story. By focusing on these types of enterprises, We Are Collete believes they are doing their own small part into contributing to make the world a better place.
So whether your business is a for-profit or non-profit industry, We Are Collete will craft a brand strategy that aligns with your organization's mission. Their design concepts will be conscious of the end-user or consumer, so that your message can effectively be communicated.
Working with We Are Collete is easy – you simply send them an email telling them about your businesses and your objectives. They'll schedule an online call to get a better grasp of the project and then provide you with a proposal that's tailor-made just for you.

So if you have a purpose-driven idea or business and want an agency that can translate your vision into a brand strategy, We are Collete is an option worth considering. They are one of our top picks for graphic design agencies in Toronto.
Wide range of design services
Caters to clients with purpose-driven business
11. Karbon Branding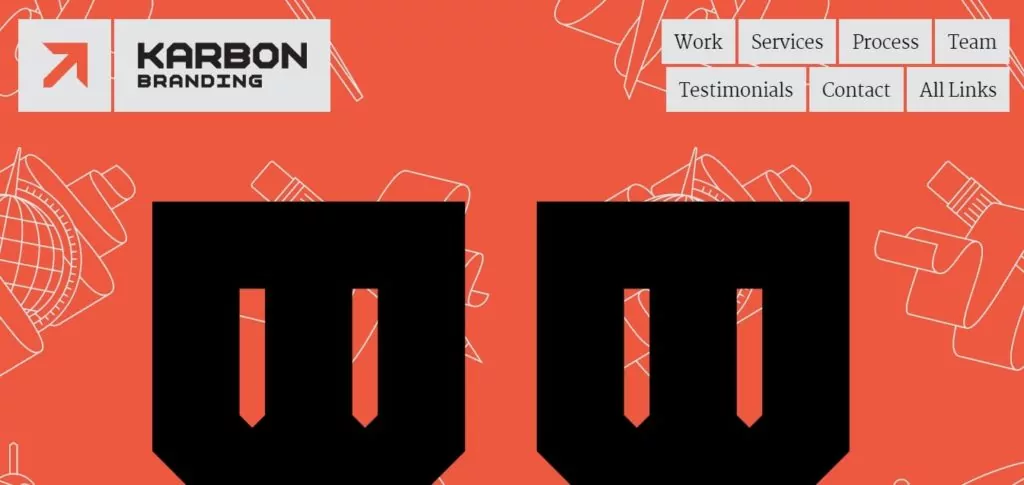 Karbon Branding is a design agency that provides various graphic designs for websites, logos, and branding among much other online marketing. They can accommodate small and medium enterprises just for any industry that needs branding and graphic design services.
What we like about their services is that they are able to create designs that are positive and ideal for long-term usage and effective marketing that makes an impact online.
Their professionals are able to incorporate the personality and the preference of the client into a design that can consistently ensure meaningful design impacts that work just for any marketing channel.
Another thing we find impressive is that their designs are flexible to both print and online media since they are also designed for various promotional items such as signs, booklets, flyers, newsletters, and box packages among many others.
Overall, clients have commended their staff and designers to be easy to work with and have a hassle-free experience with every stage of design which is why we highly recommend clients in need of the services offered to give them a try.
Ideal for long-term usage
Flexible designs
Accommodating customer service
Operating hours unavailable
Customer Reviews
Here are some reviews from their clients:
"After an unsatisfactory experience with a freelance designer I hired Karbon Branding to do my logo, branding and van wrap. Karbon Branding was easy to work with and the final designs made my business look much more professional. Karbon Branding redesigned my website, carrying over all the positive aspects of my last website while making the new one on-brand and clean. Karbon Branding is a great design agency and I highly recommend their services." – Jason Gray, Homeplus Duct Cleaning
"Karbon Branding is a great choice if you need logo development and brand design services! The designer was able to understand my ideas and communication was great! The end result exceeded my best expectations. Highly recommended." – Daniel Barbosa, Country Cozy
12. eRose Graphics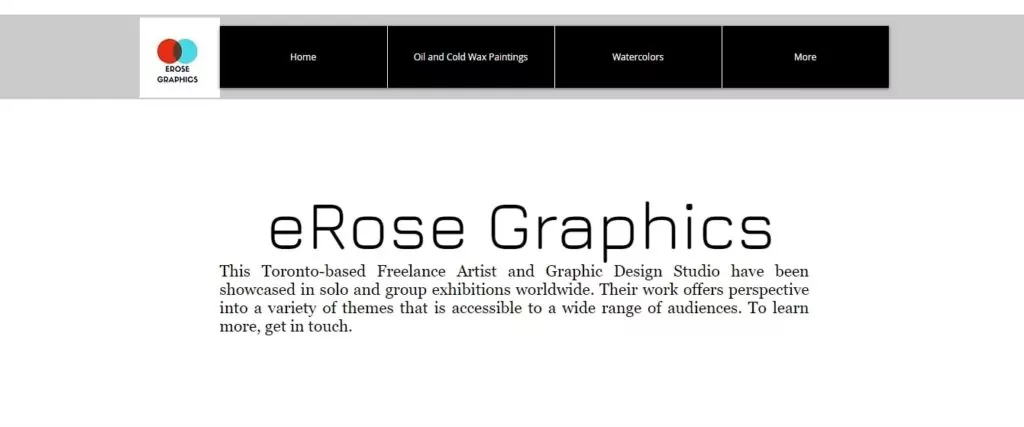 eRose Graphics is a freelance graphic designer that accommodates a wide range of mediums when it comes to designs and illustrations such as oil and cold wax paintings, watercolors, acrylic, and digital illustrations among many others.
Mainly focusing on abstract painting, the whole enterprise is headed and operated by Emily Honderich who has published artworks in the Toronto School of Art and has even participated in the Brain Injury Society Toronto Annual Art Show 2020 and 2021.
What we think makes her stand out is that she has a wide experience of graphic design under her belt wherein she brings to every job that she handles in a flexible and adaptable fashion.
The enterprise also accommodates a wide variety of themes due to the diverse experience its artists and designers handle which ensures clients that they can expect a quality output when combined with their personalized ideas of the said artwork commission.
Though their website could use more information regarding their services, a portfolio is easily accessible to clients who wish to view their work.
Specializes in abstract works
Diverse experience
Featured works in various events
More focused on non-digitalized artwork
Operating hours unavailable
How to Choose the Right Graphic Designer
Still not sure how to choose a designer? Here are things you must consider when choosing a graphic design company:
Know what your goals are.
People need graphic designers for various purposes. Some hire them for a complete corporate rebrand, while others hire them for small projects, often promotional campaigns for business.
Knowing what your goals are will help you select which graphic design team could give it to you. For example, if you need a graphic design for your business brand, it's best to look at how the designer can integrate various branding solutions into the graphic design itself.
Know your budget.
Most graphic design services aren't cheap and the costs go higher depending on the packages you get. The payment terms also affect the total costs of the services rendered.
Find a graphic designer that offers services at a price you're willing to pay for. Much better if you work with one that's open to negotiation.
Know the message you want to send.
Graphic design is basically transforming your brand identity into visual elements. That's why you need a graphic designer that can communicate your ideas well into the design.
So, know your message first before looking for a designer to translate it visually. It will help the process go faster, costing you less in the future.
Know what you want to achieve.
Why do you need a graphic designer anyway? Is your social media engagement low due to poor social media content or is your branding just outdated?
It's important to choose a graphic designer based on what you want to achieve. After all, graphic design is an investment so it should at least give you something valuable in return.
FAQs About Graphic Designers in Toronto
---
Whether you're building a new business or going through a branding transformation, the best graphic designers in Toronto can save the day. If you're ready to take your branding to greater heights, check out our list of the best advertising agencies in Toronto!