The 5 Best Sprinkler Repair Services in Toronto
A lush and healthy lawn does wonders to elevate the charm of your abode. And what better accomplice than a trusty irrigation system, ready to spruce things up?
However, when challenges arise, sprinkler repair services step in to save the day with their expert assistance. These skilled irrigation technicians are equipped to address a variety of sprinkler issues, from leaky valves and clogged nozzles to uneven water distribution and timing malfunctions. They can even enhance your system with automation and smart features if you're due for an upgrade.
Whether you're a homeowner or a business owner, you can count on these pros to sprinkle life back into your lawn.
How We Chose the Best Sprinkler Repair Services in Toronto
How much do sprinkler repairs costin Toronto?
Common repairs, such as clogged nozzles, leaky valves, and broken sprinkler heads, generally fall within a price range of $50 to $100 per component. Prices can vary based on factors like labour, the complexity of the repair, and the type of irrigation system in place.
1. Augusta Green Sprinklers Inc.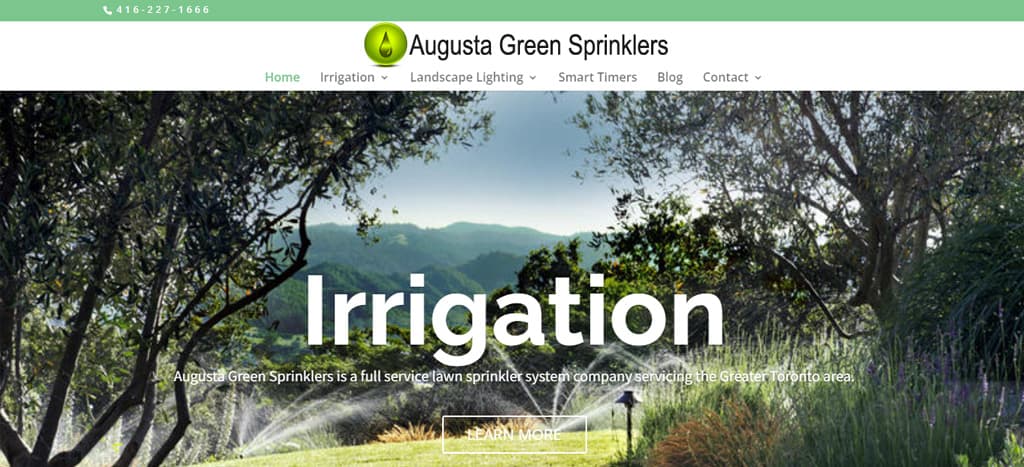 Test
Info
WEBSITE
https://www.augustagreen.ca/
ADDRESS
42 Industrial St Unit 205, Toronto, ON M4G 1Y9
SOCIAL MEDIA
FACEBOOK
CONTACT DETAILS
(416) 227-1666
OPERATING HOURS
Monday - Friday: 8:00 AM - 4:00 PM

Saturday: 9:00 AM - 4:00 PM
Augusta Green Sprinklers Inc., led by owner Ryan Murphy, boasts a team of WSIP certified contractors specialising in smart irrigation and lighting systems. With nearly 20 years of experience, they serve both residential and commercial clients across the GTA from their East York base.
For repairs and troubleshooting of existing systems, they initiate with a property assessment, followed by a proposed design and detailed quote. Upon your approval, the installation will proceed promptly.
Augusta Green employs cutting-edge tools and equipment for optimal outcomes. They've forged partnerships with industry leaders like Rain Bird, TORO, and Hunter Industries for replacements such as sprinkler heads.
Oh, and did we mention smart systems? If you're in the market for an upgrade, they offer smart features, including sensors, parts enhancements, and Wi-Fi smart controllers that can adjust timers based on real-time weather data. Neat!
Water Smart Irrigation Professional (WSIP) certified
Offers smart upgrades
Uses industry-leading products and tools
5-year warranty on all products
Quick and accommodating customer service 
Full-service sprinkler company
Has a record of pushing appointments last-minute
Few reports of delayed responses
Customer Reviews
Very polite and accommodating, and always does an excellent job
"I have used Augusta Green Sprinklers Inc. for the past 2 seasons for my Rainbird lawn sprinkler system and they have been fantastic! Josh is such a nice guy and has always been on time, very polite and accommodating, and always does an excellent job. I had a leak with one of the sprinkler pipes last spring after the winter season, and the owner was able to Facetime me to get it shut off and have Josh come out to repair it in a speedy time during their busiest season!" – Kerry D'Costa, Google Reviews
On time, on budget, and extremely responsive
"Ryan Murphy and his team are the tops in the industry – we used Augusta Greens for the original sprinkler system install over 8 years ago – and then each season to open, close, and deal with any issues. We did major landscaping that demanded Ryan's Team come and re/do much of the system – and was no issue for them – on time, on budget, and extremely responsive – you can't do better." – Gary Batey, Google Reviews
2. SprinklerKings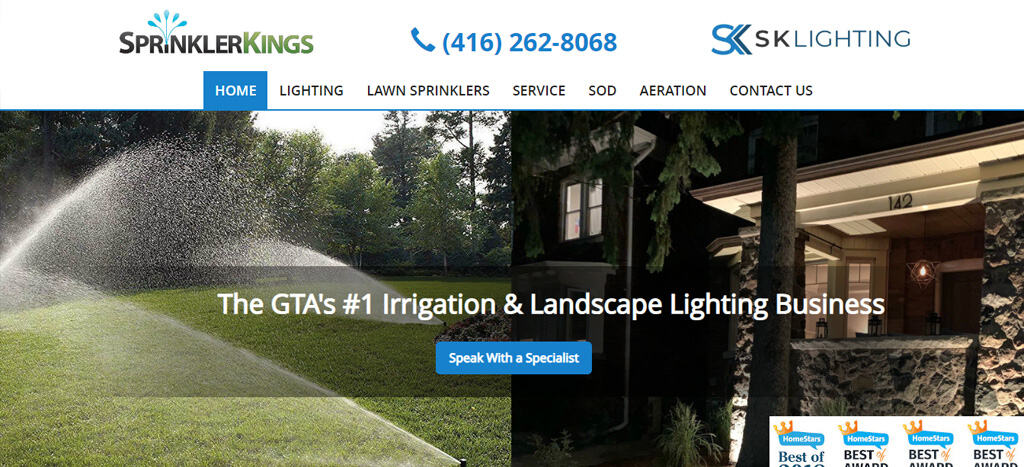 | Test | Info |
| --- | --- |
| WEBSITE | https://www.sprinklerkings.com/ |
| ADDRESS | 10 Industrial Street East York, ON M4G 1Z1 |
| SOCIAL MEDIA | FACEBOOK |
| CONTACT DETAILS | (416) 262-8068 |
| OPERATING HOURS | Monday - Friday: 8:00 AM - 5:00 PM |
Just down the same road is SprinklerKings, an irrigation and lighting company established in 2008 by Richard Allin. Their offerings span from new system installations to servicing and repairing sprinklers, even those installed by other providers. What sets them apart are their added services of sod installation and aeration, guaranteeing a lush and vibrant lawn.
Catering to both residential and commercial clients across Greater Toronto, SprinklerKings employs multiple teams to ensure wider reach and swift service so your systems are always in working order. They proudly carry the WaterSense certification, confirming compliance with Environmental Protection Agency (EPA) standards and environmental regulations.
Moreover, they use top-tier components from Rachio Pro, Rain Bird, and Hunter, all backed by a solid 5-year warranty. Even if your systems differ from their lineup, their certified irrigation contractors are equipped to offer seamless servicing.
Provides seasonal opening and closing
Consistently on-time and on-schedule
Reliable for follow-up services
Full line of products, including smart upgrades
Offers sodding and aeration for lawns
HomeStars routine awardee
No service calls on weekends
Few instances of no shows due to lapse in correspondence
Customer Reviews
Very pleasant to work with
"Very quick in responding to my request in repairing and closing my 20-year-old sprinkler system. Work is neat and clean. Luke even took dirt from the other side of my yard to fill the space so the interlock stones would stay flat. Very pleasant to work with. Highly recommend this company." – Grace Chu, Google Reviews
Professional service, punctual responses, and incredible workmanship
"Cannot say enough great things about SprinklerKings. From their professional service, punctual responses, and incredible workmanship, our lawns have never looked better. Great value for a great price." – Courtney Milford, Google Reviews
3. Tedot's Finest
Despite their recent entry into the industry, Ted Truong's landscape and sprinkler service, Tedot's Finest, has already secured consecutive Best of Awards from HomeStars.
Operating from the scenic Scarborough Bluffs, this company is well-prepared to tackle a spectrum of landscaping tasks beyond sprinklers. Their expertise includes design, construction, and maintenance plans for lawns throughout the GTA. Whether you're envisioning garden enhancements, water features, or a deluxe outdoor kitchen with a stone patio, they offer a compelling choice.
Their forte lies in installing and repairing sprinkler systems for homes and businesses, complete with winterization, weed control, and lawn upkeep. They carry a full range of products, primarily from Hunter Industries, but they also offer alternatives from Rain Bird and Rachio. From the initial assessment to follow-up services, Tedot's Finest provides ongoing support.
Scaled for large-scale lawns like golf courses
Long operating hours
Reasonable rates
Flexible and comprehensive maintenance plans
Helpful with making informed decisions
Doesn't specialise in smart upgrades
Limited track record compared to others
Customer Reviews
Efficient and got the job done right the first time
"I had an issue with my irrigation system and I needed some sprinklers repositioned. Darrell showed up on time for the service call, was polite, and answered any questions I had. He was efficient and got the job done right the first time. Will definitely call them again when I need any work done on my irrigation system" – Uwaisss B, Google Reviews
Went above and beyond
"Ted and Darrell went above and beyond. They thoroughly checked the system for any other potential problems… Ted was able to remotely optimize my watering schedules which were better than what I had originally programmed and adjusted the settings to be more accurate… Tedot's Finest is second to none when it comes to meeting your irrigation systems' needs." – Amit Haror, Google Reviews
4. Green Touch Irrigation Ltd.
Situated in the heart of Etobicoke, Green Touch Irrigation Ltd. is a provider of sprinkler system services exclusively serving the GTA. With a journey spanning over five years since inception, this small enterprise has blossomed into a team of 12 committed contractors, all led by Steven, the owner foreman.
Devoted solely to irrigation systems, they extend comprehensive solutions from initial assessments and estimates to meticulous maintenance. Their focus lies in the proficient and judicious use of water, ensuring swift turnarounds for installations, repairs, and enhancements.
Furthermore, Green Touch excels in ongoing upkeep and seasonal services, including spring openings and winterizations. They're also experts in installing sod during the off-season, ensuring your lawn remains green and lush all year long.
Respectful with property
Exlucsively provides sprinkler services
Provides spring openings and winterizations
Competitive pricing
Leaves no trace after service
Limited options for sprinkler brands
Limited to residential clients
Portfolio is not as diverse
Customer Reviews
Punctual, reliable, and professional!
"Steve is a life-saver! Our landscapers accidentally mowed down one of the sprinklers… I called Steve and he was able to fit me in and get the sprinkler head replaced. Steve is punctual, reliable, and professional! I would recommend Green Touch for anyone who's looking for quality service with a smile!" – Tati Anna, Google Reviews
Work was completed to our satisfaction
"Iewan and the team were very professional. Work was completed to our satisfaction, they thoroughly tested the system to make sure it performed properly. They were very clean, they removed all debris and took it away. They showed up on time as promised and were very courteous. I highly recommend them for your projects." – Tony Principe, Google Reviews
5. Mr Sprinkler.ca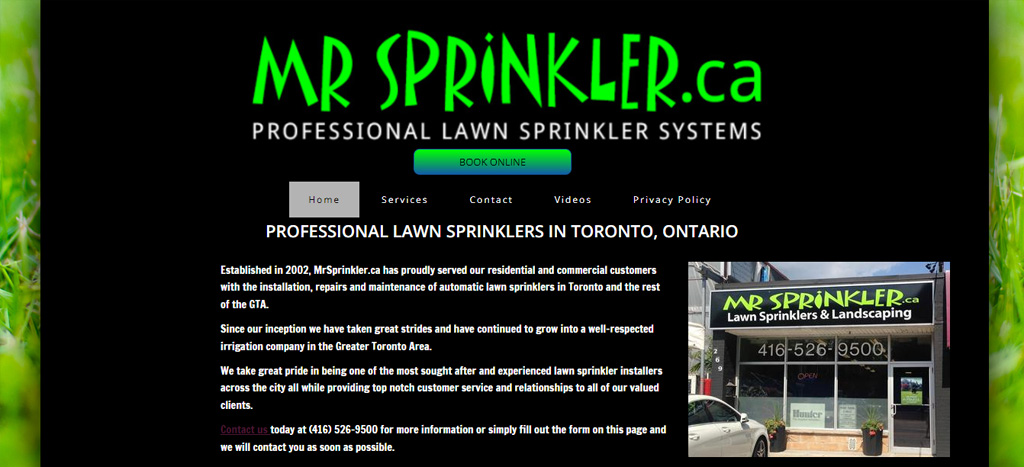 | Test | Info |
| --- | --- |
| WEBSITE | http://www.mrsprinkler.ca/ |
| ADDRESS | 269 Scarlett Rd, York, ON M6N 4L1 |
| SOCIAL MEDIA | INSTAGRAM |
| CONTACT DETAILS | (416) 526-9500 |
| OPERATING HOURS | Monday - Friday: 9:00 AM - 5:00 PM |
MrSprinkler.ca is a comprehensive sprinkler service that has been serving both residential and commercial patrons across the GTA since 2006. They only use industry-standard products from Hunter and Rain Bird for all installations, and their irrigation technicians can handle repairs on equipment from various brands.
With every service call, MrSprinkler.ca dispatches a pair of contractors who dedicate the initial 30 minutes to a thorough examination of your sprinkler system. Even with their additional services like spring openings, closings, and upgrades, they go the extra mile by identifying and addressing any anomalies.
For those inclined towards upgrades, they specialise in automated systems as well as sodding and interlocking pavers. When it comes to delicate flowerbeds and landscaping, their team employs a careful hand-installation or repair approach, avoiding any harm to your valuable property.
Hunter-certified company
Proven track record of over 20 years
Steady residential and commercial client base 
Prompt and courteous service crew
Cleans up after 
Requires full payment upon booking
Unavailable on weekends
Complaints of not honouring the warranty
Customer Reviews
They were very professional and responsive throughout the process
"We used Mr Sprinkler to repair a large section of our existing sprinkler system after it was dug up during the construction of a backyard patio… When I had an issue a couple of weeks later with one area not getting enough water, they were very responsive and came back to change the heads to ensure proper watering. They were very professional and responsive throughout the process. I would definitely recommend them." – Lorraine Engel, Google Reviews
Did everything they could to get us into their schedule for the day
"I highly recommend Mr. Sprinkler! I needed some urgent work done in our backyard and the staff did everything they could to get us into their schedule for the day. Shane and Christian came onto our property and were absolutely amazing! Not only were they very professional and efficient but they were a pleasure to deal with. I will definitely use them again for our outdoor needs!" – Selina Mamo, Google Reviews
---