The 9 Best App Developers in Toronto
Thinking of hiring the best app developers in Toronto for something like your business or brand?
You're in luck, as we're going over them today. Read on to find out the app developers that could help put your business on the map!
How Much Do App Developers Cost in Toronto?
As any savvy business owner, we're sure your first concern is how much this is going to cost you. To determine this, you need to figure out the complexity of your project, how long it'll take to complete, and the developers' hourly rates.
Developing an app can take anywhere from one to five months, more or less depending on the type of functionality that you want.
Here's a quick cost table based on the scope of a project:
| | | | |
| --- | --- | --- | --- |
| App complexity | Attributes | iOS Average cost per hour | Android Average cost per hour |
| Simple | Existing app, adding new features, fixing bugs, design upgrades, testing | $15 – $50 | $18 – $55 |
| Medium | New versions, OS updates, resubmission to OS, UI design updates | $20 – $70 | $25 – $75 |
| Large | New app from scratch, API integrations, database integration, increasing app security | $24 – $100 | $30 – $120 |
Next, here's a table based on how many hours it would take to finish a project on a specific budget. Keep in mind that these can vary too.
| | | | |
| --- | --- | --- | --- |
| Budget | iOS by paid hour | Android by paid hour | Cross platform by paid hour |
| Economic project | 7-150 (avg 70) | 5-150 (avg 700 | 5-150 (avg 65) |
| High-end project | 8-250 (avg 100) | 5-200 (avg 100) | 6-300 (avg 100) |
Lastly, here's a table based on rates per type of application. All of these projects will take anywhere from 70 to 500 hours to complete.
| | | |
| --- | --- | --- |
| Application type | Attributes | Rates per hour |
| Basic app | Basic templates, stored on a device, dropdown menu | $18 – $50+ |
| Database app | Stored on a server, backend, integrated with methods to handle the load | $20 – $100+ |
| Chat-based app | Many data formats, chats and calls, stored in the cloud, end-to-end encryption | $500 – $150+ |
| Social networking app | Themes, profile editing, photo editing, backend, signup, account linking, stored on server | $30 – $80+ |
| Gaming app | Unity 3D, single/multiplayer, rendering, player data stored on server | $30 – $90+ |
The Best App Developers in Toronto
Now that you know having an app developed can be quite the investment, let's look at the companies that can ace the job.
1. 247 Labs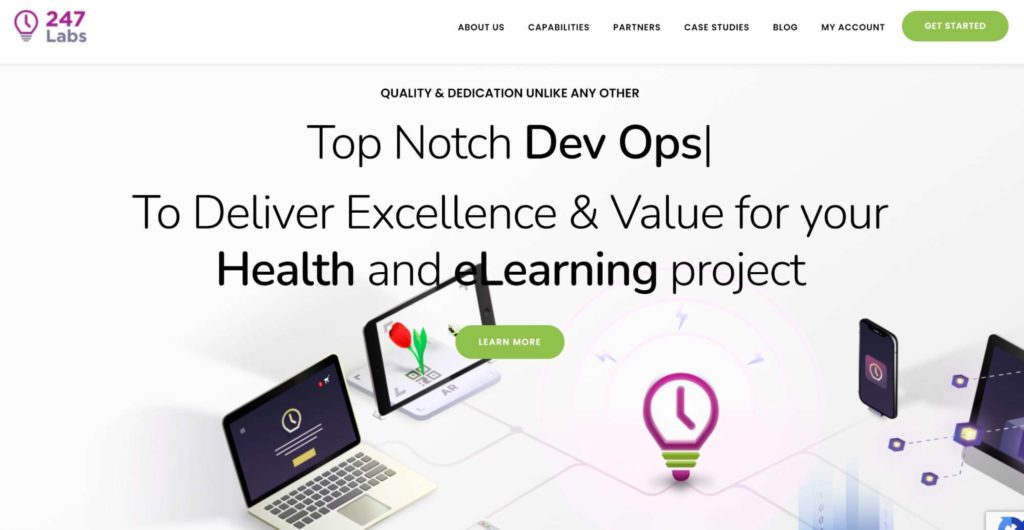 PRODUCTS
Mobile apps, web development, eCommerce, UX & UI, custom software,
WEBSITE
https://247labs.com/
ADDRESS
600 170 University Ave, Toronto On M5H SB3
CONTACT DETAILS
1-877-247-7421
OPERATING HOURS
Monday to Saturday: 8:00am-8:00pm
Sunday: closed
Launched by Azwar Khalid back in 2013, 247 Labs has delivered over 500 digital products. They've worked for industry giants like IBM and Motorola.
And if yours isn't a company that is as high-profile, they can still accommodate your app development needs on a budget. We like that they have quite a sizable team working in-house, so they never have to outsource work.
They use a refined 6-step process that ensures each project's success. It's very likely that you've come across their work as they have multiple award-winning apps out now.
As for the willingness to collaborate, 247 Labs can turn your ideas into something that your target market can benefit from. Instead of mindlessly moving clients through their process to get a paycheck, projects are tailored to each client's needs, down to the last line of code.
Even if your dream app has fancy integrations like geolocation, Bluetooth, and face recognition, 247 Labs has provided those digital solutions to renowned clients, and they can do the same for you.
Great attention to detail
Meets resource constraints
Offers follow-up support
Larger projects have higher-than-average rates
Customer Reviews
Here's what 247 Labs clients have to say about their services:
"247 Labs is a team of high-level professionals who have strong technical expertise and are very engaging and collaborative to partner with. Not only were they great at communicating their deliverables, but they were also patient listeners when it came to understanding and resolving issues. They were committed to providing us with top quality service throughout the projects and were always responsive to our requests."
– Joshua Folkema
"Great service and quality programming! Price is reasonable. Would recommend for any medium sized project like mine."
– Skip Visit
2. Essential Designs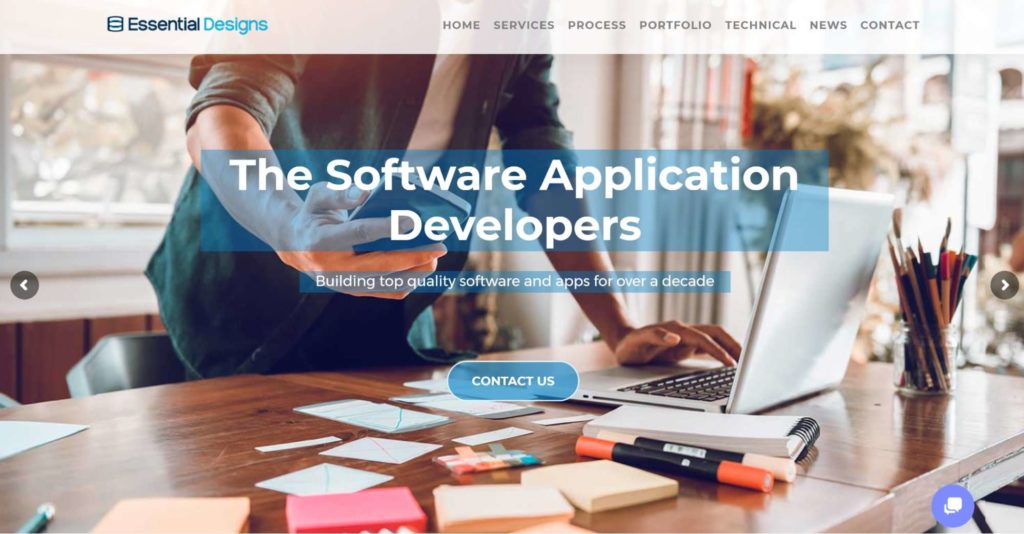 PRODUCTS
Mobile apps, web apps, business platforms, UI/UX design, server management, backup services, security services
WEBSITE
https://www.essentialdesigns.net/
ADDRESS
545 King St W, Toronto ON M5V 1M1
CONTACT DETAILS
(647) 493-8150


[email protected]

OPERATING HOURS
Monday to Friday: 8:00am-5:30pm
Saturday to Sunday: closed
Composed of 14 senior developers, Essential Designs has been filling up a bright spot in the app development industry since 2008. They've worked for reputable companies like Expedite and Honeywell.
Of course, like with any project, Essential Designs starts with planning, which you're encouraged to be a part of through calls or in person. After this stage, ED gives a complete proposal and a fixed price.
We appreciate that, aside from the initial quote, they are transparent about what you have to pay outright. They work on projects in a fixed timeframe, so you don't have to worry about racking up additional costs for delays.
All projects are supposed to go through a four-stage testing process, so it's seamless by the time it reaches your hand. That helps reduce the chances of wasting time and money (a common development problem).
If you currently have an unfinished custom app, by the way, Essential Designs are not strangers to project takeovers. They can pick up where you left off or rebuild an old system for a more modern UI.
Fixed prices
Can code in a vast variety of languages (including HTML5, CSS3, and JavaScript)
Relatively affordable
Doesn't handle large projects in short time frames
No weekend work
Customer Reviews
Take a look at these two reviews for Essential Designs:
"Essential Designs was able to create a cutting edge application that will save lives. They always say "anything can be done" and are definitely able to deliver on that promise."
– Jeff Hardy, Lifeguard founder
"Essential Designs was able to put together a comprehensive project plan and our customers got a state of the art application which they are extremely pleased with."
– Barry Schneider, CrypKey general manager
3. Guaraná Technologies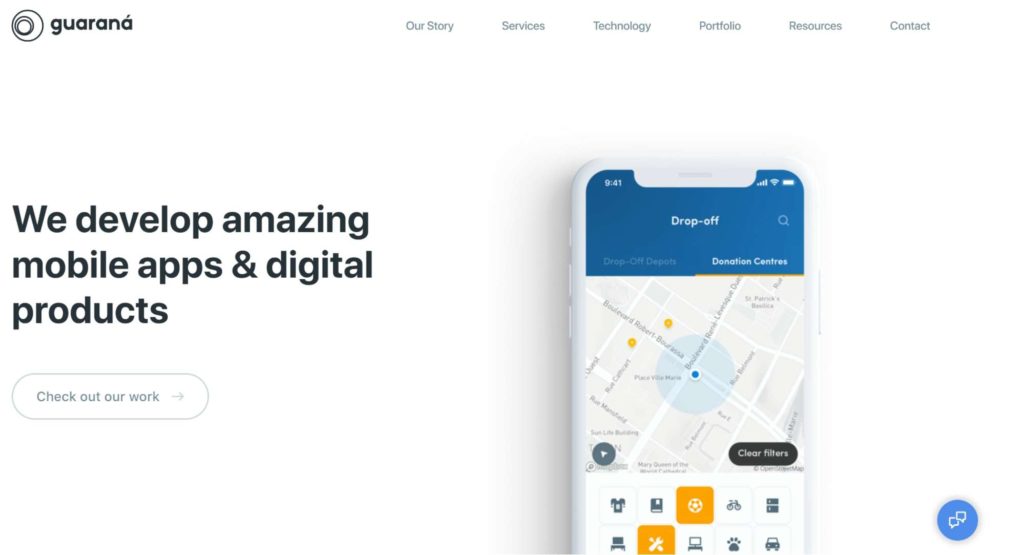 PRODUCTS
JAVA development, Swift development, unit testing, bug tracking, user testing, pre-launch, analytics, interface design
WEBSITE
https://www.guarana-technologies.com/
ADDRESS
250 University Ave Suite 200, Toronto, ON M5H 3E5
CONTACT DETAILS
(647) 559-3001
OPERATING HOURS
Monday to Friday: 9:00am-8:00pm
Saturday to Sunday: closed
Guaraná has built over 147 mobile apps with over 130 million users combined. With 20 IT experts on board, they can carry out projects of all sizes.
You might have seen apps like Favday, Nxtlaunch, Ramble, and Raden on the App Store and Google Play. Guaraná is the genius behind those seamless offerings.
What we truly like about Guaraná is their approach. They're a pretty casual yet passionate bunch that can mentor clients throughout the development process.
If you don't know the first thing about building an app from scratch, their team can work with you in an illuminating and non-condescending way.
Yet with apps that have been featured in The New York Times and TechCrunch, it's no wonder that Guaraná is a popular choice among startups. If your company is a startup as well, you can rest assured that they can develop a scalable app in a short amount of time.
Fun fact: Guaraná is a tropical fruit native to Brazil, the country where the firm was formed! It resembles the human eye and represents the company's function as a mentor for other businesses on their app development journey.
Great choice for startups
Broad usership among all their apps
Warm company culture
Higher rates than average
Customer Reviews
Here are two reviews for Guaraná from Clutch.co.:
"They have an optimized process to build mobile apps, which is efficient and easy to understand. Their workflow was transparent and allowed us to keep track of the app's progress. We didn't have much tech knowledge, so they explained things in a clear way without making us feel inferior."
– Tanguy Morelli
"The whole Guaraná team, and the project manager especially, was very patient with me. As a first-time technology entrepreneur who's bootstrapping the project as a solo founder, I had to start and stop the project a few times, sometimes for months, before we actually wrote any code. Although we were able to joke about it, they remained as responsive as the first time I called.
I also felt that Guarana was just the right size for me—small enough to give great service but big enough to have the resources we needed. They didn't over-promise on their turnaround time but still delivered before the holidays, which was important because the MVP is for travelers."
– Chriss Beebe
4. Root Quotient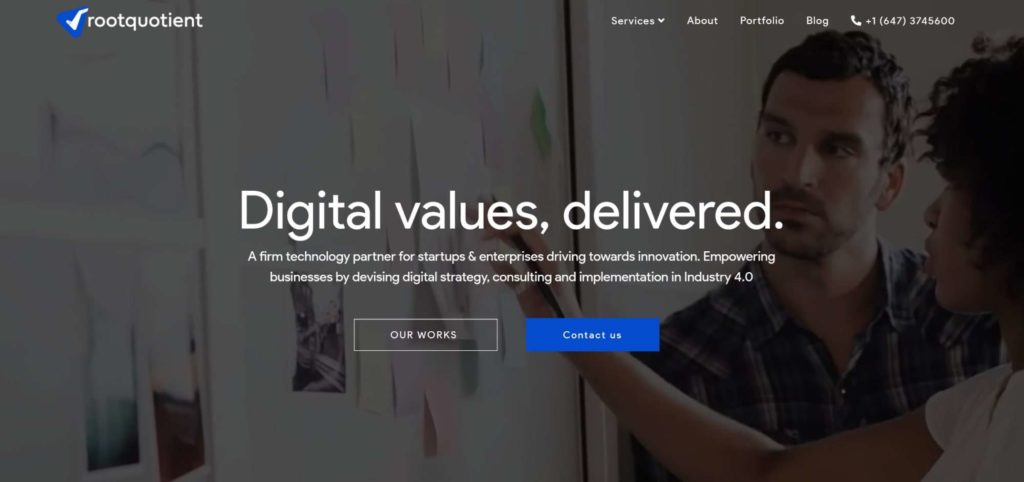 PRODUCTS
Digital product development, staff augmentation, data analytics, digital strategy consultation
WEBSITE
https://rootquotient.com/
ADDRESS
439 University Ave 5th Floor, Toronto ON M5G 1Y8
CONTACT DETAILS
(647) 374-5600


[email protected]

OPERATING HOURS
Monday to Saturday: 9:00am-5:00pm
If you're looking to have an app built by a company that is still striving to prove itself, Root Quotient is an excellent option. Their team is relatively new to the industry, but they already have more than 50 high-performing apps under their belt.
We like that RQ is willing to take on challenges, accepting lofty projects within time and budget constraints. You can even book a free consultation with them to discuss your initial plans.
We suggest going for RQ if you want to reach the market faster. Past clients say this company can handle challenging deadlines.
RQ can serve as an extension of your company, at least for the time that you're hiring their services. They take time to get to know their clients' aspirations, to that end.
With something as vital as an app, we're sure you'd like to work with a team that is highly collaborative, as well as transparent and accountable for the work they do. Root Quotient definitely fits the bill.
Works fast
Free consultation
Service extends to data analytics
Affordable
Customer Reviews
Root Quotient puts its money where its mouth is! Check out these positive reviews from former clients:
"Experts in latest technologies. The team was courteous and responded to all my queries during development with a friendly attitude and professionalism. Thanks for all the hard work and support!"
– Srivatsan Saravanan N
"We couldn't have asked for better tech partners! Quick turnaround and zero defects at every delivery."
– PsiberTech Solutions
5. Net Solutions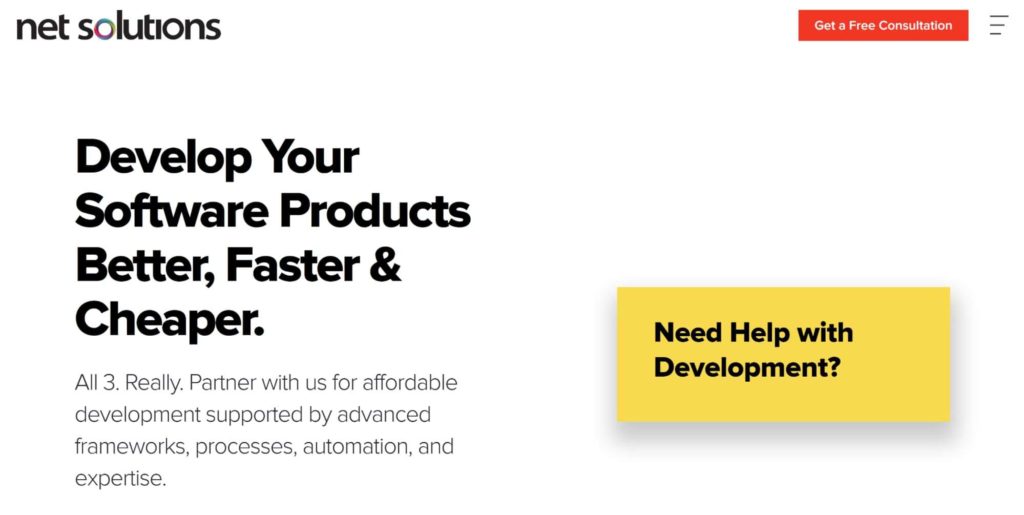 | | |
| --- | --- |
| PRODUCTS | UX strategy, design sprints, product prototyping, UI and validation |
| WEBSITE | https://www.netsolutions.com/ |
| ADDRESS | South, 111 Queen St E Suite 450, Toronto ON M5C 1S2 |
| CONTACT DETAILS | (416) 720-1790 |
| OPERATING HOURS | 24 hours |
If your primary concern is affordability, Net Solutions is one of your best options. Paying less doesn't mean you'd be skimping out on quality, though.
Net Solutions can transform your ideas into prototypes, so you get to have a feel for how the process works and how much the final product is going to cost. This reduced risk is highly sought after by those dipping their toes in the app ocean.
They can pull this off because they have 275 qualified developers in their tech pool, all of whom are managed by their in-house experts. That's why they can offer rates as low as $25-$49 per hour.
NS also has the tools to build and upgrade apps in every domain. From eCommerce to transport and navigation, your app can be decked out with the latest practices and innovations.
Best of all, they give out free app audits and tech reviews, so you have a clear idea of what your baseline is. Then it's all uphill from there if you decide to go with Net Solutions!
Economical
International company
Round-the-clock service
Charges for additional changes
Customer Reviews
Take a gander at these glowing reviews for Net Solutions:
"Great team to work with. These guys are professional and deliver on time and on budget. Looking forward to continuing to work with them for a long, long time!"
– Daniel Wolfe
"I have been succeeding with Net Solutions for over five years and numerous projects. They are my go-to digital partner. They are always ahead of the curve with implementing new technologies, are highly professional in execution, and easy to get to know. Competitive pricing and no surprises. Highly recommend."
– Michael Birklein
6. CODEPAPER

CODEPAPER is an app development company known for their extensive suite of app development and product designing services. They take pride in being recognised as a leading mobile app development company in Toronto.
They create apps for both Android and iPhone devices. With their skills, they can accommodate clients from any kind of industry, may it be eCommerce, social networking, transportation, and more.
Their team comprises IT experts, all of which specialise in their respective field. This variation is one of the major reasons they can serve any business that hires them effectively.
Finally, they make sure to keep their client's interests at heart. Given their customer-focused, high quality services, CODEPAPER's apps won't leave you lacking.
Leading app development company in Toronto
Serves clients from any industry
Team of IT experts
Customer-oriented
No operating hours stated on website
7.   Nextbrain

Nextbrain is a mobile app development company that serves clients Canada-wide. They specialise in digitalising business ideas and applying it onto the mobile application platform.
As one of the leading mobile app companies in Toronto, they accommodate clients coming from a wide range of industries. Some of the areas they've handled include food ordering, e-commerce, logistics, doctor appointments, and more.
Their team is composed of expert mobile app developers, UI/UX designers, and QA analysts all of which are skilled at what they do. As the digital app landscape evolves, so do they, with their constant use of the latest technologies to keep up with the trends.
At the heart of Nextbrain's quality services is their dedication to adhering to their client's preferences. There's no doubt that with their help, you'll be able to have an app that will complement your business excellently.
Specialises in e-commerce and SaaS-based product development
Many years of experience
Free 3 months of support
Free consultation available
No operating hours stated on website
8.   Visual Thinkers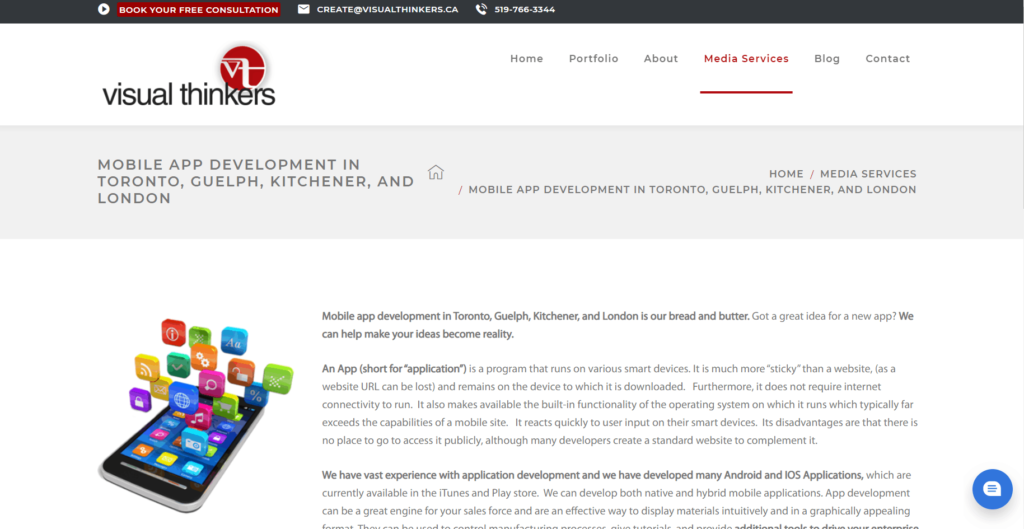 Visual Thinkers is a design company that aims to bring their client's idea to life. With that in mind, they provide web, mobile, digital marketing, and graphic design services that are made to serve their client's design needs.
Mobile app development is also a part of the solutions they offer. They are capable of creating applications for iOS and Android platforms.
Their team comprises of a diverse set of developers with their own skillsets. They have mobile interface specialists, quality assurance specialists, and numerous expert database developers.
Their mobile applications are praised by many as effective marketing tools, due to their ease of use and aesthetic appeal. No matter how simple or complex the function of your intended app may be, you can rest assured that Visual thinkers will create one that can serve you well.
Vast experience with app development
Develops for both iOS and Android
Diverse team of developers
Free consultation available
No dedicated market research team in house
9.   Pyramidion Solutions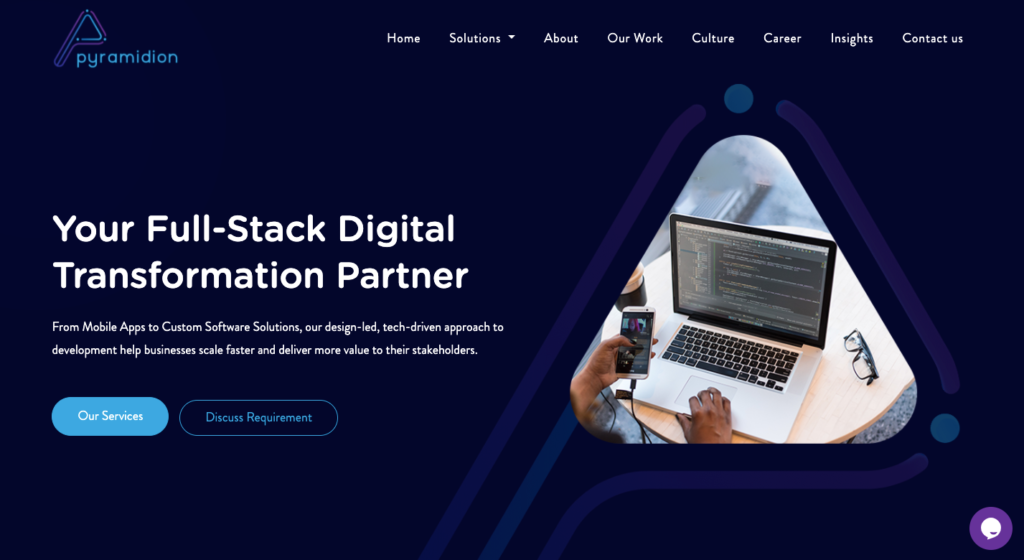 Pyramidion Solutions create digital solutions for mobile and web that go beyond meeting basic functionality and performance expectations and instead focus on establishing trust, fostering collaboration, and raising the bar for innovation.
They are a full-stack product engineering firm dedicated to creating world-class digital products. They also place a high value on trust, collaboration, and going above and beyond to ensure excellence. We believe that our responsibility extends beyond simply delivering an app.
It is also impressive that they are constantly striving to assist you in navigating the complexities of digital transformation in order to scale your business. Rather than following standard workflows, you can rely on them to listen to you and suggest solutions that are as close to your requirements as possible.
There are few fields of technology that evolve at the same rate as digital. It's easy to get caught up in the daily task sheets, tech updates, deliveries, and business acquisitions here. However, it is critical to avoid missing the forest for the trees—to avoid missing the big picture of why we are here.
From concept to implementation, your vision can only succeed if sound principles and processes are in place. When you work with them, you benefit from the values that we have developed and maintained over the years.
Their core values and principles keep them on the path to excellence that they set out to follow, while also allowing them to quickly meet the needs of diverse industries and requirements.
How To Pick The Right App Developers
We just gave you five amazing options for your app development needs. So how do you go about narrowing your choices even further?
Use the questionnaire below to make sure that the team that you hire is a perfect fit for your business.
Can you build a relationship with this team?
Developing a mobile app takes time and extensive collaboration. It wouldn't be ideal for your funds and stress levels to work with people you don't jive with well.
We suggest going for developers whose feedback you appreciate. Right from the get-go, get a feel for how the team communicates and whether or not you can stick with them during the entire development process.
What other companies have they worked for?
As you can tell, the real gauge of developers' skills is their completed works and satisfied clients. Lucky for you, all of the companies above are transparent with both those things.
Of course, they wouldn't pass up a chance to name-drop the reputable companies they've worked for. So do a little bit more research and check out the apps they've finished.
You might be looking to create one that's similar. At least you'll be confident that what you envision can be realized.
Can this team handle all the aspects of app development?
If you're on a limited budget, you might be tempted to go for an independent developer instead. We highly advise you to hire a team that can plan, design, and test, though.
Hiring independent developers for each step in the process will be more expensive in the long run, not to mention lead to problems with coherence.
Do they have experience in my field?
If your business falls under a highly specialized field, the best developers would be those who are well-versed in it. For example, if a team's expertise lies in pharmaceuticals, then they wouldn't be a smart choice if you're trying to make a new dating app.
The right team will develop your app with real insight on how to maximize revenues for your business. Collaboration will also be much easier if you don't have to explain the ins and outs of your field.
FAQs about App Developers
---
There you go, the best app developers in Toronto ready to take on your project!
Investing in your new app might just be the best business decision you'll make. We hope this list helps you find your dream team.
If you're looking to move your business to the Web as well, check out our options for best web design in Toronto.