THE BEST FIREPLACE REPAIR SERVICES IN TORONTO
What would a Canadian home be without a trusty fireplace? Aside from the fact that winter nights can be unforgiving, it's a nice, cozy place for catching up with family and friends.
So when your fireplace goes awry, you need to find repair services with blazing speed. Whether you'd like to prevent wayward sparks—or you want some flames to ignite properly—you'll find these fireplace folks in Toronto to be fantastic.
How We Chose the Best Fireplace Repair Services in Toronto
How Much Does Fireplace Repair Cost in Toronto?
Repair costs for a gas fireplace typically start at $125. Prices vary depending on the extent of the damage and the specific model.
1. Fireplace Experts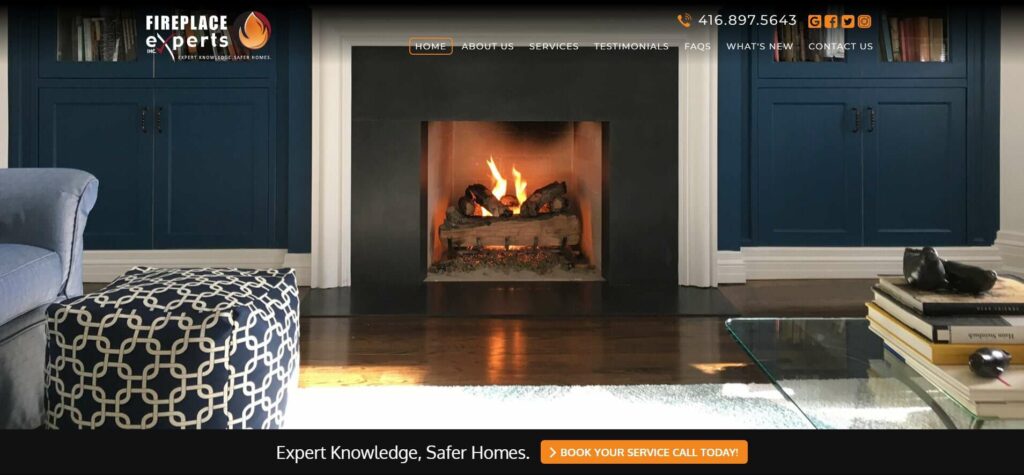 Test
Info
WEBSITE
https://www.fireplaceexperts.ca/
ADDRESS
3093 Bathurst St Suite #657
CONTACT INFORMATION
Phone: (416) 897-5643
OPERATING HOURS
Mon-Wed: 9:00am – 5:00pm

Thu: 9:00am – 6:00pm

Fri: 9:00am – 2:00pm

Sun: 10:00am – 1:00pm
Fuelled by family values and in-depth technical expertise, Fireplace Experts has been an industry mainstay since 2008. Anything you need when it comes to gas fireplaces—from installation to cleaning and repair, from inspection to certification—you'll find it in the plethora of services offered by this Bathurst Street battalion.
If you're looking for long-term fireplace protection, check out their 10-Step Preventive Maintenance Service. Here, a contingent from the Fireplace Experts will head over to your home and clean various fireplace parts, test the gas system ignition and inspect the thermostat—among other services offered.
Fireplace Experts was nominated for a Toronto Star Readers' Choice Award in 2019.
Wide array of fireplace repair services
Highly effective at diagnosing problems
Comprehensive, long-term maintenance approach
Provides online resources on fireplace maintenance
Experience and competence
"Inherited a 27 year old gas fireplace from a previous home owner. Seven years ago Fireplace Experts installed a wireless on/off (which works when there is a power cut) and cleaned out insects that had taken up residence in the gas supply. This year we had the igniter assembly replaced. Very pleased that Fireplace Experts have kept our fireplace up and running for so long. Not cheap, but you get what you pay for: experience and competence."
Phillip Davey, Google Reviews
Extremely knowledgeable
"This company went above and beyond my expectations. The technician was on time and extremely knowledgeable. He fixed the issues I have been having with my fireplace efficiently and left the area clean. 100% recommend!"
michal kartuz, Google Reviews
2. The Fireplace Store

Test
Info
WEBSITE
https://www.thefireplacestore.ca/
ADDRESS
Unit 2, 535 Millway Avenue, Concord
CONTACT INFORMATION
Phone: (416) 899-9998
OPERATING HOURS
Mon-Fri: 9:00am – 5:00pm

Sat: 10:00am – 5:00pm
To be clear, this establishment isn't exclusively a fireplace repair company. As the name suggests, The Fireplace Store is essentially a showroom for some beautiful fireplace specimens. Still, this Concord-based business delivers the goods as far as repairs go.
When it comes to rectifying fireplace concerns, the staff at The Fireplace Store aim to get it right in just one visit. By using premium parts and high-caliber equipment, the team fixes the present problem and forestalls future issues.
If it's absolutely necessary, they'll recommend a full fireplace overhaul. In that case, you might as well pay their Millway Avenue showroom a visit. Take your pick of a gas, electric, or wood fireplace, with the team's guiding you from installation all the way to maintenance and repair.
Trusted by outlets like HGTV and Houzz.com
Utilizes high-quality components in repairs
Accessible through several channels
Closed on Sundays
By appointment only
The fireplace now works perfectly
"Brent is a consummate professional and we would highly recommend him for any gas fireplace repair or service. He responded promptly and arrived on time. He meticulously cleaned up the work space when he was finished his work.
We had a fireplace that was looked at a year ago and found out that the logs were not placed in the same position to function properly. Brent replaced all the logs, and cleaned all the soot in between the log chambers. He told us to get new crystals and lava rocks which were missing on the both sides. The fireplace now works perfectly !"
Ute McIlvena, Google Reviews
Always responsive and helpful
"The showroom had a great selection and Vanessa was very knowledgeable and helped us find the perfect fireplace. Following our purchase, she was always responsive and helpful."
Evagelos Sotiropoulos, Google Reviews
3. AccuServ Heating and Air Conditioning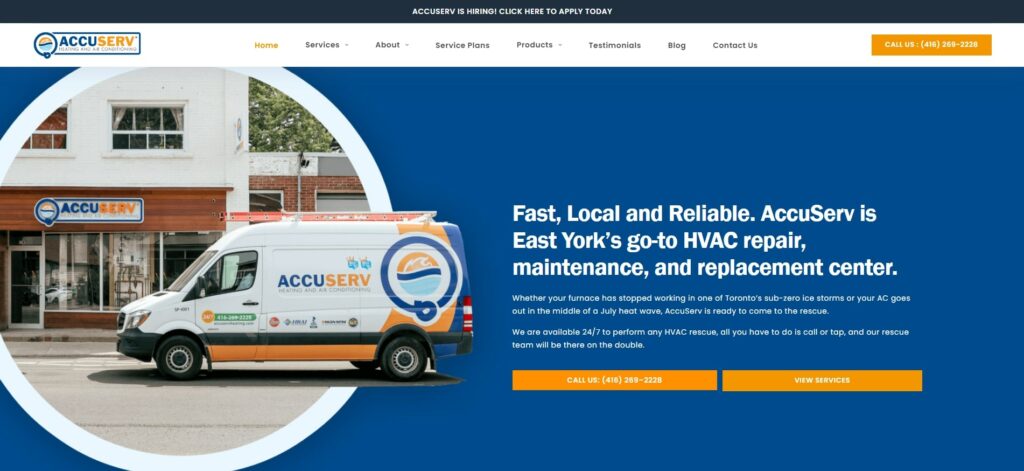 | Test | Info |
| --- | --- |
| WEBSITE | https://accuservheating.com/ |
| ADDRESS | 1167 Woodbine Ave, Suite 2 |
| CONTACT INFORMATION | Phone: (416) 269-2228 |
| OPERATING HOURS | Mon-Sun: 8:00am – 10:00pm |
Want to skip the fancy exhibits and get straight to the repair stuff? Look no further than AccuServ, which primarily focuses on HVAC services.
AccuServ's story began in 1989, when Richard and Rosalie Memjie started a home appliance service in East York. Eventually, their son James took the HVAC part of their business and spun it off into a full-fledged company. The result: a trusted brand that deals with furnaces, boilers, air-conditioning units, and—you guessed it—fireplaces.
Any day of the week, and any hour of the day, you can ring up AccuServ for your fireplace repair and maintenance needs. Plus, if you're willing to dole out some extra bucks for their maintenance plan, AccuServ will conduct an annual 21-point inspection of your fireplace. This includes testing the ignition and exhaust systems, replacing the embers, tightening the electrical wiring, and cleaning the exterior.
Now that's fire.
24/7 service
Over 30 years of industry experience
Multiple awards and accreditations
Reports of overcharging for certain services
Efficient services
"Much thanks to Daniel for his efficient services. It is clear that he is a well-organized and a passionate worker. Highly recommend his professional efforts as he is capable of performing his tasks on time, while also ensuring safety protocols. A well-trained, honest man with great communication skills."
Vicken Maksoudlian, Google Reviews
Experts in their field
"It is so hard to find reliable contractors that respect your property, are professional, do what they say they are going to do, are experts in their field, are detailed and helpful in understanding and explaining in layman's terms what is being done, show up ON TIME. AccuServ is all the above. My wife and I have never had a contractor in our home that even comes close to Eric. And we have had 100' s of them over the last 25 years. Eric who survived our furnace, air conditioner, balanced our ducts, repaired and cleaned fireplaces is top notch.
You can trust AccuServ to do the job right, at a fair price."
Jeff McMaster, HomeStars review
4. Mr. Heat Mechanical, Inc.
Test
Info
WEBSITE
https://www.mrheatmechanical.com/
ADDRESS
16-16 Sims Crescent, Richmond Hill, ON L4B 2P1
CONTACT INFORMATION
Phone: (905) 707-1299
OPERATING HOURS
Mon-Fri: 9:00am – 5:00pm

Sat: 9:00am – 12:00pm
The folks at Mr. Heat Mechanical have been lending their HVAC expertise since 1998, and their great work in the industry hasn't gone unnoticed. From 2017 to 2023, Mr. Heat has been feted with HomeStars' Best of Award—a testament to its widespread customer satisfaction.
Mr. Heat excels in both the residential and commercial sectors, offering diagnosis, comprehensive safety reports (which, by the way, come for free), and pre-emptive solutions for common fireplace issues.
Oh, and don't sweat it with your payments: Mr. Heat Mechanical is an approved partner of Financeit, allowing you to benefit from easy payment plans.
HVAC specialization
Reports of speedy installation and repairs
Multiple payment plans to choose from
Offers liability insurance
Reports of poor customer service
Saved us a huge repair bill
"Our gas fireplace wouldn't work and we'd had another quote for over $1000 to fix it. Mr. Heat was great, he took the time to contact the manufacturer and found it was just a back up battery in the control unit saving us a huge repair bill that wouldn't have even fixed the problem."
Miranda in Woodbridge, HomeStars review
Efficient, knowledgeable, and reasonably priced
"Mr. Heat was great. This is the third time I have used their services for my gas fireplace and will continue to do so for all my future HVAC needs. They were efficient, knowledgeable, and reasonably priced."
Linda Hart, Google Reviews
5. Classic Fireplace and BBQ Store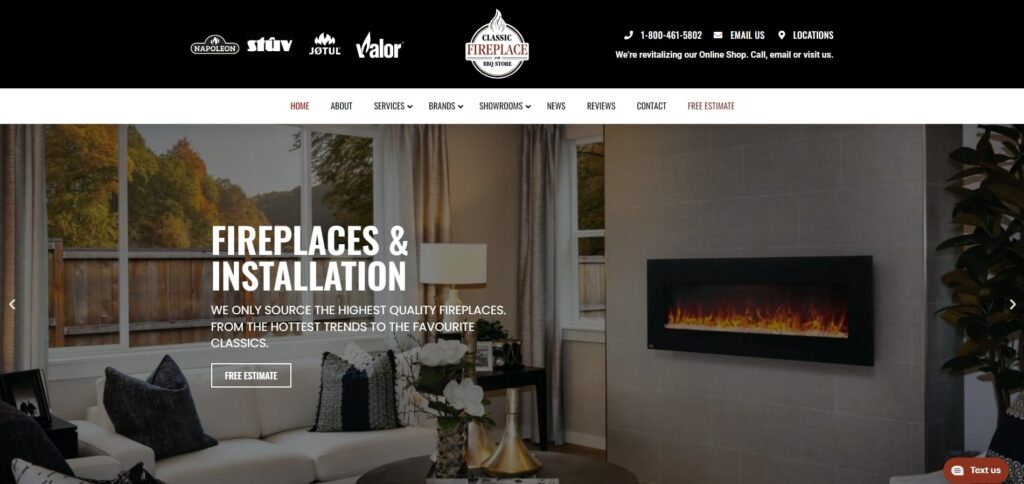 Test
Info
WEBSITE
https://www.classicfireplace.ca/
ADDRESS
1828 Queen St E
CONTACT INFORMATION
Phone: (416) 698-3473
OPERATING HOURS
Tues-Sat: 10:00am – 5:00pm

Sun-Mon: 9:00am – 5:00pm
Fireplaces and BBQs have a shared history, which perhaps explains why this establishment proudly provides both services across the greater Toronto area. For the better part of four decades, Classic Fireplace and BBQ Store has kept high-quality flames burning—whether in outdoor settings or indoor environments.
The team consists of certified gas fitters, who are just as good at preventing fire hazards as they are at maximizing your fireplace's capabilities. Any day of the week, you can lean on Classic Fireplace to work on repairs—for a flat-rate, mind you. Don't worry about brand familiarity, either: the Classic Fireplace staff is well-versed in just about every type of fireplace out there.
And, in case you decide to get a complete overhaul, you can feast your eyes on the trendiest models by visiting Classic Fireplace's awe-inspiring showrooms in Scarborough, Whitby, Ajax, and (of course) Toronto.
Accessible through multiple channels
Staff who are properly certified
Flat-rate fees
Over 30 years of industry experience
Reports of issues with equipment purchases
Met our needs in every way
"We could not be more pleased with the final result. Due to size issues it could have been a major job but the service from Terry was excellent and he met our needs in every way. We would highly recommend him and this company for gas fireplace replacement or new installation."
John Nicholls in Ajax, HomeStars review
Honest and reliable business
"Professionals in fireplace repair. Efficient, great service and very affordable. They charged me half the price another company (Rodman's Heating) quoted me. Honest and reliable business. They are now my go to experts for service on my fireplace. Thanks Classic for awesome service!!!!"
Trish, Google Reviews