A Business Owner's Guide to Hiring Cleaning Services
They say cleanliness is next to godliness - we say it's an investment. And for savvy business owners like you, the returns can be ten times the money you put in.
In this guide, we'll walk you through the nitty-gritty of hiring cleaning services. Read on so you can get the best cleaning service, make the most of it, and so on!
Different Types of Cleaning Services for Your Business
Before you go up and about hiring cleaning services, you must know what you need cleaned or addressed first. It's essential to assess your business to target areas that need consistent, high-quality cleaning.
Each section of the following guide highlights specific cleaning service suggestions for particular hygiene concerns that businesses face. Look through each below to form a cleaning plan for for your business:
Generalized Cleaning and COVID-19 Disinfection
Let's face it – ever since COVID, it hasn't been business as usual. According to the Government of Ontario, employers must have a plan to mitigate the risks of spreading the virus in the workplace.
As an employer, you're responsible for observing the following regulations, at least as far as our topic today goes:
1. Occupational Health and Safety Act
To ensure the health and safety of everyone in the workplace, it's best to start with basic cleaning services first. This ensures that your offices and establishments are free of dust and other forms of waste.
If your place is free of dirt but you still need an extra measure of safety, it's best to contact disinfection services in Toronto to eliminate the threat of spreading the virus. Various service providers use different techniques so make sure that you choose the one that matches your goals.
Finally, it's also your responsibility to rid of waste collected from your business and office. It's advisable to subscribe to garbage disposal services for this matter so you'll have regular garbage pickups at lower costs.
2. Employment Standards Act
At the time of COVID, you must also uphold minimum employment rights including job-protected leaves for your cleaning personnel (if you're not outsourcing this). If the law isn't a field you often tread, you have many options to look for help.
First, an employment lawyer can help you make sound employment decisions. Plus, they can help you review employment-related agreements routinely as well as policies and handbooks in the workplace.
While corporate lawyers are mostly involved in the business from inception, they may also research aspects of employment law. You can also seek advice from a corporate lawyer on your responsibilities and rights as an employer.
Specific or Isolated Spot Cleaning
See, your business isn't just one big open space, right? Knowing this, it's vital that you hire cleaning services that specialize in cleaning certain parts of an establishment at times.
Let's take a look at the parts of your business that may need specialized or deep cleaning:
Windows – First impressions last and a dirty window can make your business look shabby. Most window cleaning services serve commercial clients too so they'll know how to keep them in tip-top shape.
Carpet – As with windows, grimy carpets paint your business in a bad light. Carpet cleaning is just as important as a rebrand – you don't want to leave bad stains behind.
Drain – So often overlooked yet very important. Cleaning drains is just one simple step to avoid the costly problem of foul-smelling clogs.
Post-disaster and Other Types of Cleaning
Routine cleaning is essential to maintain your property in the long run. On top of that, you must also consider hiring post-disaster cleaning services in the event of natural emergencies like storms and the like.
Create a preparation plan with the short guide below:
1. Cleaning services for flood and other water damage
A serious flood can be destructive and deadly. Oftentimes, it leaves businesses and homes in terrible conditions where there is barely anything to salvage.
This is why it's necessary to have a water damage service on speed dial to deal with the flooding. Most providers have a specific emergency hotline, so make sure you have one on speed dial.
It's recommended to waterproof your place too to avoid serious flood problems in the future. Waterproofing can be done on the exterior and interior, depending on your budget for your business.
2. Snow removal during the winter
Winter is fun but it can be dreadful for your business, especially if it's designed to accommodate people. When thick snow comes, it's best to have a snow removal service on call to shovel the snow fast.
By the way, most providers of this service operate on subscription. If you have to be open during winter, it's highly recommended to use this kind of service so you'll have regular snow clearing throughout winter.
3. Eliminating unwanted pests and build-ups
Removing mold isn't just a choice – it's an absolute necessity. Whether you're in the food industry or in retail, mold removal is a must once you see the build-up in your place.
Even worse than mold is asbestos because it can be life-threatening when not addressed quickly. Get a professional to eliminate asbestos for you in case you start seeing this issue.
Finally, connecting with a pest control company is a must at all costs. If your business is infected, cleanliness is on the line and safety is at stake – so choose a provider wisely.
How to Hire Cleaning Services in Toronto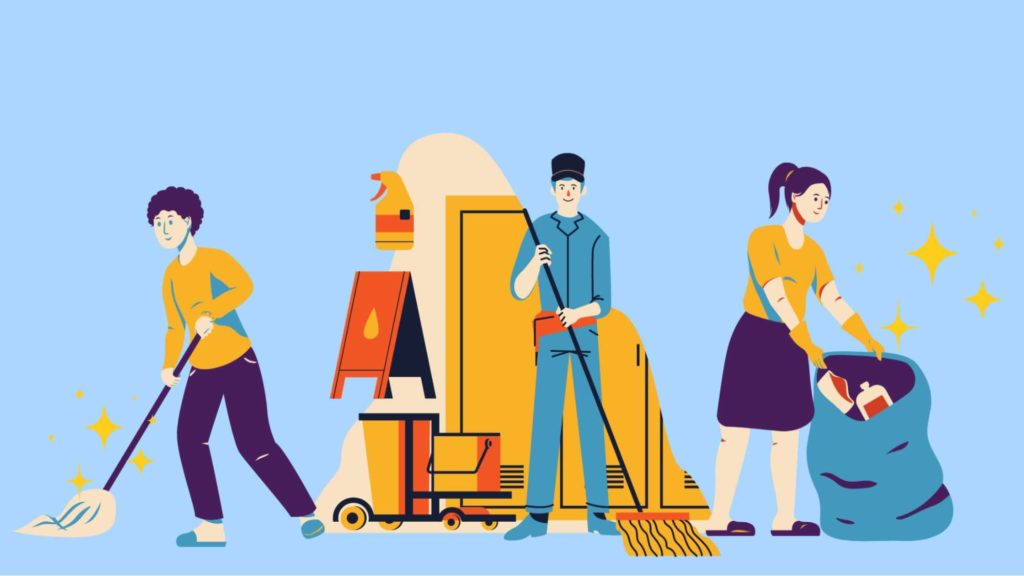 There are many ways to hire cleaning services in Toronto, each of course with its own set of pros and cons. Let's run through your major options to find the right cleaning professionals:
Direct Hiring
The first option is to hire your own team dedicated to (usually) routine cleaning. In this case, you'll have to tap into your human resources department so they can launch techniques to find applicants.
Direct placement ensures that you have full-time employees on board included in your organization's payroll. Plus, new hires get immediately placed in the position, which is great for saving time and money.
Avoids annuity costs
Access to a broader group of candidates
Full integration into the company culture 
Higher retention rate 
Gives stability to both new hires and employer
More freedom on the use of resources
Time-consuming recruitment process
No "trial period" to test candidates
The employer assumes responsibility for insurance, benefits, etc.
Recruitment Agencies
A recruitment agency is an external firm that basically does the recruitment process for you. Ideally, this is best for cost-effective recruiting that demands less time from the employer.
The hiring process largely varies depending on the recruitment agency and the range of solutions they offer. In general, they gather a large pool of candidates to meet the target set by HR within an employer.
Faster hiring process
Ability to choose among a range of hiring solutions
Gain specialist knowledge on the current job market
Option for temporary recruitment
Reduces business liability
Save on payroll costs
Higher costs 
No employer branding
Potential issues with team bonding
Little control over the hiring process
Outsourcing Cleaning Services
In this case, a third party performs the cleaning services for you, so creating a new team within your organization won't be necessary. And for most, this is the easiest and most convenient option as you're not tied down by any big obligations.
There's a long list of cleaning services in Toronto for residential and commercial spaces. These companies often charge per square foot or per month depending on their structure.
Minimizes labor and operational costs
Reduce the use of internal resources in your business
Fast access to resources that you can't immediately have
Delegation of tasks and functions that you don't necessarily want to do.
Minimize risks for your business
Eliminates the need to add more capital funds
Reduced control
Risks in security
Lower quality control
Difficult to match schedule and availability
Factors to Consider When Selecting a Hiring Method
Not every hiring model is suitable for all types of businesses. As a general rule, you must consider the following factors first before you decide which path to take:
Time, money, and other resources you're willing to invest – Speak with your team and see which is the best course of action for the organization. Perform in-depth assessments as well as in-house research to calculate the ROIs of each process.
Frequency of cleaning routines necessary – Some businesses like those involved in food-making require more rigid cleaning schedules. Find out how often you'll need to clean to see if you need an in-house team or if periodic cleaning will do.
Quality of experience and range of skills you need – See if you'll fare better in the hiring process if you have more control of the applicants you assess. The less control you have, the less quality assurance is in place.
As a business owner, hiring cleaning services is a great investment for you and your employees. Make every penny count by following our guide every step of the way.