The 6 Companies with the Best Drain Cleaning in Toronto
Do you have a clogged toilet or shower drainage? If so, consider yourself lucky because we're sharing our picks for plumbing companies with the best drain cleaning in Toronto.
We combed through the entire Greater Toronto Area in search of plumbers that can deal with all sorts of drainage problems. Before we get to our list though, we'll go over how much plumbers charge for cleaning drainage.
For those who have questions about drain cleaning, make sure to read until the end of the list because we answered the most asked questions about drains.
How Much Does Drain Cleaning Cost in Toronto?
The true cost of hiring plumbers to clean your drainage depends on multiple factors, including location of the clog, accessibility of the drain, severity of the clog, whether video camera inspection is needed, and of course, the experience of the plumber.
On average, though, a homeowner in Toronto spends around $99 to $569, with most paying around $199. We suggest taking this average with a grain of salt because a minor change can easily hike up the price.
For example, there are two types of drain lines: a mainline and secondary drain line. It's generally more expensive to clean the mainline than the secondary line.
The price to unclog a mainline usually ranges from $99 to $469, while clearing a secondary drain line only costs around $99 to $300. The former is more expensive to clean because it's harder to reach and may damage multiple fixtures.
The rates also tend to go higher the more difficult it is to reach the cleanout spot. A hard-to-reach drainage makes the job more difficult, which means more time and labour is needed, so it's understandable that plumbers would increase their prices.
In line with that, most inaccessible cleanout spots need a video camera inspection. This will increase the cost of cleaning your drain by a whopping $100 to $400.
The Companies with the Best Drain Cleaning in Toronto
Now that you know the cost of unclogging your drainage, let's take a look at which plumbing companies have the best drain cleaning in Toronto.
1. Crystal Drain & Plumbing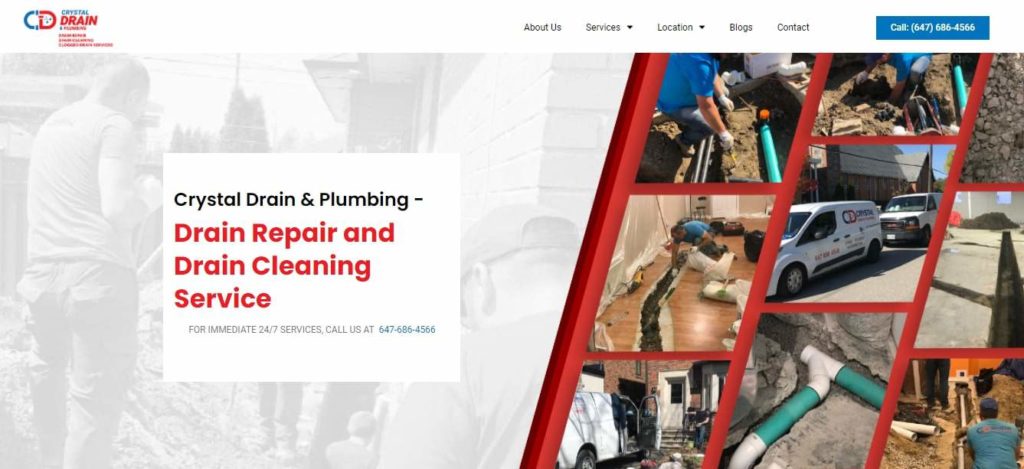 SERVICES
Main drain cleaning and repair, backwater valve cleaning, power flushing, commercial plumbing, waterproofing, emergency plumbing, sewer repair, sewer tree root removal, and sewer hydro jetting
WEBSITE
https://crystaldrain.ca/
ADDRESS
1291 Bayview Ave, East York, ON M4G 2Z9, Canada
CONTACT DETAILS
647-953-9703


[email protected]

OPERATING HOURS
Open 24 hours
Crystal Drain & Plumbing operates round-the-clock, servicing most areas in the GTA, including Toronto, Etobicoke, Mississauga, Ajax, Burlington, North York, Scarborough, and Richmond Hill, among others.
It has a certified staff that can repair all types of plumbing issues, including clogged drains and pipes, busted sinks and toilets, broken shower heads, and more. Basically, there's no system that its plumbers can't repair.
The thing we like most about Crystal Drain & Plumbing is that it operates and accepts customers 24 hours a day. Those who need emergency services can phone its hotline even during the wee hours of the night.
Aside from typical residential plumbing solutions, Crystal Drain & Plumbing offers a long list of commercial plumbing services that includes cleaning corporate utility rooms. You know a plumbing company is the real deal when it accepts complicated jobs like this one.
The only qualm we have with them is the unclear warranty policy. We can't say for sure which plumbing services are covered and how long the coverage lasts.
Operates 24 hours a day
Open from Monday to Sunday
Accepts residential and commercial tasks
Unclear warranty policies
Customer Reviews
Crystal Drain & Plumbing boasts a 5 out of 5 rating on Google Reviews. Here are some comments posted:
"In the middle of selling my house and had a plumbing issue with my toilet. Call these guys and they were able to work around my schedule and showed up the same day within hours. The tech Raymond Wong was very pleasant and friendly and very knowledgeable. Would definitely recommend these guys and Raymond." -Mike Lee
"Raymond Wong came to unclog my kitchen sink yesterday. He is friendly, professional and punctual. He fixed everything and also educated me how to prevent this problem in the future. He is very helpful and efficient. I sure appreciate his sharing of his expert knowledge in plumbing. I highly recommend him to my friends and everyone. He even said that I could call him if I had more question later" -Ruby Cheng
2. DrainStars Plumbing & Drain Cleaning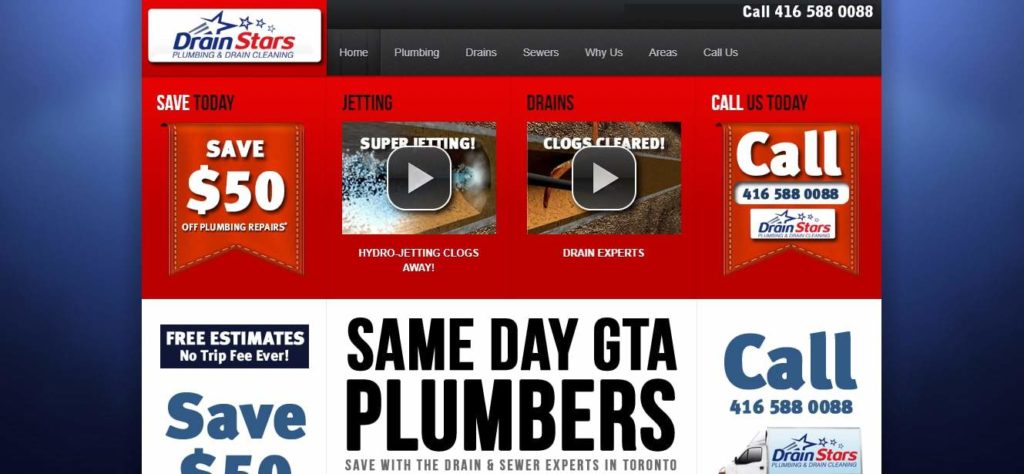 | | |
| --- | --- |
| SERVICES | Drain cleaning, drain repair, sewer cleaning, backwater valves repair, sewer jetting, water heater repair, video camera inspection, trenchless sewer repair, and pipe repairs |
| WEBSITE | http://drainstars.ca/ |
| ADDRESS | 21 Primrose Ave, Toronto, ON M6H 3V1, Canada |
| CONTACT DETAILS | 416-588-0088 |
| OPERATING HOURS | Monday to Saturday: 7:00 AM – 7:00 PM |
We have yet to encounter plumbers who are as punctual as the folks over at DrainStars Plumbing & Drain Cleaning. Hiring them as your plumbing company comes with the guarantee that the task will start and end on time.
In relation to its punctuality, DrainStars quickly responds to all customer queries and concerns. Gone are the days of having to wait for a week for your basic question about clogged drainage to be answered.
Its plumbers can deal with most stubborn blockages in all types of drainage systems, including toilets, showers, sinks, and floors. Apart from removing the clogs, it can do preventative measures to stop the same problem from recurring.
DrainStars is also upfront when it comes to pricing. What appears on the initial quotation will be largely similar to your final bill, so no worries about last-minute and hidden charges.
Lastly, all of its plumbing services are covered by service warranties to protect the interests of its customers. If you're not satisfied with the results, the plumbers will do everything again for free, but in all honesty, that rarely happens.
With these in mind, there's no doubt DrainStars earned a spot in our list. It's efficient, affordable, and above all, knows how to protect its customers.
Fast response
Punctual plumbing team
Transparent pricing
Covered by service warranties
Licensed and insurance plumbers
Busy hotline
Closed on Sunday
Customer Reviews
Want to know what customers think about DrainStars? Check out these comments then:
"Mark did a great job with installing a laundry box and running the hot/cold water hook ups. Everything worked as it should and he was informative. I also asked him last minute to install a new valve for my water hose outside and he did it with no questions asked. Great guy and great work, I would definitely recommend these guys and I would do work with them in the future. Thanks again!" -Justin Simpson
"I had an old cast iron drain pipe crack, which had been leaking for sometime behind my wall. Once I removed some parts of the drywall and found the leak, I gave drain stars a call. I called at about 8:30 on a Monday morning, by 11:00 I had 2 members of they're team working straight away on the issue. Before I knew it, I had a new updated drain pipe, everything cleaned nicely and a very affordable bill. Definitely saving they're number for any future work around the house. Highly recommend it." -Cody Clark Williams
3. Mr. Rooter Plumbing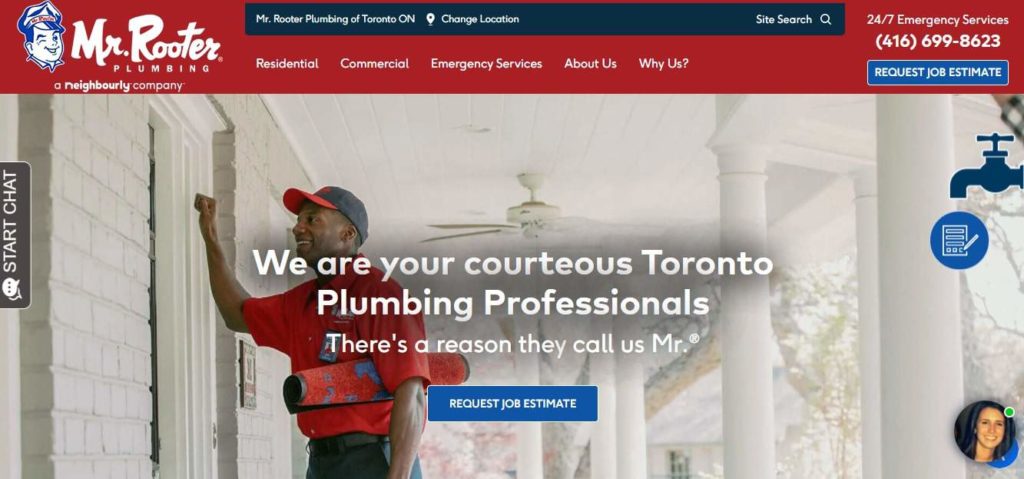 | | |
| --- | --- |
| SERVICES | Drain cleaning, trenchless sewer line repair, frozen pipes, sump pipes, water line repair, water heater repair and replacement, septic tank service, sewer system backups, plumbing repairs, preventative maintenance, and water softeners and filters |
| WEBSITE | https://www.mrrooter.ca/toronto/ |
| ADDRESS | Toronto, Canada |
| CONTACT DETAILS | 416-699-8623 |
| OPERATING HOURS | Open 24 hours |
When it comes to emergency plumbing solutions, there's no better option we could recommend than Mr. Rooters. It's been around since the 1970's, so almost every household in the country is familiar with the quality of its services.
Mr. Rooters is open 24 hours a day, seven days a week, making it the perfect plumbing company to call whenever one encounters a plumbing emergency. You can hire its services from morning until midnight.
It's also transparent in terms of pricing, so customers won't have to worry about additional costs, even if the drain problem is more complicated than expected.
And as one of the largest plumbing companies in the country, it has a massive team of experienced pros who can handle even the most complex of plumbing issues. If other plumbers will back out at the sight of a hard-to-reach drain, its plumbers won't.
Its schedule is constantly packed, though, as it deals with a huge number of customers every day. That's pretty much the only issue with this option.
More than 50 years of experience
Upfront pricing
Open 24 hours
No overtime charges
Busy hotlines
Sometimes hard to get the schedule you want
Customer Reviews
Here are a few comments shared on Google Reviews:
"I called to get help with a leak under our kitchen sink. I was extremely impressed with the experience from start to finish. Waqas Ahmad was very thorough. He quickly diagnosed the issue and explained all the options. I was able to get the sink replaced with a new faucet and have the previous errors corrected underneath. From when he first arrived to completion was only about 4hrs. Waqas was also super polite as well as professional. I would strongly recommend Mr. Rooter after this experience." -Brad Marshman
"Samuel at Mr. Rooter was very personable and ably replaced our burst pipe. He provided the information we needed to make informed choices. Everyone we dealt with at Mr. Rooter was very professional. I would definitely recommend it!" -Cheryl Mcnamara
4. Priority Plumbing & Drains
| | |
| --- | --- |
| SERVICES | Drain cleaning, emergency plumbing, plumbing fixtures, drain repair, drain replacement, camera inspection, bio cleaning, hydro jetting, water proofing, sewer repair and replacement, and backwater valve installation |
| WEBSITE | https://priorityplumbing.ca/ |
| ADDRESS | 1594 Dupont St, Toronto, ON M6P 3S7, Canada |
| CONTACT DETAILS | 647-699-4912 |
| OPERATING HOURS | Open 24 hours |
If you want a plumbing company with an excellent track record, then consider taking a look at Priority Plumbing & Drain. It was one of the few companies recognised by Home Stars, so it's definitely worth your attention.
Those who are in a rush should definitely call Priority Plumbing because it's open for same-day services, regardless of how packed its schedule is. Why wait for a couple days when you can have your drain cleaned right now?
If other plumbers need a couple days to finish a job, Priority Plumbing can also wrap it up in a single visit. It's equipped with a large inventory of plumbing tools and equipment, allowing its plumbers to repair everything within the day.
Whether its tree roots or debris that caused the clog, Priority Plumbing will take care of it. We're even more impressed that grease, fats, and oil that have solidified can also be handled by its plumbers.
Another thing we like about it is the warranty policy. If a customer isn't satisfied with the results, he can ask the plumbers to redo the work or he won't have to pay anything.
Apart from common plumbing issues, Priority Plumbing can take care of your heater and sewer problems as well. It's truly a well-rounded company that deserves a spot on our list.
Generous warranty policies
Operates from Monday to Sunday
Competitive pricing
Reliable customer service
Additional charges for emergency services
Customer Reviews
William Finn shared this feedback on Google Reviews:
"We had such a wonderful experience with Priority. Brian came out and gave us a second opinion on clogged drains and completely remedied our problem. We will definitely be using this company from now on! Highly recommend it."
Another customer named Caitlyn Devon posted this:
"I had water leaking from the floor and called Priority to investigate. Joel and his partner came to the conclusion it was an issue with my building or coming from another unit, but they gave really insightful tips and investigated my whole apartment for possible causes. They also gave valuable insight about how to handle the issue with property management. I will definitely be using their services again when needed!"
5. Advanced Plumbing Drains & Heating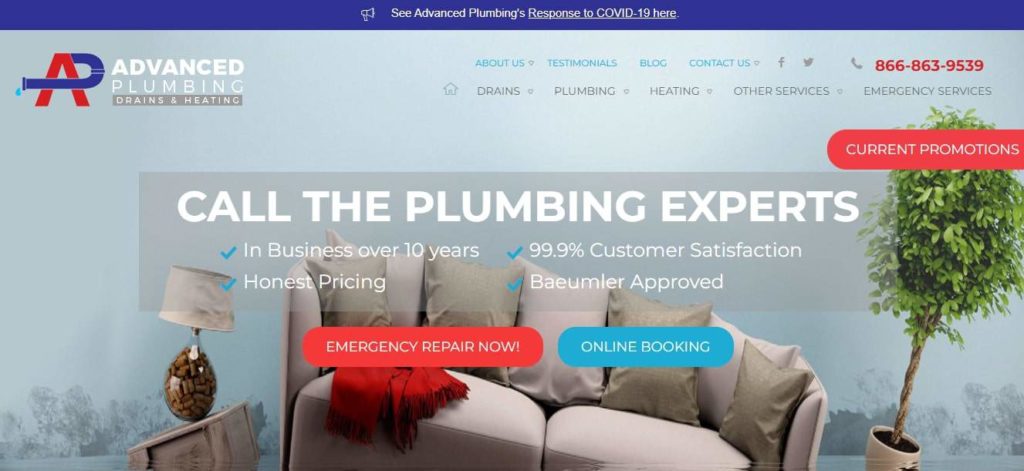 | | |
| --- | --- |
| SERVICES | Drain cleaning, drain repair, camera inspection, backwater valve installation, hydro jetting, building trap removal, bio drain cleaning, toilet cleaning and repair, bathtub plumbing, waterproofing, and plumbing renovations |
| WEBSITE | https://www.advancedplumbing.ca/ |
| ADDRESS | 113 Annette St Unit #3, Toronto, ON M6P 1N8, Canada |
| CONTACT DETAILS | 416-769-8800 |
| OPERATING HOURS | Monday to Sunday: 8:00 AM – 7:00 PM |
Another high-rated plumbing company in the area is Advanced Plumbing Drains & Heating. It landed a spot on our list based on three main reasons.
First, all of its plumbers and drain technicians are trained and qualified to tackle any form of plumbing a customer may need, from basic tasks like unclogging a sink down to complex ones like repairing boilers.
Second, its plumbing team has been constantly praised for being friendly, courteous, and respectful to the personal space of every customer. After the task is done, you can expect that its plumbers will clean and look after themselves.
Finally, Advanced Plumbing moves as fast as any plumbing company can get. All customers qualify for same-day services, depending on their schedule, so no need to wait for days before getting your drains and pumps repaired and cleaned.
If you're on a tight budget, then Advanced Plumbing is even more perfect for you because of its low and budget-friendly rates. You can be sure that there will be no hidden fees or miscellaneous charges as well.
Honest and fair pricing
Same-day services
Trained and courteous plumbers
Easy booking of appointment
Customer Reviews
Take a look at these comments shared by satisfied customers:
"Advanced Plumbing was our choice after shopping around for expertise and pricing. Our backwater valve was installed in our basement and it turned out to be a much more challenging job than expected. The technicians worked non-stop and made the best of what could have been a nightmare situation. We are so happy to have found our trusted plumber for all future jobs and could not recommend them more. Beyond their expertise and professionalism – they were so fair, responsive and respectful." -Britney Pascoe
"Ian, the gentleman that came to investigate our issue ,and Advanced Plumbing in general, were extremely professional. They went above and beyond to diagnose a complicated issue which stemmed from the roof entirely and as such I was able to properly address the issue. It is hard to find a trustworthy plumbing service; I believe I have found one in Ian and Advanced Plumbing. I recommend!" -Erik S.
6. CJ Drain and Plumbing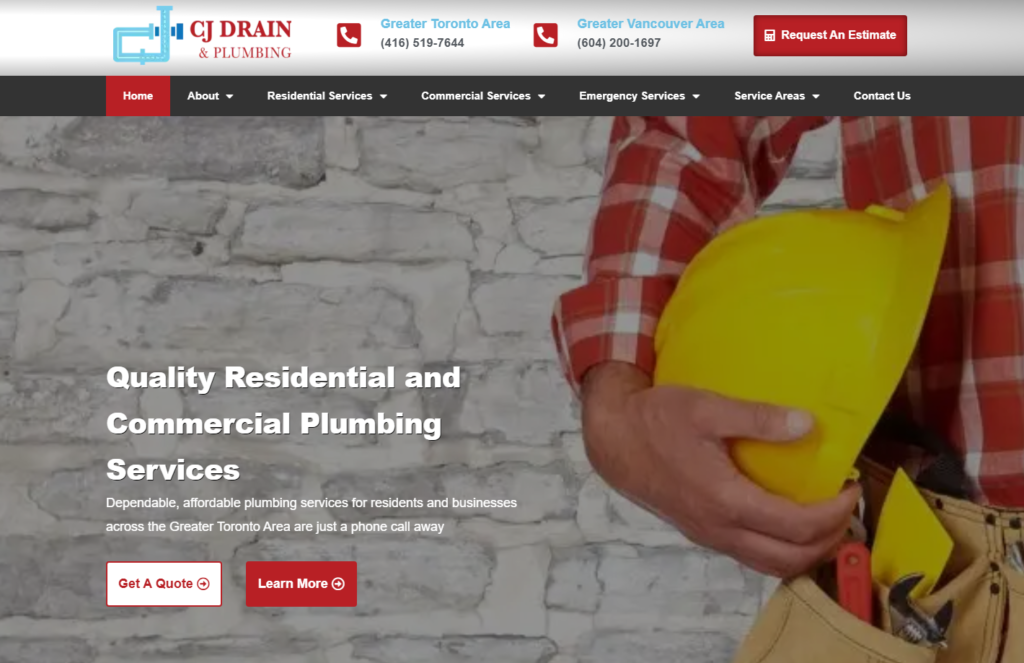 SERVICES
Residential, Commercial, and Emergency Plumbing services
WEBSITE
https://cjdrain.com/residential-plumbing-services/
ADDRESS
3271 Bloor St W, Etobicoke, ON M8X 1E2
CONTACT DETAILS
(416) 519-7644 (Greater Toronto Area)
(604) 200-1697 (Greater Vancouver Area)
OPERATING HOURS
24/7
Next on our list is another highly regarded plumbing company: CJ Drain and Plumbing.
CJ Drain and Plumbing is a family-owned company that has been serving the GTA and nearby areas for a number of years now. From the time it first opened up until now, the company has remained constant in providing quality plumbing work for residential and commercial clients.
The company's plumbing services include new builds, water heaters, clogged drains, and old pipe replacements. Aside from that, they also offer emergency services for jobs that require a bit more haste and precision.
Another thing worth noting about CJ Drain and Plumbing is its team, which consists of licensed, insured, experienced, and bonded plumbers who are dedicated to maintaining the perfect condition of customers' plumbing systems. Not only are these individuals experts at their jobs, but they are also prompt, courteous, and professional.
All in all, CJ Drain and Plumbing's expertise in plumbing, as well as flexibility and readiness in taking on various kinds of plumbing jobs, makes the company an excellent choice both for regular and rushed plumbing work.
Trained plumbing experts

Same-day services

Caters to residential and commercial properties
Prompt and professional replies
No information regarding rates
Customer Reviews
Take a look at these comments shared by satisfied customers:
"CJ Drain & Plumbing Inc. is #1 the best. They are friendly, organized, knowledgeable and very efficient. They were quick to come to my rescue. Thank you again for helping with my emergency!"
"Very fast, courteous, and professional. Showed up within the hour and fixed the problem. Told them about my budget, and they were $100 less than competitors. Thank you so very much!!!"
FAQs about Drain Cleaning
---
That's it for our list of plumbing companies with the best drain cleaning in Toronto. We're hoping that your drainage problems will be resolved by getting in touch with any of these plumbing companies.
For more options, we recommend checking out our list of the best plumbers in Toronto. These plumbers don't just unclog drains but deal with a whole range of plumbing issues as well.