A Guide to the Best Corporate Lawyers in Toronto
Without the right legal aid, incorporating your business can turn into a vicious cycle of complications. Luckily for you, you've found the right place to start addressing that shortcoming.
In today's list, you'll find corporate lawyers with a strong track record and experience. We also took note of how easy it is to communicate with them across various channels.
The Cost of Hiring a Corporate Lawyer in Toronto
Compared to other professionals, the cost of hiring a corporate lawyer (or any type of lawyer, actually) is high. The costs usually depend on the lawyer's experience, and of course, the nature of the case or work involved.
In Toronto, the average hourly rate for a corporate lawyer starts from $300 to $700. However, most law firms offer a pricing scheme based on the service itself.
For example, an incorporation service can start from $289.99 plus government fees. But, if you're the sole shareholder for a Canadian federal company that you want to incorporate, the costs can balloon up to $600.
If the incorporation involves a 50-50 co-founder agreement, you can expect to spend around $2,500. Note that services like these often include writing by-laws and shareholder agreements – that's why it's expensive.
For professional corporations, the inclusive fee is usually around $1,750. There's an additional $250 for the application for Certificate of Authorization.
Business name registration runs from $190 to $300 depending on the firm. All these figures are also subject to HST so keep note of that.
Top Corporate Lawyers in Toronto
As you've read in our pricing guide, hiring a corporate lawyer isn't cheap. Knowing this, it's only right to make a wise decision of choosing the best one for you.
1. Kafka Law – Business & Tax Lawyers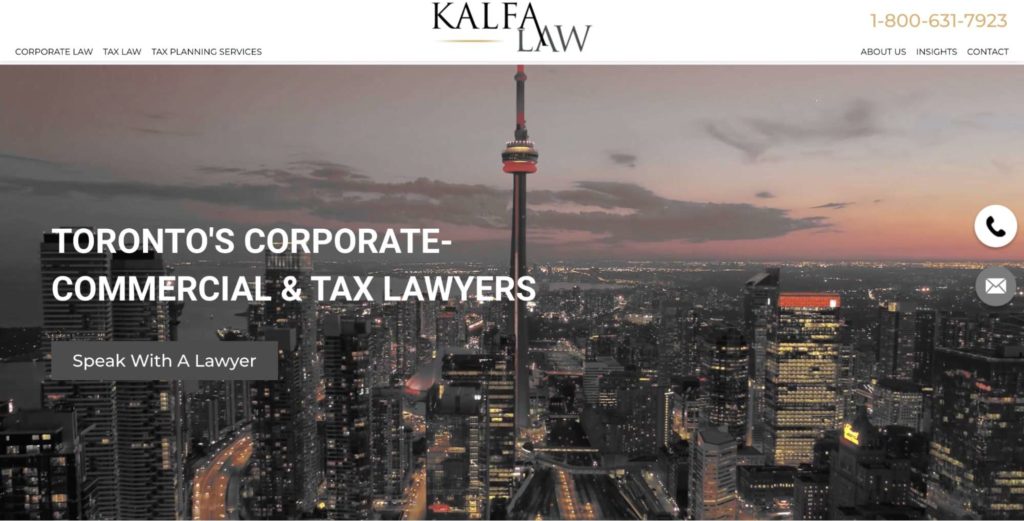 SERVICES
Corporate law, tax law, tax planning services
WEBSITE
https://kalfalaw.com/
ADDRESS
2 Sheppard Ave E, North York, ON M2N 7E7, Canada
CONTACT DETAILS
(416) 631-7227
Email:

[email protected]

OPERATING HOURS
Monday – Friday: 8:30 AM – 6:30 PM
If you need sound legal advice for your upcoming or existing business, the team at Kafka law can help you out. It offers a wide range of services from help starting a business to incorporation and managing shareholder disputes.
Start-up businesses in particular can benefit from its detailed services – think of ones like establishing a corporate structure and minute book. They can also assist you with management compensation plans so that's one less task for you to think about.
For existing businesses, they provide the standard services for contracts and agreements. Apart from this, they also aid clients in commercial financing, leasing trademarks, and corporate restructuring.
If you wish to speak to one of their lawyers, you can book a free consultation. During this, a lawyer will help you run through your options so we do suggest this if you're at all interested in them.
What we like best about this law firm is that they offer their services with fair pricing. Not only are the fees low, considering the work involved and the city average, but clients report that they're also very transparent with each fee.
They also have a perfect 5-star rating on Google Reviews. We only wish they accepted services on weekends too, but all in all, they're exceptionally good for our book.
Wide range of corporate law services
Great for start-ups or existing businesses
Fair and honest charges
Free consultation
No appointments on weekends
Customer Reviews
Here's what past customers have said about this firm:
Great personalized service from Shira and her team at Kalfa Law. Shira took care of everything our company needed for the process of incorporation and helped us revise our company's business structure. She and her staff were constantly available and very thorough. I highly recommend them. – Timothy Manor
I had a very pleasant experience dealing with the lawyers at Kalfa Law, who assisted in incorporating my business. My main point of contact was Shira, who was very responsive and knowledgeable. They completed my file efficiently and effectively with no surprises, hidden or additional fees. I look forward to engaging with Kalfa Law for all my business needs in the future. Thanks again! – David Lugassy
2. Ordower Law Professional Corporation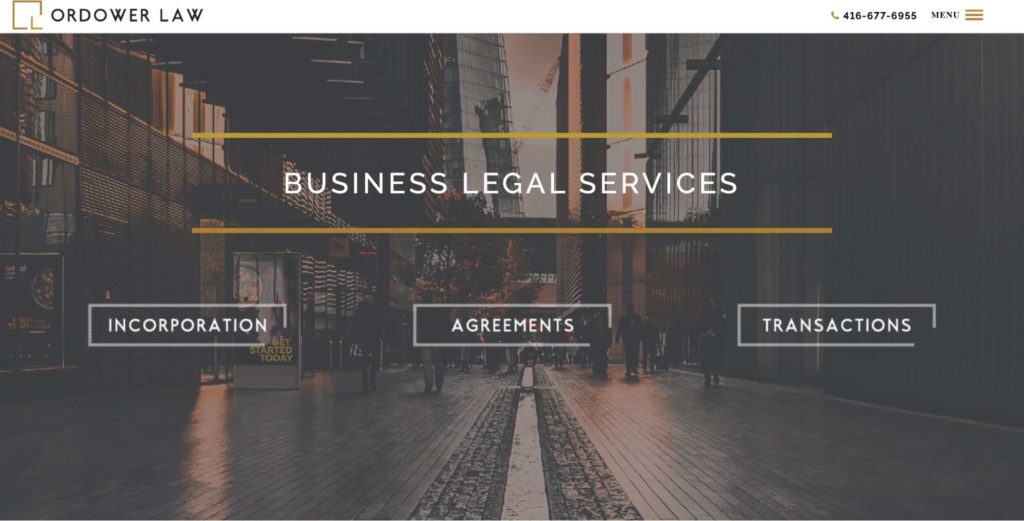 SERVICES
Incorporation, agreements, transactions
WEBSITE
https://www.ordowerlaw.com/
ADDRESS
2 St. Clair Avenue West, 18th Floor, Toronto, Ontario M4V 1L5
CONTACT DETAILS
416-677-6955


[email protected]

OPERATING HOURS
Monday – Friday: 8:30 AM – 6:30 PM
If you're looking for fast and easy incorporation with all-inclusive packages, this law firm is right for you. Here are some things that make them stand out as a corporate law firm in Toronto:
First, they can perform their services online via email or phone. So, you don't need to go back and forth to discuss your case (of course, you can still visit their office if you prefer that).
Second, it only takes them two hours to process an Ontario incorporation. For federal companies, the processing time takes around 24 hours, which is a fantastic turnaround time.
Third, they're upfront with the costs and even offer all-inclusive packages. Their federal incorporation service costs $599 and their Ontario incorporation service costs $699, with both falling within the average in Toronto.
They also manage agreements such as loan documentation, employment contracts, shareholders agreements, and share purchase agreements. Most of the typical corporate law services are available, essentially.
Finally, they also offer a free 30-minute consultation with a lawyer, which is decent – though not great. Others offer a free consultation for one hour, but this isn't too bad in our opinion.
Fast turnaround time for incorporation services
Offers online processing of services via email or phone
Competitive all-inclusive packages
Free 30-minute consultation
No appointments on weekends
Free consultation period could be longer
Customer Reviews
Take a look at what past clients have said about this law firm:
Jana from Ordower Law helped me with my incorporation and she was very helpful and efficient. Expectations and next steps were clearly explained and the turnaround was as quick as promised. Matthew reached out personally to thank me for my business. I would def recommend Ordower to anyone looking for professional service for their Incorporation! – Melora Lue
The Ordower law team was fabulous it was a pleasure to deal with them. They are very knowledgeable and professional. It was so easy to Incorporate. The end product was high quality. What a value for the money I strongly recommend the Ordower law team. – Sam Dotro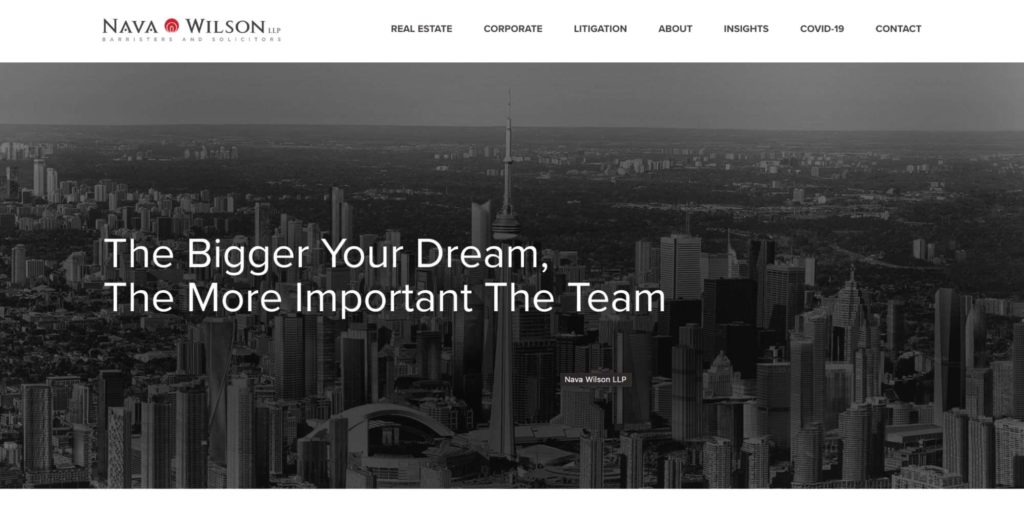 SERVICES
Real estate law, corporate law, litigation
WEBSITE
https://navawilson.law/
ADDRESS
10 Milner Business Court, Suite 210, Toronto, ON, M1B 3C6
CONTACT DETAILS
(416) 321-1100


[email protected]

OPERATING HOURS
Monday – Friday: 9:00 AM – 6:00 PM
Saturday: 11:00 AM – 3:00 PM
This law firm is the right place to be if you're looking for competitive incorporation packages. Plus, they have a comprehensive set of services for new businesses too.
For instance, if you need financing with your start-up, they'll work directly with your lender. And if your business is qualified to pay taxes, they'll work directly with your accountant as well – a pretty smooth and accommodating policy, in our opinion.
To incorporate a federal or Ontario company, they offer two packages. The basic one only costs $189, which is below the average in Toronto.
Their plus package (which includes corporate by-laws, share certificates, and electronic records) costs $349. At that price point, it's still within the median in Toronto.
This firm can also help you if you wish to buy and sell businesses. You can also hire them as you counsel in case you need legal advice for business affairs in the future.
We like that they accept services even on Saturdays, but it would be better if they at least offered a free consultation. That's pretty much par for the course with most law firms nowadays!
Nonetheless, they're pretty solid in terms of services according to their past clients. We also couldn't complain about most of their rates, so that probably mitigates the lack of a free consultation.
We do think it's worth noting that most of their work revolves around real estate law, though. While they're certainly capable of taking on other corporate law tasks, this is really where they find their metier.
Competitive costs of incorporation packages
Eases the process of starting up a business
Offers legal services for buying and selling a business
Open every Saturday
No free consultation
Specializes more in real estate
Customer Reviews
Here are some of the reviews left by past customers:
When I decided to purchase an accounting firm, including the property, which included both an asset purchase and a share purchase transaction, I had consulted few corporate lawyers who were very vague in their initial discussions. From the very beginning, Vinthan was energetic and knowledgeable and pointed out the right questions, after which I decided to pursue Nava Wilson LLP. The process was tedious, including dealings with the bank along with the seller's lawyer, and his guidance was invaluable all along. All the transactions were successfully executed today and wouldn't have been possible without Vinthan and his team. I certainly hope to work with Vinthan in the future. – Hari Krishnan
Super knowledgeable and professional team members. Went through a friend referral and we are happy that we made the right choice to partner with them for our first home buying transaction. Can not thank them enough for their support and guidance throughout the whole process. Highly recommended! – Rishabh Sharma
4. Jonathan Kleiman, Barrister & Solicitor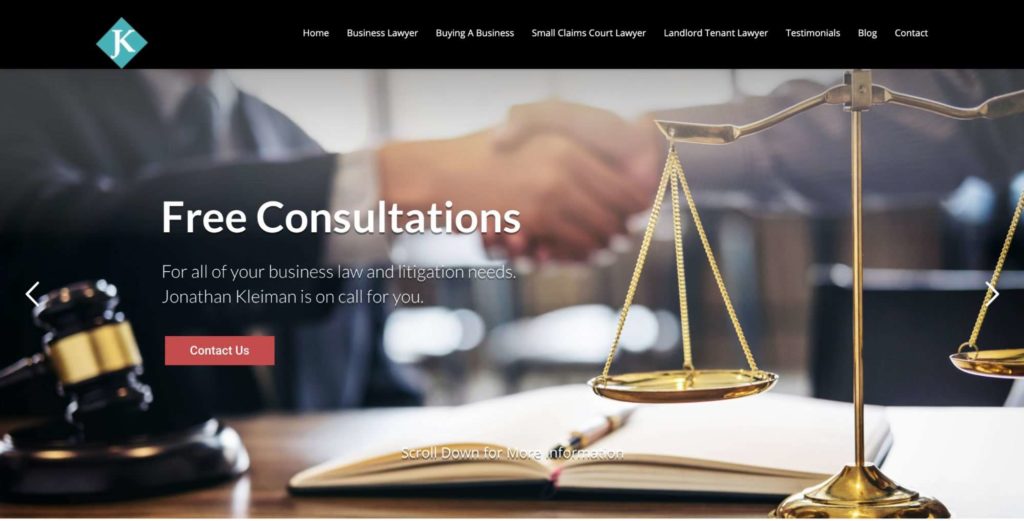 SERVICES
Incorporations, corporate governance, corporate counsel, business litigation, contracts and agreements, mergers and acquisitions
WEBSITE
https://www.jkleiman.com/
ADDRESS
1235 Bay Street, Suite 700, Toronto, Ontario M5R 3K4
CONTACT DETAILS
(416) 554-1639


[email protected]

OPERATING HOURS
Monday – Friday: 9:00 AM – 9:00 PM
Saturday – Sunday: 10:00 AM – 6:00 PM
If you want to get incorporated in just one day, Jonathan Kleiman can help you. For all things corporate law, he can walk you through every step of the way with promptness and hard work.
Jonathan Kleiman performs a wide range of services including agreements and contracts, buying or selling a business, and incorporation. He also assists with mergers and acquisitions and business litigation.
Many of his clients say that his rates are reasonable for what he provides. Plus, he also accepts crypto payments, which is very forward-looking indeed – not everyone takes digital currency yet!
Every meeting with Jonathan Kleiman is by appointment only, but at least his email and phone line are both open 24/7. And you won't have to worry much about losing appointment slots too as his office is open every day.
He also offers a free 30-minute consultation. Again, this is great if you want to get a feel of how he plans to deal with your case, although we still wish it were longer.
We did find a few bumps here and there about availability from those who've sought his services, however. Then again, these issues arose during Mr. Kleiman's "vacation", and he still referred them to another lawyer instead.
Incorporation in one day
Reasonable charges
Can send inquiries 24/7 via phone or email
Free 30-minute consultation
Can pay with cryptocurrency
Free consultation could be longer
Issues with availability
Customer Reviews
Here's what past clients have said about this corporate lawyer:
Jonathan is a great lawyer whose helped my business out with contracts, some tricky situations, and legal advice. He is generous with his time and I appreciate that. I would highly recommend Jonathan for your legal needs. – Arthur Kerekes
If anybody need a lawyer who is very professional, efficient, and thorough, I would highly recommend Mr. Kleiman. He is very fair and prompt with responding to e-mails and phone messages even after business hours. His rates are very reasonable. He is honest and easy to work with. I wouldn't hesitate to seek his help in the future and recommend his services without any hesitation. – Varahi Nathan
5. Gangani Lawyers – Real Estate and Corporate Lawyers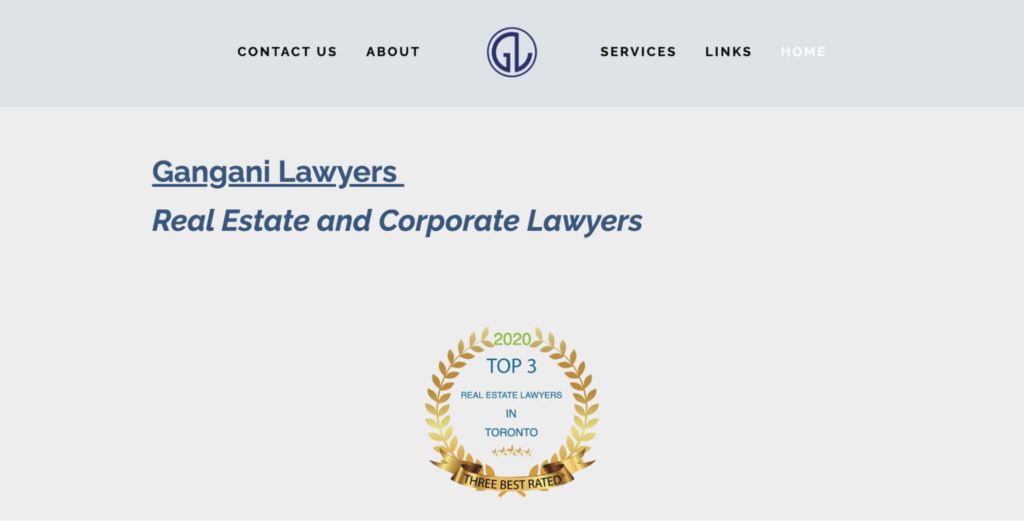 SERVICES
Corporate law, immigration, notary public, litigation, employment law, independent legal advice (ILA)
WEBSITE
https://ganganilaw.com/
ADDRESS
80 Nashdene Road, Unit 120, Scarborough, Ontario M1V 5E4
CONTACT DETAILS
+1 416-299-0050


[email protected]

OPERATING HOURS
Monday – Friday: 8:30 AM – 6:30 PM
Saturday: 10:00 AM – 3:00 PM (by appointment only)
With a perfect 5-star rating on Google Reviews, Gangani Lawyers lands on our list thanks to its great customer service.
For business transactions, they help with negotiating contracts, setting up business organizations and incorporations. They also handle cases of acquisitions and sales, as well as giving legal advice for your business.
If you wish to incorporate your business, they have an all-inclusive fee structure that we like. The incorporation service also includes drafting business documents including employment agreements, service agreements, partnership agreements, and more.
Corporate lawyers in this firm are fantastic to work with, say clients… plus they offer same-day appointments. On the downside, they don't offer free consultations, unlike the others on this list.
And like another of our previous entries, their history does say they tend to focus more on real estate law than other aspects of corporate law. Even so, we think they're sufficiently experienced in general corporate law to belong in this list – plenty of the people we surveyed thought so!
Offers many business transaction services
All-inclusive fee structure for incorporations
Same-day appointments
Open on Saturday
No free consultation
Specializes more in real estate law
Customer Reviews
Here's what past customers have said about this service:
Ali of Gangani Law was referred to us by a Pharmacist friend who had worked with him on prior occasions. My partner and I were nervous about purchasing our first Pharmacy Business, however, working with Ali on our acquisition was truly an excellent experience! He is a great communicator, knows what he is talking about, and is experienced in the Pharmacy industry. He answered all our questions and his fees were very reasonable. Our closing even had some challenges which he helped us navigate through mutually with the Seller. We will be using his legal services again and would recommend to other Pharmacists looking for a great corporate lawyer! Thank you Ali! – Amir Issac
I have recently had the pleasure of working with both Al and Ali, both of them were easy to reach by phone and email, extremely helpful, they offer efficient and professional service and are very reliable and knowledgeable. I would without a doubt recommend Al and Ali for your legal needs and would personally return to them for any of my future legal assistance. – Leslie James
6. Hummingbird Lawyers LLP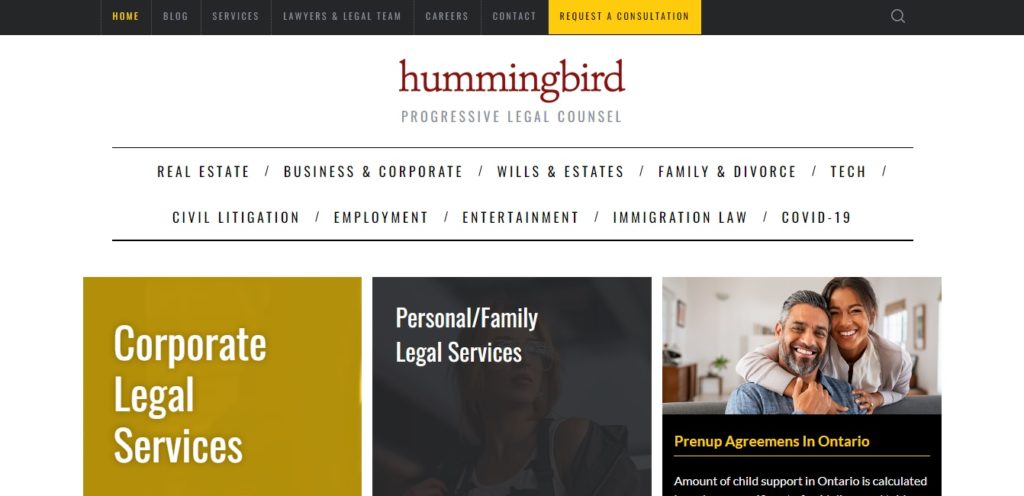 SERVICES
Real Estate
Business & Corporate
Wills & Estates
Family & Divorce
Tech
Litigation
Employment
Entertainment
Immigration Law
WEBSITE
https://www.hummingbirdlaw.com/
ADDRESS
80 Bloor St W #1401, Toronto, ON M5S 2V1

8800 Dufferin St #301, Concord, ON L4K 0C5
CONTACT DETAILS
Phone: 905.731.1911
Fax: 905.731.1913
Email:

[email protected]

OPERATING HOURS
Monday – Friday: 9:00 AM – 5:00 PM
Hummingbird Lawyers LLP is a legal firm that specializes in a wide variety of cases such as family legal services and corporate legal services among many others. Comprised of lawyers specializing in diverse legal cases, they have since then been delivering consistent and long-lasting positive outcomes for their clients who let them handle their cases.
They currently have two offices located in Yorkville and Vaughan to help lawyers in those branches have a more hands-on approach and have more time to focus on the clients in the area.
Their past clients have highly commended them for their personalized and professional approach to every case they handle wherein they are able to mold their services to the specific situation of their clients.
Note, however, that their services do not have upfront pricing readily available, but clients can inquire on their website for their concerns.
Overall, with a network of highly reliable lawyers and resources for clients who want to learn more about their procedures and how to go about their cases with them, we highly recommend them to clients in the area who are looking for professional corporate and personal lawyers that can represent them in court.
Wide range of expertise
Informative website
Strong and skilled team of lawyers
Customer Reviews
Here are some reviews from their clients:
"I'm extremely pleased with the highly personalized, professional advice offered by Amy MacAlpine. She not only took the time to understand my needs, but also offered solutions that were specifically customized to my situation. Best part: all documents are available safely and securely online. Start to finish, the whole process was as easy and efficient as possible."
"A full service firm with an Excellent team of lawyers! Andrew Fortis in particular is such a pleasure to work with. I highly recommend Hummingbird Law for any and all Legal needs."
7.   Pawlina Law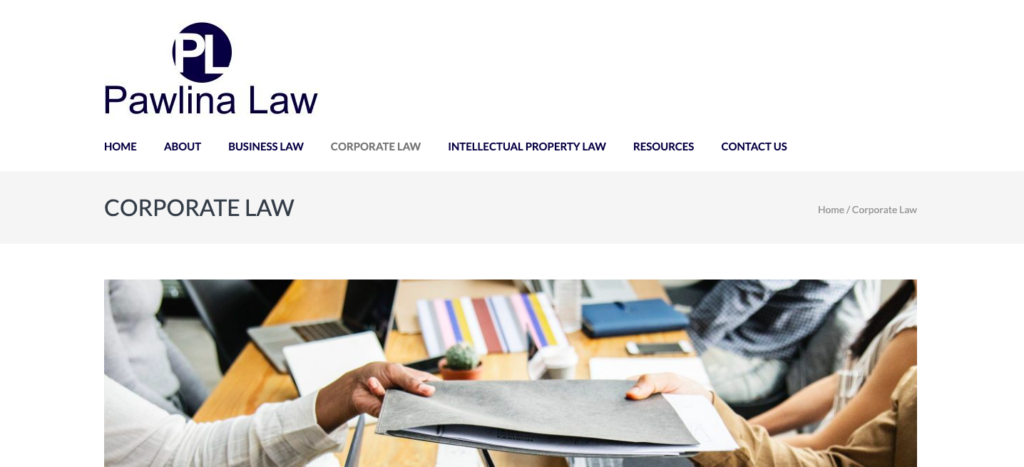 SERVICES
Business Law
Corporate Law
Intellectual Property Law
WEBSITE
https://www.pawlina.ca/corporate-law/
ADDRESS
1800 – 2 St Clair Avenue West
Toronto, Ontario, Canada M4V 1L5
CONTACT DETAILS
Tel: +1.647.298.2960
Fax: +1.416.391.6262


[email protected]

OPERATING HOURS
Contact for more information
Pawlina Law is a law firm that specializes in Business, Corporate, and Intellectual Property.
Through a pragmatic approach, they provide effective legal expertise in a wide range of areas in business.
We like that no matter the case, they can always tailor a suitable legal strategy for you.
We're also impressed by their understanding different aspects of the corporate world like tight timelines and limited budgets, the complexity of transactions related to starting, expanding or selling your business, and so on.
This is why we believe that they're the people to call in matters related to corporate law. They can advise you in a wide range of services like incorporation, continuances, amalgamations, shareholder agreements, term sheets, equity financing annual filings and resolutions, and rectifying resolutions.
We find them to be very knowledgeable about corporate law. No matter the concern, they know what to do.
What's more is they go above and beyond for their clients and we think that the quality of their service is just as important as their knowledge.
Their only downside is that they don't have their rates available on their website.
Wide range of services in Corporate Law
Also specializes in Business and Intellectual Property Law
Knowledgeable and professional
Excellent customer service
Customer Reviews
Here are some reviews from their clients:
"I can not recommend Pawlina Law enough. Karol was extremely professional, organized and efficient in setting up our Canadian corporation. Every time we had a question, Karol was quick to provide a through answer. Karole went above and beyond to help us even after he completed our incorporation. We were extremely challenged to find a bank that would serving non-residents. Here Karol offered to connect us with a colleague and even facilitated the necessary paperwork and affidavits.
Karol is now our go-to attorney for all our corporate needs in Canada."
"Karol did the incorporation for my brand. Everything was remote which I appreciated. He answered every question I had and delivered within the timelines that he had stated. Karol is very kind, professional, organized and knows his stuff. I cannot recommend him highly enough and will definitely use his services again in future when the need arises."
What to Look for in a Corporate Lawyer
Now that you have a list of the best corporate lawyers in Toronto, let's run through a few key things you must consider. If you haven't worked with a corporate lawyer before, here are factors you must look into:
1. Expertise in corporate law
Ask about the lawyer's experience in handling business affairs. Obviously, you want a lawyer who has experience in handling a case or task like yours before.
For instance, if you're planning to start up a business, ask questions on how they can make the process smoother for you. You can also inquire about their past clients to see what kind of business owners they've worked with.
2. Fee structure for legal services
As established, lawyers can be expensive. But some offer all-inclusive packages to ease your expenses.
Before you book a lawyer, ask how much they charge first. Make sure that it's within the average in Toronto for that particular service and if it's not, don't be afraid to ask them why.
If they're at all good at their jobs, they should be able to explain their own rates to you, as well as justify them. Consider it a test of their skills early on!
3. Track record
Reading Google Reviews alone can give you an idea of how well the lawyer works with clients. Take some time looking into what people say about their lawyer's service and how well the lawyer communicates.
You can also if the lawyer has any record of misconduct or malpractice. These are the types of lawyers you'd want to stray away from.
4. Ease of communication
Communication is important regardless if your case is short-term or long-term. Try to get a feel of how fast they respond from the moment you book a free consultation (if they offer it).
Naturally, you want a lawyer whom you can contact via both phone and email too. Availability dates are also a concern, so don't forget to look into that either.
FAQs About Corporate Lawyers in Toronto
---
Dealing with business matters is much easier if you have great legal aid by your side. If you want to see some of our other legal resource lists for business owners, check out our list of the best employment lawyers in Toronto as well.