12 Best Window Cleaning Services Toronto
Having dirty windows is one sure way to turn heads around your neighborhood. But it won't be for reasons you'll like.
If you need a hand to make your windows shiny again, the best window cleaning services in Toronto can help you.
For this list, we chose the top window cleaning services based on various factors. These are services, ease of requesting a quote, customer rating, and awards.
We'll go over the usual costs of the services first before the list. Stay 'til the end too if you want to find some tips on how to choose the best window cleaning service.
The Cost of Window Cleaning Services in Toronto
Pricing schemes vary depending on the service provider. Some charge per pane while others charge per square meter.
Note that costs are also different for residential homes and commercial establishments. Your quote also depends on the services you need such as paint removal, storm window cleaning.
Here are other factors that drive the cost of service:
Type of building
Type of windows
Number of hours spent
Frequency of service
Experience of the service provider
Your Location
In general, window cleaning services in Toronto charge $5 to $10 per window pane. For a 2,500 square feet home, the costs go up to $125 to $200.
You'll also come across companies that charge per hour. The current average cost is $65, which can go up to $75 per hour.
If you own a business and have a high-rise building, the prices usually start at $170. The highest starting price we found in Toronto is $345.
Bottom line, contact a window cleaning service if you want an exact estimate. Use this guide as a reference when asking for a quote.
Top Window Cleaning Services in Toronto
Now that you have an idea of how much you need to shell out, let's talk about the truly exceptional window cleaning services in Toronto.
Read through this list to find the best one that meets your needs:
1. Toronto Window Cleaners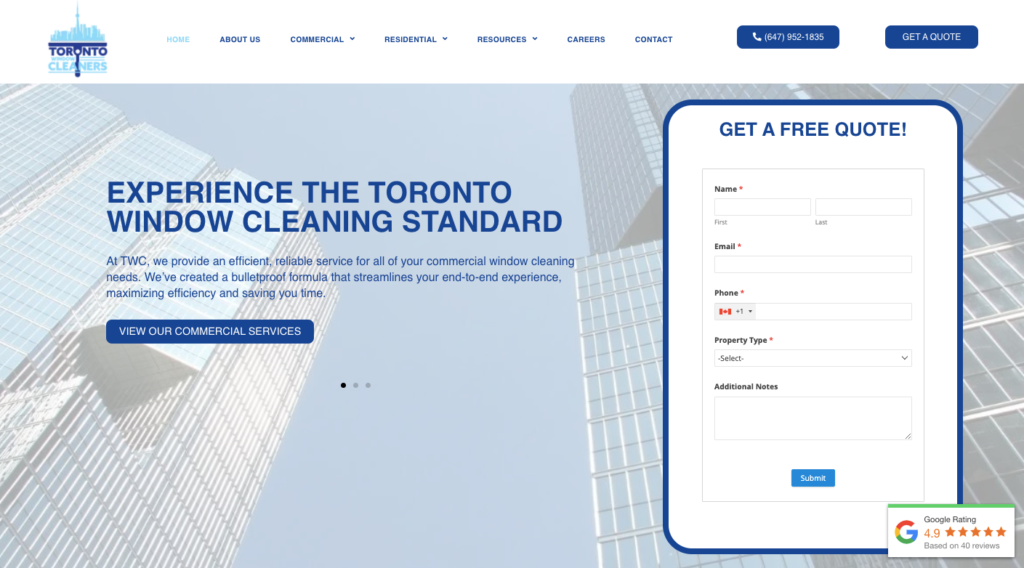 The Toronto Window Cleaners have your back whether you manage or own any residential or commercial high-rise buildings , are a municipality, or a REIT managing thousands of properties at once.
They have devised a foolproof strategy for streamlining your entire experience and increasing efficiency on all fronts.
It is remarkable that the Toronto Window Cleaners also uses aerial lifts and rope access for houses and commercial high-rise buildings with hard-to-reach locations.
They also have their highly trained technicians who work on elevated work platforms and utilize rope access methods that have received training in accordance with Ministry of Labor guideline, in IRATA (Industrial Rope Access Trade Association) and SPRAT (Society of Professional Rope Access Technicians) methods.
Aside from that who doesn't want to have a squeaky clean house, right? This company recognizes that you have high expectations for your home's upkeep. Their 5-star window cleaning crew will make your home shine.
We recommend this company as they go above and beyond to ensure that all frames, sills, and ledges on every glass surface are properly maintained. They take pride in our no-hassle scheduling and 100% customer satisfaction guarantee.
Free Quotation
Best of Homestars 2021 Award
5 Star Google Review Rating
Hassle Free Scheduling
100% Customer Satisfaction Guarantee
Quality Like No Other
WSIB and General Liability Coverage
Only gives service prices upon request
Customer Reviews
Here are some samples of what customers said about Toronto Window Cleaners on HomeStar and Google:
"Toronto Window Cleaners was great! I will definitely call them back in the Fall for a second clean. Great quality, reasonable prices, and professional service. Good job"
"Austin came on time, worked on expertly cleaning all of our exterior windows, and was very professional! Will be hiring again next spring! Thank you for your excellent service. Had hired College Pro in past, but had had poor experiences over the last few years. So glad I found this Toronto Window Cleaners on Homestars."
2. What A View Window Cleaning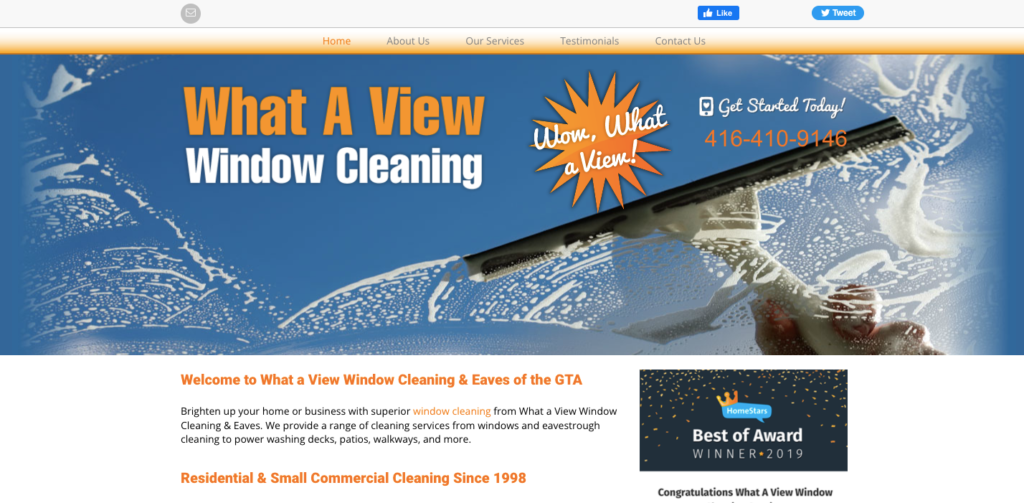 SERVICES
Their services include the following, but are not limited to:
Window cleaning (exterior and interior)
Eavestrough cleaning
Power washing
Gutter guard installations
WEBSITE
https://www.whataviewwc.ca/
ADDRESS
211 Consumers Road, Suite U300, North York, ON, M2J 4G8
CONTACT DETAILS
Phone
Main: 416-410-9146
Durham Region: 905-706-9187
Email


[email protected]

OPERATING HOURS
Monday to Friday: 8:00 AM – 8:00 PM
Saturday: 8:00 AM – 6:00 PM
Sunday: 8:00 AM – 5:00 PM
Who doesn't want to make a good first impression when it comes to their home or businesses, right? Who wants to put up with dingy windows, clogged gutters, and filthy walks? No one. Remember that if you don't clean your eavestroughs, they might clog and overflow with water, causing damage to your roof and structure.
That is why since 1998, What a View Window Cleaning & Eaves specializes in residential and small commercial properties (up to three stories) in the surrounding districts.
Through the years, they have dealt with numerous sorts of window or eavestrough cleaning operations. So with those experience, they were able to study, have tried and tested and then was able to formulate the top of the line procedures, tools and safety precautions they need to use and do when cleaning your windows.
As a glimpse of what they do, they clean out your eavestroughs, brighten your windows, and give your house and business windows the outside cleaning it deserves. They make sure that they take the time to learn all of the intricacies of your cleaning requirements in order to deliver the best possible service.
You also don't need to worry about their staff as they are fully insured and WSIB-registered. They placed great effort to make sure that their personnel are certified and trained for working at heights through IHSA training. To guarantee that everyone on the job site is safe, they also grasp the foundations of fall prevention.
What a View Window Cleaning & Eaves is a company you can rely on to provide excellent service and won't fail you to get your windows squeaky clean.
Years of experience and knowledge
Staff is fully insured, WSIB-registered, and have undergone IHSA training
Reliable and cost-effective
Works with your schedule and budget
Won the best of HOMESTARS for 2018, 2019, 2020 and 2021
Only gives service prices upon request
Customer Reviews
Here are some samples of what customers said about What A View Window Cleaning on HomeStars and Google:
"Ken sent out a team led by Alex and the title says it best. This is the second time that either Ken or his team have come out for periodic cleaning of my eavestroughs and downspouts and it continues to be a great experience."
"Best In class ". Did my windows in the spring and my eaves this week. Hard working , polite and dedicated to doing it RIGHT ! They are proud of their work and I am proud to have them work for me . 5*. Two years since I started with them and I am completely satisfied ."
"Excelente service very profesional. Ken had his crew come and clean my windows inside and out in my two story home ,alex and sheena we're very thorough and was great for attetion to detail. I truly can look out my windows now and say "what a view" i strongly recomend ken amd his crew to anyone looking to have their windows cleaned. As i will be using their services from here on out."
"We found and hired What A View through Homestars, and had them clean our gutters and cover them with guards. We were very happy with the job, the cleanliness they left behind, and their attention to details. Ken was very quick to acknowledge and satisfy a small issue we had – excellent customer service. It was a pleasure to work with What a View and we would be happy to hire them again if the need arises."
3. Shine Windows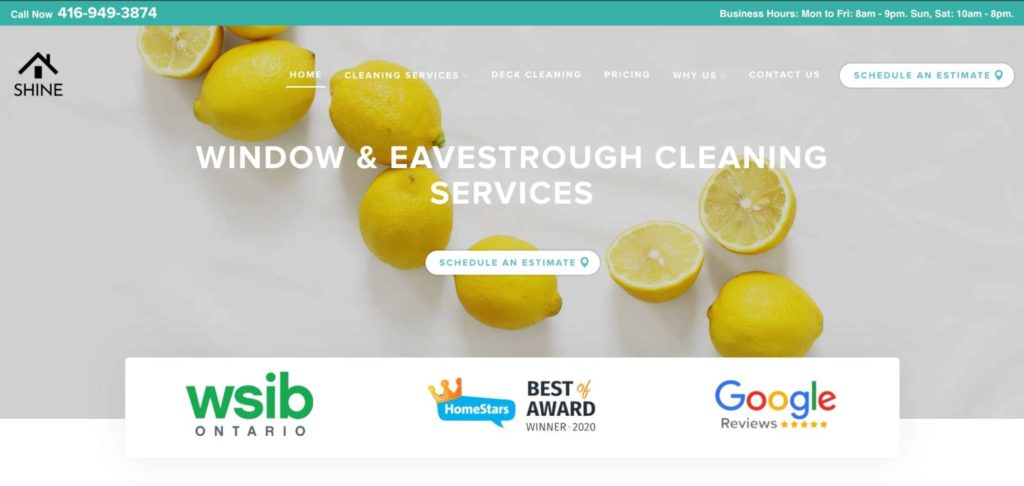 SERVICES
Window cleaning (interior and exterior), gutter cleaning (interior and exterior), fence and deck staining, pressure washing, polymeric sand, gutter guards
WEBSITE
https://shinewindows.ca/
ADDRESS
2967 Dundas Street West, #731, Toronto, ON M6P 1Z2
CONTACT DETAILS
416-949-3874


[email protected]

OPERATING HOURS
Monday – Friday: 8:00 AM – 9:000 PM
Saturday – Sunday : 10:00 AM – 8:00 PM
Shine Windows is a local startup in Toronto that offers a wide array of cleaning services. They provide interior and exterior window cleaning, gutter cleaning, and deck brightening.
For window cleaning, they offer services such as paint and storm window dirt removal. They also perform renovation window cleaning before house sales.
The company services both residential and commercial buildings. It's also open everyday from early morning until mid-evening.
To get a cleaning quote, you must schedule an estimate through their website. They make it easy for you by simply asking for your postal code and prompting a request form.
If you're happy with the quote and want to authorize it, you must pay a 25% deposit. They accept various modes of payment such as cash, e-transfers, credit card, and cheque — which is definitely a point for them in our book.
Service coordination with Shine Windows, in our opinion, is also fantastic. If you can't be present during the service, they'll send you an email where you can pay and sign to authorize the work.
After the services have been rendered, all you need to do is open your email inbox. Your invoice will be there to sign and complete the rest of the payment.
Now, we followed this process and found it smooth on the whole. Their actual work (window cleaning) couldn't be faulted either.
It doesn't seem a one-off considering Shine Windows has a rating of 9.8 stars on HomeStars. As further proof of their amazing work, many of their past clients were nothing but complimentary in describing experiences with them.
As the icing on the cake, this company bagged the 2020 Best of Award from HomeStars. At this point, we think it's pretty clear why we think it's among the best window cleaning services in Toronto.
Many window cleaning services
Easy quote request process
Good payment and work coordination
Excellent customer reviews
Open everyday at flexible hours
Only gives service prices upon request
Customer Reviews
Here are some samples of what customers said about Shine Windows on HomeStar:
"All the staff were very courteous and professional. Marv and Alex did a great job painting my porch and fence. I am very happy with the work and would recommend Shine."
"The work was professionally done and all expectations were met. We were very pleased with the team and their cleanup effort as well. Job was completed on time and updates on the progress were provided and discussed throughout"
4. Nick's Window Cleaning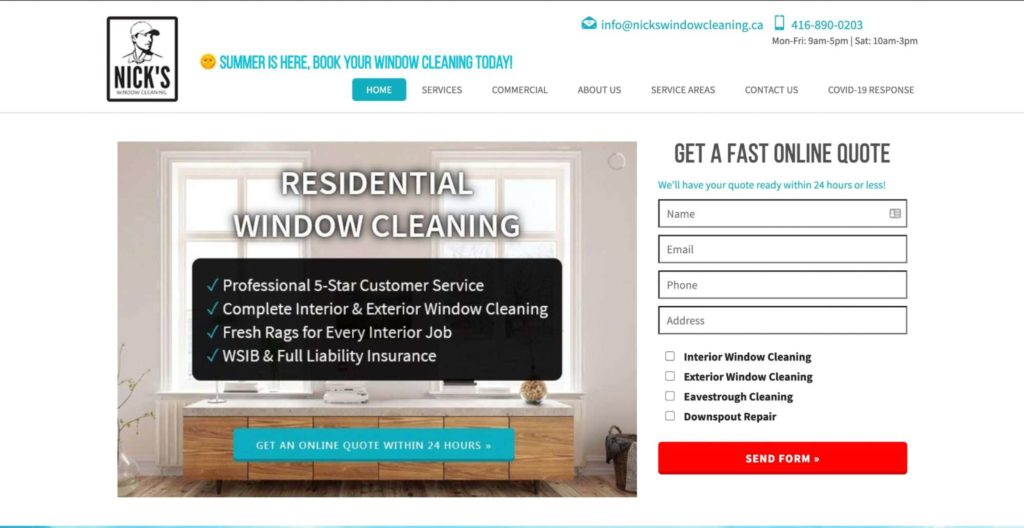 SERVICES
Window cleaning, power washing, eavestrough and gutter cleaning, eavestrough repair, christmas light installation
WEBSITE
https://nickswindowcleaning.ca/
ADDRESS
615-260 Seneca Hill Dr, Toronto, ON M2J 4S6, Canada
CONTACT DETAILS
416-890-0203


[email protected]

OPERATING HOURS
Monday – Friday: 9:00 AM – 5:00 PM
Saturday: 10:00 AM – 3:00 PM
Nick's Window Cleaning serves both commercial and residential customers. Apart from Toronto, they also cater to clients in nearby areas within Ontario.
For residential window cleaning, you can request additional services. One of these is the four-side window washing service, which cleans interior, exterior, and in-between double windows.
As for commercial buildings, the company's maximum height is 27 stories. Both commercial and residential customers go through the same quote request process.
To get a free estimate, you can go to their website and fill up the request form. You can get a quote almost instantly and get booked the next day – though some requests may take 24 hours or less to process.
If you can't wait for the next day, they also do same-day services which we liked since it's rare to come across companies that offer this. Don't hold your breath though, because they may not be able to accommodate you based on your needs and location – it's still a good thing to take note of.
As far as window cleaning services go, we can't find a flaw against it. They've serviced enormous homes with floor-to-ceiling windows, as well as condominiums with ultra-wide windows.
Being in business for only 10 years, Nick's Window Cleaning still has a lot to prove. But we do like what's on their plate at present, especially with the instant quote and same-day services.
Favorable waiting time for requested quote
Additional services for residential window cleaning
Commercial window cleaning up to 27 stories
Same-day services
High customer rating
No rewards as for excellent service yet
Customer Reviews
Here's what some past customers have said about Nick's Window Cleaning on HomeStars:
"Arrived promptly, carried out window cleaning quickly and thoroughly. Windows had been long neglected, so improvement is dramatic. A bit pricey, maybe, for a one man, one hour outside job, but the van was new and shiny, and there was helpful office phone support. I did not do any comparison shopping, so that's on me. I am certainly happy with the results."
"I hired Nick's to clean my exterior windows. I have done it myself for years but it was a struggle because not all my windows are easy to access and, over time, the water spots were impossible for me to remove regardless of what I tried. The appointment was easy to set up and the young man who did the work was polite and efficient. He went the extra mile on one window that was particularly stained. It now sparkles along with the rest. I'm very pleased and would recommend this service to anyone."
5. Sunnyside Windows and Eaves Cleaning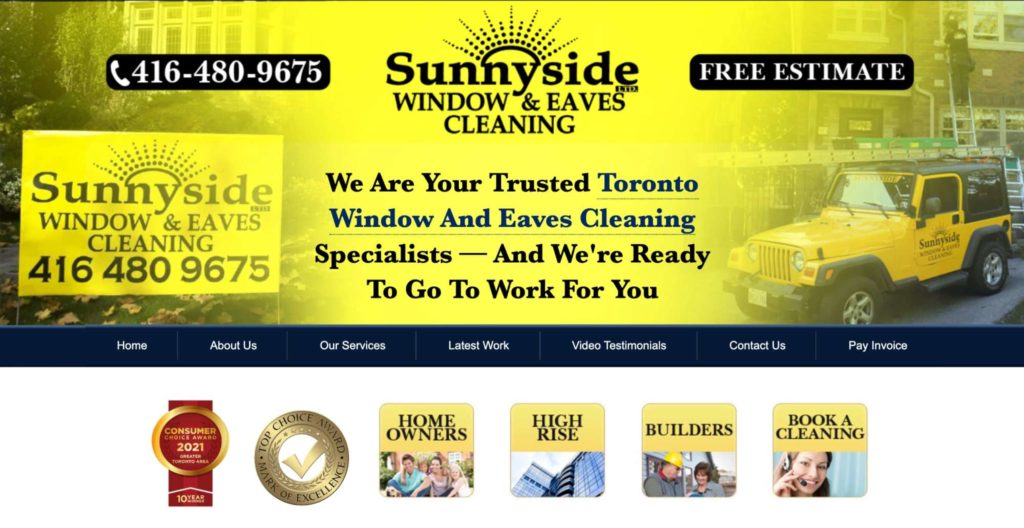 SERVICES
Window cleaning, power washing, eavestrough and gutter cleaning, eavestrough repair, christmas light installation
WEBSITE
https://www.sunnysidewindowcleaning.com/
ADDRESS
250 Eglinton Ave E. #567, Toronto, ON M4P 1K2
CONTACT DETAILS
416-480-9675
OPERATING HOURS
Monday – Friday: 7:00 AM – 9:00 PM
Saturday: 9:00 AM – 3:00 PM
Sunnyside Windows and Eaves Cleaning caters to both commercial and residential customers.
For homes, they offer window cleaning services such as screen cleaning, storm window cleaning, and window washing. They also clean skylights and light fixtures.
If you own a commercial space with unusually shaped windows, you'll love to frequent this company. They have experience in cleaning high-rise buildings, with windows often obstructed by balconies or are oddly shaped – so that's an absolute plus for us.
For window services that need to be done early morning, you might want to check them out. They open early at 7:00 AM during weekdays and 9:00 AM on Saturdays.
If you're curious about their prices, you can send a request form through their website. Though, unlike the others, there's an option where you can add notes, which is great if you want to get into the nitty-gritty details of the job
We also found a "Special Deals" section on their site, which signals that the company will be generous with discounts and promotions. There's nothing up there yet, but it's worth looking forward to if you're tight on the budget.
Obviously, without special discounts, you'll have to pay the regular price for their services, but you're still getting a lot more for what you pay for. After all, they bagged the 2021 Consumer Choice Award – an award earned through customer votes to recognize excellence among small to medium businesses.
Sunnyside Windows and Eaves Cleaning can get the job done for early-risers and those who instant quotes and next-day bookings. They're best for commercial establishments with oddly shaped windows and also great for those who want to save on window cleaning.
Many window cleaning services
Easy process for a quote request
Open early on weekdays and Saturday
Awarded for service excellency
Requires clients to reach out to see specials
Customer Reviews
Here's what customers have said about Sunnyside Windows and Eaves Cleaning on HomeStars:
"I have been using this company for many years and will continue to do so. They are punctual, polite and hard working. They can do windows, eves and many other things such as power washing.
Sunnyside cleaned our eaves today and I am very impressed with their service and professionalism. Both their service specialists and workers are professional and courteous. The debris collected from the eaves was placed in a yard waste bag by the curb for proper disposal."
6. Toronto Clear View Window Cleaning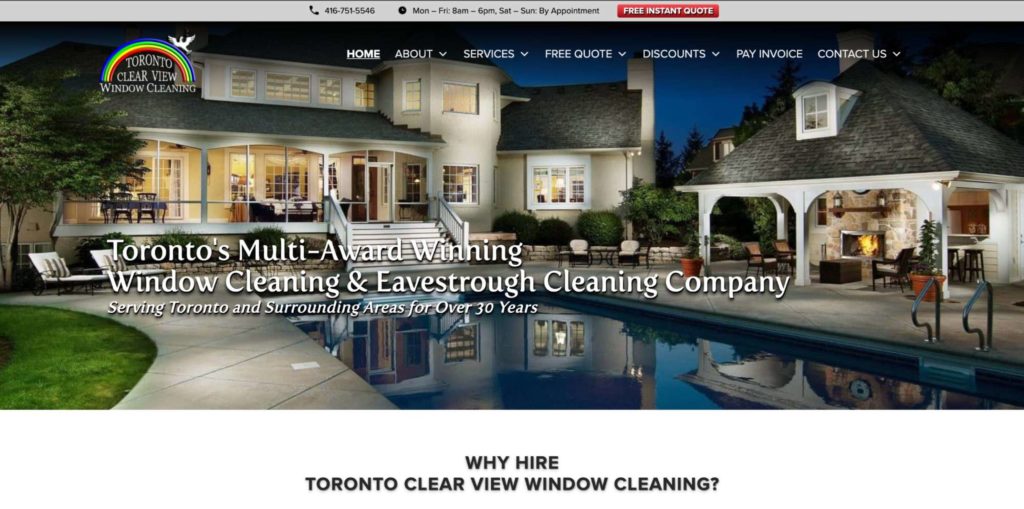 SERVICES
Window cleaning, pressure washing, eavestrough cleaning, gutter repair, gutter whitening, diamond back gutter protection, screen cleaning, light fixture cleaning, mirror cleaning, skylight cleaning
WEBSITE
https://torontoclearview.com/
ADDRESS
25 Sheppard Avenue West, Suite 325, Toronto, ON M2N 6S6
CONTACT DETAILS
416-751-5546
OPERATING HOURS
Monday – Friday: 8:00 AM – 6:00 PM
Saturday – Sunday : By appointment
Toronto Clear View Window Cleaning serves commercial and residential customers in Toronto and other neighboring areas.
For window cleaning services, the company offers packages to suit various needs. They have a Gold Package, Silver Package, and Bronze Package.
A gold package guarantees an elaborate cleaning. This means cleaning the window glass, frame, sills, screens, and ledges.
The silver package has less detailed cleaning depending on your needs. The bronze one is basic window cleaning only and perfect if you're strapped for cash.
We recommend going all out on the gold package if you need some heavy window cleaning. Perhaps after the surge of a rough storm that muddled all the windows in your house.
Go for silver instead of bronze if you want light cleaning for regular maintenance. Yes, the cleaning is a lot less elaborate than the gold package, but it still puts you in command of the services you'll get.
In our opinion, this company offers the best services in terms of quote requests. For starters, they have an instant quote calculator that you can handle yourself.
For an instant quote, you can simply select the type of service you need and follow the directions on-screen. On the flip side though, filling up the personal information card can get a little long-winded.
Alternatively, if you're not really sure about the type of windows you have or their dimensions, you can upload a photo of your windows for an outside cleaning service and quote, which is pretty convenient.
You can also request an onsite quote if you prefer to meet up with their staff to discuss the project in detail.
If you're worried about the pricing, the company offers a referral and loyalty program that we liked for value. The referral program is great if you regularly use window cleaning services because you get 50% off with each person you refer.
The loyalty program offers less but more flexible terms for new and existing customers. For example, if you're under this program, you can save 15% on the next cleaning season.
In sum, Toronto Clear View Window Cleaning offers flexible packages for various needs, discount programs, and innovative ways of making quote requests. We don't like that its weekend cleaning is by appointment only, but it's easily forgivable with all the amazing stuff they offer.
Its 9.7 ratings on HomeStars speaks for itself too. No more explanation needed.
Three window cleaning packages to choose from
Instant quote calculator function
Quote through photo upload or onsite request
Offers many discounts to existing and new clients
Multi-awarded company
Appointment needed for Saturday and Sunday cleaning
Customer Reviews
See what some customers have said about Toronto Clear View Window Cleaning on HomeStars:
"Excellent first-time experience with Toronto Clear View! The service was easy to book, work was through with careful attention to detail, and the package was fairly priced. Covid protocols also felt safe and considerate."
"Toronto Clearview did an amazing job cleaning my exterior windows and accommodating a very last minute request to do so within a few hours even though it was their busiest season and they were fully booked. Their staff is courteous and professional and the cost was reasonable. My whole experience from start to finish was easy. I will definitely be using them again!"
7. Window Cleaning People
SERVICES
Window cleaning, eavestrough cleaning, power washing, christmas light installation
WEBSITE
https://windowcleaningpeople.ca/
ADDRESS
399 Spring Garden Ave Unit 305 Toronto, ON M2N 3H6
CONTACT DETAILS
416-687-6367


[email protected]

OPERATING HOURS
Monday – Friday: 8:00 AM – 6:30 PM
Saturday 9:00 AM – 5:30 PM
Window Cleaning People offers cleaning services to both commercial and residential clients. One of their best assets is the fact that they allow customized services.
To illustrate, their team will sit down with you to determine what services you need. We loved that they give an opportunity to personalize services based on what you need and what you're willing to pay for.
The company offers a clear step-by-step guide for its quote request process, which is very similar to the other companies on this list. The similarity is not a big deal though since we're looking at ease and convenience, not uniqueness, for this process.
What we liked a bit more about its customer service is the integration of Messenger (an app that almost everyone has nowadays). Through that, you can send queries and receive responses real-time, but of course, it's not as natural as speaking to a human representative.
On their site, they claim that they clean 500 properties per year. That's a pretty bold claim if it's true (it's pretty hard to verify this, unfortunately).
The company is fairly young as far as they go, having been operating for "only" eight years. Which is why it hasn't received any awards yet, we think.
But what do you need rewards for when you have an exceptional rating? In HomeStars, they have an almost perfect 9.9, which is pretty rare.
Easy quote request process
Customized services
Good customer service
Highly rated services
Not open on Sunday
No awards as of writing
Customer Reviews
Here's what other customers have said about Window Cleaning People on HomeStars:
"Thanks to the Window Cleaning People, amazing service, prompt on time. There was an issue with the gutters and the guys responded quickly and came very fast, fixed the problem, and now I don't need to do a thousand dollar repair of my gutters. The guys helped a lot. Definitely will call them for window cleaning in spring."
"We've used WCP a number of times at our past homes. We just moved in to a new house and they came out for the first window cleaning. There was considerable construction dust/dirt inside and out, in addition to cement on the outside from masonry work. The crew performed a fabulous job and we are happy once again."
8. Glass First Class

Glass First Class is a company with a focus on window cleaning and property maintenance. The company has been established for more than 25 years, with a long-standing reputation for providing quality service.
Some of their services include eaves maintenance, ivy trimming, and, of course, window cleaning. Their window cleaning services are some of the most comprehensive we've seen so far, encompassing exterior window cleaning, indoor and outdoor window cleaning, three-sides window cleaning, post construction cleaning, and complete window cleaning.
There are many more reasons why Glass First Class is commendable. For one, their team of cleaners have undergone extensive training, ensuring that they have the necessary skills and knowledge to get the job done right the first time around.
For another, their rates are extremely competitive, with the company doing regular market research. Lastly, Glass First Class takes on most jobs in the area, regardless of how big or small they can be.
Offers free quotes
Affordable services
Provides service plans
Extensive window cleaning services
9. Silverlight Windows and Eaves

SERVICES
Exterior Window Cleaning
Interior Window Cleaning
Eavestrough Cleaning
Eavestrough Repair
Snow removal
WEBSITE
https://silverlightwindowsandeaves.ca
ADDRESS
177 Pendrith St, Toronto, ON M6G 1S1
CONTACT DETAILS
416-827-8949
OPERATING HOURS
By appointment
Window cleaning can be a very hard and time-intensive task, and not everyone has the skills or the time to do it. For this reason, many people turn to professional window cleaners.
Silverlight Windows and Eaves is Toronto's leading window cleaning company. They offer a wide range of cleaning services, including exterior and interior window cleaning, eavestrough cleaning and repair, and snow removal.
Each and every service offered by Silverlight Windows and Eaves is personalised to fit the client's property. Additionally, the rates are competitive as well, so you won't have to worry about burning a hole in your wallet.
Silverlight Windows and Eaves caters to clients all around Toronto. They tend to reply quick to inquiries and offer free, no obligation quotes to those who are interested.
Offers free, no obligation quotes
Quick response time
Provides interior and exterior window cleaning
Large service area
10. Sundance Windows & Eaves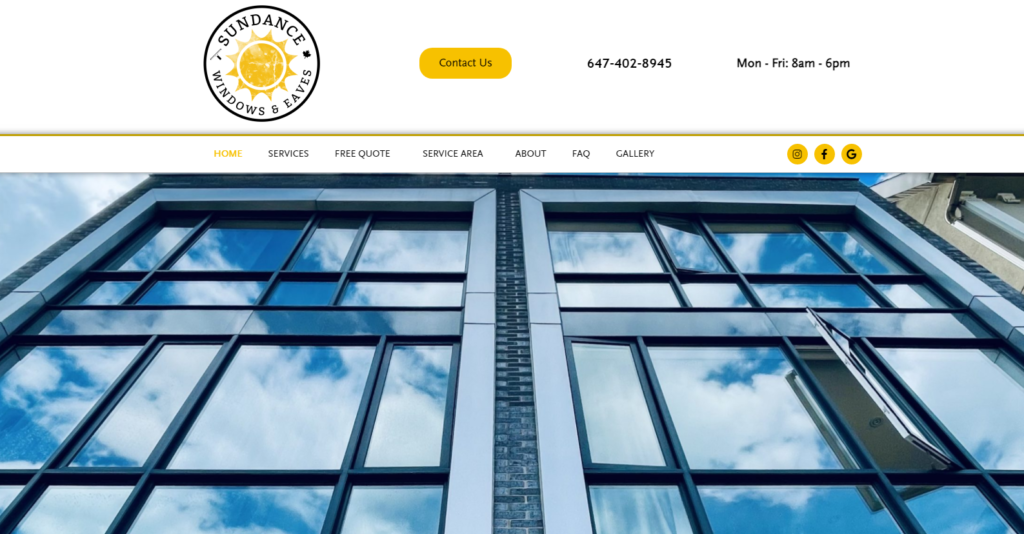 SERVICES
Window Cleaning
Pure Water Window Cleaning
Screen Cleaning
Eavestrough Cleaning
WEBSITE
https://sundancewindowcleaning.ca
ADDRESS
Toronto
CONTACT DETAILS
(647) 402 – 8945
[email protected]
OPERATING HOURS
Monday to Friday
8 am – 6 pm
Weekends & Holidays
By appointment
Sundance Windows & Eaves that provides various cleaning services to the people of the Great Toronto Area.
Since the time of its inception in 2017, Sundance Windows & Eaves made a name for itself for its high-quality window cleaning services, skilled cleaners, and customer-centric system.
Other services offered by Sundance Windows & Eaves include pure water window cleaning, screen cleaning, and eavestrough cleaning.
To make things convenient for clients, Sundance Windows & Eaves makes it possible to book appointments through their website.
They operate regularly from Monday to Friday and can be reached by appointment on Weekends and Holidays.
Offers free quote
Large service area
Skilled and thorough cleaners
11. New View Window Cleaning

SERVICES
Window Cleaning, Eavestrough Cleaning
WEBSITE
https://windowcleaningtoronto.ca/
ADDRESS
108-412 Roncesvalles Ave., Toronto, ON M6R 2N2
CONTACT DETAILS
Phone: (416) 531-8439
Email: [email protected]
OPERATING HOURS
Monday to Friday: 9:00 am – 9:00 pm
Saturday: 10:00am – 5:00pm
Sunday: Closed
New View Window Cleaning Ltd. was founded by Brian Finlayson in 1993. With humble beginnings of only 150 clients, he now helps over 5,000 people keep their windows clean.
Offering clients affordable rates, reliable service and quality workmanship, New View Window Cleaning has earned quite the reputation in Toronto. They also offer eavestrough cleaning at a low rate of just $150.
Safety is also of primary concern for this company and they have the necessary systems in place to ensure that they are secure while working. However, New View window Cleaning also carries $1,000,000 in liability coverage and all their employees are insured through the WSIB.
Their employees have a combined experience of almost a hundred years, so it's safe to say you're in good hands with this company. No matter if its older aluminum, wooden storm windows or ones that are difficult to access, New View Window Cleaning has got it covered.
Can pay online with credit card or online banking

Combined experience of almost a

century
Only offers window cleaning and eavestrough cleaning
12. Maple Windows & Eaves Cleaning Inc.
SERVICES
Window cleaning, eavestrough cleaning, eavestrough repair, pressure washing
WEBSITE
https://maplewindowcleaning.com
ADDRESS
333 Wilson Ave, North York, ON M3H 1T2, Canada
CONTACT DETAILS
+1 647 222 5678
OPERATING HOURS
Monday – Thursday, 8:45 AM – 4:45 PM
Friday, 8:45 AM – 3 PM
As a BBB accredited business with an A+ rating, Maple Window & Eaves Cleaning Inc. lives up to its reputation as one of the best window cleaning services in Ontario. The company is also insured with the Workplace Safety and Insurance Board (WSIB) and specializes in high-end delicate work.
The first thing we loved about them is how thorough they are with their services. For example, their window cleaning services include the window, its frames, as well as the screens.
You can also avail their eavestrough cleaning and repair services, especially if you wish to disconnect your downspouts from the city sewers.
However, they're closed on weekends and we've spotted a few reports that bookings can be quite difficult, particularly towards the end of weekdays.
Nonetheless, you'd be glad to know that for the great quality of service they offer, they also have some of the most competitive rates out there. We also loved the great communication exhibited by their onsite team. Kudos to them!
BBB Accredited
Prices are within industry standards
Great communication and work quality
Closed on weekends
Complaints about difficulties in booking
Customer Reviews
Promptly got the job done
"Responsible, respectful and honourable company. As requested, I received an advance email, the crew showed up as planned, were very tidy, and promptly got the job done." – Joanne R.
Professional and excellent service
"Great company. Very professional and excellent service. I've been using them for years and they keep exceeding my expectations. I love that they follow up every season, and stay in touch if things need to be rescheduled due to bad weather." – Sruli W.
Factors to Consider When Choosing a Window Cleaning Service
After reading through our list, you've either made a decision or are now more confused than ever by all the great choices. Don't fret — we'll still help you make a fabulous choice for your window cleaning services by telling you what to look for here:
Services
A window cleaning service in Toronto must offer what you need. It's also better if you choose the one with many additional services for window cleaning, but ensure your core requirements are seen to first.
Assess services based on the types of customers they serve, where, and how they do it. You can also see if they offer customized services or packages for clients.
In line with services, you must also pick one with flexible hours because scheduling can be a real pain. We recommend working with companies that service early and on the weekends too.
Ease of Requesting a Quote
Instead of concentrating on the cost, focus on the process of requesting a quote instead. Note that most window cleaning services don't have an exact pricing scheme — they persuade you instead to inquire for an estimate.
With online quote request services, the tie-breaker becomes factors such as ease and uniqueness. For example, some companies can send you a quote just by getting a photo of your windows.
Consider the waiting time too for receiving the quote. It's always best to choose the prompt options, as it indicates they have better and faster service.
Customer Rating
Customer reviews are a great gauge of how well a company works. Plus, many testimonies often reveal more than what a company presents.
A decent rating of 7.5 and higher (out of 10) should be on your list. Think twice before considering options with much lower stars.
Awards
Customer reviews come from clients' perspectives. But awards are vested by respected award giving bodies.
These awards assess a company based on set standards. If a company has various awards, it only means that they satisfy the standards of excellence in service.
FAQs About Window Cleaning Services in Toronto
---
Now that you know the best window cleaning services in Toronto, make the next move to make your windows shine again. Don't forget to use our guide for future reference whenever you need cleaning services!
If you ever need another extra hand with home repairs, you start with our guide to water heater repairs in Toronto. We'd love to help you make your home a better place to live in!