The 7 Best Water Heater Repair Companies in Toronto
Are you looking for an experienced plumber to fix your busted water heater? Well, consider yourself lucky because we're about to share our picks for the best water heater repair companies in Toronto.
Before we reveal our picks, we'll look at the average cost of hiring water heater repair companies in Toronto. That way, you have an idea of how much these services usually cost.
How Much Does Water Heater Repair Cost in Toronto?
On average, Toronto households spend around $260 to $1,170 for water heater repairs. How much you're going to pay depends on the problem, type of your water heater, and time needed to repair it, though.
The largest determining factor of water heater repair costs is the issue at hand. Keep in mind that some water heater problems are more expensive to fix than others.
For example, fixing the anode rod usually costs about $20 to $50, while fixing the dip tube and pressure relief valve may cost you anywhere from $10 to $250.
These three encounter the most issues in a water heater system, so expect that more complicated problems will be more expensive to repair.
Apart from these three common issues, those with electric water heaters will likely encounter thermostat and heating element problems. Fixing the electric thermostat usually costs $150 to $200, while you can expect to pay around $200 to $300 for a broken heating element.
Meanwhile, the common issues with gas water heaters always have something to do with either the thermocouple or the gas control valve.
Thermocouple repairs typically cost about $150, but if you have a new one, you can pay as low as $20 on average. On the other hand, a busted gas control valve could set you back as much as $500.
It's worth remembering that these averages don't cover the labour fee of the plumber or technician. Most of them charge on an hourly basis, ranging from $50 to $150 per hour depending on their experience.
The Best Water Heater Repair Companies in Toronto
Now, it's time to go over which repair companies can fix your heater!
Check them out below to see which water heater repair company in Toronto can help you out.
1. Smile HVAC
SERVICES
Cooling services: Ductless installation, AC repair, and AC installation.
Heating services: Furnace repair, water heater service, and water heater annual inspection.
Water treatment: Water softener service, carbon filter service, and reverse osmosis system service. 
Additional services: Humidifier repair, HEPA filter repair, and HRV repair.
WEBSITE
https://smilehvac.ca
ADDRESS
8540 Keele Street Unit 41, Vaughan, ON, L4K 2N2
CONTACT DETAILS
(+1) 437-777-4555
OPERATING HOURS
Monday – Sunday, 24 hours
Smile HVAC is one of the best heating and cooling companies in Toronto. They offer several services including ductless installation, AC repair, and AC installation for their cooling services. For their heating service, they offer furnace repair, water heater service, and water heater annual inspection.
They also provide water treatment services such as water softener, carbon filter, and reverse osmosis system. Furthermore, they also repair humidifiers, HEPA filters, and HRVs.
Smile HVAC is authorized and licensed to service over 30 brands, thus you don't need to worry about complications regarding your repair and installations. Aside from that, they also have a BBB (Accredited Business) rating of A+ and they won HomeStars' Best of Award in 2020 and 2021.
Among the several services they offer we particularly liked their water heater repair service. It is especially sought for because we all depend on our water heater every single day, especially in Toronto.
With everything they have to offer, we believe that Smile HVAC is truly one of the best heating and cooling companies in Toronto. Be confident in your HVAC unit and get a 100% risk-free installation because they also offer a 10-year installation warranty for HVAC systems.
Highlights
TSSA contractor
Full warranty
Authorized and licensed to service over 30 brands
Opens 24/7
Customer Reviews
Nice and Conducive
"I had an energy efficiency audit which gives refunds if you upgrade your home, so I had Smile HVAC replace my old furnace, water heater (because screw rentals) and also install a hvac humidifier. The price was lowest of the three estimates I had, and as far as I know the equipment was as good or better than others. The crew that did the installation was Valery, An and Manmath. They were processional, did a good job and answered all my dumb questions. They also installed the new water heater to the other side of the furnace with no extra charge. When my A/C or water softener dies, I'll likely go with them again." – Rafal Dobosz
Friendly and Highly Professional
"Adesun and Patel carried out a repair to our Water Heater. Although they did not have a new part they were able to install a used part until the new one arrived which would be carried out by another technician within 48 hours max. The used part got us up and going again with hot water. They were prompt, professional and explained the problem to me. I did receive a phone call shortly after to say another tech would be coming tomorrow. Overall, great service and worthy of 5 stars" – Iain Lettis
2.   Hoerner Heating & Plumbing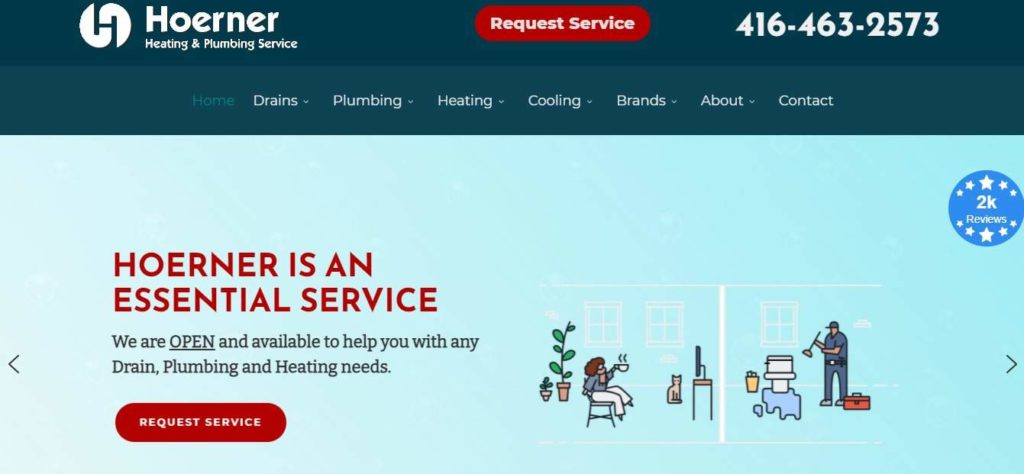 | | |
| --- | --- |
| SERVICES | Water heater repair, drain pipe repair, backwater valve installation, drain maintenance, drain emergency repair, plumbing fixtures, sump pump repair and installation, emergency plumbing, boiler repair and installation, and radiator repair |
| WEBSITE | https://www.hoerner.ca/ |
| ADDRESS | 868 Broadview Ave, Toronto, ON M4K 2R1, Canada |
| CONTACT DETAILS | 416-463-2573 |
| OPERATING HOURS | Open 24 hours |
If you're after a company that knows its way around different types of water heaters, then make sure to add Hoerner Heating & Plumbing to your list. It's a full-service plumbing company that's been operating for more than four decades now.
Hoerner's plumbers can deal with power vent, tankless, electric, and atmospheric water heaters. Even if you own the most outdated water heating system, you can depend on the extensive knowledge of its plumbers.
Another thing we like about Hoerner is that it provides warranties to its repairs and replacement. In case your water heater starts acting up again, you'll be spared from spending anything for another repair.
Hoerner operates 24 hours, seven days a week, making it easier for customers with emergency customers to ask for help. Its customer service hotline is open round-the-clock as well.
If you're a non-Toronto resident who can't find a reliable plumber in your area, feel free to book an appointment with them. It services neighboring areas like Casa Loma, Leaside, North York, East York, Willowdale, and Scarborough, among others.
As a full-range plumbing company, its expertise goes above checking and fixing water heaters. Its people can repair drain pipes, backwater valves, toilets, faucets, sewages, radiators, boilers, and everything in between.
The fact that it's managed to stay in business for over 40 years despite the growing competition says a lot about the quality of its services.
40 years of experience
Has a service warranty
Deals with all types of water heaters
Open for emergency services
Customer Reviews
Curious what Toronto homeowners think about them? Here are some comments:
"Andrew and his team arrived promptly, completed Ted the task professionally and removed all debris and left my home the way it was prior to their arrival. In these times of pandemic, they arrived masked, kept my door open for air circulation and practiced perfect protocols. Leading up to the installation, Andrew researched what the best system for my unique situation would be. I was very impressed from beginning to end." -Paula Gardner
"Claire was, as she always has been when kind enough to assist us, fantastic. She was professional, courteous and friendly, very very thorough, completely efficient in terms of time and when she left everything was cleaned up and to a great relief working excellently." -John Game
3.   Tankless Pro Inc.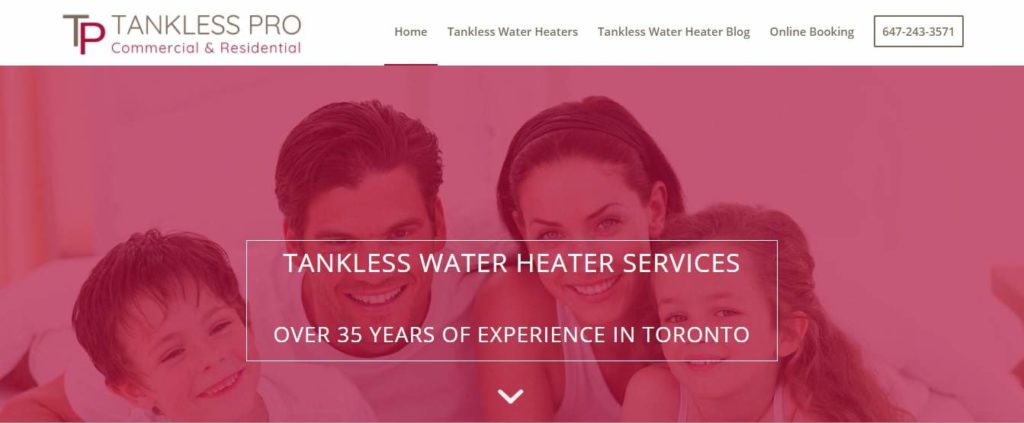 SERVICES
Tankless water heater repair, maintenance, and installation
WEBSITE
https://tanklesspro.ca/
ADDRESS
123 Queen St W Suite # 110, Toronto, ON M5H 3M9, Canada
CONTACT DETAILS
647-243-3571


[email protected]

OPERATING HOURS
Open 24 hours
Tankless Pro is a water heater repair company that services both residential and commercial spaces in Toronto. As suggested by its name, it's highly recommended to homeowners and business owners who own a tankless water heater.
It may seem like a disadvantage to specialise in a single type of water heater, but that's how Tankless Pro maintains the quality of its workmanship and stands out from its competitors.
As with most plumbing companies, Tankless Pro operates for 24 hours, from Monday to Sunday. If your water heater breaks down in the middle of the night, there will be someone who can accommodate your urgent concern.
If you want to make sure that your water heater remains in superb condition, Tankless Pro can also take care of that. Aside from repairs, its plumbers do water heater installation and maintenance as well.
Tankless Pro works on an appointment basis, though, so all customers need to book a slot before a plumber comes over to their home. Booking a slot on its website is extremely easy, and won't take more than three minutes.
Finally, if you care about accolades and certifications, then you won't be disappointed with Tankless Pro. It's accredited by HomeStars, BBB, and Houz, so there's no doubt that these guys are the real deal.
30 years of experience
Accredited by HomeStars
Easy booking of appointment
Open to residential and commercial spaces
Can only repair tankless water heaters
Customer Reviews
Here's what former customers had to say about Tankless Pro:
"Replaced my rental tankless unit with a new unit. They provided guidance on selecting the right unit, a very fair price (much better than other local quotes), and were quick to set up the installation. They were thorough in the work, and without question honored the quote even though I'm pretty sure there was a bit more work involved than they had anticipated. Highly recommend it." -Isabella Lawrence
"Tankless Pro Inc was quick to respond, provide a quote and suggested the right tankless system at the right price. They removed the old tank (dropped off the tank to the original supplier) and the service was neat, no nonsense and professionally installed. Advised on the service schedule moving forward. Process was about 4 hours. After two weeks the Tankless system has worked as advertised!!" -Randy Newton
4.   Leaside Plumbing and Heating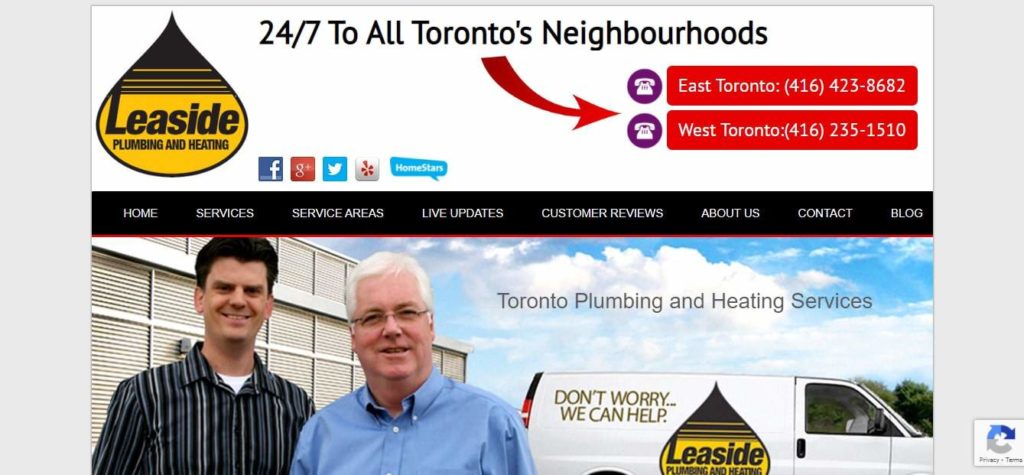 SERVICES
Water heater repair, faucet repairs, toilet replacement and installation, clogged drains, sump pump, boiler service, drain maintenance services, and plumbing maintenance
WEBSITE
https://www.leasideplumbing.ca/
ADDRESS
205 Wicksteed Ave Unit 20, Toronto, ON M4G 0B1, Canada
CONTACT DETAILS
416-423-8682
416-235-1510


[email protected]

OPERATING HOURS
Open 24 hours
Established in 1985, Leaside Plumbing and Heating is a one-stop plumbing company that services every corner of Toronto and surrounding areas. Here are the reasons it earned a spot here:
The first thing you need to know about Leaside Plumbing is its large clientele, most of which are repeat homeowners and business owners. Its growing by the day too, with referrals flooding in every day from past and current customers.
It's highly recommended when it comes to plumbing emergencies. In its more than 30 years in the business, it has seen all types of emergencies and knows the solution to every single one of them.
Leaside Plumbing is open for 24 hours from Monday to Sunday. No customers would have to wait for the weekend to pass before a plumber comes over to check what's wrong with their water heater.
The downside is that its plumbers specialise only in electric and gas water heaters. If your heater is of a different type, you might want to think twice before giving them a call.
Lastly, all of its repair and maintenance services are covered by a generous one-year warranty. If your water heater starts malfunctioning again, its plumbers will fix everything again without extra charge.
More than 30 years of experience
Reliable customer service
Has live service updates
Can only repair gas and electric water heaters
Customer Reviews
Here are some comments shared by customers on Google Reviews:
"The company demonstrated outstanding service evidenced by prompt, same-day service- i.e., the service technician (Keith) came and analyzed the issue of a leaking hot water tank and he made arrangements to replace it. All communication was polite and professional. Subsequently, the installation and updating pipeline systems was completed by Keith and Drew who together made a great team. They expertly completed the job in record time! Many thanks to Leaside Plumbing & Heating!!" -Georgia Inglis
"Leaside Plumbing was tasked to relocate a gas pipe line as part of a large patio construction project. I'm very short notice and while pressed with other jobs, they fit us in and obtained the necessary piping to permit the construction crew to bury the gas line. They completed the work promptly to the highest quality!" -Mike Quenneville
5.   Advanced Plumbing Drains & Heating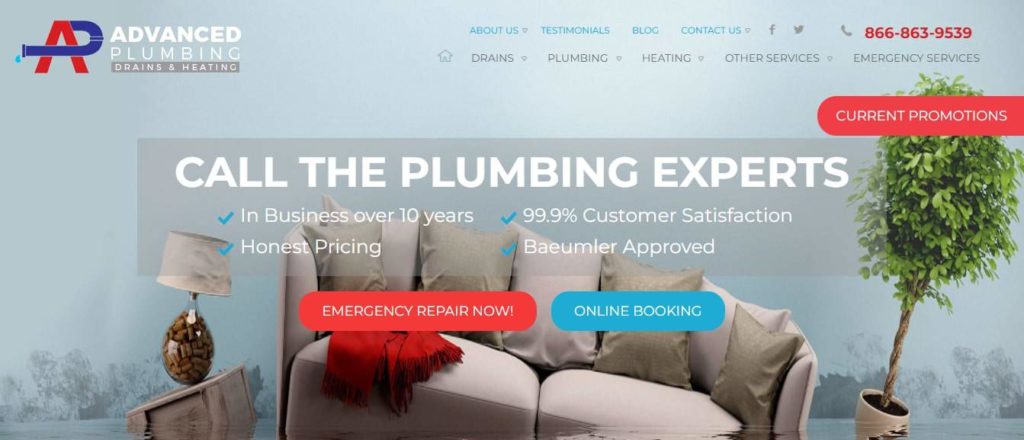 | | |
| --- | --- |
| SERVICES | Water heater repair, drain cleaning, camera inspection, backwater valve repair and installation, hydro jetting, building trap removal, toilet repair, sink plumbing, bathtub plumbing, frozen pipes, and plumbing renovations |
| WEBSITE | https://www.advancedplumbing.ca/ |
| ADDRESS | 113 Annette St Unit #3, Toronto, ON M6P 1N8, Canada |
| CONTACT DETAILS | 866-863-9539 |
| OPERATING HOURS | Monday to Sunday: 8:00 AM – 7:00 pm |
Paying for water heater repairs can definitely hurt your pockets. If you want a budget-friendly option though, make sure to check out Advanced Plumbing.
Aside from its lower rates, we like that Advanced Plumbing is upfront when it comes to quotes and final bills. No customer will have to worry about hidden fees and last-minute charges, something that other plumbers add to earn more money.
Compared to our other picks, Advanced Plumbing can handle all types of water heater systems. Whether your water heater has a busted thermostat or broken gas valve, its plumbers will know how to fix it.
More than that, the folks over at Advanced Plumbing have received nothing but praise from customers for being respectful of their personal space. You can expect that its plumbers will clean and look after themselves after doing the work.
The thing we love most about this plumbing company, though, is that it doesn't make customers wait. Depending on the daily schedule, all customers may qualify for same-day services, which is good news for those who need urgent services.
The only problem we have with Advanced Plumbing is probably the limited operating time. It's open from Monday to Friday, but only until 7 PM every day.
10 years of experience
Upfront pricing
Approachable staff
Budget-friendly services
Customer Reviews
Here's what a former customer had to say about her experience with Advanced Plumbing:
"Advanced Plumbing is amazing. Their entire team is so professional and kind and easy to work with. They completed our job extremely fast, and it was done very well. I was so impressed that they were able to do the complicated work we needed from them. I don't think you can go wrong hiring Advanced Plumbing. I am really happy we had them, and everyone from their team was so polite and respectful in our house. They also squeezed us in numerous times when we needed them to quickly get something done or when they had to do extra work because of something done by another contractor." -Rosalind Deibert
6.   AccuServ Heating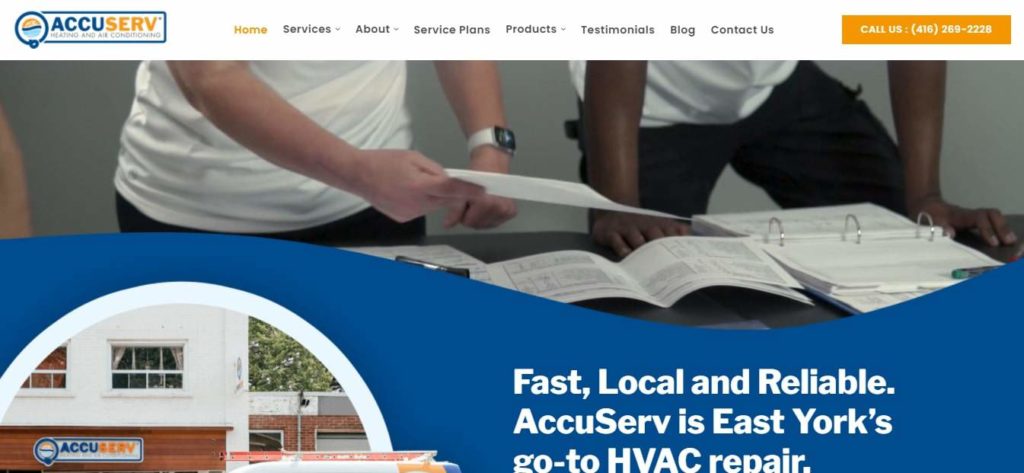 | | |
| --- | --- |
| SERVICES | Tankless water heater repair, air conditioner repair, general contracting, boiler repair, fireplace installation, ductwork, and furnace cleaning and repair |
| WEBSITE | https://accuservheating.com/ |
| ADDRESS | 1167 Woodbine Ave Suite 2, East York, ON M4C 4C6, Canada |
| CONTACT DETAILS | 416-269-2228 |
| OPERATING HOURS | Open 24 hours |
With a rating of 4.9 out of 5 based on almost 300 reviews, AccuServ Heating stands as one of the top-rated repair companies in Toronto. It landed a spot here due to three main reasons.
First, AccuServ can deal with both heating and cooling systems, making it a well-rounded repair company. It's the perfect option if your water heater and air conditioner both have technical problems.
Second, it's one of the most accessible companies among our picks. Apart from operating for 24 hours, AccuServ has reliable customer service agents who can assist customers any time of the day, even during the wee hours of the night.
Lastly, its technicians follow an intricate 21-point inspection and cleaning system when handling tankless water heaters. It starts with checking the water heater for sediments and ends with testing the system to see if it's working properly.
The advantage of such a comprehensive inspection and cleaning system is that its plumbers will catch if there are other problems with your water system. If so, you can be sure that AccuServ will fix it right away.
For those who don't have enough cash on hand to finance the repair, AccuServ also offers different financing options with reasonable payment terms and interest rates. That's a great deal, if you ask us.
Reliable customer service
With financing options
Can repair cooling systems as well
May be booked and busy, contact immediately
Customer Reviews
Corey Sheldrick posted this comment on Google Reviews:
"We're very happy with the stellar service we continue to receive from the folks at AccuServ following our tankless system install. It has worked as expected without any issues or headaches to mention. We would definitely recommend AccuServ to our friends & fam. Thanks for the support, gang!"
Another customer named Richard Willet shared his experience with AccuServ:
"Needed a reset on my tankless water heater. It actually required a lot more than that. Alex explained the process in a very professional and easy to understand way given my lack of knowledge in this area. There was no sales push. A really great service experience all around. I would highly recommend AccuServ"
7.   Dolphin Mechanical Services

SERVICES
Heating System Installation and Repair
Cooling System Installation and Repair
Ductless Airconditioning System Installation and Repair
Tankless Water Heater System Installation and Repair
Furnace System Installation and Repair
Sheet Metal Machinery Repair
WEBSITE
https://dolphinhvacservice.ca/tankless-water-heater/
ADDRESS
2590 Argyle Rd Mississauga, ON L5B 1V3 Canada
CONTACT DETAILS
(437) 776 9066
[email protected]
OPERATING HOURS
Open 24 hours
Next on the list is Dolphin Mechanical Services. They're famous for their tankless water heater. And as they are the best company to call for installation, they're also the best to repair it.
There's no need to worry as Dolphin Mechanical Services consistently provides quality services. They're equipped with staff that has over decades of experience and expertise, like professional technicians with world-recognized certifications.
Aside from tankless water heaters, Dolphin Mechanical Services also offers assistance with heaters, coolers, air conditioners, and the likes. They're fast, efficient, and can surely do the job you hire them for.
Dolphin Mechanical Services is open 24/7, therefore, readily available to assist with urgent repairs.
Their serviceable areas include Mississauga, Oakville, and of course, Toronto. For bookings or inquiries, you can contact them through phone, email, or the form on their website.
Offers free estimates
Immediate assistance
Easy appointment bookings
Expert technicians
8.   Superior Plumbing & Heating

Established over thirty years ago, Superior Plumbing was once a small family business whose main goal was to help the people of Toronto and surrounding areas maintain home equipment for all purposes and kinds of premises.
Superior Plumbing grew over time, steadily building up a reputation for service excellence. Currently, the company is known for repair and maintenance as well as selling and renting out home equipment such as furnaces, boilers, ductless ACs, water heaters, and tankless water heaters.
Aside from the broad range of services and products they cater to, Superior Plumbing is also known for its exemplary team, which consists of highly skilled, knowledgeable, and licensed technicians. These technicians have access to modern technologies that make it possible for them to work quickly and efficiently.
Typically, services from Superior Plumbing are done the same day, if not, then as soon as possible. The rates are provided upfront, and clients will find that Superior Plumbing prices their services fairly.
Accepts Mastercard, Visa, and PayPal for payment
Deploys only skilled, licensed technicians
Large service area
Offers same-day services
Upfront and fair pricing
Customer Reviews
Johnny Webster wrote this on Google:
"When we decided to replace our water heater, we were seriously confused about the types of systems that are available. Thank you for providing all pros/cons of various units that would be suitable for our home and answering all our questions until we were ready to choose the system. Installers were fantastic, they made sure that everything was working as it should, cleaned up, and explained the intricacies of our new water heater."
FAQs about Water Heater Repair
---
There you have it, that's the end of our picks for the best water heater repair companies in Toronto. Working with any of these repair companies guarantees that you won't be dealing with water heater problems anytime soon.
If you believe there's something wrong with your furnace too, don't hesitate to call a professional technician immediately. Luckily for you, we also know which repair companies provide the best furnace repair in Toronto.