8 Family Law Firms with the Best Divorce Lawyers in Toronto
If you and your spouse have decided to call it quits, you'll need someone to aid you during this stressful time. Divorces can be messy, especially if you're dealing with legal issues like child custody, child support, alimony, and division of property.
The best divorce lawyers in Toronto can provide a clear perspective and keep tensions low when both parties' emotions are running high.
Check out the law firms we've listed below and get in touch with esteemed lawyers who can look out for your best interest.
How Much Does It Cost to Hire a Divorce Lawyer in Toronto?
The nature of your divorce determines how much it's going to cost.
If your split is uncontested, meaning both spouses are in agreement to solve related issues, lawyer fees will be around $1,353. For a contested divorce, lawyer fees will be much higher at approximately $12,875.
You'll still need the services of a divorce lawyer for an uncontested divorce because a professional has to go over the paperwork.
Most lawyers have an hourly rate, and you'll sometimes be subject to miscellaneous payments like file set-up fees and the cost of copies. Most of the time, the final price for a lawyer's services can't be given until the end of the divorce process.
The Law Firms with the Best Divorce Lawyers in Toronto
Now that you know you need someone on your side for these proceedings, here are the best law firms with the best divorce lawyers in Toronto.
1. Simple Divorce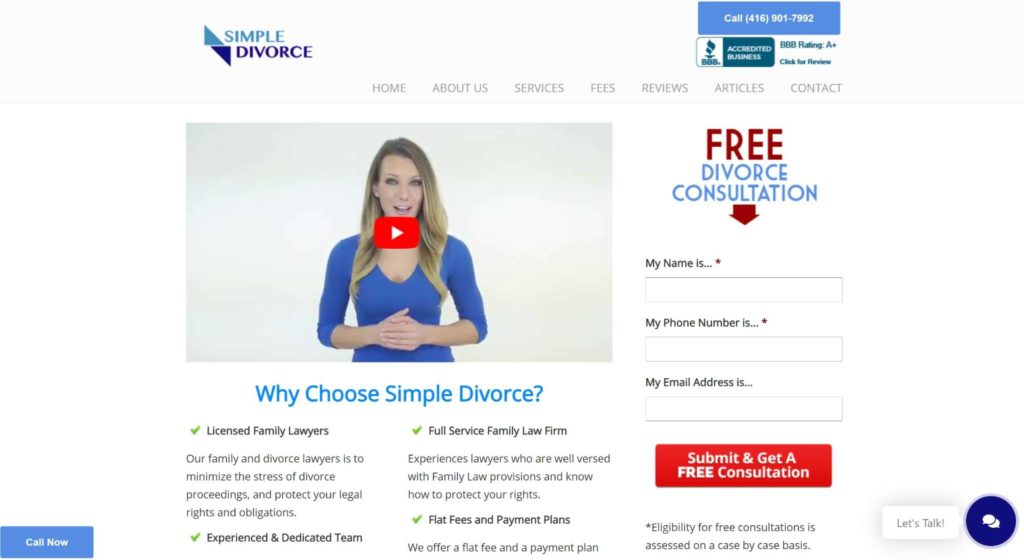 EXPERTISE
Separation agreement, prenuptial agreement, foreign divorce opinion letter
PRICING
Uncontested divorce: $799 + $632 mandatory court fee
Certificate of Divorce: $120
Separation agreement: $500
Foreign divorce opinion letter: $199
Contested divorce: contact the firm for hourly rates
WEBSITE
https://www.simpledivorce.ca/
ADDRESS
1000 Finch Ave West #600b Toronto, ON M3J 2V5
CONTACT DETAILS
(416) 901-7992


[email protected]

OPERATING HOURS
Monday to Friday: 9:00AM-7:00PM
Saturday: 10:00AM-4:00PM
With more than 3,000 satisfied clients over their years of operation, Simple Divorce is the go-to establishment for speedy separations.
Simple Divorce's lawyers specialize in separation agreements and foreign divorce opinion letters. Of course, they can handle uncontested and contested divorces as well.
Their leader, Usman Sadiq, chose these two specializations because he wants to offer clients low-cost solutions for divorces. Qualifying clients even get to use their firm block pricing for specific stages of files.
If you decide to go this route and work with Simple Divorce to finalize a separation agreement, you'll be asked to disclose your income, assets, and debts anyway. The lawyer will know what you're working with.
We also have to mention Simple Divorce's website as it's an excellent resource, with detailed descriptions of all their services. You could learn a thing or two from their site doing your preliminary research for upcoming separation.
Communicates well
Flexible payment options
No hidden fees
 Smaller team, so they tend to be harder to reach and have less time to allot to each client at peak times
Customer Reviews
Here's what some folks had to say about Simple Divorce's services:
"This is the best way to get an uncontested divorce. A one-stop-shop where the lawyers do everything. Very easy process and inexpensive. I was very happy with the process and they were accessible and accommodating when I needed their help. I would highly recommend them. I worked with Karen who was amazing! Thanks for making this difficult time in my life "simple" and easy!"
– Jen Amour St. Hilaire
"I cannot express in simple words my gratitude to Simple Divorce. Going into this, I was cautious, even hesitant. Their write-up on their website gave me some confidence. Next, after speaking to someone from their office, I began to be convinced I had made a wise decision contacting this extraordinary office. The process was explained step-by-step, and thoroughly. And just as it was explained, each step of the way went smoothly and without any surprises or glitches."
– Franca Fagan
2. DivorceGo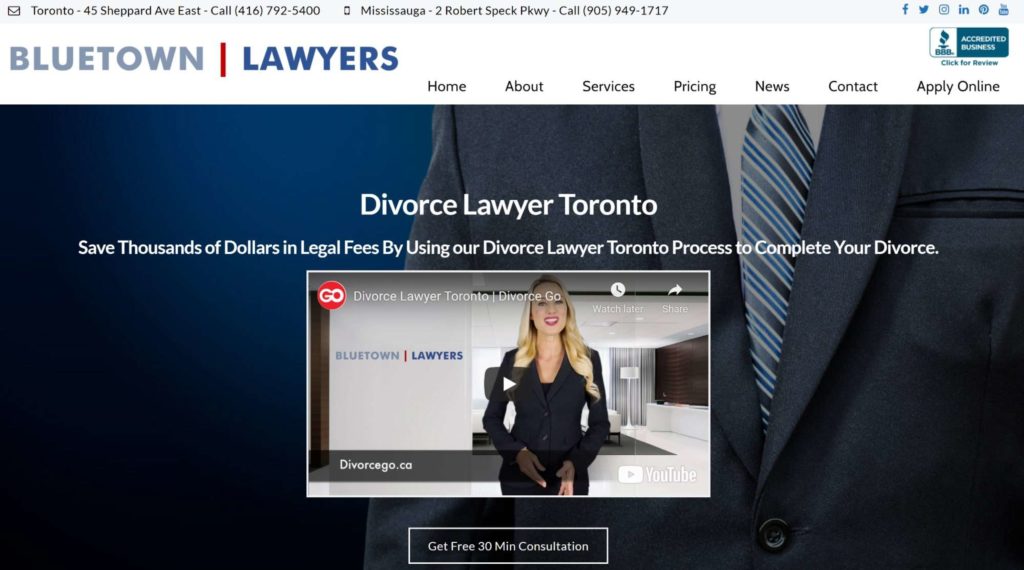 EXPERTISE
Simple divorce, "We Come To You" divorce, uncontested divorce, separation agreement, contested divorce, foreign divorce opinion letter
PRICING
Free consultations
Simple divorce: $850 flat rate with payment plan
"We Come To You" divorce: $950 + HST + court fee of $632 or $10 (with court fee waiver)
Separation agreement: $500
Contested divorce: $250 per hour for litigation
Foreign divorce opinion letter: $199
WEBSITE
https://divorcego.ca
ADDRESS
145 Sheppard Ave E #412 Toronto, ON M2N 5W9
CONTACT DETAILS
(416) 792-5400


[email protected]

OPERATING HOURS
Monday to Friday: 9:30AM-6:00PM
Saturday: 10:00AM-5:00PM
DivorceGo is under Bluetown Law, a Family Law Firm based in North York with a 4.9-star rating based on 251 Google reviews. They process simple and complex divorce cases at competitive prices.
Every lawyer in their firm is a certified member of the Law Society of Upper Canada. This makes them accountable for every move they make when your case is in court.
They have a "We Come To You" service where they complete the entire simple divorce process while you stay at home. It starts with a brief phone consultation and ends with them attending court and submitting your finalized documents.
With a contested divorce, they'll make a plan for moving forward with a case with the details you provide during the free consultation. Once you retain one of their divorce lawyers, they'll start negotiations with the opposing side.
For DivorceGo, court litigation is the last resort, always aiming to save you money. It might come as a relief to you that most issues are resolved during these negotiation settlements.
Offers payment plans for financially incapable
Free consultations
Flat rates with no hidden fees
Fast turnover
Booking on your desired date can be difficult
Customer Reviews
Here's what past clients had to say about DivorceGo:
"DivorceGo did an incredible job for me during one of the most unfortunate times in my life. I had no idea where to turn. Mina was amazing at providing me with the initial information regarding the steps that were necessary. The lawyer helped me negotiate a fair separation agreement and I would truly be lost without the guidance. Filing for divorce after separation was quick and simple. Their prices are fair compared to other lawyers and the service is friendly and reliable. I am very pleased and relieved that it's all behind me now. Thank you!"
– William Cole
"Extremely friendly, helpful, supportive, and professional staff. They are one of the few lawyers who make your divorce peaceful, seamless, and pain-free. Really had a great experience interacting with the whole team and they handled my paperwork brilliantly well. Would definitely recommend them to family and friends!"
– Navjot Kaur
3. Stanchieri Family Law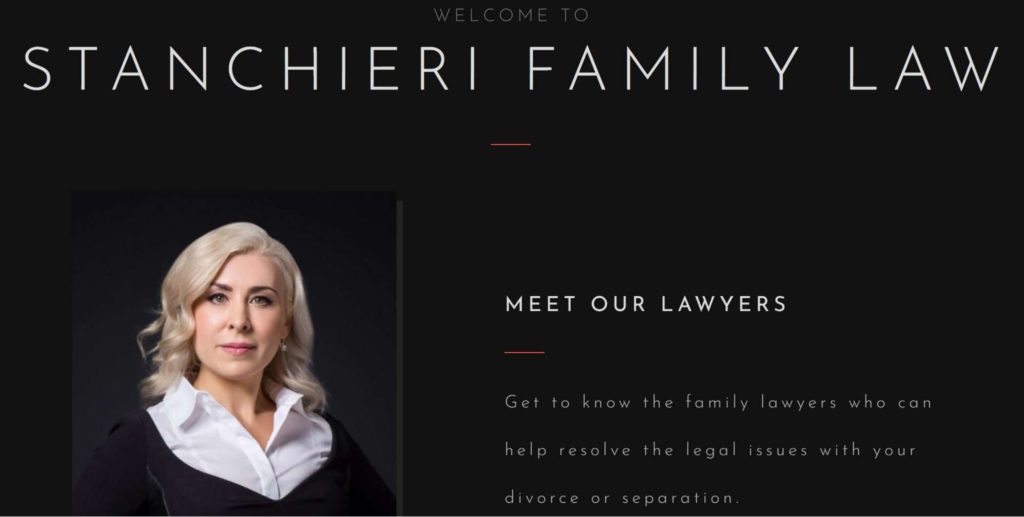 | | |
| --- | --- |
| EXPERTISE | Child support, custody & access, child protection, family businesses, property division, spousal support |
| PRICING | Contact firm for more details |
| WEBSITE | https://www.stanchierifamilylaw.com/ |
| ADDRESS | 375 University Ave Suite 900, Toronto, ON M5G 2J5 |
| CONTACT DETAILS | (416) 595-9995 |
| OPERATING HOURS | Monday to Friday: 9:00AM-5:00PM |
Led by Julie Stanchieri, the Stanchieri Family Law team has helped over 1,700 clients resolve legal issues regarding divorce and separation. The firm only hires high-achieving lawyers whose practice is exclusive to family law.
Stanchieri lawyers are experts at arbitration, collaboration, litigation, mediation, and negotiation. Clients also have supreme confidence in them during trials and appeals because they're consistently on the winning side at the Superior Court level.
The firm also offers virtual legal services for clients who prefer to work with the firm remotely. Should you decide to work with them, you can easily stay on top of your case as their customer support team regularly gives updates through calls, texts, and emails.
As for fees, Stanchieri Family Law is pretty flexible, from what we've seen. Any lawyer from their roster is willing to work within your budget throughout the duration of your case.
Lawyers with exclusive Family Law practices
Fast response times
Can work within your budget
No extra charges for couriers, photocopies, faxes, and scans
Higher rates than average at up to $590/hour
Booking on your desired date can be difficult
Customer Reviews
Here are two Google reviews for Stanchieri Family Law:
"I worked with Natalie Derbyshire and Robert Milley and found them to be extremely supportive, organized, patient, savvy, and accessible. When dealing with the complexities of the Family Law System and its corresponding impact on your life, you need to be represented by incredible people. Stanchieri Family Law has incredible people who helped me settle my case. I highly recommend the firm and would absolutely seek out their help if needed in the future."
– David Wice
"I was represented by Julie Stanchieri during my recent divorce and could not have been more pleased with the outcomes. Julie and her team, which included Ashley and Katelynn, handled every detail and concern with a high level of care and expertise. Everyone at the firm is extremely professional and efficient as well as a pleasure to deal with. Going through a divorce is a highly emotional event in one's life and Julie and her team approached everything with compassion and understanding. Her diligence and attention to detail ensured that my settlement was fair and protected my best interests.
– Michelle Cleveland
4. Goldstein Divorce & Family Law Group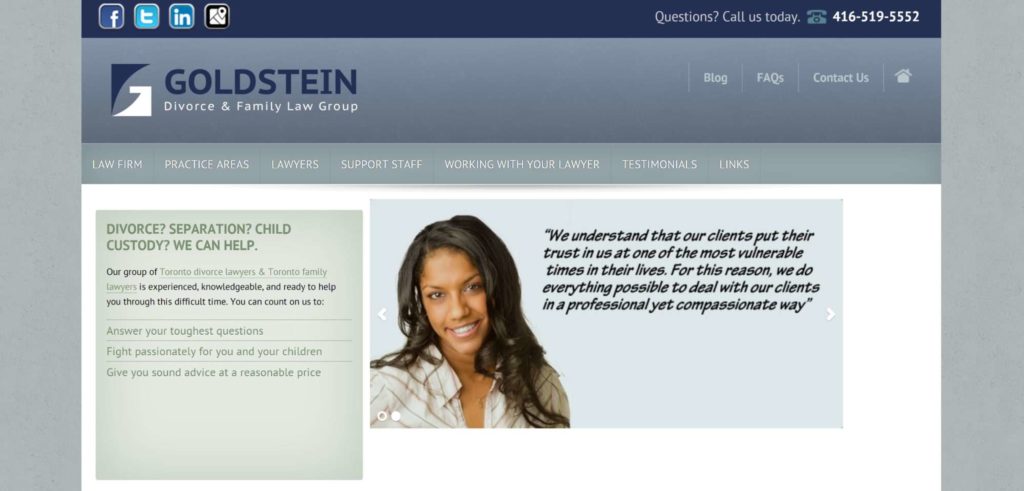 EXPERTISE
Divorce and separation, domestic violence, child custody, child support, alimony, property division, child protection, legal aid
PRICING
Contact firm for more details
WEBSITE
https://www.amglaw.ca/
ADDRESS
20 Eglinton Avenue West, Suite 1001, Toronto
CONTACT DETAILS
416-519-5552


[email protected]

OPERATING HOURS
24 hours
The Goldstein Divorce & Family Law Group was founded by Allan M. Goldstein. Since 1998, He has focused his practice exclusively on the area of Family Law and has handled well over 2,000 cases.
The six other lawyers in his team also have extensive experience in family law cases involving domestic violence, property division, support claims, and court orders. They take a client-focused approach, aware of the emotional toll that divorce brings.
The Goldstein Divorce & Family Law Group also prides itself on having the most affordable divorce lawyers around. They're very cost-conscious when it comes to legal services.
They recognize that some clients aren't able to afford their services. So if you're in need of legal help and unsure of your financial capability, be honest to your lawyer about it.
If money is tight, then going to court is out of the question. They'll most likely use their negotiation skills to give you your best shot at your desired outcome.
Fast response times around the clock
Can work within your budget
Works with Legal Aid Ontario
Transparent with the limitations of each case
 Usually has full caseloads because of large clientele
Customer Reviews
Check out these reviews from Goldstein Divorce & Family Law Group clients:
"Allan is a true professional. He's honest, direct, and doesn't sugarcoat anything, yet he's also caring and compassionate. Allan and his team are affordable family lawyers. Highly recommended."
– Craig Rosenblatt
"If you are in need of great family law and divorce legal advice, I strongly recommend contacting Goldstein Divorce & Family Law Group. Allan was kind, knowledgeable, and very straightforward. He made a situation that had the potential to be explosive, drawn-out and expensive, stress-free and affordable. I found his assistant, Krista, to be personable and very timely in answering all questions that I had. With this law firm, you definitely get what you pay for, years of expertise and knowledge that will allow you to move forward with closure and peace of mind."
– Elaine Relarski
5. Benmor Family Law Group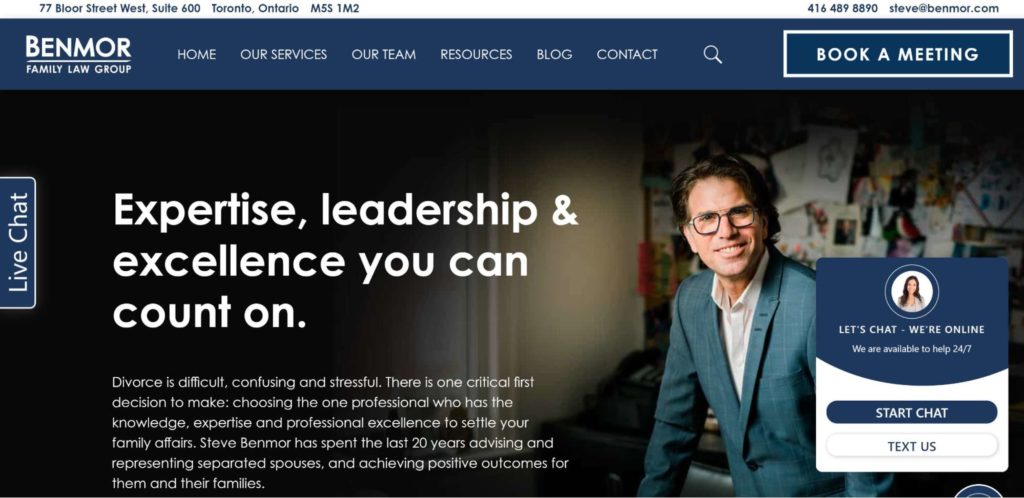 EXPERTISE
Separation & divorce, parenting plans, child and spousal support, property division, alternative dispute resolution (mediation and parenting coordination)
PRICING
Contact firm for more details
WEBSITE
https://benmor.com/
ADDRESS
77 Bloor Street West, Suite 600, Toronto M5S 1M2
CONTACT DETAILS
(416) 489-8890


[email protected]

OPERATING HOURS
Monday to Friday: 9:00AM-5:00PM
The Steve Benmor Family Law Group was founded by Steve Benmore 25 years ago. They specialize in divorce cases for families with significant wealth and assets.
Mr. Benmor has a deep financial understanding, as well as extensive knowledge in divorce law, tax law, and trust law. He is one of Toronto's 34 Certified Specialists in Family Law by the Alternative Dispute Resolution Institute of Ontario.
His impressive credentials and considerable experience in his field can help you stay out of Divorce Court and keep your costs down. If you think yours is inevitably going to be a high-stakes divorce, you'd want Steve on your side.
A prominent figure in the legal industry, Steve often appears on TV as a divorce expert. He is one of the few divorce professionals in Canada who is licensed, certified, and accredited in all out-of-court divorce options.
This may contribute to the perception of the firm offering premium legal services. That said, the Benmor Family Law Group is a known expert in mediating high-net-worth divorces, so the perception isn't that far off!
Expert in high net worth divorces
One of the few firms that offer alternative dispute resolution
Offers a free divorce guide eBook
Responsive client support
Customer Reviews
Here are two reviews from the Steve Benmor Family Law Group's former clients:
"Steven Benmor and his team are very knowledgeable and professional. They provide excellent advice and have helped me get organized to go to either mediation or court. They help you avoid unnecessary costs by guiding me to do my own tracking and finances. They have my kids interests at heart as we go through the difficult process of settling finances. Highly recommend Team Benmor."
– Krista Scaldwell
"Steven is a strategic thinker which makes him a strong perceptive lawyer. He takes the time to understand the situation completely before making any recommendations. He is not hesitant to express his mind and visualizes the outcome from a judge's lens to finally recommend a detailed legal plan to execute."
– Jyoti L
6. Kalra Family Law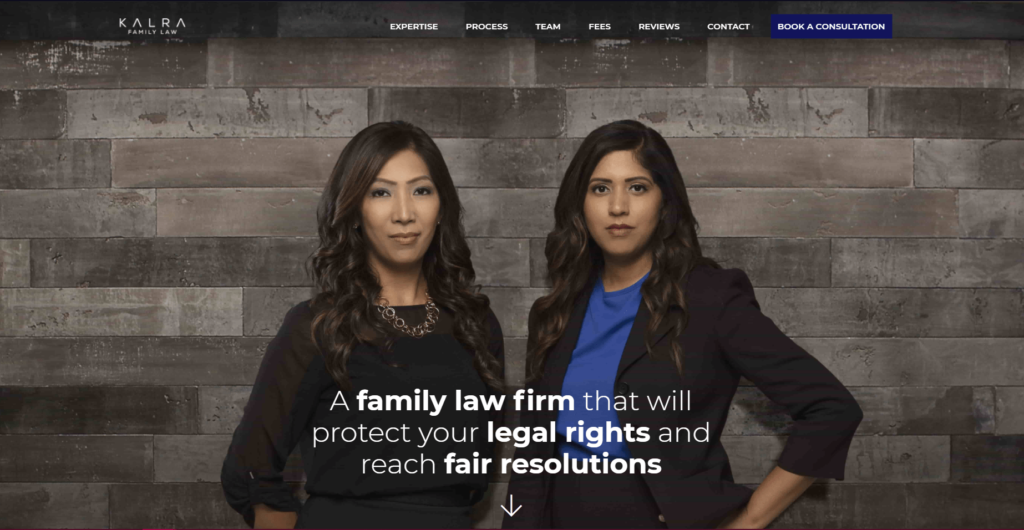 EXPERTISE
DIVORCE & SEPARATIONS
SPOUSAL & CHILD SUPPORT
CHILD CUSTODY & ACCESS
HOME & PROPERTY DIVISION
SELF-EMPLOYED & BUSINESS MATTERS
MARRIAGE CONTRACTS & COHABITATION AGREEMENTS
PRICING
Contact firm for more details
WEBSITE
https://kalrafamilylaw.com
ADDRESS
425 University Avenue, Suite 300
Toronto, Ontario
M5G 1T6
CONTACT DETAILS
T: 416-649-1339
F: 647-313-3006
[email protected]
OPERATING HOURS
Monday to Friday: 9:00AM-5:00PM
Kalra Family Law is a law firm that specialises in Family Law and Divorce Law. They strive to protect their client's legal rights by helping them arrive to the fairest resolution.
Their team of professional lawyers are well-versed in the various intricacies of the family law. Using this knowledge, they think of the most efficient and effective ways to resolve disputes.
They are strategic when it comes to approaching their client's case. They continuously re assess their option at any stage of the case in order to arrive at the best outcome.
Best of all, their straightforward, transparent rates come at competitive prices. You'll get what you paid for and then some if you decide to hire their services.
Strategic methods
Wide range of services
Client-first approach
Transparent and conservative fees
Not open during the weekends
7. Sheard Law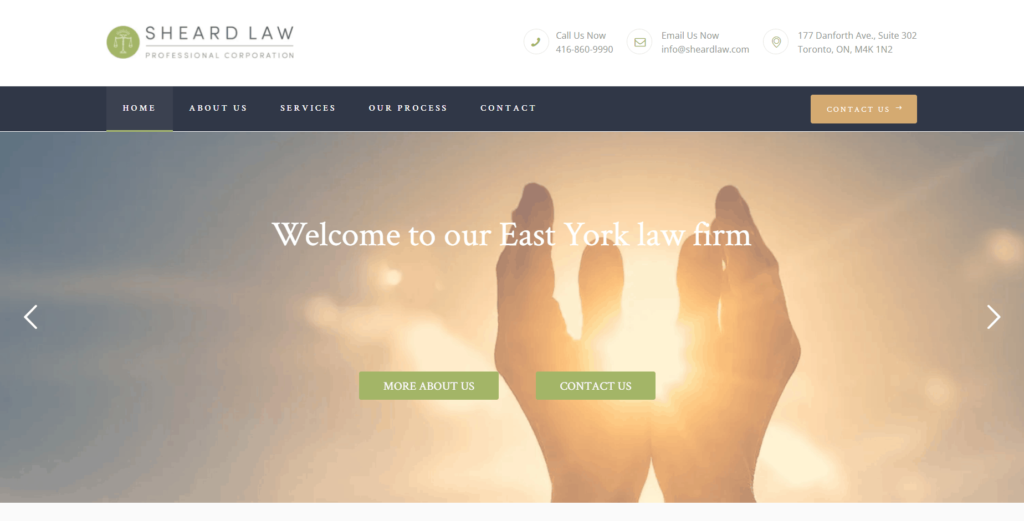 EXPERTISE
LEGAL SEPARATION
OBTAINING DIVORCE
SEPARATION AGREEMENTS
PROPERTY DIVISION
PARENTING (CUSTODY AND ACCESS)
THE MATRIMONIAL HOME
COMMON LAW PROPERTY
SPOUSAL SUPPORT
CHILD SUPPORT
FINANCIAL DISCLOSURE
FAMILY COURT PROCEDURE
PRICING
$450 + HST
WEBSITE
https://sheardlaw.com
ADDRESS
177 Danforth Ave., Suite 302
Toronto, ON, M4K 1N2
CONTACT DETAILS
416-860-9990
[email protected]
OPERATING HOURS
Always Open
Sheard Law is a family law firm whose specialty lies in Divorce Law. Their goal is to identify the case's ideal outcome and to pursue it as swiftly as possible.
They offer a wide range of services to serve their clients' legal needs. Some of these services include obtaining divorce, separation agreements, property division, and more.
Unlike most law firms, they also make sure to address a case's "soft factors," such as the personalities and emotions involved in the case and other small but impactful details. With this approach, they not only resolve the case, but also lessen the chance further issues from occurring in the future.
These reliable services come at straightforward rates, with an hourly rate of $450 + HST. You won't need to worry about any hidden fees either as they are transparent in their billing.
15 years of experience
Wide range of services
Simple 3-step process
Free initial consultation
Relatively small team of lawyers
8. Lydia Moritz Family Law & Divorce Lawyer

EXPERTISE
Divorce, Legal Separation, Child and Spousal Support, Property Division
PRICING
Contact firm for more information
WEBSITE
https://familylawoakville.com/
ADDRESS
1155 North Service Rd W #11, Oakville, ON L6M 3E3
CONTACT DETAILS
Phone: (289) 809-1906
Fax: (289) 291-4010
Email: [email protected]
OPERATING HOURS
Monday – Friday: 9:00 AM – 5:00 PM
Lydia Moritz is known for her professionalism and extensive service. Her aim is to provide the best possible help and guide you through your case with ease.
Her service specializes in family law. So if you're looking for someone to help you with your divorce or separation, we implore you to check out her services.
What we really like about Moritz and her services is that her website helps you be more familiar with what you're getting yourself into, be it the separation or the proceedings that would be happening once you make that decision.
The processes she partakes range from negotiations, alternative dispute relations, to collaborative law. The last one is really important, especially if your family would have a child, and you wish to maintain a respectful and positive relationship with the other parent.
Their only downside is that they don't provide weekend consultations, and their team is only made up of 2 people.
Other factors that Moritz can help you with are child and spousal support, child custody, and division of your properties. So, if you're in the Oakville, Burlington, and Milton areas, we suggest you check her services out.
Over 20 years of experience
Client focused
Great resources found on their website if you want to familiarize yourself
No weekend consultations
Small team of 2
How to Choose the Right Divorce Lawyer
Now that you have options for the best divorce lawyers in Toronto, how do you go about finding the right one? Well, just refer to the short guide below!
1. Assess your finances.
Before you reach out to the law firms above, we suggest that you go through your finances first.
Figure out how much you can spend on a divorce lawyer's services and whether or not you need legal aid. It'll be hard to compare services if you're not sure about what you can afford.
2. Take advantage of the free consultation.
Most of the law firms we've listed above offer free consultations where you can discuss the details of your case. You can also get a feel for a law firm's services in this initial interaction.
Naturally, you'd want to hear these lawyers' plans on handling your divorce proceedings. This is also the perfect time to ask about their track record, resources, and fees.
3. Look out for red flags.
Some lawyers will tell you what you want to hear to close the deal. A divorce can be painful and traumatic, so you want a lawyer who is sympathetic about your plight.
If you consult with a lawyer and they keep talking about high-profile clients or divulging confidential information about other cases, that's a sign that they're likely to do the same to you.
If they keep getting distracted during your sessions, that's a sign that they can't focus on your divorce case.
Finally, if they make promises about achieving your desired outcomes, be wary. Things can go awry, even in the simplest divorce cases. A good divorce lawyer will only assure you that they'll do their best.
4. Be realistic.
A divorce lawyer's job is to represent you during this harrowing legal process. While you might want to express your sadness and frustration, keep in mind that lawyers aren't therapists.
We advise that you stay realistic about the role of your lawyer and what you can expect from them.
FAQs about Divorce Lawyers
---
There you have it, the top firms with the best divorce lawyers in Toronto. We suggest that you reach out to all of them to compare rates, services, and how they communicate.
Since you're looking for the right lawyer, we're sure this is a difficult time. We hope we've significantly narrowed your search for the perfect divorce lawyer who can work on your case.
If you'd like to check out general Family Law services beyond the scope of divorce lawyers, check out the best family lawyers in Toronto.