Top 5 Courier Services in Toronto
Transporting deliveries across Toronto or outside of the city? Let's help you out with that!
In today's article, we'll review the best courier services in Toronto. Find out which companies made the cut here so you can narrow down your options to the city's best.
The Cost of Courier Services in Toronto
Let's talk about prices quickly first.
Courier cost depends on a lot of factors including the distance, package dimension, weight, and customs. Prices can also differ based on express or standard deliveries.
Now, the costs of these services are highly variable as companies have their own terms and conditions. But in general, you can expect standard, same-day deliveries to start at $8.
Express or rush deliveries are usually twice as much as basic ones, landing the cost at about $16 to $22. There are also more urgent options that get deliveries in under an hour for about $20 and higher.
You may also encounter courier services that charge for a re-send or re-schedule of packages if the recipient fails to get them. This fee usually starts at $25.
Here's a table for a quick look at the prices we mentioned:
| | |
| --- | --- |
| Delivery Option | Cost |
| Basic | $8 to $22 |
| Express or Rush | $16 – $22 |
| Urgent | $20+ |
| Reschedule | $25+ |
The Best Courier Services in Toronto
Note that we only picked couriers that have services that cater specifically within Toronto only. Some of these couriers also operate outside of Toronto and Canada (we'll let you know in the Pros section of each review).
In selecting the best services, we chose the ones with competitive fees and standard delivery times. We also looked into other matters that make their business model unique and useful to potential clients.
1. Good Foot Delivery
SERVICES
Basic delivery, express, delivery, basic return, express return
WEBSITE
https://www.goodfootdelivery.com/
ADDRESS
720 Bathurst St, Toronto, ON M5S 2R4, Canada
CONTACT DETAILS
+1 416-572-3771


[email protected]

OPERATING HOURS
Monday – Friday: 9:00 AM – 4:00 PM
Good Foot is a great option if you want to send small packages around Toronto. They accept both basic and express deliveries, as well as basic and express returns.
As expressed in their name, couriers here deliver via transit or on foot. Despite not using their own vehicles, they can still deliver packages in as fast as three hours on express delivery.
Basic delivery starts at $8 while the express option starts at $18. For returns, the basic option kicks in at $18 while the express one starts at $27.
The courier obviously has a cut-off time every day but you can essentially place an order online 24/7. You can also request a quote instantly and place the order in 30 seconds.
Now, note that they have a weight limit for their packages as they're carried by people in transit. The maximum is 8lbs and 12 x 12 x 12 inches – about the size of a milk crate.
If you do need bulk orders, they can accommodate you too. Just make sure to contact them so you can discuss your options.
One of the things that set them apart is their contactless delivery. They'll contact the recipient to meet outside or in the building lobby to avoid extended periods of contact.
Moreover, you can also have them pick up your package without meeting them. Simply leave a note when you place an order so they'll know where you left it.
By the way, in case you're too lazy to pick up your order from a local store, they can do it too. Plus they have live order updates in case you want to see where your order's at.
Also services parts of North York, Etobicoke and Scarborough
Online ordering system open 24/7
Can request an instant quote
Placing an order takes about 30 seconds
Can accommodate bulk orders
Offers contactless delivery
Live order updates
Local store order pick-up
Has photo feature to see package location
Closed on weekends
Cannot cancel order via online account
Does not supply shipping supplies such as envelopes and boxes
Customer Reviews
Excellent services at competitive rates
Absolutely love using Good Foot Delivery – it's easy to book a pick-up; the rates are competitive; and most importantly, the delivery personnel are highly professional and engaged. I also love the confirmation of delivery notification, and that there are two tiers of delivery service by speed. Excellent service. – Malumir Logan
Thorough and adaptable courier
GoodFoot came to my rescue when I had 80 packages that had to get out in a hurry. They were able to tackle the volume and the speed with great care and kindness. I really appreciated their thoroughness and adaptability all the way through. Thanks GoodFoot! – Matt Sweet
2. GOFR Courier Toronto
GOFR Courier has one key thing that we always look for in any service – convenience. They make sending packages easy via a mobile app or a desktop browser.
With an app, you can easily place an order without the hassle of printing a waybill. This paperless transaction is an extra plus, from billing to delivery.
The app also gives customers access to a variety of features including 24/7 in-app support and GPS live mapping to track drivers. There's also an option to search addresses to see prices instantly.
Speaking of prices, we love that they charge a flat rate for their services. As long as your package does not exceed 50lbs and 20km of travel, you'll pay $20.
If the distance goes beyond 20km, they charge an additional $1.11 for every kilometer added. And if you're worried about the package, you also do get SMS updates for tracking.
Like other courier services, they also offer contactless delivery. On top of that, they can also do food deliveries as long as your orders are pre-paid already.
If you need rush orders, on the other hand, you must contact them first. They're reachable via email, chat support, or phone.
Has a mobile app packed with many features
Free sign-up and no subscription fees for the mobile app
24/7 in-app support
Paperless process from start to finish
GPS live mapping available
Option for photo proof or digital signature
Offer contactless delivery
Charges a flat rate
Offers food deliveries
See instant prices by searching prices
Must communicate with them first for rush orders
Customer Reviews
Takes extra measures to fulfill requests
I used GOFR Courier for delivery of a time-sensitive package. Before the day of delivery, they were quick to respond to all of my questions and requests for the delivery. I received text messages throughout the delivery process and was impressed by how quickly my package arrived at its destination. They had excellent customer service and took extra measures to fulfill my requests, such as taking a photo of the delivery when a signature could not be obtained due to COVID precautions. – Rose Cameron
Awesome services at a reasonable price
What can I say that hasn't already been shared? They're an awesome service and offer quick deliveries of gifts during a hectic time – the holidays during a pandemic – at a reasonable price where other courier services would not measure up, have delays and all sorts of organizational issues. Will use GOFR again for its professional service for sure. – Melissa Teodoro
3. Send It Courier
| | |
| --- | --- |
| SERVICES | Same-day, next-day, rush, and panic delivery service |
| WEBSITE | http://www.senditcourier.ca/ |
| ADDRESS | 138 D'Arcy St #1, Toronto, ON M5T 1K3, Canada |
| CONTACT DETAILS | +1 416-820-3342 |
| OPERATING HOURS | Monday – Friday: 8:00 AM – 6:00 PM |
If you own a start-up, Send It Courier is our top recommendation. This bike delivery company provides various courier services to match your needs.
For starters, they have a fleet of bikes that can essentially carry almost anything a typical car can. Their standard bikes have CETMA delivery racks to ensure packages are secured and safe.
It's also possible to book them for large orders as they have many Bullitt cargo bikes. These bikes can carry up to 400lbs of weight, plus have a wide platform for big packages.
Another thing we liked about them is that they're actually among the cheapest we've seen. Even a rush order only costs $8 with them and you can get orders in as fast as one to three hours.
But if that's still too long for you, you can opt for the "Panic" delivery option. This gets your package to the recipient in as fast as 45 minutes – can even be less!
Their standard same-day and next-day rates start at $5.50 only. Of course, additional zones, dimensions, and weights come with their own additional costs too.
Placing an order is also easy using the form on their website. No need to create an account and log in if you're only using them as a one-time service.
Great fleet of bikes with CETMA delivery racks
Has cargo bikes that can carry up to 400lbs of weight
Cheaper-than-average cost for basic and rush deliveries
Panic delivery option in as fast as 45 minutes
No account creation required to place orders
Customer Reviews
Responsive and helpful customer support
Send It Courier's services have been critical for keeping my business going over the past several month. When COVID-19 hit, I had to very quickly change how I run my business. Luckily, I connected with Send It Courier and set up my business account quickly and easily. Clients love that I'm able to send their products to them with same-day and affordable bicycle courier services. The couriers are friendly and the customer service support is responsive and always helpful. – Alison Griggs
Simple-to-use online system
I've used Send It at the office for the past several months and have had great service. They've consistently delivered on time, and are great about calling if there are any issues with a pick-up. I recently used them for a huge batch of deliveries/pick-ups and it went off without a hitch. Prices are fair, and delivery windows are reasonable. I'm also a fan of their online system which is very simple to use. I will definitely continue to use them! – Stephanie Damgaard
4. A-Way Express Courier
SERVICES
Same-day deliveries, rush deliveries, urgent deliveries
WEBSITE
https://www.awayexpress.ca/
ADDRESS
2168 Danforth Ave, Toronto, ON M4C 1K3, Canada
CONTACT DETAILS
+1 416-424-2266


[email protected]

OPERATING HOURS
Monday – Friday: 8:00 AM – 5:00 PM
A-Way Express is an all-around great option for small and bulk deliveries. With their 30 years of experience, we can say that working with them will be a walk in the park.
The firm charges within the city average for deliveries. The same-day option starts at $8 and won't exceed $22.
Rush deliveries start at about $12 while Urgent ones go for about $16. Note that we're only giving estimates here as the actual prices can vary depending on other factors.
Fortunately, they have a rate map on their site that shows a price list based on your postal code. It's very easy to understand as the map is color-coded with corresponding rates.
Another thing worth noting is that they offer 10% discounts for 15 or more packages. This makes it a great option for small businesses that have to deliver multiple orders in a day.
Other than that, they can make the process even more convenient for you with their deliveries. You can schedule deliveries on a daily, weekly, or monthly basis and they'll do the rest of the work for you.
30 years of experience
Easy to use rate map for estimated prices
Offers 10% discount for 15 or more packages
Best for small business
Can schedule deliveries on a daily, weekly, monthly basis
Basic delivery can get up to $22
Follow-ups can be difficult at times
Customer Reviews
Easy to schedule orders
Great service. Very easy to schedule and helpful staff. Would definitely recommend. I used it for pick up and delivery of a small parcel. Sent the request online late Sunday night, was on the phone with them to pay first thing Monday morning and the package was picked up and delivered before noon on Monday (no rush service requested). – Vincent Doré
Timely delivery of packages
Yesterday was our first experience with A-Way and we are pleased with the results. From the moment of very friendly first contact on the phone to the completed timely delivery was much appreciated. It is our intent to continue using A-Way in an ongoing manner moving forward. – Chris Allen
5. Secured Courier Ltd Toronto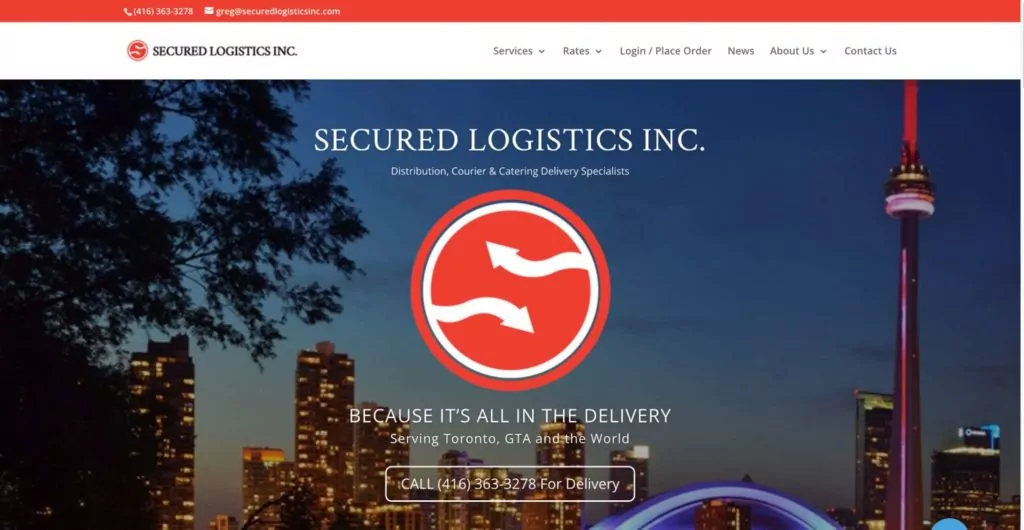 | | |
| --- | --- |
| SERVICES | Courier services, kitchen catering delivery, logistics & distribution |
| WEBSITE | https://securedcourier.com/ |
| ADDRESS | 3106 Dundas St W, Toronto, ON M6P 2A1, Canada |
| CONTACT DETAILS | +1 416-363-3278 |
| OPERATING HOURS | Monday – Friday: 8:00 AM – 5:30 PM |
Secured Logistics offers courier services within Toronto, GTA, and around the world. Their firm consists of four divisions namely Secured Courier, Greenteam Courier, Corporate Catering and Logistics.
Secured Courier is a one-stop shop for all delivery needs inside and outside Toronto. They have 30 offices in the US and Canada alone, plus they've partnered with various transportation companies.
Unlike other companies, they offer courier services that take deliveries to the next level. For instance, they offer a consulting service where they analyze how you can save money on these services.
Apart from the usual full courier services, they also do distribution logistics and catering delivery. The company also accommodates special requests for late pick-ups, volume shipments, and more.
One of the things that we liked about them is that they actually deliver faster than usual. Their direct deliveries can take from 30 to 60 minutes only and you can even get faster times with the Panic option.
For same-day deliveries, they can deliver to residences by 6:00 PM. For business, it's much earlier as you can get things delivered by 5:00 PM.
Apart from these, they also have a great fleet of vehicles including cube vans, trucks, and hatchbacks. They can basically deliver packages of all shapes and sizes.
Also serves Toronto and outside of Canada
OIffers consulting services
Offers catering delivery and logistics & distribution services
Can accommodate special requests
Direct deliveries can take as fast as 30 minutes
Fleet of vehicles for packages of all shapes and sizes
Services can be expensive
Customer Reviews
A pleasure to work with
We'e been working with Secured Courier for the past 12 months and they are VERY reliable, always on time and because we're in the food business, they help us with our catering deliveries, and I can confidently say that the food ALWAYS arrives hot and ready to eat. Such a pleasure to work with. I would recommend them to anyone who needs help with delivery, you won't regret it. Thank you Greg and Stacy! – Anthony Panepinto
Absolutely fantastic services
I have been working with Secured Courier for 5 years and they have yet to disappoint! The order desk ladies are professional, precise and always willing to help. Delivery personnel, dispatch manager and the owner are absolutely fantastic. I would highly recommend Secured Courier! – Christine Grieve
FAQs About Courier Services in Toronto
---
Liked our selection for the best courier services in Toronto? If you want to see more content about getting things moving, you can start with our review on the best movers in Toronto.