Top 5 Trucking Companies in Toronto
The movement of goods and services is vital so there are no disruptions in supply. Whether it's for a business or an individual's needs, the option to have essentials delivered saves a lot of time and sometimes, even energy.
Hiring a reliable and prompt trucking service is one way to ensure that your goods arrive safely and on time. Read on further for our review of the best trucking companies in Toronto.
The Best Trucking Companies in Toronto
We chose the trucking companies based on the following criteria:
How much does it cost to hire a trucking service in Toronto?
Here are the prices of different types of trucks to give an idea of the cost of hiring one.
| Truck Type | Average Rate per Mile |
| --- | --- |
| Van Freight | CAD 3.43 |
| Reefer Freight | CAD 3.90 |
| Flatbed Freight | CAD 4.30 |
Prices are affected by load volume and the capacity of the truck. Also, the delivery location and fuel costs will make costs change.
Another factor that affects the price is the type of truck needed. The bigger the trucks or more specialised (such as reefer trucks), the more premium the price tag.
1. P&W Intermodal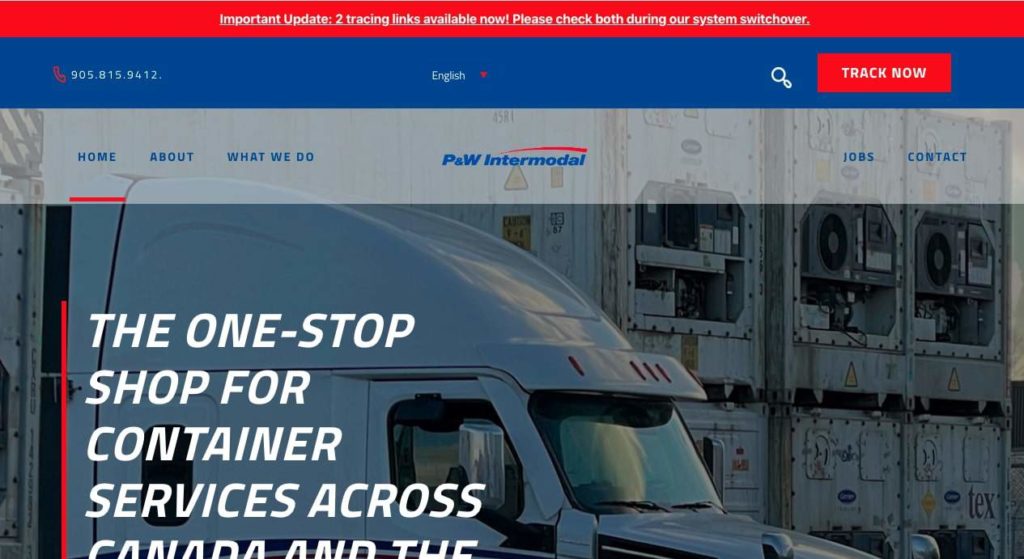 Test
Info
Services

Intermodal Services

Door Delivery

Storage

Website
https://pwintermodal.ca/
Address
36 N Queen St, Etobicoke, ON M8Z 2C4
Contact details
905-815-9412
Operating hours

Monday - Friday: 6:30 am - 9:30 pm

Saturday - Sunday: Closed
| | |
| --- | --- |
| Criteria | Rating |
| Fleet | ★★★★★ (5/5) |
| Drivers | ★★★★★ (5/5) |
| Range of Service | ★★★★★ (5/5) |
| Monitoring/Safety of Goods | ★★★★☆ (4/5) |
| Maintenance of Trucks | ★★★★★ (5/5) |
P&W Intermodal is a trucking company that offers a wide array of road delivery services. Its aim for over 20 years is to be able to give customers a better option than railway container shipments.
We like that the company's truck units are inspected and maintained regularly to guarantee safety on the road. All its drivers undergo continuous training on road safety and handling shipments.
Noteworthy is its use of trucks with satellite tracking, which allows better communication and monitors divers' performance while on the road. Electronic Data Interchange (EDI) of trucks makes it easy to get updates on the shipment as well.
For safety, P&W complies with the maximum hours allowed for drivers. It also strictly follows industry standards on safety and is custom bonded.
This service is able to deliver shipments straight to their customer's doorsteps. Its website allows customers to trace their shipments as well.
It can also transport hazardous materials as its drivers are trained to handle delicate and high-risk goods such as radioactive materials. However, we note that this can pose some risk to the driver, the vehicle, and the environment.
We recommend P&W Intermodal for its efficient operations and focus on safety. Clients have been happy with how their goods arrive promptly and in good condition.
Wide-array of road delivery services
20 years in the trucking business
Trucks undergo regular inspection and maintenance
Drivers get continuous training on safety and handling of shipments
Truck equipped with modern technology such as satellite tracking
Follows regulations and industry safety standards
Doorstep delivery of shipments
Customers can trace shipment online
Extensive area of coverage can cause unreliability in delivery service
Transporting of hazardous materials can be risky to drivers, vehicles and the environment
Customer Reviews
Professional Staff
"These people are amazing and super professional. Service with a smile. Always great energy and positivity and they give it all to go above and beyond to help the load get there on time." – Silvi
Impressive operations
"I pick up rail containers there on occasion. I have always been treated with respect and courtesy. The efficiency of the operation is impressive. I have nothing but good things to say about them" – Bob
2. Jagjot Express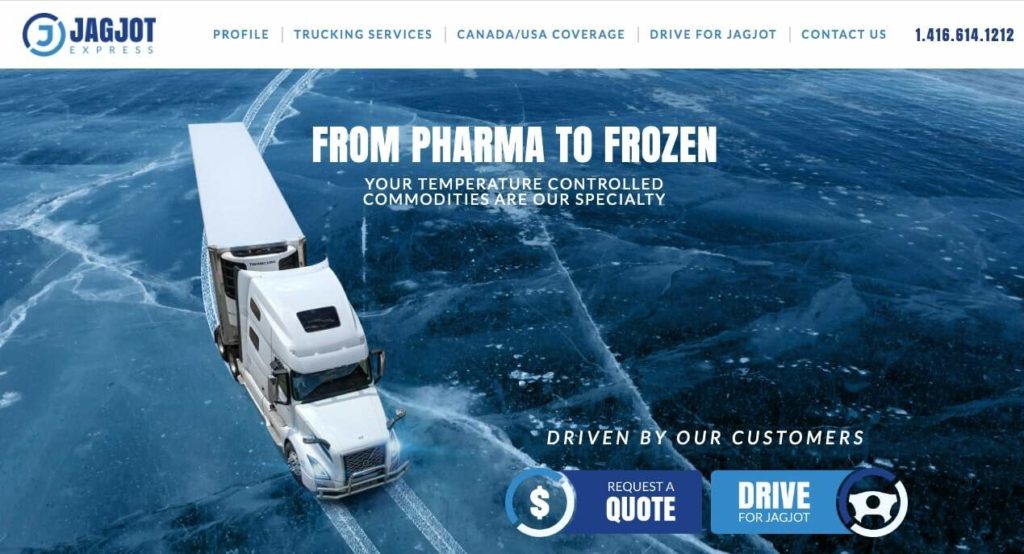 Test
Info
Services

Full Truckload

Less Than Truckload

Temperature Controlled

Dry Goods

Website
https://jagjotexpress.com/
Address
71 Vulcan St, Etobicoke, ON M9W 1L4
Contact details
416-614-1212
Operating hours
Monday - Friday: 9 am - 5 pm

Saturday - Sunday: Closed
| | |
| --- | --- |
| Criteria | Rating |
| Fleet of Trucks | ★★★★★ (5/5) |
| Drivers | ★★★★★ (5/5) |
| Range of Service | ★★★★☆ (4/5) |
| Monitoring/Safety of Goods | ★★★★★ (5/5) |
| Maintenance of Trucks | ★★★★★ (5/5) |
Jagjot started its trucking business in 2000 offering both Full Truckload (FTL) and Less-Than-Truckload (LTL) services. It is able to deliver dry goods and perishable items within Canada and the USA with the use of a modern fleet.
We like how it specialises in transporting goods needing temperature-controlled storage. We found out as well that it can accommodate items that need to be stored at different temperature settings in its multi-temperature refrigerator trucks.
Its trucks are equipped to compartmentalise items according to certain temperatures – ambient, heated, cool, or frozen. Drivers then have to ensure that the goods arrive on time and in good condition.
Furthermore, its trucks have logistics monitoring equipment to continue its commitment to prompt deliveries. Also, clients have the option to have a single driver or get a team of drivers for a shorter delivery time.
In addition, its well-selected drivers are trained to solve problems that may arise during shipments.
For added peace of mind, this company is C-TPAT certified and bonded in Canada and US customs. Jagjot ensures trucks follow a strict cleaning and sanitation process after each use.
What is notable is the use of environmentally-friendly trucks. These are also cost-efficient with the use of fuel-saving technology.
We find it convenient that it accommodates small shipments, but we do note that delivery can take a bit longer. The company usually pools small items weekly and ships them through one truck.
In conclusion, the 24/7 service of this company makes a reliable trucking service that can transport your goods quickly and safely.
FTL and LTL truckload services
Delivers within Canada and the USA
Multi-temperature refrigerated trucks
Logistics monitoring equipment in trucks
Well-selected and trained drivers
C-TPAT certified and Canada and US customs bonded
Follow strict cleaning and sanitation process
Environmentally-friendly trucks
24/7 delivery service
Small shipments have longer delivery times
Strict delivery time for temperature-sensitive goods
Customer Reviews
Great customer service
"Been dealing with them for a few years now. Very Friendly staff with excellent communication and Delivery is on time. Never disappoint the customer and always give updates regularly. Would surely be looking to continue working with Jagjot Express." – Akaash
Prompt delivery
"Excellent Service rendered till date without giving any cause for concern once the shipment is handed over to them. Rest assured your freight is secure and in safe hands. Customer satisfaction is ensured as they are punctual in their schedules and deliveries giving regular updates to the customers.
Will definitely recommend them any time" – Sajan
3. MGA International Logistics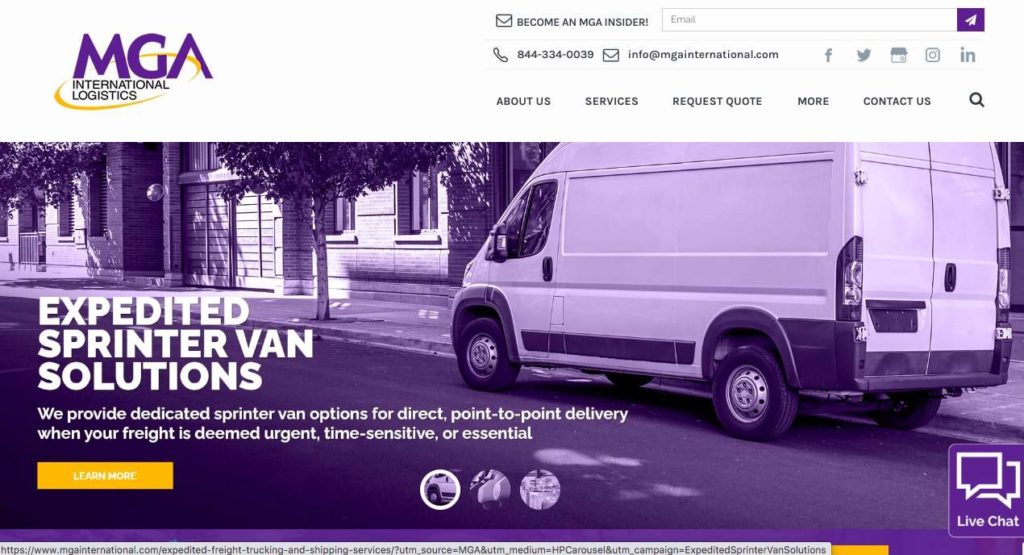 Test
Info
Services

Expedited Freight Shipping

Cross-Border Shipping

Flatbed Trucking and Shipping

Less than Truckload Shipping

Full Truckload Shipping

Local Cartage Trucking

Website
https://www.mgainternational.com/
Address
279 Norseman St, Etobicoke, ON M8Z 2R5
Contact details
844-334-0039
Operating hours
Monday - Friday: 8 am - 5 pm

Saturday - Sunday: Closed
| | |
| --- | --- |
| Criteria | Rating |
| Fleet of Trucks | ★★★★★ (5/5) |
| Drivers | ★★★★★ (5/5) |
| Range of Service | ★★★★☆ (4/5) |
| Monitoring/Safety of Goods | ★★★★★ (5/5) |
| Maintenance of Trucks | ★★★★☆ (4/5) |
MGA International Logistics has provided freight, logistics and transport services all over Canada, Mexico, and USA for more than 20 years. Its services are delivered through its own fleet of trucks and partnerships with trucking companies.
One notable service MGA has is its expedited freight service, which delivers time-sensitive products right away. They are able to do this with the use of their hot shot trucks and sprinter vans.
MGA makes shipment tracking available for clients. Also, its drivers have the experience and the knowledge on how to handle urgent deliveries.
Another service worth mentioning is its ability to haul items that exceed the standard and legal sizes allowed on the road. This company is capable of securing permits and has double-drop flatbed trailers that can accommodate these items.
Some of the items that it cannot transport are livestock, grocery items, automobiles, and mobile homes. Also, it cannot haul bulk liquids, chemicals, and fertilizer.
As a cross-border trucking service, it would be good for ease of shipment if they can clear the freight in customs. However, customers have to hire a customs broker separately.
It is good to know that this company is easy to reach via telephone or email. They also provide customers with the option to have a live chat or request a quote on its website.
If you're a first-time customer, you get to claim its special 10% discount. This is a plus to its prompt and damage-free delivery of goods.
Freight, logistics, transport provider
Expedited freight service
Clients can track shipments
Hauls oversized items not allowed on the road
Ease of communication
10% discount for first-time customers
Not able to transport certain items 
Customers need to hire a third-party customs broker
Customer Reviews
Exceeds customer expectations
"All the great service needs that a company could meet for a customer, MGA international exceeded them. Their entire staff was extremely responsive, helpful, and most importantly, they kept me informed the entire process. They made this a great experience for myself and for my customer. I was also impressed by the driver and how much care he put into securing our goods. Thank you MGA International for being there for my transportation needs!!" – Thi
Addresses logistical challenges well
"Greg Grimes got it done. I had an unusual shipment that he took on seriously and professionally. Greg was very responsive and communicative, worked many different angles to get me a good price, and overcame several logistical challenges. I would definitely use MGA again." – Ryan
4. Wilson Truck Lines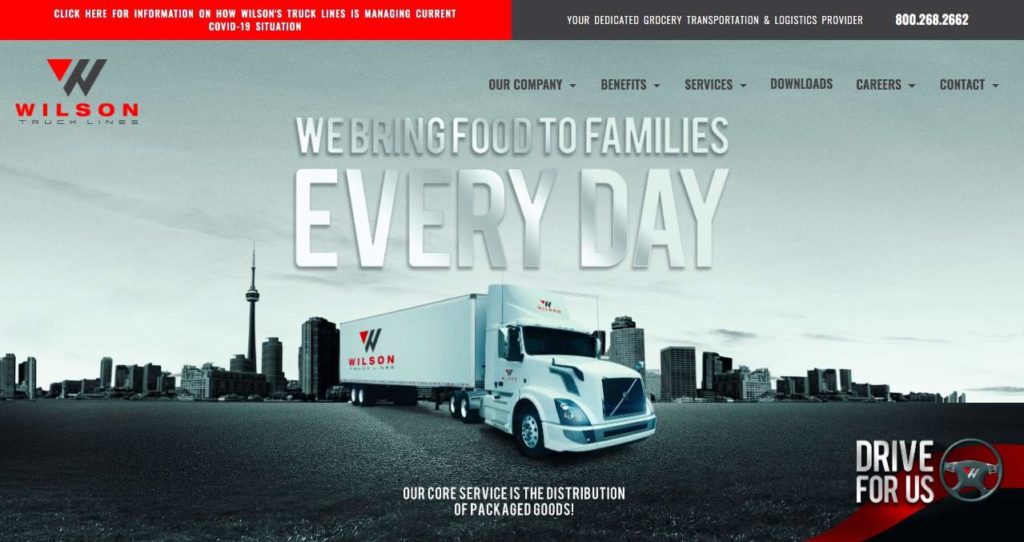 | Test | Info |
| --- | --- |
| Services | Fleet Outsourcing |
| Website | https://wilsonstrucklines.com/ |
| Address | 111 The West Mall, Etobicoke, ON M9C 1C1 |
| Contact details | 416-621-9020 |
| | |
| --- | --- |
| Criteria | Rating |
| Fleet of Trucks | ★★★★★ (5/5) |
| Drivers | ★★★★☆ (4/5) |
| Range of Service | ★★★★★ (5/5) |
| Monitoring/Safety of Goods | ★★★★☆ (4/5) |
| Maintenance of Trucks | ★★★★★ (5/5) |
Wilson Truck Lines has been partners with big grocery chains to bring food items to its branches all over Canada. It has a policy of "Never Say No" that has helped to continually find solutions for its delivery services.
This company is family owned but is supervised by an independent board of advisors. They brought in their expertise in corporate governance to ensure satisfaction among its customers, drivers, and shareholders.
With more than 80 years of experience in the transport industry, they're clearly doing something right in terms of customer service.
One of its ways to cater to the requirements of its customers is to partner with truck owners who operate their own trucks. However, this setup can cause issues with reliability and quality of service.
They use a GPS tracking system to avoid such problems to arise. It is able to do real-time communication with drivers, speed monitoring, and know loading and unloading times.
The company also follows an Activity Standard Process to streamline its operations. It is able to monitor how drivers run the trucks and pay them fairly according to their performance.
This process also helps to efficiently calculate daily operating costs. Also, it's able to have real-time deliveries of goods.
Overall, we commend the company's aim to reduce carbon footprint by proper maintenance of its fleet. The trucks are also equipped with a filtration system, so emissions are safe for the environment.
Never Say No policy 
Supervised by an independent board of advisors
More than 80 years of experience in the transport industry
Activity Standard Process leads to streamlined operations
Fleet assists in the reduction of carbon footprint
Caters only to the delivery of food items to grocery branches
Issues on reliability and quality of service from outside driver & truck operator
Customer Reviews
Great experience
"Great experience with wilson truck lines" – Sangeet
Good company
"Good trucking company" – Michael
5. RoadLINX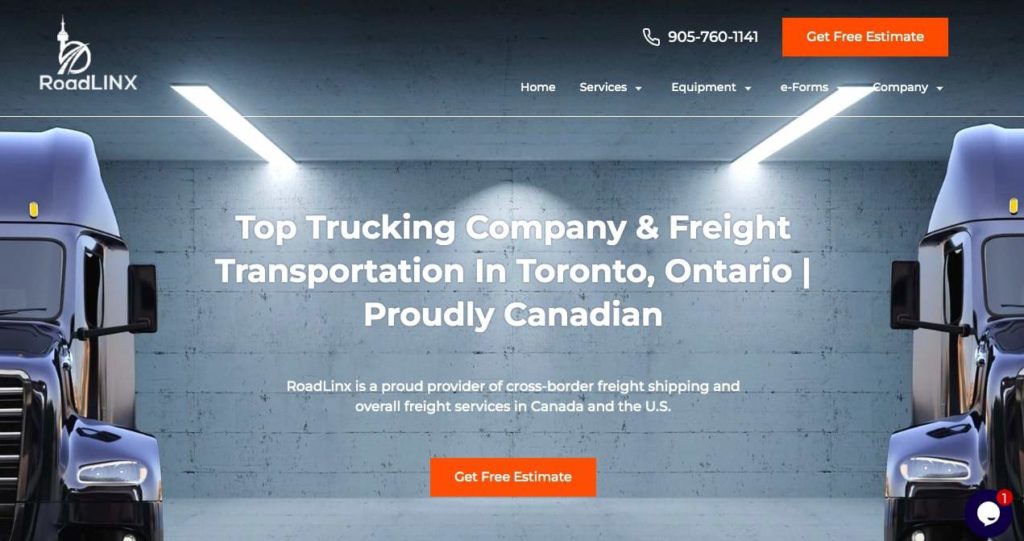 Test
Info
Services

Dry Van Freight

Refrigerated Shipping

Flatbed

Full Truckload

Less than Truckload

Heated trucks

Warehousing Solution

Website
https://roadlinx.com/
Address
501 Rowntree Dairy Rd, Woodbridge, ON L4L 8H1
Contact details
905-760-1141
Operating hours
Monday - Friday: 9 am - 4 pm

Saturday - Sunday: Closed
| | |
| --- | --- |
| Criteria | Rating |
| Fleet of Trucks | ★★★★★ (5/5) |
| Drivers | ★★★★★ (5/5) |
| Range of Service | ★★★★★ (5/5) |
| Monitoring/Safety of Goods | ★★★★☆ (4/5) |
| Maintenance of Trucks | ★★★★☆ (4/5) |
RoadLINX offers local and cross-border trucking services, great for the supply chain management. Its edge is the personalised service helping customers save on costs and experience prompt delivery.
Noteworthy is its specialised services. which give the best delivery options for the specific needs of customers.
Be aware, though, that these specialised services will mean higher shipping costs. It's a good thing customers can share shipping with the LTL option.
Customers with heavy and oversized cargo are accommodated by RoadLINX as well. Specialised trucks like step decks and double drop trailers can transport more than 100,000 pounds of cargo.
It also has heated and refrigerated trucks for temperature-controlled storage. These trucks have different sections wherein temperature can be regulated separately.
What is worth noting also is its expedited shipping service, allowing goods to be transported straight in 24 hours. Each trip has two drivers taking turns to avoid delays.
This company transports goods from all points of Canada and the USA so damages can happen with handling and while in transit. It's good to know the company offers handling services to minimise damages.
Fragile items can be wrapped in blankets to keep them safe during transport. Its trucks also have straps so large items will stay in place.
Moreover, RoadLINX provides extra manpower to load and unload items. Staff can accompany shipments of oversized items as well.
We recommend this firm as its staff provides a free quotation as quickly as they can. Its state-of-the-art tracking system makes it a good option for clients who may have requests or changes in terms of schedules.
Local and cross-border trucking services
Personalised services streamline customer operations
Accommodates heavy and oversized cargo
Refrigerator trucks with separate temperature-controlled sections
Expedited shipping service
Specialised handling services can minimize damages on goods
Offers free quotation 
State-of-the-art tracking system
Shorter operating hours
Specialised services have higher shipping costs
Customer Reviews
Great customer service
"This was my first time using Roadlinx and had the best and easiest time from start to finish. Ian was super helpful, accommodating and professional. They were able to get my shipment picked up and to me faster than I expected! Amazing Service and great price." – Robin
Consistent service
"Very competent team. Our account manager, Edan, consistently goes above and beyond to ensure our needs are met. Logistics companies often get your account and then stop caring – we've used RoadLINX now for several years and service has maintained and even improved." – David
FAQs on Trucking
---
That wraps up our review of the best trucking companies in Toronto! Feel free to share some of your personal recommendations in the comments below.
For other delivery needs, check out some of our other reviews: