10 Best Activities to Do Alone in Toronto
Bonding with friends and enjoying Toronto's attractions together is always fun, but there are always those times when everyone's too busy to hang out.
While it sucks being alone, it doesn't mean you can't enjoy the city's sights and activities on your own. So here's a list of the best things to do in Toronto all by yourself!
1. Join the Distillery District Segway Tour
Address: 11 Gristmill Lane, Toronto, ON M5A 3C4, Canada
Price: Per head - $46.33
Operating hours: 
A fun activity you can do alone in Toronto is joining this segway tour in Toronto's Distillery District by Go Tours Canada! It's a fun guided tour that teaches you about the district's interesting attractions and history in 30 minutes. 
You'll see cool Victorian buildings, quaint cafes, trendy shops, cool sculptures, and restaurants as you ride your segway across this hip neighbourhood. 
Pro tip:

The district has public sculptures on display but make sure to check out the iconic heart sculpture in the district. You'll come across it on your tour and you can even ask your tour guide to take your picture with it!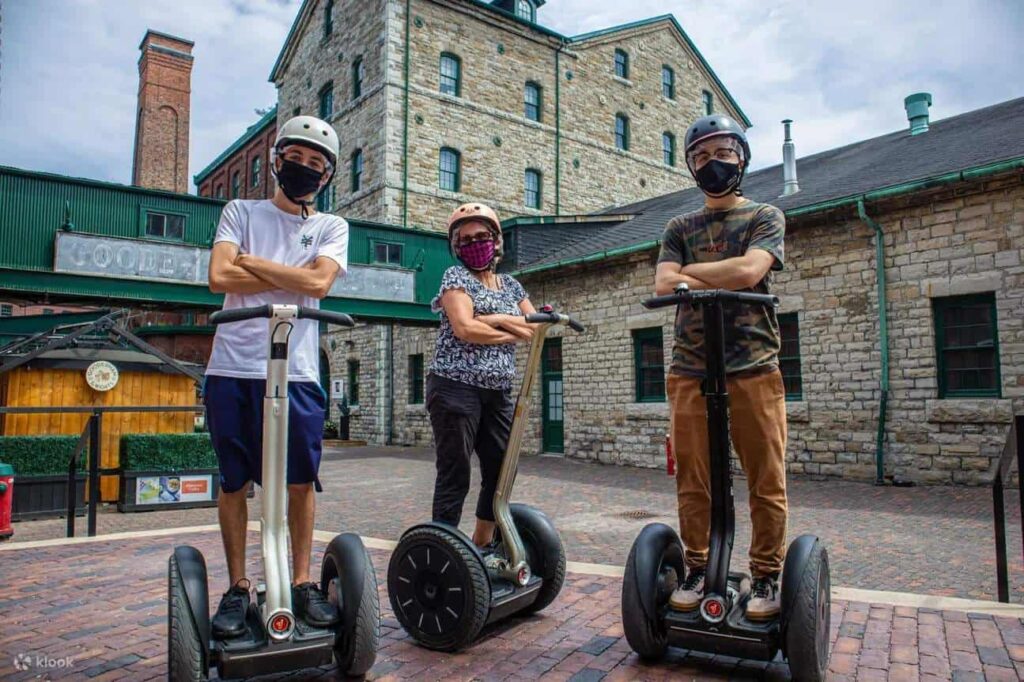 Monday: closed
Tuesday – Saturday: 11:00AM – 6:00PM
Wednesday, Friday: 11:00AM – 5:00PM
2. Visit the Royal Ontario Museum (ROM)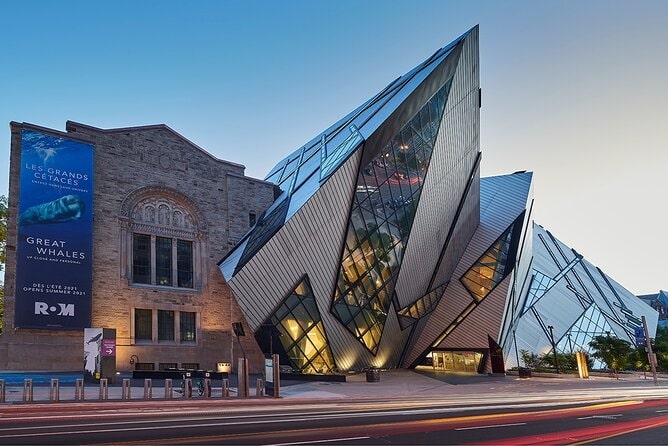 Address: 100 Queens Park, Toronto, ON M5S 2C6, Canada
Operating hours: 
Monday: Closed
Tuesday – Sunday: 10:00AM – 5:30PM
The Royal Ontario Museum is the largest museum in Canada with 13 million artifacts and 40 different galleries!
The tour offers a cool audio tour, which is great for anyone visiting alone as you can explore the museum at your own pace. The audio tour provides interesting facts about the exhibits and themed galleries, which is a great learning experience. 
Pro tip:

If you love space, make sure to take a look at the Tagish Lake Meteorite. It's the world's largest 900 carat faceted cerussite gem, which was found in Canada!
3. Bond with sea critters at Ripley's Aquarium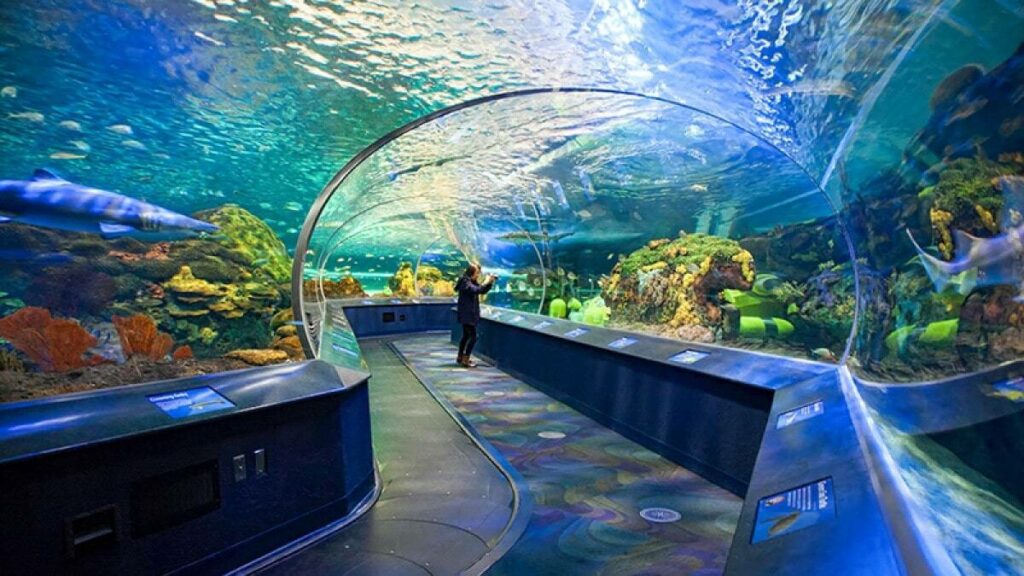 Address: 288 Bremner Blvd, Toronto, ON M5V 3L9, Canada
Operating Hours: Monday – Sunday: 9:00AM – 11:00PM
Ripley's Aquarium is a fun destination worth visiting even if you're alone! The aquarium has lots of aquatic animals like isopods, sea stars, and alien-like Wobbegong Sharks to keep you company.
There are lots of cool things to see in the aquarium, but we think the touch tanks are the best thing to experience here. They're a fun way to make a deeper connection with cute manta rays and baby sharks!
Pro tip:

We recommend a visit to the aquarium's Shipwreck exhibit. The tanks are designed miniature sunken boats that lay on artificial reefs, where creatures like octopus, mantis shrimp, crabs, and even giant isopods can be seen. 
4. Visit the Toronto Botanical Garden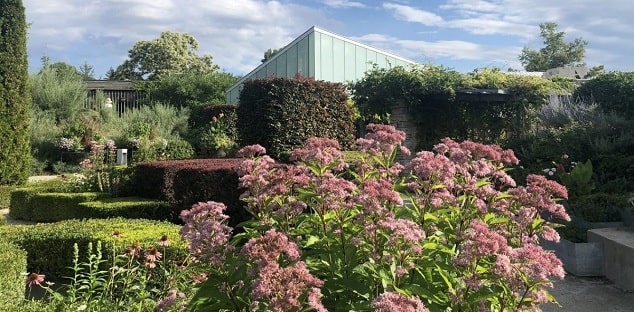 Address:  755 Lawrence Ave E, North York, ON M3C 1P2, Canada
Operating Hours: Monday – Sunday: 10:00AM – 8:30PM
No matter where you are, it's always nice to have a relaxing stroll to ease the mind. Thankfully, you can head to Toronto Botanical Garden and do just that.
The botanical garden is known for its beautiful and diverse flower displays across its 17 gardens – which adds to the relaxing atmosphere! There are also some cool activities in the park like a gardening workshop that you can join. 
Pro tip:

Visit the Floral Hall Courtyard, which is a section of the park known for its stone walls and elegant couch-filled spaces made for relaxing. 
5. Join a historic walking tour at the Distillery District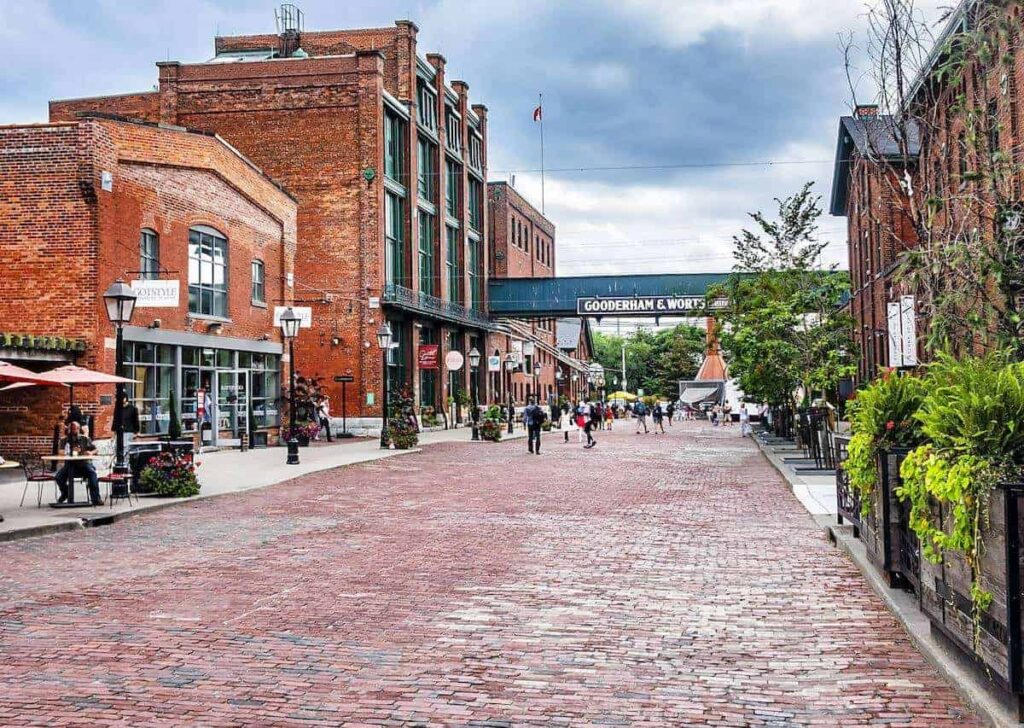 Address: 11 Gristmill Lane, Toronto, ON M5A 3C4, Canada
Price: Per head – $23.73
Operating hours: 
Monday: closed
Tuesday – Saturday: 11:00AM – 6:00PM
Wednesday, Friday: 11:00AM – 5:00PM
Joining this historical walking tour by Go Tours Canada is one of the best ways to explore the Distillery District The tour takes you to the district's oldest buildings and provides interesting historical facts about each of them. 
The architecture in the district is really a sight to see – it's replete with Victorian structures and old streets laden with cobblestone. It's also a great way to meet new people since the tour is done in small groups! 
Pro tip:

While on this tour, you will visit several old distilleries and craft houses where you can sample some beer! 
6. Get lost in paintings at the Art Gallery of Ontario
Address: 317 Dundas St W, Toronto, ON M5T 1G4, Canada
Operating hours: 
Monday: 10:30AM – 4:00PM
Tuesday, Thursday: 10:30AM – 5:00PM
Wednesday, Friday: 10:30AM – 9:00PM
Saturday – Sunday: 10:30AM – 5:30PM
The Art Gallery of Ontario is a cool place to visit on your own. With over 95,000 paintings and artworks, you can take your time observing each exhibit you come across!
You'll come across different types of art ranging from European paintings to indigenous figures. The gallery also has temporary exhibits and permanent collections like the Boxwood Project, which showcases their best pieces. 
Pro tip:

Make sure to visit the Malcolmson Collection, an important part of Canadian photography. The collection exhibits vintage photographs of places around the world taken by Canadian photographers as far back as 1843.
7. Appreciate the flora and fauna at Allan Gardens

Address: 19 Horticultural Ave Toronto, ON M5A 2P2
Operating hours: Monday – Sunday: 10:00AM – 5:00PM
If you love nature and are looking for a cool place for pictures, then check out Allan Gardens! This conservatory has several greenhouses that house different types of trees, plants, and flowers.
The gardens are packed with a plethora of different flowers and interesting olive trees that make for a scenic sight. Also, don't miss the iconic glass domed Palm House!
Pro tip:

Visit the Cool Temperate House, which houses cool tulips, citrus trees, pines, and plants from Australia. There's also a mini koi fish pond at the end of this greenhouse!
8. Set sails on Lake Ontario with the Toronto Tall Ship Cruise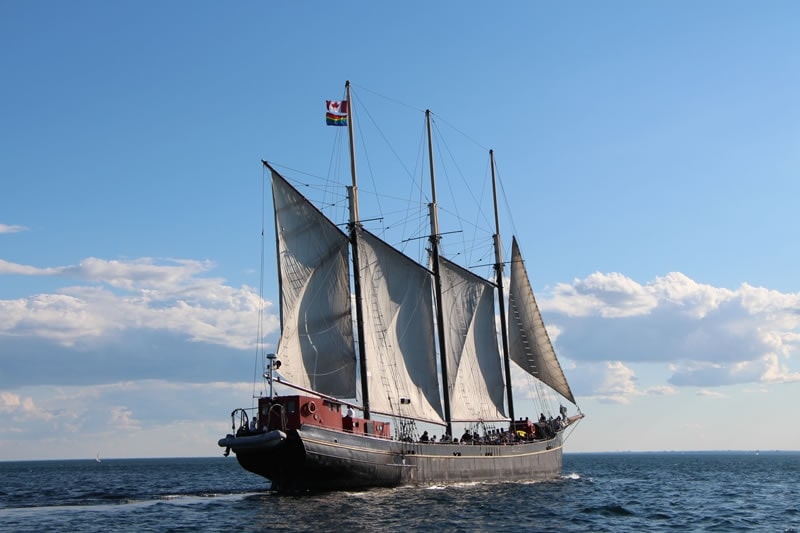 Address: 235 Queens Quay W, Toronto, ON M5J 2B8, Canada
Price: Per head – $42.94
Operating hours: 
Monday – Wednesday: 11:30AM – 9:30PM
Thursday – Friday: 11:30AM – 10:00PM
Saturday – Sunday: 11:00PM – 10:00PM
Another fun activity for solo travelers is to cruise on a 165 foot Schooner across Lake Ontario. The Toronto Tall Ship Boat Cruise offers a unique way to experience the scenic beauty of Toronto – and that is by boarding a boat from the 1930s!
You can get the best panoramic views of the CN Tower from the ship's deck as you sail by the Harbourfront. Aside from that, the captain tells interesting stories about the city's history and the crew also sings some catchy sea shanties!
Pro tip:

If you get hungry, just ask the cabin crew for some delicious food. We highly recommend ordering mini corn dogs and their cheesy poutine which is quite large!
9. Channel your inner hockey fan at the Hockey Hall of Fame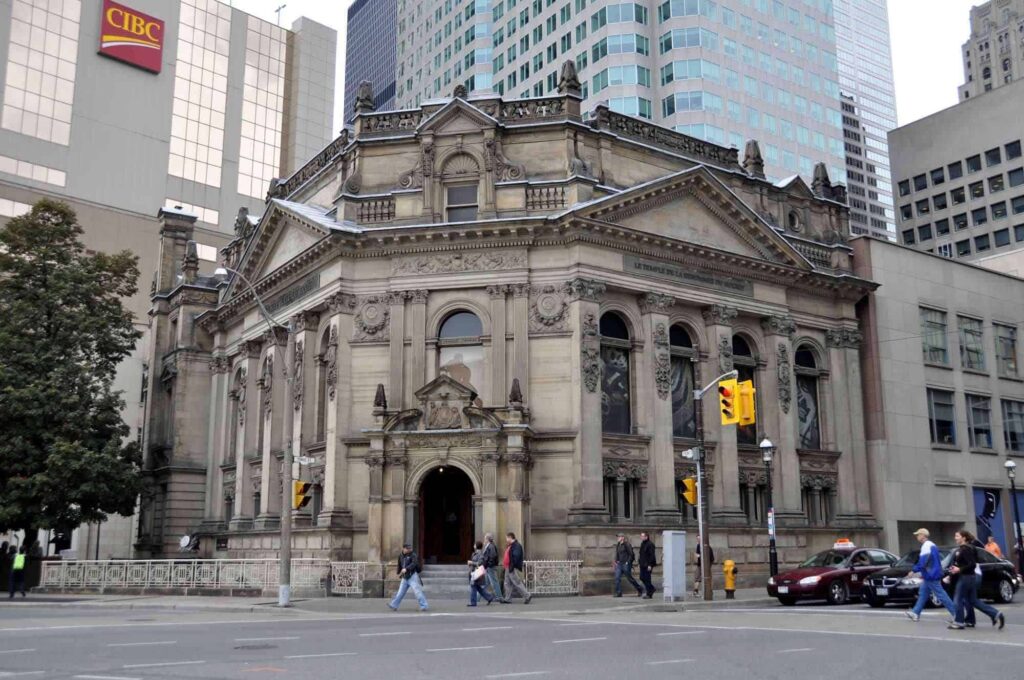 Address: Brookfield Place, 30 Yonge St. Toronto, ON M5E 1X8
Operating hours: Monday – Sunday: 10:00AM – 5:00PM
If you're looking for a sports attraction in Toronto, look no further than the Hockey Hall of Fame. It's basically a museum for all things hockey, housing cool memorabilia from legendary players and the legendary Stanley Cup.
The Hockey Hall of Fame offers a self-guided tour of the museum that you can access through the museum's app, making it a great option for a solo traveler. You can also customize the tour through the app and choose which items you want to see first. 
Pro tip:

Don't miss "The Mask presented by Imports Dragon" exhibit, which shows off 90 unique goalie masks of all shapes, sizes, and designs! You can even see the masks of legendary players like Johnny Bower and Ken Dryden. 
10. Go on an adventure at Kensington Market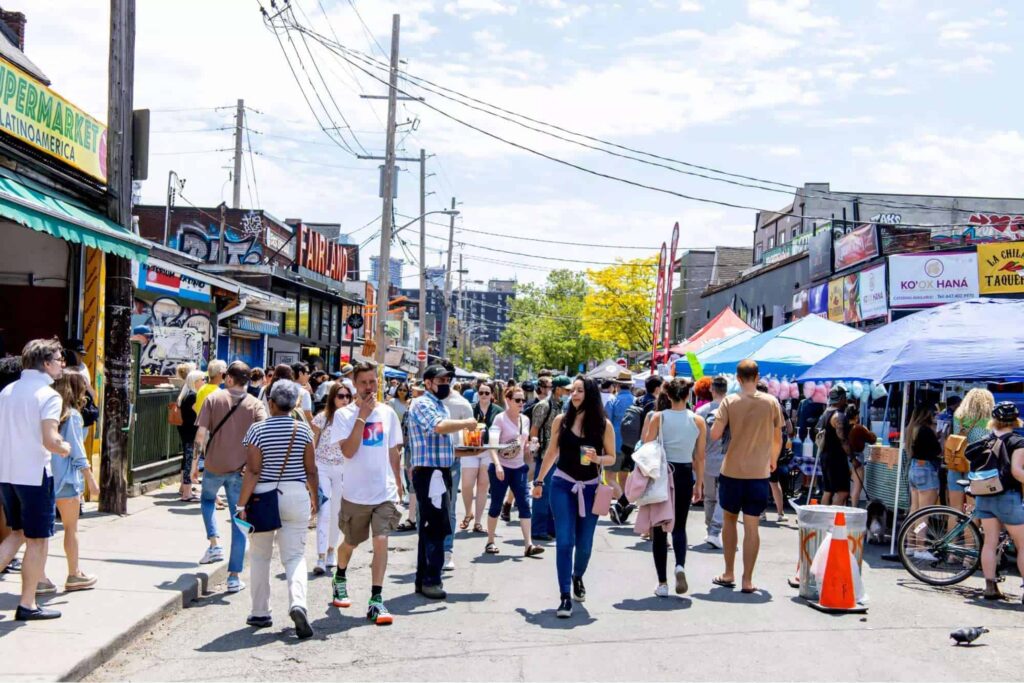 Address: 1873 Bloor St W, Toronto, ON M6R 2Z3, Canada
Operating hours: Monday – Sunday: 10:00AM – 5:00PM
It doesn't matter if you're with friends or all alone; you're sure to have a grand time at Kensington Market! There's tons of things to see here like the cool Victorian houses and live street performances, making it an ideal place for solo adventures.
The great thing about Kensington Market is there's so much to do. You can spend the day shopping at trendy boutiques, visit public galleries, drink at a pub, or relax at hip cafes – which are all fun things to do alone. 
Pro tip:

Stop by Rasta Pasta for the best Jamaican-Italian fusion dishes. Their Jerk Chicken Lasagna, which features layers of pasta lathered with mozzarella and spicy chicken, is a must-try.