The Best Places For Walking At Night in Toronto
Walking around Toronto at night is a great way to experience the beauty of the city from a different "light". From the colorful lights of downtown Toronto to the sounds of the sea at Cherry Beach, the city offers a handful of places to go for a night walk.
Don't know where to go? Then read on to find out our top picks for the best places to go for a walk at night in Toronto.
Best Time to Go
The best time to go for a night walk in Toronto may vary depending on the month or season it currently is. In general, the time around 7:30PM - 11:00PM are considered safe time periods to walk around Toronto, considering it's a densely populated city.
The Best Places to Walk in Toronto at Night
Queens Quay West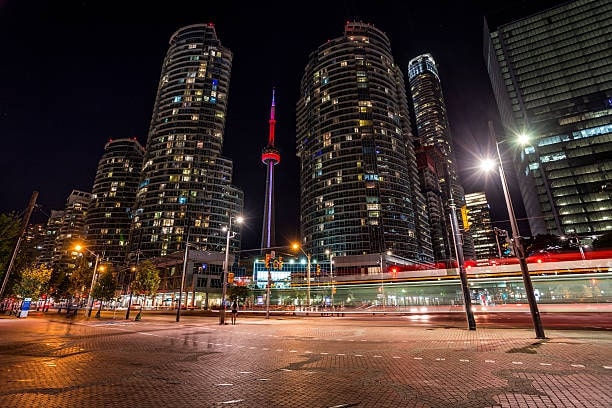 Address: Queens Quay Toronto, ON, Canada
Queens Quay West is one of the most popular places along the harbourfront in Toronto, with tons of people going about their business on a day-to-day basis. The place is lively with busy cafes, restaurants, shops, and even boat clubs.
Over the years, Queens Quay West went under significant changes making it popular for cycling, picnics, and other recreational activities. It's also close to the Martin Goodman trail – a great place for casual night strolls – which runs beside the waterfront. 
Pro tip:
Queens Quay West is surrounded by several landmarks like the Harbourfront Centre and Nathan Phillips Square. We suggest passing by these areas if you wanna get a glimpse of the bright city lights and Toronto nightlife. 
Cherry Beach at Clarke Beach Park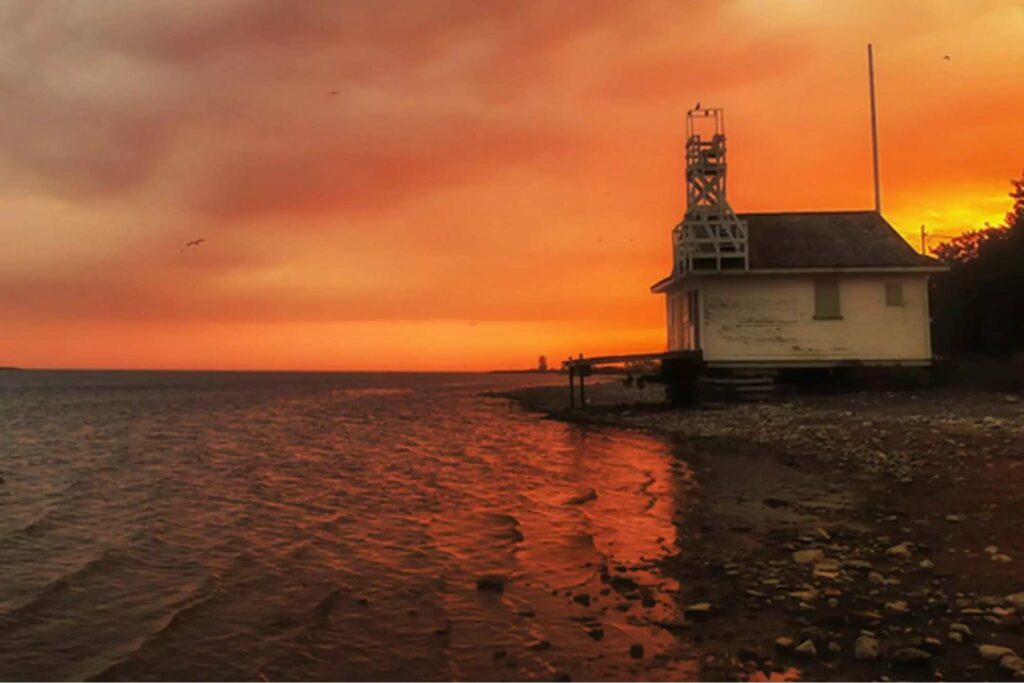 Address: 1 Cherry St, Toronto, ON M5A 0B7, Canada
Operating Hours: Monday – Sunday: 5:00AM – 11:00PM
Our beach loving friends swear that Cherry Beach is one of the most serene places to have a night stroll. Famous for its relaxing atmosphere, the beach park is surrounded by green spaces where lots of barbecues, sports events and leisure activities happen.
It's a great place to go for long walks at night if you're looking for some peace after a stressful day at work. The beach shines the brightest at night when you can enjoy the tranquil sounds of the waves while walking along the shore.   
Pro tip:
You can bring along your dog with you on your late night walks here without a leash, since it is an off the leash dog park. You can also head to the most western part of the beach park to get a really mesmerizing view of the skyline.
Scarborough Bluffs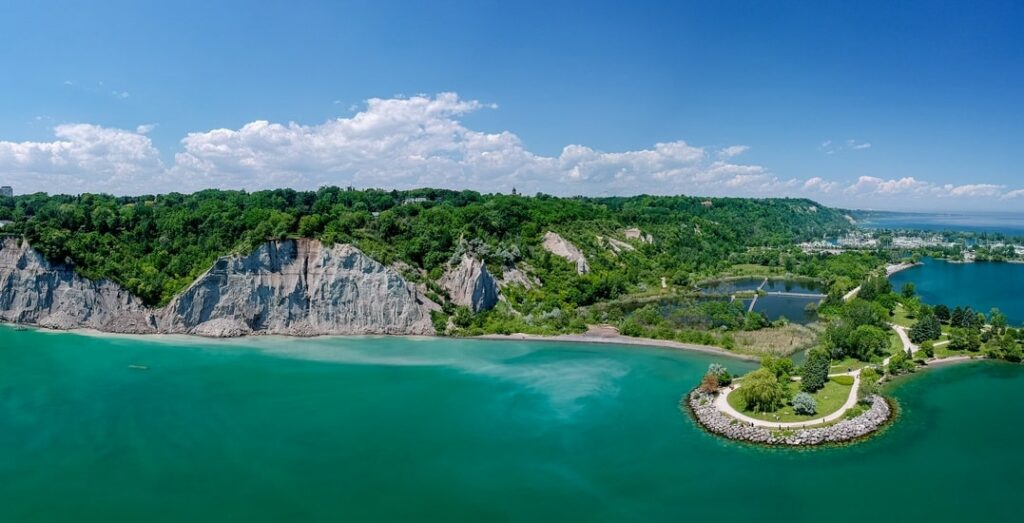 Address: 1 Brimley Rd. S, Bluffers Pk Rd, Scarborough, ON, Canada
Operating Hours: Monday – Sunday: 5:00AM – 7:00PM
If you're looking to escape the concrete city, then Scarborough Bluffs is your best bet. The Bluffs is known as one of Toronto's biggest natural green spaces making it home to several parks and vistas, needles to say it's popular for nature lovers and outdoor fun.
The numerous cliffs and trails that make for exploration and sightseeing are reason enough to go for a night walk here. However, walking from one park to another while passing by trees and animals makes walking at night here a unique experience!
Pro tip:
Try to visit the Cudia Park atop the Bluffs at night time to get the best vista of Lake Ontario and a remarkable view of the city skyline at the same time!
High Park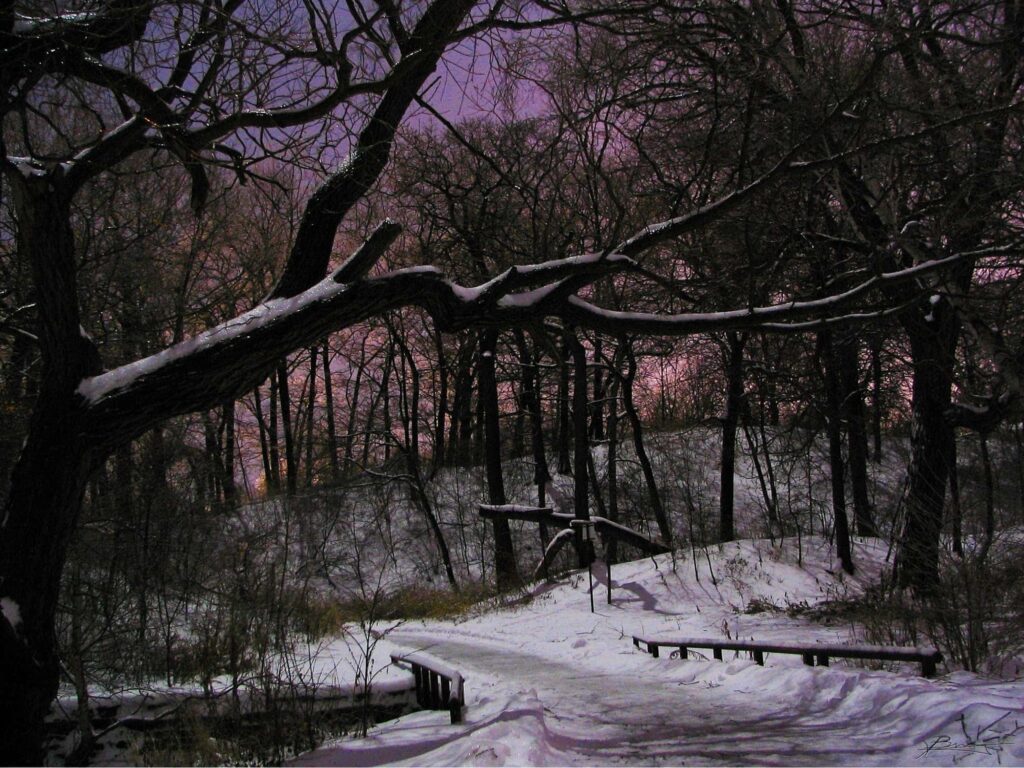 Address: 1873 Bloor St W, Toronto, ON M6R 2Z3, Canada
Operating Hours: Monday – Sunday: Open 24 hours
As one of Toronto's largest greenspaces, High Park doesn't fall short of having some amazing sights and meadows. You can find a whole lot of flora and fauna here – even some lovely Sakura trees – that'll have you mesmerized at this oasis in the bustling city.
High Park is also known for its cultural attractions like the amphitheater and the Howard Tomb. There's also places like the "sunken garden" which sits beside a pond and is packed with beautiful flowers making it a perfect place for a relaxing walk at night.  
Pro tip:
Visit the Ravine Zone when you decide to go for a night walk in High Park. The zone is a forest teeming with flora, it's also great for its routes where you can expect some great scenery. 
Toronto Music Garden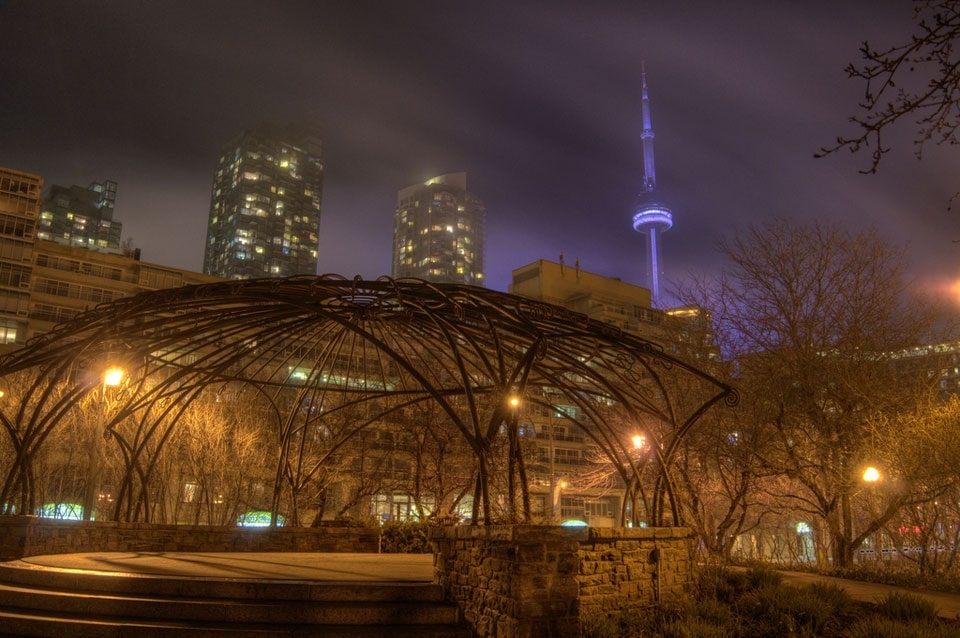 Address: 479 Queens Quay W, Toronto, ON M5V 3M8, Canada
Operating Hours: Monday – Sunday: Open 24 hours
Toronto Music Garden is an atmospheric green space with scenic views of the Toronto skyline and the lake. Also, here's a fun fact: the gardens are constructed in such a way to emanate the emotions and rhythm of classical artist Bach's music.
The garden is a perfect place to go for a late walk – and is quite a popular spot for deep thinking and relaxation – with its long winding walkways and diverse flowers that blend together to make a serene and tranquil environment. 
Pro tip:
We suggest taking your time while walking through the long winding pathways instead of taking shortcuts because these winding paths connect to each of the major sections of the park and are filled with engaging information boards.
Edwards Gardens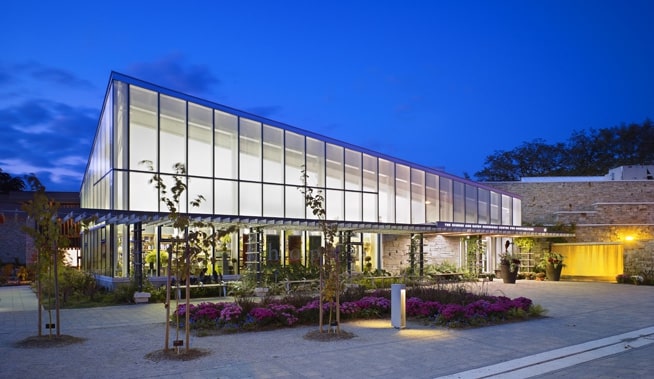 Address:  755 Lawrence Ave E, North York, ON M3C 1P2, Canada
Operating Hours: Monday – Sunday: 10:00AM – 8:30PM
One of the most mesmerizing botanical gardens in all of Canada, the Edward Gardens is home to a diverse collection of plants and flowers that'll keep you in awe. The park is open all year long giving you the chance to see colorful displays of tulips bloom.
The gardens radiate a serene and relaxing atmosphere with its charming walking trails that take you on a journey across ponds and beautiful bridges. If a relaxing night walk filled with beauty is what you want, then this is the place for you.
Pro tip:
For a truly unique experience, try visiting the special rock garden located in Edwards Gardens. This garden is home to interesting rock formations and special alpine plants like succulents!
The Distillery District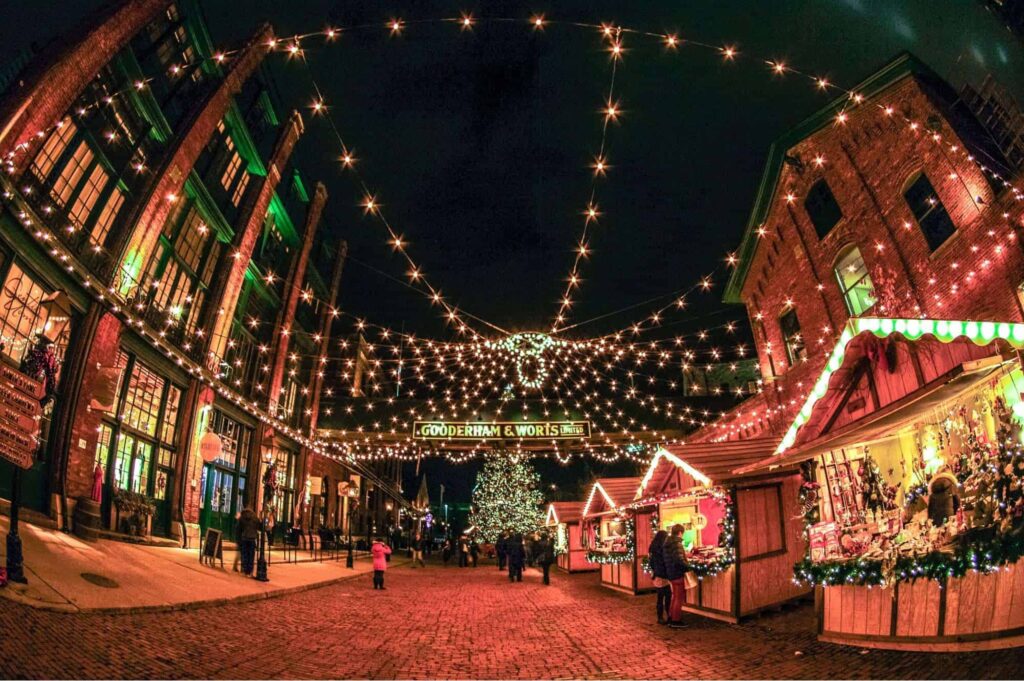 Address:  755 Lawrence Ave E, North York, ON M3C 1P2, Canada
Operating Hours: 
Monday – Thursday, Sunday: 10:00AM – 6:00PM
Friday – Saturday: 10:00AM – 8:00PM
The Distillery District transforms into one of busiest places at night, with crowds and tourists flocking the streets. It's brightly lit with gleaming lights that compliment the archaic architecture and stone paved streets of the historic district.
Now just imagine yourself walking down the late night bustling streets filled with cafes and restaurants while being surrounded by historical buildings. How cool huh? 
Pro tip:
Make sure to pass by the "Big Heart" sculpture. It's a much prettier sight at night with red lights illuminating from the heart that really compliments the backdrop of old buildings. 
Martin Goodman Trail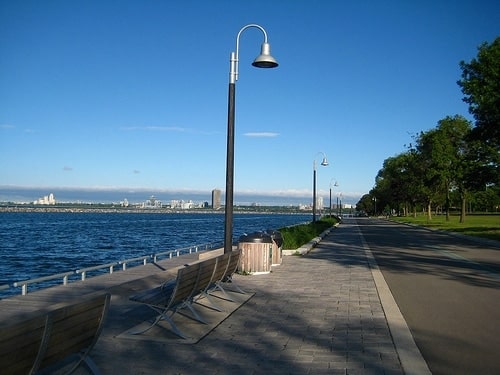 The Martin Goodman Trail is a popular trail among locals that runs along the shore of Lake Ontario. At a length of 19 km long, you'll come across notable places like Queens Quay, Humber Arch Bridge, and even Cherry Beach!
There's lots of cool things to see on this trail, like planes taking off from the Billy Bishop airport and even geese calmly swimming along the lake. Since the trail is long, you're bound to come across several cool spots to take in the skyline at night.
Pro tip:
Visit the Sunnyside Beach park while on your trip along the Martin Goodman Trail. The beach park has a beautiful boardwalk and is home to the Sunnyside Pavilion, which is a great place to take a break from walking. 
Things to Remember When Walking at Night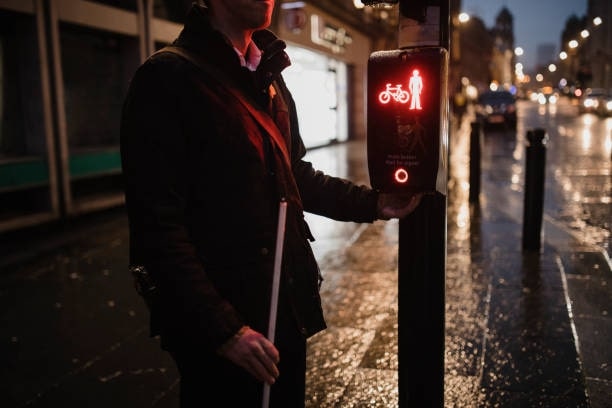 Although Toronto is a safe and walkable city, always remember that safety is always the number 1 priority. That said, here are a few tips to make sure that you stay safe when walking around at night:
Always be aware of your surroundings
Use well traveled routes to avoid areas where crimes are likely to happen.
Stick to well lit areas or invest in reflective equipment
Dress comfortably and consider the weather
Wear comfortable shoes
Above all else, just try to enjoy your midnight walks as you explore Toronto and unravel the beauty of its nightlife culture and secrets.
Aside from what we listed above, the city is rich with other great spots and landmarks for you to explore, so have fun and live in the moment!