THE BEST MOBILE DOG GROOMING SERVICES IN TORONTO
In the bustling metropolis of Toronto, on-the-go pet owners are increasingly turning to mobile services from traditional pet salons. Aside from a soothing bath, a stylish haircut, or a refreshing pawdicure, mobile dog grooming services offer safety and hygiene in the comfort and convenience of home.
Give your furry friends the VIP treatment they deserve with these mobile dog grooming services.
How We Chose the Best Mobile Dog Grooming Services in Toronto
How Much Do Mobile Dog Grooming Services Cost in Toronto?
In Toronto, full-service mobile dog grooming typically ranges between $50 and $100 per appointment. However, the cost varies depending on the services you require and the groomer you choose.
1. Mobile Pet S'Paw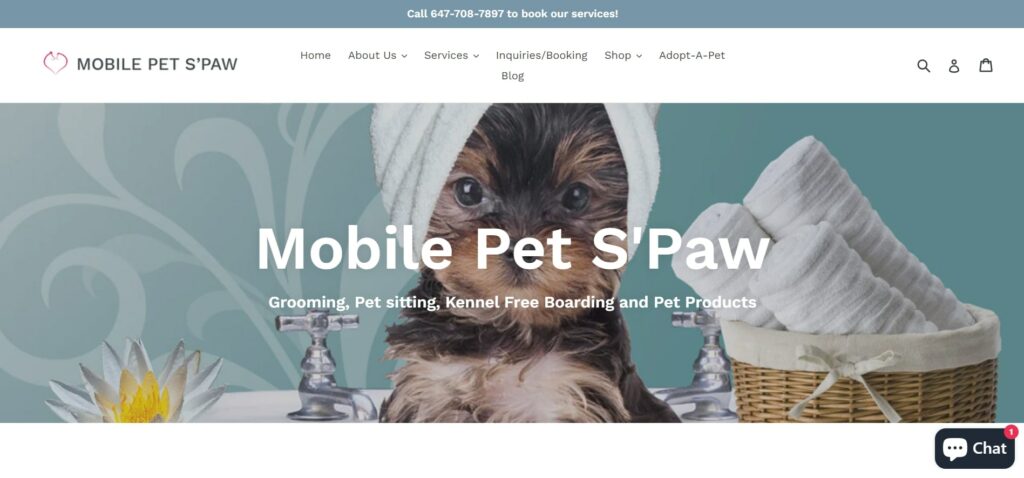 Test
Info
WEBSITE
https://mobilepetspaw.ca/
ADDRESS
35 Braidwood Lake Rd, Brampton, ON L6Z 1R5
SOCIAL MEDIA
INSTAGRAM
CONTACT DETAILS
PHONE: (647) 708-7897
OPERATING HOURS
Monday - Friday: 9:00 am - 8:00 pm

Saturday - Sunday: 11:00 am - 6:00 pm
Mobile Pet S'Paw serves a wide range of areas, including Brampton, Mississauga, Georgetown, Caledon, Etobicoke, Halton, Toronto, and surrounding regions. Catering to dogs of all sizes, they provide a complete grooming experience, including baths, fur trims, nail trims, and ear cleaning.
Mobile Pet S'Paw offers a variety of add-on services like de-shedding and de-skunking to further cater to their client's needs.
To avoid any discomfort or anxiety with your dogs, their specialists avoid the use of restraints, cages, or cage dryers during the one-on-one grooming sessions.
Beyond grooming, they provide other services like in-home pet sitting, pet visits, boarding, doggy playtime, vet visits, and medication administration.
No restraints or cage dryers during grooming
Accepts extra large dogs
Also services areas outside of Toronto 
Also sells pet supplies and accessories
Very caring and gentle
"I just happen to stumble across this groomer for my 2 shih tzu's. Rosie is a very caring and gentle with my babies. They like going to her and have been since before the pandemic. She always makes 2 look great. This groomer in my opinion is top shelf. Very recommended."
Danny Baptiste, Google Review
Fast, efficient, and super affectionate
"Rose is an absolute life saver, and a pro when it comes to grooming our little kitten! She's fast, efficient, and super affectionate when it comes to your pets. We were struggling to get our kitten's nails clipped, and he was in really rough shape when we adopted him, but after Rose was done with him, he was hopping around and super playful. Not to mention he smelled amazing! I would highly recommend her and her services, she's an amazing groomer, and even better person!"
Nader Tohamy, Google Review
2. Monarch Vet Tech Services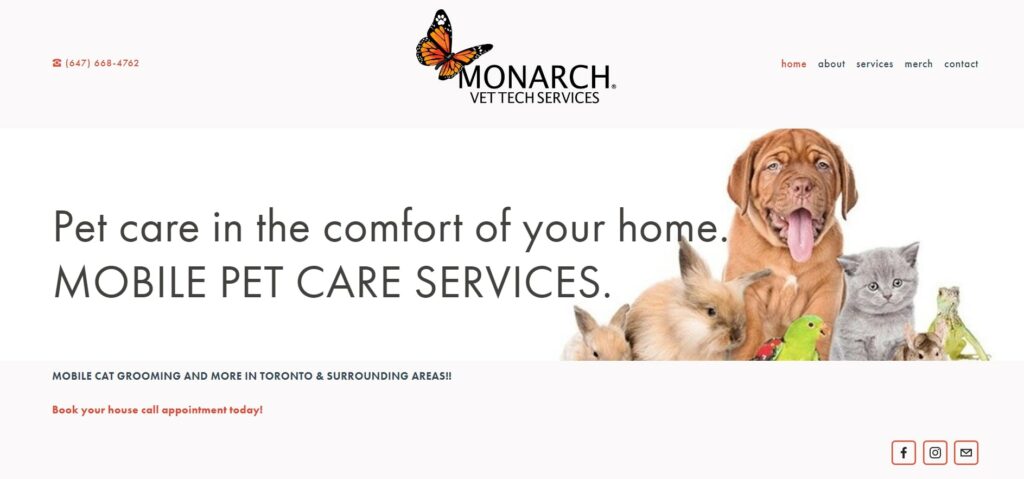 | Test | Info |
| --- | --- |
| WEBSITE | https://monarchvts.com/ |
| ADDRESS | Toronto, Ontario, M4L3A7 |
| SOCIAL MEDIA | INSTAGRAM |
| CONTACT DETAILS | PHONE: (647) 668-4762 |
| OPERATING HOURS | Monday-Saturday: 9:00 am - 5:00 pm |
Veronica "V" Oggy, a passionate animal lover, founded Monarch Vet Tech Services, a women-owned company serving The Beaches area and the GTA.
The company offers in-home pet care, catering especially to the elderly and people with disabilities. Their à la carte services include nail trimming, basic grooming, tooth brushing, ear and face cleaning, and more for small to medium dogs.
Additionally, they provide at-home medical assistance with a vet tech in partnership with Balmy Beach Pet Hospital in Toronto. If you book your appointment at the same hour as your neighbor (same building or street), both of you will enjoy a discount!
You can also enroll in their nail trimming sessions, where two technicians will teach you how to professionally trim your pet's nails.
Nail trimming lessons available
Offers neighborhood discount
With veterinary technicians for medical assistance  
No full-grooming packages
Additional chasing/locating fee 
Absolutely wonderful
"I've been using Veronica and her team for a few years now and they are all absolutely wonderful! Lydia and Zoe did a great job today with my big boi Biggie Smalls as his little sister Missy Elliot took on the role as spa manager for this session. Can't say enough wonderful things about this team 💕💕"
Barbara Barlow, Google Review
Pleasant, quick and efficient
"We've had a couple of techs from Monarch come to the house for nail trims on our two furry babies. They both have been fantastic. Pleasant, quick and efficient. Would highly recommend to anyone looking for pet services in your home. So glad we found Monarch. 5+ stars"
Maria Modopoulos, Google Review
3. GoodWoof Grooming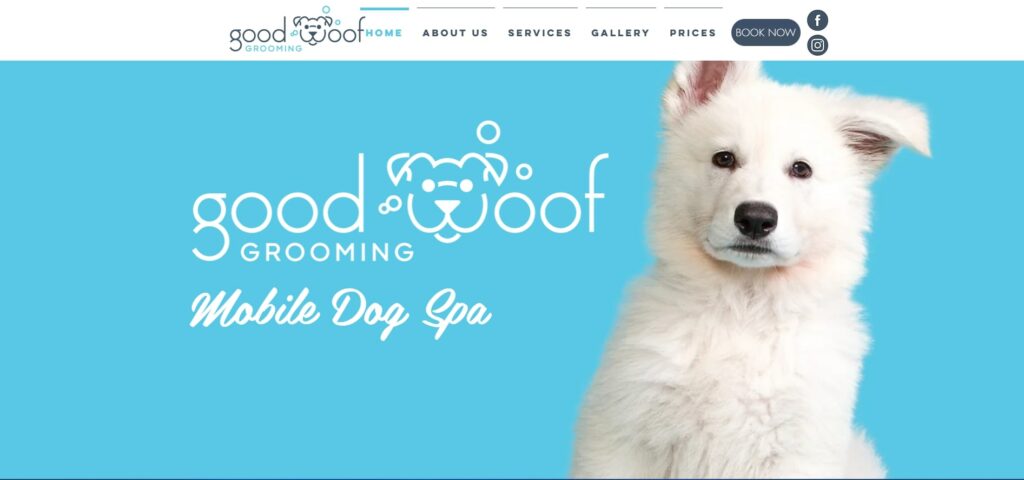 GoodWoof Grooming offers state-of-the-art pet spa services on wheels throughout Toronto. They conduct individual grooming sessions and use specialised dead sea shampoos that nourish the skin and coat and draw out toxins for a relaxing bath, massage, and conditioning.
For busy owners, they even have a hassle-free latch-and-key service to groom your pets while you're away after your first appointment.
Clients can choose from various packages: the Pawdicure for nail clipping and trimming paw pads and the Standard Package, which covers a thorough grooming assessment, coat-specific shampoo and conditioner bath, ear and eye cleaning, nail clipping, and other services.
There's also a Premium Package that additionally includes nail grinding, teeth brushing, and a blueberry or lychee facial.
Customised add-ons are also available, such as a free natural dog fragrance, de-shedding, style or trim for face, feet, and tail, and PawFriction application—a product that increases traction on slippery hardwood or tile floors.
One-on-one grooming session
Free natural and pH-balanced dog fragrance
Latch and key service after the first appointment  
Additional $10 cleaning fee for in-van bowel activity 
So kind with our senior dog
"Dani was great! She was so kind with our senior dog. Would definitely recommend for anyone in need of a good groomer! Thanks again for helping us on such short notice :)"
Andres Rodriguez, Google Review
Listens to you and follows your requests
"Finding a quality groomer, who listens to you and follows your requests is hard to find. Adam listened to all of my concerns and exceeded all of my expectations while grooming Ari. Being mobile, it was also convenient to just meet at his van and see where Ari would be, rather than just dropping him off at a door. It was an amazing experience with even better results. We will see you again Adam!"
Samantha Caughey, Google Review
4. A+ Mobile Pet Grooming INC.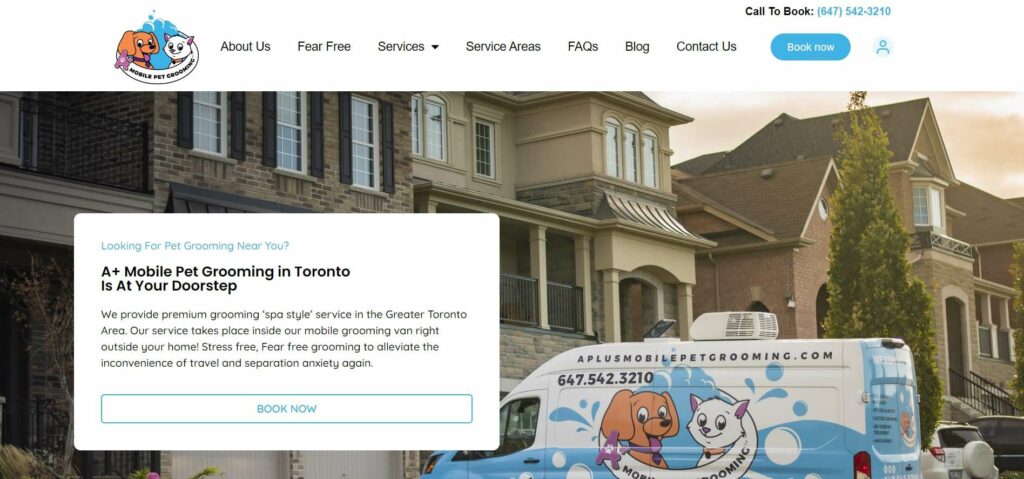 Test
Info
WEBSITE
https://www.aplusmobilepetgrooming.com/
ADDRESS
30 Rivermede Rd, Concord, Ontario, L4K 3N3
SOCIAL MEDIA
INSTAGRAM
CONTACT DETAILS
PHONE: (647) 542-3210
OPERATING HOURS
Monday - Saturday: 9:00 am - 5:00 pm

Sunday: 10:00 am - 4:00 pm
Since 2016, A+ Mobile Pet Grooming has been offering services in Toronto and neighbouring regions. Each session happens inside their fully equipped vehicle, ensuring both convenience and safety as their expert groomers do not enter your residence. With four service vans at their disposal, they can accommodate multiple clients.
Their certified groomers boast over five years of experience, utilising top-of-the-line equipment and eco-friendly, allergy-safe pet products.
The staff is trained in Fear Free concepts and practices, easing anxiety and providing a calm environment for your pet. Your fur baby receives one-on-one attention, with staff providing ample time to build a strong relationship.
Clients can choose from a variety of packages: the Puppy Grooming Package for younger pups, the Senior Grooming Package for older pets, the Basic bathing package, or the Premium (Full) Grooming Package.
For aging dogs deserving of extra care, their Senior Grooming Package adds an additional 30 minutes to the standard grooming session.
Uses 100% eco-friendly and hypoallergenic products
Several service vans to accommodate more clients
Accepts senior dogs 
It's very convenient
"We have been using A+ Grooming services for a year now for our lab, Rosie. It's very convenient, especially for a dog that likes to get dirty at the cottage!! They come right to our home in a fully equipped grooming van, it's very convenient!! No mess in the house. The girls do a great job and all the staff members are very sweet."
Mary R, Google Review
Price is high but worth it
"A+ service! I am so happy and impressed with my experience today. I have a 9 month old puppy who is fearful of being brushed and groomed. Petsmart did not have the patience for him and I felt like I was bothering them bringing him there. Carter was fantastic instantly putting my worries at ease. She did such an amazing job getting rid of matts while making him still look fluffy and feathery. Price is high but worth it for the result and ease. Will be using this service and Carter again soon."
Mark Pearl, Google Review.
5. Mobile Pet Spa Inc.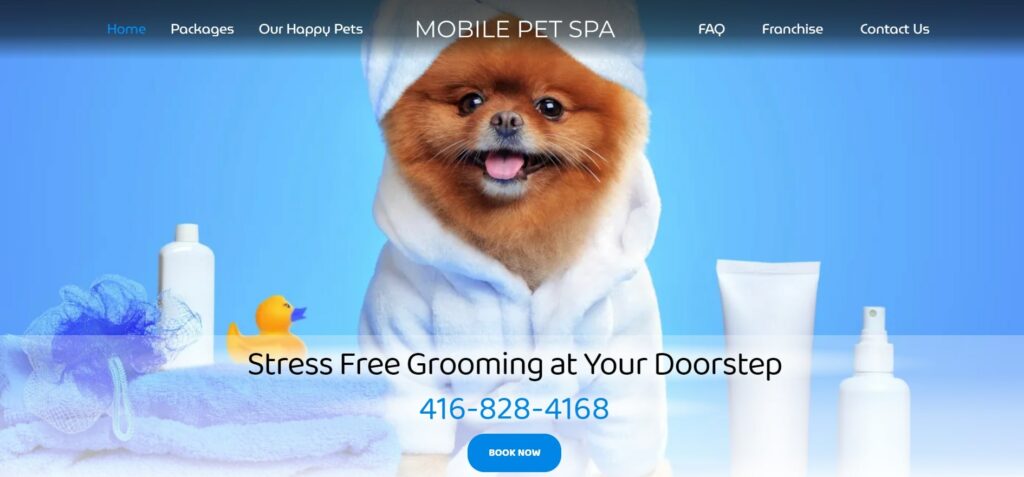 | Test | Info |
| --- | --- |
| WEBSITE | https://mobilepetspa.ca/ |
| ADDRESS | Vaughan, ON, Canada |
| SOCIAL MEDIA | INSTAGRAM |
| CONTACT DETAILS | PHONE: (416) 828-4168 |
| OPERATING HOURS | Monday - Saturday: 9:00 am - 6:00 pm |
Mobile Pet Spa Inc. brings a fully equipped salon right to your doorstep. They can even meet you at the mall or store parking lot to groom your dogs while you shop. Their vans come equipped with the essentials: hot and cold water, electricity, heating in the winter, and air conditioning in the summer.
They groom one dog at a time, eliminating wait times and doing away with cages. Even large breeds like Great Danes, German Shepherds, and Rottweilers can luxuriate in the spacious vans, tubs, and tables.
Depending on your chosen package and your dog's specific needs, grooming can take anywhere from 30 minutes to 3 hours. Their offerings include Platinum (Full Groom), Gold (Half Groom), and Silver (Hygiene Groom) packages.
Accepts large breeds
Grooms one dog at a time
Fast response times 
$70 for cancellations below 24-hour notice
Doesn't accept new dogs 11 years above
Gentle, professional, and always punctual
"I highly recommend Mobile Pet Spa! Alex is a wonderful groomer and has been grooming Donatello since he was a puppy. She is gentle, professional, and always punctual. I love how seamless the process is, and the convenience of having them come to our home is amazing! Donatello always smells so fresh, and I continue to be very pleased with how handsome he looks each time. Thank you, Mobile Pet Spa ❤️"
Claudia Sarra, Google Review
Highly recommend
"I highly recommend Mobile Pet Spa. Angelina has been grooming Marvel for 2 years now. She knows exactly how to leave her looking beautiful! 😊 Marvel does not get stressed or nervous, showing that Angelina really takes care of her and treats her with love."
Monica Alfonso, Google Review
---