The 5 Best Companies That Offer Short Term Rental in Toronto
For travelers on business and groups on holiday alike, few things can beat the incredible value that is short term rental in Toronto. In addition to giving you more space and flexibility, short term rentals can also be cheaper than staying in a hotel or motel.
Given the sheer abundance of options in the capital, though, it can be a challenge to find the short term rental that fits your needs. To help you narrow them down, we've compiled a list of the best short term rental companies in Toronto and the Greater Toronto Area.
You'll learn about them here and what makes them a cut above the rest. We've also included helpful information on how much you should expect to spend, as well as answers to a few common questions about short term rental in Toronto.
The Average Cost of Short Term Rental in Toronto
Collected data from a wide variety of sources suggests varying rates for short term rentals. These rates are determined by a number of factors, including these:
Other factors that may affect the price of a short term rental in Toronto include access to parking facilities, additional special furnishings, housekeeping, and other opt-in services.
In general, though, the easiest way to categorize the prices for short term rental units is according to the number of rooms.
It's worth keeping in mind that many short term rental companies offer discounted rates on their units to guests looking to stay with them for the long haul. You can score major savings if you choose to stay for 30 days and beyond with some companies, so don't be afraid to inquire!
For a general idea of how much a short term rental stay costs per night, check out the table below:
| | |
| --- | --- |
| Type of Unit | Average Cost Per Night |
| Studio | $90 to $100 |
| 1-Bedroom | $110 to $130 |
| 2-Bedroom | $130 to $180 |
| 3-Bedroom | $180 to $250 |
The Best Short Term Rental Providers in Toronto
Now that you know what to expect in terms of how much short term rental stays cost, let's move on to our selections for the best short term rental companies in Toronto. Peruse our list below to discover which one best fits your needs and budget!
Length of stay
Type of rental
Number of rooms
Location
1. DelSuites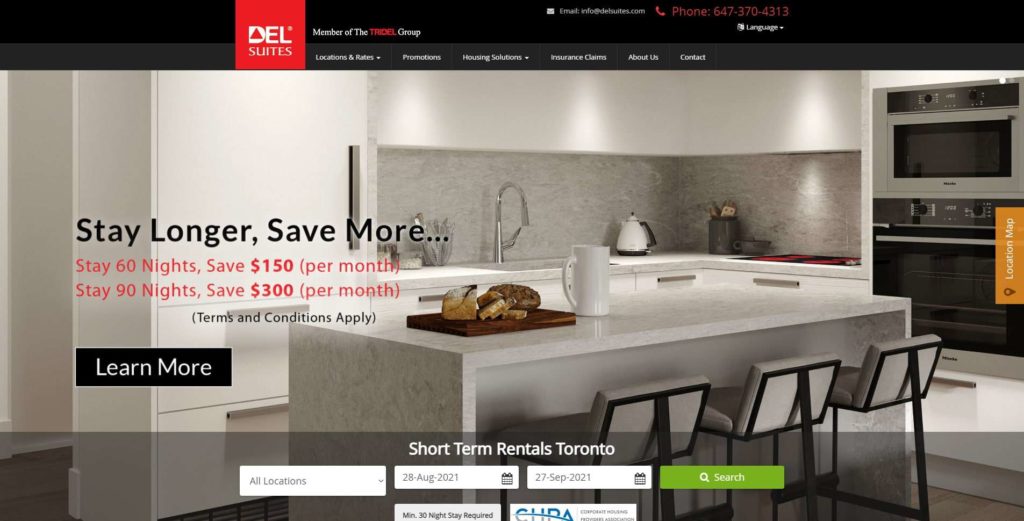 PROPERTY TYPES
Studio, 1-, 2-, & 3-Bedroom Units for Rent (Furnished Condominiums, Townhouses)
WEBSITE
https://www.delsuites.com
HEAD OFFICE ADDRESS
4800 Dufferin Street Toronto, ON M3H 5S9
CONTACT DETAILS
(647) 370-4313,

[email protected]

OPERATING HOURS
Monday to Friday, 9:00 am to 5:00 pm
DelSuites prides itself on being one of the most trusted names in extended stays in Toronto, specializing in furnished homes throughout the city and the GTA. Their properties are primarily located in downtown Toronto, Etobicoke, Markham, Mid-Town, Mississauga, North York, and Scarborough.
Their diverse portfolio of move-in ready units allows them to offer a wide variety of housing solutions, from employee relocation and corporate lodging to insurance housing.
DelSuites also offers medical stays for patients in treatment and recovery who require accommodations closer to their preferred healthcare providers, including all major hospitals.
All of DelSuites' properties come with everything that a guest needs to live comfortably. This includes a fully-equipped kitchen stocked with all of the essential amenities, laundry facilities, and high-speed wireless internet.
For your peace of mind, rentals are furnished with their own individual intrusion alarm systems too, in addition to round-the-clock building security.
Most of DelSuites' rentals also have a dedicated work space that business travelers can easily turn into a remote office, complete with comfortable furniture, available upon request.
For an additional fee, DelSuites can also arrange for housekeeping, additional furniture for infants and toddlers, as well as transportation to and from the airport.
We think that their biggest selling point is their pre-arrival grocery service, though. Through GroceryGateway.com, DelSuites guests can order fresh grocery essentials online and have them delivered to their short term rental in Toronto before they arrive.
Diverse catalogue of properties
All-inclusive rates
Value-adding services like pre-arrival grocery service
Minimum 30-night stay required on all properties
Customer Reviews
Below are a few of DelSuites' reviews on Tripadvisor:
"My stay with Del Suite's was fantastic, and the staff were extremely accommodating. Initially I booked a unit in the Icon building. I checked in at the beginning of January, but unfortunately the particular unit I was assigned had a musty or smokey smell. Within days of communicating this to the Del Suites staff, they offered to move me to a different building within their portfolio – at no extra cost. Shirley was fantastic to deal with, and made the process very easy. I moved into a unit in Qwest and could not have been happier. The unit had a separate working space (which was very important during WFH circumstances), it was fully equipped with all cooking utensils and appliances, and two TV's (one in living room and one in bedroom). The bed was very comfortable, and everything was very clean. The building concierge was also very friendly. I highly recommend this building to anyone, and booking through Del Suite's altogether. I will certainly be using them again in the future!" -Alannah
"It was great experience to stay at DelDuites condo. Very clean, fresh, everything was working . Management was very responsive and kind, all my questions were solved in timely manner. Which I very value. I would recommend to stay with them." -Mykhailo Rusin
2. Premiere Suites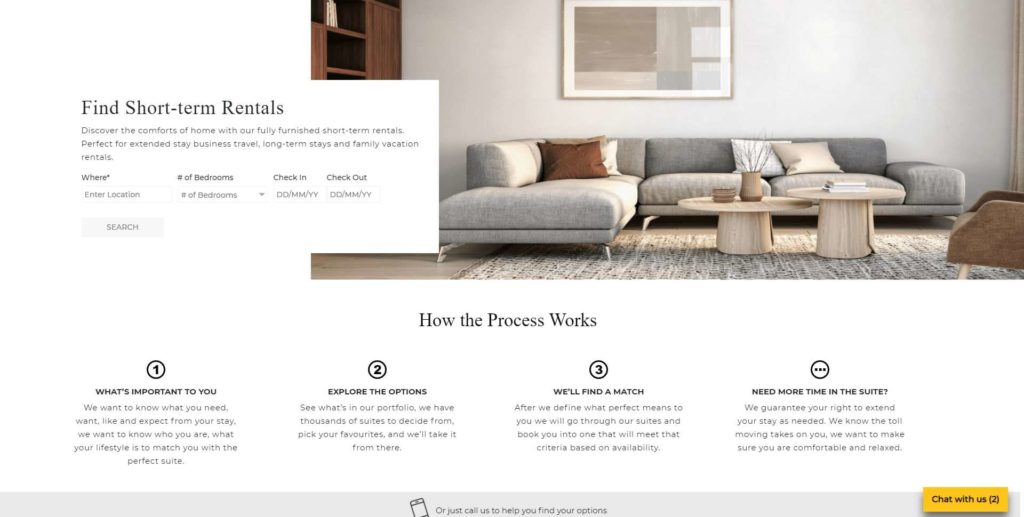 With over 1,300 professionally managed properties scattered all across Canada, Premiere Suites can easily back up their claim of being one of the country's largest short term rental providers. Most of their units available for short term rental in Toronto are located in Midtown, Downtown, and North York.
They consider themselves experts in homes away from home, providing complete and consistent housing solutions for a wide variety of customers. In addition to accommodating business and pleasure stays, they also offer medical stays and insurance stays for families in immediate need of comfortable temporary housing.
One of the standout perks of staying in a Premiere Suites short term rental in Toronto is complimentary bi-weekly housekeeping and disinfecting, courtesy of their in-house professional crew. With other providers, this is an add-on that usually costs extra, so we're big fans of this.
Furthermore, access to premium amenities is a given for guests who choose Premium Suites. Vacationing families or groups needn't leave the premises at all to try those.
That's because many of the company's properties have swimming pools and fitness centers on-site, as well as sauna rooms and barbecue facilities. That's another perk we definitely like, along with the convenience of pet-friendly units for those with furry family members.
No cancellation fees
Complimentary bi-weekly housekeeping
Pet-friendly units wherever possible
Limited selection
Rentals are concentrated around Midtown/Downtown Toronto core and North York areas only
Customer Reviews
Check out some of the reviews on Feefo for Premiere Suites' short term rental in Toronto:
"The entire Premiere Suites team was fantastic right from the first interaction. The unit was as described and very comfortable with everything that I required. The building is centrally located and an easy walk to work, restaurants, nightlife, etc.
I would highly recommend this unit/building if staying for business or personnel travel!" -Ryan
"Suite is in a great location and is very well furnished, even for someone on a longer term stay like I was. Everyone I dealt with was friendly and helpful." -Chris in Halifax
3. Olivia's Housing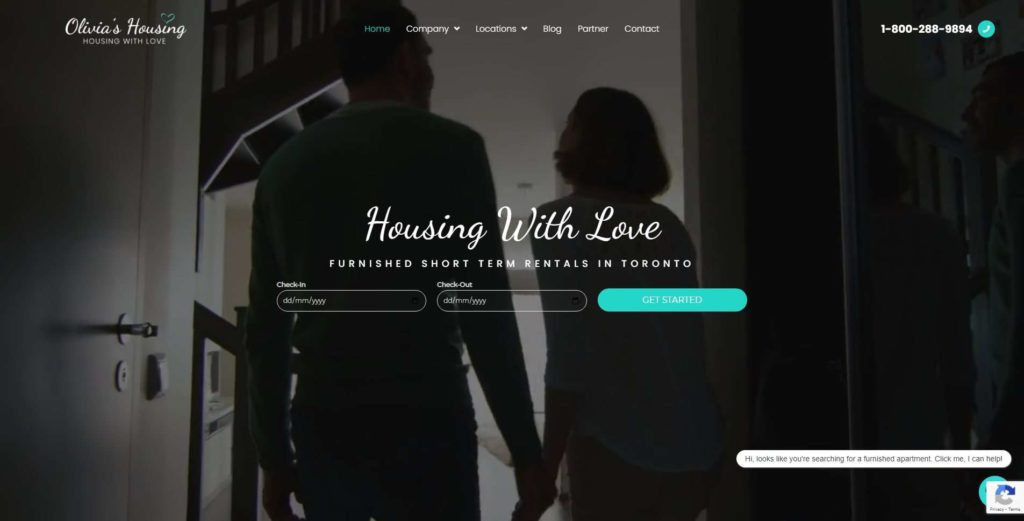 Guests who prioritize intimate and personalized service above all will surely be satisfied with Olivia's Housing. This short term housing provider offers fully furnished rentals in Uptown, Midtown, and Downtown Toronto, close to everywhere that's hip, happening, and up-and-coming.
The company's boutique offerings aren't just stylish and well-appointed; they're also very reasonably priced. At Olivia's Housing, guests can score a gorgeous 1-bedroom apartment in Downtown Toronto for only $89 per night—a rare and incredible deal!
Don't let the price fool you into thinking that the property is lacking in amenities, though. All of the rentals on offer come with fully-equipped kitchens (including utensils), unlimited high speed Internet, and premium cable TV.
For an additional corresponding fee, guests can also take advantage of a variety of optional services that other short term rental stay companies simply don't provide, from meals prepared by a private chef, one-on-one sessions with a fitness trainer, or even downtime with a masseuse. Indeed, customer service is the area where the Olivia's Housing team truly excels and is what got them on this list.
Centrally located rentals
Reasonable prices
Minimum stay of 3 days at select locations; great for staycations
Excellent customer service
Customer Reviews
Here's what previous guests have to say about Olivia's Housing, courtesy of Facebook Reviews:
"Many of my clients need short term stays between the sale and purchase period. I've recommended them to Olivias housing for almost 5 years now and have heard positive things. Would obviously recommend" -Ilan Joseph
"Thank you for everything.
We really enjoyed our stay at this amazing unit. It was our 1st Home in Toronto, Canada for one month and we sincerely felt home. I already miss this incredible view of al Downtown from your balcony.
The building is stunning and its amenities are super (we tested several times the library and we loved it). It's also walking distance from subway station (Sherbourne) and so close to everything (grocery shops : Freshco, No Frills; Yonge St; Bloor St; Cafés…).
the unit is so modern, well furnished and contains everything you can need at home.
we highly recommand it." -Sara Ajmi
4. Sky View Suites
PROPERTY TYPES
Studio, Penthouse, 1-, 2-, & 3-Bedroom Units for Rent (Furnished Apartments, Condominiums, Suites)
WEBSITE
https://www.torontofurnishedrentals.com
HEAD OFFICE ADDRESS
142 Simcoe Street Toronto, ON M5H 3G4
CONTACT DETAILS
1-888-787-7829,

[email protected]

OPERATING HOURS
Monday to Friday, 9:00 am to 6:00 pm;
Saturday, 12:00 am to 6:00 pm
Sky View Suites manages over 150 furnished properties exclusively for short term rental in Toronto, most of which are located Downtown. If you're looking for accommodations in the city's main central business district or simply want to be somewhere vibrant and unabashedly cosmopolitan, you won't find a better selection to choose from.
However, just because these rentals are in the most luxurious neighborhoods in the city doesn't mean that they cost an arm and a leg to rent.
To wit: for a comparable rate of $2,900 a month or about $96 per night, you can move into one of the company's studio apartments, equipped with everything you'll need for a pleasant short term stay.
What truly sets them apart from other companies, though, is their relocation consulting program. Sky View Suites is the only short term rental agency in Toronto that offers services especially geared towards helping immigrants to Toronto find and get settled into a more permanent home in their new city.
These services include flexible lease end dates, real estate services, and educational consulting for new Torontonian families that have specific school needs for their children.
In sum, that makes it a very attractive option for certain people. If you are moving into the city, it's easy to consider renting with Sky View Suites and taking advantage of these offerings to help smooth the transition.
Very flexible lease terms
No hidden cost guarantee
Value-adding services
Extremely limited selection
Customer Reviews
Here's what previous tenants have to say about their experience with Sky View Suites on Google Reviews:
"We stayed with Skyview Suites for our quarantine then extended our stay for our entire year in Toronto. The service has been excellent from the start and has not faltered. The suite had an excellent location in a building with great amenities. It was well furnished and clean. Assistance was always provided promptly for any help we required or whenever a maintenance issue needed to be addressed. Would surely recommend them for a medium to long term stay. Thank you" -Muhammad Manjra
"I had to find emergency housing options after my condo had a water leakage issue. Skyview Suites was able to find me a place to stay immediately and was very accommodating. What's most important is that the suite is very comfortable; after a stressful day that was most important because I just wanted a place that's clean and safe. My favourite part was that my unit came with reliable internet (we had to work from home, very crucial) and cable TV!
Furnished and basically everything you need to feel like you're home again. We didn't do much cooking but pots and pans are there, and we used the french press and water boiler (coffee is important!).
Didn't have too many photos before we settled in (quick) :P" -Bonnie Li
5. Glen Grove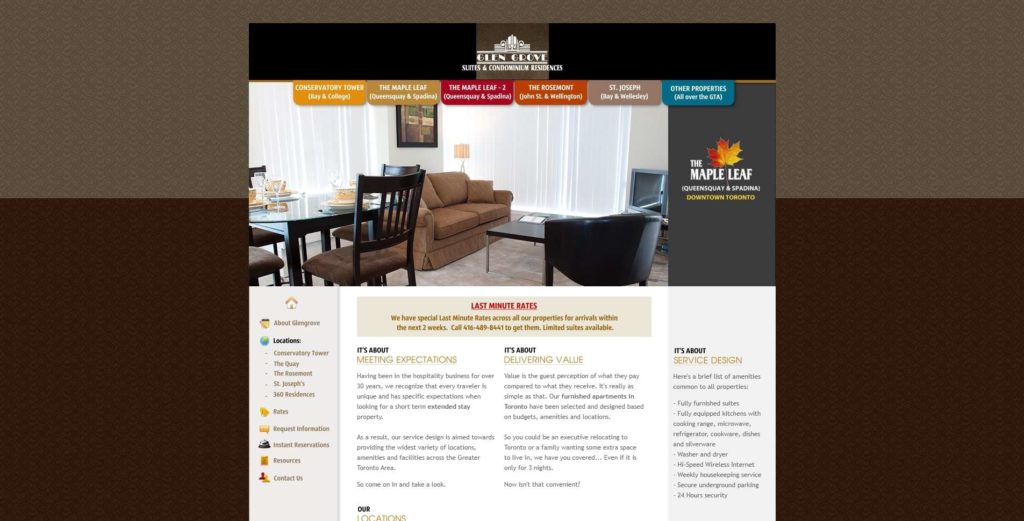 PROPERTY TYPES
1- & 2-Bedroom Units for Rent (Condominiums)
WEBSITE
http://www.glengrove.com
HEAD OFFICE ADDRESS
50 Oxton Avenue Suite 208 Toronto, ON M5P 1L9
CONTACT DETAILS
1-800-565-3024,

[email protected]

OPERATING HOURS
Monday to Friday, 9:00 am to 5:00 pm;
Saturday to Sunday, 11:00 am to 5:00 pm
Glen Grove Suites & Condominium Residences is yet another excellent option for travelers on the lookout for short-term rentals in the Downtown Toronto area. The company manages properties in 5 prime locations, namely: Conservatory Tower, The Quay, The Rosemont, St. Joseph's, and 360 Residences.
By far, the company's greatest strength is the diversity in the locations of their rentals. It allows guests to choose a rental situated in the neighborhood of their choosing, with some properties located very close to some of the city's major landmarks and must-see attractions.
Their rentals are also great places to stay if you are only in town for a handful of days, in our opinion. At select locations, the minimum length of stay is only 3 nights.
Geared towards business travelers as well as vacationers, all of Glen Grove's suite offerings come completely furnished with a fully-equipped kitchen, as well as en-suite washer and dryer units. As a bonus perk, housekeeping is complimentary, conducted weekly or bi-weekly depending on the unit.
Complimentary weekly or bi-weekly housekeeping
3 nights minimum stay at select locations
Furnishings and decor are a bit dated
Customer Reviews
Here's what previous guests have to say about Glen Grove, via Google Reviews:
"Good place to stay… Convenient location in downtown Toronto. Close by St. Lawrence market – a must visit." -Butch CIS-REB-REA
"Very nice condominium in the center of down town. I stayed there for a one week. Highly recommended!" -Eugene Sokolenko
FAQs about Short Term Rental in Toronto
---
If you're planning on visiting soon, consider staying with one of our picks for the best companies that offer short term rental in Toronto. You definitely won't be disappointed!
While you're at it, you may also want to check out some of the amazing restaurants in our city so you can sample local cuisine – for instance, you could start with our list of the best vegan restaurants in Toronto, too. Our selections will surely impress you, even if you're not a vegan!