A Review of the Top 8 Photographers in Toronto
Got a special event coming up? Let's help you preserve precious moments and make these memories last forever!
Today's review puts the spotlight on the best photographers in Toronto. If you want to know more about their services, stick with us to find out more.
Top Photographers in Toronto
We believe that photography, like most things, is a matter of preference. That's why we tried to offer a range of options when making our selection for today''s review.
We'll help you make a cost based on their rates, their specialties, packages, and client satisfaction. Find the one that matches what you're looking for as we guide you through what they can offer.
The Cost of Photographers in Toronto
There are many factors that influence the price you'll have to pay.
First of all, consider your purpose. Do you need a photographer for your wedding or for casual event shots only?
Prices are also different for product photography and other commercial use. But the bottom line is, photographers either charge per hour, per day, per event, or per package.
In general, a professional photographer charges $100 to $250 per hour. For weddings, it's pretty common to come across rates of $3,000 to $4,000 per package.
If you want a cheaper option, you can opt to hire freelancers for $25 to $150 per image. But they're more suitable for mini shoots only like family photos.
You can refer to our table below for a rough benchmark of prices:
| | |
| --- | --- |
| Type of Photography | Estimated Cost |
| Wedding Photography | $3,000 – $4,000 |
| Portrait Photography | $150 – $370 |
| Baby Photography | $320 – $650 |
| Family Photography | $145 – $500 |
| Maternity Photography | $350 – $1,500 |
| Fashion Photography | $400 – $1,000 |
| Commercial Photography | $250 (per image) |
| Food Photography | $150 – $500 |
| Real Estate Photography | $150 – $1,500 |
| Lifestyle Photography | $150 to $370 |
1. Mango Studio
SERVICES
Family portrait, corporate headshots, bar and bat mitzvah, photo booth
WEBSITE
https://mangostudios.com/
ADDRESS
9 Davies Ave #203, Toronto, ON M4M 2A6, Canada
CONTACT DETAILS
+1 416-366-4723


[email protected]

OPERATING HOURS
Monday – Friday: 11:00 AM – 6:00 PM
Mango Studios was started in 2004 by a couple named Mo and Nancy Govindji. For 17 years, they've been providing photography services in Toronto.
Although they mostly focus on wedding photography, they also provide other services such as corporate headshots and family portraits.
With 14 photographers on board, we reckon that they're a fitting option for big events. Plus, this ensures that they can accommodate you even during peak seasons
What makes this studio stand out from the rest is its special "MANGO experience". After the event, they'll make a presentation out of the photos they took and play it in their theatre.
On top of that, clients also get options for albums and prints. This is a wonderful choice, especially if you want to see pictures of your special day at home or at your office.
As for prices, corporate headshots start at $145, but for additional retouches, clients need to add $75. For the family portrait, the package costs $595, which is a bit higher than average, but you do get 50 high-resolution photos – which is a great deal!
17 years of experience
14 photographers available
Album and print options
Wedding photography prices are only available upon request
Customer Reviews
Exceptional service
Exceptional customer service, everyone I have spoken to is extremely friendly. We shot our engagement photoshoot with Stevana, she is absolutely amazing! She made us both feel comfortable and confident, I can't wait to work with her for our wedding next year! Thank you so much!- Nicole Valente
Great Photos and an enjoyable experience
We used Mango studio for our wedding and was an amazing decision. We selected Val Sankar as our day-of photographer and he did not disappoint. A total creative that had such great ideas for shots and planning for the day of photos. He kept us on time throughout the photos and made the experience very enjoyable. The photos are stunning.- Kevin Willson
2. West of Yonge
SERVICES
Weddings, Maternity, Family, Newborn, Couples Sessions
WEBSITE
https://www.westofyonge.ca/
ADDRESS
51 Wolseley St, Unit 120
Toronto M5T 1A4
CONTACT DETAILS
Tel: 289-828-7545 | Email: [email protected]
OPERATING HOURS
Mon – Fri
10:00 am – 7:00 pm
We can't help but place West of Yonge as one of the top photographers because we're in awe of the work they do!
They offer a variety of services like Maternity, Family, Newborn, Couple's, and Wedding photography.
We like that their style and approach is about capturing the beauty and authenticity of any of life's moments, no matter how big or small.
From engagements, to weddings, maternity, newborn and family portraits, they're there to immortalize these beautiful events in your life.
What we think is great about them is their ability to be flexible and adaptive. No matter what happens, they can go with it and still capture everything exquisitely.
They're very professional throughout and we think you'll be amazed at the quality of the work that they do. Clients are often surprised by how the photographs turn out because they always exceed expectations!
We're in love with their portfolio, and we can't recommend them enough!
Award-winning photographer
Wide range of photography services
Exceptional results
Professional team
Flexible scheduling
Custom wedding packages available
Open by appointment only on weekends
Customer Reviews
"We loved working with Shannon! I am not the most comfortable person in front of a camera but she helped me and my partner loosen up and captured beautiful pictures for our engagement shoot and wedding !"
"We had the pleasure of having Shannon as our photographer for our wedding day this past September 24th, she was absolutely amazing. Everything thing felt so natural and comfortable with her. And that's how she made each and everyone there feel! We've gotten previews so far and are blown away with just the 7 photos we've seen, so I cannot imagine the magic she's creating with the rest of the photos. I highly recommend her to anyone looking. She did our engagement shoot as well and the photos were phenomenal! We love her and all of her photos! Thank you so much Shannon!!"
3. Angelo Sertsis Fotografiia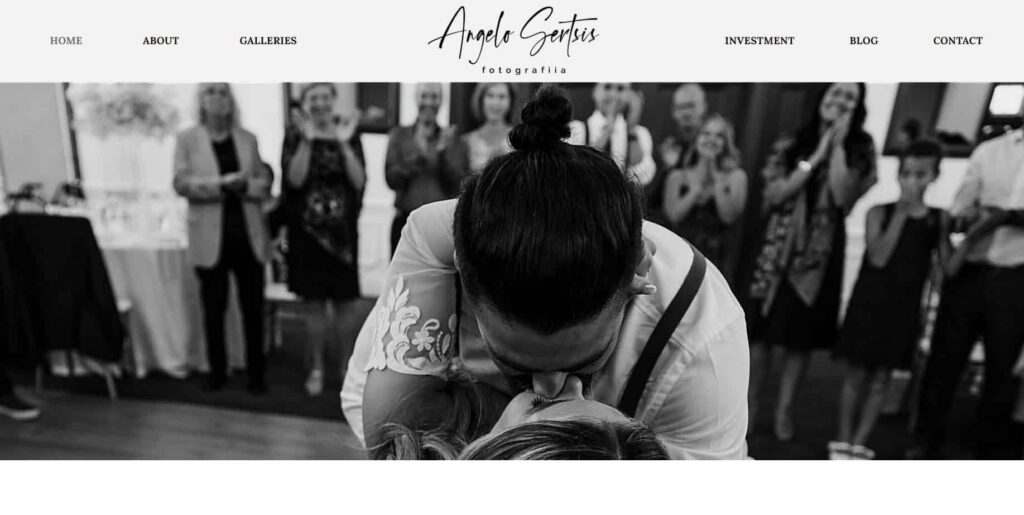 Angelo Sertsis Fotografiia is a company created and run by Angelo Sertsis, a prominent wedding photographer, that allows couples relive their unique moments from their wedding day.
In an unique documentary style, we admire how he is able to catch each minute of the event's emotions and twist them skillfully into a gorgeous and well-captured shot that reflects the couples' personalities and sentiments at the time.
Aside from that, their wedding investment packages are extensive and customizable, with clients able to add on services such as engagement photoshoots, and more photographers.
It should be noted, however, that the costs of their packages are subject to alteration without notice, so prospective consumers should check with them ahead of time.
Overall, we strongly urge interested customers to check them out because of their unique approach to documenting wedding activities and moments, inclusive packages supplied to clients, and respected services and customer care in the business.
Takes the time to understand the couple's personalities
Sneak peak online gallery included in packages
Accommodates all sorts of wedding themes
Rates may change without prior notice
Customer Reviews
Here are some reviews from their clients:
"Angelo is the most amazing photographer I've ever had! His work is beyond beautiful and his work ethic is worth more than 5 stars! From the get go, he was always there keeping us updated and informed and even made sure he discussed and organized our wedding timeline with us for a smooth sailing day. I've already seen his amazing work online, so I was confident our photos will turn out great. I was beyond ecstatic when he gave us sneak peaks of our wedding photos. He would be my number 1 photographer to recommend to anyone I know because I can guarantee his amazing work. I am so happy and lucky we found each other! Thank you so much for capturing the memories of our wedding day so beautifully!"
"I wish I could give Angelo more than 5 stars for the experience that we had. Angelo is one of THE BEST vendors my family has ever worked with. His attention to detail, his friendliness, his photo quality are all impeccable. Angelo made all my visions come to life, and directed the family to do the same during our wedding when required too! I can't wait to print out all the photos he took (so hard to choose!) Beyond that, Angelo is so friendly and personable that he starts feeling like family very quickly. We felt very comfortable in front of his camera, and it shows in our photos! Angelo, you've earned customers for life!"
4. Kissed by Light Boudoir Photo Studio
| | |
| --- | --- |
| SERVICES | Boudoir & art nude, maternity photo, business actor and headshot, commercial |
| WEBSITE | https://kissedbylightphoto.com/ |
| ADDRESS | 5 Adrian Ave #214, Toronto, ON M6N 5G4, Canada |
| CONTACT DETAILS | +1 (647) 655-9110 |
| OPERATING HOURS | Monday – Friday: 10:00 AM – 5:00 PM |
Kissed by light studios is a photography studio that was built by women for women. They have been in business for 10 years and are one of the oldest boudoir studios in Toronto.
During the photography session, the whole studio changes into a boudoir. From there, clients will be sent to a make-up artist for touch-up.
They also provide a wardrobe selection and artistic direction for the shoot. This will be done with a photographer or a creative director to produce professional shots.
During the session, photographers coach clients to pose – you won't have to worry about what you look like in the shots. The session, post-production, and editing are all done with utmost privacy, which is always a plus.
After all that, it will take about 15 business days for the viewing session, where you select your favorites. This session is optional and if it would be more convenient for you, selection can be done via email.
The studio offers a customizable package that requires a non-refundable deposit of $450, by the way. The deposit goes towards the total cost of your shoot.
Oldest boudoir studio in Toronto
Female team for female clients
Private photography, editing, and production
Expert coaching for best poses
Wide selection of wardrobe with various styles
Free makeup
For women only
Non-refundable deposit
Customer Reviews
Professional and creative
If you are looking for creative photography in Toronto, look no further Kissed By Light team will blow your mind! They are true professionals of photography, love creative portrait and boudoir. Done several shoots with them and sooo happy with the results. Highly recommend Kissed by Light Photography! – WMakeup Toronto
Comfortable and unforgettable
Such an unforgettable experience! The entire team was so professional and accommodating from start to finish. They made me feel so comfortable and empowered! I can't wait to come back here again. Highly recommend!- Anna P
5. Olive Photography
SERVICES
Wedding photography, lifestyle family & maternity sessions, engagement session, proposal photography, boudoir photography, headshots, personal brand photography
WEBSITE
https://www.olivephotography.ca/
CONTACT DETAILS
+1 416-520-1093


[email protected]

OPERATING HOURS
Monday – Sunday: 10:00 AM – 7:00 PM
Olive photography is a photography brand created by Anastasia, a Toronto-based wedding and lifestyle photographer. Her mission is to create warm and life-filled photographs in every picture.
Most of her work revolves around weddings, engagements, and proposals, which are categorized into various packages. The only "per-hour" package she offers is the one for micro weddings at $550 per hour.
If you're having a grand wedding, you might find more value in their Heirloom Package for $4,995. This is an all-day-coverage photography service so they can take shots of you from preparation to the ceremony.
The Hearty Package covers eight hours of a photography session at $3,995, while the Keepsake Package starts at $2,995 for six hours of photography sessions. All these packages include 50 to 100 photos (per hour of coverage), timeline assistance, and an online gallery.
Apart from the primary packages, there are also add-ons you can choose from such as boudoir sessions and a coffee table album.
Comprehensive packages based on coverage
Options for value add-ons
50 – 100 edited images on all packages
Packages come with timeline assistance and an online gallery
Proposal photography ensures images are ready within 48 hours
Customer Reviews
Comfortable and amazing photos!
Anastasia! You are so wonderfully kind and talented!
You made everyone feel comfortable, and did an amazing job of capturing the love on our wedding day. We are absolutely thrilled with the pictures!- Reb Pa
Captures the gist of the day
Anastasia is a great photographer, and our wedding photos are terrific. They capture everything about the day- celebratory, loving, and beautiful. We chose a package that came with a second photographer, who also did an excellent job. We would happily recommend Olive Photography for your event! – Caitlin
6. 515 Photo Co.
| | |
| --- | --- |
| SERVICES | Wedding, bridal shower, engagement photography |
| WEBSITE | https://www.515photoco.com/ |
| ADDRESS | 211-1179 King St W, Toronto, ON M6K 3C5, Canada |
| CONTACT DETAILS | +1 416-487-0515 |
| OPERATING HOURS | Monday – Friday: 10:00 AM – 6:00 PM |
515 Photo Co. solely focuses on wedding photography and has 9 photographers available for booking. You can pick which photographer you want by email and from then, you can discuss what kind of theme you want.
But if you don't know whom to choose, you can simply email what you wish to happen and they'll set you up with the right photographer. All of this depends on your preference, needs, and ideas.
From there, you can discuss your ideas with the photographer and they'll help you with everything. They'll create a timeline, a personalized mood board, and give you full access to their collective production.
One of the highlights of their services is their destination weddings option, which includes Italy, Greece, the UK, Portugal, Spain, France, Maldives, Southeast Asia, Mexico, the Caribbean, Australia. With this, you can totally make your wedding your best adventure yet.
In about 6 weeks, the photos will be ready, fully edited to suit your requirements. You can pick your personal favorites and you'll have a well-designed album to keep the memories forever.
Best for destination weddings
9 photographers available
Option to choose a photographer or make them select one for you
The principal photographer speaks Italian
Helps you create a timeline for your shoot
Rates are only available upon request
Customer Reviews
Smooth session and amazing picture!
The team at 5ive15ifteen is awesome. They shot our wedding and me and my wife could not be happier. We had multiple photographers at multiple venues on our wedding day and everything went smoothly, and the pictures came out amazing. We would highly recommend using them for your special occasion.- Mike Di Donato
Talented photographers and seamless experience
We absolutely loved 515! From the first meeting we knew we were in good hands. The whole team was personable, friendly, fun, and talented. The experience was seamless and the pictures came out beautifully. We have wonderful memories of our event as well as working with 515! We highly recommend them!- Robin S
7. Purple Tree Wedding Photography
| | |
| --- | --- |
| SERVICES | Wedding , engagement, editorials, publications |
| WEBSITE | https://www.purpletree.ca/ |
| ADDRESS | 258 Adelaide St E Unit 200, Toronto, ON M5A 1N1, Canada |
| CONTACT DETAILS | +1 647-977-9215 |
| OPERATING HOURS | Monday – Friday: 10:00 AM – 8:00 PM |
Purple tree photography is a collection or team of photographers that is situated in Toronto. Although they mainly work in Toronto, they too provide services outside of the city or country.
They have a variety of packages, from wedding to engagement and even bridal shower services. In addition, you can email them the specifics of the package and customize them to your needs.
You can get 700-1,000 edited photos for their wedding packages, depending on the coverage hours and session duration. And their photos usually take 7-10 weeks to finish, but they provide an online gallery for a sneak peek.
Once the photos are done, they will give you a password-protected online gallery that will be easy to share to your family. In addition, you can easily use your phones and tablet to view them, or you can decide if you want them printed.
The best thing about them is that they provide a location that has natural light that can be used in any weather. This allows you to enjoy the event without fear of the weather.
World-wide photography services
700 – 1,000 edited photos for wedding packages
Password-protected online gallery
Weather flexible location
Packages and prices are only available upon request
Customer Reviews
Honest and talented!
We had an amazing experience working with Purple Tree Photography and could not be happier with our photos. They are the most honest, talented, and kind people. We will definitely be working with them again! 11/10- Melissa Eisen
Exceptional and stunning photography
My experience with Purple Tree was exceptional from beginning to end! Svetlana has the most wonderful energy, and her photographs are just stunning! Thank you for taking so much care in capturing my memories – which will be treasured for years to come! <3- Antonette Montanaro
8. Claire Binks Photography
We're excited to share with you one of the best family and newborn photographers we've come across—Claire Binks from Claire Binks Photography!
What we love about Claire is her impeccable professionalism and her ability to put everyone at ease during a shoot. Whether someone is camera shy or a baby is fussy, she can always make the most out of it.
We find that she's excellent at her craft. She can make any subject have the most natural-looking pose.
Whether you have an relaxed in-home newborn session or an outdoor family session, Claire is able to turn any setting into a beautiful timeless portrait!
It's almost impossible for us to think of a reason why you shouldn't consider her for your newborn or family portraits!
Base prices available on website
Very professional
Beautiful photographs
Operating hours unavailable on website
Customer Reviews
"We just did a mini-session with Claire in our neighbourhood and the results are beautiful! She managed to capture some adorable shots of our 18 month old, even though she was not exactly in the best mood for photos that day! We love that we now have a family keepsake that reflects our personality and our neighbourhood. Thanks, Claire!"
"Claire took newborn and family photos for me and I loved them! I hate posing for photos but Claire put me at ease and I didn't once feel uncomfortable in front of the camera. The photos were beautiful and captured wonderful memories for us – we received lots of compliments. Claire was easy to work with and responsive, and we received the photos within a reasonable time frame. I wouldn't hesitate to recommend Claire to anyone looking for a photographer!"
FAQs About Photographers in Toronto
---
Looking for more services that make moments more special than ever. Browse through our top choices for the best flower delivery in Toronto to learn more!