THE 5 BEST FABRIC SHOPS IN TORONTO
Fabric shops are a crafter's version of a candy store, catering to fashion designers, home decorators, tailors, and hobbyists alike. These establishments offer a vast inventory of fabrics, textiles, and sewing tools for a wide range of purposes. From common materials like cotton, nylon, and denim to exquisite designer prints from around the world and luxury textures like leather and cashmere, these shops have it all.
To assist you in finding the perfect materials for your next project, we carefully selected fabric shops that offer a diverse array of materials, patterns, and everything you could possibly need.
How We Chose the Best Fabric Shops in Toronto
How Much Do Fabrics Cost in Toronto?
Fabrics are sold anywhere from $5 to $15 per yard for basic materials like cotton and linen, while higher-end materials like silk, wool, and designer fabrics can cost $15 to $50 per yard.
1. The Workroom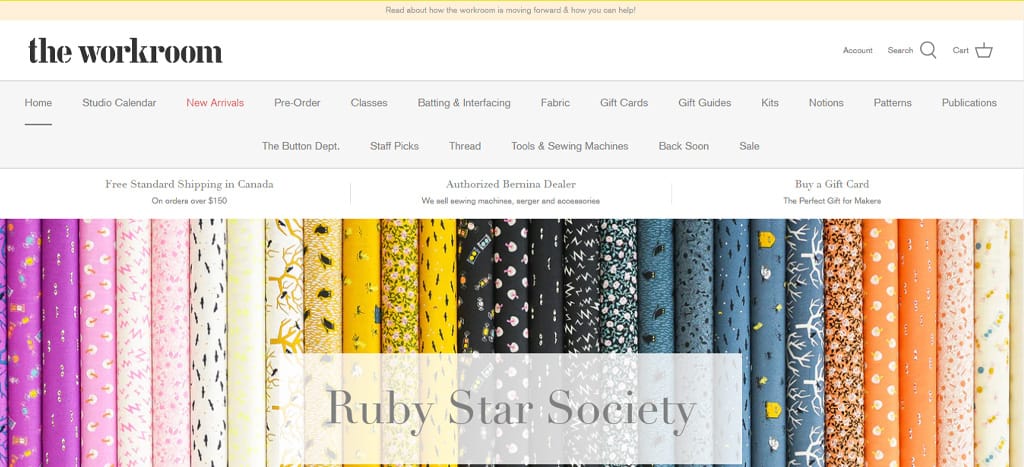 | Test | Info |
| --- | --- |
| WEBSITE | https://theworkroom.ca/ |
| ADDRESS | 1267 Queen St W, Toronto, ON M6K 1L5 |
| SOCIAL MEDIA | INSTAGRAM |
| CONTACT DETAILS | PHONE: (416) 534-5305 |
| OPERATING HOURS | Monday - Friday: 11:00 AM - 5:00 PM |
The Workroom is the epitome of Toronto's vibrant garment industry and a fabric-filled paradise for DIY enthusiasts. This Parkdale brick-and-mortar business was established in 2007 by Karyn Valino, an all-around creative who is well-acquainted with the demands of the crafting and sewing industry. This shows in their ever-changing catalog of fabrics, notions, and resources.
Karyn dabbled in various art forms, including photography and woodworking, before finding her true calling in sewing during her time in NYC. Today, The Workroom delights customers with everything modern and unique, featuring designer prints from nani IRO and Liberty London, along with a fully-stocked notions section, patterns, sewing machines, tools, and a dedicated button department.
For those eager to enhance their sewing skills, The Workroom provides 40 rotating sewing classes, covering everything from needlework and quilting to upholstery and natural dyeing.
Updated product selection
Offers a variety of workshops
High-quality and eclectic catalog, including designer fabrics
Staffed by professional crafters and instructors
Well-designed interiors
Competitive prices
Short operating hours
Some reports of unapproachable staff
Customer Reviews
This space is always welcoming and allows for opportunities for growth
"Staff are super helpful and approachable, I am a new sewer it can be intimidating to enter a space with so many professionals, but this space is always welcoming and allows for opportunities for growth. Really high-quality products and wonderful classes." – Jackie Moore, Google Reviews
There is nowhere I would rather shop for fabric
"There is nowhere I would rather shop for fabric, the beautifully curated selection is so exceptional I could close my eyes, pick at random and be pleased with whatever I landed on. The service offered during the worst of Covid was excellent and those bundles of colourful cloth got many through some dark days. Take one of their classes if you're learning, it's a fantastic experience!" – Holly Caverly, Google Reviews
2. G.K Fashion Fabrics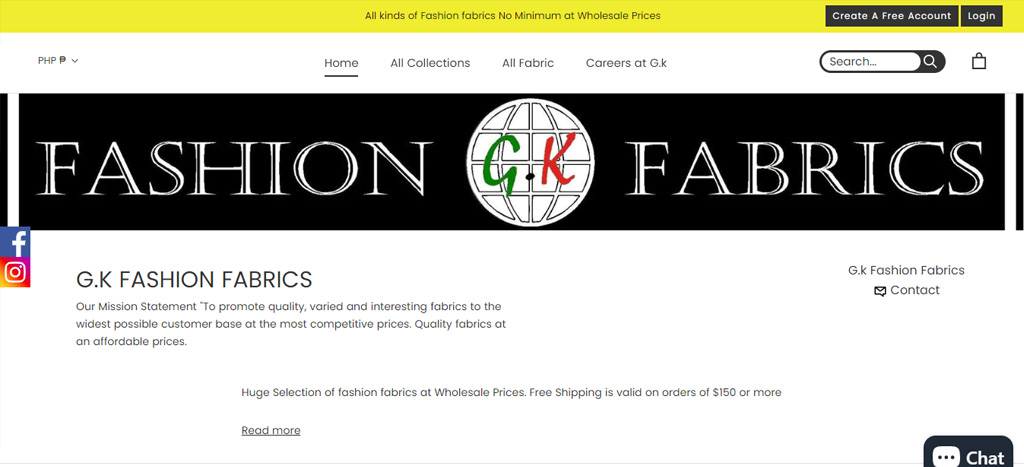 Test
Info
WEBSITE
https://gkfashionfabrics.com/
ADDRESS
1120 Caledonia Rd UNIT 11 & 12, North York, ON M6A 2W5
SOCIAL MEDIA
INSTAGRAM
CONTACT DETAILS
PHONE: (416) 787-9656
OPERATING HOURS
Monday - Friday: 10:00 AM - 6:00 PM

Saturday: 11:00 AM - 4:00 PM
G.K Fashion Fabrics is a treasure trove of unique and high-quality textiles in Yorkdale-Glen Park. Their shop, resembling a spacious warehouse, houses a remarkable array of rare and exquisite fabrics in every corner. Despite the extensive selection, they maintain a logical organisation, with each type of material clearly sorted and labeled.
G.K has carved a niche in ladies' and children's wear, offering a wide spectrum of fabrics, from various cotton materials to crisp denim and rigid leather. They also boast hard-to-find pieces like eyelet fabric and patterned textiles, among other treasures. If you're not sure what to get on your first visit, they'll gladly offer free swatches!
All their products are OEKO-TEX-certified, which guarantees that they are free from over 100 toxic chemicals, making them safe even for babies.
For the convenience of home shoppers, their website is thoughtfully designed with easy navigation and high-quality photos, showcasing even the tiniest details.
Directly-sourced materials with strict quality checks
Notions, tools, and trims are available
Offers hard-to-find and unusual fabrics
OEKO-TEX certified fabrics
Efficient online ordering system
Organised and labeled merchandise
Sells fabrics by half the yard
Few complaints of no replies over email
Doesn't offer designer fabrics
Customer Reviews
The selection was current and the store was MERCHANDISED!!!
"I have been to many fabric stores throughout the city and assumed they were all the same… The store was bright, the selection was current, and the store was MERCHANDISED!!! You actually wanted to browse! Fabric samples were made available so that you wouldn't have to tear through heavy bolts to see what you want. The manager greeted you and asked if he could help… I HAVE FOUND MY NEW STORE!!" – Alonzo Jones, Google Reviews
The fabric is even better than I had expected!
"After receiving my first order from G.K. Fashion Fabrics I am totally impressed! For someone who is hesitant to order fashion fabric online (I like to touch and feel), I am glad I did! The fabric is even better than I had expected! My order was fulfilled within 24 hours and arrived carefully packaged. Included were several labeled swatch samples I will definitely be ordering again and again." – Liz Manson, Google Reviews
3. Sultan's Fine Fabrics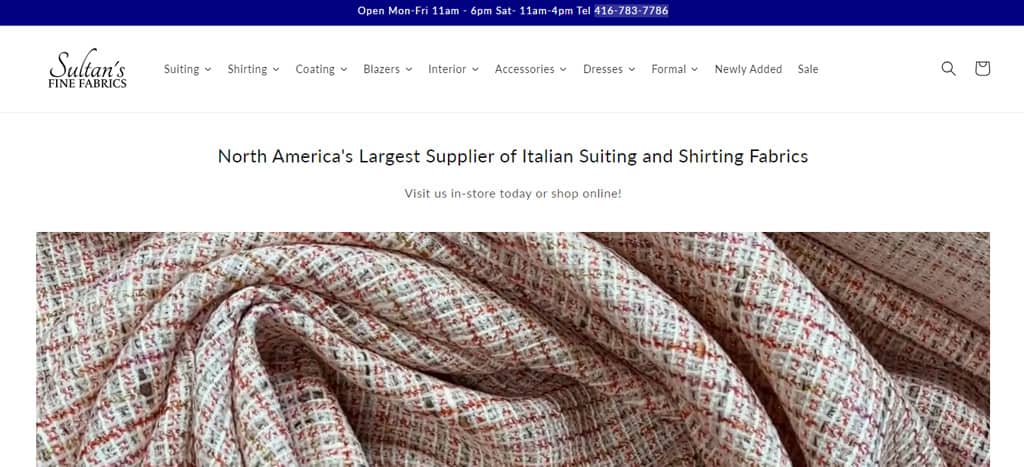 Test
Info
WEBSITE
https://www.sultansfinefabrics.com/
ADDRESS
89 Bentworth Ave #2A, North York, ON M6A 1P6
SOCIAL MEDIA
FACEBOOK
CONTACT DETAILS
PHONE: (416) 783-7786
OPERATING HOURS
Monday - Friday: 11:00 AM - 6:00 PM

Saturday: 11:00 AM - 4:00 PM
If you're on the lookout for the best selection of menswear fabric, a visit to Sultan's Fine Fabrics might be worth your time. Their website already offers a wide variety of options, but their shop in central North York boasts an even more extensive range of textiles, including shirting, linings, coatings, suiting, and dresses.
It's a true goldmine of elegant and fine natural fibres like Egyptian cotton, mohair, cashmere, and alpaca wool sourced directly from esteemed fabric mills like Ermenegildo Zegna, Reda, and Loro Piana. Notably, they specialise in high-grade English, Italian, and Swiss shirtings and suitings.
Sultan Moosa has been personally running the shop since 1973. With a keen eye on the ever-changing fabric trends, he found his niche in timeless materials, offering over 10,000 types, all packed within the walls of a 5,000-square-foot space.
Specialises in menswear fabrics
Extensive selection of textures, patterns, and materials
50 years in business
Premium-grade products
Reasonable prices
Does not offer other crafting items
Some complaints of haphazard cutting
Disorganised display of products
Customer Reviews
Be prepared to be amazed by the huge variety of textiles
"Had a great time choosing various textiles in this paradise for both the professional tailor and the home seamstress. Sultan is friendly and helpful. Be prepared to be amazed by the huge variety of textiles and their utmost quality (cashmere, wool and silk, cottons, all the best Italian fabrics)." – Anamaria Dutceac Segesten, Google Reviews
High-quality fabric and exceptional customer service
"I had a wonderful experience at Sultan's Fine Fabric, and I must mention that the owner, Sultan, was exceptionally helpful and nice. His warm and friendly demeanour made me feel welcome and appreciated as a customer. Sultan went out of his way to help me find the perfect fabric for my needs, and his knowledge and expertise in the industry were evident. Overall, I highly recommend Sultan's Fine Fabric to anyone in need of high-quality fabric and exceptional customer service." – Evan Jehu, Google Reviews
4. Affordable Textiles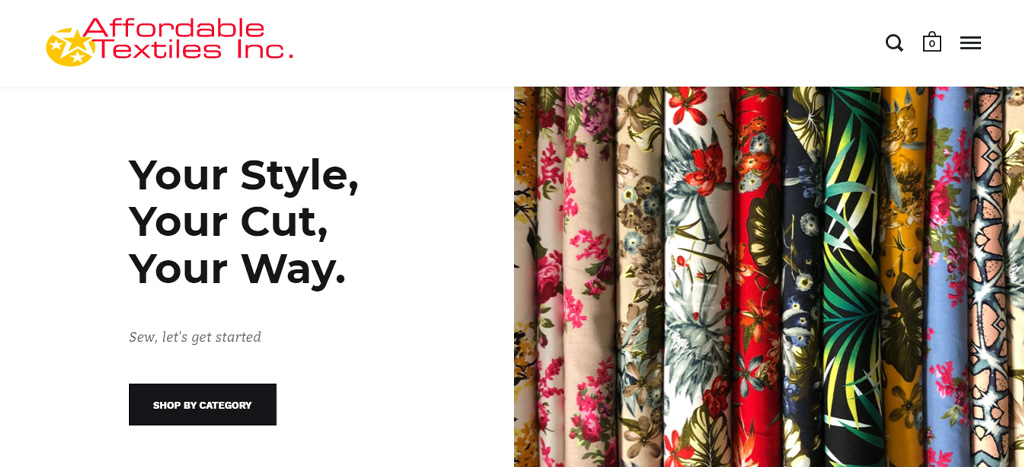 Test
Info
WEBSITE
https://affordabletextiles.ca/
ADDRESS
531 Queen St W #529, Toronto, ON M5V 2B4
SOCIAL MEDIA
INSTAGRAM
CONTACT DETAILS
PHONE: (416) 504-4117
OPERATING HOURS
Monday - Saturday: 10:30 AM - 6:30 PM

Sunday: 10:30 AM - 5:00 PM
With towering stacks upon stacks of fabric, you'll likely spend hours sifting through Affordable Textiles at Queen West. This family-owned and -operated business was founded in 1992 by Haroon Khan, who later passed the torch to his son Imran, now the proud owner of the shop.
As its name suggests, you'll find unbelievably low prices here, making it a go-to for fashion students across Toronto. Their shop is packed with shelves and drums of fabric, but there are no labels, so navigating through might be a bit challenging.
The selection of fabrics is influenced by the city's diverse cultural tapestry, at least according to Imran. They offer textiles ranging from loud and vibrant Ankara fabrics and holographic foils to luxurious velvets, as well as more muted options like plaid, fleece, and florals.
Very affordable prices
Rich assortment of plains and prints
Friendly and easy-going staff
Accommodating with special requests
Over 30 years in business
Little room to move through
Lacks clear labels and organisation
No fixed prices
Customer Reviews
Extremely friendly and helpful – even with odd requests!
"I've been here a number of times for various fabric needs over the years. The staff are extremely friendly and helpful – even with odd requests! My latest need was fabric suitable for 50 blindfolds that wouldn't require hemming and were machine washable. The guys found the perfect fabric at a great price." – Jeremy Marentette, Google Reviews
Absolutely my favourite!
"Overall a pretty nice place to shop. I haven't been in a ton but they still always remember my face when I go in and ask about the projects I've been working on. They're happy to cut you a deal if you're buying a lot or are repeating business often. I always chose to come here first when I'm shopping by look and feel of fabric before I hit any of the other shops in the area. Absolutely my favourite!" – Shevaun Morrison, Google Reviews
5. Fabric Fabric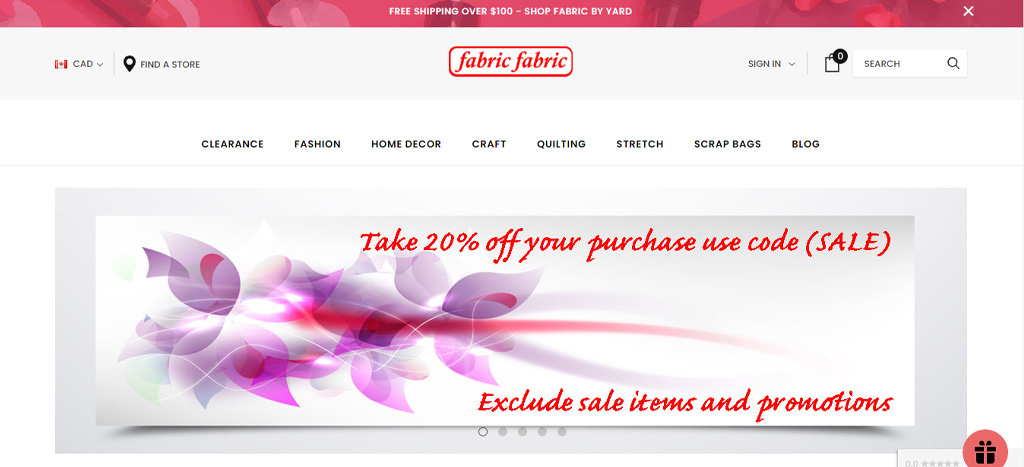 Test
Info
WEBSITE
https://fabric-fabric.com/
ADDRESS
530 Keele St #304, Toronto, ON M6N 3C9
SOCIAL MEDIA
FACEBOOK
CONTACT DETAILS
PHONE: (416) 595-0001
OPERATING HOURS
Monday - Friday: 9:00 AM - 6:30 PM

Saturday: 9:00 AM - 6:00 PM
Fabric Fabric, located at Stockyards District, is an expansive warehouse of medium to low-cost fabrics, offering a wide variety of options. They cater not only to clothing and fashion needs but also provide materials for other purposes. These include home decor materials such as upholstery, boucle, and drapery, as well as crafting materials like quilting fabrics.
A warehouse shopping experience awaits, where you might lose track of time while exploring the never-ending rolls and bolts of fabric. We recommend visiting with a clear idea of what you need, to avoid feeling overwhelmed.
Despite the vast inventory, the staff knows their stocks well and willingly assists customers in finding the right materials. Expect neat and precise cuts, and the store clerks have been known to include a little extra. Fabric Fabric's inventory also boasts unique pieces, including ethnic prints, stretch fabrics, and weatherproof materials, among many others.
Long operating hours
Most extensive selection out of all the others
Helpful and knowledgeable staff
Clean and generous cuts
Low prices and offers discounts
Cluttered website
Cluttered bolts and shelves
Confusing labels
Customer Reviews
There is literally every kind of material you'd need there!
"I would describe this place as a Costco for fabric oh my goodness there is literally every kind of material you'd need there! I initially asked the lady how much it would be for them to re-upholster (which was a little out of my budget) so then I asked if she thought I could do it myself instead, and she replied 'absolutely' followed by a detailed explanation of how. She then gave me options of how I could proceed, found me the materials I'd need, and sent me on my merry way." – Jessica Wong, Google Reviews
Very pleasant to do business with
"I have ordered from fabric fabric many times for my small business Celeste Naturals. They have an amazing selection of fabrics including satin & beautiful African prints which are hard to find. The staff/owners are very pleasant to do business with. I highly recommend!" – Blaine Goodale, Google Reviews