Top 5 Payroll Services in Toronto
To streamline work, businesses outsource their payroll to professional companies that do payroll processing. Outsourcing will help you focus on making your business grow.
In this article, we have rounded up and rated the companies with the best payroll services in Toronto.
The Best Payroll Services in Toronto
We selected the firms with the best payroll services based on the following criteria:
How much do payroll services cost in Toronto?
Below is how much payroll processing can cost on average:
| Pricing Structure | Fee |
| --- | --- |
| Base Fee | $29 - $150 |
| Per employee per month | $2 - $12 |
Payroll servicing fee is based on the number of employees and pay period. Businesses with employees in different locations and methods of payment will entail more working hours in payroll processing.
If tax servicing is included, this will add up the cost. That is why a lot of payroll companies customize their fees according to the scope of work.
Businesses that will outsource their payroll service also need to pay a one-time fee to set up an account with a payroll company.
Some payroll companies charge a base fee per month. It can be per pay period, which means you pay the base fee every time payroll is done – weekly, bi-weekly, semi-monthly, or monthly.
Added to the base fee is a charge per employee per month or period as well.
1. HeartPayroll
| Test | Info |
| --- | --- |
| Services | Total Payroll Management |
| Website | https://www.heartpayroll.com/ |
| Address | WaterPark Place, 1100-20 Bay St., Toronto, ON M5J 2N8 |
| Contact Details | 647-492-7253 |
| | |
| --- | --- |
| Criteria | Rating |
| Fee Setup | ★★★★★ (5/5) |
| Customer Support | ★★★★★ (5/5) |
| Range of Services | ★★★★☆ (4/5) |
| Technical Support | ★★★★☆ (4/5) |
HeartPayroll does total payroll management but focuses on caregiver payroll and tax services.
It is the first and exclusive payroll choice for caregivers and nanny agencies in Toronto.
What is great with this focused service is it frees up families in doing payroll work for the caregivers they employ.
Its team is composed of 3 HR and payroll practitioners who are all certified in payroll compliance. This is an assurance that they have the experience and knowledge especially when a problem arises or you are in a unique circumstance.
This firm can even help set up an account with the Canada Revenue Agency (CRA) at no additional fee. In addition, it will file tax forms, deductions, and remit tax payments for clients and their nannies.
What we appreciate is the simple pricing this firm offers. The scope of work includes computing and paying salary, taxes, and other contributions, as well as documentation of pay stubs and tax forms.
For all of these, expect to pay $50 per month. But for families who share the services of a nanny, the fee is set at $40 per family.
Clients will be happy to know they can also avail of this firm's discounted annual fee of $500. This includes registration, remittance, and filing with the Workplace Safety and Insurance Board (WSIB) which usually costs an additional $10 per month.
Clients appreciate its fantastic service as they completely take care of their caregiver payroll needs. For questions, they can be easily reached and response time is usually within 24 hours.
Specialises in caregiver payroll services
Team are HR and payroll practitioners
Certified to do payroll compliance
Fixed monthly service fee
Customer Reviews
Great value
"HeartPayroll made all the financial paperwork of having an employee incredibly easy. They always responded to questions quickly and were very knowledgeable. Great value for the cost. I'd highly recommend their services." – Nicole
Professional and prompt service
"HeartPayroll has been the perfect stress free solution for providing legal payroll services to our in home child care worker. They are always professional and prompt in addressing our concerns and needs. I highly recommend HeartPayroll if you need to hire anyone in your home for services." – Brian
2. V-TAC Payroll Management
Test
Info
Services
Payroll Services

Unified HR & Benefits

Website
https://www.vtacpayroll.ca/
Address
401 Bay Street, Suite 1600

Toronto, ON M5H 2Y4

Contact Details
1-866-315-8822
Operating hours
Monday - Friday: 9 am - 6 pm

Saturday - Sunday: Closed
| | |
| --- | --- |
| Criteria | Rating |
| Fee Setup | ★★★★★ (5/5) |
| Customer Support | ★★★★☆ (4/5) |
| Range of Services | ★★★★★ (5/5) |
| Technical Support | ★★★★☆ (4/5) |
For the past 20 years, V-TAC Payroll Management has been doing payroll services that Canadian businesses trust. Its certified payroll specialists share their valuable expertise in different industries like hospitality and construction.
What is notable is that a payroll coordinator is assigned to each client. Companies are assured that someone is on top of their account to monitor their payroll needs.
It offers a customisable payroll service as they understand each business has a unique payroll system. This allows the firm to simplify or add more features.
In addition, the service setup is done within 48 hours, which is impressive. Clients are assured that their data is secure and transferred smoothly.
Once set up, clients can conveniently access the firm's portal anywhere. This is helpful in updating data or viewing reports like the general ledger. The firm has to assure clients that their data is secure in its portal as it can be subject to theft of intellectual property.
Moreover, even employees can access their accounts on the portal and see their timesheets and other payroll information.
However, we did hear that there were instances when employees had some difficulty logging in.
It's a good thing that the staff addresses the concerns of clients within 30 minutes. Even technical difficulties are attended to urgently.
For added convenience, requesting a quote is easy through its website. Budget-conscious clients will be happy to know that there are no hidden costs as the company has an upfront pricing approach.
Also, the firm allows termination of its services anytime with no fees. It does not have any mandatory lock-in agreement, unlike other payroll companies.
20 years in doing payroll service
Dedicated payroll coordinator for each client
Customisable payroll service
Quick payroll set up
Addresses clients' concerns within 30 minutes
No hidden or upfront fees
No mandatory lock-in of service
Some instances of technical difficulties
Stored data can be put at risk for data theft
Customer Reviews
Exceptional customer service
"I have used VPM's services for over 3 years. They have been amazing the entire time. They assign a payroll consultant to your account so you always have a point of contact, this made things a lot easier as the consultant knew my account and could help me with any issues I had. Exceptional customer service!" – 39 Spices
Best performance payroll service
"Dealing with V-Tac over the past 10 years the customer support that we have received has been fantastic. They work hard to offer the best performance payroll service and insure that all our needs are met without any hesitation. In the end, it comes down to knowing the business and what they need to help us to be successful and achieve our goals." – Mike
3. Finnection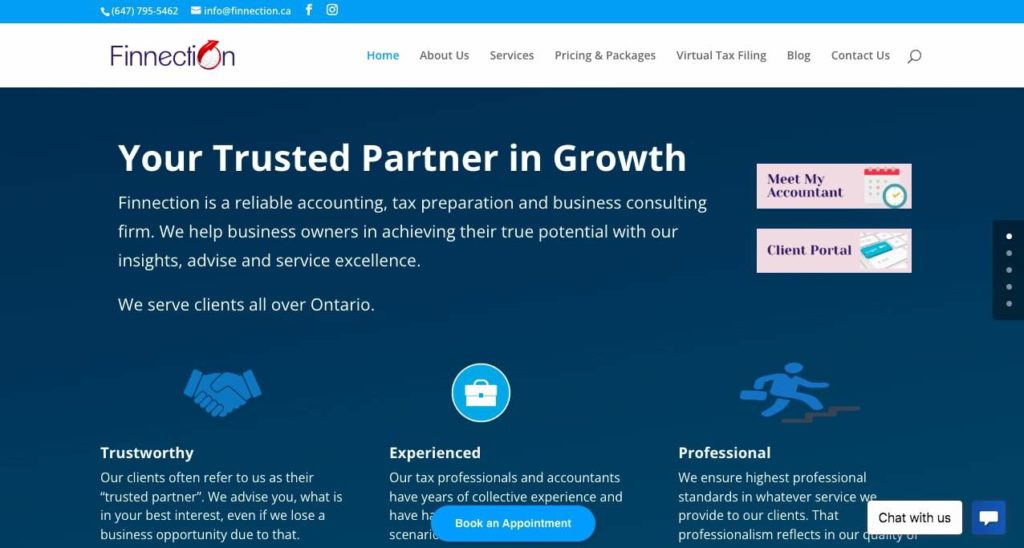 Test
Info
Services

Tax Services

Accounting and Bookkeeping

Payroll

Business Advisory

Transaction Advisory

Business Incorporation

Website
https://www.finnection.ca/
Address
100 King St W #5700, Toronto, ON M5X 1C7, Canada
Contact Details
647-795-5462
Operating hours
Monday - Friday: 9 am - 5 pm

Saturday - Sunday: Closed
| | |
| --- | --- |
| Criteria | Rating |
| Fee Setup | ★★★★★ (5/5) |
| Customer Support | ★★★★☆ (4/5) |
| Range of Services | ★★★★★ (5/5) |
| Technical Support | ★★★★☆ (4/5) |
Finnection is a one-stop company for accounting and payroll needs under the helm of Aamir Jewani. Small and medium-sized businesses (SMBs) are loyal to this company because of its trustworthiness and reliable services.
With 2 locations in Ontario and 9 years of doing business, Aamir has helped many business owners grow their companies. Clients are happy to have a business consultant as well as a finance and accounting advisor in him.
To help SMB owners, its services are adaptable to the requirements of the client. The firm may have set packages and fees but it is open to tailoring services to what the client only needs.
It has a Monthly Accounting Package (MAP) where they do bookkeeping, accounting, payroll, and tax returns. The fixed monthly package fee for this is paid upfront, which we like.
On the other hand, its Virtual or Shared CFO (VCFO) offers similar services but with added features. VCFO does budgeting and forecasting as well as dealing with banks for your financial needs.
To avail of these packages, we found out that the firm has different payment options – Silver, Gold, and Platinum. The difference in the fees is based on the number of employees and the frequency of review meetings.
As a plus, clients who sign a contract for one year get to enjoy free payroll service for a month. But they also offer month-to-month options for those who can't initially commit to the full year.
Its software makes it convenient for clients and their employees to get payroll-related data. The firm allows online access to clients' employees for their pay stubs.
One-stop accounting and payroll company
Payroll services are adaptable to clients' requirements
Comprehensive service packages
3 payment options
Free 1-month service for 1-year contracts
Online access for employees
Lean team
Relatively younger company compared to most counterparts
Customer Reviews
Reliable professional expertise
"This is the best accounting firm to work with as a business. Aamir is accessible, committed, professional and extremely knowledgeable. I love working with him. I have relied on his professional expertise many times. I highly recommend Aamir and Finnection to anyone looking for bookkeeping, payroll and accounting services for their SMB. Exceptional service and support. I also love their software which makes everything organized and web based. Great job all around, I'm sure lucky to have you in my corner." – Angelic Treasures
Helped me make better business decisions
"Finnection was with me from the day onnegatie, when I started my daycare business in 2019. They are an integral part of my success. I highly recommend to all business owners to partner up with Finnection. They helped me to set up the accounting system and processes, that were time efficient and easy to follow. During our consultations Aamir helped me to navigate through the numbers and helped me to make better business decisions. He is very knowledgeable and keeps up with the latest news and changes. When Covid-19 hit, he proactively suggested programs and grants to minimize the negative impact on my business. I am certain, his advice saved me money and contributed to my profit." – Viera
4. Triple M Professional Corporation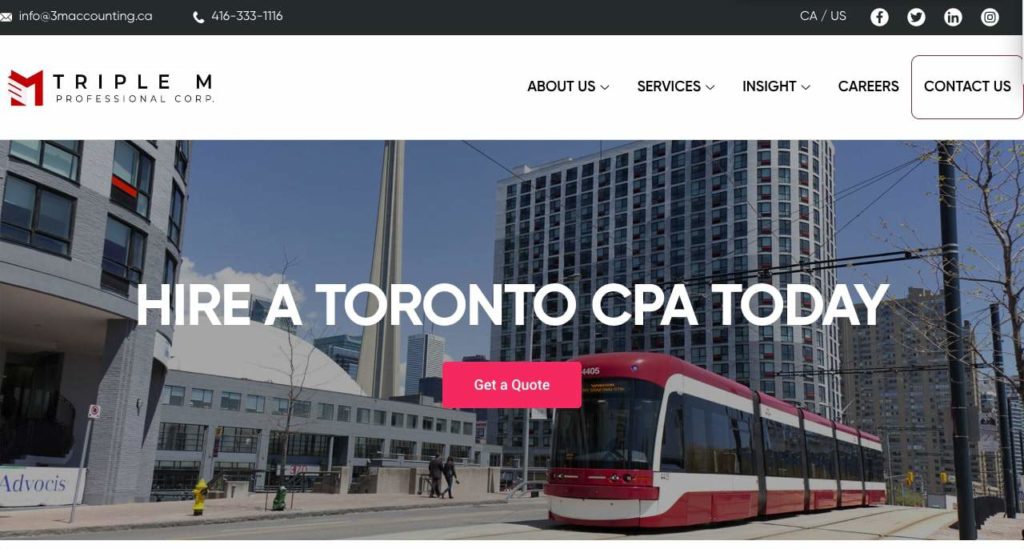 Test
Info
Services

CRA Representation and Audit

Corporate and Personal Tax Return

Payroll Services

Business Plans and Valuation

Website
https://3maccounting.ca/
Address
500 King St W Unit 300, Toronto, ON M5V 1L9
Contact Details
416-333-1116
Operating hours

Monday - Friday: 9 am - 6 pm

Saturday - Sunday: Closed
| | |
| --- | --- |
| Criteria | Rating |
| Fee Setup | ★★★★☆ (4/5) |
| Customer Support | ★★★★☆ (4/5) |
| Range of Services | ★★★★★ (5/5) |
| Technical Support | ★★★★☆ (4/5) |
Triple M Professional Corporation started in 1999 and since then has grown into a full-service company. It caters to the accounting and tax needs of small to large corporations, as well as individuals.
Their team of certified accountants is aided by the latest technology to help make the process easier and more accurate.
Its clients can avail of a 15-minute free consultation by filling up the form on its website. Upon meeting them, which can be done virtually, they will discuss the options and upfront fees with the client.
They use this consultation also to know if they are the best payroll service provider given the unique needs of the client. This is an indication that they value customer satisfaction.
For its payroll service, it ensures that staff is updated on federal regulations. This guides them to make the right deductions on the employees' pay.
While there have been a few instances of erroneous tax returns being filed, we are reassured that they are able to take responsibility for their mistakes. They make every effort to compensate clients for the error, as well as connect with the concerned government agency to correct it.
Of course, this is not licensed to keep repeating these incidents, so we hope that management has already tightened its grip on quality control.
Business has been operational for more than 20 years
Full-service company
15-minute free consultation
Virtual meetings
Values customer satisfaction by rectifying errors made by staff
Updated on federal regulations
Instances that of submitting erroneous returns
Short time for consultation
Customer Reviews
Excellent service
"The service that Michael provided was excellent! He promptly answers emails and always picks up your calls. He takes time to explain everything in detail and patiently answers any questions you might have. His fees are a bit higher than the ones of other accountants but honestly, it is absolutely worth it. His service is 10 out of 10 and I highly recommend it." – Andrea
Professional and friendly
"We have been working with Triple M Accounting for the last 3 years, they have helped us with Bookkeeping, Payroll, and WSIB submissions of our Wildlife control corporation. Very professional and friendly they explain all tax and accounting matters in layman terms. We even get our personal taxes filed with them and I am extremely happy with the tax planning strategy vs. our past experience. I highly recommend." – Ray
5. APEX Accounting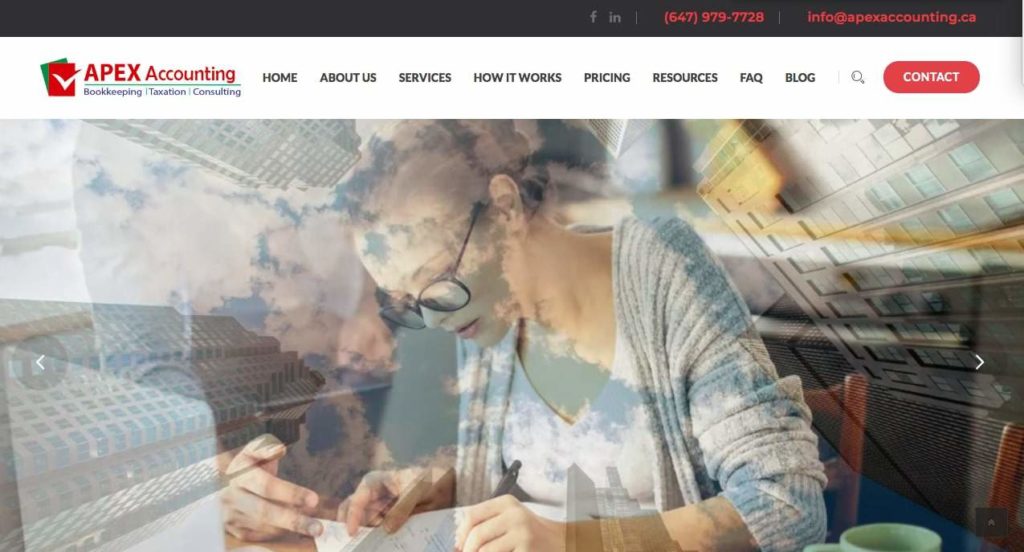 APEX Accounting
| | |
| --- | --- |
| Criteria | Rating |
| Fee Setup | ★★★★★ (5/5) |
| Customer Support | ★★★★★ (5/5) |
| Range of Services | ★★★★★ (5/5) |
| Technical Support | ★★★★☆ (4/5) |
APEX Accounting focuses on small and medium-sized businesses. It understands the financial capacity of these businesses so it helps them save on costs and focus on their core tasks.
Its team is trained to design a customized payroll system for each client. The goal is for the system to be efficient and reliable so clients need not worry about client compensation and even tax compliance.
The payroll processing makes sure that all payments are tracked and properly recorded. What's more, they ensure that the clients' businesses do not get penalized or fined because of non-compliance.
Payroll services are done in a cloud-based system conveniently connected to the client's accounting system.
What we appreciate is the firm giving importance to the privacy of clients' data. Only the staff assigned to the client will have access to the information they provide.
Its staff is also thoroughly vetted as an added security. Aside from this, the company's data is encrypted on its server.
Another thing that we like about this firm is it gives clients options on the payment scheme. Inclusion per option varies so clients have the freedom to choose depending on the scope of work they need, as well as their budget.
What we like most about them is that they're a one-stop provider for businesses' accounting and payroll needs. Businesses do not need to find different companies to outsource all of their requirements.
Focused services to small and medium-sized companies
Customised payroll system
Values data privacy
Thoroughly vetted staff
Options for payment schemes
Some services have additional costs
Associated risks with cloud-based payroll system
Customer Reviews
Professional and efficient
"Apex Accounting helped my business by projecting a very clear picture of our financial statements that helped us in proper planning and execution for our business goals. I loved their professionalism and efficiency. I highly recommend their service if you are looking for a genuine bookkeeping and accounting services." – Barsha
Knowledgeable and thorough
"A very detail and professional accounting firm. CJ is knowledgeable and very thorough in analyzing every aspects to serve for better of clients. May it be personal or corporate accounting, my go to firm.Best wishes" – Ekta
FAQs on Payroll
---
And that's it for our roundup of the providers of payroll services in Toronto! Save time and resources by taking on the services of any of these companies.
To help your business stay relevant, check out the top 7 business trends in 2022. And in case you need help in hiring, we have a review of the top 5 recruitment agencies in Toronto.