Top 5 Endodontists in Toronto
Do you know that most endodontists perform an average of 25 root canals on a weekly basis? Because they don't do cleanings or fillings, they're completely focused on addressing complex tooth problems involving the tooth pulp.
If you suspect that you've got a toothache that needs a specialist's eye – or if your dentist has already recommended that you see a specialist – read on below for our review of Toronto's top-rated endodontists.
The Best Endodontists in Toronto
Root canal procedures can be complicated and expensive. So, we have lined up the best endodontists in Toronto based on these criteria:
How much does a root canal cost in Toronto?
To give you an idea of how much a root canal procedure is in Toronto, here is the average cost per tooth.
| Tooth | Price Range |
| --- | --- |
| Front Teeth | $300 - $1,500 |
| Bicuspids  | $400 - $1,800 |
| Molars  | $500 - $2,000 |
The cost will vary depending on the severity of the tooth problem, tooth location, and if it's a retreatment of a previous root canal procedure. The expertise of the dentist will also add to the cost.
A root canal is covered by most dental insurance but only reimbursable once a treatment plan is submitted by your dentist. Thus, patients have to cover the cost first on the day of the treatment.
A dentist may suggest added protection by placing either a dental crown or filling on the treated tooth. However, this will entail an additional cost of between $90 – $300.
1. Dr. Gary Glassman – Endodontic Specialists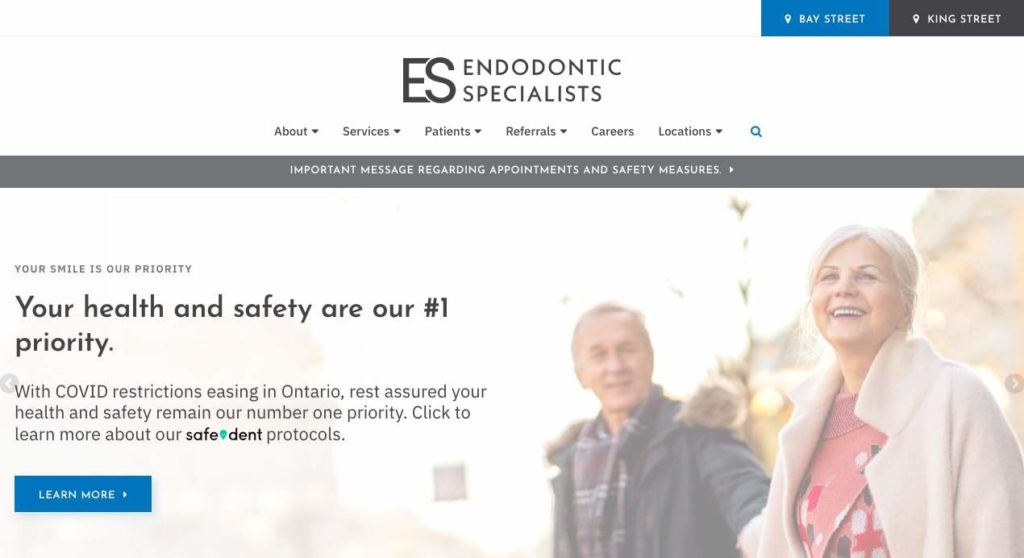 Test
Info
Services

Endodontics and Root CanalsTreatment and Retreatment

Endodontic Surgery

Traumatic Dental Injuries

Website
https://www.rootcanals.ca/site/home
Address
1235 Bay St. Suite #201, Toronto, ON M5R 3K4 CA
Contact Details
416-963-9988
Operating Hours

Monday: 8 am - 7 pm

Tuesday - Friday: 8 am - 5 pm

Saturday: 8 am - 1 pm

Sunday: Closed
| | |
| --- | --- |
| Criteria | Rating |
| Dentist's Expertise | ★★★★★ (5/5) |
| Availability | ★★★★☆ (4/5) |
| Patient Care | ★★★★☆ (4/5) |
| Equipment | ★★★★★ (5/5) |
| Accessibility | ★★★★★ (5/5) |
Endodontic specialist is Dr. Gary Glassman graduated from the Endodontology Programme of Temple Univeristy in 1987.
His expertise and knowledge on endodontics has led him to write publications and presented in worldwide dental conferences. He is currently the endodontist editor of two publications – Oral Health and Inside Dentistry.
His practises privately at Endodontic Specialists where he treats patients with precision and care. He is known for his ability to minimise pain or discomfort during procedures, and for his commendable bedside manner.
We appreciate his flexibility in accommodating same-day appointments and emergency care. He also help eases neves by walking through the dental procedure with the patients.
The clinic where he practises, Endodontic Specialists, provides a wide array of endodontics services for common and traumatic dental injuries.
Foreign language-speaking patients will be glad to know the dentists can speak not just English but also Spanish, Portuguese, French, Filipino, Urdu, and Greek.
We found out also that this clinic has parking available near the clinic as well as access to public transit. Patients who need assistance in mobility will be happy to know that the clinic is wheelchair-accessible.
The clinic operates most of the days of the week so it would be easy to book a schedule for yourself. However, it's quite a bummer that it is closed on Sundays when patients are more available.
Impressive credentials
Known for his "light touch" that aims to minimise pain or discomfort
Accommodes same-day and emergency appointments
Clinic is conveniently located and is wheelchair-accessible
Instances of canceled or rebooked appointments
Closed on Sundays
Customer Reviews
Procedure done well
"I broke my front tooth two weekends ago and was in a lot of pain as the nerve was still alive. Dr Grossman and the team at Endodontic Specialists were so helpful, caring and professional. Within a few days I was in the chair for a root canal, the procedure went extremely well and I was pain free shortly after. I had heard of friends having nightmare experiences with root canals elsewhere and was fearful of the procedure. I would highly recommend Dr Grossman and his team." – Stephanie
Worth the price
"I was in terrible pain and was very relieved when Dr. Partnoy was able to fit me in for a root canal. He was very thorough and did a fantastic job. The procedure was quick and painless. I've had two previous root canals with different dentists and this was by far the best experience. Worth the price." – Miena
2. Dr. Ari Gold – Metro Endodontics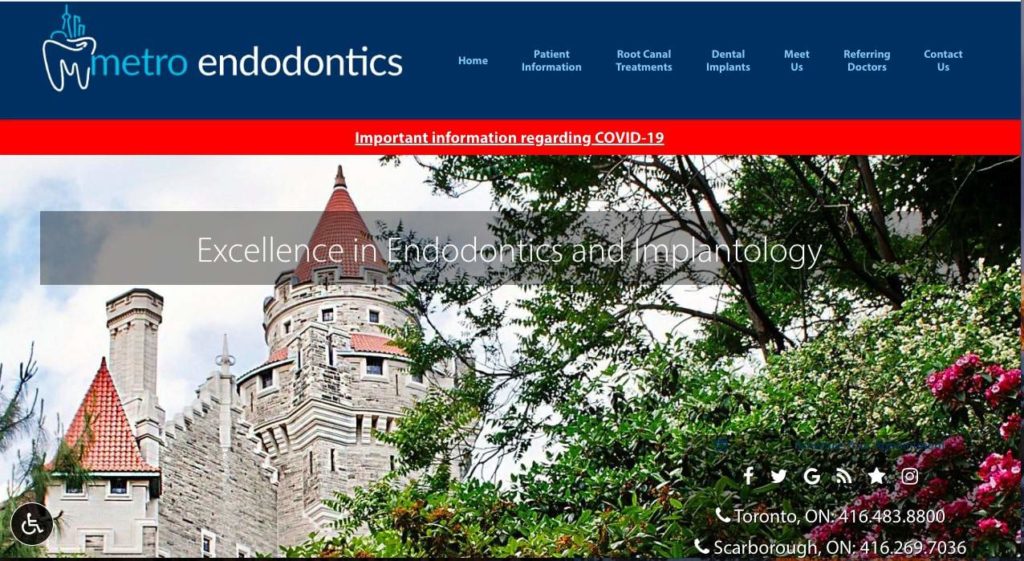 Test
Info
Services

Root Canal

Endodontic Retreatment

Apicoectomy

Cracked Teeth

Traumatic Injuries

Dental Implants

Website
https://www.torontoendodontics.com/
Address
2300 Yonge St Suite 701, Toronto, ON M4P 1E4
Contact Details
416-483-8800
Operating Hours

Monday - Friday: 8:30 am- 4 pm

Saturday - Sunday: Closed
| | |
| --- | --- |
| Criteria | Rating |
| Dentist's Expertise | ★★★★★ (5/5) |
| Availability | ★★★★☆ (4/5) |
| Patient Care | ★★★★☆ (4/5) |
| Equipment | ★★★★★ (5/5) |
| Accessibility | ★★★★★ (5/5) |
Metro Endodontics has been known for its expertise in endodontics and implantology over the past 50 years.
Dr. Ari Gold, one of its 4 endodontists, earnd his endodontist degree from Tufts University in 1987.
His credentials also include being a clinical endodontics instructor at the University of Toronoto and past president of different endodontists societies. These are proof of his good reputation and expertise in this dental field.
Dr. Gold is an expert in non-surgical and surgical endodontic treatments. In the past 10 years, he also started doing dental implants and bone grafting procedures.
Metro Endodontists, the clinic where he practises, features state-of-the-art technology. Endodontists make use of microscopes to better perform complicated root canal procedures.
Meanwhile. digital radiography and 3D imaging help in giving sound treatment recommendations and accurate cost estimates.
Note, however, that upfront payment is required in this clinic. You may want to contact your insurance provider regarding reimbursement policies in this scenario.
On a brighter note, the staff's helpfulness is apparently memorable for clients. Those needing emergency care have told us that staff go the extra mile to accommodate them immediately; in the same way, regular patients note that the staff try to get them in on the same day as well.
50 years of dental practice
Dr. Gold's expertise in endodontics and dental implant placement
Great location 
State-of-the-art facility
Accommodates clients for emergency cases
Closed on weekends
No payment plans or financing options
Customer Reviews
Excellent staff
"Dr Ari Gold is very good. The staff is excellent, helpful and very kind. Root canal is an extremely complicated procedure. And i feel most confident here, thank you for your good work." – Suzanne
Accommodation of the last-minute appointment
"I had extreme pain in my molar that needed an emergency root canal. They were able to squeeze in an appointment for me right before the long weekend. Thankfully I left their office pain free! Very friendly and knowledgeable staff." – Julie
3. Dr. Sara Markovic – Riverstreet Endodontics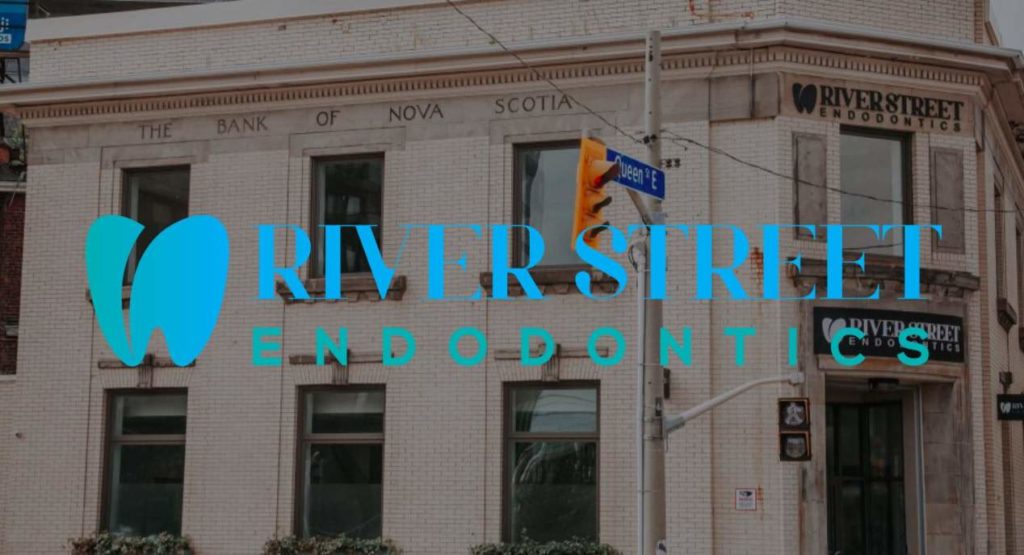 Test
Info
Services

Endodontics

Root Canal Treatment and Retreatment

Endodontic Surgery

Cracked Teeth

Traumatic Dental

Minimal Sedation

Website
https://www.riverstreetendo.ca/
Address
543 Queen St. E, Toronto, ON M5A 1V1
Contact Details
416-868-4697
Operating Hours
Monday - Friday: 9 am - 8 pm

Saturday - Sunday: Closed
| | |
| --- | --- |
| Criteria | Rating |
| Dentist's Expertise | ★★★★★ (5/5) |
| Availability | ★★★★☆ (4/5) |
| Patient Care | ★★★★★ (5/5) |
| Equipment | ★★★★★ (5/5) |
| Accessibility | ★★★★★ (5/5) |
Riverstreet Endodontics is a clinic run by Dr. Sara Markovic. She specialises in root canal procedures, using world-class technology and modern techniques.
Dr. Markovic started out as a Clinical Psychologist and later pursued dental studies. In 2014, she earned a Master's in Dental Science and Advanced Education Certificate in Endodontics from the University of Florida.
Currently, she is also a clinical instructor at the Universtiy of Toronto while maintaining her private practice in Riverstreet.
Dr. Markovic builds good rapport with her clients by her thorough explanation of treatment plans. From what we've been told, her friendly and reassuring manner greatly eases patients' anxieties during procedures.
We found out that she is capable of saving teeth that were thought to be beyond saving by other dentists, which is impressive.
Her clinic, Riverstreet Endodontists, is open for long hours on weekdays – they close at 8pm. This offsets the fact that they're closed on weekends.
The clinic has digital radiography capabilities, which reduces by 80% radiation exposure for clients. It also provides Spotify-connected dark glasses that clients can use during procedures, which is a nice thoughtful touch.
The clinic is conveniently accessible by car and public transport. It's also housed on the first floor of a historical buildingm, which makes it easily accessible to those with limited mobility.
Uses world-class technology and modern techniques
Long weekday hours
Spotify-connected dark glasses for clients' use
Uses digital radiography 
Accessible by car and public transport
No other endodontists available
Closed on weekends
Customer Reviews
Dentist answers calls on weekends
"My dentist referred me to Dr. Markovic for an assessment of a back molar. I knew I needed a root canal and was terrified. They managed to put me at ease very quickly and I underwent the procedure without pain. I would recommend them to anyone needing a root canal. I was also impressed that Dr. Markovic picked up her phone on the second ring on a Saturday morning to answer my questions." – Marie Louise
Awesome support team
"Root canals get a bad rap! So, naturally I was terrified to get my first, but everything was so much smoother [and less scary] than expected. Dr Markovic was patient, gentle and thorough with all of the information I needed before, during and after the treatment. Having a specialist for my first major dental treatment made me feel confident and the results show. The supporting team was awesome and follow up calls were appreciated as well. Would definitely recommend to anyone putting off that scary root." – Alicia
4. Rosedale Endodontics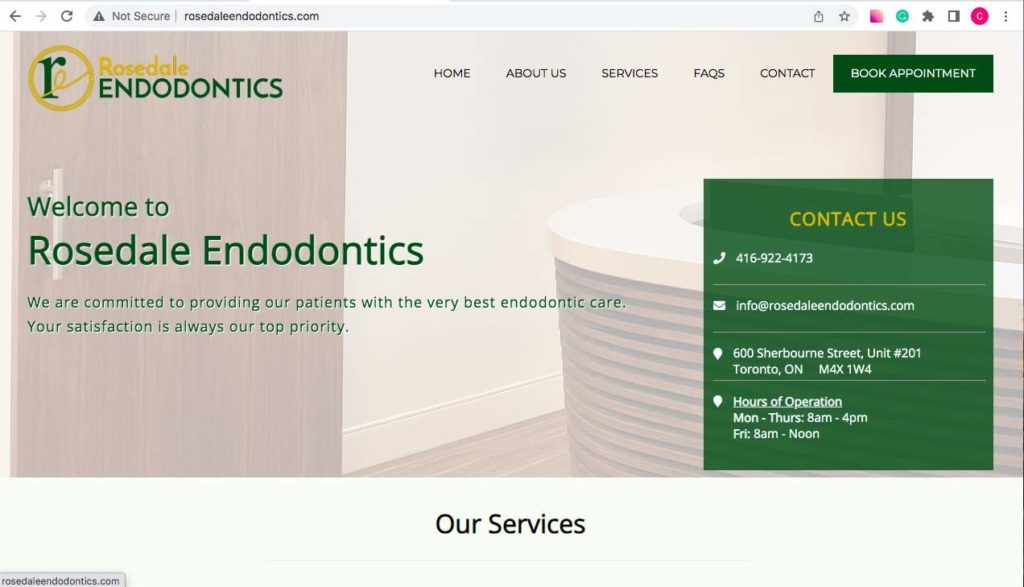 Test
Info
Services

Root Canal Treatment

Apicoectomy

Endodontic Retreatments

Website
http://rosedaleendodontics.com/
Address
600 Sherbourne St Suite 201, Toronto, ON M4X 1W
Contact Details
416-922-4173
Operating Hours

Monday - Thursday: 8 am - 4 pm

Friday: 8 am - 12 pm

Saturday - Sunday: Closed
| | |
| --- | --- |
| Criteria | Rating |
| Dentist's Expertise | ★★★★★ (5/5) |
| Availability | ★★★★☆ (4/5) |
| Patient Care | ★★★★★ (5/5) |
| Equipment | ★★★★★ (5/5) |
| Accessibility | ★★★★★ (5/5) |
At the helm of Rosedale Endodontics is Dr. Nghia Huynh. His priority is to deliver exceptional dental care with various endodontic services and use of modern technologies.
Dr. Huynh practised general dentistry before completing an endodontic degree in 2017. Since then he has been doing endodontic procedures that eventually earned him membership in the Royal College of Dentists of Canada.
With the use of modern dental software, dental operating microscope, and digital imaging, he helps clients experience smooth and painless procedures.
We also learned that patients do not feel uneasy and apprehensive to going to this clinic. They attribute this to Dr. Huynh's patience and professionalism in explaining the process and his gentleness during the procedure.
We hear that his lines are always open to patients anytime they have concerns. The staff also does follow-up calls after the procedure to check on how they are feeling and answer further questions.
A convenience that clients found with this clinic is its accessibility from the Sherbourne subway station, as well as being located across Rosedale medical building.
Do note though, that it is closed on weekends and operates half-day on Fridays. However, they reportedly do their best to accommodate last-minute appointments, especially during emergency cases.
Conveniently located
Prior experience in general dentistry
Highly responsive to patient quieries
Post-procedure follow-ups
Tries to accommodate last-minute appointments
Only one practising endodontist
Short operating hours on Fridays
Closed on weekends
Customer Reviews
Dental team is extremely professional
Had a root canal back in December 2020 after Dr Huynh was recommended by my dentist. It was a very smooth procedure and I felt very welcomed at the clinic. Both Dr Huynh and Joanna are extremely professional but yet friendly. In short, I would 100% recommend their service and that you would be in great hands. – Howard
Painless root canal procedure
I had an excellent experience with Dr. Nghia Huynh and Joanna at Rosedale Endodontics. The entire root canal process was painless and everything was beautifully managed. There is a lot of value in seeing an Endodontist like Dr. Huynh – my root canal was done in a manner that a large part of my tooth structure was saved. I would recommend that folks should try their best to get a root canal treatment done by an Endodontist. 5/5 stars for the excellent practice run by Dr. Huynh. – Rohit
5. Dr. Karam Ashoo – Davisville Endodontics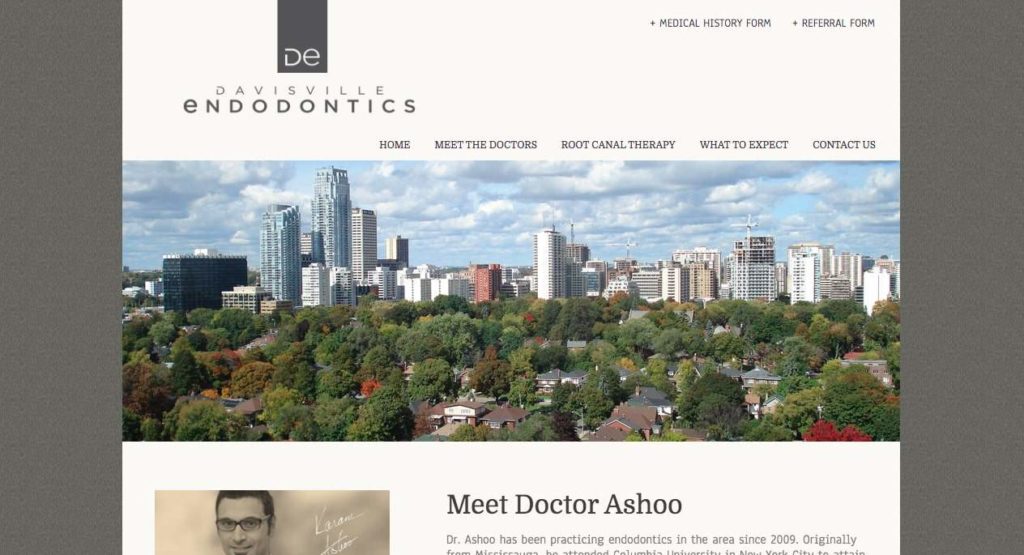 Test
Info
Services

Root Canal Therapy and Retreatment

Root End Surgery

Website
https://davisvilleendo.com/
Address
1849 Yonge St #702, Toronto, ON M4S 1Y2
Contact Details
416-488-8885
Operating Hours
Monday - Friday: 8 am - 5 pm

Saturday - Sunday: Closed
| | |
| --- | --- |
| Criteria | Rating |
| Range of Services | ★★★★★ (5/5) |
| Availability | ★★★★☆ (4/5) |
| Patient Care | ★★★★★ (5/5) |
| Equipment | ★★★★☆ (4/5) |
| Accessibility | ★★★★☆ (4/5) |
Davisville Endodontics is comprised of three dentists who all speacialise in root canal treatment. Dr. Karam Ashoo, who started practising endodontics in 2009, seems to generate a lot of buzz.
He obtained both his dental degree and endodontics training at the Columbia University in New York, USA.
His patients appreciate that he takes the time to explain the treatments, options, and potential outcomes. Furthermore, he reportedly walks them through the step-by-step process, which lessens the negative anticipation and manages expectations.
His vast experience in root canal therapy, retreatment and surgery has made clients feel they are in capable hands. He also uses latest technology for diagnosis and treatment.
Dr. Ashoo and the other endodontists have fixed previous canal procedures not done well by other clinics. In fact, Davisville Endodontics is known to take on complex cases that have not yet been resolved – and successfully fix them.
However, there were instances where clients found the staff´s manner of communication unprofessional. We hope that Dr. Ashoo and the team have already addressed these by connecting with the patients who brought up the issue.
We like that appointments on short notice are usually accommodated, despite its limited operating days. This compensates for the fact that they're closeed on weekends.
Uses the latest technology for diagnosis and treatment
Dr. Ashoo has vast experience in endodontic procedures
Walk clients through step-by-step process
Accommodates appointments on short notice
Some instances of an unprofessional manner of communication
Closed on weekends
Customer Reviews
Great dental experience
"Dr. Ashoo is so kind, patient, understanding and tells you from the beginning (of a root canal procedure) to the end on what he's going to be doing next. I found that everyone was very kind, courteous and helpful and most of all understanding. I'm terrified of any kind of dental work and I felt comfortable in the hands of Dr. Ashoo. He did a great job doing my root canal. Thank you everyone for my great experience at Davisville Endodontics. If any of my friends ask me what place is best to get a root canal, I will definitely recommend your office." – Annie
Professional and accommodating
"I went into the dentist and was referred to Davisville Endodontics for a same day root canal. My experience was great. Dr. Karam Ashoo was extremely professional and accommodating for a nervous patient like myself. My process was painless. The clinic even phoned the following morning to follow-up on my recovery which was much appreciated. I would highly recommend Davisville Endodontics and Dr. Ashoo." – Caitlin
FAQs on Endodontists
---
Endodontists specialize in the root canals to help save the tooth when infected. Next time you need a root canal treatment, go to the best endodontists in Toronto that we found for you.
For your other health concerns, we also have done research on the best blood test in Toronto and the top sleep clinics in Toronto.