The 5 Best Blood Test Labs in Toronto
Nothing stings harder than the struggle of searching for the best lab for blood work. Luckily for you, you've stumbled upon the right page.
Today's review focuses on the best blood test lab in Toronto and the services they offer. Scroll through to narrow your options down to only the bests in the city.
Top Blood Test Labs in Toronto
To find the best blood test labs in Toronto, we looked for the following:
The Cost of Blood Tests in Toronto
Individual diagnostic lab tests are often OHIP-covered. Without insurance, a blood test in Canada can easily cost $100 to $3,000 in out-of-pocket expenses.
One way to save on blood tests is to order online. It can save you up to 85% of doctor fees and lab pricing.
1. LifeLabs Medical Laboratory Services
| Test | Info |
| --- | --- |
| SERVICES | General diagnostic tests, genetic testing, neuropathic tests, and heart monitoring services |
| WEBSITE | https://www.lifelabs.com/ |
| ADDRESS | 208 Bloor St W #801, Toronto, ON M5S 3B4 |
| CONTACT DETAILS | +1 877-849-3637 |
| OPERATING HOURS | Monday - Friday: 8:00 AM - 4:00 PM |
Being one of the largest laboratory services providers in Canada, LifeLabs is pretty well-known by now for its high-quality services. And with their 50 years of experience, they've already built a reputable track record in the country.
They generally have 4 tests: general diagnostic tests, genetic testing, neuropathic tests, and heart monitoring. Basically, they're like a one-stop shop for all types of tests you might need at present and in the future.
Apart from standard blood tests, a great range of services like this is also a plus in our book. Why? Because this type of setup allows patients to access all their records in one place, mostly accessible online too.
Here at LifeLabs, they have a digital health portal called MyCareCompass. This allows clients to see their results, book online, and read pertinent health information.
The portal is free, just like other labs, but theirs take the cake for us due to its features. The app is currently getting important updates so you can enjoy more features other than viewing blood test results.
Another great thing about them is that they can do blood tests at home for patients that cannot leave their homes for medical reasons. However, this is still dependent on the city's protocols and health and safety regulations.
The mobile blood test services can also be done at the workplace as long as the patient is eligible. This option may not be a score for convenience with physically fit patients, but it's an absolute plus for homebound clients.
50 years in the business
Has mobile home services
Virtual appointments available
Online booking system
Certain issues with professionalism
Customer Reviews
Makes you feel at ease
Staff are super friendly and helpful. I made an appointment online for my blood work and got there about 20 minutes earlier and the nurse helped me right away. I was in and out. The nurse made me feel very at ease. I get very anxious about needles and blood and she was very understanding once I mentioned this to her and kept me distracted the whole time. I didn't even feel the needle. I recommend this place and will return whenever I need blood work done. – Leandro
Quick and painless procedure
Normally my veins are really hard to find and i end up being poked about 6 times and it is normally a painful experience for me so I really hate getting blood work done. I walked in here and within 30 seconds was seated. The nurse was great and very careful to make sure she found a vein before poking me. Took her about 30 seconds. Didn't hurt at all and the whole process was over within minutes. Great experience here! – Miki Loncar
2. Med-Health Laboratories Ltd.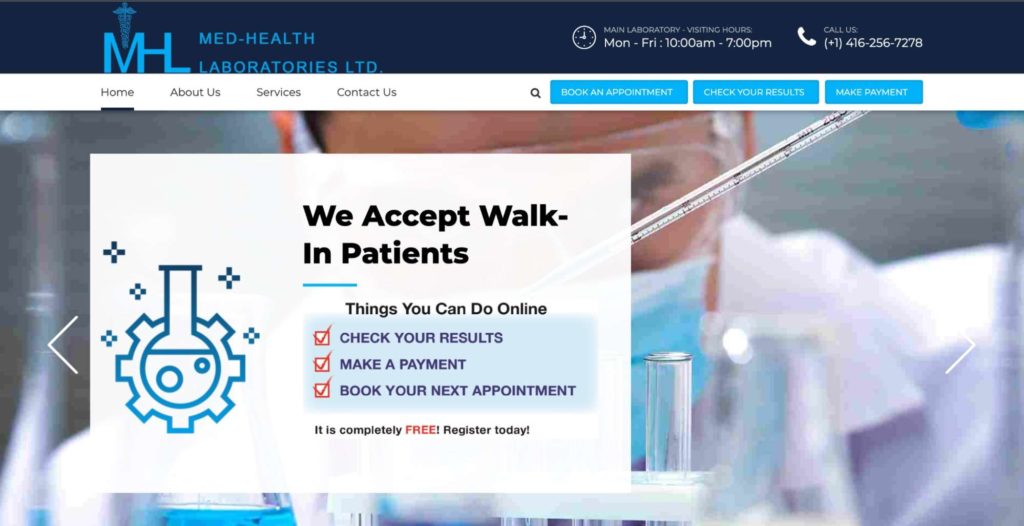 Test
Info
SERVICES
Clinical laboratory services
WEBSITE
https://www.mhlab.ca/
ADDRESS
2100 Finch Ave W #212, North York, ON M3N 2Z9
CONTACT DETAILS
+1 416-665-6142
OPERATING HOURS
Monday, Tuesday, Thursday: 8:00 AM - 5:00 PM

Wednesday - Friday: 8:00 AM - 4:00 PM

Saturday: 8:00 AM - 1:00 PM
Med Health Laboratories provides an excellent clinical laboratory in Toronto and is one of the largest laboratories in the city. Their goal is to improve patient experience and support the community physicians with applications of innovative laboratory science technology.
They are MHL Laboratory ISO Accreditation Certificated and serve their patients with their utmost care. Booking an appointment in their labs can easily be done through their online website.
When it comes to customer satisfaction, we have to award them the crown. Actually, out of all the labs on our list, they have the highest Google Review rating.
Reaching out to some of their past clients, we heard praises for their prompt service and friendliness. Of course, not everyone had a stellar experience with them, with some hinting at the lab's lack of professionalism.
Fortunately, whatever it is that they lack, they make up for providing accessible services. Almost everything can be accessed online including making payments, which is a nice touch for convenience.
If you feel like going, they also accept walk-in patients, so you wouldn't have to worry about online forms. They have a flexible schedule anyway so you can drop as long as they're open.
MHL Laboratory ISO Accreditation Certificated
Online booking
Opens longer than other labs
Some concerns on professional service
Customer Reviews
Kind and helpful care
The medical professionals there were incredibly kind and helpful. Went in for a blood test and was a little nervous, but the person who performed my blood test made sure I was incredibly calm and helped me through the tests quickly and without issue.- Kevin Ngo
One of the best in the city
The reviews are legitimate! Probably the best place I've ever gotten lab work done at. Easy to book a time online (even for the same day). Reception is friendly right from the get go. The technician was super speedy and found a very juicy vein (usually people find it difficult to draw blood from my arms). Very much appreciate the people working here. – Cindy Ma
3. Dynacare Laboratory and Health Services Centre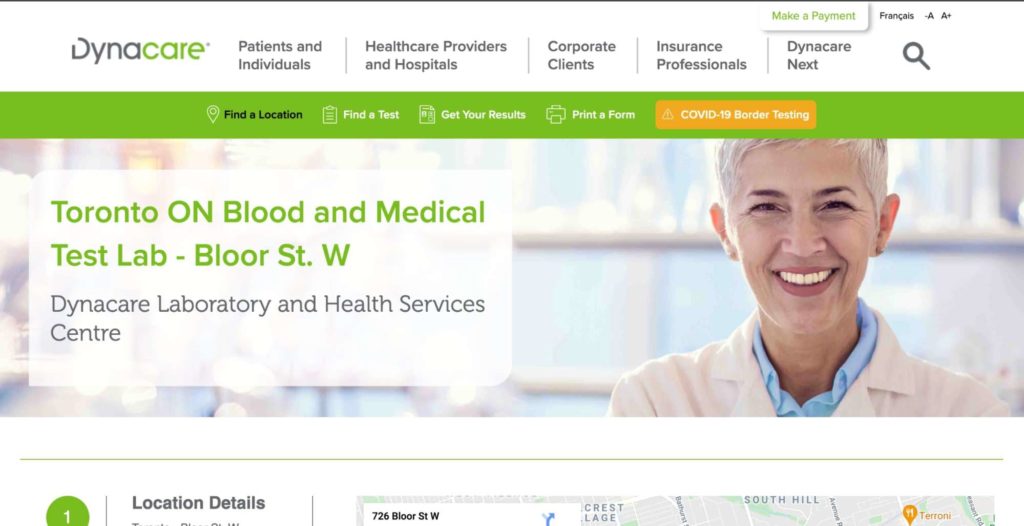 Dynacare takes an active role when it comes to managing your health. This can be seen from both their online and face-to-face interaction with their patients.
If you want to take blood tests on the closest lab to you, just use their website. It only takes two simple steps to find your test on a national level.
When it comes to viewing your results, Dynacare also makes them available online through Dynacare Plus. But this online portal isn't like the others on our list – in fact, we think it's the best when it comes to presenting test results.
See, not everyone has the medical background to understand lab results on a layman level. That's why we love the way results are presented here: because it's written in an easy-to-understand way.
And if blood tests are a regular part of your health routine, you can take great advantage of this portal. You can track your results over time, plus it organizes your health information including all the appointments you make.
Like most labs, we found a few bumps here and there that we didn't like. Although looking at the bigger picture, it's not a consistent concern in every Dynacare lab but it's just great to keep in mind.
Some of their staff may come off as inefficient; however, they do receive their patients well. There are also some issues about cleanliness in their other facilities that other past clients pointed out.
Online booking available
Access results online
Use online services to track your health goals
Certain facilities are not kept in an orderly fashion
Customer Reviews
Quick and gentle test
Collette was so wonderful as my nurse today. I have a fear of blood tests and generally slow-flowing small veins. Quick, professional service and she was very gentle. I highly recommend her and the Dynacare team at the location! Thank you Collette! – Shayna A.
Convenient access to service
I had a great experience at this lab. I liked that you could sign in online but I found I didn't have to. I went on a Wednesday at 8:45am and there was a five minute wait. I was in and out in 15 minutes. I don't do well with blood draws and I let the technician know and she offered me a bed instead of a chair. It was the easiest and calmest blood test I've ever had! When I was leaving around 9 there was a lineup beginning to form so I would suggest to do a check online first of the estimated wait and get on the waitlist if needed. – Caitlyn Albanese
4. Alpha Labs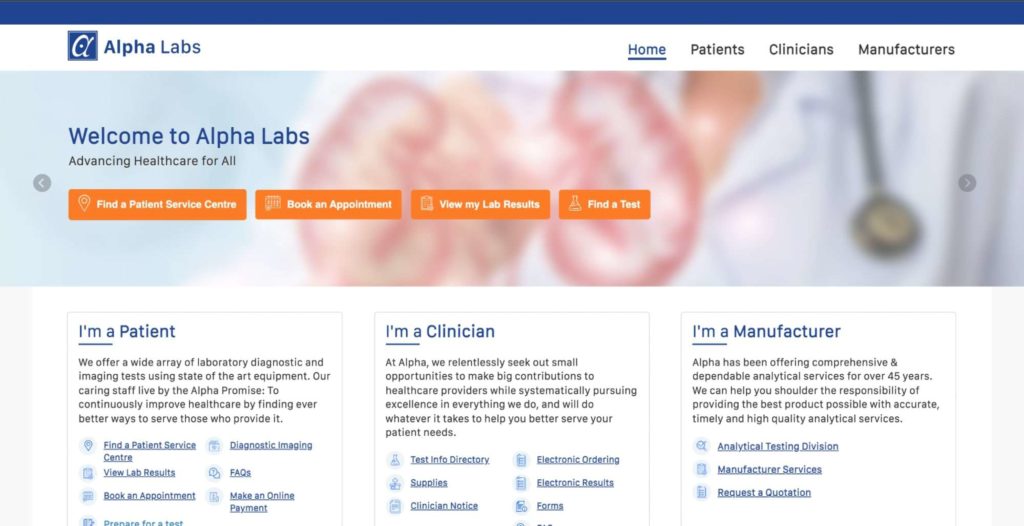 Test
Info
SERVICES
Clinical laboratory services
WEBSITE
https://alphalabs.ca/
ADDRESS
855 Broadview Ave, Toronto, ON M4K 3Z1
CONTACT DETAILS
+1 416-778-9942
OPERATING HOURS
Monday - Friday: 7:30 AM - 5:00 PM

Saturday: 7:30 AM - 2:30 PM
Alpha Labs offer a wide array of laboratory diagnostic and imaging tests using state-of-the-art equipment. Their goal is to improve healthcare by finding better ways to serve those who provide it.
And their mission isn't just a marketing ploy. We looked deeper into their business and found that they're among the best when it comes to research and innovation.
As a client, this effort may not directly affect your overall experience with the lab. But it is a plus point knowing you're in the hands of experienced and educated professionals.
For a bit of background, the lab has 35 in-house researchers, most of whom have published studies in international conferences. What we're trying to say here is that we truly believe you're in great hands.
To book an appointment, you can create an account to access their patient portal. It's nothing insanely fancy but you do get to view your results with ease in a secured account.
Online payment is also available, just visit their website and you'll find their online payment system. FAQs can also be found on their website, making it easier for you to answer some questions that you might have.
Has a wide range of lab diagnostic and test
Online appointment scheduling is available
Provides guides through the process
Live webcasts are available
Issues with customer service
Customer Reviews
Fast and successful test
The lady who helped me to do the blood test is quite fast and nice, I normally afraid to do the blood test because sometimes it is painful and even won't be successful for the first time. But this center is quite well, I couldn't feel painful when she draws blood. – Evelyn Wang
No second takes
Very nice staff. Always pleasant and makes you comfortable. I have very fine veins but the staff here have been able to draw blood almost every time without poking more than once. Keep up your good work. – Renu Ramji
5. Integra Health Centre – Exchange Tower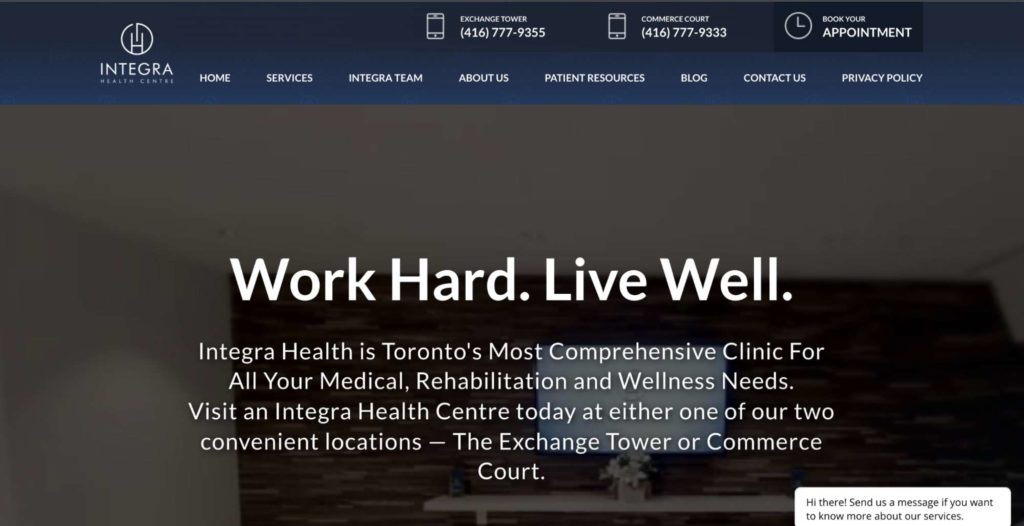 Test
Info
SERVICES
Clinical laboratory services
WEBSITE
https://www.integrahealthcentre.com/
ADDRESS
130 King St W #1320, Toronto, ON M5X 1C8
CONTACT DETAILS
+1 416-777-9355
OPERATING HOURS
Monday - Thursday: 7:00 AM - 8:00 PM

Friday: 7:00 AM - 7:00 PM

Saturday: 10:00 AM - 4:00 PM
Integra Health reinvented the healthcare experience for their patients using modern approaches. They included primary care, medical specialists, rehabilitation providers, and wellness practitioners.
Now, Integra Health isn't specifically for blood tests only. In fact, it's a health center so their services include rehabilitation and wellness and other medical appointments.
Lab services are just a part of what they can offer. But we looked at them as a whole to see why many patients praise the center and its services.
For starters, we immediately liked that they offer same-day appointments. Labs do tend to become extremely busy so knowing that this place can accommodate you is a wonderful option.
However, some clients expressed disappointment about this walk-in setup. But of course, we do have to understand that centers like these have busy hours and can be crowded.
Fortunately, they have minimal wait times and the tests are always done fast. So you may encounter a lot of clients in a day but at least the line's moving fast.
On top of that, we like its location as it's very accessible for most commuters. It's located in Toronto's financial district so dropping by won't be much of a problem.
Same-day appointments
Wide range of medical services available 
Accessible resource materials for patients
Online booking can be troublesome at times
Customer Reviews
One of the best walk-in clinics
Definitely one of the best walk-in clinics I've been too. The staff at the front desk are very nice to deal with and I have had no bad experiences ever since I've been coming here. All the doctors I've seen at this clinic have been very informative and are easy to speak to. Dr. Gill in particular is fantastic and would highly recommend if someone is looking to see an allergist. – Owais Ahmed
Compassionate and efficient
This is the best walk-in clinic experience I've ever. Period. They were able to offer a few same day appointment options and once I arrived, there was no wait. Dr. Farzana Haq was a real pro – compassionate, efficient, and to the point. I was in and out in 10 minutes. I will be recommending Integra to all of my friends. – Rochelle Singer
FAQs About Blood Tests in Toronto
---
Getting a blood test is just a small part of comprehensive routine healthcare. You can further build a healthier lifestyle by checking out our other healthcare reviews, like the following: