The Complete Guide to Toronto's (Ontario's) Judicial System and Legal Services
Currently in deep legal trouble or just curious about the inner workings of Toronto's legal system?
In this guide to Toronto's legal system, we'll outline the basics of getting legal representation in various cases in the city. Note that since the law is a complex matter, we'll concentrate more on the most common legal services needed here.
The Courts of Ontario
There are two divisions in the Court of Ontario.
The Superior Court of Justice is the higher or general division. The Court of Ontario is the lower or provincial division.
Rules on the "correctness" of judgments from the Superior Court of Justice and Ontario Court of Justice are heard by the Court of Appeal.
To keep things simple, then, the structure of the judicial system in Ontario is as follows:
Court of Appeal for Ontario
Superior Court of Justice
Ontario Court of Justice
Court of Appeal for Ontario
Appeals from the Superior Court of Justice are heard by federally appointed judges. Appeals from the Court of Appeal for Ontario are heard by the Supreme Court of Canada.
Superior Court of Justice
As the higher court in Ontario, the Superior Court of Justice hears more serious cases. This includes serious criminal offenses, civil cases, and divorces.
The following are covered under the Superior Court of Justice:
Criminal Law – Serious criminal cases as stipulated on s.469 of the Criminal Code. Also deals with hybrid cases heard by a judge and a jury (unless parties agree to a judge alone).
Unified Family Court – Court that hears family matters such as divorces on the federal level and separations on the provincial level.
Family Law – In places where there aren't any Unified Family Court, individual judges hear divorces issues; support, custody, and access matters; and property issues.
Small Claims Court – A judge hears civil cases involving claims of less than $25,000.
Divisional Court – Hears appeals of civil cases with claims of less than $50,000. This court also hears appeals or interim and final orders as well as judicial reviews of administrative tribunals.
Appeals – The Superior Court of Justice hears appeals of summary offenses and family matters from the Ontario Court of Justice.
Ontario Court of Justice
The Ontario Court of Justice hears cases such as violations of provincial laws, pre-hearing trials (the preliminary hearings in criminal cases that will move forward to the Superior court and criminal offenses, excluding the most serious cases).
The following are covered under the Ontario Court of Justice:
Criminal Law – Less serious indictable offenses as stipulated on s.553 of the Criminal Code and summary offenses.
Family Law – The custody, access, support of a child (not during divorce), child protection, adoption, and enforcement of child support.
Bail Court – Court that decides if a person must be placed in jail throughout the course of their trial.
Youth Court – Involves young people who are charged under the Youth Criminal Justice Act.
Mental Health Court – Court that handles charges against individuals who have mental health problems. To determine the right sentence and treatment, psychiatrists and mental health workers are involved in cases.
Gladue Court – Specialist court for Aboriginal people facing criminal charges. 
Drug Treatment Court – Court that provides court-supervised treatments for individuals who were charged with drug-related cases, as well as those suffering from drug addiction.
How to Get Legal Advice in Toronto
Finding a lawyer to represent your case is a challenge in itself if you don't know where to start. In general, you can ask for recommendations from your family and close friends.
You can also use the referral service of the Law Society of Ontario. The referral program is available in both English and French and you can get up to 30 minutes of free consultation.
If the grass is greener on your side, the fastest way you can hire a lawyer is by looking through private law firms. Most law firms are home to lawyers practicing in various areas such as immigration law and family law.
There are also lawyers who provide unbundled or limited scope services. This means that they don't take your entire case, they only help you with a part of it, usually by giving your initial advice.
If you're a low-income earning individual, you can reach out to Legal Aid Ontario to get legal advice. Alternatively, you may find help through a student legal aid clinic in an Ontario law school near you.
Cost of Legal Representation in Toronto
Hourly rates can start at $165 to $350 depending on the lawyer's experience and complexity of your case. When calculating attorney fees, the following factors must be considered:
Time and legal resources required to complete the case
The lawyer's level of experience
The type and complexity of the case
The lawyer's practice area
In general, a lawyer's pricing model can be any of the following:
Hourly Rates – More applicable for unpredictable scenarios like losing criminal cases.
Fixed-Rate – Usually used in similar or predictable cases such as writing wills or completing an immigration application.
Contingency Fees – Refers to the percentage you pay to an attorney on the payout of your case. More applicable for individuals who can't necessarily afford a lawyer.
Retainer – This is a lump sum that you pay upfront into a trust account. The lawyer invoices himself/herself to pay their own fees as the case moves forward.
Sliding Scale – This is where the fees are based on the client's income rather than the regular pricing model. Can either be hourly or fixed.
Subscription – When you pay for services as you need them every month.
Alternative Options to Paying for Legal Services
As reflected in the hourly rates we mentioned, getting legal services is a hefty investment. Fortunately, there are other ways to manage the costs of legal services without leaving you broke and broken:
Pro Bono Services
Pro bono refers to doing legal work without any charge to a low-income client. This is typically offered by recent law graduates who are still trying to find footing in the legal world.
The downside to this is that your case won't go through the hands of a seasoned lawyer. It's still legal advice nonetheless plus, it won't cost you a dime.
Employee Assistance Programs (EAP)
All employers in Canada are obligated by law to provide employees with the EAP. This is more applicable for those who need an employment lawyer to deal with work-related issues.
EAP providers aren't free but they aren't prohibitively expensive either. You can easily find one that meets your budget if you take advantage of their free consultation program.
Government Subsidy
Canada has a government service called Legal Aid which assists low-income individuals in getting legal services.
If you're eligible, you can minimize the costs of legal charges incurred during your choice. Your income must be below the national average to qualify for this program
Legal Services Available in Toronto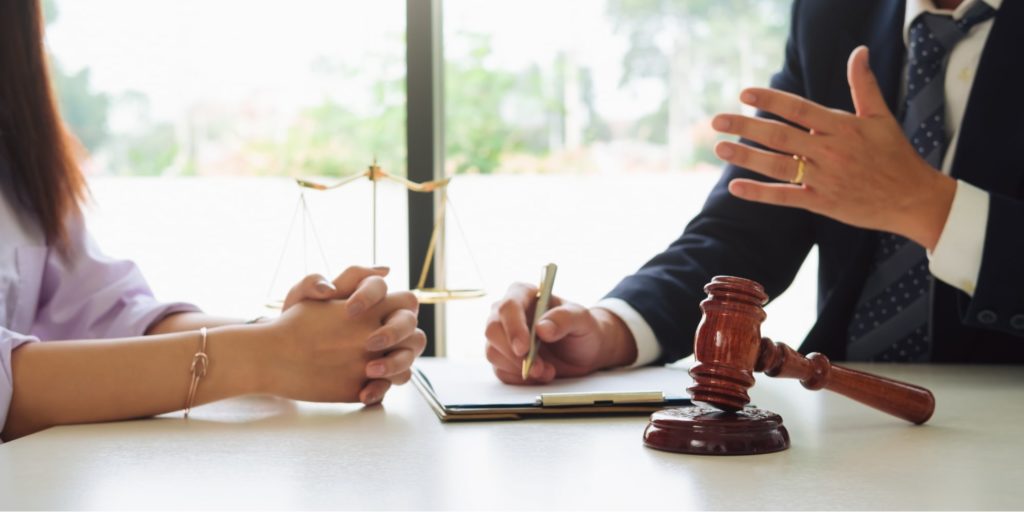 When it comes to legal affairs, it's best to call the professionals that specialize in certain fields. See some of the most common legal services you can get in Toronto and when you might need them:
Employment Law
Employment lawyers deal with all matters related to work and the workplace. They cover various areas such as employment rights and employer obligations in the workplace.
You need an employment lawyer in instances including but not limited to when:
You've experienced harassment at work.
You've been treated in a discriminatory manner.
Your employment termination violated the terms of your employment contract.
You haven't received the benefits you're entitled to.
You were forced to sign an agreement that waived your rights as an employee.
Personal Injury
Personal injury lawyers work with individuals who need legal services due to physical or psychological injury. These lawyers primarily practice in the area of tort law, which, under the Canadian legal system, provides compensation to those who have been injured.
You need a personal injury lawyer in instances including but not limited to when:
You need legal protection against unfair insurance tactics.
You want to avoid mistakes that may cost your insurance claims.
You want to know the extent of damages involved in your injury.
You want o to negotiate a settlement for your injury claim.
You need to file an injury lawsuit (only if necessary).
Corporate Law
Corporate lawyers work to ensure the legality of commercial transactions. They're also responsible for advising their clients of their responsibilities and legal rights under Canadian law.
You need a corporate lawyer in instances including but not limited to when:
You want to incorporate your business.
You need legal advice on your business or corporation.
You need assistance in corporate transactions like writing contracts.
You want to make sound business decisions that are consistent with national and international laws.
You want to ensure that all legal matters involved in the corporate structure are secured.
Divorce
Divorce lawyers work with the dissolution of a marital relationship. They specialize in civil law meaning they must have expertise in various family issues including divorce, legal separation to child custody, annulment, child support, and more.
You need a divorce lawyer in instances including but not limited to when:
Your divorce involves children and complex financial matters,
You realize that there is a power imbalance between you and your partner.
You've experienced a series of domestic violence and various forms of abuse.
You want to get expert advice on the split of various assets including child custody, income, and even debts.
You don't want to delay the divorce process that may affect the court's ruling.
Driving Under the Influence (DUI)
DUI lawyers are criminal defense lawyers that specialize in DUI cases. Their main roles include advising the best course of action for the client as well as handling the administrative process involved.
You need a DUI lawyer in instances including but not limited to when:
You need help in completing legal requirements before your court appearance.
You need aid in completing certain programs to regain your driving privileges.
You need to get a better deal through the first offense plea offer.
You need someone to fight for your protection and understand your case strength.
You need a professional who can negotiate with other lawyers for your case.
Real Estate
Real estate lawyers advise their clients in all forms of real estate transactions. This includes the purchase and sale of a property like a piece of land and all structures on it.
You need a real estate lawyer in instances including but not limited to when:
You need to draft and finalize purchase contracts.
You must obtain title insurance for your property.
You need help in reviewing documents in closing on a home sale or purchase.
You need help in handling the financial transactions involved.
Bankruptcy
Bankruptcy lawyers deal with the bankruptcy or insolvency of businesses or individuals. They can help you go through the process of filing for bankruptcy in Toronto.
You need a bankruptcy lawyer in instances including but not limited to when:
You want to consider other options than filing for bankruptcy.
You need guidance in completing all necessary paperwork to file for bankruptcy.
You need legal representation in case you go to court.
You need to identify the discharge of debts.
Understanding how the legal system in Toronto works is just one of the many ways you can protect your rights. Reaching out to professionals for your legal affairs is always the wisest choice!