A Review of the 4 Best Bankruptcy Lawyers in Toronto
Need legal aid to go through a bankruptcy or insolvency process? In this article, we've selected the best bankruptcy lawyers to come to your rescue!
In each review, you'll read a bit of background about the law firm so you know what you'll be dealing with. We also included a short profile of some of their best lawyers so you'll get a good idea of their breadth of knowledge and experience.
The Cost of Hiring Bankruptcy Lawyers in Toronto
Let's start by going over the costs of this venture first.
It may be ironic, but it does cost a lot of money to claim bankruptcy. There are also a lot of factors you must consider to calculate your total costs.
There are three major components that make up the cost of filing bankruptcy in Canada. These are the following:
For the monthly contribution, the minimum is $1,800 for a first-time bankruptcy. You can pay $200 every month for nine months to cover these costs.
Now, you also have to take note of assets you may lose to compute the total cost of your bankruptcy. There are also bankruptcy trustee fees involved, which are based on certain calculations.
Moving on to the actual legal aid, you may only need a lawyer if your case is very complex. For standard cases like filing for Personal Bankruptcy or Consumer Proposal, you must attend directly at the Bankruptcy Trustee's office.
It's important to also note that most bankruptcy lawyers charge a flat rate instead of the hourly one. The fees usually start from $1,000 and can go up to $3,500 and higher depending on your case.
The Best Bankruptcy Lawyers in Toronto
Now that you have an idea of the costs, we'll dive into what the best lawyers in Toronto can offer you. You can see our notes to compare each firm and lawyer profile so you can arrive at a sound decision.
Assets you keep or lose
Surplus income payments
Monthly Contributions
1. Rogerson Law Group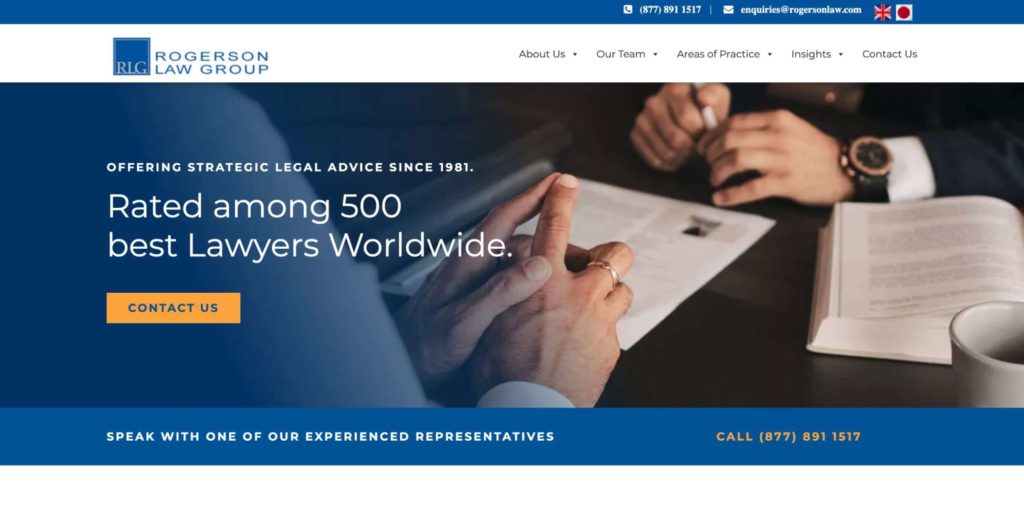 SERVICES
Asset protection & tax residency, estate administration & litigation, tax dispute resolution & litigation, bankruptcy & insolvencyfamily law, professional misconduct & disciplinary advocacy
WEBSITE
https://www.rogersonlaw.com/
ADDRESS
Brookfield Place, TD Canada Trust Tower, 161 Bay Street, 27th Floor, Toronto, ON, M5J 2S1xT
CONTACT DETAILS
+1 416-504-2259
(877) 891 1517


[email protected]

OPERATING HOURS
Monday – Sunday: 8:30 AM – 5:00 PM
Rogerson Law Group Prides itself on being one of the 500 best law firms in the world. They also won the InterContinental Finance & Law Top 100 Leading Firm 2020 Award – making them one of the only three firms to ever win this.
With over 15 years of experience, this firm focuses on six major areas including bankruptcy and family law. They also provide services in asset protection, estate administration, and tax disputes.
In their team, they have Arash Jazayeri, who is best-known for his promptness and solid results, according to his past clients. He is also fluent in Persian and Japanese, which can be helpful to other non-English-speaking clients.
The firm's namesake, Andrew Rogerson, also practices bankruptcy law. According to past clients, he is excellent, competent, and doesn't back down from strong opposition.
Overall, communicating with this team is easy via phone call and lawyers may connect with you through zoom. They're not short of expertise in bankruptcy law either.
The only real downside (other than the limited hours) is their initial consultation fee of around $200 – it really is a pricey first commitment, we think, especially for someone already dealing with a bankruptcy.
Around 15 years of experience
Reliable and competent bankruptcy lawyers
Easy communication via phone call
Closed on weekends
Expensive initial consultation
Customer Reviews
Here are some reviews from the past customers of this law firm:
Arash was totally amazing talking to my son and I. My son is in terrible debt and not doing well, financially or mentally. Arash talked to my son as though he knew him for years and he got through to my son. We are very fortunate to have met Arash. He even offered to have us call back with progress reports. You don't find too many people nowadays that are that trustworthy and sincere. We thank you Arash from the bottom of our hearts.
What sets Andrew Rogerson apart from any other lawyer is the peace of mind he delivers when handling any of your legal matters. The worry of any legal matter can be overwhelming, however through his professionalism and developed talent, Andrew eliminates this.
2. Clark Farb Fiksel LLP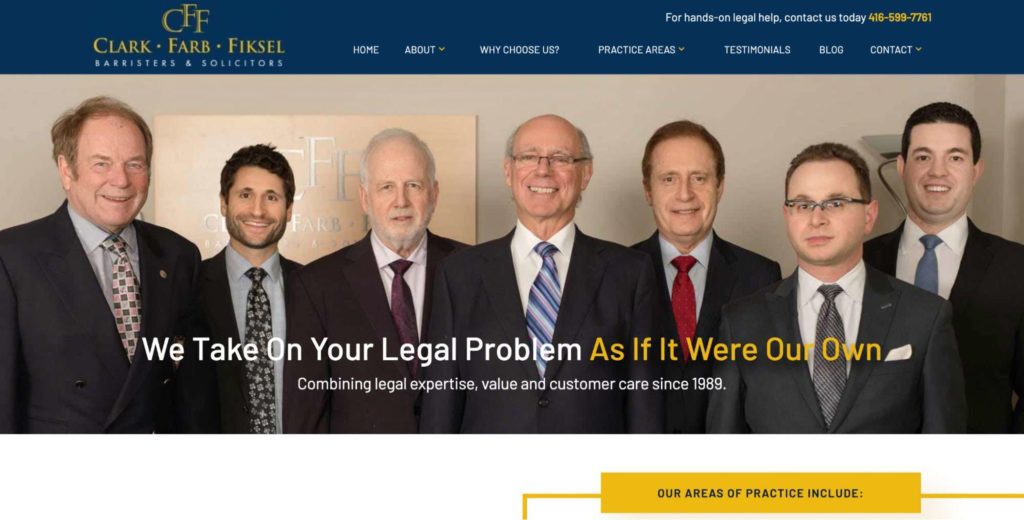 | | |
| --- | --- |
| SERVICES | Bankruptcy and insolvency, business and commercial law, employment law and wrongful dismissal, estate planning, wills and trusts, alternative dispute resolution, real estate law |
| WEBSITE | https://www.cfflaw.com/ |
| ADDRESS | 188 Avenue Rd. Toronto, ON M5R 2J1 |
| CONTACT DETAILS | 647-724-1833 |
| OPERATING HOURS | Monday – Friday: 9:00 AM – 5:00 PM |
Clark Farb Fiksel LLP has been providing legal services in Toronto since 1989. Apart from bankruptcy and insolvency, they also focus on business, employment, and estate law, as well as alternative dispute resolution.
Despite having a fairly small team of seven lawyers, their reputation in the field is very strong. They currently have two bankruptcy lawyers on the team too, namely David Schatzker and Rick Howell.
Both lawyers have a combined experience of 40 years in practice. They've also handled hundreds of bankruptcy cases, representing individuals, corporations, trustees, creditors, and debtors.
It's also great to note that the firm also speaks French. This can be great for you if you're more comfortable using that language or Quebecois.
Setting up a consultation with them is also easy via phone or email. We do wish that they were open every weekend too, but it's not a major issue – the firm's 5-star rating on Google Reviews is certainly more important.
The firm has been serving for 32 years
40 years of combined experience between its two bankruptcy lawyers
French-speaking firm
Easy consultation set up via phone or email
Customer Reviews
Take a look at what past customers have said about this company:
Ephraim and his Real Estate Clerk were extremely responsive to our requests. Ephraim's philosophy of "There is no such thing as a stupid question" reduced our anxiety level at once. Thanks to Ephraim and his staff, a potentially very stressful experience was handled very professionally.
Highly skilled professionals with a warm heart that resolved our legal matter and protected our interests. Highly recommended!!!
3. Chaitons LLP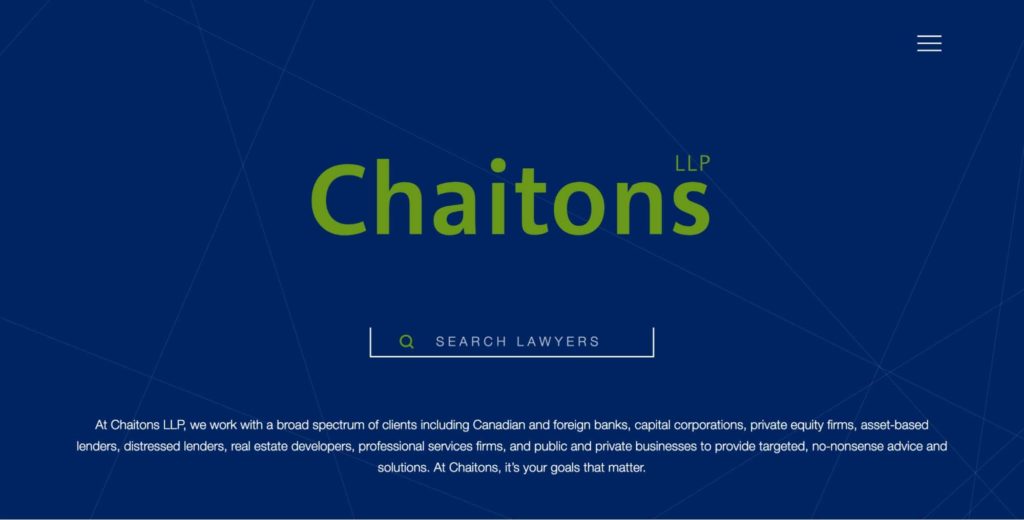 SERVICES
Insolvency and restructuring, litigation, mortgage enforcement, corporate law, commercial real estate, banking and financial services
WEBSITE
https://www.chaitons.com/s
ADDRESS
5000 Yonge Street, 10th Floor, Toronto, ON Canada M2N 7E9
CONTACT DETAILS
416-222-8402


[email protected]

OPERATING HOURS
Monday – Friday: 8:30 AM – 5:00 PM
Chaitons LLP covers various legal areas, from bankruptcy to commercial real estate. According to them, they focus on collaboration with an entrepreneurial vision in delivering services.
One of their most renowned bankruptcy lawyers is George Benchetrit, who has more than 25 years of experience. As proof of his competence, he's currently at the forefront of the Canadian Legal Lexpert Directory for insolvency law.
Apart from that, he's also listed among The Best Lawyers in Canada for his practice as an insolvency lawyer. He represents lenders, stakeholders, trustees, bondholders, and more.
Another notable lawyer from the team is Harvey Chaiton, who was awarded Lawyer of the Year in 2021. He also serves a broad range of clients including firms, trustees, financial institutions, corporations, and more.
On the whole, they're a solid bunch with some genuine experts on the team. They're closed on weekends, unfortunately, but that's pretty common now.
More people will likely hesitate at their fees than that, so consider their rates before hiring them. Fortunately, setting online appointments is easy in case you want to connect with them before committing to anything.
Lawyers with more than 25 years of experience
Multi-awarded bankruptcy lawyers
Easy appointment setup
Expensive rates
Closed on weekends
Customer Reviews
Take a look at what past customers have said about this firm:
Fantastic lawyer!! Very knowledgeable and experienced. Would highly recommend Chris to anyone that has any kind of dispute they cannot settle on their own. Very happy with his service. He's definitely the lawyer you'll want on your side.
Great team of really professional lawyers.
4. Miller Thompson LLP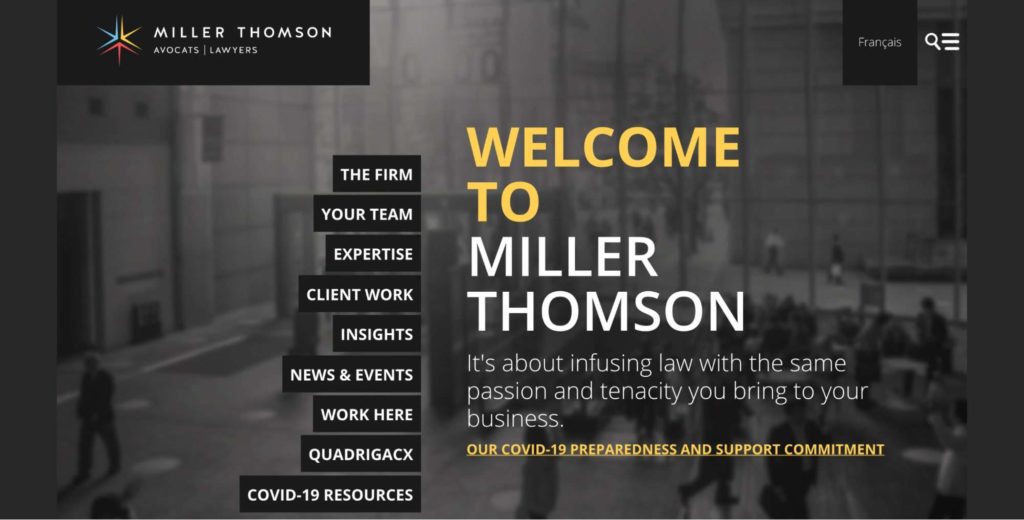 | | |
| --- | --- |
| SERVICES | Business, labor and regulatory, litigation and dispute resolution, real estate, tax |
| WEBSITE | https://www.millerthomson.com/ |
| ADDRESS | 40 King St W Suite 5800, Toronto, ON M5H 4A9, Canada |
| CONTACT DETAILS | +1 416-595-8500 |
Miller Thompson LLP has been in business since 1957, during Canada's 90th birthday. They provide legal help to Canadian businesses, entrepreneurs, and individuals.
With close to 550 lawyers, they're not shy of legal power. Their lawyers are also known for using their mastery of Canadian Law to help domestic and international clients alike.
They have 12 strategically placed offices in Vancouver, Calgary, Edmonton, Saskatoon, Regina, London, Kitchener-Waterloo, Guelph, Toronto, Vaughan, Markham, and Montréal. That makes them fairly easy to contact all over the country.
In addition, 188 Miller Thompson Lawyers were recognized by The Best Lawyers in Canada in their 14th edition for their expertise in 52 areas of law. That's a testament to how skilled their people can be.
One of their best bankruptcy lawyers is Jeffrey Carhart, in particular, who has maintained his spot in The Best Lawyers in Canada list from 2015 up to the present. Most of his clients are banks, insurance companies, trustees, landlords, corporations, and more.
In any case, regardless of which of their lawyers you're getting, setting up a consultation here is as easy as calling or emailing the office that is closest to you. They also provide advocacy and personal legal services that are available in both English and French, which can be helpful for bilingual clients.
64 years in business
Various offices in the province
Multi-awarded firm and bankruptcy lawyers
Easy appointment setting
Working hours are unclear
Expensive rates
Customer Reviews
Take a look at what past clients have said about this company:
There is a reason Miller Thomson is ranked as one of Canada's leading law firms, thank you for working on our behalf. The lawyer was very efficient, worked tirelessly, and was extremely prompt, made sure our business was the priority.
Really good client service and focused on getting the work done right.
Factors When Choosing a Bankruptcy Lawyer in Toronto
A competent lawyer can help you navigate the bankruptcy process. It's only right to pick a lawyer who has the experience, knowledge, and skills to deliver a favorable outcome.
1. Years of experience
Although you can hire any licensed attorney to be your bankruptcy lawyer, you should still look for someone who is experienced in filing bankruptcy cases. Ask them how many bankruptcy cases they have filed and what is their expertise in the field.
Make sure that the attorney you hire is experienced with the type of bankruptcy you are filing too. You don't want to hire someone who is still very new to either the field or your demand.
2. Quality service for a reasonable price
Since you need a bankruptcy lawyer, this means that you're already struggling with money. The fee that the law firm will charge is often a large factor in choosing the lawyer.
Most bankruptcy attorneys charge a flat fee that includes a variety of legal services. It is important to hire an attorney who understands your situation and will give a reasonable price – of course, without compromising the service quality.
3. Meeting your unique needs
Yes, skills are important, but you wouldn't want to make a mistake by choosing the wrong person. Some firms churn out hundreds of cases without fully reviewing their clients' unique situations.
Every case is different, so it's best to hire an attorney who's proven to thoroughly review cases. You can check this based on experience or based on their track record.
4. Availability and ease of communication
When choosing a Bankruptcy Lawyer, try to find out the specifics of the deal. Who will be preparing for your petition? How long before your phone calls are returned?
You have to decide whether you are comfortable with their answers lest you end up waiting for nothing. Choosing an attorney requires that you are comfortable around them and with how fast they can return your calls / how much time they have for you.
FAQs about Bankruptcy Lawyers in Toronto
---
The best bankruptcy lawyers in Toronto can help you with your case minus the worry of further expanding the problem. In case you'll need any more legal help in the future, you can check out our list of the best family lawyers in Toronto or other related reviews on our site.