Top 5 Laser Tattoo Removal Services in Toronto
People nowadays have tattoos inked on different parts of their bodies. However, there are also those who would like to have an old tattoo removed.
Laser technology is an effective way to do this. In this article, we round up clinics that have the best laser tattoo removal services in Toronto.
How much does laser tattoo removal cost in Toronto?
Since tattoos come in different colors, sizes, and designs, the work needed to remove them also differs. For instance, the more vivid the colors, the more sessions are needed to make the colors fade away.
As a result, the price of laser tattoo removal will also be higher. Prices vary and can only be determined upon consultation.
But to give you a better idea, we have gathered information on the starting prices of laser tattoo removal from our top picks.
| Clinic | Price |
| --- | --- |
| Vanish Clinic | $200 flat fee per session |
| Baywood Laser and Vein Clinic | Starts at $100 |
| Q Esthetics Laser Clinic | $315 for a package of 6 sessions |
| Clarity Med Spa | Starting at $168 per session |
| Liberty Laser Clinic | Price is determined upon consultation |
The Best Laser Tattoo Removal Service in Toronto
To be able to pick the top clinics in Toronto that offer the best laser tattoo removal service, we have come up with some criteria.
1. Vanish Clinic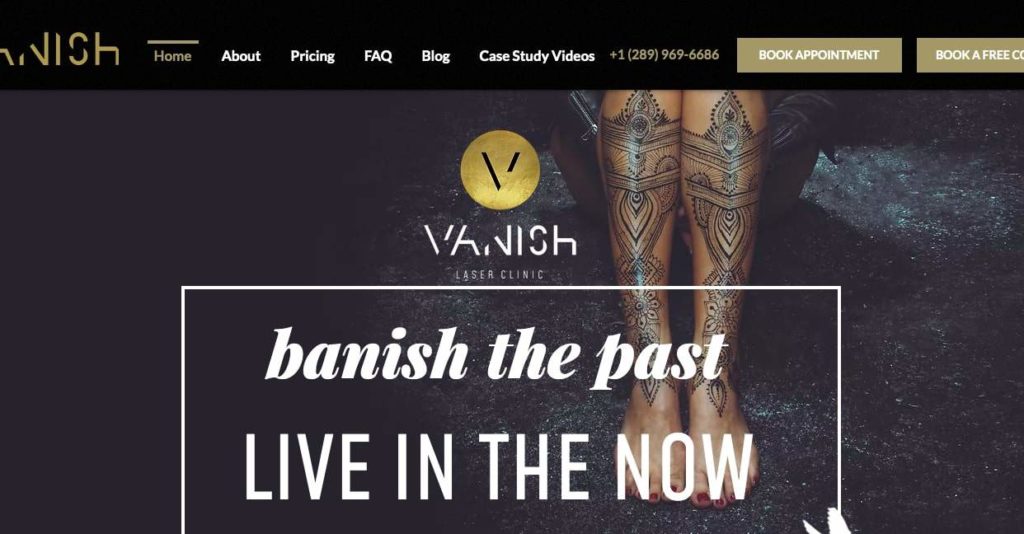 Test
Info
Website
Address
500 King St. W, Suite 300 Toronto, ON M5V 1L9
Contact details
289- 969-6686
Operating hours
Monday: 11 am - 5 pm

Tuesday - Friday: 11 am - 7 pm

Saturday: 9 am - 5 pm

Sunday: 9 am - 5 pm
| | |
| --- | --- |
| Customer Service | ★★★★★ |
| Staff | ★★★★★ |
| Laser Machine | ★★★★★ |
| Price | ★★★★★ |
Finding a clinic that values customer experience is one of a kind. So we like Vanish Clinic because it guarantees that clients are happy with the results of its tattoo removal procedure.
It specializes in tattoo removal and fading, and clients have gotten good results from both after a few sessions.
Certainly, this is due to the skills and knowledge of the owner, Nicola. She has been trained as a laser technician at the International Laser Academy.
As a result of her training, she was able to pick the best machines for tattoo removal. The clinic uses a PicoWay, an advanced laser machine that helps make the procedure less painful and quicker.
Nicola is also very honest about what to expect with laser tattoo removal. She takes time to explain not just the procedure but also how many sessions the whole process will take.
We appreciate that even after the procedure, Nicola or any of her staff members call to check on their clients. This proves the high regard the clinic gives to its clients' welfare.
Vanish Clinic's price for laser tattoo removal is unbeatable. It is one of the best in the city because of its affordability.
However, you should note that its base price covers only 6×6 inches of tattoos, whether individual small tattoos or one big piece.
Another downside of this clinic is its operating schedule. It operates by appointment only and doesn't accommodate walk-in clients.
Overall, we are happy to see that clients are satisfied with the service they get from Vanish Clinic. The affordable price is what sets it apart for sure.
Unbeatable price
Customer-centered service
Knowledgeable staff
By appointment only
Limited tattoo size coverage
Customer Reviews
Overall Therapeutic
I've been lucky enough to have the pleasure of working with Nicola for quite some time for removal. Within every session we've had together I've felt no judgment whatsoever and during the healing process, I've noticed such a massive difference. Coming to Vanish Clinic has been overall therapeutic for me. – Megan
Realistic Expectation
I went to Vanish Clinic to begin the removal of 3 of my tattoos. Nicola is so kind, and she makes you feel welcome the minute you walk into her clinic. She is extremely knowledgeable and realistic with expectations, and I cannot wait for my next treatment. – Jennifer
2. Baywood Laser and Vein Clinic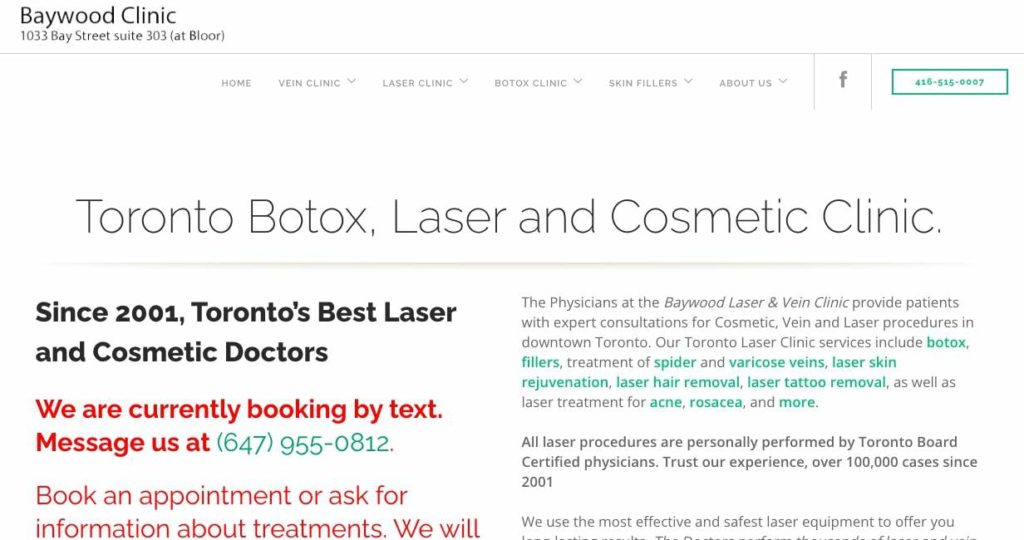 Test
Info
Website
Address
1033 Bay Street, Suite 3030 Toronto M5S 3A5
Contact details
416-515-0007
Operating hours
Monday: Closed

Tuesday: 12- 6 pm

Wednesday: closed

Thursday - Friday: 12- 6 pm

Saturday - Sunday: Closed
| | |
| --- | --- |
| Customer Service | ★★★★★ |
| Staff | ★★★★★ |
| Laser Machine | ★★★★★ |
| Price | ★★★★☆ |
As a trusted clinic since 2001, Baywood Laser and Vein Clinic provides cosmetic services, including laser tattoo removal.
The clinic takes pride in having doctors that are certified by the Toronto Board. These doctors are available for consultations, procedures, or simply to provide assistance to the medical team.
Allowing clients to ask as many questions gives opportunities for the team of doctors and staff to share knowledgeable information. In doing so, it quells the apprehensions of clients to go through the procedure.
Also, Baywood's service is considered to be reasonably priced at $125 – 275 per session. The price becomes more attractive because of discounts for multiple tattoo removal and faded ink services.
The clinic uses laser machines that are specifically made for tattoo removal. It has Q-Switched Alexandrite and ND-Yag Laser machines available, which are considered top-notch.
A plus for Baywood is its location. It is easily accessible as it is near subway stations.
It also provides ample parking in the building.
We have noticed, though, that the clinic only accepts appointments by phone or email. We think this hinders them from responding quickly.
As a whole, Baywood clinic is highly recommended for its service, staff, and equipment used. Also, clients are more than happy to continue with their laser tattoo removal sessions here because of the good results.
Doctors administer the procedure
Reasonably priced
Friendly and accommodating staff
By appointment only
Price is dependent on the scope of work
Customer Reviews
Affordable
This is one of the most affordable clinics in Toronto. Professional, friendly, I have been going there for 3 years. I am very happy with everything, I can go there after business hours too, that's always good when life is busy. – Mon
No hard-selling
Extremely happy with the Doctors here. I have been a patient for several years, and felt very comfortable as there was never any pressure or "selling"- had an old tattoo removed and the doctor was totally honest and at a fantastic price. I have done Botox for my frown and forehead and am very pleased with the results. My partner was skeptical after several failed "coupon" attempts at Botox elsewhere, but now comes with me here and is happy lol. – Billy
3. Q Esthetics Laser Clinic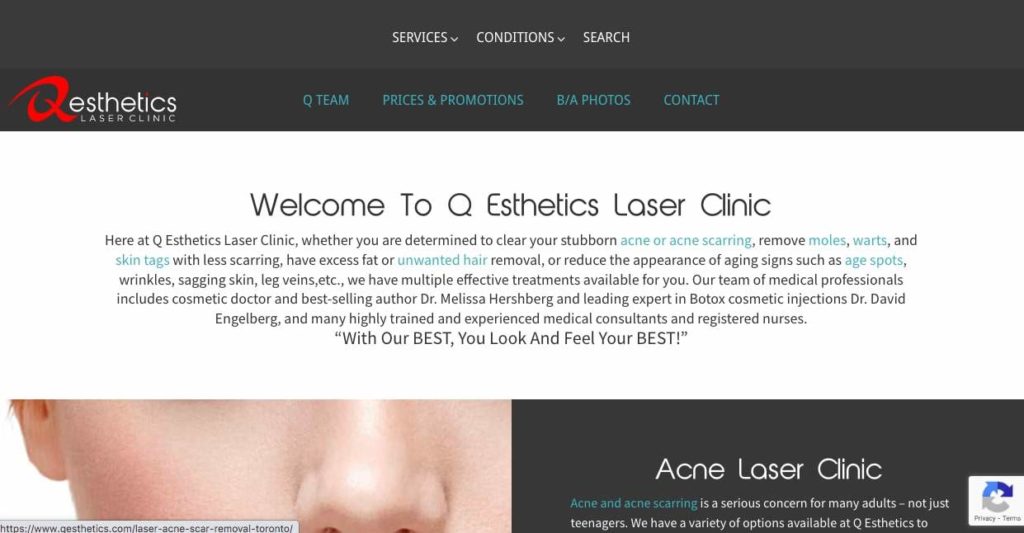 Test
Info
Website
Address
24 Bellair Street 3rd Floor, M5R 2C7
Contact details
416-599-1788
Operating hours
Monday – Friday: 10 am - 7 pm

Saturday: 9 am - 5 pm

Closed on Sunday & public holidays
| | |
| --- | --- |
| Customer Service | ★★★★☆ |
| Staff | ★★★★★ |
| Laser Machine | ★★★★★ |
| Price | ★★★★★ |
With 21 years of experience, Q Esthetics Laser Clinic has grown as one of the largest clinics that offer trusted skin treatments. It has one of the best laser tattoo removal services in Toronto.
It uses advanced tattoo removal machines such as Revlite and PicoSure. As a result, even the hardest tattoo inks like blue and green can be removed.
As a clinic, the clients' needs are its number one priority. It values client satisfaction and privacy.
We like that it offers a free consultation. This service is very helpful, especially to give answers to client concerns and queries regarding the procedure.
The staff also takes their time to fully understand the needs and goals of each client. As such, they are able to come up with a customized plan specific to unique needs.
The clinic employs well-trained medical consultants and registered nurses. And the quality of their work is also shown in their impeccable service.
Q Esthetics also offers the best value for money with a 50% discount for laser tattoo removal procedures. A package of 6 sessions for a 1-inch-sized tattoo is priced at $315.
Unfortunately, an appointment is required to avail of the laser tattoo removal service. But it is a good thing that the front desk staff has made booking an appointment easy.
The location of the clinic is great. It is near subway stations and municipal parking is available nearby.
However, the clinic closes early on Saturdays and does not operate on Sundays.
In spite of the limited operating days, we still highly recommend Q Esthetics. This is not only because the staff is patient, calm, and friendly but also because its tattoo removal service is very effective.
Amazing customer service
Discounted packages
Good accessibility
Customer Reviews
Amazing staff
I always have an amazing experience at Q Esthetics! The staff is really knowledgeable, courteous, and constantly cheerful! Furthermore, the professionals will always explain and dissect each treatment and explain why it could be beneficial to you. Overall, both the location and the staff are excellent.- Dacian
Service highly recommended
I came to Q Esthetics for the tattoo removal service. What started off as a tough procedure to sit through, quickly became an appointment for myself and my family, looked forward to attending. My sisters, brother-in-law, nephews, and daughter all gained from going as well. Be it the social experience that is given during the visit, due to the wonderful staff at the Bellair location, or the life lesson learned… don't get a tattoo, or think before you act. 😉
The ladies are not only top in the profession because of their knowledge, but the most amazing group of people. It was bitter-sweet when the job was done, and if that's not a testament to their customer service, I don't know what is! I would absolutely recommend Q Esthetics for this procedure, or any other treatment offered. You're losing out on great results, and a lifetime of memories, by choosing anywhere else. – Nicole
4. Clarity Medspa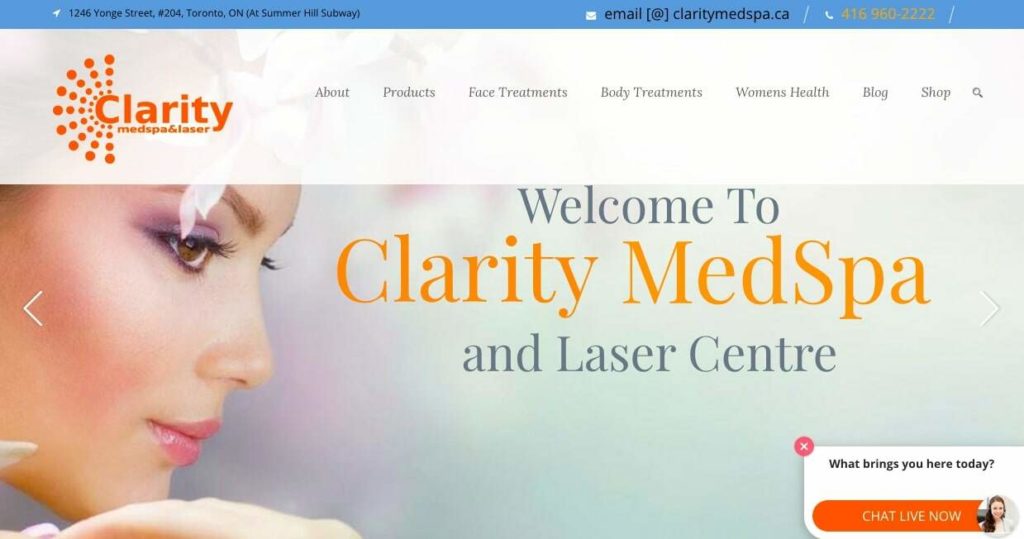 | Test | Info |
| --- | --- |
| Website | |
| Address | 1246 Yonge St #204, Toronto, ON M4T 1W5, Canada |
| Contact details | 416-960-2222 |
| Operating hours | Monday - Saturday: By appointment |
| | |
| --- | --- |
| Customer Service | ★★★★★ |
| Staff | ★★★★★ |
| Laser Machine | ★★★★★ |
| Price | ★★★★☆ |
Clarity Med Spa offers one of the best laser tattoo removal services in Toronto. It has over 20 years of experience, which translates to impeccable service.
To minimize risks, it only uses state-of-the-art technology to effectively remove tattoos. The Q-Switch Laser machine has shown great results after a few sessions.
The machine is also used only by certified laser technicians. Furthermore, a medical doctor and nurse are present to oversee the procedures.
At Clarity, the experience is pleasant because of the gentle and caring manner of the staff. They are also efficient, making the procedure safe, quick, and more bearable.
Clarity also offers free consultations wherein the clinic's staff gives prompt communication. Also, their reassuring answers help make clients feel comfortable.
The pricing starts at $168 for a 1-inch-sized tattoo and can go higher depending on the scope of work that needs to be done.
We're sad that the clinic can only take in clients by appointment. For those who prefer to get procedures on the weekends, we're afraid it's not possible here because the clinic is closed on Sundays.
Overall, clients have had a wonderful experience at Clarity. They are happy with the staff's attention to detail and the excellent laser machine it uses.
Great attention to detail
Free consultation
Caring staff
By appointment only
Closed on Sundays
Customer Reviews
Efficient Staff
I have had a wonderful experience at Clarity med spa throughout my tattoo removal journey. Samantha was professional and helped the experience be as pleasant as possible. She is very efficient and personable, making the pain of the procedure very bearable. Linda is always prompt with her communication and has been very professional and reassuring in answering any after-care concerns I've had. I would definitely recommend coming here! – Teya
Caring and attentive
I've been attending Clarity for tattoo removal – the space is lovely and all of the staff are professional, warm, and welcoming. Sam is an absolute angel who makes me feel at ease, and she works super efficiently to minimize the discomfort of the laser treatments. She is caring and attentive and just a joy to see every time I go! – Angele
5. Liberty Laser Clinic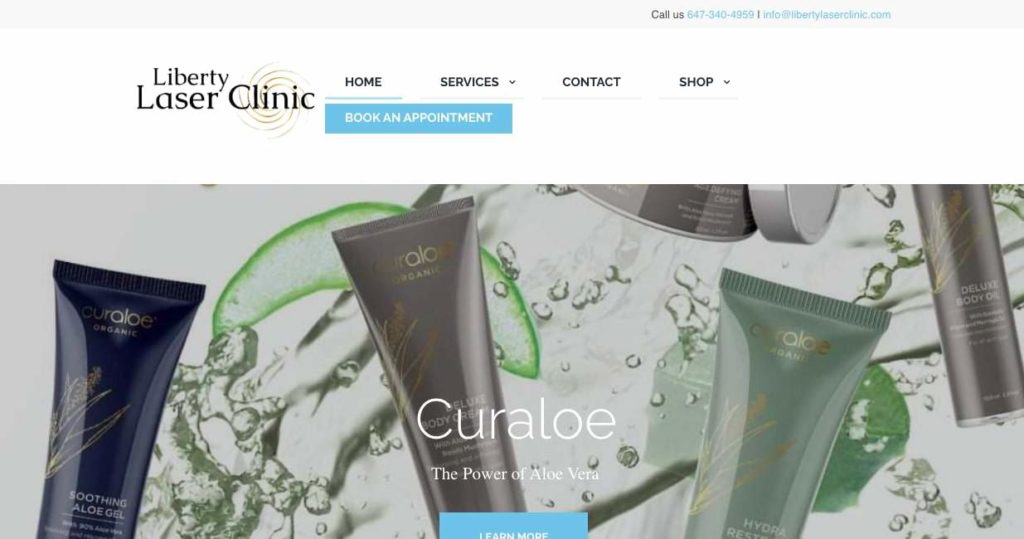 Test
Info
Website
Address
1004 King St. West Toronto, Ontario M6K-3N2
Contact details
647-340-4959
Operating hours
Monday: 7 am - 7:30 pm

Tuesday - Friday: 8 am - 7:30 pm

Saturday - 7 am - 5 pm

Sunday: Closed
| | |
| --- | --- |
| Customer Service | ★★★★★ |
| Staff | ★★★★★ |
| Laser Machine | ★★★★★ |
| Price | ★★★★☆ |
Going the extra mile for customers' satisfaction is what Liberty Laser Clinic is known for. So, it only uses the safest and latest laser technology for its laser tattoo removal service.
The clinic uses the PicoSure laser machine because of its effectiveness in targeting the colors of a tattoo design. This translates to achieving better results with fewer treatment sessions.
Speaking of fewer treatments, this means big savings for clients. The clinic even offers a money-back guarantee for unused sessions because it's confident that results can be seen in fewer sessions than expected.
In addition to the refund, you will also be able to get a 10% discount if more than one tattoo will be removed.
Getting a skin procedure can be scary and risky. But in Liberty, you can be more confident in its trained technicians and laser specialists who ensure the safety of their clients and guarantee no skin scarring after.
Furthermore, the staff checks on their clients to make sure they have an enjoyable experience. Clients hardly experience nervousness and discomfort even after the procedure.
Weekends are when clients have more free time to have procedures done. However, the clinic closes early on Saturday afternoons and is closed on Sundays.
To sum it up, having painless, fewer treatments and comfortable procedures will surely make clients satisfied. Couple that with big savings, and we definitely recommend this clinic.
Fewer treatments
Latest laser technology
No price disclosure
Closed on Sundays
Customer Review
Great Results
Christina is the best! I have been doing my laser treatments with her over the last few months and have had great results. She is very patient, professional, and knowledgeable. I highly recommend her! -Silvi
Best Clinic
Best clinic for tattoo removal. Super professional, Ella and the staff always do their best and prices are great! Highly recommend! – Nalani
FAQs on Laser Tattoo Removal
---
For other body aesthetic services, check out these articles: