Top 7 Cosmetic Clinics for the Best Rhinoplasty in Toronto
Nasal defects, labored breathing, unattractive shape? Whatever your problem with your nose is, only the best rhinoplasty in Toronto can fix it.
In this guide, we picked out the best cosmetics clinics in Toronto to get a rhinoplasty. We chose the ones with competitive prices, certified facial surgeon/s, and seamless appointment and consultation setting.
We'll outline the potential costs of various rhinoplasty procedures first. This will give you an idea of how much money you'll need per service.
Towards the end, we'll also give you a guide on how to choose the best cosmetics clinics for you.
The Cost of Rhinoplasty in Toronto
The cost of rhinoplasty in Toronto depends on various factors. For starters, some cosmetic clinics charge a consultation fee.
You should also take note of the type of rhinoplasty you're getting. Most clinics perform three major kinds of rhinoplasty:
Primary Rhinoplasty – Performed either for cosmetic or functional reasons.
Revision Rhinoplasty – Performed to fix a previously done nose job.
Non-Surgical Rhinoplasty – Injection of dermal fillers for minor nasal problems.
In general, prices start at $4,999 for a basic tip-plasty. A customized surgery usually kicks in at $15,000 per procedure.
A revision rhinoplasty is usually pricier due to its complexity. But some cosmetic clinics offer it at $12,999.
Note that prices for a rhinoplasty in Toronto isn't a one size fits all. After all, this is an operation specifically designed to meet your needs.
Also, take note that other factors go into the total cost of your surgery. These often include anesthesia fee, equipment cost, digital imaging, and medication.
The costs may also go up depending on your doctor. A more experienced cosmetics surgeon usually charges more.
Take a look at the table below to see how much you'll spend on rhinoplasty:
| | |
| --- | --- |
| Type of Rhinoplasty | Estimate Cost of Procedure |
| Primary Rhinoplasty | $4,999 to $15,000 |
| Revision Rhinoplasty | $12,999 to $15,000 |
| Non-Surgical Rhinoplasty | $700 to $,1000 |
| Consultation Fee | $100 (higher with digital imaging) |
The Best Cosmetic Clinics for Rhinoplasty Toronto
Now that you know the estimated costs for each type of rhinoplasty, you're all set to compare cosmetic clinics in Toronto.
Each cosmetic clinic offers various rhinoplasty specialities. See the guide below to find the right one for you:
1. Solomon Facial Plastic (SFP)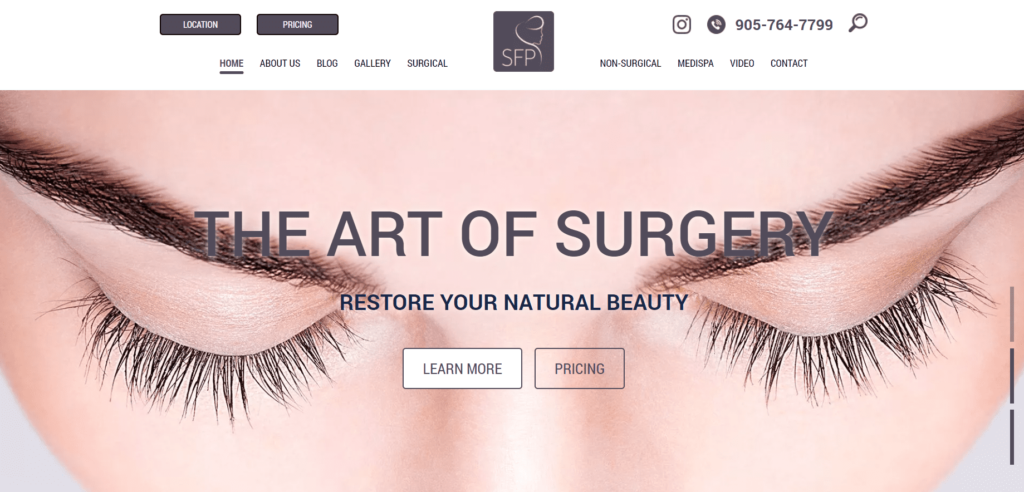 Beauty is embracing ourselves, and that includes the changes we want to make to feel more comfortable. If you are looking for a reputable plastic surgery clinic around Toronto that offers rhinoplasty, SFP is one of the best choices that you can make.
Headed by Toronto's top plastic surgeon, Dr. Philip Solomon, who has focused his practice on facial plastic procedures, he has the skills and knowledge to bring you the best experience and result. As a board-certified in Canada and the United States, and the Royal College of Surgeons, Dr. Solomon can bring you exclusive and elite-level service to reach your desired results.
Rhinoplasty is one of the most-requested services at SFP. To cater to your specific need, at SFP, they offer different kinds of rhinoplasty services to ensure that you have the best choices.
You can also check their website for their pricing as well as for the process of booking an appointment at their clinic.
If you are looking for a Facial Cosmetic Plastic Surgeon in Toronto, you should choose highly specialized experts in this area of cosmetic surgery. Dr. Philip Solomon has dedicated his practice solely to facial procedures, and he has the expertise and experience to provide you with the best possible outcome.
Caters to multiple locations in Canada
Headed by one of Toronto's top Surgeons for 20 years
The owner is certified in Canada and the United States in Otolaryngology-Head and Neck Surgery by the Royal College of Physicians and Surgeons of Canada
The owner is Board certified by the Royal College of Physicians and Surgeons of Canada in Otolaryngology-Head and Neck surgery and in the United States by the American Board of Facial Plastic Surgery
Has a computer imaging software where customers can see the possible outcome of the procedures that they will be choosing
Competitive and affordable fees
Charges a consultation fee of $150
No walk-ins
Customer Reviews
Let's look into the customers that Dr. Philip Solomon had served:
"A few months ago I had surgery on my nose and I couldn't be happier. I was really nervous about having surgery on my face and the recovery but it wasn't bad at all. everyone there was so sweet and I even could make jokes with some of the nurses. I love my nose and I am so much more confident thanks to Dr. Solomon:)" – Izzy Kane
"Dr.Philip Solomon is hands down The most Spectacular facial surgeon in North America. He knows exactly what to do without you having to explain anything. The healing process for all of his procedures are painless ( I have had 3 procedures done with him now). If you're looking to look your best possible self and can't decide on who to go to, save your time and money with consultations and choose Dr. Solomon!" – Sara Shamshon
2. Andres Gantous Toronto Facial Plastic Surgery
Andres Gantous Toronto Facial Plastic Surgery is a facility that offers premium aesthetic services backed up by years of experience and training from both the head doctor and the team.
We find their clinic to be very notable since not only do they have access to the latest equipment but also state-of-the-art facilities that can accommodate and enable a wider scope of treatments with safety and comfort.
Another thing we find to be relevant is how they present the services they offer since not only do they provide a comprehensive background of the procedure but also commonly asked questions regarding it such as what issues are usually addressed through the treatment.
However, note that clients will need to have a consultation with them before securing an estimate of the treatment. Clients will need to schedule an appointment beforehand along with a corresponding consultation fee as well.
Nonetheless, their past clients commend them for the effectiveness of their treatments and procedures in alleviating struggles and aesthetic outcomes.
Exemplary results
Experienced professionals
Wide options for aesthetic treatments
May need time before confirmation of schedule
Customer Reviews
Here are some reviews from their clients:
"Doctor Gantous has a wealth of knowledge and lots of experience with surgeries. I saw Doctor Gantous for a deviated septum and mentioned I also wanted to redo my nose. He gave me his honest opinion and told me what would suit my face and be beautiful. After deciding to go ahead with the surgery he knew one of the things I disliked most about my nose was the size, so he suggested a chin implant to even out my profile. I am one month post op from both and couldn't be more amazed and happy with his work. I fall involve with my nose and chin more and more each day. I would recommend him to anyone looking to do either as he does beautiful work! He is also there whenever I have needed and appreciate everything he has done for me thus far. Thank you for giving me the confidence I have always dreamed of!!! 100000/10." – Violet M.
"I was referred to Dr. Gantous by a friend. I'm so pleased with my experiences so far. He is knowledgeable, patient, positive and professional. You really couldn't ask for more in a surgeon- I would know I've worked with some of the best in my career but also from my personal experience his staff were delightful to deal with. Every time I see Dr. Gantous it's a real pleasure, he reassures me with his extensive knowledge, he has INCREDIBLE bedside manner. Cannot say that about many doctors- but he's a real gem!" – Tran Pham
3. Face Toronto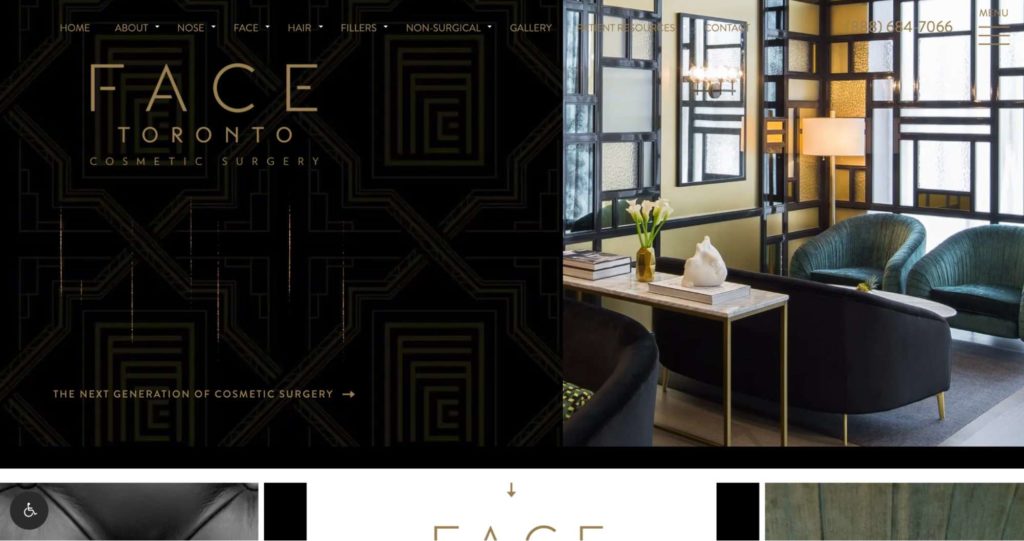 SERVICES
Cosmetic rhinoplasty, functional rhinoplasty, revision rhinoplasty, ethnic rhinoplasty, non-surgical rhinoplasty, open rhinoplasty, close rhinoplasty
WEBSITE
https://www.facetoronto.com/
ADDRESS
251 Davenport Rd. Toronto, ON M5R 1J9, Canada
CONTACT DETAILS
(888) 684-7066
(416) 479-4244
OPERATING HOURS
Monday – Friday: 9:00 AM to 5:00 PM
Face Toronto is a cosmetics clinic that offers a wide range of facial procedures. It's also in the business of non-surgical facial reconstructions.
For nose jobs, they offer various types of rhinoplasty to prospective clients. Some of their best-known services are cosmetic rhinoplasty, functional rhinoplasty, revision rhinoplasty, ethnic rhinoplasty, and non-surgical rhinoplasty.
For personalized procedures, Face Toronto makes it easy with their virtual consultations. You don't have to send sensitive medical information – simply send basic details with a photo.
However, if you wish to visit in person, Face Toronto doesn't have an online booking option. Fortunately, its operating hours are flexible and it's open every weekday.
On the flip side, Face Toronto tends to be shy about their prices. On their website, they give a fairly vague figure of $15,000 for a rhinoplasty.
Costs would be more favorable if you're in for a reconstructive procedure. If you have an OHIP approval, your provincial health insurance covers the cost.
While it leaves you guessing with the exact costs if you're just "browsing", Face Toronto remains transparent for most other things, to our relief. When you arrive at their office, for instance, a staff member will discuss the potential costs with you.
On top of that, they will also assist you in getting insurance approval. They also offer third party financing through Medicard.
All rhinoplasty procedures will be performed by Dr. Jamil Asaria, by the way. With a 4.6 rating on RateMDs, it's hard to deny his talent.
Dr. Asaria has Board certification from the Royal College of Physicians and Surgeons. He's also the Canadian Region Director for the American Academy of Facial Plastic Surgery.
If you wish to see some of Dr. Asaria's best work, Face Toronto has a dedicated gallery. There you'll see many before and after side profiles from past clients.
Judge it for yourself or take our word for it – the changes are significant. Of course, results will always vary.
Services from a certified surgeon
Specialized surgeries for male and female clients
Virtual consultation
Third party financing options
Insurance approval assistance
Flexible hours
Vague pricing scheme
No online booking option
Customer Reviews
Take a look at some reviews posted by past customers on Google Business:
"I had an amazing experience with Dr. Asaria! I got my first ever surgery with him, my recovery was absolutely amazing and I was stunned with the results!! I got a rhinoplasty to fix my deviated septum and to get my desired nose shape and size (I went for the Hollywood nose) and it turned out exactly how I wanted it to and my septum is fixed now! It feels and looks amazing, he is hands down the best facial surgeon."
"My experience with Dr Asaria was fantastic! Giving him 5 stars is not enough! He is extremely professional, friendly, kind and talented. He always gives you his honest and genuine opinion.
His work is precise and perfect, and the staff is also friendly and very professional.
I am delighted with the fantastic natural and perfect result he gave to my face by adjusting such small details. I am extremely happy to have met such a talented and kind person."
4. Ashlin Alexander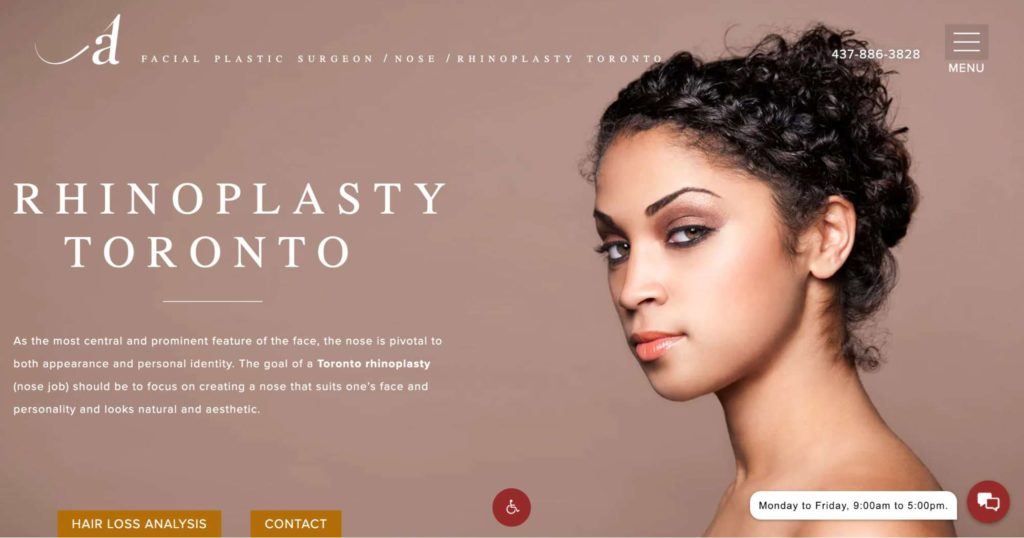 | | |
| --- | --- |
| SERVICES | Primary rhinoplasty, revision rhinoplasty, non-surgical rhinoplasty, ethnic rhinoplasty |
| WEBSITE | https://www.ashlinalexander.com/ |
| ADDRESS | 491 Eglinton Ave W #101, Toronto, ON M5N 1A8, Canada |
| CONTACT DETAILS | 437-886-3828 |
| OPERATING HOURS | Monday – Friday: 9:00 AM to 5:00 PM |
Ashlin Alexander focuses on four major procedures for its clients. These are facelifts, hair transplants, non-surgical procedures, and nose jobs.
This cosmetics clinic offers a variety of rhinoplasty procedures. These include primary rhinoplasty, revision rhinoplasty, non-surgical rhinoplasty, and ethnic rhinoplasty.
Now, in our opinion, Ashlin Alexander's online services are some of the best for ease and convenience. For starters, booking a virtual consultation can take only a few minutes to complete (the process is similar to Face Toronto's).
Second, they have an intelligent chatbot that can respond to your questions real-time. But this one only answers basic questions and you'll only get a prompt to contact their office with harder queries.
Third, they have a disability option that unlocks special features for disabled clients. Unfortunately, we tried the "Read Page" function and it doesn't work, so that's a tiny fly in the ointment.
If you're curious about the costs, by the way, you'll have to contact their office directly. This clinic doesn't even give an estimate for any of its rhinoplasty services.
Fortunately, clients have access to their party financing options. They accept Medicard and PayBright.
To make things even better, Dr. Ashlin Alexander has a 4.9 rating on both RateMDs and RealSelf. After all, he has 10 years of experience as a facial plastic surgeon.
Unfortunately, we only found a few sample photos of Dr. Alexander's work. But we found many five-star written testimonies from over 275 satisfied customers.
Surgeries by a board-certified surgeon
Private consultations online and in-person
Accessible online services
Third party financing options
Undisclosed rhinoplasty costs
Functional yet limited web services
Customer Reviews
Here are some of the testimonies left by past clients on RateMDs:
"Dr. Alexander is one of the best surgeons out there. I'm a perfectionist and don't like to settle for less than perfect results but he achieves it every time. He is able to quickly understand exactly the look you're looking for and creates it perfectly in no time. I've had fillers in my nose, lips, and chin done by him and they look incredibly natural and beautiful. I wouldn't let anyone other than him touch my face. He is also very humble, knowledgeable, and honest and will tell you if a certain procedure is a good idea or not, and he's always right."
"I had the best experience with Dr. Ashlin Alexander. I got septorhinoplasty done on December 2020. I was very nervous because it was my first surgery. However, this has been the best decision I've made in my life. I don't only feel more confident but I can also breathe much better! I'm very happy with my results. The staff was very nice as well. My nose is perfect now. It fits my face so well. Dr. Ashlin Alexander knew very well what type of nose shape will look good on my face. The recovery was also smooth and with no pain or bruising. I was expecting to bruise because of what I've seen online. Dr. Ashlin Alexander took his time and gave me the perfect nose with no bruises or pain. Couldn't ask for a better surgeon. I'm very happy with my results!!"
5. Rival Cosmetic Surgery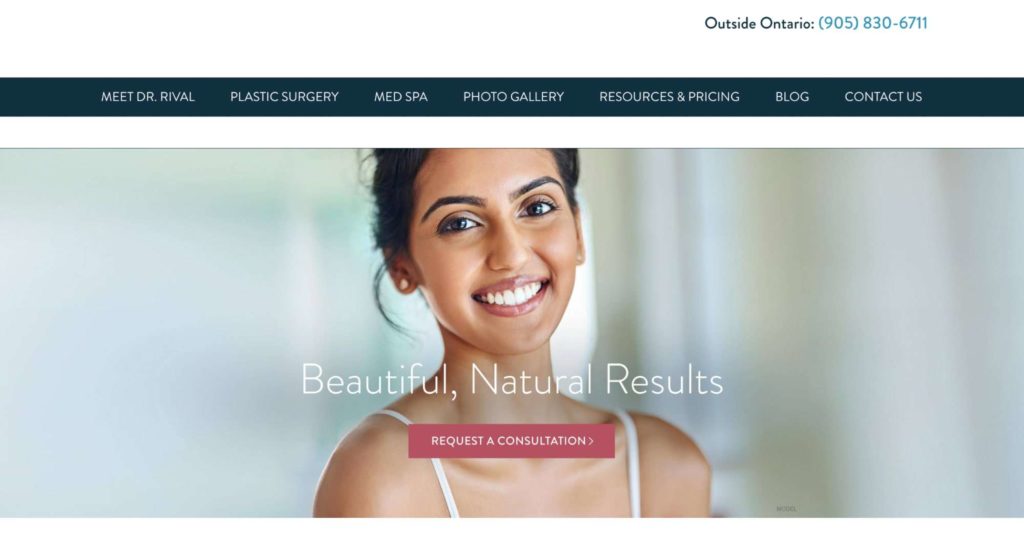 | | |
| --- | --- |
| SERVICES | Open rhinoplasty, closed rhinoplasty, functional rhinoplasty, revision rhinoplasty |
| WEBSITE | https://rivalcosmeticsurgery.com/ |
| ADDRESS | 501-1881 Yonge Street, Toronto, ON M4S 3C4 |
| CONTACT DETAILS | (866) 229-3223 |
| OPERATING HOURS | Monday – Friday: 9:00 AM to 5:00 PM |
Rival Cosmetic Surgery caters to a wide variety of facial reconstruction needs. Most of its services encompass surgical procedures and implants.
Unlike most cosmetic clinics in this list, this one doesn't allow virtual consultations. But it definitely takes the cake with innovation.
The clinic offers an iPhone app that prospective clients can use to see facial changes. To be fair, it has a one-star rating on the app store, but it's just fun to play around with.
If you're not up for these tricks, you can easily send queries through their website. They make it easy to submit contact forms with procedure categories you can select.
As per the rhinoplasty costs, the clinic has a list of estimated expenses per procedure. We put them in the table below so you can have a look:
| | |
| --- | --- |
| Primary Rhinoplasty | $9,000 to $10,000 |
| Revision Rhinoplasty | $9,000 to $12,000 |
| Non-surgical Rhinoplasty | $650 (using fillers) |
You're also covered by provincial insurance for procedures that improve breathing. Unfortunately, there aren't any details about third party financing options with this clinic.
Dr. Richard Rival of the clinic also has a satisfying rate of 4.2 on RateMDs. He's also a fellow of the Royal College of Surgeons of Canada (FRCSC).
On top of that he is a member of the Canadian Academy of Facial Plastic and Reconstructive Surgery. He's also a teaching faculty member at the University of Toronto.
His website has a gallery that highlights some of his best work in rhinoplasty. The best part is, once you click on each case, you'll get a detailed description of the procedure done.
The gallery alone carries a wealth of references for potential candidates. If you want to take our word for it, the changes are amazing in most photos.
Surgeon with high credentials
Clear pricing scheme
Easy contact form setting
Innovative app
No virtual consultations or online booking
No access to third-party financing options
Customer Reviews
Take a peek into some of Dr. Rival's reviews posted on Real Self:
"I had Dr. Rival do my rhinoplasty about 2.5 months ago and I am EXTREMELY happy with his work ! He knows exactly what he is doing and did a perfect and flawless job … I spent years researching surgeons and booking consultations and I feel so lucky that I found him ! He is absolutely the best at what he does, and you can trust him completely with your face ! I also experienced VERY little pain during my recovery , which was an added bonus ! Highly recommended!"
"Overall, I would 100% recommend Dr. Rival to a friend. His expectations were realistic and he does not promise what he does not believe is achievable, which I found very important when looking for a doctor. My front profile is much more symmetrical now and the bump on my nose is also gone. My nose definitely looks better and I am happy. It doesn't even look like I got work done. As I said, overall, I like my nose, it looks natural, and I think Dr. Rival did a good job."
6. The Toronto Plastic Surgeons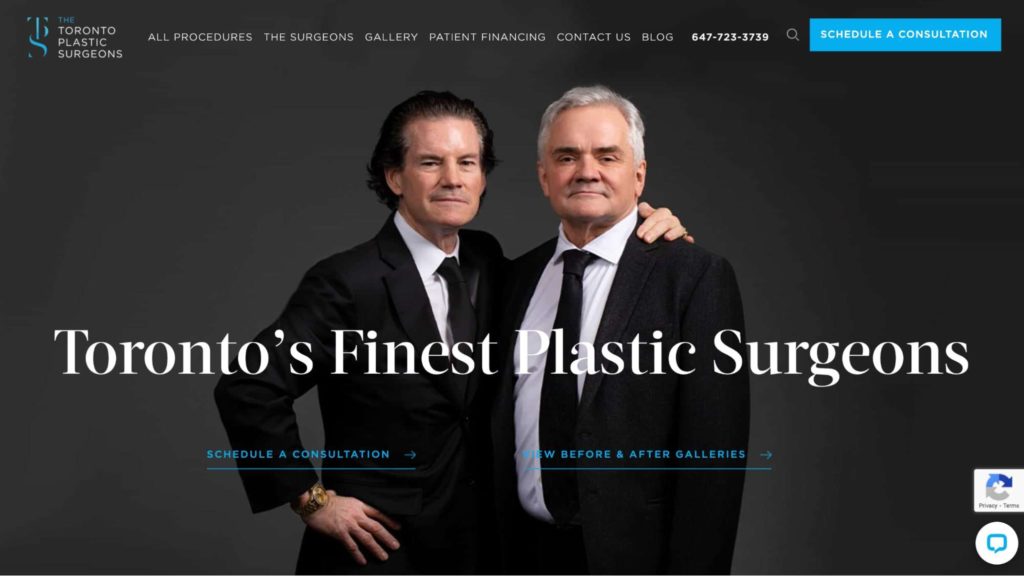 | | |
| --- | --- |
| SERVICES | Open rhinoplasty, closed rhinoplasty, non-surgical rhinoplasty |
| WEBSITE | https://torontoplasticsurgeon.com/ |
| ADDRESS | 66 Avenue Rd #4,Toronto, ON M5R 3N8 |
| CONTACT DETAILS | 647-723-3738 |
| OPERATING HOURS | Monday – Friday: 8:30 AM to 5:30 PM |
In search of the top rhinoplasty clinics in Toronto? Look no further than Toronto Plastic Surgeons, whose specialists in this procedure definitely impressed us.
Apart from standard rhinoplasty, the clinic offers a wide selection of services. These include procedures for the body, hair, face, and breast.
This clinic doesn't do virtual consultations, which is a shame, but booking a traditional consultation is a breeze. You get three options to book an appointment: email, call, or text.
If you choose either call or text, this will automatically launch the right app on your phone. For emails, you'll get sent a "Request a Consultation Form".
You can even attach your photo if you schedule via email. There's also an option for the "best time to reach you" that you can select.
In terms of cost, a basic tip-plasty will set you back by $4,999. Meanwhile, a procedure that improves breathing will cost you $8,999 here.
A revision rhinoplasty is one of their most expensive procedures at $12,999. Yet, it's still lower than what most cosmetic clinics would charge.
For patient funding, you can access Medicare Patient Financing. If you don't have it yet, you can apply online through the clinic's website.
It's also partnered with iFinance Canada. Through this, you can get unique financing options tailored to your case.
Anyway, the clinic is run by two plastic surgeons: Dr. Tom Bell and Dr. Stephen Mulholland. Of the two, the latter is our pick.
Dr. Stephen Mulholland seems to be the superior surgeon, you see, at least where testimonials are concerned. He has 24 years of experience and a 4.6 rating on RealSelf, which means he may be more attuned to current standards of beauty, among other things.
Both surgeons are fellows of the Royal College of Surgeons of Canada. Despite some worrying reviews, they do have an incredible record of work posted on their website's gallery.
Services from two qualified surgeons
Easy online appointment setup
Competitive prices
Third-party financing options
No virtual consultations
Concerning testimonies from past clients
Customer Reviews
Here are some of the reviews left by customers on Real Self:
"I had an amazing experience with Dr. Mulholland. Starting with the virtual consultations, he explained everything in detail on what to expect and showed me pictures. Everyone was extremely friendly and always made me feel at ease, as I was extremely nervous. An amazing experience overall."
"I had an absolutely amazing experience with Dr Mulholland and his staff. I had a severely deviated septum and upper nose bridge from birth. As a child I had two closed septoplasties which were unsuccessful, and left me with decades of breathing problems. Dr Mullholland had his work cut out for him, and honestly have to say I'm absolutely amazed at what he achieved."
7. Dr. Cory Torgerson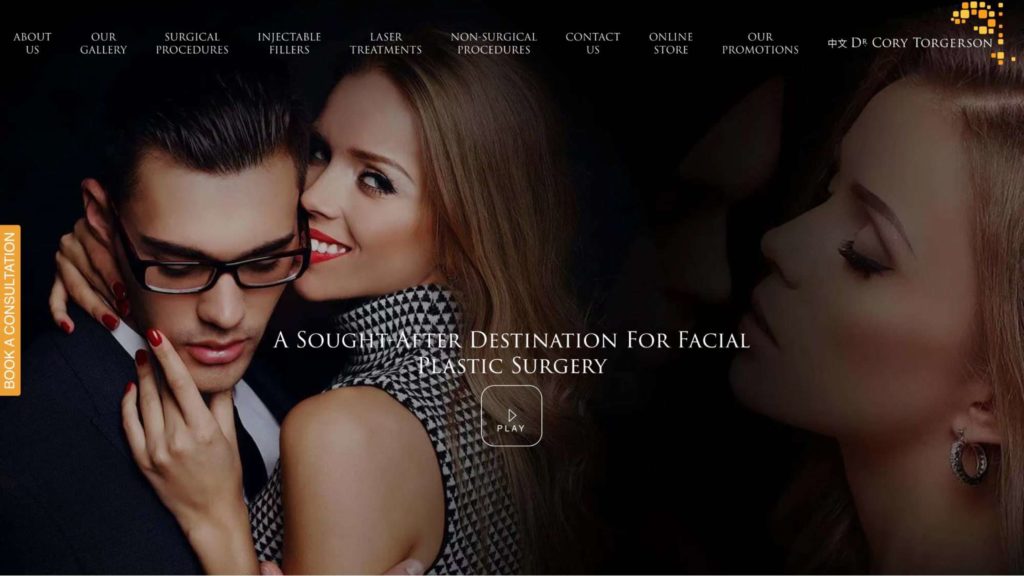 | | |
| --- | --- |
| SERVICES | Primary rhinoplasty, ethnic rhinoplasty |
| WEBSITE | https://drtorgerson.com/ |
| ADDRESS | 66 Avenue Rd #4,Toronto, ON M5R 3N8 |
| CONTACT DETAILS | 647-723-3738 |
| OPERATING HOURS | Monday – Friday: 8:30 AM to 5:30 PM |
Dr. Cory Torgerson offers a wide array of services. These include surgical and non-surgical procedures, laser treatments, and injectable fillers.
For rhinoplasty, the clinic's options are fairly limited. However, they do offer exceptional service with their ethnic rhinoplasty.
Dr. Torgeson performs primary rhinoplasty but ethnic rhinoplasty is his specialty, you see. He has a great record in Asian rhinoplasty, Persian rhinoplasty, and African-American Rhinoplasty.
The clinic doesn't offer virtual consultations but they do make online bookings easy. You can simply fill in their form and select the procedure you're interested in.
While the process is simple, it won't work for you if you're impatient. It usually takes about one business day to get a response.
With their payment hub, sending payments is also a seamless transaction. You can use this to pay for the $250 consultation fee or a surgery deposit of $2,000.
Rhinoplasty procedures here range from $6,000 to $14,000. If you want a more specific quote, you have to get in touch with their staff.
If you want to save on your rhinoplasty procedures, the clinic has a treat for you. Each month, they have promotions where procedures cost less than usual.
For financing options, you can access one through Medicard and CreditMedical.
Dr. Torgeson is certified by the Royal College of Physicians and Surgeons of Canada, by the way. As proof of his exceptional work, he has an image and video gallery up his website that you can use as a reference for your procedure.
Competitive rhinoplasty rates
Specialized ethic rhinoplasty procedures
Easy online booking
Seamless payment options
Third party financing options
Limited rhinoplasty options
Slow response on customer queries
No virtual consultations
Customer Reviews
Here are some customer reviews posted on Real Self:
"I'm now only 2 months post revision rhinoplasty and I couldn't be happier with my results! Dr T fixed all the concerns I had from my surgery with a different surgeon. He gave me such a cute natural looking nose and I'm obsessed with it. I can't thank him or his staff enough for being so kind! They really take care of you here and it's really made this experience 10x easier. I'm so so grateful!"
"Dr. Torgerson is an expert in rhinoplasty surgery. Breanne, the director of client services, reached out to me personally to ensure I was healing, along with Dr. Torgerson the day after my surgery. The office has amazing nurses and front desk staff. The office is also very stylish. I especially enjoyed the box water post-operatively."
Factors to Consider When Choosing a Cosmetics Clinic
Need help in choosing among the best rhinoplasty Toronto? Here are three factors you must consider to make the right choice:
Cost
As mentioned, the cost of rhinoplasty services vary per case. The rule of thumb is, the more complex the procedure, the higher the cost.
Fortunately, many cosmetic clinics offer competitive rates to undercut the competition. Don't forget to compare prices and find one that fits your budget… but don't sacrifice quality and safety just to get a low price either.
Consultation and Related Procedures
The consultation is the most important stage of pre-surgery. Here, the surgeon will run through your potential rhinoplasty options.
These sessions also give you the chance to ask as many questions as you need. You can also get a pricing quote after each session.
Choose a clinic that offers flexible consultation options. These can be virtual or made through calls, emails, and text messages.
Credibility of Performing Surgeon
The reputation of a cosmetic clinic lies on the credibility of its surgeon/s. As you saw in our list, most clinics are run by the cosmetic surgeons themselves – and you want a great surgeon for your procedure.
Find a surgeon with certifications, a breath of experience, and guaranteed skills. Looking through their online gallery and reading reviews is a great way to start.
FAQs about Rhinoplasty Toronto
---
Nothing can help you get an exceptional nose job better than the best rhinoplasty clinics in Toronto. Now that you have valuable information at hand, you can make the best choice for you.
Reach out to us if you want to learn more about the topic. If you want a complete look makeover, by the way check out our list of the clinics for the best dental implants in Toronto!