Top 5 Catering Services in Toronto
Everybody knows that good food puts people in the right mood. So, if you want to see smiling faces at your birthday or anniversary, you've come to the right place!
That's because today's article reviews the very best catering services in Toronto. Find out which businesses made our cut so you only have the best to choose from for your event!
The Cost of Catering Services in Toronto
Here are factors that drive up the cost of catering services:
Number of guests
Type of event
Length of event
Planning
Logistics and location
Preparation of meals
Meal type
In general, the average cost of catering your average event will be about $2,650. See our table below to get a better look at the prices on a more specific level:
| | |
| --- | --- |
| Type of Meal | Average Cost (Per Head) |
| Three-course meal | $50 |
| Business breakfast | $30 |
| Hot buffet | $25 |
| Cold buffet | $17 |
| Hot buffet | $60 |
| All-day events with several courses | $1,800 – $5,000 (fixed total) |
| Sit-down meals | $2,000 – $5,000 (fixed total) |
| Buffet | $500 – $2,500 (fixed total) |
Top Caterers in Toronto
To finalize our selection, here's the set of things we looked for:
1. Daniel et Daniel Catering & Events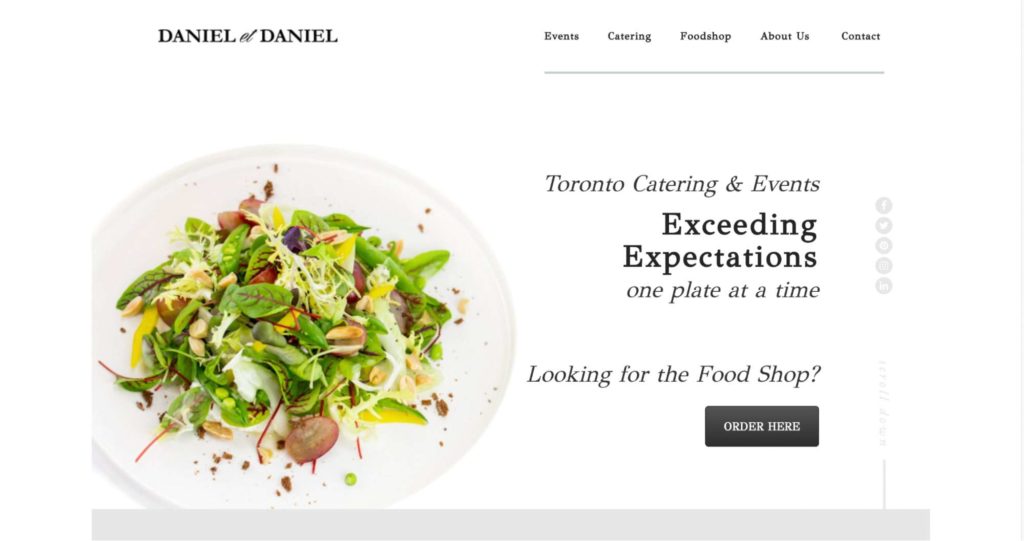 | | |
| --- | --- |
| SERVICES | Wedding catering, corporate catering, private events catering, virtual catering, events management, food shop |
| WEBSITE | https://www.danieletdaniel.ca/ |
| ADDRESS | 248 Carlton St, Toronto, ON M5A 2L1 |
| CONTACT DETAILS | +1 416-968-9275 |
| OPERATING HOURS | Monday – Friday: 9:00 AM – 5:00 PM |
Catering isn't just about making guests feast on meals – it's an entire experience. And this is one of the top reasons why we love Daniel et Daniel: their food is a true experience.
The company provides three major types of catering services. They can curate courses for weddings, corporate events, and private gatherings.
Our favorite thing about them is versatility in culinary styles and flavor profiles. To give you an idea, they have more than 1,600 menu items for you to choose from.
Speaking to their catering consultant is also a wonderful experience overall. They'll propose a well-balanced collection of meals to combine nutrition and flavor.
In line with this, we love that they can accommodate you with any allergy or dietary requirements.
Now, if you want to customize a catering menu, you can see their specials easily on their site. For instance, they have comprehensive menus for their Spring, Summer, Fall, and Winter collections.
As an endnote, we're quite impressed by the fact that they offer virtual catering services. What they'll do is pack meals and send them to your guests with your logo or with the guest's name.
35 years of experience
1,600 menu items to choose from
Can accommodate dietary and allergy requirements
Has catering consultants to help you select meals
Fully customized catering menu
Offers virtual catering services
Total catering cost can be expensive
Catering office is closed on weekends
Customer Reviews
Exceptional attention to detail
Words cannot express what a wonderful experience it was to have selected Daniel et Daniel and have you, Meredith, there throughout Ali & Justin's Wedding on 18/08/18. Your attention to detail was bar none. Your calm demeanour allows for beautiful creativity. Your efforts behind the scene I'm sure were instrumental in ensuring that everything ran smoothly. We are the lucky ones to have you, so thank you for all you did for us to make wonderful memories. The main meal was delicious! I had guests coming up to me through out the evening saying how tasty their food was and how lovely the venue was decorated. The tables were beautifully set as well. The late night snack was welcomed by all and very tasty! Thank you again for everything. It truly was an amazing wedding. – Claire Prost
Delivers delicious food
D&D recently catered my wedding and I couldn't be happier. Jake took all our notes from the 2 separate tastings we did and delivered the most delicious dinner to all of my guests. The food was one of our top priorities and D&D did not disappoint. Thank you for your amazing catering services! – Kristina
2. The Food Dudes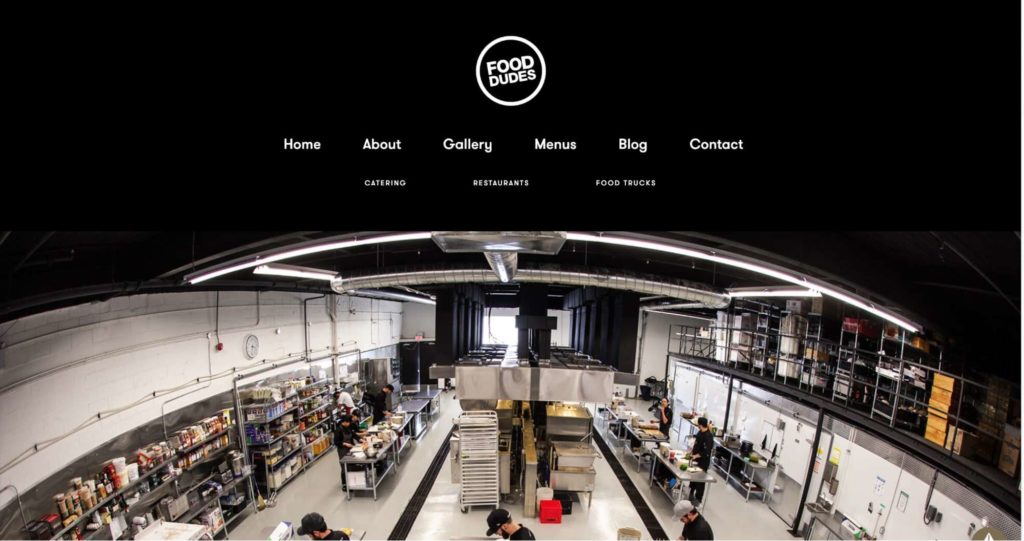 | | |
| --- | --- |
| SERVICES | Wedding catering, corporate catering, private events catering, food truck catering, BBQ catering, event venues |
| WEBSITE | https://thefooddudes.com/ |
| ADDRESS | 24 Carlaw Ave #2, Toronto, ON M4M 2R7 |
| CONTACT DETAILS | +1 647-340-3833 |
| OPERATING HOURS | Monday – Sunday: 9:00 AM – 5:00 PM |
There are two reasons why we love The Food Dudes as caterers. One, they have an innovative culinary art style, and two, they're super-hospitable.
Apart from the usual wedding, corporate, and private events catering, they have more fun options. They also do BBQ event catering and a food truck catering service.
Their catering consultants don't only help you curate a customized menu. They'll also meet your dietary requirements and assist with planning, budgeting, and executing the service.
To complete the catering experience, they have more than 100 event staff members to assist guests. Each one has experience with the protocols of the company to best accommodate clients.
And if you're a bit meticulous with themes like us, you'll love their events equipment. They even have tailor-made tools like regal wood platters to complement the meals!
On top of that, they're also partnered with the biggest rental collective in GTA, Chairman Mills and Event Rental Group.
This means you can outsource various items such as teaspoons and ovens for a better catering experience.
The company also has menus for appetizers, BBQs, buffets, and sit-down dinners, so you have a lot of options here. Of course, there's also a set of specials for food truck catering.
Can accommodate dietary and allergy requirements
Catering consultants can assist with budgeting, planning, and execution
Has BBQ catering and food truck catering services
Has 100 event staff members
In-house or rental equipment to complement courses
Can be difficult to contact at times
Expensive food items
Customer Reviews
Impressive catering service
It is a challenge to come up with enough adjectives to describe this OUTSTANDING caterer. They just catered an engagement party for us and everyone was beyond impressed. The food was presented so beautifully and every single item we had was truly delicious. We were also totally impressed by their staff who were professional, competent, personable and truly a pleasure to have at our event. We highly, highly recommend this caterer. – Lynda
Smooth communication from start to finish
The number one compliment we got about our wedding was how good the food was! Jason was an absolute joy to work with throughout the process and made sure that service on the night of our event was smooth. The food was delicious and catered to the variety of dietary needs of our guests. We would use them again in a heartbeat! – Lindsay
3. Elle Cuisine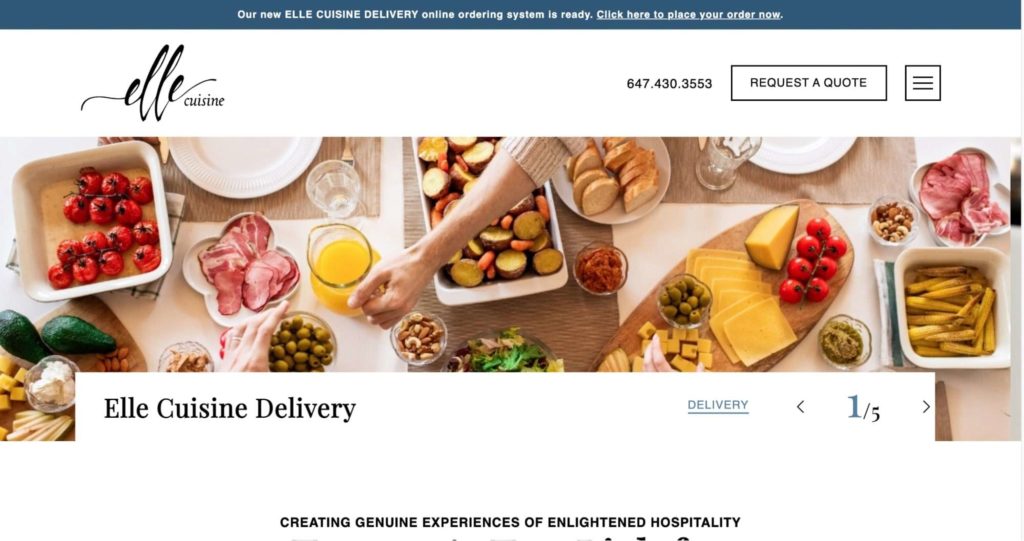 SERVICES
Wedding catering, corporate catering, private events catering, boxed meals delivery, micro events
WEBSITE
https://www.ellecuisine.ca/
ADDRESS
56 Hampton Ave, Toronto, ON M4K 2Y6
CONTACT DETAILS
+1 647-430-3553


[email protected]

OPERATING HOURS
Monday – Sunday: 9:00 AM – 9:00 PM
With over a decade of experience, Elle Cuisine has already mastered the art of personalizing catering services. Let's walk you through their offerings so you know what to expect:
To start off, the company does all the thinking for you. They assist with venue placements, decor recommendations, and customizing your menu.
Like others on our list, they also do wedding, corporate, and private events catering. But if we had to pick a favorite, it would be their corporate boxed and virtual experiences.
They're not the only company to offer this, but they do it better in our opinion. These ordered foods are great if you're hosting virtual events for your corporate team or family.
You can choose from cheese & charcuterie boards to heartier meals such as cooked proteins. They also deliver taco kits, desserts, sides & salads, appetizers, and add-ons.
We're also impressed by their ability to cater to everything from small to large-scale events due to their staff size. In fact, they can even accommodate an event with up to 1,200 guests!
Assists with venue placements and decor
Offers virtual experiences and order prepared meals
Can serve in events with up to 1,200 guests
Contactless delivery of party boxes or experience boxes
Offers high-end catering menus
Caters to micro events
Comprehensive menus categorized for events or delivery
Has option for vegan meals in catering
Pick-ups for orders is only between 3:00 PM to 5:00 PM
Customer Reviews
Services that exceeds expectations
Ellecuisine recently catered our 12 person private dinner and did an absolutely amazing job. From the seamless planning process with Dena and Wimela through to the expertly crafted dishes by Dale and Melissa. We had 6 different hors d'hoevres and a 4 course meal each better than the last! Everything was perfect. Dale was a perfect host – very professional – everything made from scratch and delicious. Everyone at the dinner thought it was the best dinner they had ever had. Melissa went above and beyond and outdid all our expectations from, decorating, to drinks to leaving a spotless house – she made the whole evening run perfectly. We will definitely have another catered event from Ellecuisine soon! – Fraser Cunningham
Many food items to choose from
We ordered from the Trip to Spain menu for this past Saturday, and it was so delicious — ! There were so many items to choose from and everything we picked was just excellent. Ordering was simple, the heating instructions were simple — it made for a very enjoyable evening. An altogether wonderful treat. – Suze Schmitt
4. Encore Catering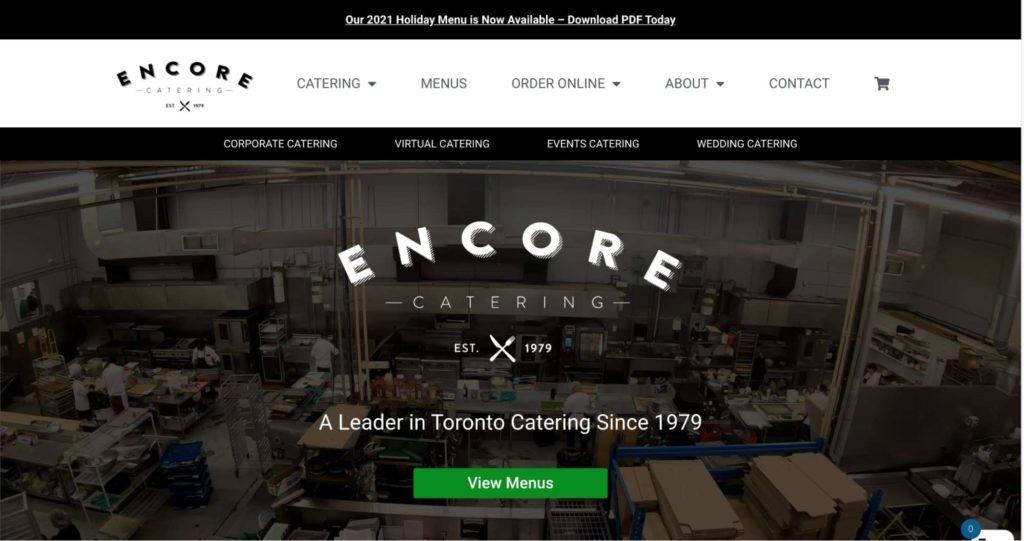 | | |
| --- | --- |
| SERVICES | Wedding catering, corporate catering, private events catering, virtual catering, hybrid catering |
| WEBSITE | https://encorecatering.com/ |
| ADDRESS | 5000 Dufferin St unit p, North York, ON M3H 5T5 |
| CONTACT DETAILS | +1 416-661-4460 |
| OPERATING HOURS | Monday – Friday: 9:00 AM – 5:00 PM |
Encore Catering just makes things a lot easier for their clients. Plus they have a lot more to offer that earned our favor.
Let's get to their catering menus first. They have accessible PDFs on their website for cocktails, plated dinners, buffet, vegan meals, and more.
The company also doesn't lag behind the competition when it comes to virtual catering. The highlight of their service is their user-intuitive app, which allows your guests to make individual orders in 30 seconds.
If you're interested in this service, you can customize the app to match your company's logo and colors. All these can be easily done online after you've created an account.
But there's one service that really takes the cake for us. If others only offer corporate catering, they offer hybrid catering services.
As we all know, the pandemic moves thousands of employees into a work-from-home setup, right? With hybrid catering, WFH employees won't be left out when you have in-office catering.
To wrap things up, they can tweak your menu to accommodate dietary requirements. And if you don't find a meal you like in their menu, just contact them and they'll be happy to include it.
40 years of experience
Has an app for virtual catering orders
Ability to custom brand the application
Offers hybrid catering service for corporate setups
Can accommodate allergy and dietary requirements
Accepts requests for meals not listed on their menus
Customer Reviews
Fabulous, flexible, and customer-centric caterer
Thank you to Encore Catering for adding flavour and class to our celebration! Our guests thought the food was fresh, delicious, and beautifully packaged. The app was fun for our guests to use and they were able to choose what they wanted to eat and customize for any food restrictions they had. Shira and David were fabulous to work with. They were very flexible and customer centric. I would absolutely choose to work with them again in the future..thank you! – Beverlee Searle
Great food and amazing experience
Thank you for a great Easter dinner. It was my first time ordering and it was very easy. I appreciated the texts alerting me to the approximate time the food would be delivered and then a text when the delivery arrived. The food was packaged really well and re-heat instructions were conveniently located to the lids. The food was amazing! It was nice not to have to cook and to be able support a local business at this time. – Miriam de Jong
5. Kiss The Cook Catering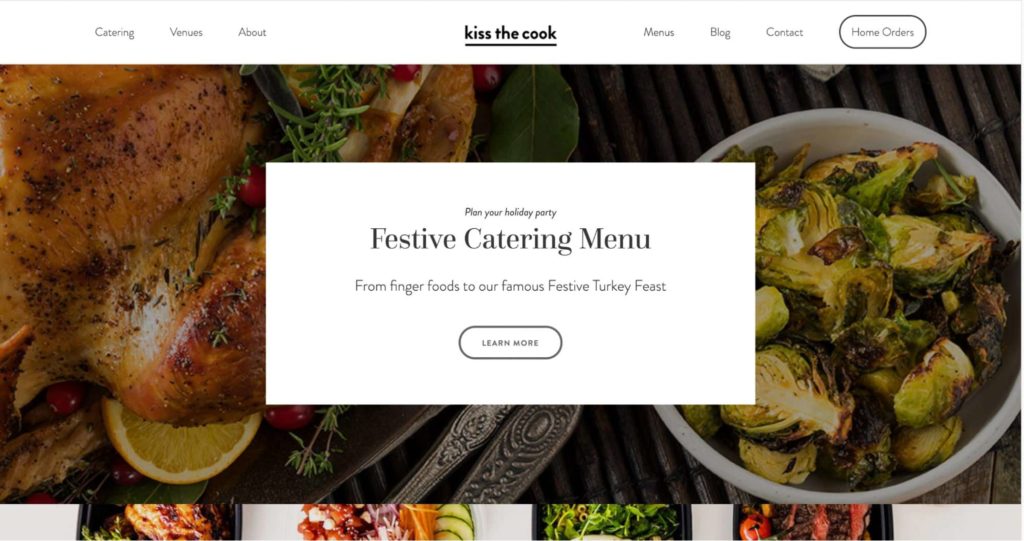 | | |
| --- | --- |
| SERVICES | Wedding catering, corporate catering, private events catering, daily office catering, BBQ catering, virtual catering, at home meals, holiday catering |
| WEBSITE | https://www.kissthecookcatering.com/ |
| ADDRESS | 2490 Kingston Rd, Scarborough, ON M1N 1V3, |
| CONTACT DETAILS | +1 416-264-4040 |
| OPERATING HOURS | Monday – Friday: 9:00 AM – 5:00 PM |
Kiss The Cook full-service custom events caterer that approaches things a bit differently. Here are some of the reasons it deserves to be on your short list.
First, they boast a festive catering menu that is an absolute cuisine trip of various flavors. Your guests can enjoy everything from amazing finger foods to their famous turkey feast.
Clients can customize food and cocktails menu to their liking. On top of that, they can also manage small to large events like dinner parties with 500 people.
Their menus are specifically tailored to certain events. So for BBQ parties, you can choose from everything from steaks to burgers, while you get buffet menus for weddings.
By the way, catering options for weddings have packages ranging from $35 to $65 per head. Each package contains a protein, starch, salad, vegetable, and dessert.
Another thing that we like is that their virtual catering services have budget-friendly meals. Plus, you also get the option to add a gift to the meal to make a memorable package.
Offers festive menu options
Can accommodate dietary and allergy requirements
Menus specifically tailored to certain events
Has catering packages for wedding catering
Budget-friendly meal plans for virtual catering
Option to add a gift to each meal plan
Delivery and pick-up option for at-home meal solutions
Customer Reviews
Wonderful experience with fantastic food
Kissthecook catered our wedding last night. It was an intimate event in our backyard and we were nervous about managing the foor and dishes etc. We needn't have been concerned. Our server, Sherry, was wonderful and efficient, and the food was fantastic. Everyone raved about it all but the ravioli and the spinach salad were the most popular dishes. Jennifer Orange worked with us to plan the event and I commend her for treating us, and our small scale event, with as much attention and support as she must for big ones. We will highly recommend this caterer to all our friends and family. – Ingrid Smith
Multiple cultures represented in meals
A HUGE thank you to the amazing Kiss the Cook team again and again – the whole day went seamlessly, deliciously and memorably. We have set the bar for wedding decor and food for all our pals in years to come. My guests were so impressed, the multiple cultures were represented in the food, and the biggest compliment of all – Nonna (who is the family chef and harder to please than Gordon Ramsey) went up for SECONDS! Fia should be incredibly proud of her brilliant, talented team. Thank you again! – Chantal Gouveia
FAQs About Catering Services in Toronto
---
Want to see more of our events-related content? Start with our reviews below: