The 5 Best Specialists for Gynecomastia Surgery in Toronto
At least 60% of men worldwide have experienced gynecomastia or male breast tissue enlargement. Though this condition is considered benign, it sometimes causes pain, which is why some prefer to get it done.
Apart from that, it tends to make men feel insecure. Hence, a lot of them opt to have their breast tissues reduced to feel more comfortable in their own skin.
In case you're looking for one, we reviewed and assessed the best places to get gynecomastia surgery in Toronto.
Our criteria for the best gynecomastia surgery specialists in Toronto
We considered the following criteria in selecting the best places to get gynecomastia surgery in Toronto:
How much does gynecomastia surgery in Toronto cost?
The average price range of gynecomastia surgery in Toronto is from $4,500 to $7,500 (excluding tax). Take note that the price varies depending on the size of the breast tissue to be removed and the technique to be used.
1. Dr. Jerome Edelstein: Edelstein Cosmetic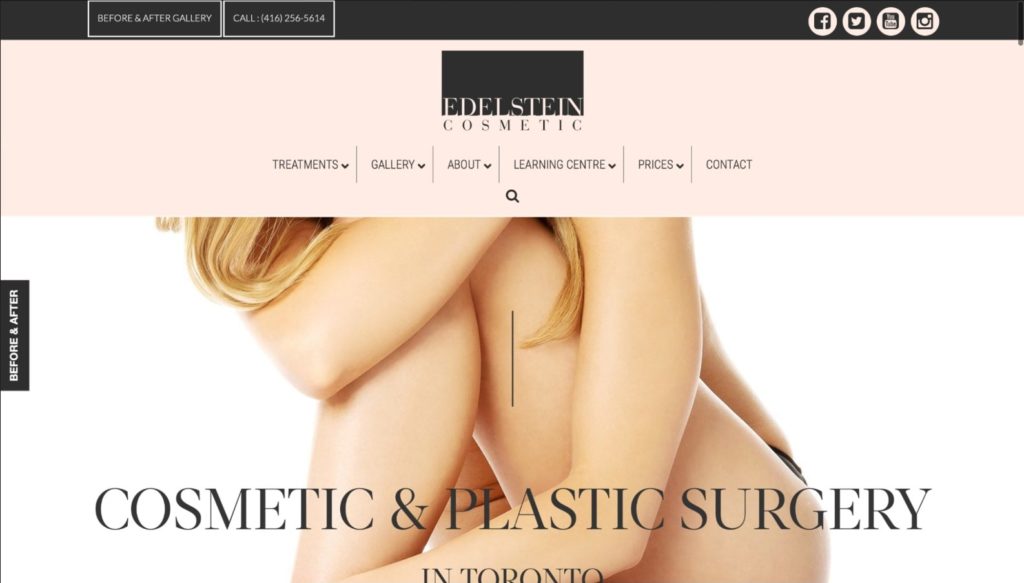 | Test | Info |
| --- | --- |
| WEBSITE | https://edelsteincosmetics.com/ |
| ADDRESS | 362 Fairlawn Ave, North York, ON M5M 1T6, Canada |
| CONTACT DETAILS | Phone: (416) 256-5614 or +1 (416) 256-5614 |
| OPERATING HOURS | Monday to Friday, 8:30 AM to 5:00 PM |
| | |
| --- | --- |
| SURGEON | ★★★★☆ (4.7/5) |
| > Board certification | ★★★★★ (5/5) |
| > Years of experience | ★★★★★ (5/5) |
| > Professionalism | ★★★★☆ (4/5) |
| SURGERY PROCEDURE | ★★★★★ (5/5) |
| > Expertise | ★★★★★ (5/5) |
| > Post-op care | ★★★★★ (5/5) |
| COST AND FINANCING | ★★★★★ (5/5) |
| STAFF DEMEANOUR | ★★★★☆ (4/5) |
Dr. Jerome Edelstein founded Edelstein Cosmetic 16 years ago. He's been a board-certified plastic surgeon since 1997 and has had extensive experience in cosmetic surgery, particularly in body enhancement.
Aside from Dr. Edelstein, they have three other surgeons on board who are also skilled and knowledgeable in plastic surgery.
For their gynecomastia surgery, they use ultrasonic liposuction, which is often used for fatty tissues that are difficult to remove. This procedure has a relatively short recovery period of just two to three weeks.
Their team is also quite big compared to its competitors, which entails less waiting time for patients.
Upon checking their gallery, we noticed that the scars from gynecomastia surgery were already fading after just 3 months, faster than the usual 12 months. We think this is good for patients who are quite worried about the scars after the operation.
One of the biggest issues they have, however, is the lack of proper communication. It seems that some of their patients didn't receive reminders on upcoming appointments, while others didn't receive notice of the clinic's early closure.
Another downside we see is that their services are relatively more expensive than most clinics.
Regardless, we still recommend Edelstein Cosmetic since it seems that most of their patients are happy with their overall experience.
Uses ultrasonic liposuction
Scars can fade as early as three months
Has a relatively big team of surgeons
Reports on lack of proper communication
Relatively more expensive
Customer Reviews
Kind and caring staff
"The staff are so kind and caring. I was referred to Dr Edelstein by a friend for a breast augmentation and she was 100% correct. He knows his stuff and he genuinely cares about how you look. He really wants you to look and feel good about yourself. I felt extremely comfortable the entire time. He really is THE BEST in his field and has an incredible team that work for him. The entire experience has been amazing. If you're looking for a trustworthy doctor, and clinic, Edelstein Cosmetics is a safe place to go and the results are incredible! The best decision I made!" – deana hoyles, Google Reviews
Accommodating nurses
"Dr. Jindal is extremely talented and his attention to detail is unparalleled. He made sure my experience was as perfect as possible in every aspect. He is an absolute master in his profession and I have nothing but respect for him. Would highly recommend!
Everybody at the Edelstein clinic is amazing, all the nurses and staff are so friendly and accommodating. I felt like I was in good hands the entire time, and every one of my questions or concerns was promptly addressed by somebody who cared. It's important to feel welcome and comfortable at a cosmetic clinic, and this entire staff deserves recognition for it." – Angela Albanese, Google Reviews
2. Dr. Michael Kreidstein: Cosmetic Plastic Surgery in Toronto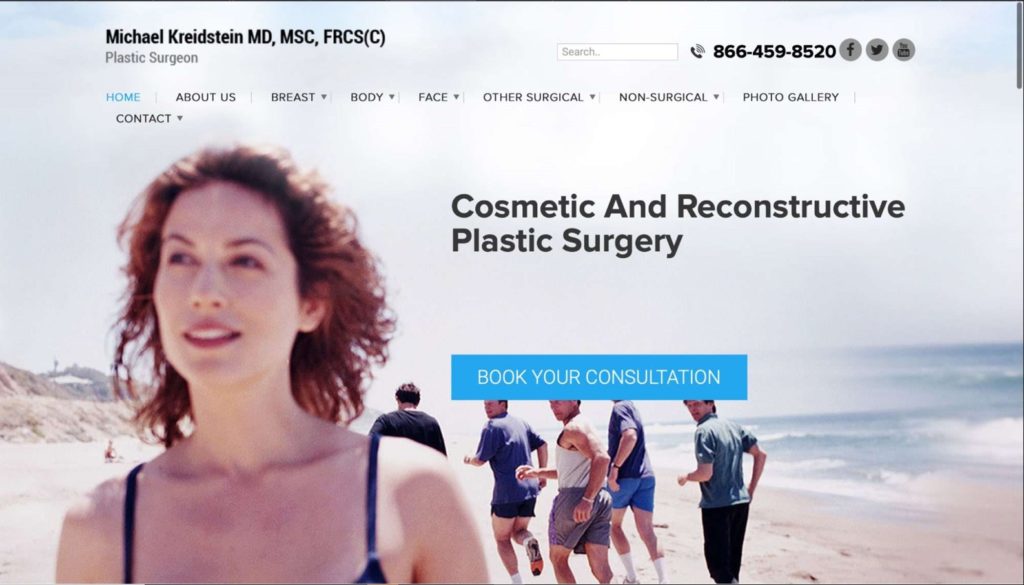 Test
Info
WEBSITE
https://www.drkreidstein.com/
ADDRESS
300 York Mills Road, Suite 211

North York, Ontario, Canada M2L 2Y5

CONTACT DETAILS
Phone: 416-391-4452

Fax: 416-391-3031

OPERATING HOURS

Monday to Thursday, 8:00 AM to 5:00 PM

Friday, 8:00 AM to 1:00 PM
| | |
| --- | --- |
| SURGEON | ★★★★★ (5/5) |
| > Board certification | ★★★★★ (5/5) |
| > Years of experience | ★★★★★ (5/5) |
| > Professionalism | ★★★★★ (5/5) |
| SURGERY PROCEDURE | ★★★★★ (5/5) |
| > Expertise | ★★★★★ (5/5) |
| > Post-op care | ★★★★★ (5/5) |
| COST AND FINANCING | ★★★★☆ (4/5) |
| STAFF DEMEANOUR | ★★★★☆ (4/5) |
Dr. Michael Kreidstein has been a practising plastic surgeon for at least 27 years now, and one of his specialisations is gynecomastia surgery.
He is a member of the American and Canadian Society for Aesthetic Plastic Surgery. Also, we find it impressive that he has a collection of published research studies and has been teaching both local and international students.
We think these credentials are telling that his knowledge and expertise are recognised not just in the industry, but in the academe as well.
His team also uses liposuction for the gynecomastia procedure where they only remove glands through a 1 to 2-cm incision. This is much less invasive and results in less scarring and faster recovery.
Their gynecomastia surgery rate usually costs around $5,000 to $6,000. However, mastopexy, a procedure for those who need to lose massive weight before the surgery, costs a lot pricier at around $11,000.
Gland excision is mostly covered by the Ontario Health Insurance Plan (OHIP), which we find convenient and helpful.
Most of their patients appreciate Dr. Kreidstein for his professionalism and gentleness. A patient shared how he made sure that all of his instructions were clear and understandable, so that the patient could make a wise decision.
However, be mindful that finding a consult schedule might be difficult since they have only limited options for such.
On a bright note, most of Dr. Kreidstein's patients are happy with the overall results of their surgery. A lot of patients felt more confident and comfortable after the operation.
Only uses 4 mm incision for liposuction and 1 to 2 cm incision to remove gland
Gland excision is covered by OHIP
Has 27 years of experience
Can cost higher than usual
Finding a consult schedule can be difficult  
Customer Reviews
Pleasant nurses
"Dr. Kreidstein has changed my life through his work. He removed all of my excess skin through an abdominoplasty and fixed my gynecomastia problem. He did a perfect job, and now I finally feel comfortable in my own skin. All of the nurses were very pleasant and did an excellent job keeping me comfortable before and after surgery. The reception staff were very accommodating, kind and helpful. Everyone at that office is doing an amazing job and I am very confident in their ability to help anyone with any problem!" – David, Google Reviews
Clean and sterile
"Dr. Michael Kreidstein and staff are amazing! I've now had 4 large procedures, and the care and attention to detail provided is impeccable.
The private practice is the VERY clean and sterile, and his eye for symmetry shows me what an artist he is. I highly recommend his practice." – Limore Ellis, Google Reviews
3. Dr. Lawrence Tong: Yorkville Institute of Plastic Surgery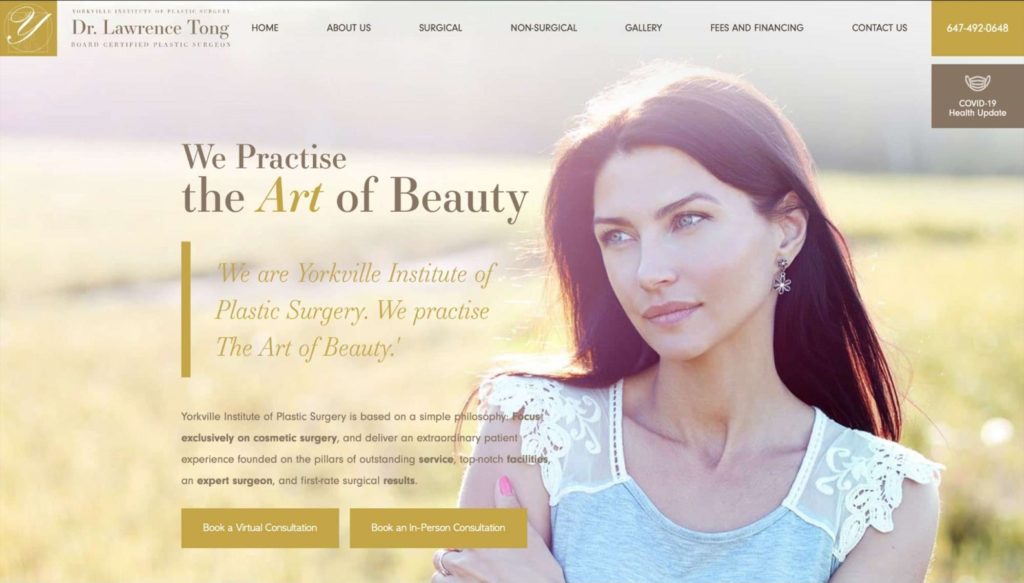 Test
Info
WEBSITE
https://www.myplasticsurgerytoronto.com/
ADDRESS
7 St. Thomas Street, Suite 507, Toronto, Ontario, M5S 2B7
CONTACT DETAILS
Phone: (647) 691-0256 or (416) 972-0919

OPERATING HOURS

Monday to Thursday, 8:00 AM to 5:00 PM

Friday, 8:00 AM to 1:00 PM
| | |
| --- | --- |
| SURGEON | ★★★★☆ (4.7/5) |
| > Board certification | ★★★★★ (5/5) |
| > Years of experience | ★★★★☆ (4/5) |
| > Professionalism | ★★★★★ (5/5) |
| SURGERY PROCEDURE | ★★★★★ (5/5) |
| > Expertise | ★★★★★ (5/5) |
| > Post-op care | ★★★★★ (5/5) |
| COST AND FINANCING | ★★★★☆ (4/5) |
| STAFF DEMEANOUR | ★★★★★ (5/5) |
Yorkville Institute of Plastic Surgery is operated by Dr. Lawrence Tong, a plastic surgeon with over 10 years of experience. He is knowledgeable in the full spectrum of cosmetic surgery for the face, breasts, and body.
We're confident in his expertise since he's a double-certified plastic surgeon.
They have several procedures of gynecomastia surgery, which depend on the severity of the enlargement. They're able to remove glandular breast tissues, fatty breast tissues, excess skin, and more.
Their surgery centre has passed the inspection of the College of Physicians and Surgeons of Ontario, which makes us trust the safety of their equipment.
They also have flexible payment options where they accept credit cards, certified cheque, money orders, bank drafts, and cash.
You can get a refund but note that they require you to pay a processing fee if you cancel your schedule. It's reasonable, but we also find it inconvenient for those patients who have urgent matters to attend to.
If you cancel 4 weeks before, you get 100% of your payment back, but you must pay $1,000 for the processing fee. But, if you cancel 48 hours before, you won't get your money back.
Also, it seems like their parking space is quite far from the clinic, which can be inconvenient for patients who just underwent surgery. It will be difficult for them to walk long distances because of the pain after the operation.
If you're planning to book Dr. Tong for your surgery, you can easily schedule a consultation on his website. Keep in mind, too, that his consultation fee of $175 isn't included yet in your total bill.
Double-certified plastic surgeon
Has flexible payment options
Passed the standards of College of Physicians and Surgeons of Ontario
Has processing fee for refunds
Quite far parking space
Customer Reviews
Very thorough
"I was very pleased with the surgery that Dr. Tong did for me. He was very thorough in explaining options and I'm delighted with the results of my procedure. His office staff and OR team were extremely professional too and I felt very comfortable with their care.
The results are superb and I know they will continue to improve during my recovery. I should have had this done decades ago!" – K W, Google Reviews
Treated with respect and kindness
"I had a breast reduction done by Dr. Lawrence Tong. Not only is Dr. Tong a highly professional and excellent surgeon, but his staff is just as amazing. From my very first appointment up until my 6 week checkup, I was treated with respect and kindness at all my visits. Katherine and Jean were so welcoming and always answered any questions and concerns that I had. For someone who was extremely nervous about having surgery, all the staff, including the nurses, made me feel less overwhelmed and at ease. I'm so glad that I chose to get my reduction done at this facility, I'm in love with my results.10/10 would highly recommend Dr. Tong." – Alishba Hashmi, Google Reviews
4. Dr. Brett Beber: Toronto Cosmetic Clinic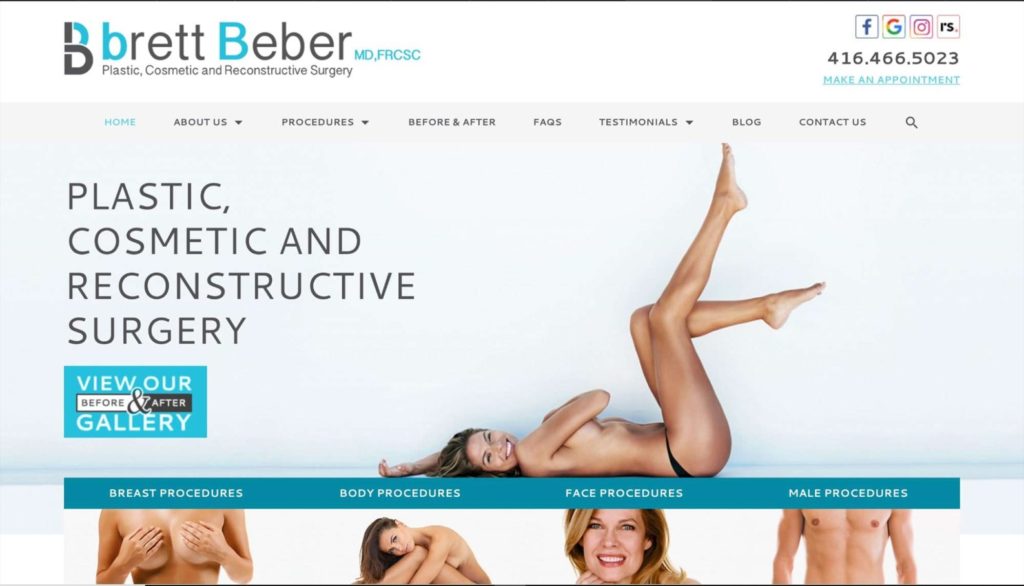 | | |
| --- | --- |
| SURGEON | ★★★★★ (5/5) |
| > Board certification | ★★★★★ (5/5) |
| > Years of experience | ★★★★★ (5/5) |
| > Professionalism | ★★★★★ (5/5) |
| SURGERY PROCEDURE | ★★★★★ (5/5) |
| > Expertise | ★★★★★ (5/5) |
| > Post-op care | ★★★★★ (5/5) |
| COST AND FINANCING | ★★★★★ (5/5) |
| STAFF DEMEANOUR | ★★★★☆ (4/5) |
Dr. Beber has 18 years of experience in plastic surgery. For his gynecomastia surgery, he also uses liposuction first before removing glandular tissues.
The patients usually go under general anaesthesia during this procedure. While general anaesthesia is safe, it has risker side effects than local anaesthesia.
We also like how patients are able to go home the very same day after the operation. Though, they're advised not to drive and book a driver instead.
For financing solutions, we appreciate how they have partner lenders for affordable monthly payments, such as MediCard Finance Inc. and Credit Medical Canada.
We appreciate that check-up privileges last up to one year, which means Dr. Beber will be able to monitor your recovery thoroughly.
Most patients are happy with Dr. Beber's bedside manner. A few of them shared that they never felt rushed during the consultation, while others appreciated that he went to check-up on them after the surgery.
He's also commended for being accommodating and personable, which makes most of his patients comfortable during the surgery.
But, we've heard of an instance when a patient's appointment was cancelled just three hours before the surgery. We think this shows a lack of professionalism on their end.
Moreover, there's also a report regarding unattentive staff. There was a client who never got a follow-up check-up after submitting requirements after an appointment.
Overall, we think Dr. Beber's services are worth trying because of his experience and expertise. But, we think the staff could work on their professionalism to improve patients' satisfaction
Has 18 years of experience
Has partner lenders for financing solutions
Has good bedside manner
Could work on being more professional in terms of scheduling mishaps
Minor reports on unattentive staff
Customer Reviews
Extremely detailed and professional
"Dr Beber , Yien and everyone at Dr Bebers office are the best! Dr Beber was extremely professional, and made me feel so comfortable especially since I was nervous with this being my first ever surgery. He was extremely detailed about everything, asked me what my goals were, was super realistic with me and gave me what I wanted. I would 10000% recommend him to anyone!!!!" – Ava Naiman, Google Reviews
Never felt rushed
"I had a breast reduction by Dr. Beber and I couldn't be happier with the results. I can say, with all honesty that Dr. Beber is the best doctor I have ever interacted with. From the moment I walked into his office I was put at ease by his staff. He spent the time to explain everything to me in detail, I never felt rushed during any of my appointments and his bedside manner was superb. I felt completely confident and I knew that I was in the best hands when I went into surgery. He goes above and beyond, after my surgery he came to see me in the recovery room, which not many doctor do, to see how I was doing and to let me know that the surgery went well. This has been the best experience so far that I've had. Thanks again Dr. Beber and Yien for making this experience a positive one! Always grateful." – calidan100, Google Reviews
5. Dr. Stephanie Power: Power Plastic Surgery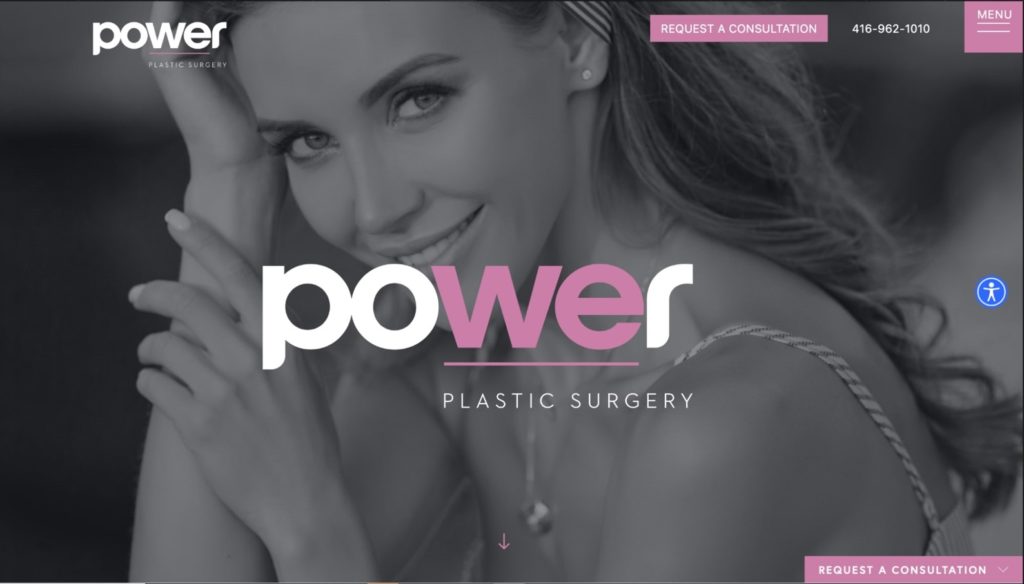 | Test | Info |
| --- | --- |
| WEBSITE | https://www.powerplasticsurgery.com/ |
| ADDRESS | 7 St. Thomas Street, Suite 602, Toronto, ON, M5S 2B7 |
| CONTACT DETAILS | Phone: (416) 962-1010 |
| OPERATING HOURS | Monday to Friday, 8:30 AM to 5:00 PM |
| | |
| --- | --- |
| SURGEON | ★★★★☆ (4.3/5) |
| > Board certification | ★★★★★ (5/5) |
| > Years of experience | ★★★★☆ (4/5) |
| > Professionalism | ★★★★☆ (4/5) |
| SURGERY PROCEDURE | ★★★★★ (5/5) |
| > Expertise | ★★★★★ (5/5) |
| > Post-op care | ★★★★★ (5/5) |
| COST AND FINANCING | ★★★★★ (5/5) |
| STAFF DEMEANOR | ★★★★★ (5/5) |
Dr. Stephanie Power is a cosmetic surgeon in Toronto who specialises in female bodies and facial ageing. Aside from that, she's also experienced in doing male breast reduction.
She graduated from Princeton University in College, then got her medical degree and her residency at the University of Western Ontario.
Her impressive educational background increases our confidence in her knowledge and skills in plastic surgery.
She received her board certification in plastic surgery last 2013, making her relatively less experienced than her competitors.
She usually uses either resection of glandular tissue or liposuction for gynecomastia surgery. However, if the breast tissues are too fibrous, a riskier combination of liposuction and direct excision is needed to be performed.
We like how they have three fully-operating rooms and two overnight suites. We think it is convenient for most patients who prefer more privacy and comfort.
Dr. Powers is reportedly responsive and approachable. Some patients shared how she was quick to respond to all their questions regarding the requested procedures.
However, it would be great if she could work on her communication skills. Apparently, most of her patients find complex terms and concepts difficult to understand because she tends to talk too fast.
On the upside, she has relatively affordable rates compared to similar clinics.
Relatively affordable rates
Has an impressive educational background
Has three operating rooms and two overnight suites
Relatively less experienced than her competitors 
Can be difficult to understand
Customer Reviews
Smooth consultation
"I had a small procedure that I was referred to Dr. Power for. I was nervous. She reassured me. Consult went smooth. Surgery day came and went quick and painless. I was in and out in no time. Dr. Power was fast and professional. Even chatting during the surgery to calm me down. Receptionist helped wrap up and I was out the door. Very happy with the service." – Eric McKinnon, Google Reviews
Very warm and approachable
"Dr. Power is outstanding. As an OHIP referred patient I had a very positive experience and found Dr Power to be professional and very competent. She has a wonderful calming manner and put me at ease immediately. I also found Jennifer the receptionist to be excellent. She was very warm, approachable and also contributed to helping me feel at ease and comfortable prior to the surgery. I would certainly recommend Dr Power." – Wayne Martino, Google Reviews
FAQs on gynecomastia surgery
---
Now, we're done with our review of the best places to get gynecomastia surgery in Toronto! We hope you find the perfect clinic in case you're experiencing the condition.
In the meantime, we recommend you to read out our list of the Top 5 Places for the Best Tummy Tuck in Toronto, if you're interested in improving the shape of your abdomen through cosmetic procedures