The 10 Best DUI Lawyers in Toronto
Looking for a lawyer who can handle your impaired driving case? If so, worry no more because we have you covered with our list of the best DUI lawyers in Toronto.
Before we get right to it, we'll look at the average cost of getting legal help in Toronto. This is so you'll know if you're financially capable of hiring a defense lawyer.
The Cost of Hiring DUI Lawyers in Toronto
Let's get one thing straight: the cost of hiring a DUI lawyer largely depends on the lawyer's experience, the complexity of the case, and the amount of time needed to defend the accused.
On average, though, most DUI lawyers in Toronto have an hourly rate that ranges from $100 to $1,000. It's obvious that the price gap is huge, but that's because there are multiple factors that go into a lawyer's hourly rates.
Hourly rates can easily go over a thousand bucks if you're hiring a very experienced DUI lawyer from a prominent law firm in Toronto. The assumption then is that the lawyer is more likely to defend you successfully, so you have to pay them more.
On the other hand, there are some DUI lawyers who charge a block fee system, which means that they will quote a fixed price for the legal services related to defending your case instead of billing you on an hourly basis.
The way block fees work is quite tricky, though. One block fee will apply for a DUI case that gets resolved without needing to go to trial, and another block will be charged if the case goes to trial.
In simpler terms, block fees only cover one part of the legal defense process, provided the DUI case goes smoothly.
Another thing to know about block fees is that they cover all legal fees related to summary conviction trials that last a day or less. If the trial lasts beyond two days, then more block fees will apply.
The Best DUI Lawyers in Toronto
Anyway, it's time for you to see our top picks among legal professionals for this type of case! Here are the law firms that have the best DUI lawyers in Toronto, based on our research.
1. Mass Tsang Criminal Lawyers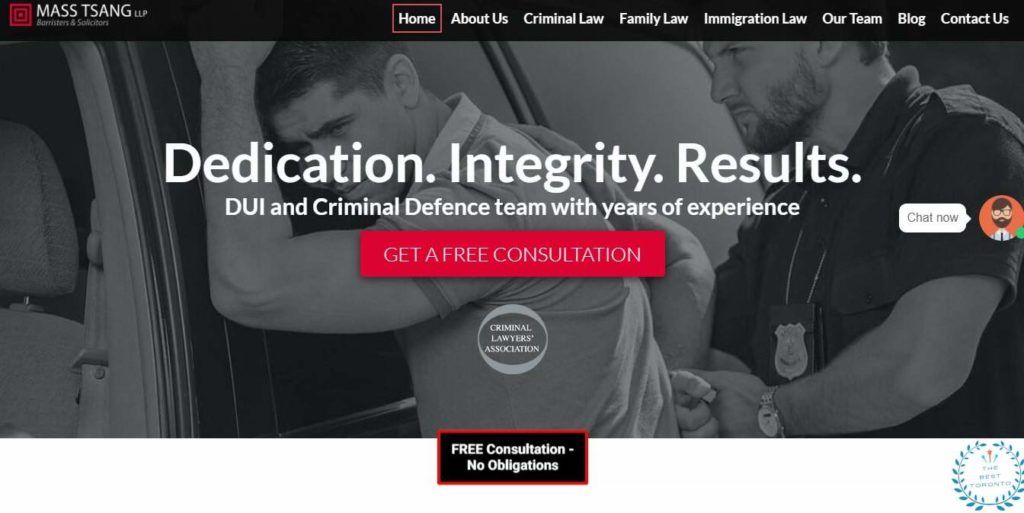 EXPERTISE
Criminal law, family law, immigration law, theft and fraud, drug and assault charges, and traffic violation
PRICING
Call their hotline for more details
WEBSITE
https://www.masstsang.com/
ADDRESS
1810 Avenue Rd #200, North York, ON M5M 3Z2, Canada
CONTACT DETAILS
416-907-4097
OPERATING HOURS
Monday to Thursday: 9:00 AM – 7:00 PM
Friday: 9:00 AM – 5:00 PM
Sunday: 10:00 AM – 4:00 PM
We have to start off our list with one of the most prominent criminal law firms in Toronto: Mass Tsang Criminal Lawyers. It landed on our list for three main reasons.
First, it's one of the few criminal defense law firms that focus on traffic ticket charges and quasi-criminal charges. Its legal team has successfully defended more than a thousand of these criminal cases.
Second, it doesn't charge obviously in-need clients with ridiculously high legal fees that would be impossible for them to pay within their lifetime. It offers easy and flexible payment plans to help them pay for their legal defense instead.
Lastly, Mass Tsang Criminal Lawyers has a combined experience of more than 30 years, coming from its team of five criminal lawyers. Every lawyer on its team has handled both basic and complex criminal cases.
Another note about its legal team is that most of them can speak Mandarin, Punjab, Cantonese, and many other languages, so expats and immigrants in Toronto wouldn't have a hard time consulting with them.
Aside from criminal cases, its lawyers are experienced in criminal law and family law as well, so hiring them would be like hitting two birds with one stone.
More than 30 years of experience
Multilingual legal team
Free consultation
Flexible payment plans
No hidden fees or last-minute charges
Inconsistent operating hours
Slow response to queries at times
Customer Reviews
Mass Tsang Criminal Lawyers has amassed over 100 comments on Google Reviews. Here's what some clients had to say about it:
"About a year ago we spoke over the phone for a consultation. We discussed my less-than-stable girlfriend threatening to kill me, and make false sexual assault accusations on me. Jeff recommended leaving her and I did. I could not be more grateful for our talk, as having a lawyer tell me that I need to "get the hell away from her" is what I really needed to take action. I also got some advice from a female friend at the time, who recommended that I slowly ease out of the relationship, rather than giving it a hard break-up. This really helped to ease tensions, and I would encourage you to recommend this to your other clients as well. Thank you for having taken the time to speak with me that day. It made a real difference in my life."
-Bobbie Z
"After looking for an amazing criminal lawyer, someone referred me to Brian Brody, he was the best lawyer I've been to… took care of all my charges, fought for me like a shark, and gave a fair price! Thank you Brian Brody and his team for the great result, and your professionalism. Highly recommended!!!"
-Natan Izrailov
2. Toronto DUI Lawyer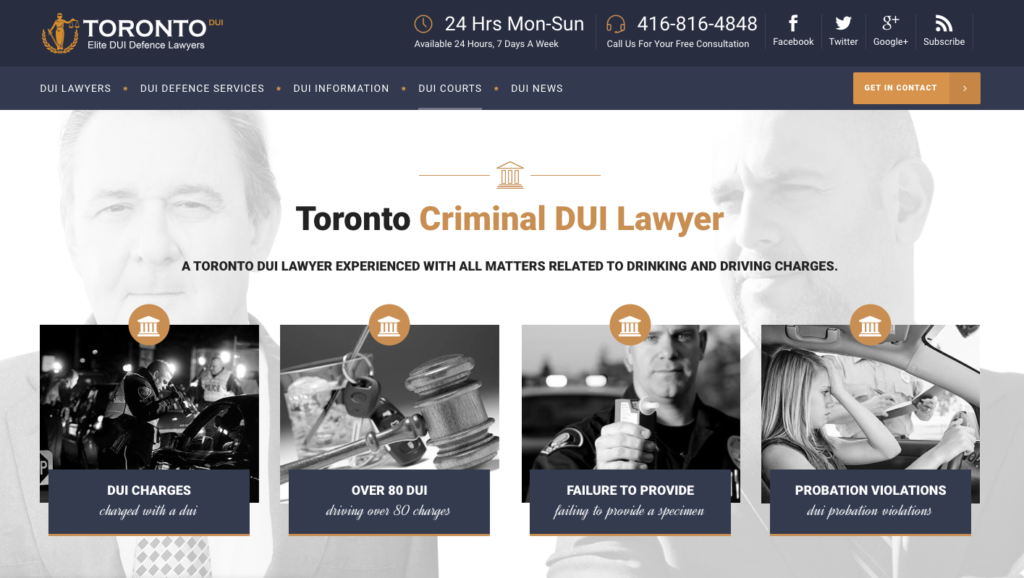 EXPERTISE
Drunk Driving Offences, Drinking and Driving Charges, Driving Under The Influence, Impaired Driving Charges, DUI Charges, DUI Offences, DUI Refusal Defence, DUI Expungement, DUI Criminal Defence, DUI Probation Violation, Care And Control Charges, Failure To Provide Charges, Drugged Driving, Underage DUI Charges, DUI Car Accident Defence, False DUI Arrest Defence, Out Of Province DUI, Marijuana DUI
PRICING
Call their hotline for more details
WEBSITE
https://www.toronto-dui-lawyer.ca/
ADDRESS
551 Gerrard St. E, Suite 1A, Toronto, Ontario M4M 1X7
CONTACT DETAILS
Phone: 416-816-4848
Email: [email protected]
OPERATING HOURS
Open 24 hours, 7 Days a Week
Toronto DUI Lawyer was founded by Frederick Fedorsen, who is also the principal lawyer at the firm. Together with Adama Little, a criminal lawyer, they practice defending individuals who have been charged with crimes related to driving under the influence or DUI.
This boutique firm specializes in criminal litigation, offering their services across the Greater Toronto Area and southern Ontario. Although their speciality is driving-related offenses, they have years of experience in other branches of law and have helped thousands of clients on a diverse array of criminal charges.
With their in-depth understanding of drunk driving laws and the DUI industry, they provide hands-on advice and support to their clients. Whether you need help with an impaired driving charge or a multiple DUI offense, this firm has got you covered.
We particularly like that they're available 24 hours a day, 7 days a week. So if you find yourself in a bind, no matter what time of the day, Toronto DUI Lawyer is a firm that you may want to give a call.
Specializes in driving related offenses

Services clients GTA and southern Ontario

Available 24 hours
Small team of two lawyers
3. Charitsis Law Criminal Lawyers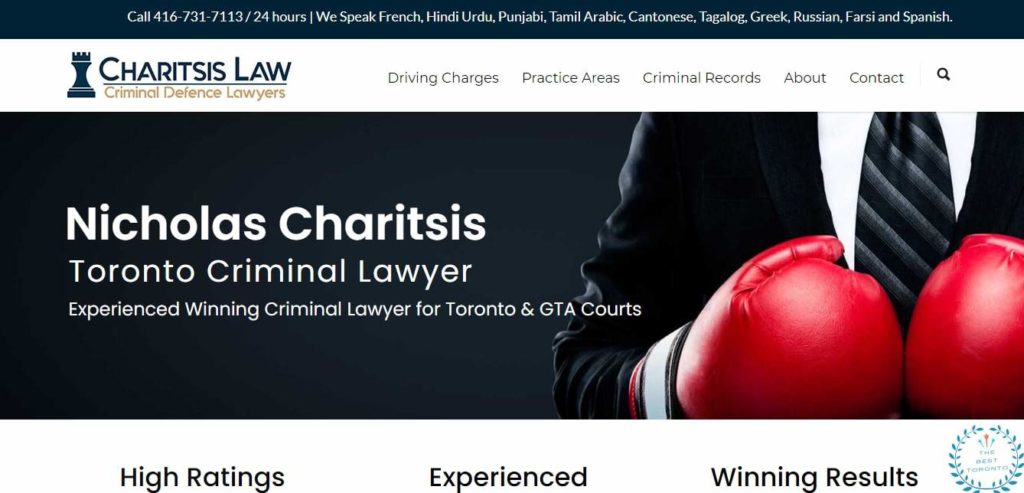 EXPERTISE
Driving under the influence, sexual assault, domestic assault, theft and shoplifting, and bail hearings
PRICING
Call their hotline for more details
WEBSITE
https://www.ontario-criminal-lawyers.com/
ADDRESS
1000 Finch Avenue West Suite 705, Toronto, Ontario M3J 2V5 727 Davis Dr, Newmarket, ON L3Y 2R2
CONTACT DETAILS
416-731-7113


[email protected]

OPERATING HOURS
Open 24 hours
Another top-rated criminal defense law firm in Toronto is Charitsis Law Criminal Lawyers, boasting a 4.9 out 5 rating based on almost 400 reviews on Google Reviews. It earns a spot here for the following reasons.
For one, it's very capably handled a wide range of driving impaired-related charges, including refusal to take a breathalyzer, suspended licenses, and refusal to take roadside tests, among others.
More than that, Charitsis Law Criminal Lawyers has defended more than 4,000 individuals, most of whom were saved from having permanent criminal records. That's a very impressive record.
If what you're after are quick legal services, then Charitsis Law Criminal Lawyers is also a good bet. Its large criminal defense team allows customers to be accommodated within 24 hours, which is much faster than what other law firms can promise.
It's also one of the few law firms that operate and accept calls 24 hours a day, so those with emergency legal concerns may call for help at any time of the day.
By the way, Charitsis Law Criminal Lawyers offers legal defense to all sorts of criminal charges, not just for DUI-related offenses. Its lawyers have experience in handling cases related to sexual assault, domestic assault, and even theft.
Operates 24 hours day
Large team of defense lawyers
Impressive track record
Excellent customer service
Rates are slightly above average
Customer Reviews
Take a look at these comments shared on Google Reviews:
"Nicholas Charitsis and his legal team were able to get me out of a frustrating situation with regards to the criminal code and highway traffic act. They have kept me informed at every step of the process and always presented me with my options and the best possible way to proceed. In the end, I was given the best possible outcome for my case which was better than I originally expected. Communication was easy, rates were reasonable, and he has the professional skill and expertise necessary to resolve your legal issues. Would definitely recommend Nicholas and his team!"
-Randy Pharsi
"Nick is a professional criminal lawyer who gets the job done. His associates are also very helpful and knowledgeable. Nick responded to my query very quickly after I submitted to his website and ensured that I won't plead guilty to the charges I got arrested for. My charges were withdrawn and now I have my life back on the track. Highly recommended."
-Jaideep Kang
4. Jeffrey I. Reisman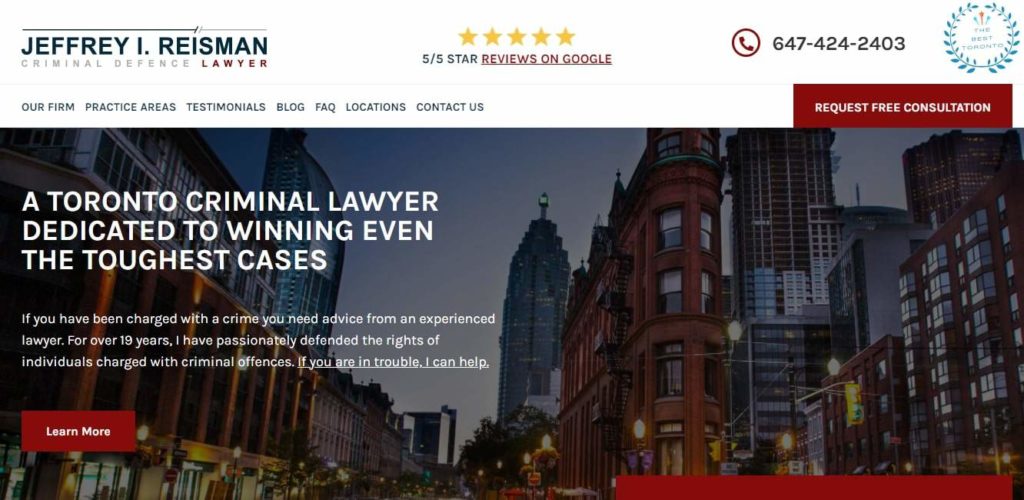 EXPERTISE
Impaired driving, drug charges, domestic and sexual assault, fraud, theft, murder, probationary violations, property crimes, and weapons and firearms assault
PRICING
Call their hotline for more details
WEBSITE
https://www.jeffreismanlaw.ca/
ADDRESS
1000 Finch Ave W #705A, Toronto, ON M3J 2V5, Canada
CONTACT DETAILS
647-351-4357
647-424-2403


[email protected]

OPERATING HOURS
Open 24 hours
Jeffrey Reisman is a prominent criminal defense lawyer who's dealt with some of the toughest criminal offenses, including homicides, sexual assault, domestic assault, property crimes, and drunk driving.
He's the right DUI lawyer for you if what you're looking for is a defense lawyer with expertise in more complex impaired driving cases. He's in-demand among individuals with serious dangerous driving cases, such as those with charges that involve an injured person.
What we like about Jeffrey's law firm is that he personally consults and handles most of the cases thrown his way, unlike other law firms that allow most of their junior lawyers to take charge of the defense. He's a lawyer with almost 20 years of experience, by the way.
Those with emergency concerns may ask for his help even during the night because he's accessible any time of the day. His law firm operates round-the-clock as well, which means there's always aid available for his clients.
Jeffrey Reisman's legal services are also available to people outside Toronto, such as those living in New Market, Scarborough, Oshawa, Brampton, and Collingwood.
20 years of experience
Services clients outside Toronto
Handles tough criminal cases
Free consultation
Accessible 24 hours
Rates are slightly above average
Customer Reviews
Here are some testimonials shared by Jeffrey's past clients:
"I appointed Mr. Reisman to take care of my legal matter and I am very happy with the final result. He is trustworthy and professional. He responded to all my calls. I appreciate all his help and would highly recommend him to anyone looking for a lawyer."
-Sammy Soh
"Jeffery Helped me against my criminal case tremendously, as I was facing a lot of false allegations which he was able to drop. He's an honest and great lawyer who I truly trust and recommend. At the end of my case I got to walk away happy with the final decision."
-Kawoos Kaseb
5. Jonathan Lapid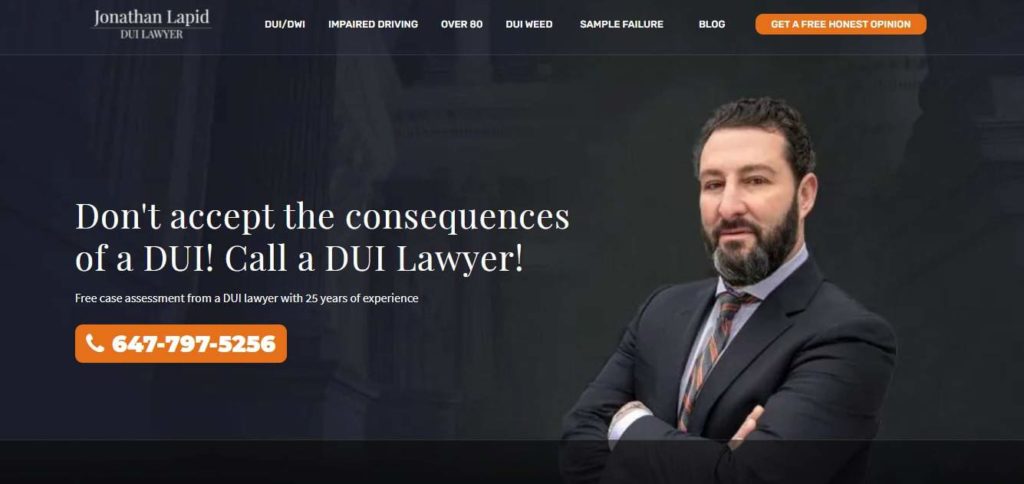 EXPERTISE
Impaired driving, DUI accidents, over 80 Mg charges, drugged driving, and refusing breath sample
PRICING
Call their hotline for more details
WEBSITE
https://jonathanlapid.com/
ADDRESS
4950 Yonge St, North York, ON M2N 6K1, Canada
CONTACT DETAILS
647-953-9774
647-797-5256


[email protected]

OPERATING HOURS
Open 24 hours
Another name we had to include was Jonathan Lapid. He's a well-known criminal defense lawyer in Toronto with more than 25 years of experience in defending DUI charges.
Jonathan's track record speaks for himself, which is why we included him on our list of the best DUI lawyers in Toronto. He's successfully defended a long list of individuals, including police officers, lawyers, doctors, business executives, and even famous athletes.
Before accepting a case, Jonathan consults with a potential client and gives them an honest assessment of their case, whether it can be defended or not. He likes challenges, though, so he has a high approval rate.
And while he may be one of the most prominent DUI lawyers in Toronto, that doesn't mean his legal services are expensive. There are past clients who have attested to his reasonable rates, with no last-minute charges whatsoever.
Overall, Jonathan Lapid is a defense lawyer worth looking into if your case is complex enough that most others won't take it. Chances are he's going to accept your case and take your defense seriously.
25 years of experience
Prominent client list
Reasonable rates
Can be reached any time of the day
Handles multiple clients, which can make him difficult to contact at times
Customer Reviews
Jonathan Lapid's law firm has received a perfect rating of 5 out of 5 on Google Reviews, making it one of the few in the GTA that have this feat. Here are some comments from customers:
"Jonathan Lapid is one of the most professional lawyers I have come across. He is honest, patient, and will always go above and beyond with your case. He truly takes the time to analyze every aspect of the situation and leaves you feeling as stress-free as possible. He is definitely the lawyer you want representing you!"
-Nicole Treadwell
"Jonathan Lapid spoke to me straight up: in reality this is what I'm up against. He didn't sugarcoat a single aspect of my situation. I appreciated his sincere honesty. I knew that I was being listened to and actually heard. He's highly competent and reliable. He is honestly one of the most thorough and meticulous lawyers I've ever met. He went through my file and we had a good talk about how this was going to be handled and how we should proceed. He is an excellent lawyer and I would recommend him to anyone. He is absolutely so worth the money. He is definitely the man you want to represent you!"
-William Mercado
6. Kruse Law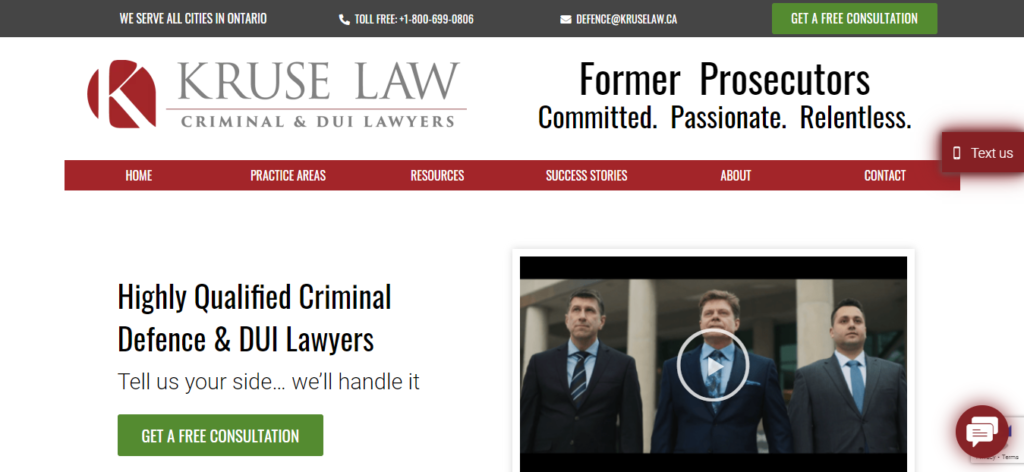 Defending DUI cases is one of the major specialties of Kruse Law. This law firm with branches in London, Windsor, and Toronto, has numerous seasoned criminal lawyers to help just about anyone in Ontario facing criminal charges.
Here in Toronto alone, Kruse Law already has four criminal lawyers who have sufficient expertise and over 78 years of combined experience winning DUI cases for its clients. These lawyers also prepare extensively for fast resolutions of impaired driving cases.
Besides, one of its lawyers, founder Michael Kruse, has years of experience not only as a defendant for impaired driving offences but also as a prosecutor.
As a full-service criminal law firm, it also offers defence for those facing dangerous driving cases. Additionally, it also accepts cases involving assault, drugs, and theft.
To provide its clients with the best representation and services based on their situation, Kruse Law conducts free and no-obligation initial consultations.
Wide range of criminal law services
Extensive experience in DUI cases
Handles other types of driving criminal charges
Free initial consultation
Customer Reviews
Here are some reviews from Kruse Law's previous clients to tell you more about its quality of services:
"I am very happy with all the effort that the Kruse Law Firm, and Mr. Andreopoulos has done that resulted in hearing the Court Judge say, Congratulations Mr. L. the charges against you have been dropped. Anthony was very knowledgeable, and professional throughout the legal process defending my rights. I highly recommend their services."
—Pete L.
"Thanks to the work of Michael Kruse and his staff, the charges against me were dropped. I always felt like I was in good hands and never doubted the outcome. If you're looking for a tenacious, knowlegeable and expeirenced lawyer that is on your side, Michael Kruse is the guy!"
—Clayton Sparks
7. Arvin Ross – Barrister & Solicitor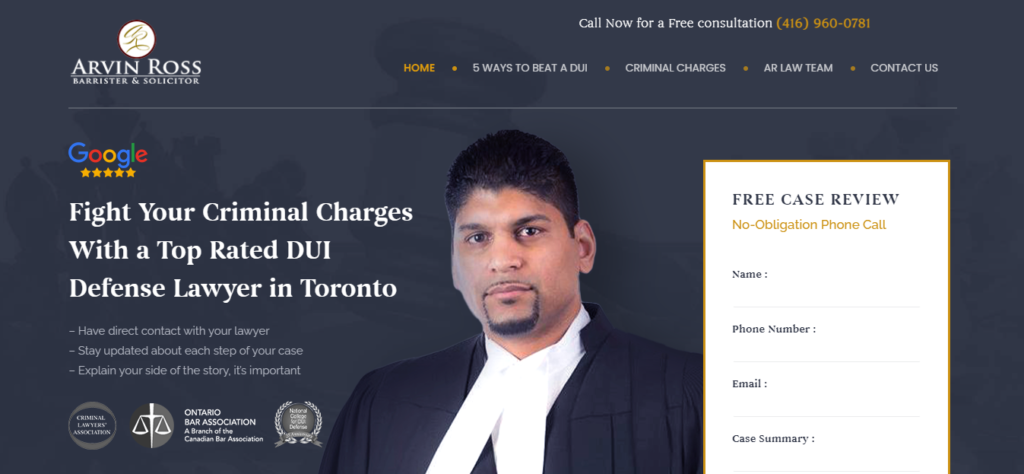 | | |
| --- | --- |
| EXPERTISE | Criminal law |
| PRICING | Contact for pricing |
| WEBSITE | https://www.arvinross.com/ |
| ADDRESS | 10 Milner Business Ct # 300, Scarborough, ON M1B 3C6 |
| CONTACT DETAILS | (416) 560-9366 |
| OPERATING HOURS | 24/7 |
Arvin Ross understands how situations resulting in DUI charges arise any time of the day. As a response to such urgent cases, Arvin Ross thus offers 24/7 criminal defence legal services 24/7.
This lawyer's expertise even involves DUI charges with complex implications on immigration and existing criminal charges.
Not every case is the same, so Arvin Ross also makes sure to listen to its clients' side of the story. Through its free consultation. From this detailed session, this criminal lawyer can then provide strategies for just about any case.
Arvin Ross's law firm handles impaired driving, over 80 charges, refused breath sample cases, failure to stop for police. Additionally, this law firm also covers rare cases of impaired operation DUI by drugs.
Since he is a solo practitioner, Arvin Ross guarantees direct communication with a lawyer, any time and anywhere in the GTA. However, this also means that it may take a harder time for someone to book its services if the firm is already loaded with clients to represent.
Free initial consultation
Direct contact with DUI lawyer
24/7 services and communications
Sole focus on DUI cases
Accepts impaired driving by alcohol or cannabis
Only one lawyer in the team
Customer Reviews
Read these reviews to know just what Arvin Ross delivers to his clients:
"I would like to express my deepest appreciation and gratitude for the outstanding work that Arvin Ross has done. He was very professional, prompt, knowledgeable and handled my case with uppermost concern, responsibility and involvement. I would strongly recommend him as lawyer."
—Maggie K
"Best in the city to be honest with you ! I met with Arvin in regards to a very difficult case couple years back. After a long term of processes I retrieved a decision I was amazed about. Arvin is the best when it comes to meeting needs of his client he is very patient and understanding. I will recommend Arvin to anyone who is dealing with a Impaired driving ( Alcohol or cannabis ) because he is very well educated in fighting cases in relation to that . Very happy I was able to discover such a great lawyer with affordable fees!"
—Paul Vinago
8. Calvin Barry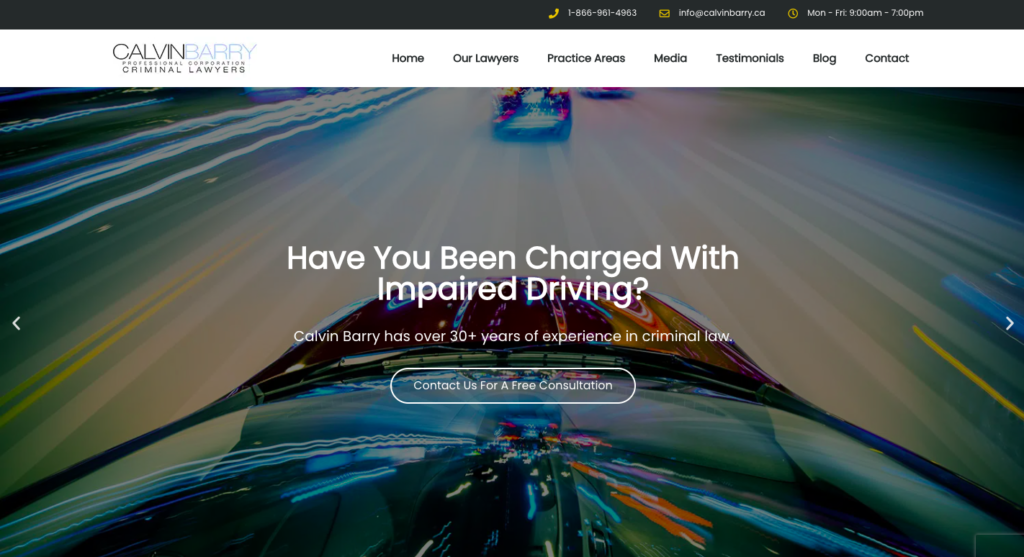 | | |
| --- | --- |
| EXPERTISE | Criminal Defense |
| PRICING | Contact for pricing |
| WEBSITE | https://calvinbarry.ca/dui-lawyer-toronto/ |
| ADDRESS | 113 Front Street East, Toronto, Ontario, M5A 4S5 |
| CONTACT DETAILS | Phone: 1-866-961-4963 |
| OPERATING HOURS | Monday to Friday: 9:00am – 7:00pm |
Calvin Barry is a criminal defense lawyer with over three decades of experience. He received his Bachelor of Laws from Osgoode Hall Law School at York University.
He previously served as director of the board of the Ontario Crown Attorney's Association and also worked as Treasurer of the Association and as a member of the Association's Finance Committee. He is currently a member of the Criminal Lawyers Association and has a solid reputation in Toronto as a defense lawyer for his work ethic and achievements.
Along with his team, this firm provides criminal defense services in Toronto, Mississauga, Brampton and the entire Greater Toronto area. They have the experience and expertise to handle a variety of cases, specializing in impaired driving, domestic abuse, and criminal law.
Initial consultations are free so you can review and discuss the case together. He is well-versed in all the possible strategies to defend a case and has focused his private practice strictly to criminal defense.

If you have a DUI case and are looking for an experienced and knowledgeable lawyer, Calvin Barry is one of our top choices in Toronto. He offers free consultations, has appeared at courts of all levels and is definitely an option worth considering for your case.
Free initial consultation
Specializes in impaired driving, domestic abuse, and criminal defense
Rates are slightly above average
Customer Reviews
Let's take a look at what their clients have to say:
"I really appreciate all the help and swift responses from Jeremy and the entire team; Everything was looked after professionally. This is one thing I've never dealt with before and hopefully never again. When it first happened I didn't even know where to start, but Calvin came highly recommended from a friend. I got the best possible outcome for my case and I appreciate all the hard work. I won't hesitate to recommend you to anyone in a similar situation. Also, don't take this the wrong way, but I hope I never have to talk to you again! Lesson learned!" – Margaret Mitchcock

"I am very happy with the outcome. It could have been a lot worse without the knowledge and experience of Jeremy Naresh. Jeremy guided me through everything and provided me the guidance to allow me to make informative decisions with my case. I appreciate everything you've done for me." – Kary Anderson
9. RGZ Law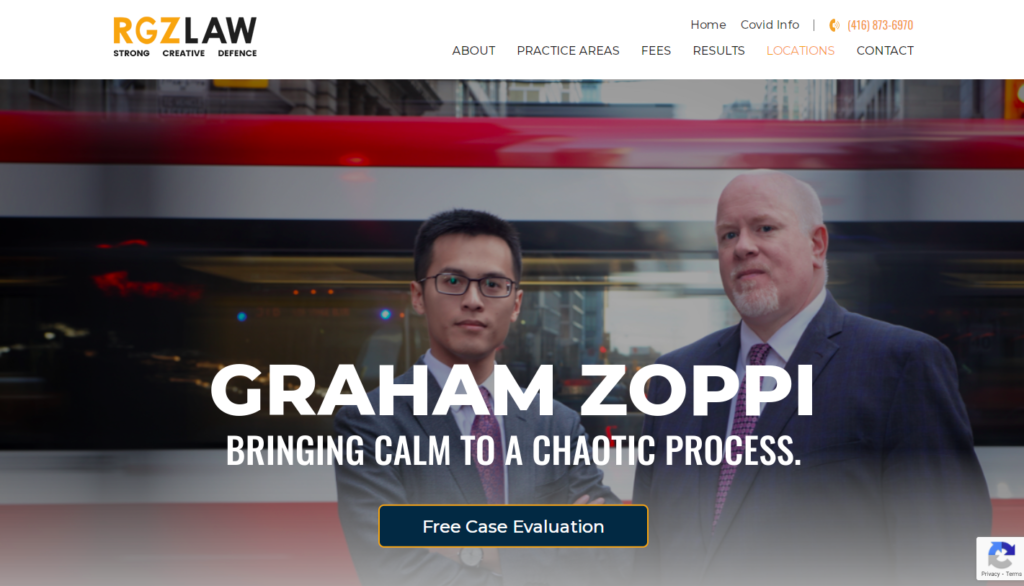 Graham Zopp has been practicing law for over twenty years, earning himself a considerable reputation as one of the top criminal defense lawyers in Ontario. His level of commitment to his clients has led him to strive passionately to constantly formulate the best possible defenses.
Graham Zoppi has worked as Crown Counsel with the Ministry of the Attorney General, conducting appeals at the Ontario Court of Appeal, the highest court in the province. He also has experience in bail hearings and criminal trials for the Crown in the Ontario Court of Justice.
In his own firm, Graham Zoppi focuses solely on criminal defense law even though he is well experienced in other fields. He makes regular appearances in the Ontario Court of Justice, Superior Court, and Court of Appeal.
He has successfully defended a number of charges that include impaired driving, refusal of breath sample, possession of a controlled substance, and many more. No matter what type of charges you are facing, you can expect that Graham Zoppi's expertise will help out your situation.
Free initial consultation
Specializes in impaired driving, domestic abuse, and criminal defense
Customer Reviews
Let's take a look at what their clients have to say:

"Best Lawyer in Toronto. Responsible and professional, always there to answer questions! One of my family member was accused of criminal charges and Graham has worked hard to get the charges dropped. Really appreciate all the work he has done during the pandemic. I will definitely be recommending Graham to everyone that needs lawyer consultation." – Sandy Guignard
"I just want to say thank you to Mr Graham Zoppi for the great work he did on my case.I'm very very happy with the outcome and would highly recommend Graham Zoppi with a 5 star rating!" – Hamza Khan
10. David Genis Criminal Lawyer

David Genis is known for his professionalism and extensive service. His aim is to provide the best possible help and guide you through your case with ease.
His service specializes in drinking and driving offenses. These would encompass cases that include impaired driving and careless driving.
We liked that he has 15 years under his belt. If you're one to look at their extensive experience to handle your case, we think that you should give Genis' services a try.
We were also impressed by the number of languages that Genis knows how to speak. Naturally, when services are offered in your native tongue, you are going to be more at ease and would most likely trust your lawyer more.
So if you speak Mandarin, Cantonese, Russian, or Ukrainian, you might want to give his services a try. This might lessen the stress of your situation and might help speed up the process.
Besides DUI, he also offers his services to other cases such as drug offenses and assault charges. Cases aren't usually clear cut and there are nuances to each situation.
So, if you find that your case may have overlapping details that pertain to drug offenses or assault charges we think that David Genis would help you out of the tight spot you found yourself in.
Member of the Law Society of Upper Canada and of the Criminal Lawyers Association.
Over 15 years of experience
Free consultation
Online booking and callback
Prices for services not indicated on website
Customer Reviews
Let's take a look at what their clients have to say:

"Couldn't be happier with the work David has done for me. Very detailed and professional throughout the entire process and accommodated any questions or concerns that I had. Highly recommend his services!." – Kyle Tuohy
"My mother and I are extremely grateful for the positive experience we had with Mr. David. He was very professional, diligent and respectful. Mr. David worked very very hard for my case, made me feel at ease from the beginning and answered questions very promptly. Moreover, he kept me updated with the progress of my case and possible outcome periodically. I received the golden call from Mr David that my charges have been dropped. Also, Mr David informed me that he will also go ahead and work to destroy fingerprints, photographs and criminal record of arrest shortly. I really appreciated his help. Thank you so much Mr. David." – Jason Wu
FAQs about DUI Charges in Toronto
---
And that's the end of our list of the best DUI lawyers in Toronto. Are you familiar with any of these lawyers? If so, tell us what you know about them!
If you know other DUI lawyers in Toronto who can help with impaired driving charges, don't hesitate to share their names with us. If we found them worthy, we'll definitely add them to our list.
By the way, if you ever find yourself in conflict with your employer, you may want to take a peek at our list of the best employment lawyers in Toronto. Any of these lawyers can help you settle an employment-related dispute.