Top 5 Demolition Services in Toronto
Demolition is an important part of a lot of house renovation projects. Removing a wall, tearing down the whole kitchen, or changing bathroom fixtures and tiles all entail demolition work.
However, this is work left for the experts as they have the right tools and knowledge on how to best address the job. Not only is demolishing any part of the house dangerous, it can also cause more damage if not done well.
If you're looking for a demolition expert, you've come to the right place. We've rounded up and reviewed some of Toronto's top demolition specialists right here.
How much does a demolition service cost in Toronto?
Below are the indicative rates for a demolition service of a house:
| Area | Price |
| --- | --- |
| House per square foot | $2 to $17 |
| Commercial TVHouse in rural areas | $3,000 |
| House in densely-populated cities | $18,000 |
| House with a basement or foundation | $25,000 |
Note that a lot of factors affect the cost of demolition services. Companies that offer this service will produce a quote after site inspection based on the specific needs of the project.
The price will be dictated by the size of the area as well as the kind of materials that will be demolished. If the site has asbestos or other hazardous materials, the cost will be higher as this entails proper waste disposal.
The site's location, permits needed for the job as well as clearing of waste material will also add to the cost.
The Best Demolition Services in Toronto
We rounded up the companies with the best demolition services based on these criteria:
1. Junk Out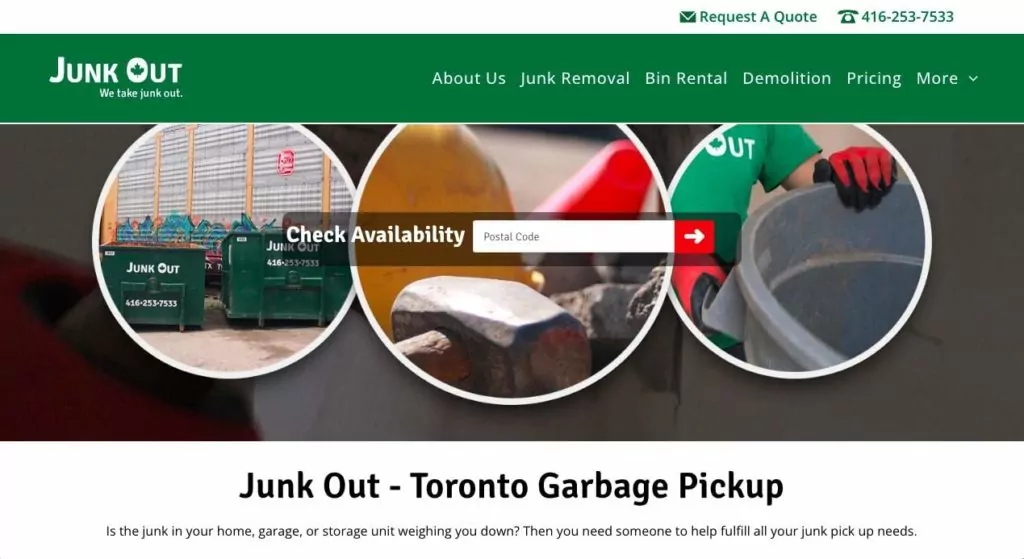 Test
Info
Services

Junk Removal

Bin Rental

Demolition

Website
https://junkout.ca/
Address
2938 Dundas St W Unit 585, Toronto, ON M6P 1Y0
Contact Details
416 - 253- 7533
Operating Hours
Monday - Friday: 7 am - 5 pm

Saturday - Sunday: Closed
| | |
| --- | --- |
| Criteria | Rating |
| Responsiveness | ★★★★★ (5/5) |
| Customer Service | ★★★★★ (5/5) |
| Quality of Work | ★★★★★ (5/5) |
| Price | ★★★★☆ (4/5) |
| Equipment and Safety Measures | ★★★★★ (5/5) |
| Range of Services | ★★★★☆ (4/5) |
Junk Out is a family-run business offering demolition services over the past 16 years. It specialises in non-structural demolition work like demolishing commercial units, warehouses, and houses or areas of a house.
Clients are assured that safety is a priority as its crew is registered with the Workplace Safety and Insurance Board (WSIB).
We like that requesting a quotation is easy-breezy via their website. However, to secure a booking, note that they will require credit card information.
It's great that they provide free site visits to plan the safest and most efficient way to do the demolition. In doing so, they can provide a reasonable and honest quote for the project, as well as manage client expectations.
For its demolition service, clients have seen the efficiency of the team no matter how small or big the demolition project is. To ensure everyone's safety, they also use air scrubbers with HEPA filters while doing the demolition.
We hear that they get the job done fast, without compromising quality, and leave the site tidy. They're also considerate of neighbours, as they make it a point to communicate with the residents in the surrounding area.
Past clients say that the owner and the crew are friendly and responsive. They're said to be always available to answer phone calls and text messages, which is great for the clients' peace of mind.
Environmentally-friendly practices
Fairly-priced services
WSIB-registered
Free site visit
Uses air scrubber with HEPA filter
Can only do non-structural demolition
Credit card requirement to book the service
Closed on weekends
Customer Reviews
Considerate with neighbors
"Contacted Daniel at Junk Out for a bathroom and powder room demolition in my condo.
The job was completed neatly and on time. Price was great.
Daniel also had to deal with a last minute complication with my condo board regarding his bin for removal of the demolition material. Turned out the parking lot was being power washed and painted on the same day. He easily handled the situation by just dropping his bin at the end of the day, loading it and removing it right away. No drama, everyone was happy.
At the start of the day he also suggested he would let the neighbors know that there would be noise due to the drilling. Condo board said no need but it was a thoughtful suggestion.
Highly recommend." – Janet
Great customer service
"Junk Out was a pleasure to work with, I experienced great customer service with all staff members. Would recommend, and use their services again" – Monika
2. Big Ben's Junk Removal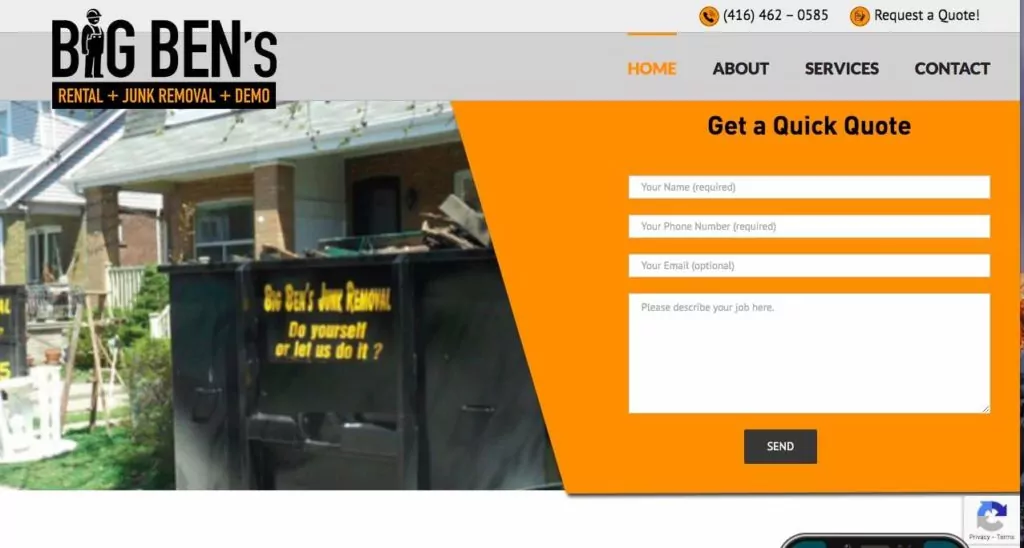 Test
Info
Services

Bin Removal

Junk Removal

Demolition

Bobcat Rental

Excavation

Website
https://bigbensjunkremoval.com/
Address
140 Woodfield Rd., Toronto, ON M4L 2W6
Contact Details
416-462-0585
Operating Hours
Monday - Saturday: 7:30 am to 5 pm

Sunday: Closed
| | |
| --- | --- |
| Criteria | Rating |
| Responsiveness | ★★★★★ (5/5) |
| Customer Service | ★★★★★ (5/5) |
| Quality of Work | ★★★★★ (5/5) |
| Price | ★★★★★ (5/5) |
| Equipment and Safety Measures | ★★★★☆ (4/5) |
| Range of Services | ★★★★☆ (4/5) |
Since 2002, Big Ben's Junk Removal has been a reliable choice for demolition jobs, as well as bin rental and junk removal.
Booking a service is straightforward and quick via their online form, available through their website. A customer representative will then contact you to confirm the team's availability, as well as provide a price estimate for the project.
We hear that Big Ben's rates are fairly competitive, and they're well-known for the accuracy of their quotations. Apparently, their actual project costs are quite close to, if not exactly the same as, the quoted fee.
They also employ a transparent pricing approach, which means that all anticipated costs are presented during the quotation stage. This means that there will be no hidden charges appearing in the final total, which is particularly assuring for budget-conscious clients.
We like that they do all sorts of demolition projects, from taking out drywall to demolishing an entire structure. This means that they're familiar with the unique requirements of demolitions for different purposes – whether for a renovation or new build.
Clients consistently vouch for the high level of care demonstrated by demolition team, from the appropriate use of equipment to following the most stringest safety standards.
Although this is a minor detail, we wish that they would also open on Sundays to accommodate more clients who are only available on weekends. We can't complain too much, though, because they are already open on Saturdays.
Online quotation request
Accommodates clients on short notice
Competitive and transparent pricing
Customer Reviews
Exceeded customer expectations
"Our only choice for Junk Removal services continues to be Big Ben's. His staff are always very efficient, polite, punctual and professional. They deliver the type of service we expect of our own staff. They have exceeded our expectations yet again on our most recent job site in the Martin Grove and Rexdale area."
"Always the most competitive in our market area; no gimmicks no long assessment or quotation periods just a straight-forward hassle-free pricing. No hidden fees or surprise increases, very thorough at what they do. If you are in of need Junk Removal anywhere in the GTA you should really call them first, speaking from experience it's going to save you a great deal of time and money. Thanks once again!: – Factory Tire
Prompt and quick service
"Everything you could hope for in a professional! Came on time, stuck to their estimate, quick work, cleaned up afterwards. I call them every time I need junk disposed of." – Andy
3. M3C Demolition Ltd.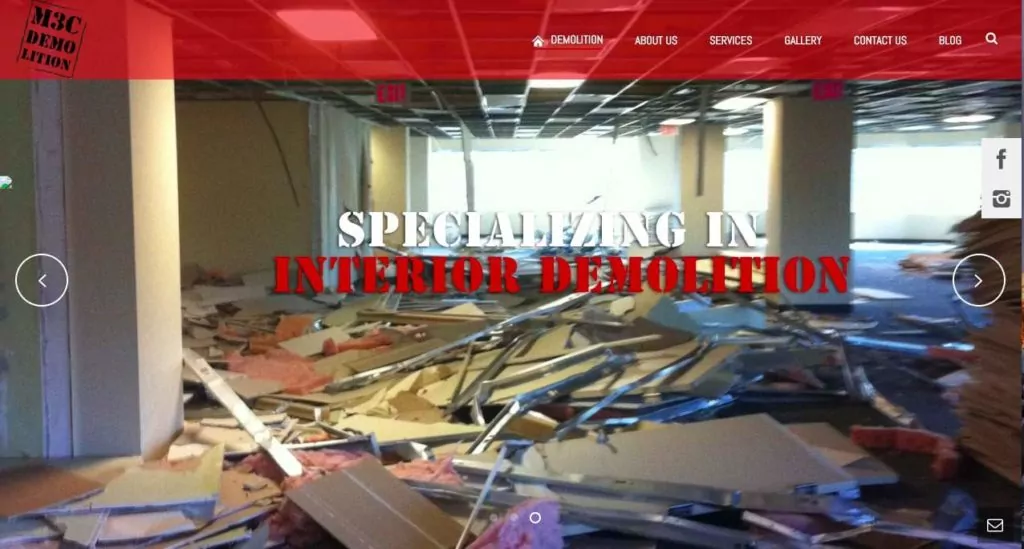 Test
Info
Services

Basement Underpinning

Commercial Demolition

Concrete Cutting

Residential Demolition

Website
http://m3cdemolition.com/
Address
390 Keele St, Toronto, ON M6P 2K8
Contact Details
416-561-4894
Operating Hours
Monday - Sunday: 6:45 am - 8 pm
| | |
| --- | --- |
| Criteria | Rating |
| Responsiveness | ★★★★☆ (4/5) |
| Customer Service | ★★★★★ (5/5) |
| Quality of Work | ★★★★★ (5/5) |
| Price | ★★★★☆ (4/5) |
| Equipment and Safety Measures | ★★★★★ (5/5) |
| Range of Services | ★★★★☆ (4/5) |
M3C Demolition Ltd. started in 2006 and has become one of the best in residential demolition in Toronto and GTA. They have actually been featured on the Home and Garden TV (HGTV) channel, which is also one of the reasons behind their popularity.

Clients also need not worry about the safety of the property and the crew, especially for structural demolitions. It uses state-of-the-art equipment and the crew is qualified to do such a challenging job.
We appreciate that they make use of diamond wire sawing for industrial projects, which improves precision without the risks posed by vibration. This protects surrounding areas from potentially being collateral damage.
For residential projects, they offer retrofit demolition, which means that only certain parts inside the home will be demolished while keeping the rest impressively intact. We hear that they take a careful and methodical approach to this, planning everything in advance before they proceed.
We learned that they also do selective demolition, which involves carefully checking for materials in the site itself that can still be repurposed before they knock everything down.
We think clients who are looking to cut down on costs and reduce waste would be happy to hear this.
As an added safety measure, it strives to reduce dust and debris while doing the demolition. They also clean up after knowing that clients stay at home while the work is ongoing.
We appreciate its careful planning and preparation for every project. Also, its crew is licenced, insured, and trained to make safety a priority not just for them but also for the client's family and their neighbours.
Specialises in residential demolition
Featured in HGTV
Environmentally friendly – salvage reusable materials
Selective demolition
Does advanced and careful planning to avoid damage in the propert
Customer Reviews
Cleans workspace before leaving the area
"I hired Matt and his crew to demo the basement of my split level house. His crew came in every day with great attitudes and left the workspace clean at the end of the day which I appreciated because I still had to live there. I had a great experience with these guys and I will definitely be hiring them for my next Reno project!" – SaucySue
Work done within the tight timeline
"We hired M3C Demolition to do some interior demo work on our newly purchased property and they were great! The work was done on time and Matt and his crew were so accommodating to our tight timeline and last minute requests. Would highly recommend them if you would like work to be done on time, on budget and with great customer care." – Patil
4. Bare Bones Demolition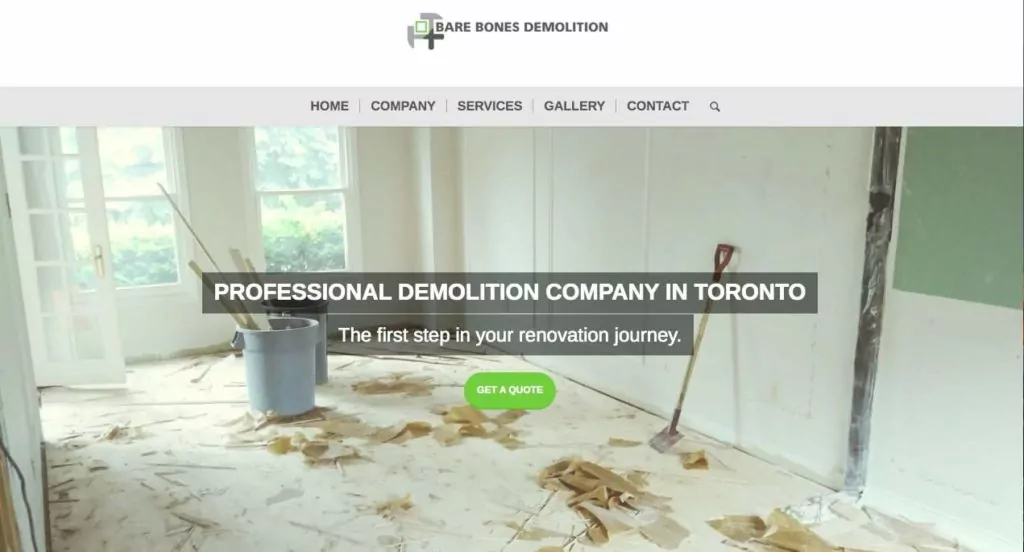 Test
Info
Services

Exterior Demolition

Interior Residential Demolition

Interior Commercial Demolition

Waste Removal

Website
https://barebonesdemolition.com/
Address
50 Cornwall St Unit 408, Toronto, ON M5A 4K5
Contact Details
647-702-7436
Operating Hours
Monday - Saturday: 8 am - 5 pm
| | |
| --- | --- |
| Criteria | Rating |
| Responsiveness | ★★★★★ (5/5) |
| Customer Service | ★★★★☆ (4/5) |
| Quality of Work | ★★★★★ (5/5) |
| Price | ★★★★★ (5/5) |
| Equipment and Safety Measures | ★★★★★ (5/5) |
| Range of Services | ★★★★★ (5/5) |
Bare Bones Demolition specialises in exterior and interior work for both residential and commercial demolitions. Its loyal individual and corporate clients attest to the professionalism and diligence of everyone in the company.
This company is capable of doing any size of demolition, from a small room to a total knockdown of structure. Its team has extensive interior demolition experience, which means that they have expert insight on how to selectively demolish with minimum collateral damage.
As an added service, they can also clear junk from your house. This is convenient and cost-effective as clients need not search for a different company to clean up.
We like that Bare Bones keeps in mind its client's budget, so that they are careful to stick as close to the cost proposal as possible.
Moreover, their crew is WSIB-certified to cover for any injuries sustained while on the job, which is reassuring.
A great way to get an accurate estimate for a project is through its website. Clients can easily fill out their quotation request form, where they can also upload existing photos of the structure.
Thankfully, this is a company known for its quick response. So, you can rest assured that they'll get back to you with a quotation in the soonest possible time.
While they don't have a portfolio up on their websites, clients may browse through their Instagram account to check out their past work.
Caters to both residential and commercial clients
Also offers waste removal services
Fair pricing
WSIB-certified crew
Online booking and quote estimation available
Customer Reviews
Excellent demolition job
The crew did an excellent job demolishing the interior of my condo. Some previous owner had glued the hardwood to the concrete floor which required a lot of extra work. I wouldn't hesitate to recommend this company. Thanks again to the crew. – Michael
Job completed on schedule and on budget
Used barebones demolition to create more space at my Toronto office, which was hard to picture at first. The guys did a fantastic job explaining the process and what to expect. The project was completed on schedule and on budget. These guys are legends, highly recommend. – Brian
5. JP Lucky Construction and Roofing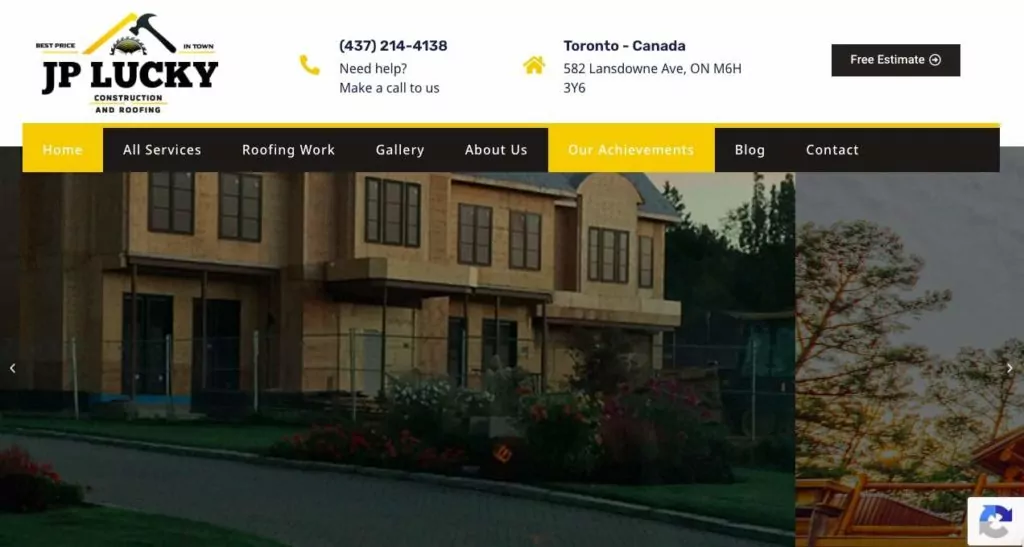 Test
Info
Services

Custom Home Builder

Excavation Services

Home Extensions & Additions

House Foundations

Demolition Services

Custom Home Carpentry Framing

Roofing Service

Website
https://jpluckyconstruction.com/
Address
582 Lansdowne Ave, ON M6H 3Y6
Contact Details
437-214-4138
Operating Hours
Monday - Sunday: Open 24 hours
| | |
| --- | --- |
| Criteria | Rating |
| Responsiveness | ★★★★★ (5/5) |
| Customer Service | ★★★★★ (5/5) |
| Quality of Work | ★★★★★ (5/5) |
| Price | ★★★★★ (5/5) |
| Equipment and Safety Measures | ★★★★☆ (4/5) |
| Range of Services | ★★★★★ (5/5) |
JP Lucky Construction and Roofing is a family-owned and run construction company with expertise in custom house building. It was awarded by the Canadian Business Review Board (CBRB) as one of the best businesses in Canada for 2022.
With years of construction experience, they are able to offer a wide array of services including demolition, excavation, plumbing, carpentry framing, and even HVAC installation.
Whether it is a big or small demolition, the work is done by well-experienced workers to ensure quality and safety. Not only are they trained to operate the best quality demolition equipment, they are also reportedly prompt and easy to deal with.
You may also request a free estimate through its website. We would recommend taking advantage of this no-obligation feature as it is a good way to find out of they're a good fit for your demolition requirements.
What is notable is previous clients found the pricing better compared to other companies because they cover everything from permits to having heavy machinery. They also commend their commitment to following safety regulations and delivering work within schedule.
Clients are also happy that the staff is accommodating and responsive – always ready to answer phone calls and quick to respond to questions or concerns. They also accommodate urgent requests for appointments.
Full-service construction company
Custom home build experts
Highly skilled and trained to ensure safety and quality work
2022 Awardee of CBRB's Best Businesses in Canada for client satisfaction
No-obligation free quotation
Better pricing compared to other companies
Getting demolition permits can take time and cause delay
Customer Reviews
Demolition and excavation work done quickly
"A demolition and excavation company that can complete any challenging new built designs. They came disposed of existing structure and excavated for a very complex new built design in just 3 days. They are professionals! Nowadays, not too many companies like JP Lucky Construction And Roofing still exist. They believe in environmental sustainability and completing their projects with a high-quality performance!" – Nirosion
Highly recommended by repeat clients
"I am a repeat client with JP Lucky Construction And Roofing for my excavation and demolition project. I always rely on Wendy and her team to get the job done. They are professional, skilled and artists in the area of demolition and excavation. Will always be using them on all my demo and excavating jobs going forward. Highly recommend these guys!" – Ammar
FAQs on Demolition
---
And that wraps it up for our review on Toronto's best demolition crews!
For your other home projects, take a look at our guide to home renovation in Toronto and our review of Toronto's best general contractors.