THE 5 BEST CURTAIN CLEANING SERVICES IN TORONTO
Curtains serve a variety of purposes, whether aesthetic or functional, such as giving your home some character, blocking out light, and providing privacy. However, it's easy to overlook them. If yours are looking dusty and dingy, it's time to call in the curtain cleaners.
These professionals can rescue your curtains, leaving them crisp, clean, and smelling fresh. From delicate lace to heavy brocades, they know how to handle different fabric types and employ the best cleaning methods. Not all heroes wear capes, but these experts can surely give you fresh drapes!
How We Chose the Best Curtain Cleaning Services in Toronto
How Much Does Curtain Cleaning Cost in Toronto?
The typical cost of cleaning a set of curtains ranges between $25 and $50. The fee depends on the type of material, cleaning method, and size or number of curtains.
1. Toronto Drapery Cleaning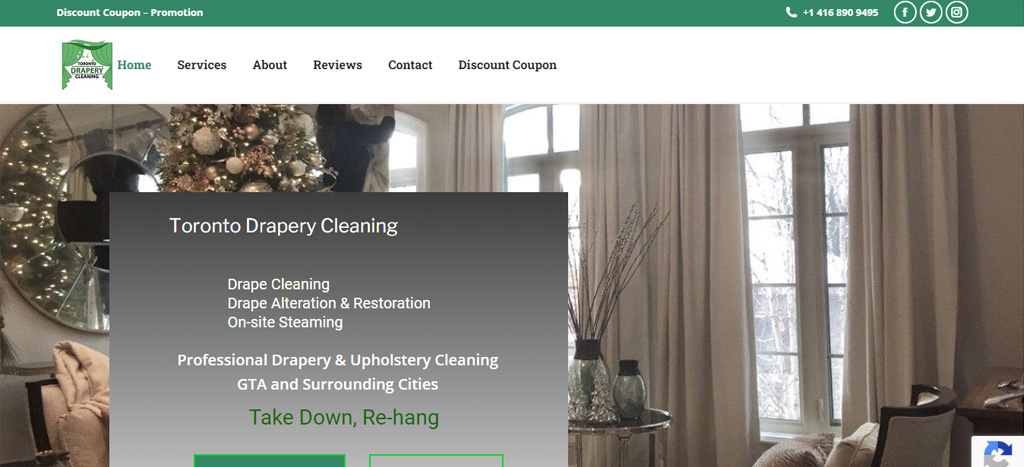 Test
Info
WEBSITE
https://torontodraperycleaning.ca/
ADDRESS
1110 Finch Ave W, North York, ON M3J 3J4
SOCIAL MEDIA
INSTAGRAM
CONTACT DETAILS
PHONE: (416) 890-9495
OPERATING HOURS
Monday - Friday: 10:00 AM - 6:00 PM

Saturday: 11:00 AM - 5:00 PM
Toronto Drapery Cleaning has been cleaning drapes across the GTA since 1993 from their North York location. Unlike most cleaning services, their business initially solely focused on cleaning curtains, even offering services for taking down, rehanging, as well as pick-up and delivery. It was only later that they expanded into carpet and upholstery cleaning.
Their fully bonded and insured technicians are adept at treating various curtain types like wool, silk, linen, cotton, and custom designs. They also clean valances and Roman blinds. What's special? Their eco-friendly solvent is safe for children and pets, being non-allergenic and non-flammable. For them, it's not just about clean drapes; it's about extending their life and enhancing your home's air quality.
And if you need minor repairs for your tracks, rods, or Roman blinds, they won't leave you hanging!
Specialises in cleaning all types of curtains
Performs minor repairs
Quick responses and turnaround times 
Uses eco-friendly cleaning agents
Serves both residential and commercial clients
Pleasant and respectful around property
Opens later than most
Closed every Sunday
Customer Reviews
Hardworking, honest, and fair team
"Highly recommend. They cleaned and adjusted/altered my 10-ft tall linen ripple-fold drapes. They removed and cleaned offsite, and performed alterations onsite. Drapes are ripple-fold linen with both sheer and rubber backings. Timelines were as quoted – no delays. Hardworking, honest, and fair team. Great experience overall!" – Philip Safos, Google Reviews
They were up to the mark with their drapery cleaning services
"As expected, they were up to the mark with their drapery cleaning services. The team did great work with the curtains and ensured the drapes were cleaned properly and delivered right on time. Will definitely use their services again in future!" – Neha Shaikh, Google Reviews
Incredible quality job and overall experience
"I had my condo drapery cleaned this week and WOW! Very professional, the result was an incredible quality job and overall experience. The sheer drapes were extremely delicate and white, and I am so happy with the outcome. To top it off, the service was wonderful and fast, happily working within a short timeline that I had requested." – Andrea Totino, Google Reviews
2. DrapeMaster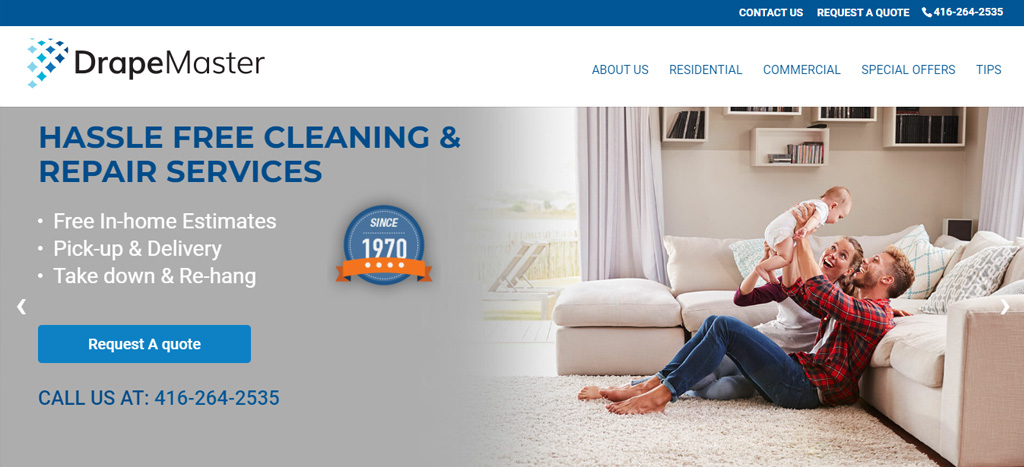 Test
Info
WEBSITE
https://drapemaster.ca/
ADDRESS
3678 St Clair Ave E, Scarborough, ON M1M 1T2
SOCIAL MEDIA
FACEBOOK
CONTACT DETAILS
PHONE: (416) 264-2535
OPERATING HOURS
Monday - Friday: 8:00 AM - 5:00 PM

Saturday: 9:00 AM - 3:00 PM
DrapeMaster was established in 1970 by the late Neville Mungal, who ran the business with his family. Today, his son, Don Mungal, carries on the same neighbourly values it was founded upon.
The small family business employs highly trained technicians who strictly adhere to National Fire Protection Association (NFPA) standards, especially when it comes to their drapery flame retardant treatment. Beyond cleaning and flameproofing, they offer take-down and rehang services, as well as a wide range of curtain mechanism repairs.
As a Sanitone Certified Master Drycleaner, they use professional-grade products for dry cleaning, wet cleaning, spotting, and fabric restoration, ensuring meticulous and top-notch cleaning for your curtains.
One of the most trusted and longest-running services for drapes and blinds in the GTA, DrapeMaster is an active member of the Canadian Fabricare Association (CFA).
50 years in business
Specialises in flame retardant treatment
HomeStars Best Of routine awardee
Trained for hard-to-reach heights
Offers installations and repair services
Accurate and reasonable quotes
Few reports of communication lapses
Doesn't use eco-friendly products
Customer Reviews
Max was courteous, pleasant to deal with, and a true master of his craft
"Incredible customer care. Max was courteous, pleasant to deal with, and a true master of his craft. He explained the whole cleaning process to me. My drapes are 30 years old, hadn't been cleaned in years and they were sun damaged. He explained how they could restore my drapes to their former glory. When they can back, they were truly lovely but Max's true professionalism came when he meticulously hung and rehung the drapes to get them just right for his and my satisfaction." – Lynn, Google Reviews
The team surpassed my expectations
"My husband and I downsized into a condo a year ago with two stories of windows and old, very dusty fabric vertical blinds… It was clear from my early discussions with Don that the team at DraperMaster knew exactly what they were doing. From bringing in custom scaffolding for the takedown and rehang to sourcing a supplier for new valences, Don and Max and the team surpassed my expectations. I highly recommend this company and have recommended them on my condo Facebook group to others in my building." – MaryJane Collins, Google Reviews
3. Victoria & Co.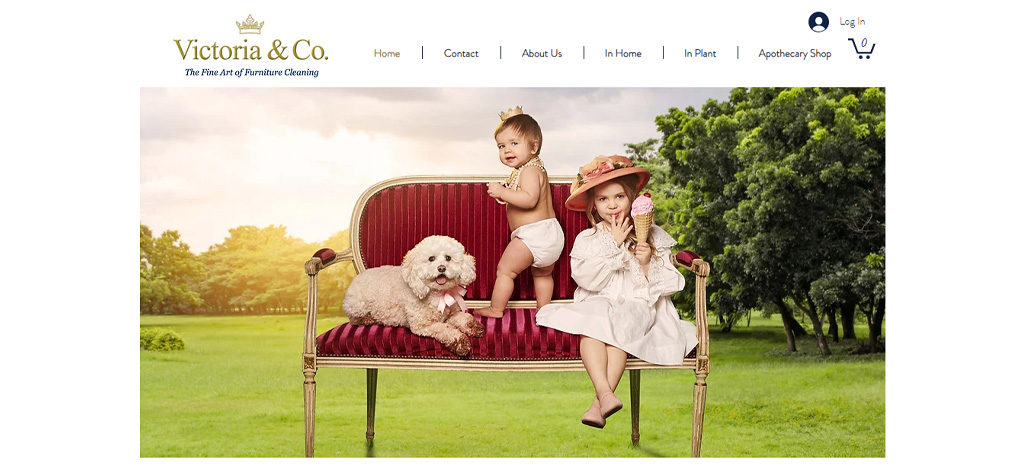 Test
Info
WEBSITE
https://www.victoriaco.ca/
ADDRESS
19 St Johns Rd, Toronto, ON M6P 1T7
SOCIAL MEDIA
INSTAGRAM
CONTACT DETAILS
PHONE: (416) 604-9299
OPERATING HOURS
Monday - Saturday: 9:00 AM - 5:00 PM

Sunday: 11:00 AM - 5:00 PM
Got any prized antique and delicate tapestries hanging around? Victoria & Co., a family-run business founded by Don Davis, offers personalised care for these precious fabrics. With over 30 years of experience, they understand the value of your draperies, wall hangings, and upholstered walls.
With an eye for fine details, Victoria & Co. provides custom mixing and corrective treatment for various curtains, from French lace, Victorian valance window treatments, and designer brocades, to regular cotton and linen curtains. Their methods include eco-dri process for gentle but deep cleaning of delicate fabrics, white oxygenation formulated for white materials, colour-safe stain removal, and conservation and restoration of antique needlepoint, among others.
Compared to most cleaning services, they have an established brick-and-mortar apothecary shop at the Junction where you can browse through their custom-blend, organic cleaning products. They use the same naturally-derived solvents to clean your curtains, too!
Consistently achieves quality results
Specialises in valuable antique fabrics
Uses certified organic cleaning products
Advanced and custom cleaning modalities
Proven experience of over 30 years
Higher rates compared to others
Doesn't offer take-down and rehanging
Customer Reviews
Efficient, knowledgeable, and took great care of my delicate fabrics
"I had my drapes cleaned by Victoria and Company, and I was extremely pleased with the results. Their team was efficient, knowledgeable, and took great care of my delicate fabrics. My drapes look better than ever, and I would definitely use their services again." – Anthony Hunt, Google Reviews
Every nook and cranny of my blinds and drapes was cleaned to perfection
"They went above and beyond to ensure that every nook and cranny of my blinds and drapes was cleaned to perfection. I am beyond pleased with the quality of their work and would highly recommend Victoria and Company to anyone in need of blind and drape cleaning services." – Jandira Rosa, Google Reviews
4. Door2Door Dry Cleaning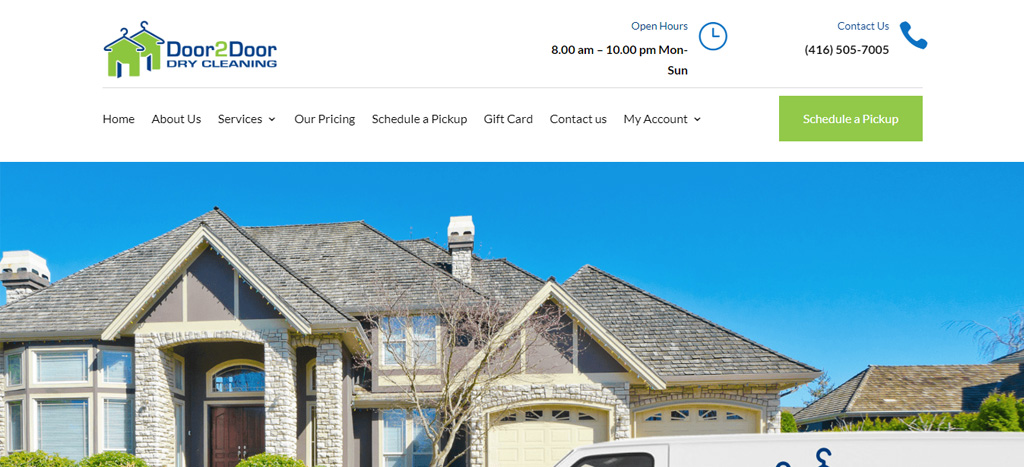 Door2Door Dry Cleaning offers dry cleaning services for residents all over the GTA, from clothing to home items, including bedding, upholstery, and drapery. Their household curtain and blinds cleaning services include free pick-up and delivery, as well as take-down and rehanging.
Since 2000, they have been dedicated to using environmentally-friendly products to clean a wide range of materials, both for wear and home use. These can effectively remove odours and other pathogens that can be a source of allergic reactions.
They begin with a thorough inspection of each curtain panel for any damages from sun exposure or wear and tear, ensuring transparency with their clients. They readily provide the convenience of sewing alterations, from small patches to full lining replacements, all before cleaning. Known for their tough stain removals, they can perform necessary spot treatments.
Available everyday
Offers free and fast pick-up and delivery
Can perform alterations and adjustments
Uses eco-friendly cleaning solvents
Open for small to high-volume batches
Friendly and responsive service
Limited to residential customers
Only provides dry cleaning methods
Customer Reviews
Simply exceptional
"Door2doordrycleaning was simply exceptional. High-quality dry cleaning, timely pick-up and drop-off, and the service was excellent. The team exceeded my expectations and was friendly and accommodating. Very positive experience." – Hani Kiameh, Google Reviews
Great customer service, fast, and very friendly
"The services are amazing! Great customer service, fast, and very friendly. They are honest and always getting all my things back. Never anything got "lost" even when they are very expensive. I am very happy I can rely on Fred and his crew. Very lucky I found them. I am a working mother of 2 little kids and their great services take lots of stress away from me. Also very ready prices! I love them" – Eleni Sfiri, Google Reviews
5. NICK'S Window Cleaning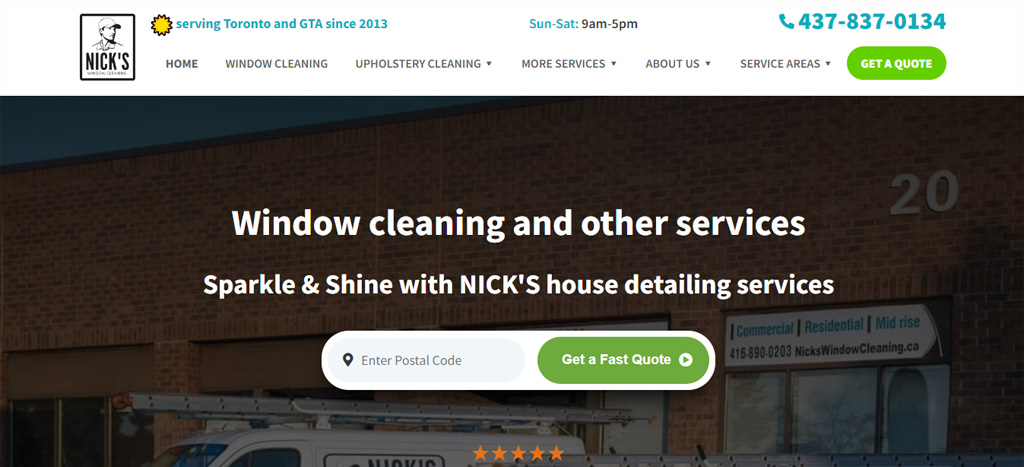 | Test | Info |
| --- | --- |
| WEBSITE | https://nickswindowcleaning.ca/ |
| ADDRESS | 260 Seneca Hill Dr #615, Toronto, ON M2J 4S6 |
| SOCIAL MEDIA | FACEBOOK |
| CONTACT DETAILS | PHONE: (437) 837-0134 |
| OPERATING HOURS | Daily: 8:00 AM - 8:00 PM |
NICK'S Window Cleaning offers a full line of home cleaning services, both indoor and outdoor. From drapes, furniture, carpets, and mattresses to gutters, walls, and eavestroughs, they have you covered. You might also want to try them if you want multiple areas cleaned all in one go.
Based in Don Valley Village, the company was founded by its namesake, Nick Sydorenko, in 2013. Nick himself leads a team of skilled technicians who provide in-home cleaning services. The best part? Your curtains stay put as they primarily use professional-grade steam cleaning to eliminate pathogens, odours, and dirt.
For deeper cleaning, they offer custom methods, combining steam and off-site dry cleaning for tough-to-remove stains. Their services extend to commercial and institutional clients, including small shops and churches. Oh, and their window cleaning services are exceptional, which pair perfectly with a fresh set of drapes!
Fast turnaround times
Long operating hours
Uses natural cleaning products
Charges per metre, resulting in lower rates
Guarantees no fabric shrinkage
Doesn't offer repairs or re-hanging services
Few reports of delayed appointments
Some complaints of messy work areas
Customer Reviews
Arrived on time, assessed the fabric type, and used a suitable steam cleaning method
"The technicians arrived on time, assessed the fabric type, and used a suitable steam cleaning method to remove dirt and stains… The crew was very friendly and respectful of my home, carefully covering the surrounding area to protect it during the cleaning process. I'm extremely satisfied with the results and will definitely be using them again. Highly recommended!" – Анна Терещук, Google Reviews
They were polite, quick, and very meticulous
"I have had my windows cleaned twice and each time it's been efficient and amazing work. Recently I got my sofas and rugs cleaned. They were polite, quick, and very meticulous. I will continue to do business with them!" – Rashelle Bedrossian, Google Reviews