5 Best Talent Agencies in Toronto
Signing with a talent agency opens opportunities. Working with the best talent agencies helps increase your chances of getting multiple offers.
We listed down the best talent agencies in Toronto that can help kickstart your career in the creative industry.
Best talent agencies in Toronto
There are a lot of talent agencies in Toronto. In curating the list of the best ones, we considered the following:
How much do talent agencies cost?
Talent agency fees vary per agency. Typically, they do not make the interested models pay but rather earn a commission from their successful projects.
The table below presents the known costs for the agencies listed:
Talent Agency
Cost
Minor Details

Joining fee varies depending on the talent's age:

$125 (plus HST) in the first year for children ages 0-35 months, $50 (plus HST) for the succeeding years




$175 (plus HST) in the first year for children ages 3 and up, $75 (plus HST) for the following years.

ANM Management | Toronto Modeling, Artist & Talent Agency
No known fees
The Characters Talent Agency
No known fees
Jigsaw Casting
No known fees
B&M Models
No known fees
1. Minor Details Model & Talent Agency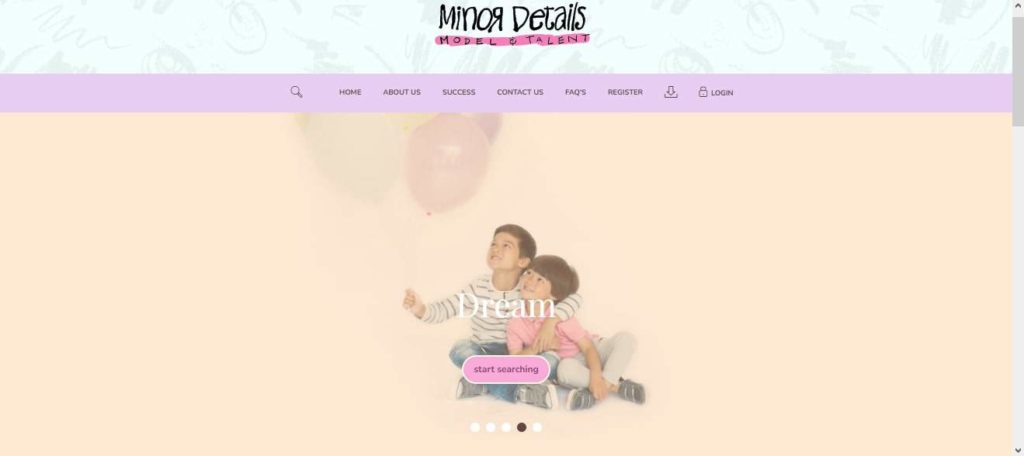 Test
Info
SERVICES
Kids Model and Talent Agency Casting

Talent Management

WEBSITE
https://www.minordetails.ca
ADDRESS
20 Bay Street, 11th Floor, Toronto, ON, M5J 2N8
CONTACT DETAILS
(416) 405-8755
OPERATING HOURS
Monday to Fri, 9:00 AM - 5:00 PM
| | |
| --- | --- |
| Application process | ★★★★★ |
| High-quality portfolio | ★★★★★ |
| Variety of gigs offered | ★★★★★ |
| Professionalism | ★★★★★ |
Minor Details Model & Talent Agency was established on March 1, 2002. The talent agency provides toddlers and children with opportunities to appear on television, in commercials, and in magazines.
While they do not have specific training and development programmes offered, the agency provides various work opportunities for talents to explore.
The agency has partnered with well-known brands, magazine titles, and popular series and television shows. We like that there are various activities that the talent can explore.
What's worth mentioning is how hands-on the founder and personnel are. We hear that they assist parents and their children in the overall process.
The founder was also proactive in dealing with the registrations. She answered all questions and was knowledgeable about the industry and the roles for the talents.
The application was all online, so that's a plus too. There is no longer a need to submit a comp card as you can send a digital one.
Given the volume of applicants and the self-registration process, the agency can overlook submissions. Hence, it is best to follow up with them on your registration.
Amid their professionalism, they make sure to exude a relaxed environment. This puts parents, guardians, and the children at ease.
The model portfolio on the website is also highly detailed. The talents' portfolios are grouped according to age, with their physical attributes listed.
While we do appreciate the agency allowing the talent's parents to upload their photos, they do look casual compared to those taken by professionals.
This is apparent with the infant to toddler talents. We suggest that they update and upload their talent profiles, particularly when they finish modeling work.
This way, interested clients can see how they are as models.
The agency, however, is strict with rejections. The companies can only send regrets, which is when parents reject projects, up to three times.
Another good thing is that the agency promotes inclusivity.
Infants and children aged 0 to 17 years have the chance to be cast regardless of their gender, skin colour, or status. Kids with special needs are cast too.
Immediately exposes the children to projects and castings
Good talent management and variety of gigs scouted
Talent's photo portfolio is not updated
Tendency to overlook submissions due to self-registration
Customer Reviews
Highly recommended
"Amazing agency to belong to! My son recently joined Minor Details and we are absolutely thrilled about it! He just got off the set of his first commercial shoot and it was an incredible experience! Lee and the team are outstanding! We have only just begun our journey and it has been nothing but positive! We highly recommended Minor Details to anyone looking for an agency for their child." – Melissa K.
Fantastic to work with
"Minor Details is a fantastic agency. I highly recommend them to kids wanting to get involved in the industry. Lee, Brian and Alex are wonderful to work with: they're available to answer any questions, they provide guidance when needed, and always have your child's best interest at heart. My son has been with the agency for a year and he's booked three commercials with national chains as well as four modelling shoots. My son loves to act and this is the perfect place for him. Thanks Minor Details team!" – Robyn G.
2. ANM Management | Toronto Modeling, Artist & Talent Agency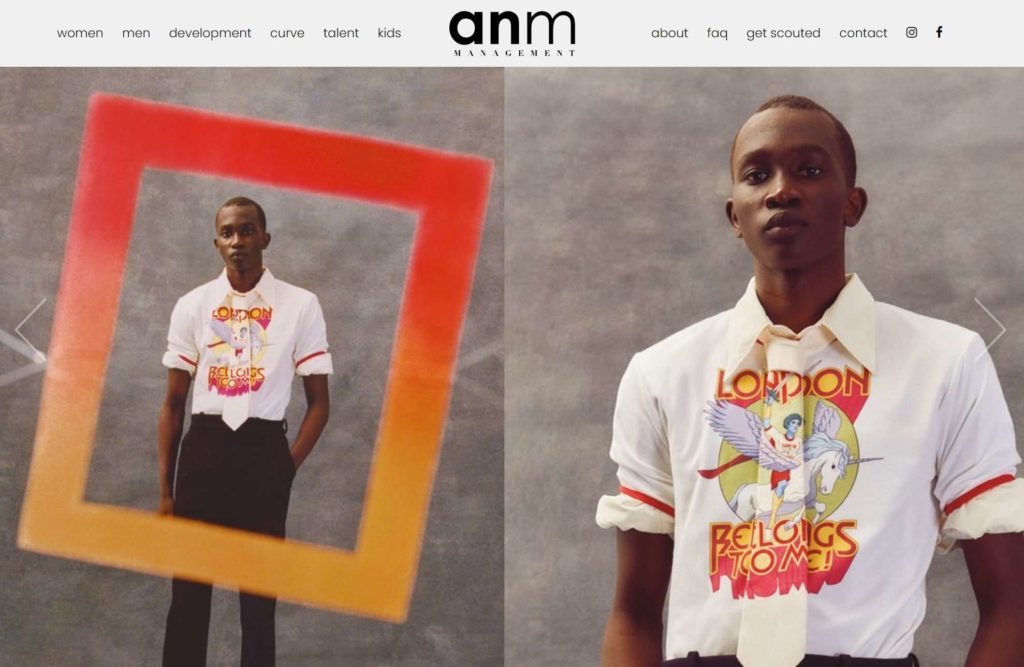 Test
Info
SERVICES
Adult and Kids Model and Talent Agency Casting

Talent Management

WEBSITE
https://www.anm-mgmt.com/
ADDRESS
TORONTO OFFICE

1159 Dundas St. E, #148, Toronto, ON M4M 3N9

CONTACT DETAILS
(416) 792 0357
OPERATING HOURS
Monday - Friday, 9AM - 5PM
| | |
| --- | --- |
| Application process | ★★★★★ |
| High-quality portfolio | ★★★★★ |
| Variety of gigs offered | ★★★★★ |
| Professionalism | ★★★★☆ |
Anita Norris Models (ANM) Management was established in 2008. It provides a personalised approach to talent management and project opportunities.
A meet and greet is the first thing you do when signing up at ANM Management, which we think is great. The talent agency interviews the talent to gauge what projects will suit them.
Another plus is the agency's inclusive nature. Models of all ages and shapes have a place and a project that works for them.
Aspiring models are also given the freedom to submit their profiles, even without professional photos. The agency will work alongside them in building their professional portfolio.
Speaking of portfolio, the agency ensures to display the model's high-quality photos and works on the website. This attracts clients to work with the model they need.
The agency provides a wide array of projects, from modeling to acting. The talent can choose whatever they want or even get scouted if they meet the requirements.
Atmosphere-wise, the agency does its best to create a stress-free experience from getting scouted to signing the contract.
The team was professional and was in constant communication with the talent throughout. They also reach out to the talents if there are available projects for them.
However, because of the nature of the industry and the number of clients, the talent agency tends to rush the talents or those who are applying.
They need to improve on this, particularly with their growing talent and client database.
Professional and collaborative team 
Inclusive working environment
Tendency to rush talents through a project
Too busy because it's only one branch
Customer Reviews
Professional models
"I had such a great experience with my model Karyn and her agent Jessica. Jessica did really found every solutions to make my photoshoot great. She did propose to me Karyn and wow it was just the best fit for my brand. Karyn is incredible, she has so much creativity, grace and beauty. She is so professional, so positive and she catch up fast. Thank you to both of you. I definitely recommend this agency and definitely recommend Karyn." – Josefa D.
5 years of excellent service
"I can't even count how many times I have been asked on photoshoots which agency I am with and when I tell them I'm with Anita Norris the reaction is always similar "I love her, she is so amazing" which is generally followed by "I have never heard a bad thing about that place, every model we work with says they love it there". After 5 years, I couldn't be happier than I am with my entire ANM management experience." – Graham O.H.
3. The Characters Talent Agency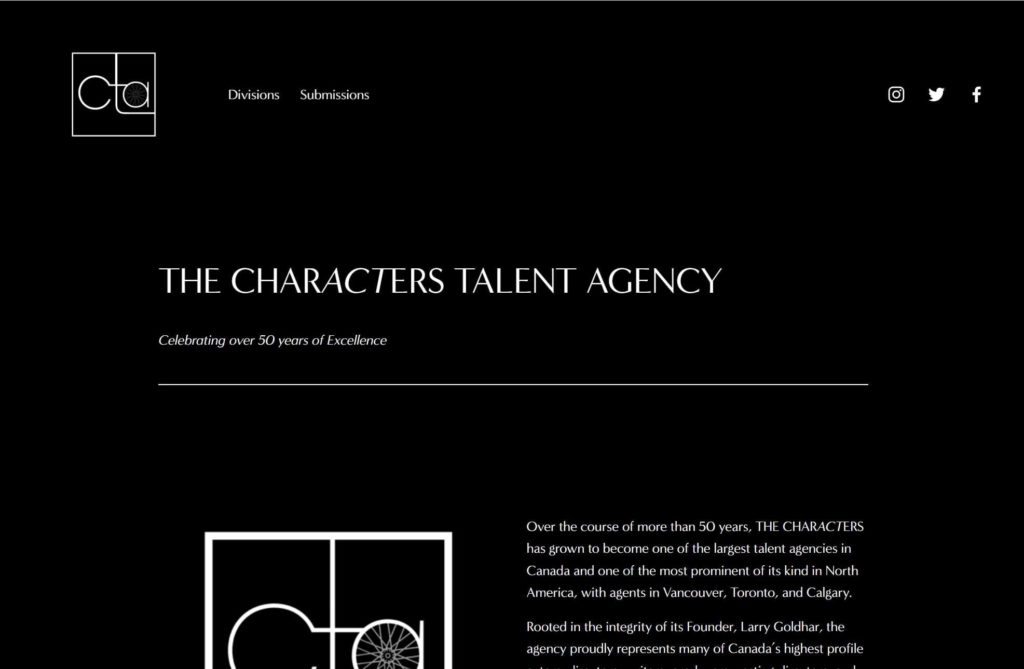 Test
Info
SERVICES
Film, Television, Theatre

Animation/Narration

Commercial

Literary/Production

WEBSITE
http://www.thecharacters.com
ADDRESS
95 Berkeley Street, Toronto, ON M5A 2W8
CONTACT DETAILS
(416) 964 8522
OPERATING HOURS
Monday - Friday, 9:30 AM - 6 PM
| | |
| --- | --- |
| Application process | ★★★★★ |
| High-quality portfolio | ★★☆☆☆ |
| Variety of gigs offered | ★★★★★ |
| Professionalism | ★★★★☆ |
The Characters Talent Agency has been in the industry for more than 50 years. To date, the agency continues to be the home for talents of across industries.
One of the best things about being an established agency is its reach. The agency has branches in Vancouver, Toronto, and Calgary for easier access.
Unfortunately, the agency does not have a directory or portfolio of its talents. Instead, they post recent modeling gigs, films, or series on their social media profiles.
Another positive effect of the agency's longstanding operations is its client database. It continues to grow its clientele with whom talents can work with.
These decades' worth of clients also show how the talent agency cares for the people they work with and their established relationships with them.
The talent agency has also established a name for itself in various creative industries. This enables talents to choose from a variety of projects like film, theatre, animation, commercial, and literary works.
This is particularly beneficial for those interested in trying various creative pursuits. The agency will help them regardless of the creative field.
While there is no definite training programme for talents, the expertise, relationships, and opportunities are available for current and interested creatives.
Apart from the established industry knowledge, we hear that the team is also approachable and willingly answers questions about projects of interest.
Well-established agency with solid industry knowledge
Wide variety of projects that creatives can participate in
No formal training programme for talents
Submissions can be overlooked due to influx of applications
Customer Reviews
Absolutely the best in Canada
"Absolutely the best in Canada, professional and very caring with their clients, hardworking Agents" – Alket K.
Wonderful!
"absolutely wonderful…very helpful and honest!" – Penelope G.
4. Jigsaw Casting
Test
Info
SERVICES
Adult and Kids Model and Talent Agency Casting

Talent Management

WEBSITE
http://jigsawcasting.com/
ADDRESS
60 Sumach St #3, Toronto, ON M5A 3J7, Canada
CONTACT DETAILS
(416) 360 0336
OPERATING HOURS
Monday - Friday, 9:30 AM - 5:30 PM
| | |
| --- | --- |
| Application process | ★★★★★ |
| High-quality portfolio | ★★☆☆☆ |
| Variety of gigs offered | ★★★★★ |
| Professionalism | ★★★★☆ |
Jigsaw Casting has been providing casting and talent management to beginners and professional models since 1996. They cater to aspiring and professional talents of all shapes and ages.
It's easy to book an appointment and create a profile with the agency. You can call and leave a message expressing your interest in joining their Real People database.
Once a schedule has been set, the agency will take your photos and secure your contact information.
Moreover, the agency is located within the business district. Their accessibility enables talents to go onsite without any worries.
Another thing is that talents can also directly apply to the project of their choice. They just need to visit the agency's social pages where project details and sign-up forms are available.
This explains why there is no talent portfolio on the website. What is available on the website, however, are video reels of the works of the talents under the agency, which we think is acceptable.
Another good aspect of the agency is the variety of projects they offer. Talents can also showcase their other sets of skills depending on what the project is looking for.
They regularly update their social media pages, so it is best to follow them to be regularly updated with the latest needs.
Overall, the staff is well-informed, approachable, and efficient. They worked with the talents and easily settled the application within 30 minutes.
They are, however, extremely busy. That is why it is best to set an appointment rather than to walk in.
Friendly and efficient team
Accessible and well-designed office
No model portfolios available online
Extremely busy that they tend to overlook enquiries
Customer Reviews
Always a fun time
"It's always a fun time when you go for a casting at jigsaw. Although the parking can often be tricky I have no complaints about the location or the staff. Everybody is very friendly and outgoing and is always willing to answer any questions you have, whether it's in person, email or over the phone." – Bianca B.
Organized, dependable, professional
"Jigsaw is always organized, dependable and professional. What they do for the industry as a whole goes far beyond just casting. Their integrity and reputation helps build the entire industry both in Toronto and across the nation." – John Franklin S.
5. B&M Models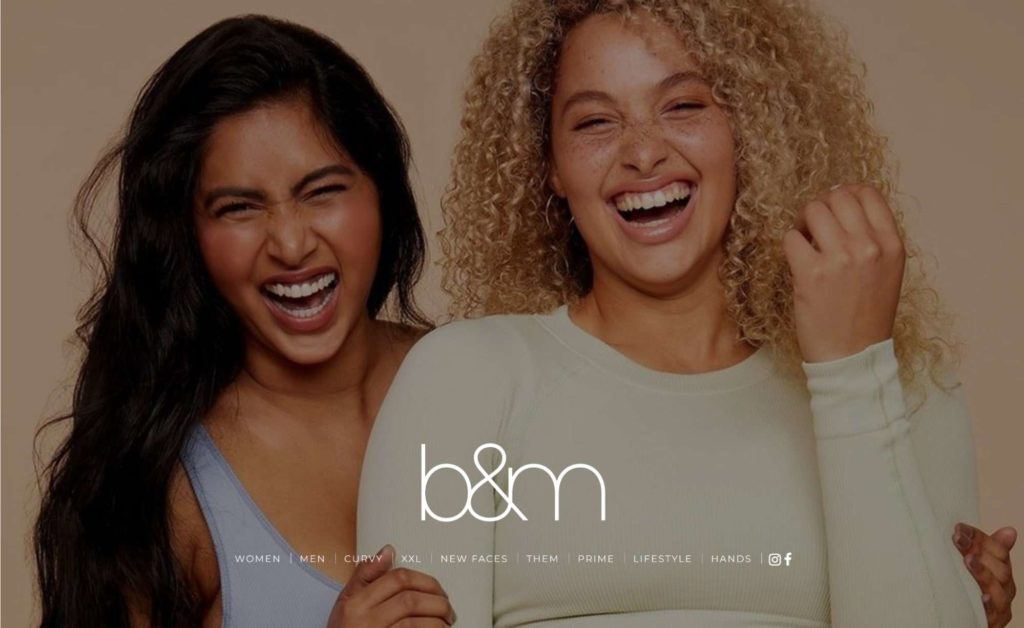 Test
Info
SERVICES
Adult Model and Talent Agency Casting

Talent Management

WEBSITE
https://www.bnmmodels.com
ADDRESS
645 King St W #401, Toronto, ON M5V 1M5, Canada
CONTACT DETAILS
(416) 504 5584
OPERATING HOURS
Monday - Friday, 9AM - 5PM
| | |
| --- | --- |
| Application process | ★★★★★ |
| High-quality portfolio | ★★★★★ |
| Variety of gigs offered | ★★★★★ |
| Professionalism | ★★★★★ |
B&M Models is one of Toronto's longstanding talent and model casting and management agency. It has been around for over 40 years and continues to be a strong contender in the industry.
As a boutique agency, they are able to screen and handle their roster of models well. Not to mention, their model roster is composed of adults of all ages and identities.
The agency's management allows its diverse set of models to take on varying works. This enables clients to choose the best model for their projects.
To sign up, you simply submit your headshot and personal information. They will even assist you on how to take the photos required during submission, which first-timers will find beneficial.
Clients can also easily access the models' portfolios on their website. Quality-wise, the agency updates the model's profiles to include their professional client shoots.
The model's high-quality portfolio enables them to be scouted for more projects.
Project-wise, the agency gives its models the freedom to choose who they want to work with outside of Toronto. We think this enables them to explore and be exposed to more opportunities outside the country.
Talents also have various opportunities available to them in the fashion industry, publications, and advertising campaigns worldwide. The agency has established relationships with well-known brands in these fields.
What we also liked was the agency's dedication to assisting new models. They have a New Faces division on their website where starting models have their portfolios.
They also provide mentoring and portfolio-building opportunities for them, and this is a definite plus for us. This goes to show how hands-on the agency is.
As a boutique agency, they can be busy and might reply late to enquiries. It's best to follow up in such cases.
It would also be good if the agency had another branch. This way, aspiring models will have options on where they can go that's closest to them.
Easy application process
Provides mentoring and portfolio-building opportunities for models that have recently entered the industry
Takes a while to reply to enquiries
Only has one branch.
Customer Reviews
Very passionate and professional team
"Very happy being part of the B&M Family. Everyone is very passionate and professional. Always so warm & helpful and I never feel awkward calling or asking questions when I need advice or guidance. You Rock!!!" – Randy T.
Trust your career to them
"I've been a part of their curve roster for approx. 4 years now. The B&M Family are professionals and visionaries. Check out their diverse roster. I have nothing but great things to say. Trust your career to B&M and you won't be disappointed.
FAQs on Talent Agencies
---
That concludes our best talent agencies in Toronto. If you're a creative in need of an agency to represent you, then consider the ones here.
Want to focus on modeling? We have the top modeling agencies in Toronto to help you out.