A Review of the 8 Best Videographers in Toronto
Nothing immortalizes a memory better than having a clip you can rewatch over and over again. So, whether it's for your birthday, anniversary, or a corporate gathering, a video is your best token.
If that's what you need, look no further because we already selected the best videographers in Toronto. Find out how each one made our cut and what sets them apart from the rest.
Top Videographers in Toronto
Here's what you can expect from our selection - these are companies that cover various events and various video needs. Most of the videography services you'll find solely focus on weddings, but we wanted to give you broader options with this review.
The firms we chose specialize in both events videography and commercial videography. And while most of them also do wedding videography too, we won't go much into detail on this particular service as it's not the only service we seek to put in the spotlight.
Overall, to choose the top videographers in this list, we looked into their portfolio of past works and testimonies from past clients. We also considered competitive pricing and ease of communication from planning to the actual shooting of an event.
The Cost of Hiring Videographers in Toronto
Surprise! – preserving memories comes at a price too! But don't worry because the total cost won't be too shocking given the table below, which lets you see how much you'll need to shell out for this service:
Type of Production
Estimated Cost
Half-day ( 4 to 6 hours)
$500 - $1,000
Full-day (8 to 12 hours)
$1,000 - 1,750
Corporate Video
$1,000 – $6,000
Product Video
$1,000 – $4,000
Events Video (1 hour)
$700 – $2,000
Wedding Videography
$1,400 $1,600 (Lower-end)

$2,000 - $3,500 (Higher-end)
Note: When we mention commercial videography, certain services actually fall within a spectrum of video production services (e.g. scriptwriting for commercials).

Videography and video production aren't exactly the same, but there are certain services where you can't really divorce them from each other, so we'll present them as they are.

Of course, video coverage for corporate events like branch openings and conferences directly falls under videography on its own. These are still events, after all – just in a "corporate" setting.
1. Xpression Video Productions Inc.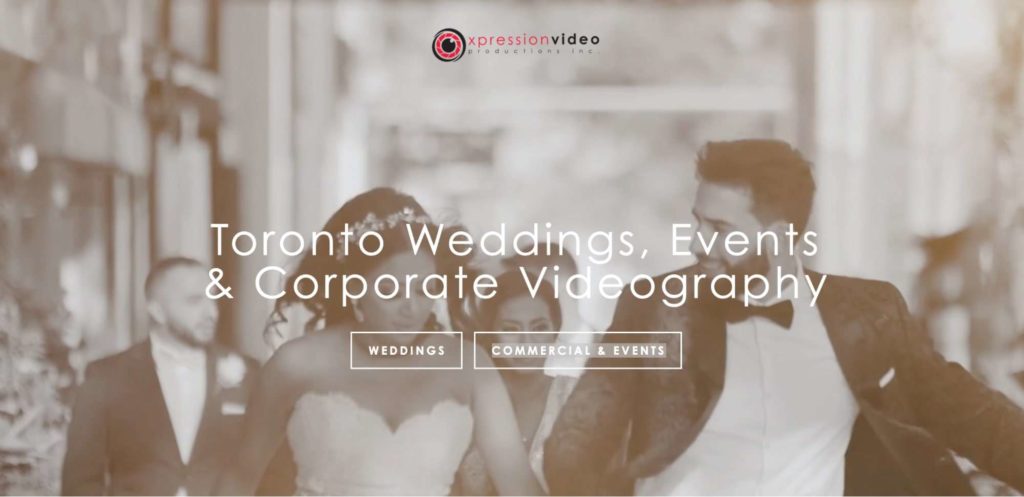 Test
Info
SERVICES
Wedding videography, corporate video production services, real estate marketing videos, events videography, funeral videography, LiveStream services, old film transfers
WEBSITE
https://www.xpressionvideo.com/
ADDRESS
1460 The Queensway Suite 4324, Etobicoke, ON M8Z 1S7
CONTACT DETAILS
+1 416-320-9001 |

[email protected]

OPERATING HOURS
Monday - Friday: 10:00 AM - 9:00 PM
Xpression Video Productions is a great choice for special events and commercial production. They even offer a free consultation so clients can speak about their vision and needs in detail.
They specialize in a wide range of commercial production services too, from company branding to corporate events videos.
In addition to this, they also produce real estate marketing videos. And if you need script writing services, music, and voice-over, they can provide that too.
As for special events, they shoot various milestone videos such as birthdays and anniversaries. They can also do tribute videos as well as funeral videos that they can edit within the day.
Of course, they also offer wedding videography services divided into four packages. There are a la carte options for this so you can customize your package depending on what you like.
One of the highlights of their services is that they offer LiveStream packages. Their Basic Package costs $550 and is perfect for those aiming for simple yet effective live-streaming.
The most popular LiveStream package they offer is the Standard that costs $950. It's similar to the Basic Package except this one gives you three wireless multi-camera angles and graphic integration.
Finally, if you want to further preserve an old film, they offer transfer services too. They'll convert your optical discs into digital media either on standard or high-definition.
Free consultation
Offers a wide range of commercial video production
Offers real estate marketing videos
Provides services for various special occasions
Wedding videography comes in four comprehensive packages
A la carte options for wedding packages
Comprehensive LiveStream packages for all events
Converts and transfers old films to digital media
Free delivery for film transfers within the GTA
Turnaround times for wedding videos can take up to 9 to 12 months
No rush edits on certain services
Customer Reviews
Excellent video production
When I see the video now, I see more and more techniques you used to keep it flowing so smoothly and how you used the music so effectively to focus in on the photos. The fading of each picture in the background behind the one in focus is so cool! It is beyond lovely and has brought such comfort to many family members and friends. Many told me they were in tears of sadness and joy as they viewed it! It is truly a keepsake and will be enjoyed by others for years to come. What a gift to my two grandchildren. – Carolyn and Ross Mcarthur
Ensures perfection every step of the way
I can't thank Danny and his team more, he made us feel like we were the most important couple in the world and ensured everything was perfect from the first moment we met him to the delivery of our video. He captured every moment beautifully, making us laugh the entire day and turned it into the most amazing video. I recommend Danny to every single bride or groom looking to feel special, understood and end up with amazing memories captured forever. I wish I could give him 100/5 stars!! You won't regret choosing his team. – Jessica Jorge
2. Brightside Films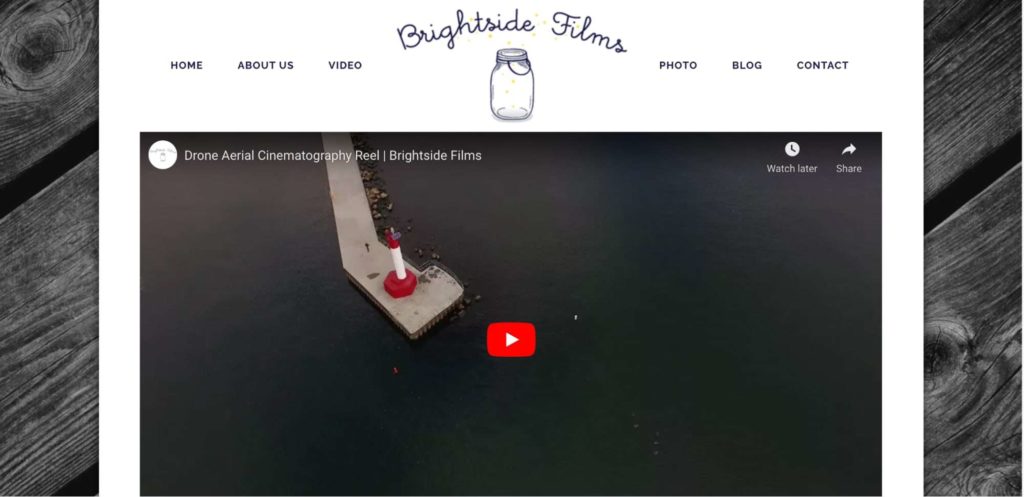 Test
Info
SERVICES
Photography and videography services for weddings and corporate matters, aerial videography, slow-motion videography
WEBSITE
https://www.brightsidefilms.com/
ADDRESS
720 King St W #122, Toronto, ON M5V 3S5
CONTACT DETAILS
+1 647-330-6992 |

[email protected]

OPERATING HOURS
Monday - Sunday: 7:00 AM - 9:00 PM
If you're tired of traditional videography styles, you'll love Brightside Films. They're our top pick for a more unique and creative approach to videography services.
The company offers a suite of services for various corporate needs. They do logo animations, storyboarding, and 3D video production- all shot in 4k quality.
Their biggest strengths are in music video production, commercials, and conference filming. So if you need them for your growing business, just give them a call.
Although they lack video packages, their wedding videography services are also pretty solid. They mostly specialize in a more modern approach to cinematography, working closely with the client to know what they want.
Our favorite services from them are their aerial drone videography and slow-mo booths.
They can do aerial shots of any scale from small to bigger events in any location. Whether you need them for real estate, resorts, films, or marinas, they can accommodate you.
Slow-mo videography may not be necessary, but they're pretty fun when it's there. So if you want to upgrade your video experience, you can let your guests enjoy slow-mo shots.
Provides logo animations, storyboarding, and 3D services
Best for music video production, commercials, and conference filming
More creative development freedom for wedding videography 
Flexible aerial videography service
Slow-mo videography available for weddings
Open daily
Customer Reviews
Great experience from beginning to end
I have been working with Brightside Films for the past 3 years and I stand behind their work. All the videographers and photographers are down to earth people that put in 110% effort on every job to producing great work while having fun with their clients. Brightside understands the importance of a good experience onsite and don't annoy their clients for the sake of getting a shot. The owner/producer, Laura is friendly, flexible and is always working to make sure you have the best experience from start to finish. – Cesar Ghisilieri
A positive experience
I've had the pleasure of working with Cesar Ghisilieri, Brightside's Photographer, and have nothing but positive things to say. The entire experience was handled professionally, from Cesar's punctuality and dress to the presentation of the final images. Would highly recommend their services . – Luke Reece
3. Sure Hearts Weddings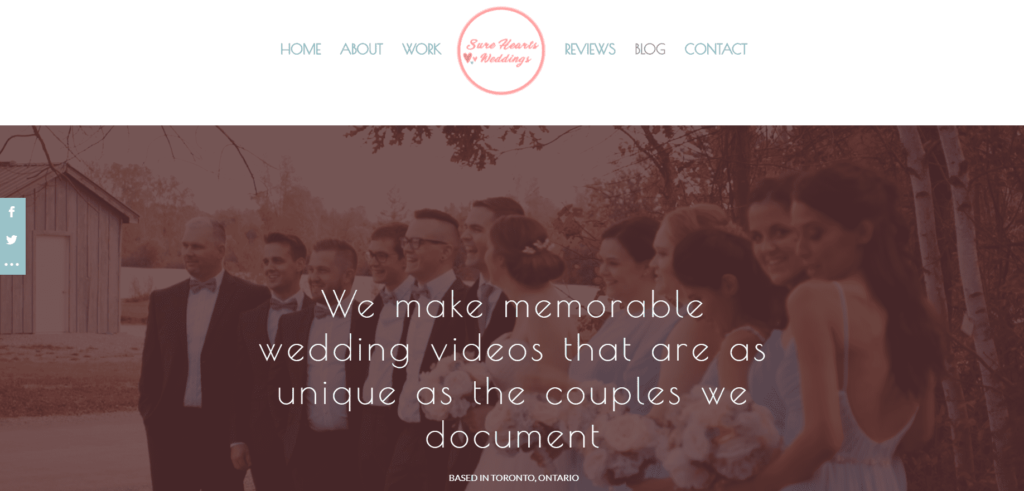 Test
Info
SERVICES
Wedding photography and videography services
WEBSITE
https://sureheartsweddings.com/
ADDRESS
2009 Davenport Rd, Toronto, ON M6N 1C5, Canada
CONTACT DETAILS
+1 437-886-4701 |

[email protected]

OPERATING HOURS
Contact for more details
If you are anywhere near Toronto, planning for your special wedding and wanting to find the best videographer to cover your event, then look no further as Special Hearts Weddings will surely be the best choice for you.
A Toronto-based wedding videography company servicing in Ontario, Sure Hearts Weddings create videos that are fun, candid, unique to every couple documented to ensure that their special day is immortalized.
Their service offers coverage for the event without staging or excessive equipment to assure you that they will blend right and discreetly capture your special moments.
With Ryerson University film program alumni Chris Barnard and Andrew Jeffrey covering your event, they can assure quality and the most heartwarming frames to be captured.
Past clients say that their work is professional and valuable, everything from raw to edits, to music, and basically everything. If you are looking for a portfolio of their sample works, visit their portal to see what their services look like.
Although it would have been better if business hours and cover pricing was added to their portal for customers to access.
Overall, if you are looking for a high value service specializing in wedding videography, then Sure Hearts Weddings is waiting for your sweet "I do".
A sample portfolio of works is provided
Widely renowned
Limited to wedding coverage
Customer Reviews
Amazing cinematography.
Chris was our wedding videographer in September 2020 and we were so so happy with the final video – it is absolutely beautiful!! His style of capturing small moments and compiling them together into one video is incredible. Love his style and highly recommend if you're looking for a wedding videographer! – Lauren Sniderman
Great quality for its price.
At first, we were debating on getting a videographer (mainly my now husband), But after talking him into it, we went with Chris primarily because out of all the videographers we reached out to, he had the fastest response. He handled all my questions and weeks before the wedding, he contacted every vendor that was a part of the wedding to make sure it went smooth and effortless. The video ended up being the best thing ever and at such an incredible price! My husband has shown so many people already and we were so thankful that we chose Chris and his services! – Alex-Andrea
4. Small Fish Productions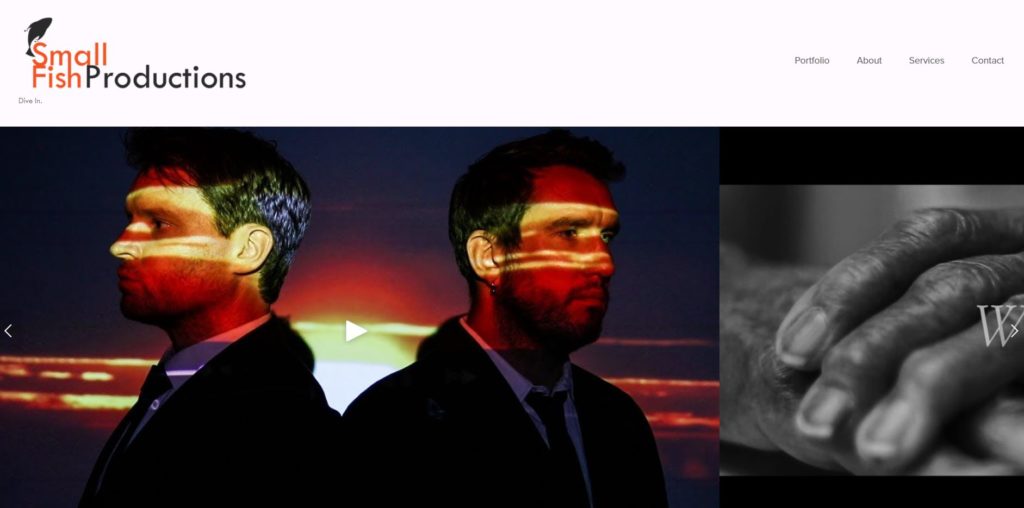 | Test | Info |
| --- | --- |
| SERVICES | Corporate production services, post-production editing services, rapid video editing, social media video optimization |
| WEBSITE | http://smallfishproductions.com/ |
| CONTACT DETAILS | Visit their website for direct contact. |
If you're looking for a production company that can help you realize your vision with a comprehensive walk through of the process from beginning to execution, then Small Fish Productions may be the videographer for you.
The first thing we loved about Small Fish Productions is their superb planning solutions. They help you with concept development, storyboarding, and script templates through workshops.
They also help promote your videos on social media platforms and optimize them for viewing on YouTube. Their team can even help you set up your own podcast so you can reach your audience more effectively.
However, there's a lot of missing information about Small Fish Productions that can make them quite hard to contact. They don't have a physical address nor a telephone number, and even their operating hours aren't clear.
But considering the amount and variety of services they offer, we think it's definitely worth going through the trouble of reaching out to them directly from their website.
Helps with planning and promotion
Offers workshop facilitation and training
Lots of services available
No physical address, operating hours, or telephone number
Customer Reviews
Always willing to answer questions
"I was so impressed at Julian's ability to explain the steps in the filming and editing process in a simple yet effective way, that I also hired him to train me and my staff on video-editing so we could do some internal projects. He created great training materials for us, which we all still pick up when we have a question. He is also a great go-to person, always willing to answer questions and give advice on our new video projects." – Shawna Curtis
Professional, enthusiastic, and knowledgeable
"I have worked with Julian on the production of online video learning modules for the ICTC bridge training program, Coach Connect, and have found the products to be of exemplary quality and utility. Based on our interaction, it is clear to see that his work ethic is outstanding. He also served the program as a live presenter, answering questions given to him by the training cohort, who had received his video instruction prior to the session. He was professional, enthusiastic and knowledgeable about his craft. The cohort were very impressed with his presentation and videos." – Craig Murrell
5. Almond Media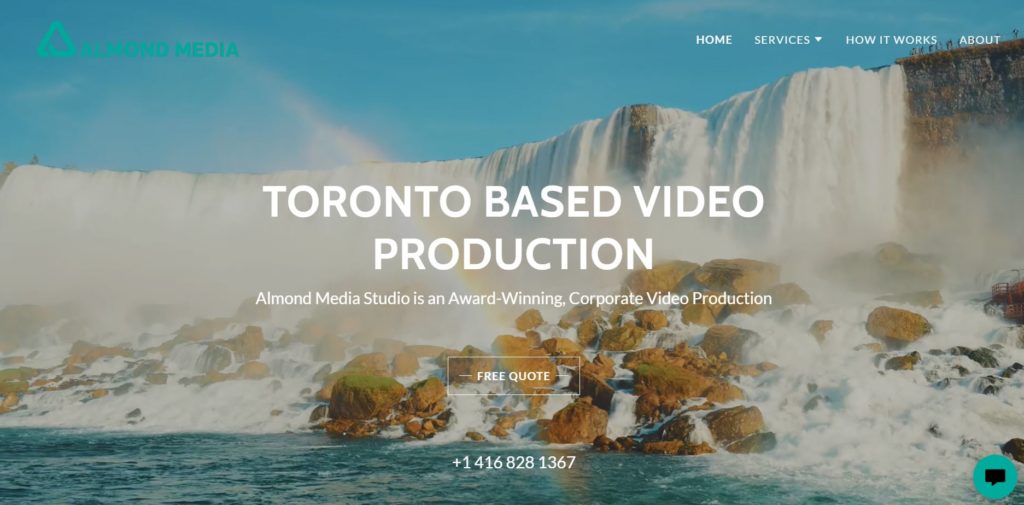 | Test | Info |
| --- | --- |
| SERVICES | Video creation, branding design, 3D animation, music video, motion graphic |
| WEBSITE | https://almondmedia.ca |
| ADDRESS | 8 Alanbury Crescent, Scarborough, ON M1J 2Y4, Canada |
| CONTACT DETAILS | +1 416 828 1367 |
| OPERATING HOURS | Monday - Friday, 10 AM - 8 PM Saturday, 10 AM - 6 PM |
As the recipient of the 2018 Adobe Design Achievement Award and the Best Art Director Award 2016, the Almond Media studio definitely has what it takes to be named as one of the best videographers in Toronto.
If you're looking for a studio who can help you with product videos, 2D and 3D animation videos, educational videos, or advertisements, then look no further because Almond Media can do all of those.
They offer a full-service experience, which means they handle every aspect of their projects, from creative ideas and planning to production and post-production.
You may want to prepare your budget should you choose to work with them though. Their pricing starts at $1,500, and the majority of their projects fall within the $5,000 – $25,000 range, which is pretty expensive.
Although their rates may be expensive, we can guarantee you that it's worth every single dollar, especially once you've seen their works. Check them out on their website!
Award-winning studio
Works on many types of videos
Uses state-of-the-art equipment and technologies
Customer Reviews
Made my dream come true
"Almond Media Studio made my dream come true. I was extremely happy with the service and the commercial video. I would definitely recommend the company to anybody that wants to get high quality and professional work done. I would count on them, I'll forever be their customer." – Marcia
Professional service with affordable price
"Creative team with great customer service, I strongly recommend them for any one seeking professional service with affordable price." – Mustafa Rahmani
6. Outside In Studio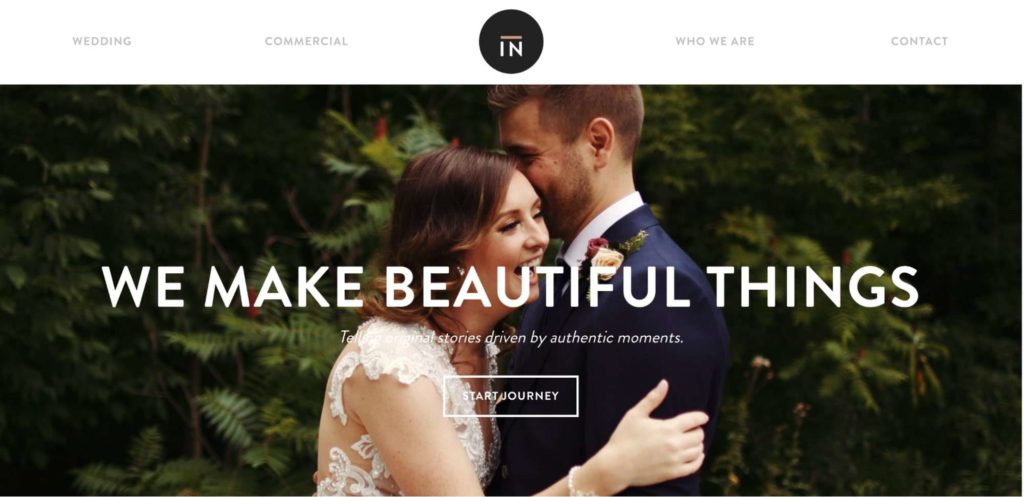 Outside In Studio is our best choice for commercial work and related content. Let's get to know them more so you'll have an idea of what they can offer.
Starting off with their commercial videography, they're best for producing videos for brands. Their range of services includes commercials, brand video content, and social content.
What we found them best for are e-commerce content and snackable social media posts.
For instance, they use slow-mo videography to highlight the unboxing of items on e-commerce platforms.
They can also create a collection of videos for Instagram stories or 30-second Hulu commercials.
Overall, their videography services are best for product showcases to highlight certain features. In fact, one of their posts garnered over 5 million views on TikTok for a client's showcase.
Like most companies, we also took interest in their wedding videography services. Their approach is a blend of documentary and editorial, with minimal direction to enjoy candid moments.
All their wedding video packages include 12 consecutive hours of coverage. Highlight films can be delivered 4 to 6 weeks after the wedding and the final film can take up to 6 months after your wedding.
Quick and important note – they're already fully booked for weddings in 2022. So they're better for couples tying the knot in 2023 and beyond.
Best for commercial videography for brand content
Provides snackable video content for social media
Proven results for commercial works on social media
Minimal direction for weddings videography
Faster-than-average turnaround time for final output
12 consecutive hours of coverage for weddings
Fully booked for weddings in 2022
Expensive initial investment for weddings starting at $6,900
Customer Reviews
Incredible service from start to finish
We are so incredibly thrilled with having worked with Ric and Vic from Outside In Studios! Deciding to get married during the pandemic was chaos and stressful but the professionalism and care they put into the day was a huge blessing to us and 1 thing we did not have to worry about. the end result was a gorgeous keepsake that perfectly captured our day we will forever be able to remember each and every moment of our celebration. Thank you so much for everything you did for us! – Andrea Kluczenko
Creative approach to cinematography
Ric and Vic are such amazing and talented people to work with. They are so creative with their cinematography and they truly captured every beautiful moment and the emotions of our special day! All of our friends and family have commented on their incredible work and we highly recommend them! – Ngai Chow
7. Beautiful Life Studios
SERVICES
Videography and Professional Photography
WEBSITE
http://beautifullifestudios.com
ADDRESS
1159 Dundas St E Unit 149, Toronto, ON M4M 3N9, Canada
CONTACT DETAILS
[email protected]
(647) 725-7731
OPERATING HOURS
Monday – Friday, 10:00 AM – 7 PM
Beautiful Life Studios is one of the best companies to provide professional videography and photography services in Toronto. They provide several service packages, all including a HD edited & color corrected images via private online gallery, sneak peek photos, and a set number of wedding photographers on their professional photography services.
The hours covered by the package increases as the rates increase and they also provide a full-day photo & video service wherein clients can also have additional benefits including images, wedding day raw footage reel, professionally edited ceremony, formal dances, speeches, and a 3-minute trailer provided via online gallery.
Aside from their wedding photography and videography services, they also provide family sessions. Starting from $500 for a family photo session for an hour. If you opt for an additional video session along with the family photo session, you will get an additional 3 minute documentary style video and three 15 second Instagram stories/reels.
Experienced videographers / photographers
Affordable rates
High-end equipment
Customer Reviews
We had the most amazing experience with Beautiful Life Studios
"We had the most amazing experience with Beautiful Life Studios for our wedding photography this past July. Simone was our photographer and she was incredible! The moment we met Simone via video call, we knew we had found our photographer. We had multiple meetings leading up to the big day, where we could express the vibe we were hoping for and those meetings gave us all the confidence that our pictures would be perfect. On our wedding day, Simone was like a member of the family. Everyone was talking about how amazing she was to work with. She was calm, cool and collected, even when we went off schedule. We couldn't be any happier when we received our sneak peak photos as well as the final collection. Simone captured moments that we didn't even know happened and throughout the night we barely knew she was even there! The pictures are beyond beautiful. Thank you Beautiful Life Studios and Simone for providing us with the most gorgeous memories of our special day." – Amanda Hassan
Beautiful Life Studios was wonderful to work with.
"Beautiful Life Studios was wonderful to work with. The team responds quickly to any inquires and sets you up with a photographer who works along side you throughout the process. My husband and I were lucky to work with Nancy. She is incredibly talented. She knows a vision when she sees it! She offered suggestions for picture ideas and she captured so many beautiful moments throughout the wedding! We are over the moon about our pictures AND we received them in less than a week! It was a wonderful surprise when we returned from our honeymoon. Thank you, Nancy. You're awesome 🙂 All the best." – Danielle Tassone
8. That Film Company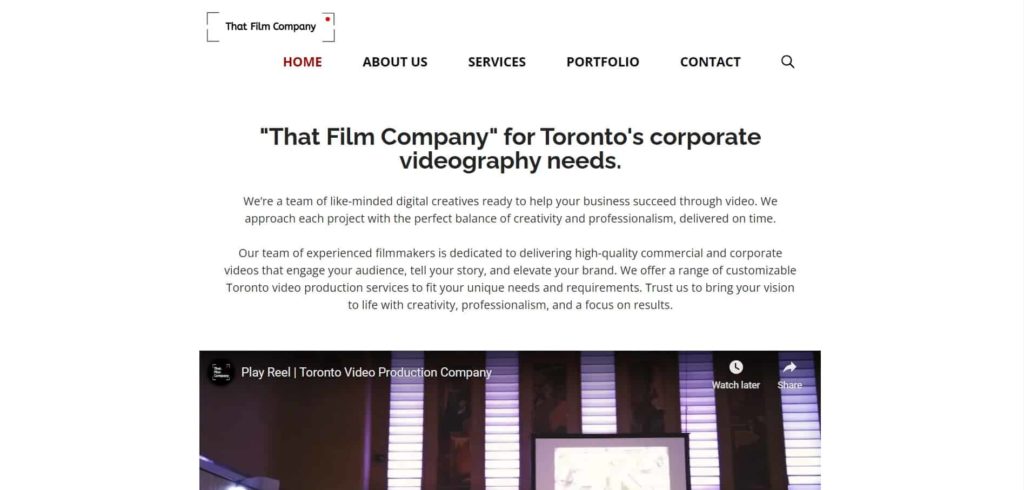 That Film Company is a creative agency that provides clients with full-service videography that adequately accommodates their intended needs and preferences may it be for business or personal purposes.
We like that their portfolio is vast which clients can see that they have had extensive experience working with various people from different industries which they apply in every project they handle.
Furthermore, their process is thorough and versatile which actively assesses the proper direction each video project is going whilst also prioritizing the specific objectives the client must have.
Note though that rates and packages of their services aren't readily available onsite to which clients may need to fill out their form for this.
Nonetheless, with their extensive and broad experience in the field, customized concepts employed, and highly flexible and proactive team of experts on the job, we highly recommend that clients looking for reliable videography services reach out to them.
Creative and innovative approaches
Professional and collaborative experts
Well-covered and holistic services
FAQs About Videographers in Toronto
---
Do you know more videographers in Toronto that you believe belong on our list? Let us know so we can expand our reviews for you!
And since you're looking for a videographer, you may also be looking for the following services: