Top 6 Websites for the Best Room Rentals in Toronto
Whether it's going on a vacation, an emergency trip, or moving to an entirely new city, finding a place to stay is always one of the first steps. Renting a room is usually a good option as it proves to be practical.
Demands for room rentals can go very high depending on the location. In Canada, Toronto is considered as one of the most populated cities. Securing a place to stay in the area can be time consuming without the right sources.
Here, we list down our picks for the top websites that can help you find the best room rentals in Toronto.
The Top Websites for the Best Room Rentals in Toronto
This list was curated to make finding a room easier for you. The following criteria was used to determine which websites can give you the best searching experience.
How much do room rental rates cost in Toronto?
Before we reveal the top platforms in our list, we want to give you an idea of the average prices for room rentals in Toronto. This table will also assist you in managing your budget and making sure that you get what you pay for.
Please note that these rates are subject to change, so we recommend checking the actual websites in our list.
| Room Type | Average Monthly Rent |
| --- | --- |
| Small room | $675 - $950 |
| Large room | $850 - $1,100 |
| Luxury room | $1,050 - $1,700 |
1. iROOMit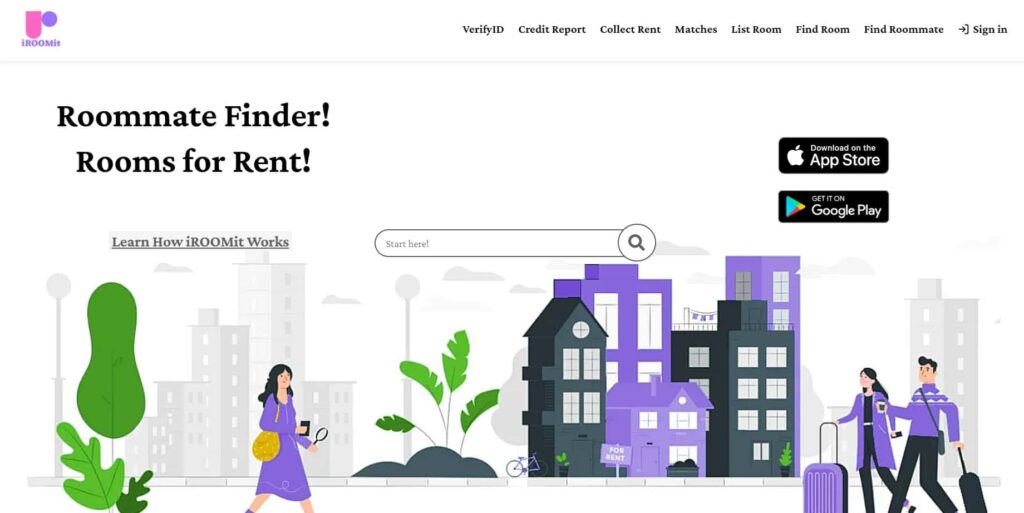 | Test | Info |
| --- | --- |
| SERVICES | Room Listing, Room Finding, Roommate Finding |
| WEBSITE | https://www.iroomit.com |
| CONTACT DETAILS | +1 (877) 896-1183 |
| OPERATING HOURS | |
| | |
| --- | --- |
| NAVIGATION | ★★★★★ |
| FEATURES | ★★★★★ |
| CONTENT | ★★★★★ |
| INTEGRITY | ★★★★★ |
iROOMit offers a user-friendly platform that simplifies the process of finding a roommate or room for rent. This can be particularly advantageous for individuals seeking co-living arrangements, making it easier to connect with potential roommates and secure suitable accommodations.
The company's slogan, "bringing the future of new co-living to now," highlights its commitment to staying at the forefront of evolving housing trends. This forward-looking approach can provide users with access to innovative co-living opportunities.
A user-friendly platform and intuitive design make it easy for individuals to search for available rooms and potential roommates. This simplicity enhances the overall user experience.
While iROOMit may be a valuable resource for those seeking co-living arrangements, its scope is limited to individuals interested in room rentals. It may not cater to individuals looking for more traditional housing options, such as apartments or single-family homes.
In conclusion, iROOMit offers a user-friendly platform for individuals seeking co-living opportunities and room rentals. Its emphasis on the co-living trend and a future-oriented approach can be advantageous for those interested in shared living spaces.
Simplified Roommate and Room Search
Future-Oriented Approach
Easy to use and navigate website
2. TorontoRentals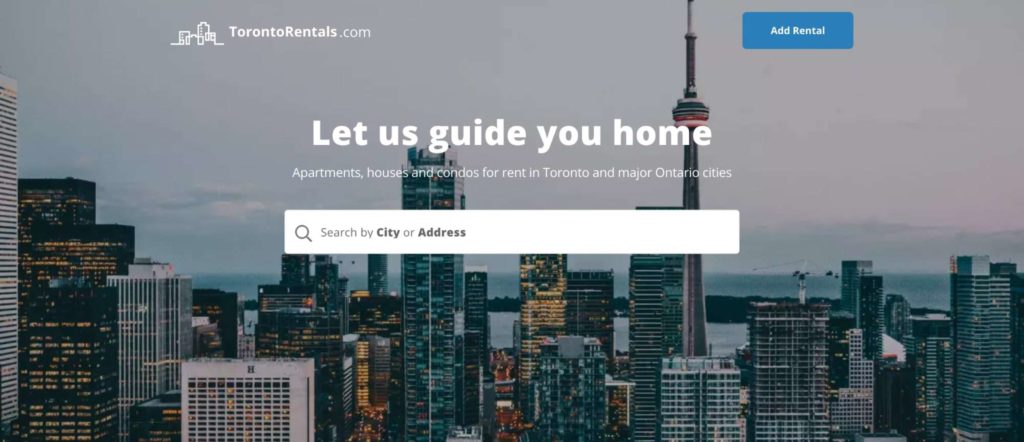 Test
Info
SERVICES
Condo, Apartment, Private Room, House, Town House
WEBSITE
https://www.torontorentals.com/
CONTACT DETAILS
+1 416 910 7722
OPERATING HOURS
Customer Service:

Monday to Friday, 9:00 AM-5:00 PM
| | |
| --- | --- |
| NAVIGATION | ★★★★★ |
| FEATURES | ★★★★☆ |
| CONTENT | ★★★★☆ |
| INTEGRITY | ★★★★★ |
Toronto Rentals was established in 1995 and has been in the rental service since. Its headquarters are located in East North York, Ontario.
The website's landing page greets you by introducing its pages — Popular Cities with room rentals, Featured Rentals, 3D & Virtual Reality, a Neighborhood Guide, and its own blog. These features seem to be quite impressive as they go beyond what is expected of most rental websites.
In terms of navigation, the site is user-friendly given that the introduced pages have clickable buttons. Once you get into the actual page for rentals, a menu bar on top makes it easy to sort searches.
The menu bar is situated on the second row. This is where you can select your budget, number of beds, number of bathrooms, desired utilities and features, and whether you have pets. There is also an option to look at luxury units. Note that this website also offers rentals for apartments, condominiums, houses, studios, and basements, so make sure that you have "rooms" selected.
All room selections come with each of their own gallery, contact button, posting date, and short description. Each listing is usually posted with a list of floor plans, utilities, building and unit features, and nearby landmarks.
TorontoRentals offers 3D & Virtual Reality. This feature allows visitors to see how the rental spaces look upfront. However, not all the listings have this option. This inconsistency may disrupt viewing experience and lead to unfair judgements for the rentals.
A digital map is present on the website to show listings per area. This also enables the user to look at routes and proximities from landmarks.
Although evaluating listings can be based off of all the said factors, the TorontoRentals site lacks in customer ratings. Each post does not come with any feedback from previous renters and there is no data available to validate others' experience.
The website itself does not have a page for customer reviews, so one would need to visit external links for that. While the site is highly commended even on social media, it still would be better to read reviews straight from it.
Overall, the website is worth visiting despite a few imperfections. Its updated blog and rental reports also keep you in the loop about anything concerning rentals in Toronto.
Easy navigation
Good layout design
Option for 3D & Virtual Reality tours
Neighborhood Guide
No customer reviews on the site
Listings don't come with ratings from previous renters
Customer service is not 24/7
Customer Reviews
"I love Toronto Rentals. I had an amazing experience. The site was easy to navigate, had an amazing 3D tour of all the available apartments, and it had very helpful and insightful neighborhood guides to give me a taste of what it would be like to live in the apartment and all the things and activities to do. I think the most helpful tool was the search map to find an apartment in the right spot. It's a lot easier to get a sense of location rather than just having an address and searching on google. Overall, it is a great website if you are looking for a place to rent in Toronto!" — Luke Desforges, via Google
"Super easy to use website, and they have a huge collection of rentals. Also, their blog has some of the most handiest tips for renters and landlords!" – Adela Lam, via Google
3. Zumper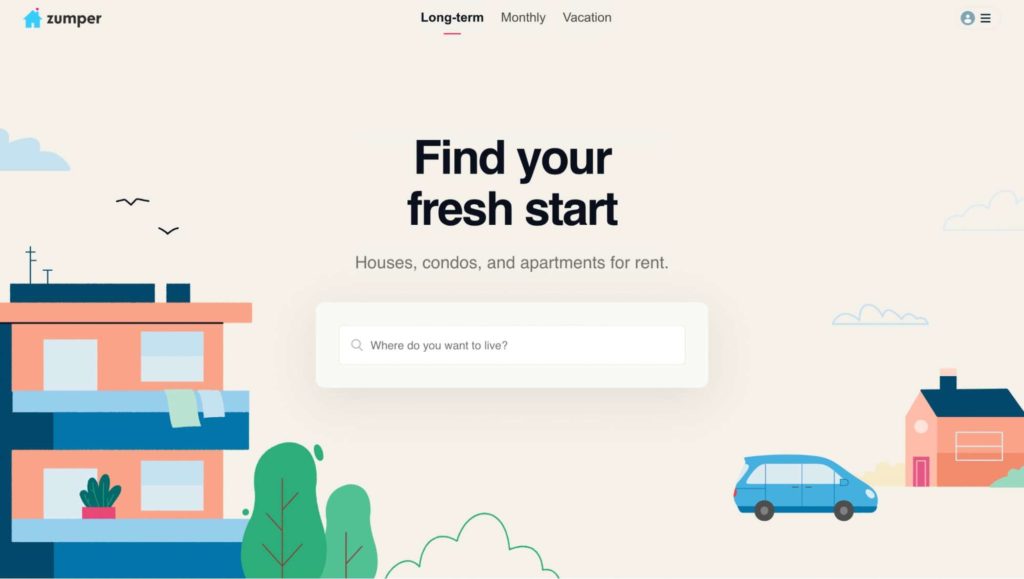 | | |
| --- | --- |
| NAVIGATION | ★★★★★ |
| FEATURES | ★★★★☆ |
| CONTENT | ★★★☆☆ |
| INTEGRITY | ★★★★☆ |
Zumper is a rental platform in North America for popular cities within the continent. It was founded in 2012 with headquarters currently based in San Francisco, California.
A search bar allows visitors to type in the city they are interested in. Once done, a few questions are asked in terms of bed numbers, price range, property types, pet ownership, and moving date. This sorting feature brings an interactive experience to the users as it narrows down options based on one's preferences.
Moreover, there is a digital map that visitors can draw on to show listings in a specific area. Users can select the "Search as I move the map" button for easier navigation.
A City Guide containing general information, rent prices, and neighborhoods is also available. On top of this, the website also has its own blog with content on market trends and renting tips.
In terms of customer experience, an app can be downloaded via GooglePlay or App Store for mobile users. Customer service is contactable through the app and website but not through mobile.
A downside of Zumper is that it has fewer Toronto room rentals available. This may just be one aspect but it means a lot for renters. There are times when Toronto room posts can be less than a hundred and the number can either go up or down depending on the selected filters.
Friendly website language
City Guide
Available mobile app
No customer reviews on the website
Limited number of Toronto room rentals 
No customer service calls  
Customer Reviews
★★★★☆
On(e) stop for your Rental needs
I love that most of the time full info is captured. IE. Phone number and email.
I think the actual application needs to be much more thorough like a Pennsylvania Realtors Association application. — Robert, via g2.com
★★★★☆
Nice User Interface
"The website and the app are clear and easy to use.
Sometimes (it) takes a while to load while using." — Lexi J, via g2.com
4. Rentals.ca 

| Test | Info |
| --- | --- |
| SERVICES | Condo, Apartment, Private Room, House, Town House |
| WEBSITE | https://rentals.ca/ |
| CONTACT DETAILS | +1 613 909 3217 |
| | |
| --- | --- |
| NAVIGATION | ★★★★★ |
| FEATURES | ★★★★☆ |
| CONTENT | ★★★☆☆ |
| INTEGRITY | ★★★☆☆ |
When it comes to renting in Canada, Rentals.ca is one of the leading in the market. The classified website caters to users looking for listings within Canada's most popular cities, including Toronto.
The landing page is straightforward, allowing you to search or select which city you would like to look for rentals from. This makes it a lot easier for users as the website covers over 100 cities in Canada.
Once you get to the Toronto page, the menu bar allows you to filter your search according to rent price, type, and number of beds. An "All Filters" button lets you select the unit size, number of beds, bathrooms, and parking space, availability, features and amenities, utilities, and even desired flooring.
Popular filters include pet-friendly, furnished, cheap, and both long-term and short-term stays. It is also interesting to note that you can choose categories ranging from various housing, luxury, and vacation.
Some listings come with 3D video tours, although some of these seem like typical videos of units and spaces. Again, this feature is helpful but its absence or presence in a single listing can be an advantage or disadvantage.
As you scroll down the page, a Renting Guide is available to inform readers about average rent prices and what to expect from the housing market, residents, and lifestyle in Toronto City.
While the Rentals.ca has its own Rent Report page and blog, these two can still do a lot of polishing in terms of content. The Rental Report page presents data on national overview and provincial and municipal ratings based on monthly listings from the website.

It can still improve in terms of readability and presentation. On the other hand, the blog needs to be updated as it mostly contains rent reports and only 3 articles.
The website also has an app available for both GooglePlay and App Store which have 3.7 out of 5 stars for GooglePlay and 4.5 out of 5 stars for App Store. Reasons for such ratings are good navigation and clean layout, with others touching on connection issues and lagging.
Many available filters for rental searching
Offers 3D video tours
Has its own app
Blog has minimal content
Has a few customer complaints on their Facebook page
Customer Reviews
"Intuitive, easy-to-use site for renters looking for their next home." — Paul Danison, via Facebook
★★★★☆
"Very good app with a few minor UI details that can get a bit annoying when using it frequently."— Matt Koopman, via GooglePlay
5. RentFaster.ca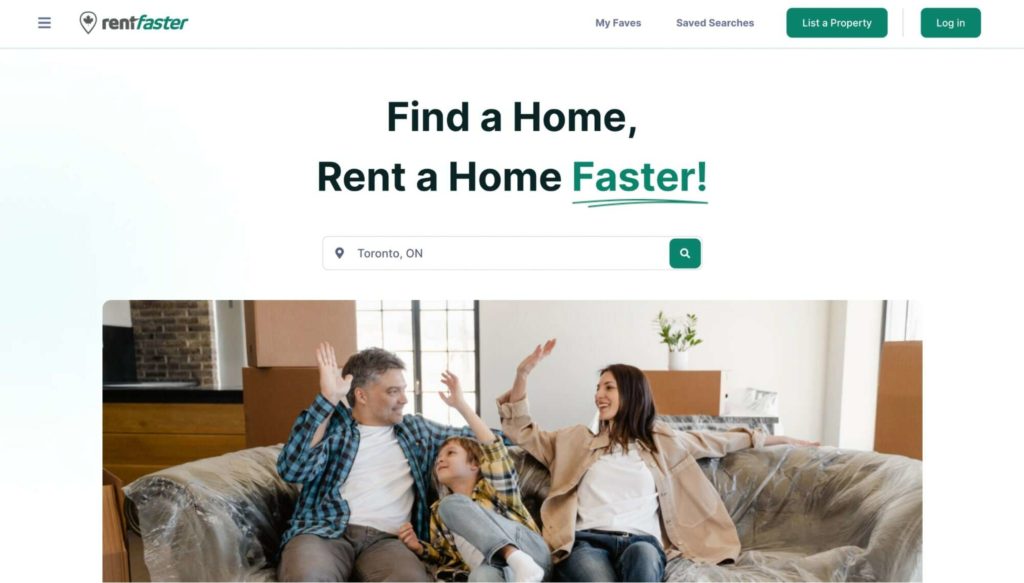 Test
Info
SERVICES
Condo, Apartment, Private Room, House, Town House
WEBSITE
https://www.rentfaster.ca/
CONTACT DETAILS
+1 587 318 2876
OPERATING HOURS
Customer Service:

Monday to Friday, 9:00 AM-5:00 PM
| | |
| --- | --- |
| NAVIGATION | ★★★★★ |
| FEATURES | ★★★★☆ |
| CONTENT | ★★★☆☆ |
| INTEGRITY | ★★★☆☆ |
For almost 2 decades, rentfaster.ca has been an avenue for landlords and renters in Canada. It has advanced listing tools, including a rental map that allows users to search for quality rentals.
The website claims that a property gets rented on their platform every 4 minutes. This is arguably possible, as its layout makes it easy to navigate.
What's interesting about this site is that it classifies what to show you depending on what you select from the menu.
If you're a landlord, it guides you through the processes and documents you will need.
For renters, it will teach you how to save your searches, verify your account, and even compare listings.
Rentfaster.ca also provides market stats and rent reports for visitors who simply want to read up on information about renting in Canada.
In terms of finding a room, the site's most convenient aspect is searching by location. One can search by drawing on the map or look for listings based on their current location.
Filters are present to help one select from budget down to desired furnishing. Narrowing options also becomes a walk in the park as each listing comes with the landlord's contact number.
However, Rentfaster.ca needs to step up in terms of updating listings and ensuring that landlords post recent photos of the units. Several notes regarding these were made online.
All said, there isn't much to dislike about this website but there isn't one thing that completely makes it stand out.
Great navigation
With processing guidelines
Several outdated listings
No indicated date of postings
Customer Reviews
"We found our current rental on RentFaster. Because we were living out of the country at the time, RentFaster gave us all the info we needed to find a great place to live. Simple, user-friendly app and website; the only place to look for and compare rentals." — Chelsea Spackman, via Facebook
Rentfaster has so much to help you find your own place to live. I think it's great. — Donna Wick, via Facebook
6. Airbnb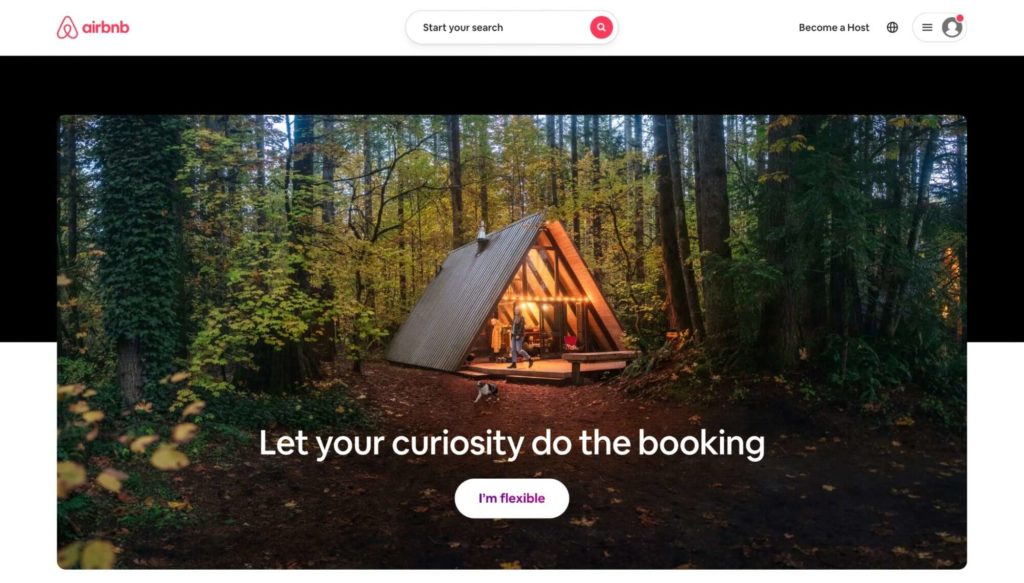 | | |
| --- | --- |
| NAVIGATION | ★★★★☆ |
| FEATURES | ★★★★☆ |
| CONTENT | ★★★★☆ |
| INTEGRITY | ★★★★☆ |
It may come as a surprise that Airbnb came up on this list. The company has been recognized as an online marketplace primarily for vacation lodging and rentals since 2008.
Aside from a familiar layout, the website's quality of Toronto room rentals gives it plus points compared to other platforms. There are over a hundred rooms to choose from and most of these are neat.
Depending on your budget, you can find a room for rent inside a condominium, shared house, or even a luxurious building. Each listing also has reviews from previous renters, which is one of the website's most beneficial features.
Airbnb's navigation has been proven and tested. It assists the user in establishing the important facts at first and lets other concerns come after.
Probably what Airbnb needs to touch on is making its website more mobile friendly. Even if people are aware of their app, visiting the site via mobile can still come in handy.
Moreover, it can do some expanding on payment options. While both debit and credit cards can be used, it would be a huge help to let users pay through other e-commerce services.
It would be interesting to see Airbnb venture into 3D and Virtual Reality tours as well.
Overall, Airbnb proves to be a good source for room rentals in Toronto. While it isn't personalized for the city, its credibility and quality makes it one of the best to visit.
Brand is already established
Familiar layout
Each listings comes with review
FAQs about room rentals in Toronto
---
Are there any websites in Canada or other rental websites that you believe to be qualified in this list? Share your thoughts with us and we will gladly check the websites.
If you're interested to see more rental places in Toronto, we recommend that you take a look at our review of the best apartments in Toronto.