Top 6 Options for the Best Spray Foam Insulation in Toronto
Looking to seal your home to avoid skyrocketing energy bills? It's your lucky day because you've landed in the right place!
Today, we'll review the providers of the best spray foam insulation in Toronto. For each company, we'll talk in-depth about their insulation technology and product and how well they perform according to past customers.
Before we get right into the reviews, though, let's shed some light on the potential costs first.
The Cost of Spray Foam Insulation in Toronto
The cost of spray foam insulation depends on various factors. These are the following:
Size of the area
Condition on the structure
Accessibility of the area
Ventilation in the area
Type of spray foam insulation used (open cell vs. closed cell)
In general, you can expect to pay around $1 to $6 per square foot. To calculate your total costs, it's basically just the size of the area per square feet, multiplied by the quote you've received.
For example, if you need insulation for an 800 square feet exterior wall and the quote was $4 per square foot, you'll pay $3,200 in total (800 x $4 = $3,200).
For better estimates, check out the table we have below:
| | |
| --- | --- |
| Size of Area in Square Feet | Estimated Cost |
| 100 - 500 | $44 - $750 |
| 501 - 1,000 | $751 - $1,500 |
| 1,001 - 1, 500 | $1,501 - $2,250 |
| 1, 501 - 2, 000 | $2,251 - $3,000 |
| 2,001 - 3,000 | $3,001 - $4,500 |
The Best Spray Foam Insulation Services in Toronto
As you can see, spray foam insulation is a serious investment, but despite the hefty costs, it can help you save on energy bills in the long run. With that in mind, here's our list of Toronto's best installers or spray foam insulation:
1. Spray Foam Kings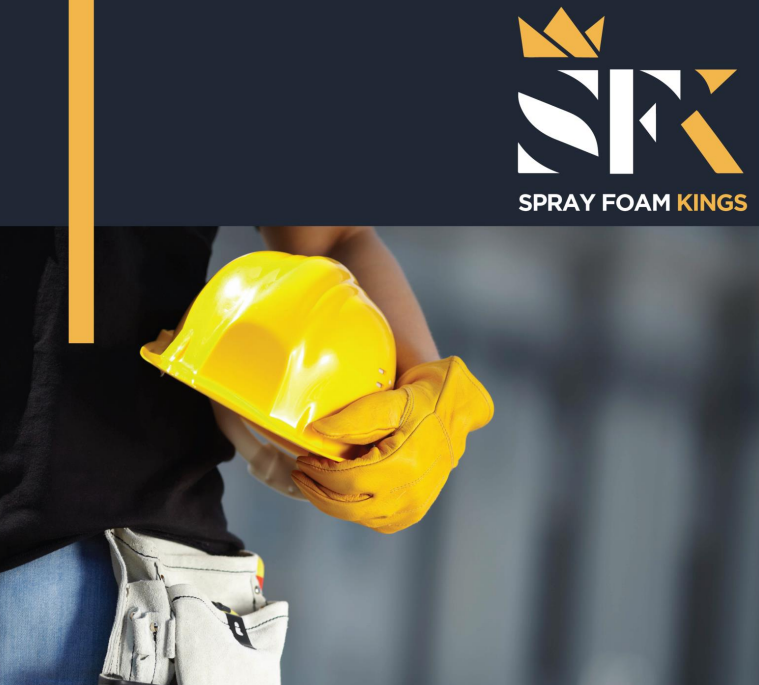 SERVICES
Fireproofing spray, basement insulation, blown-in insulation, garage insulation, attic insulation, crawl space insulation
WEBSITE
https://sprayfoamkings.ca/
ADDRESS
19 Hawkins Dr, North York, ON M6M 2W5, Canada
CONTACT DETAILS
+1 647-641-6881


[email protected]

OPERATING HOURS
Monday – Sunday 9:00 AM – 10:00 PM
Spray Foam Kings is absolute royalty when it comes to top-notch insulation. They mostly serve residential clients for attic, basement, and crawl space insulation.
One of the company's strongest advantages is 24/7 availability. This makes them a perfect choice in case you have a hectic schedule and want more time flexibility.
In line with this, they also work fast, many clients confirmed. We were told by many that they show up on the time they promise – which should be standard, of course, but isn't.
Another thing we'd like to note is that many of their clients saw drastic changes in their energy bills. This is proof that they use high-quality installation, though we're disappointed that they didn't disclose the technology and product they use on their site.
Fortunately, we did find that they use a 2LB closed-cell product as they spray foam. This product is basically good if you want to reduce noise, prevent air and moisture intrusion, and improve indoor air quality. Plus, it comes with warranty.
The good thing is that this insulation won't break your bank it seems: our survey of their clients told us that customers considered their services affordable (and noted no hidden charges). And if you want to get a quote, you can request an over-the-phone consultation if that's more convenient for you.
To sum it up, this company looks to be a great option if you want to work with people who invest their time with you and guarantee great results. It's no wonder it earned a perfect 5-star rating on Google reviews.
Available 24/7
Guaranteed reduction in energy bills, according to past clients
Services all of Ontario
Offers commercial insulation and fireproofing
Provides a certificate of insurance as proof of a bond
Uses a 2LB closed cell product as a spray foam
Described by nearly all customers as affordable
Free over-the-phone consultation and estimate
Seamless communication via email or phone
Doesn't provide assistance with rebates program
Customer Reviews
Quick and efficient installation
So happy with their work in spray foaming my flower cooler/shed. I called around to a bunch of places, but they had the best customer service and price. Installation was quick, efficient, and really well done. Will definitely be using them in the future! Thank you David and Shawn keep up the great work. – Jordana Masi
Delivers on time
Dave and Shaun are great guys to work with and are honest about everything they are doing and the price is fair. they will always keep their promise and deliver on time. their team is full of strong and willing to work people that i had no problem with. they even came to finish the job at night if needed. – Clinton Huynh
2. Great Northern Insulation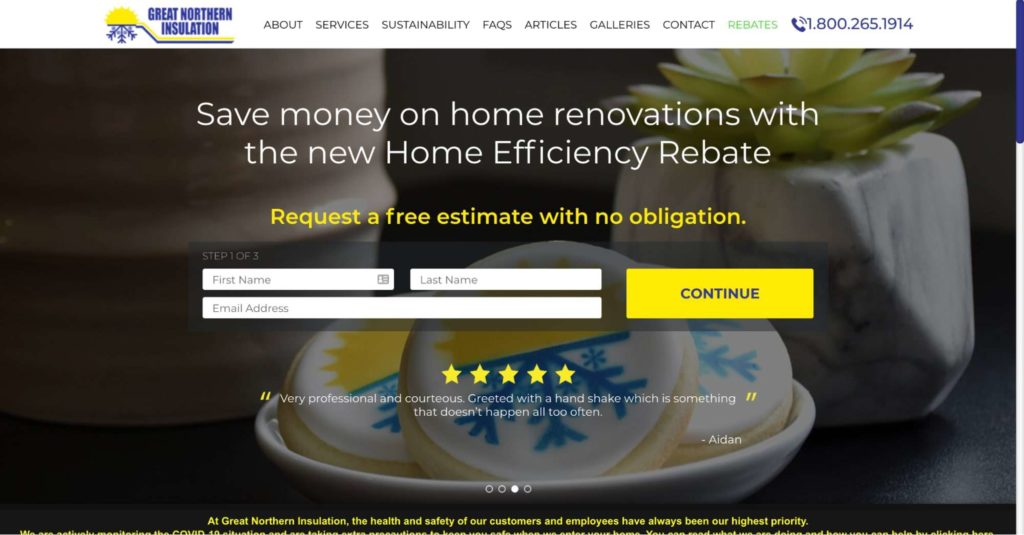 | | |
| --- | --- |
| SERVICES | Spray foam insulation, blown fiber insulation, air barriers, old insulation removal, air sealing & draft proofing, fire protection, batts & vapor barriers, specialty coatings, soundproofing, thermal barrier, under slab insulation |
| WEBSITE | https://www.gni.ca/ |
| ADDRESS | 450 Industrial Dr, Milton, ON L9T 5A6, Canada |
| CONTACT DETAILS | +1 800-265-1914 |
| OPERATING HOURS | Monday – Friday: 7:30 AM – 5:30 PM |
Great Northern Insulation is a leader of insulation in Canada. Apart from residential home insulation, they also provide retrofitting services and construction solutions.
Liking this company isn't hard, especially when they offer a free in-home assessment. On top of that, they're also prompt and try to fit into your timeline instead of the other way around.
As spray foam insulation services go, we like a lot of things about them. For starters, we love how they work on-site, cleaning the overspray and taking care of waste once done.
Second, we're big fans of the eco-friendly approach to spray foam insulation. They use WALLTITE CM01, which has hydrofluoroolefins (HFOs) as its blowing agent.
To keep it simple, HFOs are no ozone-depleting agents so that's a plus point for our planet. And by the way, the Environment and Climate Change Canada banned the use of HFCs in insulation, so companies that make use of HFOs instead are the better choice.
Another thing worth highlighting about them is that they have warranties on their work. For example, if you're unhappy with the installation, you can hit them up again to fix the issue at their cost.
Finally, we would have wanted to go over their rates, which many past customers said were favorable. Unfortunately, these aren't exactly accessible as they only reveal them for jobs – which is actually the case for all spray foam insulation companies here, so we can't really hold it against them.
Just a heads up though: you may find it hard to book an in-house assessment in certain GTA areas, nor will they give you a quote after 2:00 PM. But apart from that, they're a pretty solid choice, we think.
40 years in business
Offers a free in-home assessment 
Uses WALLTITE CM01, which has no ozone-depleting agents
Great warranties for their work
Favorable rates according to past customers
Assists with rebate programs
Difficult to book in-home assessments in certain GTA areas
Can't get a quote after business hours
Closed on weekends
Customer Reviews
Excellent service quality
I can't say enough about the excellent quality service we received from GNi. The day after our work was done, I noticed a considerable drop on our thermostat & our AC hasn't been running anywhere near as much as last year. From our initial quote to installation day & afterwards, every staff member was very respectful & accommodating. A very special thanks to Aaron, Kelly, Emily & Stephanie. I greatly recommend GNI to anyone looking to have attic insulation work done. – Franky Caps
Takes great precaution for insulation
We had Billy and Dave M out to do the insulation in our home today and we were very impressed. They arrived in their time window as promised and took lots of precautions to ensure the hoses etc did not damage our wall. Care was also taken with our floors by putting down protective coverings. When the job was complete they vaccumed any mess that was caused by the insulation. Very happy with the service we received. – Susy Picanco-Robson
3. EcoStar Insulation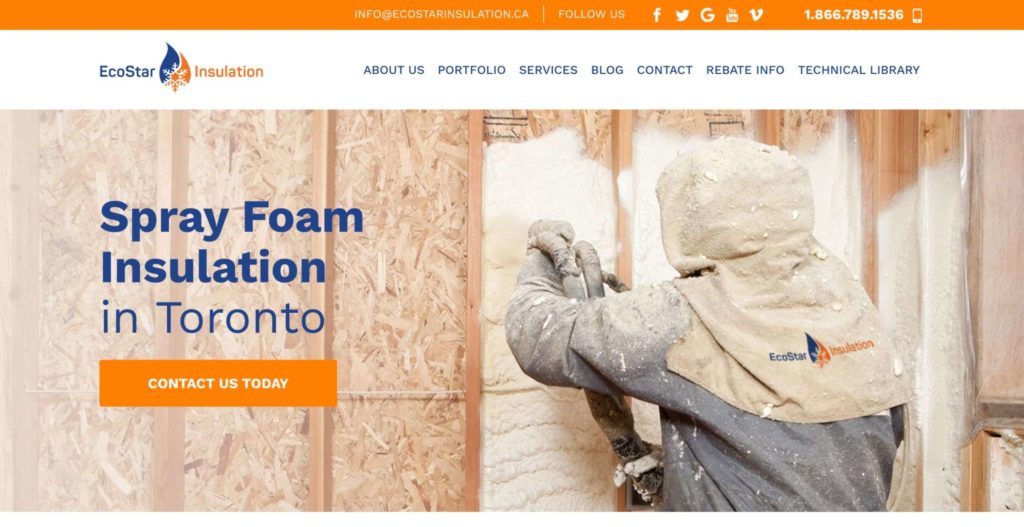 SERVICES
Spray foam insulation, attic insulation, basement insulation, blown in insulation, radon protection, fireproofing, container insulation, air barrier systems, roofing spray foam, insulation removal
WEBSITE
https://www.ecostarinsulation.ca/
ADDRESS
25 Hollinger Rd #2, East York, ON M4B 3N4, Canada
CONTACT DETAILS
+1 866-789-1536


[email protected]

OPERATING HOURS
Monday – Friday: 8:00 AM – 7:00 PM
Saturday: 9:00 AM – 5:00 PM
EcoStar services both commercial and residential clients with a range of insulation services. They also do fireproofing and radon protection for homes in Toronto.
Like most other insulation companies in Toronto, they use standard Spray Polyurethane Foam Insulation. But of course, it's the application that matters and we're pretty pleased with what we've seen.
Many past clients praised their amazing work, which was done in a fast and professional manner. One client even shared that they returned quickly after missing a small section in the insulation process.
Speaking of misses, if you're unhappy with the outcome, they offer a 100% money-back guarantee. So far, we've yet to hear from any client who has to use this warranty, which only affirms that 5-star rating they have on Google Reviews.
The real icing on the cake here is the Home Energy Loan Program (HELP). This is a program by the City of Toronto to help fund homeowners with home energy enhancements.
Obviously, this is more of a point for the city for this initiative, but EcoStar can help you with the process. If you want to learn more about the program, you can call them to discuss your options.
Wrapping it up, they also ensure that you get the best return-on-investment by recommending the right energy rebate. Plus, clients stated that they work fast and typically finish the insulation within the target date – in around three to four hours, even.
100% money-back guarantee
Free no-obligation quote
Open on Saturdays
Energy loan assistance for HELP
Ensures you get the best energy rebates
Good record of finishing insulation right on the target date
Only 10 employees on the team
Difficult to follow up after appointment confirmation
Customer Reviews
Amazing experience from start to finish
EcoStar did foam insulation in our basement and top up for attic insulation this past March. From start to finish we had an amazing experience with this company! They responded to our inquiry very quick and sent out a representative within a few days to give us an estimate. The guys that came to perform the services were experienced and cleaned up nicely after they were done. We highly recommend EcoStar! – Georgia Karellas
Efficient and affordable
Enri & his professional team (Reni and Alban) from EcoStar did a terrific job on our home addition. Enri answered all my questions and explained the benefits of each product. The total insulation price was quite affordable—best of 3 quotes and no surprises. The crew worked efficiently, showed up on time & did an excellent cleanup. The attention to detail was as if it was their own house they were working on. Our inspector gave them a thumbs up. Very pleased! No reservation about recommending these guys. – Darka Iwanyshyn
4. Foam Comfort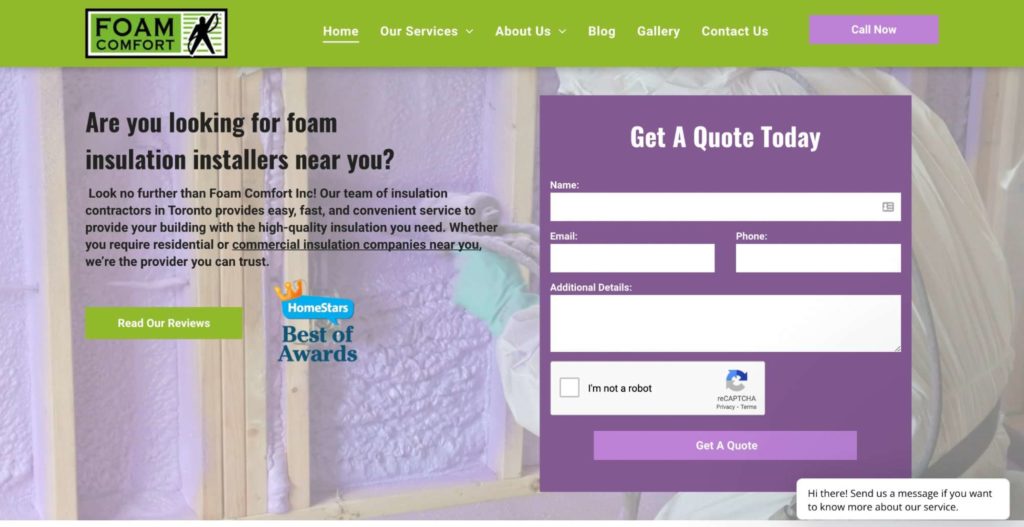 SERVICES
Residential and commercial spray foam insulation
WEBSITE
https://www.foamcomfort.ca/
ADDRESS
56 McGee St, Toronto, ON, Canada
CONTACT DETAILS
416-410-0961


[email protected]

OPERATING HOURS
Monday – Friday: 7:30 AM – 8:00 PM
Foam Comfort serves both residential and commercial clients with spray foam insulation services. They're also quite experienced in this field, as they've been operating in Toronto for over 15 years.
The first thing we'll highlight is the company's insulation technology. In just one application, they can fill up even the smallest sources of air, preventing condensation-related issues.
Their cutting-edge insulation technology is what makes them best for shipping containers, structural steel, and any places vulnerable to air leaks.
Of course, their residential insulation is nothing short of amazing too, particularly with results. Many of their past clients said they experienced a great reduction in energy bills with a low GWP.
By the way, GWP means Global Warming Potential: the lower it is, the better for the environment. Their spray foam insulation has a low GWP, which is a definite plus for us (and you!).
If you're curious about the product they use, it's BASF Walltite. This has the highest R-value per inch (R-value refers to the thermal resistance of insulation material).
This is also seamless to install, making it great for home construction because you can apply the drywall immediately. Plus, it makes your walls more durable and rigid, perfect for home retrofitting.
Finally, all the products they use are Canadian Construction Materials Centre (CCMC) certified. All their insulations are also backed by Caliber QAP which ensures top-quality assurance for their services.
Insulation technology that's best for condensation-related issues
Insulation product with low GWP
Guaranteed reduction in bills according  to past customers
Uses BASF Walltite that has the highest R-value among insulation materials
Insulation that's great for construction due to the seamless application
CCMC-certified products
Quality assurance backed by Caliber QAP
Free estimates and consultations
Closed on weekends
Doesn't provide assistance with rebates program
Customer Reviews
Outstanding quality with follow up care
As a general contractor I require trades that share my values regarding client care and attention to detail. For 8 years now Foam Comfort has provided me not only with an outstanding product and quality installation but with all the follow up care that we all hope to experience when moving forward in a business relationship. I have nothing but good things to say about the people and the organization as a whole. You won't be disappointed! – James Darling
Clear product and process explanation
Everyone I dealt with at Foam Comfort was very professional and friendly. They were responsive when I had questions and explained the process and their particular product very clearly. The two gentlemen (Chris and Fuad) who came to prep and then spray the foam did a great job. They were personable and did a good job of protecting the areas that were not getting sprayed with plastic. And they did a great job with the actual spraying. My basement is well insulated now! Thanks! – Chris Peake
5. Spray City Insulation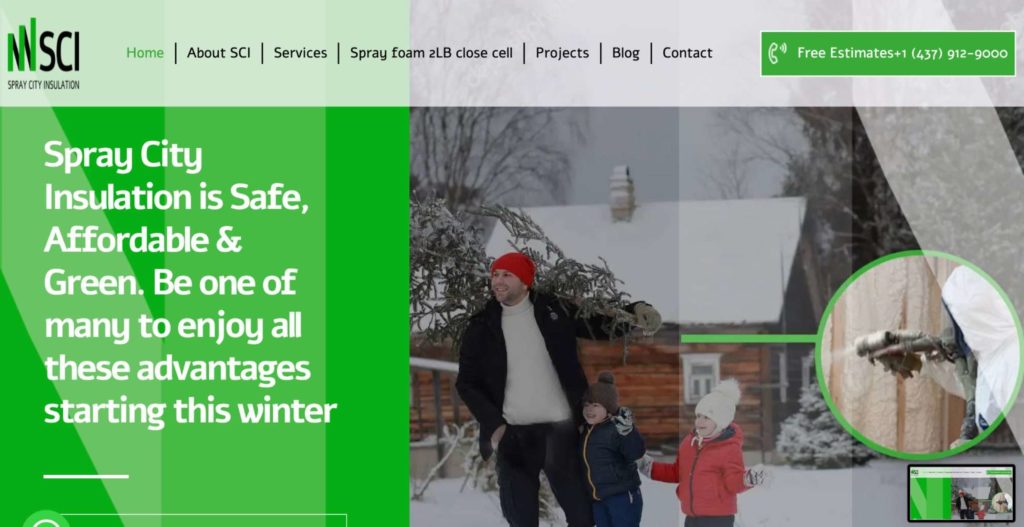 SERVICES
Full property insulation, insulation for flat roofs, insulations for basement, attic insulation
WEBSITE
https://spraycityinsulation.ca/
ADDRESS
63 Alness St #7b, North York, ON M3J 2H2
CONTACT DETAILS
+1 (437) 912-9000


[email protected]

OPERATING HOURS
Monday – Friday: 9:00 AM – 7:00 PM
Spray City Insulation aims to deliver significant savings on heating and air conditioning costs. They are a premier residential and commercial insulation company that specializes in environmentally sound insulation solutions.
In their line of work, they value punctuality, which is a plus for all clients. In fact, they can get back to you within minutes or a couple of hours after requesting an estimate.
Another of the things we liked about them is that they use eco-friendly spray foams. The ones they use are also pretty affordable.
They use a 2LB closed-cell spray foam manufactured by Demilec in the United States. Just for a bit of background, this company was a finalist for the 2018 Center for the Polyurethane Industry (CPI) Innovation Award.
This insulation product reduces outside noise, improves air conditions, and creates a barrier to mold and mildew-causing moisture. Not only are you getting insulation, but you're also future-proofing your home.
If you want to learn more about the product's quality, it is 19% renewable and has 6% of recyclable content. It also has excellent flame resistance, zero ozone depletion potential (ODP), and ultra-low GWP.
With all these wonderful benefits, you're sure to get the highest standard for insulation. Plus, the company is known for meticulous finishing and committing to deadlines, we hear, so the customer service isn't likely to let you down.
Known for punctuality and responsiveness
Eco-friendly insulation product that has low GWP and zero ODP
Uses 2LB closed-cell spray foam great for many benefits
Meticulous finishing
Free estimates and consultation 
Closed on weekends
Doesn't provide assistance with rebates program
Customer Reviews
Takes time to explain the process
After much research I decided to go with Spray City Insulation for my attic because Asher took the extra time to explain the entire process in great detail and he gave me sound advice. He arrived early the morning of the service and the quality that he provided and the service was exceptional. I will highly recommend him to my friends and family! – David
Reasonably priced work
Asher Amar was a pleasure to work with. Pleasant, professional, punctual and delivers reasonably-priced, good work. Highly recommended. – Yehuda Kleiner
6. Eco Spray Insulation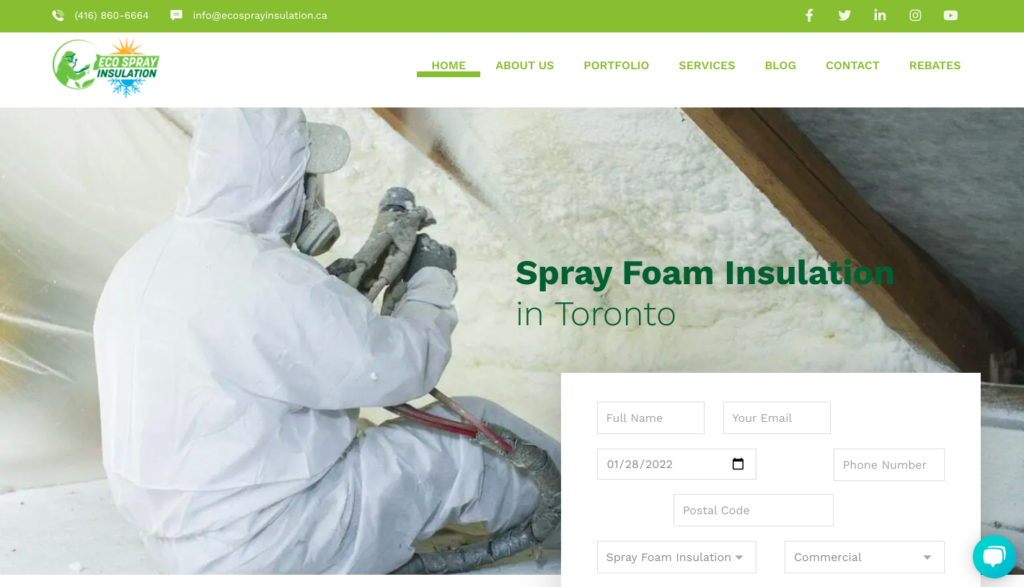 SERVICES
Spray Foam Insulation, Attic Insulation, Insulation Removal, Blown In Insulation, Basement Insulation, Container Insulation, Radon Protection, Fireproofing, Air Barrier Systems, Commercial Foam Insulation, Spray Foam Roofing
WEBSITE
https://ecosprayinsulation.ca/
ADDRESS
714 Garyray Dr, North York, ON M9L 1R3, Canada
CONTACT DETAILS
Phone: +1 (416) 860-6664
Email: [email protected]
OPERATING HOURS
Monday to Friday: 8:00 AM – 7:00 PM
Saturday: 8:00 AM – 5:00 PM
Sunday: Closed
Eco Spray Insulation provides industry-leading spray foam services, attic insulation services, and more. This experienced contractor offers their services to Toronto and the Greater Toronto area.
With affordable solutions and free no-obligation consultations, this contractor caters to both
residential and commercial clients. They specialize in spray polyurethane foam insulation although they offer a wide range of other insulation products as well.
Whether it's for your house, warehouse, store, or any other building structure, Eco Spray Insulation ensures that they comply with the The Ontario Building code. In line with government directives, this contractor's mission is to work toward a more energy sustainable future.
You can decide from either closed-cell / 2-pound medium density spray foam insulation or open-cell – ½ pound low-density spray foam insulation for your space. They also offer blown-in cellulose or fiberglas insulation among many of the other options in their list of services.
Eco Spray is licensed, certified, insured and a member of the Canadian Urethane Foam Contractors Association (CUFCA). If you're looking for a qualified insulation contractor that offers affordable rates and timely solutions, then this company is one of our top picks in Toronto.
Free no-obligation consultations
Uses green and sustainable materials and processes
Member of CUFCA
Factors to Consider When Choosing Spray Foam Insulation
Hiring a contractor is the best step to make sure that spray foam insulation is done well. Here are some factors to consider before choosing one:
Years of experience as a contractor.
Ideally, you want a spray foam company that has been in business for 10 or so years. This is already a great timeline of experiences and skill-building that they'll need to provide satisfactory services to customers.
Most spray foam insulation companies would be out of the market for three to four years when they use cheap, substandard products. Those that are still standing tall already have a great track record of past projects.
Rates of the contractor.
The next thing to consider is the cost. As mentioned before, there are companies that may give a relatively low price, but the quality of work might be questionable.
You'll want to choose an insulation company that offers a reasonable cost for the service you need. This ensures that it gets the job done without going over your budget.
Satisfaction level according to past clients.
Poor service quality will not only waste your money but also your time. Unlicensed contractors may appear affordable but will cost you more because of poor work quality.
Accordingly, it's good to hire a contractor that is proficient and has long-standing experience as a service provider. Take time to visit their past worksites and see how people who hired them reacted to the service they provided.
Insurance and workers compensation.
If a contractor has insurance, you're covered in case they damage your home. With worker's compensation, if an employee gets injured during the job, you're free of any liability.
This is the bare minimum for all contractors so it's much harder to find one that doesn't have insurance and workers compensation. Still, it doesn't hurt to ask and confirm.
FAQs About Spray Foam Insulation in Toronto
---
Found the company that delivered the best spray foam installation for you? We'd love to hear about your experience so we can deliver better reviews to you!
While we're at it, you can check out our lists of other home repair and contractor services, like our reviews of the best roof repair companies in Toronto. In case the need arises, you'll know whom to call!