The 5 Best Masonry Contractors in Toronto
Are you a homeowner and in the process of upgrading the aesthetics and quality of the walls and pathways of your house? A masonry contractor would be a great help for that!
In this article, we reviewed some of the best and most trusted masonry contractors in Toronto for your renovation needs.
Our criteria for the best masonry contractors in Toronto
We assessed the best masonry contractors in this article based on the following factors:
How much do masonry services in Toronto cost?
The cost of masonry services depends on the type of work, the labour required, the materials, and the length of the project. The general average hourly cost of doing masonry services is about $144 per hour.
To give you a better idea of how much you'll pay for the specific type of masonry work you need, take a look at this table:
| MASONRY WORK | AVERAGE COST RANGE |
| --- | --- |
| Repointing | $18 to $28 per sq.ft. |
| Bowing | $38 to $60 per sq.ft. |
| New brick installation | $38 to $60 per sq.ft. |
| Ledges | $600 to $750 each |
| Lintels | $1,200 to $2,400 each |
| Plastered foundation | $9 per sq.ft.  |
| Repairing a facade | $30 to $42 per sq. ft. |
1. Turnbull Masonry Ltd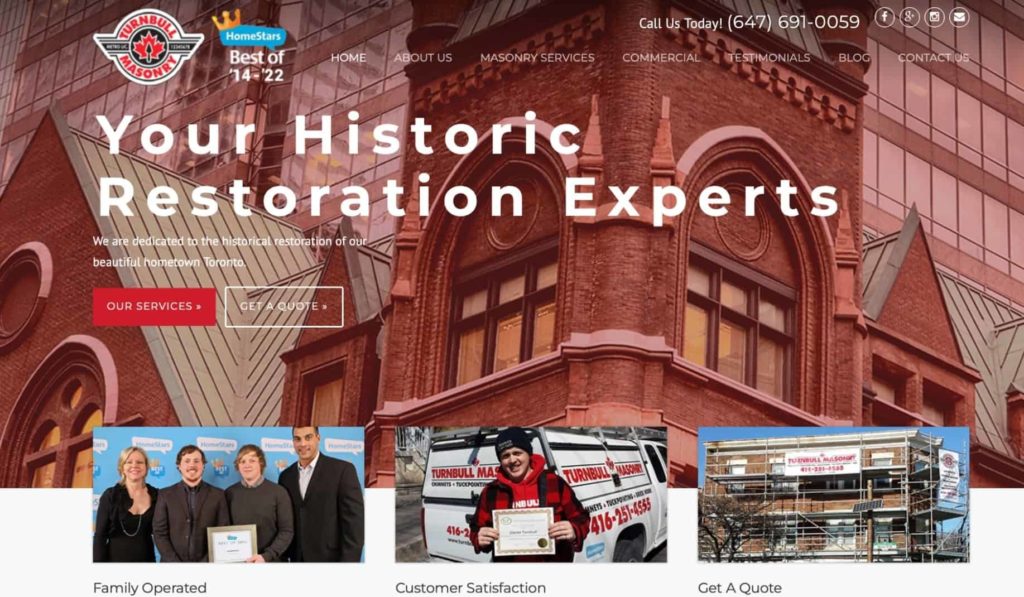 | Test | Info |
| --- | --- |
| SERVICES | Chimney Repair, Historic Restoration, Brick Repair, Tuckpointing, Concrete Repair, Parging and Foundation Repair, Interior Brick Repair |
| WEBSITE | https://www.turnbullmasonry.com/ |
| ADDRESS | Turnbull Masonry Ltd, Metro lic: B 21754, 203 Park Lawn Rd, Toronto, Ontario M8Y 3J3 |
| CONTACT DETAILS | (647) 691-0059 |
| OPERATING HOURS | Monday to Friday, 8:00 AM to 6:00 PM |
| | |
| --- | --- |
| EXPERIENCE | ★★★★☆ (4/5) |
| SERVICES OFFERED | ★★★★★ (5/5) |
| COST | ★★★★☆ (4/5) |
| TURNAROUND TIME | ★★★★★ (5/5) |
| CLIENT SERVICING | ★★★★★ (5/5) |
Turnbull Masonry Ltd. is a family business with a fully licenced team specialising in brick and masonry restoration for residential and commercial sectors. They've been around since 2003, which gives us confidence in their insight.
What we like about them is that they offer partial repair services, which we find convenient for customers. In this case, you won't need to do a full rebuild for your broken chimneys, walls, and patios.
Also from what we've found, they have a wide array of services for commercial properties. They do masonry restoration for historic places, churches, schools, strip malls, and condominium corporations.
Clients love how dedicated their staff is in making sure that their concrete works are durable. Apparently, they often return to the client's property to make sure that the concrete is applied correctly.
They are also commended for their diligence. Clients we've spoken with appreciated how the staff was focused on getting the job done, sometimes not even stopping for lunch.
Their efficiency is also something to be taken note of. For chimney and wall installations, they mostly finish the work within one to two days, even if the clients give them a week.
However, there are reportedly some objections regarding last-minute additional fees, which makes their final bill a bit higher than anticipated.
Also, there were a few complaints about how their team didn't notify their clients on their arrival. Apparently, they went to the site unannounced, which inconvenienced clients who had already made plans for the day.
We're hopeful that the management is able to address these problems and will improve Turnbull Masonry Ltd's services further.
Known for its diligent staff
Efficient turnaround time of one to two days
Services both residential and commercial properties
Reports of last-minute additional fees
Some communication issues
Customer Reviews
Quick service
"Quick and proffecional service. Ron came by and looked at the work to be done, took pictures and I had a quote soon after that. The worker completed the work within a few hours and was very proffecional. Also gave me some pointers as how to prevent the issue from reoccurring again." – George Michael, Google Reviews
Minimum fuss
"I required some repairs to my chimney which suddenly became urgent when the deterioration resulted in a roof leak. Turnbull was the most reasonable and straightforward of the companies I consulted. They were also able to get the work done within a couple of days with minimum fuss and excellent results. I would use them again." – Eric Zadro, Google Reviews
2. Buildstrong Masonry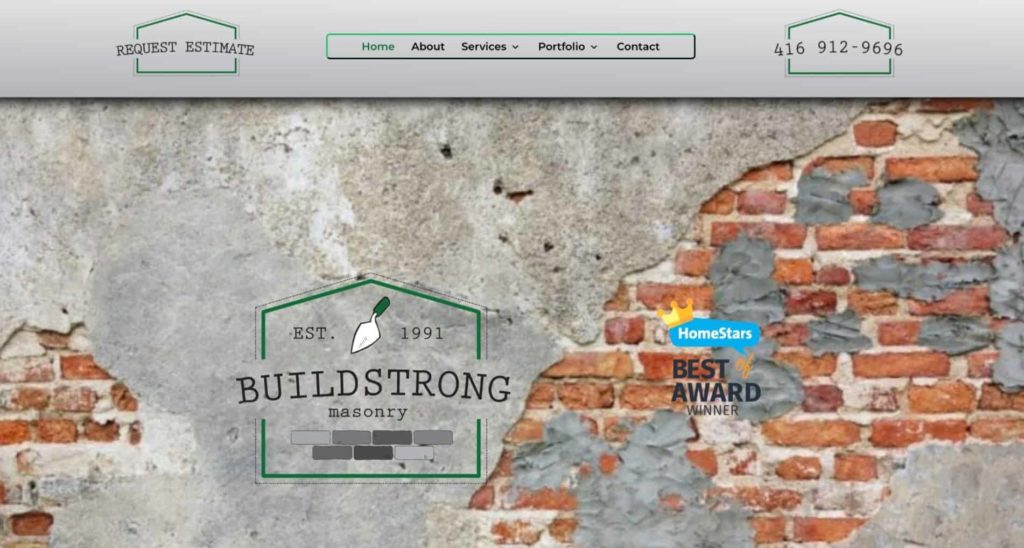 Test
Info
SERVICES
Brick repair, Parging, Tuckpointing, Chimneys, Stone work, Window & Door Resizing
WEBSITE
https://buildstrongmasonry.ca/
ADDRESS
20 Gladstone Ave, Toronto, ON M6J 0E9, Canada
CONTACT DETAILS
416-912-9696
OPERATING HOURS
Monday to Friday, 8:00 AM to 5:00 PM

Saturday to Sunday, 10:00 AM to 4:00 PM
| | |
| --- | --- |
| EXPERIENCE | ★★★★★ (5/5) |
| SERVICES OFFERED | ★★★★☆ (4/5) |
| COST | ★★★★★ (5/5) |
| TURNAROUND TIME | ★★★★★ (5/5) |
| CUSTOMER SERVICE | ★★★★★ (5/5) |
Since 1991, Buildstrong Masonry has been providing masonry services in Toronto with its objective to innovate with the use of modern technology and materials.
Apparently, they are known for their attention to detail. They dedicate their time and effort to match their new mortars to the colour and style of the client's property interior, as we've seen in their portfolio.
That said, we're impressed by how they provide comprehensive photos and videos of their works, including brief summaries of the issue and how they fixed it.
Another thing we like about them is their reasonable prices. They will only charge you $775 to $1,500 for parging and repairs.
But it seems that their services are only limited to repairs, and they lack services for full rebuilds and restorations.
They are also available all week; however, they have shorter operating hours during weekends so you'll need to book a slot immediately if you're looking to have work done then.
On a brighter note, clients appreciate how they are able to finish the job in a timely manner. They also have a quick turnaround time of approximately 4 hours for brick replacement, and one day for parging.
They also have a reportedly responsive staff, so you can expect that they will reply to your e-mails promptly.
Overall, Buildstrong Masonry is worth checking for its comprehensive repairs and reliable and professional staff.
Has 31 years of experience
Reasonable prices
Quick turnaround time
Responsive staff
No full rebuilding and restoration services
Shorter hours during weekends
Customer Reviews
Neat and efficient
"We hired Buildstrong to work on our side walls in the backyard, it was really starting to crack and break and it was in need of some great work. The Buildstrong team did excellent work. The work was done neatly and efficiently. The work was done on time, exactly when they said they were going to start and finish, it happened. We are extremely pleased with the workmanship, we will definitely recommend our friends and neighbours to contact Buildstrong for their repairs. I am also hiring them to work on my chimney after I saw the great work they did on my walls. I know that we will be pleased with their craftmanship. Thank you Rene and the two other guys for doing such a great job!!!" – Shyam Kissoon, Google Reviews
Great price
"We had a leaning front porch pillar, we reached out to Buildstrong Masonry and they gave us a great price to rebuild it. They were helpful, quick and professional. The new pillar now looks great, they even reattached the gate for us. We will definitely reach out to them again" – Daniel Almeida, Google Reviews
3. Alpine Masonry Inc.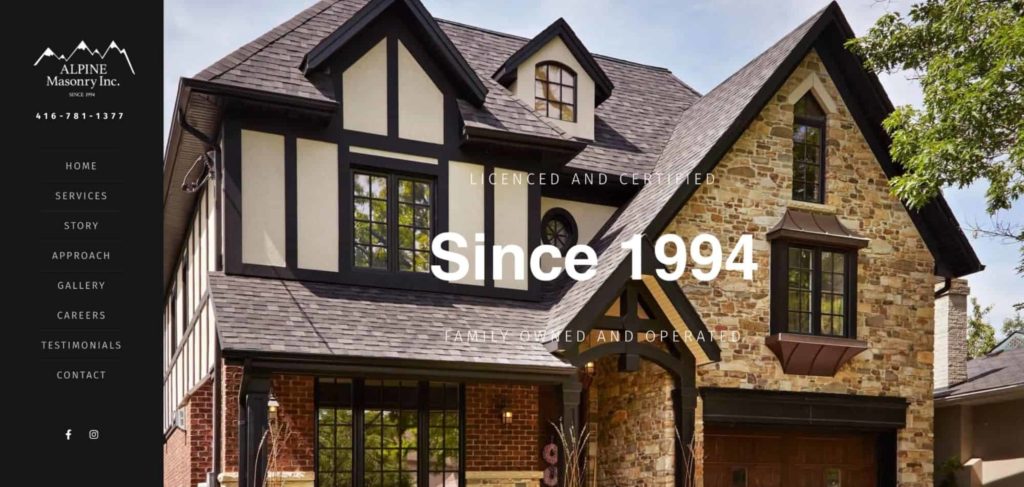 Test
Info
SERVICES
Stone refacing, Restoration, Steps, Porches, Walkways, Specialty work
WEBSITE
https://alpinemasonry.ca/
ADDRESS
6 Belsize Drive Suite 426, Toronto, ON, M4S 1L4, Canada
CONTACT DETAILS
416-781-1377
OPERATING HOURS
Monday to Friday, 8:00 AM to 7:00 PM

Saturday, 10:00 AM to 4:00 PM
| | |
| --- | --- |
| EXPERIENCE | ★★★★★ (5/5) |
| SERVICES OFFERED | ★★★★☆ (4/5) |
| COST | ★★★★☆ (4/5) |
| TURNAROUND TIME | ★★★★★ (5/5) |
| CUSTOMER SERVICE | ★★★★★ (5/5) |
Alpine Masonry Inc. is another family business that's been offering masonry restoration for large-scale projects in Toronto over the last 25 years.
Their expertise in this field is evident. Mike Donelle, the founder, has been doing masonry since he was 15 years old.
Workers are also closely supervised by expert mason, which speaks volumes about their quality control and training.
We like how they prioritise the safety of their workers when working on-site. They follow the Ministry of Labour in the Occupational Health and Safety Guidelines, which aim to improve workplace health and safety.
Their online portfolio showcases their workmanship in various brick and stone masonry tasks.
However, they seem to be more focused on doing high-end commercial projects than residential masonry services.
They don't operate on Sundays, but this is offset by longer operating hours on weekdays. This is great news for those who can't wait until the weekend to have work done.
What clients like about Alpine Masonry Inc. is their team's strong communication skills. Apparently, their team is great at communicating their ideas for projects, which helps clients appreciate the task at hand.
Also, they are commended for their efficiency and thoroughness in cleaning up when the job is done. This spares clients the headache of having to pick up after them.
25 years of experience
Prioritises safety of workers
Services are supervised by expert masons
Leaves the job site clean and tidy
Closed on Sundays
More focused on commercial properties than residential
Customer Reviews
Meticulous staff
"Alpine Masonry was highly recommended to us by a professional home renovator.
We were very impressed from beginning to end of the efficiency, organization and neatness throughout the construction.
The guys are a treat to have around and very meticulous in their work throughout the project.
Their expertise knowledge turned our ideas into reality. We've had nothing but positive compliments from family, friends and neighbours.
We highly recommend Mike Donelle and his crew at Alpine Masonry to make your project a work of art." – Lise Colalillo, Google Reviews
Superior workmanship
"I am a limestone designer/supplier and normally don't post comments about masons that I work with. Having dealt with Mike for many years and many projects, I am happy to tell the world just how good this company is. Their knowledge and attention to detail is as good or better than any company that I've dealt with. Their superior workmanship along with their great personalities make every project run smoothly. If you are looking for a really good mason, look no further than Alpine." – Evan Fine, Google Reviews
4. Stone Contractors Group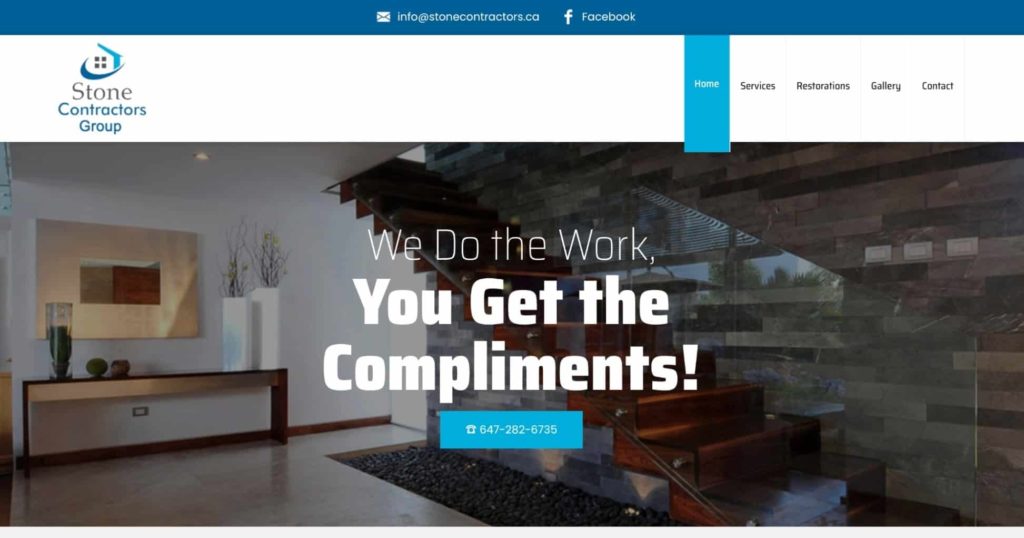 Test
Info
SERVICES
Brick Restorations, Stone Walls Restorations, Stone Steps Repairs and Builds , Stone Steps and Walkways Restorations, Brick Tuck Pointing, Chimneys, Decorative Elements, Fireplaces, Flagstone Patios
WEBSITE
http://www.stonecontractors.ca/
ADDRESS
15 Fort York Boulevard, Suite 1610, Toronto, ON, M5V 3Y4
CONTACT DETAILS
647-282-6735
OPERATING HOURS
Monday to Saturday, 7:00 AM to 9:00 PM

Sunday, 8:00 AM to 5:00 PM
| | |
| --- | --- |
| EXPERIENCE | ★★★★☆ (4/5) |
| SERVICES OFFERED | ★★★★☆ (4/5) |
| COST | ★★★★★ (5/5) |
| TURNAROUND TIME | ★★★★★ (5/5) |
| CUSTOMER SERVICE | ★★★★☆ (4/5) |
Since 2002, Stone Contractors Group has been specialising in stone works and stone restorations throughout the Toronto area.
Though they have a lean team of 6 employees, they're known for their timeliness. Most of their clients commended them for their speed and efficiency on the job.
They also finish their masonry tasks within the agreed timetable, which makes them reliable. Also, they reportedly still arrive on time even when the weather doesn't agree with them, which is reassuring.
Adding to that, they have longer operating hours than a lot of their competitors.
They mainly focus on stone services such as fireplaces, patios, and garden walkways. They also do brick services (restoration and tuckpointing), which is great.
That said, they lack services for other types of masonry units such as concrete blocks.
We also have to note that there are a few clients who have complained about being charged surprise additional fees.
There were also some who shared that they never heard from them after asking to be rescheduled. We think they could work on their professionalism regarding this aspect.
But still, most clients appreciate Stone Contractors Group's kind and helpful staff, and their promptness in responding to their messages.
Longer operating hours than most companies
Known for their timeliness and efficiency
Lack of services for other masonry units
Some incidents of undisclosed additional fees
Reports on inconsistency in professionalism
Lean team
Customer Reviews
Professional service
"Had to replace a retaining wall. Called Carlo, he came out and provided an estimate which was competitively priced. He took the time to explain what would be done in great detail. His team came out and replaced the wall over the course of a few days. They provide a very professional service and I wouldn't hesitate to use them in the future. Highly recommend them for any stone work you need." – Mario Malin, Google Reviews
Competitive price
"These guys are great. They turned up in good time in the morning and very helpful on site providing advice and a very good workmanship. The responsiveness to initial contact and lead in time getting to site were also great. Would highly recommend to anyone needing pumped Concrete. Worked through torrential rain to get the job done. Also very competitive pricing." – David Perkins, Google Reviews
5. Murphy's Masonry Ltd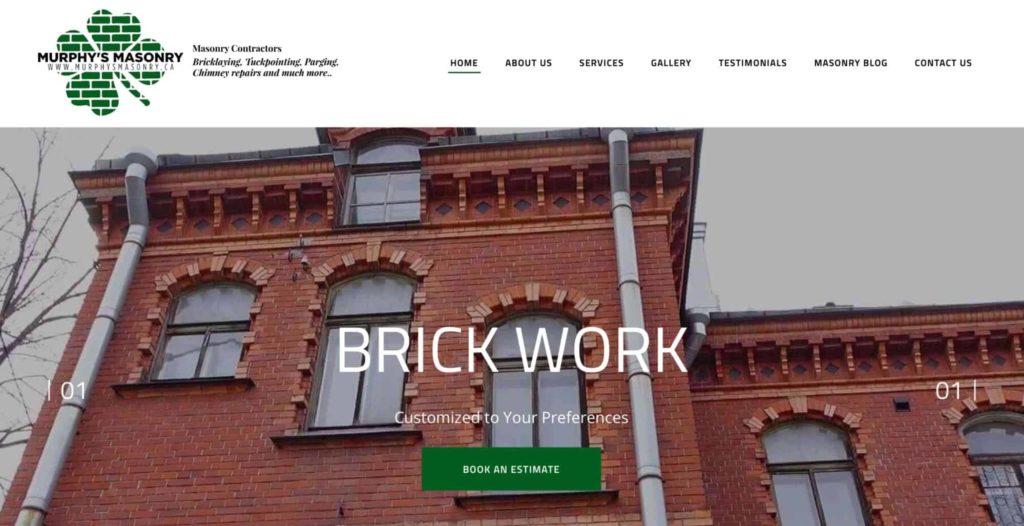 | Test | Info |
| --- | --- |
| SERVICES | Brickwork Repair & Replacement, Tuckpointing, Chimney & Fireplace Repairs, Porch & Step Repair, Parging, Window & Door Openings, Fireplace Replace, Exterior & Interior Brick Veneers, Stone Works |
| WEBSITE | https://murphysmasonry.ca/ |
| ADDRESS | 29 Elma St Suite 2 Etobicoke, ON, M8V 1X9 Canada |
| CONTACT DETAILS | 647-865-3902 |
| OPERATING HOURS | Monday to Friday, 8:00 AM to 5:00 PM |
| | |
| --- | --- |
| EXPERIENCE | ★★★★☆ (4/5) |
| SERVICES OFFERED | ★★★★☆ (4/5) |
| COST | ★★★★☆ (4/5) |
| TURNAROUND TIME | ★★★★★ (5/5) |
| CUSTOMER SERVICE | ★★★★★ (5/5) |
Murphy's Masonry Ltd. is a family-owned business that's been committed to providing masonry jobs for residential homes. They mostly focus on brick repairs and replacements, stone veneers, and tuckpointing.
Upon checking their portfolio, we're actually impressed by how they elevate the quality of the patios and fireplaces they've worked on. We like how they made sure their work seamlessly blends in with the overall aesthetic of the client's home.
They also finish their services earlier than expected. Some clients shared how their highly-trained staff finished repairing their chimneys in less than a day.
Among the contractors in this list, they're relatively younger for being founded just last 2015. Although this isn't a big deal, they may not be as attractive to more discerning clients who look for a wealth of experience in a contractor.
Also, their service fees are quite expensive for residential services. Their rates cost around $10,000 to $14,000 for pathways and other stone works, which is higher than similar companies.
On a brighter note, they have a 5-year service warranty, which also explains the premium rates and somehow makes up for them.
However, there are several complaints regarding the inconsistency of their service quality. Some clients we've spoken to experienced several return visits from the team because of the need to constantly troubleshoot things.
Still, we think Murphy's Masonry Ltd. is worth checking out. They have a highly responsive crew that's willing to answer all the questions and concerns clients have.
Finishes jobs earlier than expected
5-year service warranty
Highly responsive team
Quite young as a company
Relatively expensive rates
Reports on inconsistent quality of services
Customer Reviews
Very effective
"Highly recommend Ruari and Murphy's Masonry, he's honest, communicates very effectively throughout the project (including timelines to start and complete work), and ensures quality work with his team. I've worked with him on two projects over the past year (building a retaining wall and re-doing a cement landing), and highly satisfied with both projects." – Ted K, Google Reviews
Clean service
"Ruairi came to quote my job quickly and explained the process thoroughly. They helped me fix a failing brick planter and replace some brickwork that was damaged around my garage.The team showed up and completed all the work in one day. They kept the site clean which is hard to do with brick and mortar dust and debris everywhere. Overall the brickwork looks fantastic and the price was reasonable. Would highly recommend." – Michael Black, Google Reviews
FAQs on masonry contractors in Toronto
---
That wraps up our review of the best masonry contractors in Toronto. Did you find the best masonry contractor for your construction project in this list?
For other construction or home-related needs, you might want to check our other reviews below: